Guest bedroom ideas – 36 ways to create a comfortable and welcoming space
Create stylish and practical sleep spaces for hosting friends and family with these beautiful guest bedroom ideas and expert tips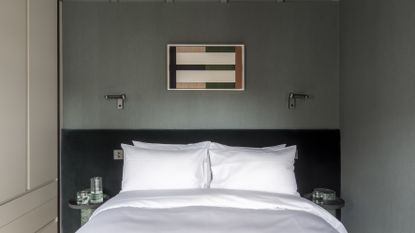 (Image credit: TR Studio)
The key to successful guest bedroom ideas is to strike the balance between style and comfort.
Whether you have a second bedroom ready-prepared for surprise drop-ins, or a multifunctional space that doubles as a guest room, having a warm and welcoming space to host friends and family is a wonderful addition if you love to entertain.
Sometimes bedroom ideas for guests can be an afterthought, especially if you are doing a complete home redesign, but it's worth spending time on getting it right, say Staffan and Monique Tollgård, founders of Tollgård Design.
'Finding a second wind is important, as this is the space where guests will take the measure of your home. Textured wallpaper, a great mattress, considered and flattering lighting, soft rugs, and a statement piece – whether lighting or a great headboard – will make a lasting Impression.'
If you're in need of inspiration and advice on decorating a guest bedroom then you're in the right place as we've rounded up an array of elegant guest bedroom ideas and tips from the experts.
Guest bedroom ideas
Designing guest bedroom ideas can be daunting, as there are so many things to consider, from bedroom color ideas to bedroom lighting and bedroom storage. Making sure your guests have the best possible night's sleep should always be the priority, so investing in comfortable bed ideas and choosing the best mattress is a good place to begin.
'Design a guest bedroom to have a great-looking, blissfully comfortable bed, with lighting that can be lowered and add softness. A soft rug underfoot, a voile blind that blows in the wind, textured throws and cushions,' says Chrissie Rucker, founder of The White Company (opens in new tab). 'Invest in a high-quality bed and mattress that molds and supports your body correctly, plus great-quality linen, duvet, pillows, and a cloud-like mattress topper. It can feel like a big investment but, in the long term, it is worth it as great quality will feel better and last longer.'
1. Try an elongated headboard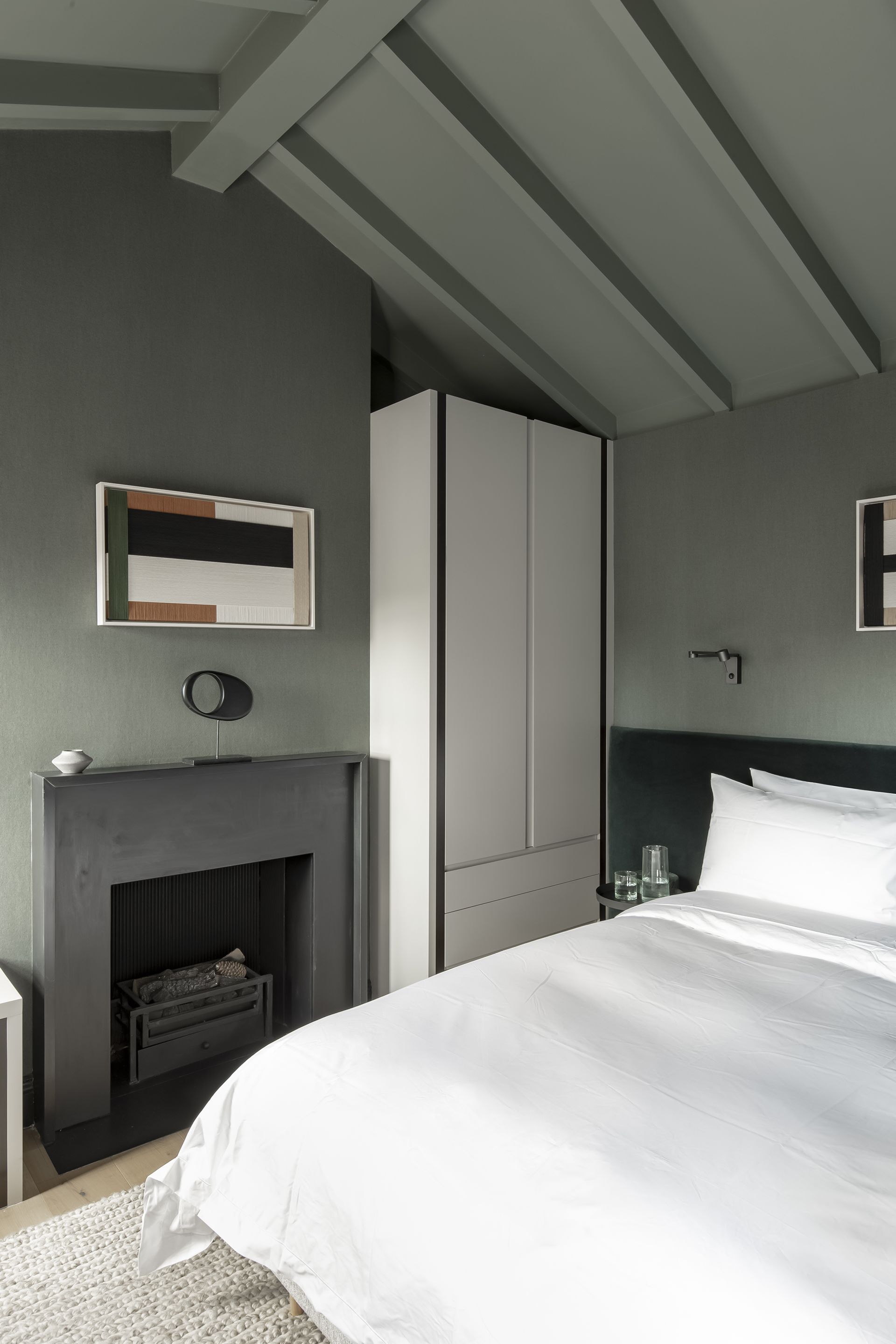 Guest bedrooms are often small spaces that require clever design solutions. Adding an elongated headboard idea is a clever way to make bedrooms appear larger and feel more streamlined and contemporary. In this small guest room by TR Studio, an upholstered bespoke headboard brings color and luxurious texture but also creates a cozy backdrop for lounging on lazy mornings.
'Often headboards can be quite bulky and can add lots of visual clutter, so this idea allows for space saving whilst creating a contemporary look with complimentary green Guatemalan side tables, and build-it wardrobes as well,' says Tom Rutt, founder TR Studio (opens in new tab). 'Wall lights were added above the bed for reading and again to keep the space clean and sleek.'
2. Add a cozy nook bed
If you have a guest room which is narrow with low ceilings, why not make the most of the intimate space by creating a cozy nook bed? By fitting a double bed snuggly into the corner of this room Vanrenen GW Designs managed to free up valuable floor space making room for a large chest of drawers.
'The bedroom is on the ground floor and was a very dark and damp room so the challenge was to create a really warm, cozy, and comfortable place for guests to sleep, says Sarah Vanrenen. 'We built paneling and bookshelves around the stone walls and chose vibrant warm colors for paint and fabrics to transform this space.'
3. Decorate with neutrals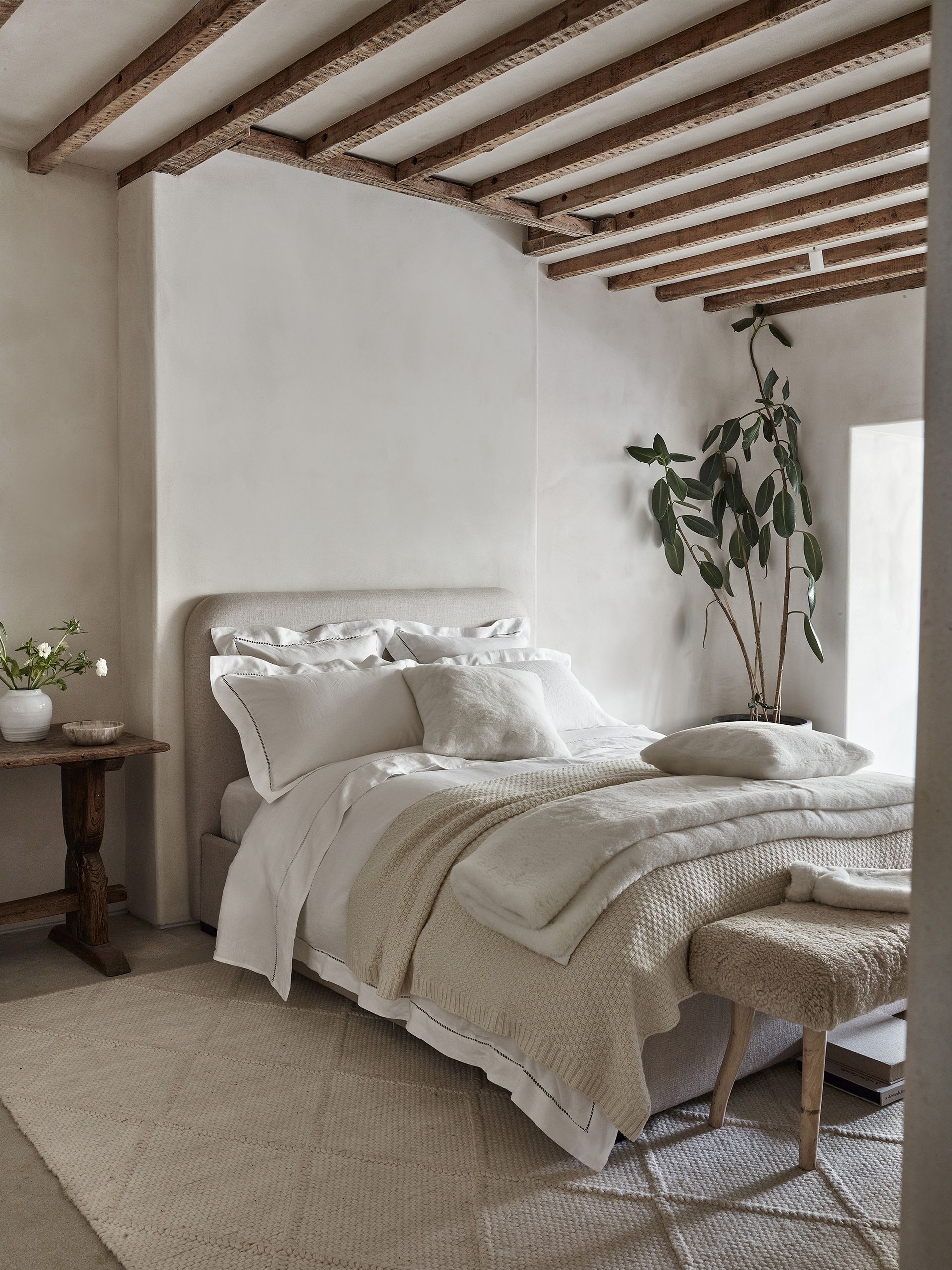 Decorating with neutrals is a safe choice for guest bedrooms, as they are not overly masculine or feminine plus they are restful and they make the space more versatile.
'A muted and gentle color palette is easy on the eyes and can create a relaxing and cozy space. It doesn't mean we need to limit ourselves to only creams and beige bedroom ideas,' says Justyna Korczynska, senior designer at Crown (opens in new tab). 'You can choose colors from different families but it's best to keep to softer and muted shades rather than strong saturated colors.'
If you're thinking of neutral bedroom ideas, 'it's good to choose pieces that will add character and gentle texture,' says Chrissie Rucker, founder of The White Company (opens in new tab). 'I love a combination of natural materials and finishes. From timber, stone, sisal floors or rugs to touches of greenery that bring hints of the outside world in.'
4. Layer lighting
It's important to layer different types of bedroom lighting to ensure there is light for every task and mood, from general overhead lighting to ambient wall lighting. 'A bedside table lamp is a must-have, but we also recommend an LED reading light too. These lights are great for couples sharing a bed as they allow one person to read while the other sleeps,' says Louise Wicksteed, design director of Sims Hilditch (opens in new tab).
5. Choose tranquil colors inspired by nature
There are no strict rules on what bedroom paint ideas are best for guest rooms, it's very much a matter of debate among interior designers, but the color will have an instant impact on the mood, so consider your choice carefully. 'For a room to be appealing to different people is good to avoid very strong bright colors as they can be overpowering. Also, very dark colors may not be the best choice if we want that room to feel welcoming and restful,' suggests Justyna Korczynska, senior designer at Crown.
If you're after a relaxing bedroom she suggests looking to nature for inspiration. 'Blue is the color of the sky and water and has calming and restorative properties for our minds. Green is the color of the living environment, it connects us with nature, the trees, and gardens, and promotes well-being. Both those colors, especially when softer shades are chosen, are restful and harmonious so perfect for creating a relaxing and welcoming space.'
6. Don't forget window treatments
Getting a good night's sleep is paramount in a guest bedroom, so think about investing in window treatments with blackout linings to block out the light. If you have an old home with drafty single-glazed windows or a large bay window, try teaming bedroom curtain ideas with blinds for extra insulation.
As well as offering privacy and control of heat and light levels, curtain ideas and blind ideas are a great way to inject color and pattern as demonstrated in this scheme which features Vanessa Arbuthnott's (opens in new tab) joyful May Blossom (on the curtain) and Sepals and Petals (blinds) prints.
7. Express yourself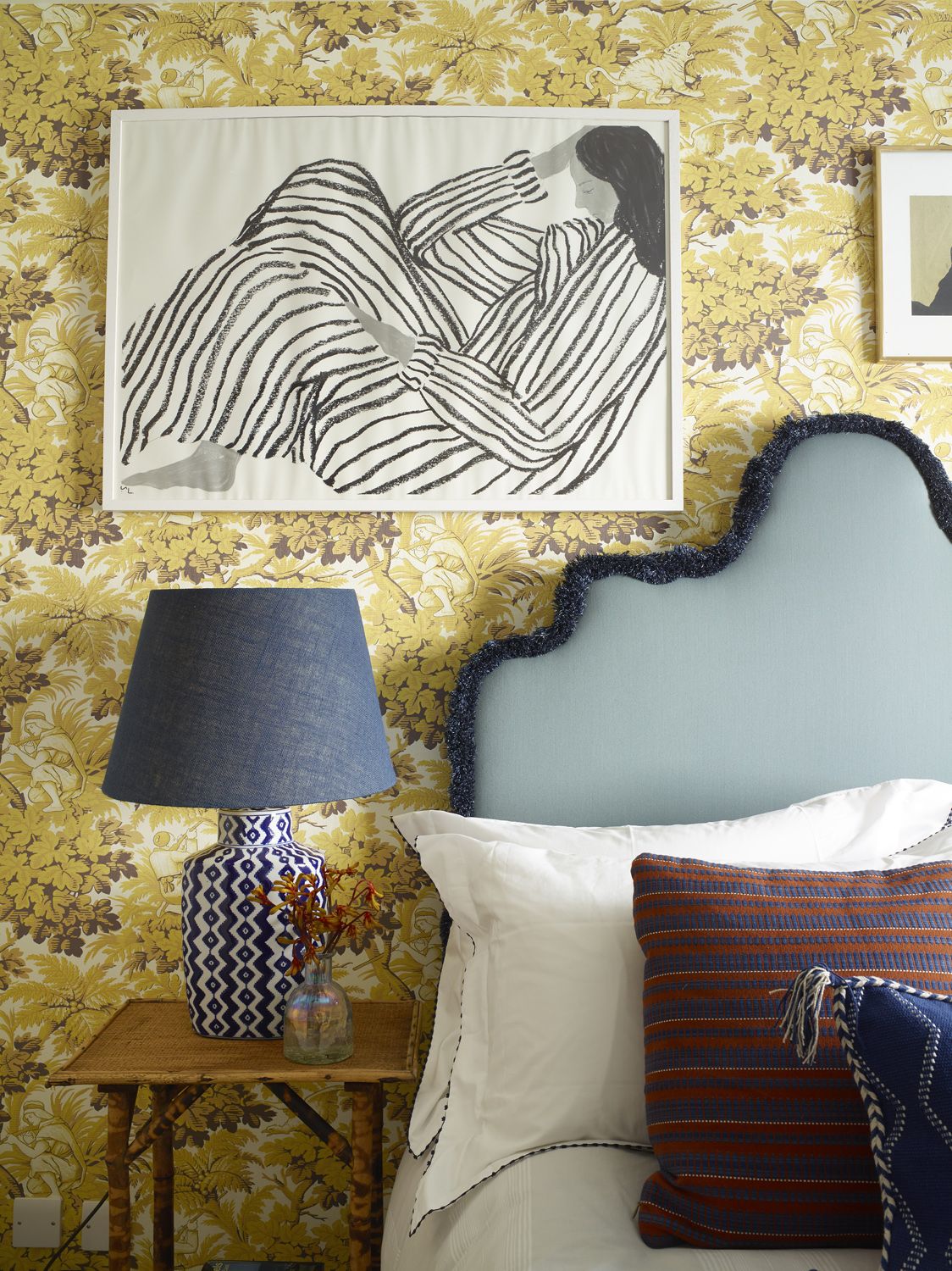 There are different approaches to take when decorating a guest bedroom. While a paired-back scheme layered with soft colors and textures is guaranteed to create a restful feel, guest bedrooms can also be great spaces to showcase unique personal style and decorate with art.
'Guest rooms should be fun, delightful, and attractive. Always hang beautiful artwork, such as a large landscape photograph or a gallery wall of interesting pieces – this should be an opportunity to 'treat' your guests to your sense of individual style,' says Cat Dal, interior designer and founder of Cat Dal Interiors (opens in new tab).
'To have a bit of fun with texture and the unexpected,' here Cat has paired Gaston y Daniela (opens in new tab) bedroom wallpaper with a bespoke fringe trim headboard.
8. Choose fitted carpet for warmth underfoot
When it comes to bedroom flooring ideas, fitted carpet is guaranteed to make guest bedrooms warm and welcoming. As well as offering a cozy surface for guests to sink their feet into, they help insulate heat and sound.
When thinking about material, wool is a natural insulator that helps rooms stay cool in summer and warm in winter, plus it is renewable, sustainable and hypoallergenic. Opting for a neutral color will keep spaces feeling bright and timeless.
'Going for pale wool carpet with an interesting texture to it, will provide your guest bedroom the versatility and simplicity of a single color carpet, while also allowing your guest to appreciate the warmth and comfort the wool texture provides,' says Jon Flannigan, product manager at Kersaint Cobb (opens in new tab).
9. Add a cozy rug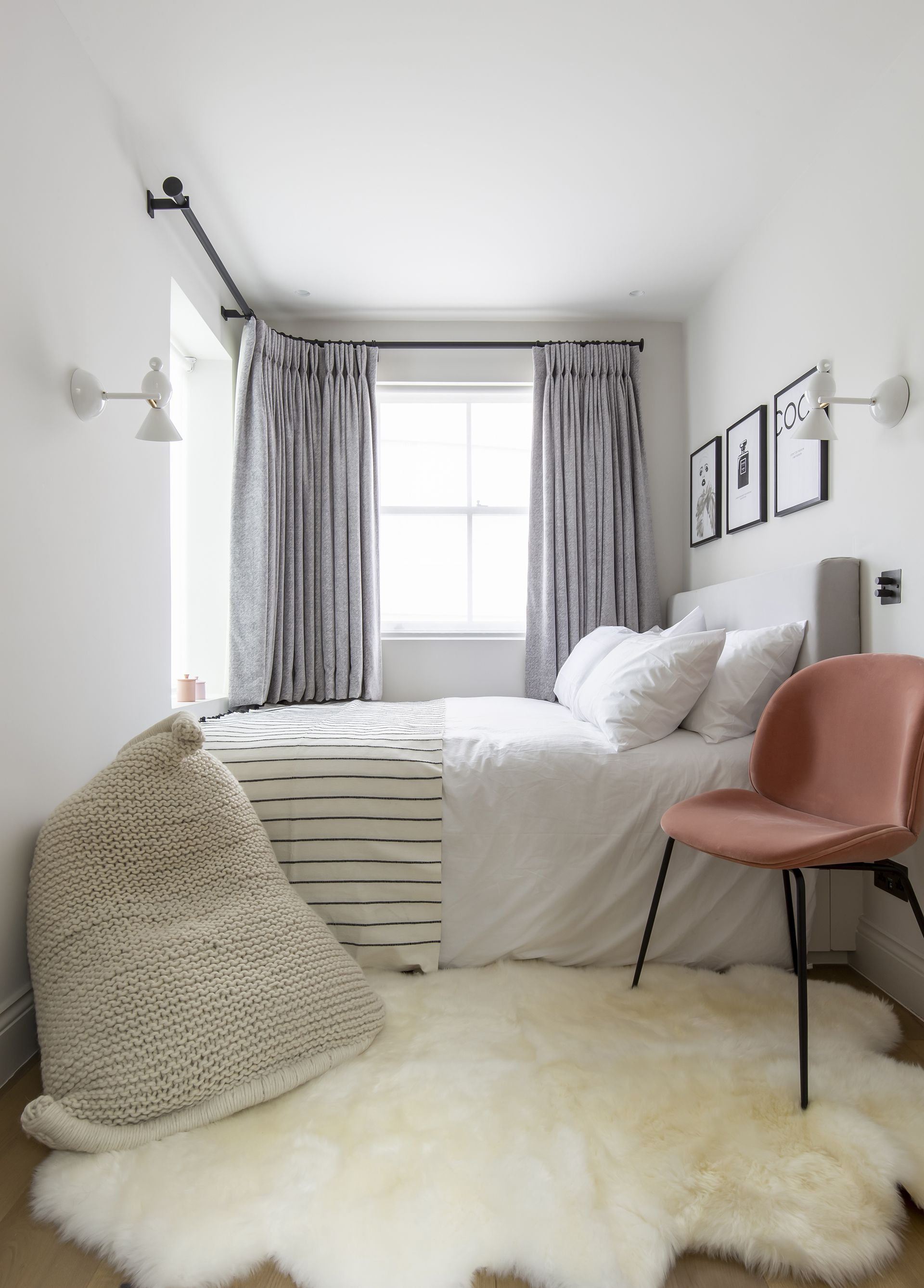 If you're thinking of wood floor ideas for a bedroom, then adding in a sumptuous deep-pile bedroom rug will instantly make the space feel more cozy. In a large bedroom, placing a rug under the bed will help ground the space, bring essential texture and make a focal point of the bed, alternatively, in a small bedroom, try laying rugs either side of the bed.
10. Introduce a seating area
Socialising can be full on, so if space allows, 'try to include a small table and chair so guests feel at home and have a place to retreat to while staying with you,' says Clara Ewart, head of design at Kitesgrove (opens in new tab). Alternatively, add a single comfy armchair in the corner – this can also be handy for laying clothes if you're short on wardrobe space.
'A foldable luggage rack is always helpful and a full-length mirror is essential,' adds Clara.
11. Opt for a day bed in a multi-functional room
A pull-out daybed is the perfect space-saving solution for guest bedrooms that also serve multifunctional spaces such as home offices or craft rooms. Offering a cozy seating space during the day, they can swiftly be pulled out into a bed at night and often contain handy concealed storage beneath.
For this space, Joana Aranha (opens in new tab) layered neutral tones for a calming feel and added a bespoke daybed covered in Romo (opens in new tab) fabric.
12. Ensure guests' comfort is a priority
We all want to sleep better, but as a guest, not getting enough good quality sleep is a worry, whether that be an unfamiliar mattress or an over-heated room. So, work to ensure that not only the bed is comfortable, but that the entire space is sleep-inducing.
'Whether it's the spare room or a sofa in the living room, the area should be clean and cool, and guests should be able to make it as dark as possible,' informs Dr. Nerina Ramlakhan, Silentnight (opens in new tab)'s sleep expert. 'If you don't have blackout curtains, why not get them an eye mask ahead of their stay?'
13. Ensure the guest room is squeaky clean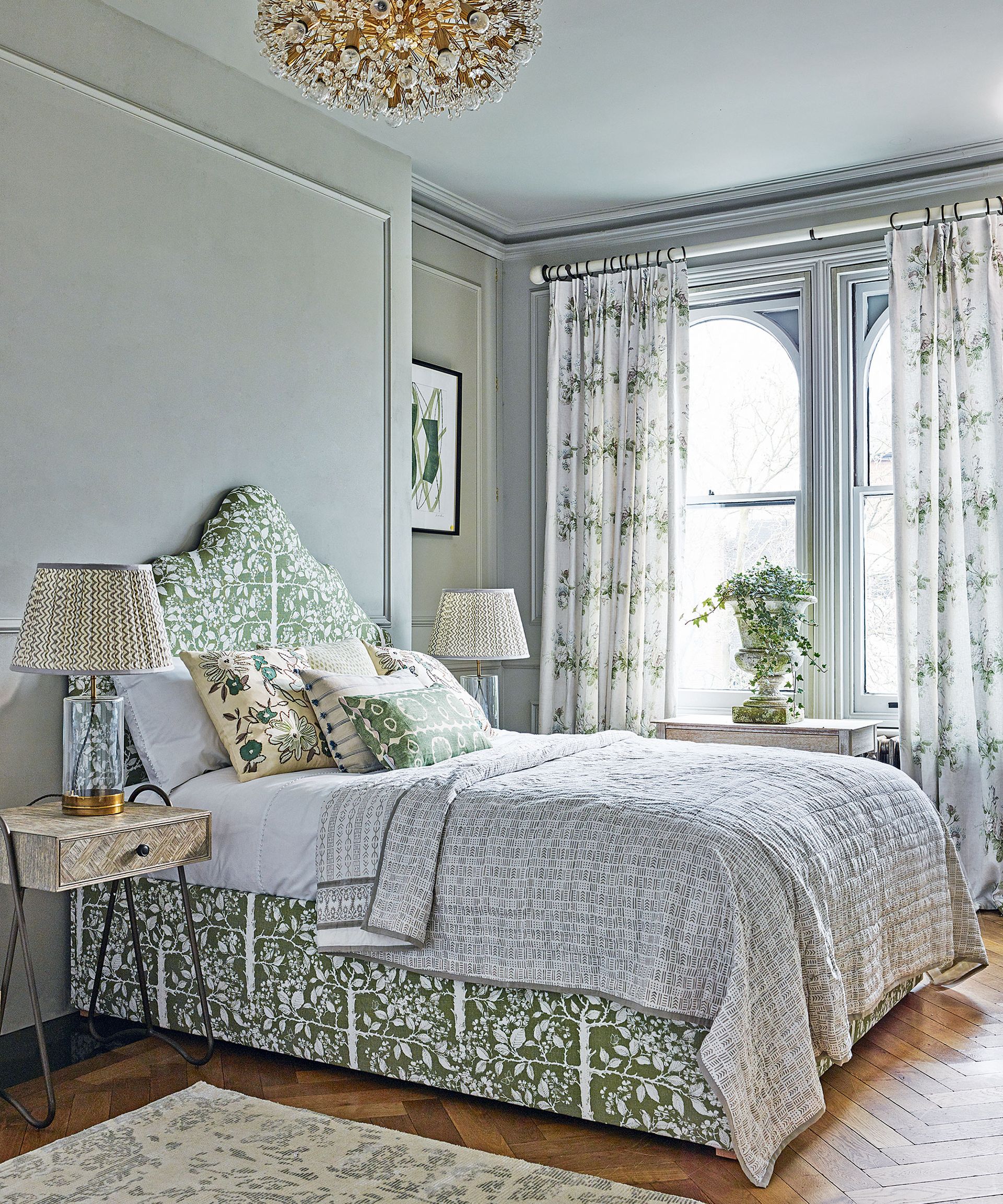 'Whether your door has stayed closed, the children have been den making, or it's become a glorified laundry room, your guest room will need a good clean and sort out,' says Jo James, founder of Bedfolk (opens in new tab).
Cleaning a bedroom before guests arrive might need to be thorough if the room isn't used much for sleeping. 'Give all soft furnishings a wash, dust surfaces and bookcases, clear up any clothes, vacuum the carpet, open a window and make the bed up with fresh bed linen,' continues Jo. Airing the room well is a must, too.
'Preparation is more important than ever post-pandemic – bedrooms and bathrooms can be hotbeds for germs, so making sure you are taking precautions and cleaning regularly and efficiently between guests is essential at this time,' says James Montgomery-Castle, Soak&Sleep (opens in new tab)'s in-house Sleep Expert. 'There are some simple things you can do to make your life easier when hosting guests, like using mattress protectors, duvet protectors, and pillow protectors which means you can really deep clean your spare bed when your guests go home.'
14. Invest in new bedding
'Reward your cleaning efforts with some luxurious bed sheets that will wrap visitors in comfort and calm,' explains Jo James. 'No one enjoys sleeping on scratchy or worn-out sheets that have been on the main bed for 10 years before being relegated to the guest room. An added bonus to perfect bedding is that your guests may feel so comfortable that they miss breakfast – extra sleep for you!
'A hotel-style percale cotton is ideal to extend a real feeling of hospitality. It has a crisp and cool quality that you find in boutique hotels, making it an absolute hit with guests.'
15. Layer up for coziness
Knowing how to style a bed with beautiful cushions and covers isn't just about aesthetics, but practicalities, too. Not everyone sleeps at the same temperature during the night. Cater to everyone's needs and make your guest bedroom extra comfortable and easily personalized by layering the bed with blankets, throws, and pillows. Guests can then tailor the bed to their liking and personal comfort.
Different bedding styles can also feel different in terms of warmth so it's worth knowing what will suit your room or home. Percale cotton is cooler to the touch and is suited to hot sleepers, whilst sateen cotton has a naturally heavier drape, making it ideal for those that feel cold at night. The addition of a natural linen sheet can satisfy both sides of the camp as it is a natural insulator to trap more heat under a duvet at the same time as being temperature regulating and comfortable to sleep under on its own.
16. Use the right lighting in a guest room
Good lighting is just as important in a guest bedroom as it is in a master bedroom.
When it comes to decorating a guest bedroom, smart bedroom lighting ideas should not be an afterthought.
'Bedrooms are all about creating atmosphere and mood lighting plays a key role,' says interior designer Nicky Dobree (opens in new tab).
'It's important to have layers of lighting, with a good reading lamp by the bed a must – it's so frustrating to climb into bed then find you're not able to read.'
If your room lacks floor or table space, consider having one hung on the wall instead.
17. Make your guests feel welcome
To ensure your guests feel welcome on arrival, light a candle or use a diffuser, leave out clean towels and a few toiletries, or add a vase of fresh flowers, as shown in the Bohemian bedroom idea above.
'You're creating a hotel feel, which is always a lovely treat,' says hotelier Julia Hands. 'Make sure there's a plug point for chargers and hairdryers too.'
For Julia, it is all about the welcome: 'As a hotelier, it's the only chance you have to make sure guests feel instantly relaxed and at home. A hand-written note on the bed always goes a long way, alongside fresh flowers, scented candles, and magazines.'
Interior designer Nicky agrees: 'It's the small details that count. As a guest, you want to feel welcome, so arriving in a room that's been specially prepared for you is wonderful.'
'It's the little touches that really make the difference. Calming bedside lights rather than a glaring bright overhead light,' says Jo James. 'A carafe of water with glasses on the bedside and a towel on the end of the bed. Storage if guests are staying for longer than one night will help them live in organized harmony. Bathroom spares for forgotten essentials. A flickering candle on a nightstand to relax and aid good sleep, books and magazines to help them wind down well, and a universal phone charger to avoid the dreaded dead battery – these touches will make guests feel welcome as soon as they arrive.'
18. Give your guest bedroom a dual-purpose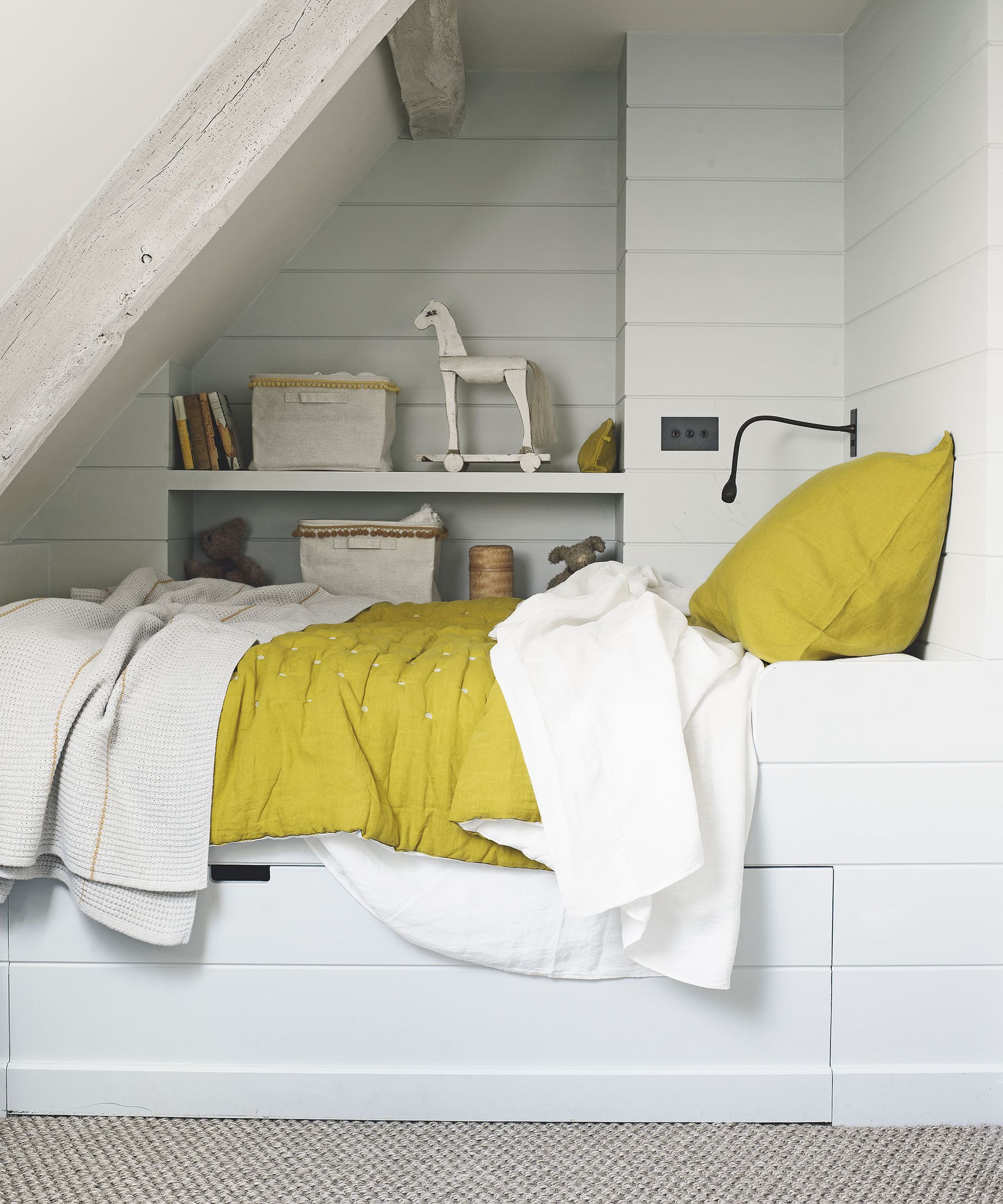 'Spare rooms can often become a dumping ground,' says Nicky. 'Try not to let that happen by having good storage.'
Look to clever bedroom storage ideas and solutions, such as under-bed boxes, wall-hung cabinets, baskets, and even hooks. These are all great ways of containing clutter.
If designing the room from scratch, go for a bed with drawers and a traditional blanket box if space allows. Why not look to daybed ideas for small spaces, and choose a design that creates a sleep space for your guests and a comforting seating area for you to enjoy?
19. Choose a mattress to suit different people
Finding the best mattress to suit all comers is vital to ensuring your guest bedroom is comfortable.
'The bed is the most important item,' says Nicky, 'so it needs to have a good mattress. Choose one that is medium-firm, enabling guests to sleep comfortably in most positions. There is nothing worse than sleeping on a mattress that feels as if it has been slept on by many others.'
20. Establish the bathroom sharing etiquette
Not all guest bedrooms have ensuites, but you can make your guests feel comfortable by putting clean towels in their rooms and making it clear when they are welcome to use the bathroom.
'Establish a schedule of who likes to shower in the morning or have a bath at night,' explains Nicky, 'and everyone should leave the bathroom clean when they're finished.'
21. Give a guest room a luxe look
If you're wondering if you can give your guest bedroom ideas a boost and it's the sophistication you're after, headboard ideas are the way to go; a headboard covered in a bold patterned fabric is a great starting point.
Introducing vibrantly colored walls and tactile fabrics to the mix is a good way to intensify the luxurious feel of the scheme.
22. Turn a guest room into a home office when not in use
It's practical for an infrequently used guest room to double as a home office.
If you're wondering how to arrange a small bedroom that doubles as an office, the key is to look at bedroom layout ideas with a desk or even bedroom office ideas. Hidden desk ideas or a well-proportioned sofa bed that will sit back against a wall when not in use are all clever ways to create a double-up space. For a restful feel, ensure the room isn't overwhelmed by technology.
23. Merge the practical with the beautiful
Where space is tight, consider pieces such as swing-arm wall lights at either side of the bed to help keep the look streamlined.
Limiting the color palette to similar hues on walls, furniture, and bedding is a visual trick that can be used if you're wondering how to make a small bedroom look bigger.
24. Give a plain guest room a colorful update
Use color to separate the guest room from the rest of the home. It is the perfect space to experiment, so do step out of your comfort zone when decorating this room.
Decorating with confident, bold colors offset by flashes of pattern will create a sophisticated look that reflects the feel of a weekend away.
25. Conceal a mattress with layers of bedlinen
Have an unsightly bed frame on show? Hide it. Layering a sofa bed with luxurious oversized throws is one of those smart bed ideas that will not only provide a comfortable night's sleep but is also a good way to conceal the mattress frame.
26. Factor in multifunctional furniture in a small guest bedroom
Being the smallest bedroom, or having to do double duty, shouldn't stop a guest room from being a well-functioning and comfortable space.
Smart small bedroom ideas, such as investing in multifunctional furniture, are essential if your guest bedroom is on the smaller side.
A sofa bed or desk that doubles as a dressing table allow the space to be easily transformed for overnight or weekend visitors.
27. Create a five-star look in your guest room
For the ultimate luxury bedroom for your guests, put together a scheme that resembles a first-class hotel suite.
Keep the hospitality element front of mind, and don't be tempted to create a space that's personal or idiosyncratic. Leave surfaces clutter-free, as guests will bring their own possessions.
28. Set up a space for dressing
When considering guest bedroom ideas, remember that no one enjoys living out of a suitcase, so guests will welcome somewhere convenient to hang clothes alongside plenty of shelf space.
Built-in wardrobes and dressing table ideas can neatly make use of space under a pitched roof, and mirrored doors have the effect of extending the space.
29. Use symmetry for a cohesive design
Simple bedroom ideas and design decisions can make a guest room work hard when two people are sharing.
In the picture above, the bedside table has two drawers, one for each guest, and the lamp divides the table top to mark a space for each person's bedtime reading, while the checks and stripes suit most tastes.
30. Opt for a well dressed guest room
'A guest bedroom provides the perfect opportunity to step a little outside of your comfort zone,' says Tiffany Duggan, director, Studio Duggan (opens in new tab).
'Guests are likely to only be visiting for a relatively short time, and so we like to approach a space just as we would an eccentric boutique hotel; a patterned wallpaper with a feature headboard in a bold color always works particularly well.'
31. Decorate with a theme in mind
Twin bedroom ideas are useful if you regularly host guests that don't want to share a room. Shared bedrooms can feel disunited, so follow our tips above about symmetry, but also look at giving the room a decor theme, and add personal touches to make it feel welcoming – if you're hosting guests for the holidays, for example, be sure to add a festive touch to the room.
Keep decorations more subtle and sophisticated than elsewhere in the house – it is, after all, a place to sleep – by maintaining a tight color scheme, such as green and silver.
32 Focus on the small details
Make sure your guest room doesn't have a neglected ambiance, remember to hang pictures and mirrors, and add fresh or faux flowers to the room. Leaving reading material, like magazines or books, is also a lovely cozy gesture.
33. Enhance a small guest bedroom
A daybed is a good way to make rooms of limited dimensions seem bigger and ensure that they are working harder. Use a welcoming bright color, and finish with ambient accessories, like throws, books, flowers, and art.
34. Put the focus on comfort
In your zeal to be creative in every other area of your home, don't forget the guest bedroom, says Irene Gunter, founder of Gunter & Co (opens in new tab).
'To make it inviting, think about texture. Fabric walling doesn't have to cost a fortune and will transform the space, making it look sophisticated while feeling cosy and warm.' By the same token, use proper Roman blinds or curtains. Also, be a bit punchier with pattern or color. 'You can risk it here,' says Irene.
Make sure the guest room doesn't have a neglected ambiance, by hanging as many pictures as you'd have in your own bedroom. Details such as fresh flowers – or even superior quality faux flowers – will make the spare room look ready for action if any last-minute guests arrive. Thoughtful furniture additions will make all the difference, too.
Above, Emily Todhunter of Todhunter Earle (opens in new tab) has placed a vintage daybed in the window alcove, while a sofa stands at the foot of the bed. 'When staying with someone, it's a bonus if there is a comfortable armchair or sofa,' says Emily. 'It creates a lovely place to read, nap, or take in a beautiful view.'
35. Invest in plenty of storage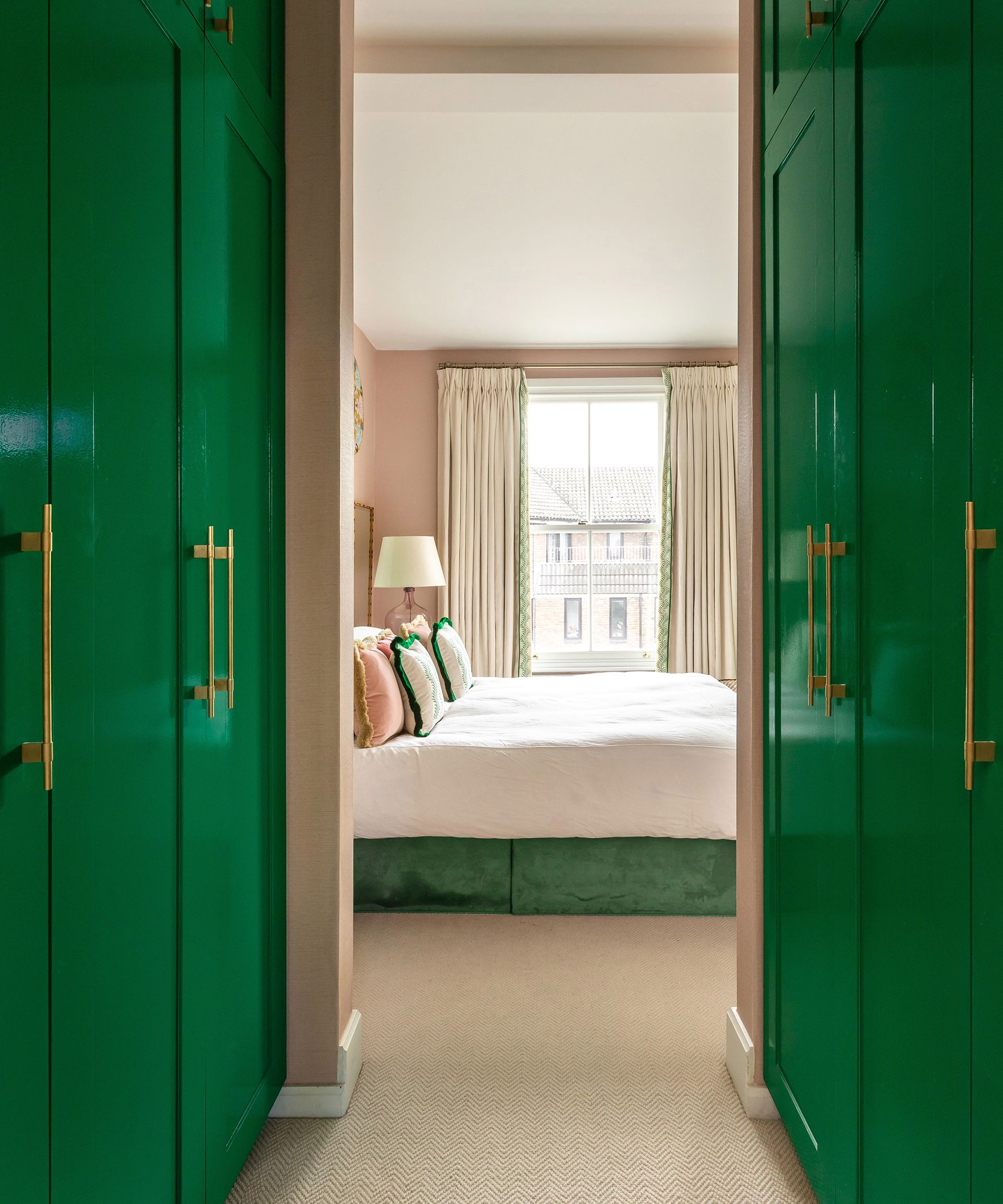 No one enjoys living out of a suitcase, so guests will welcome somewhere convenient to hang clothes alongside plenty of shelf space. Here, a built-in wardrobe and dressing table neatly make use of the space under a pitched roof, and mirrored doors have the effect of extending the space.
Bear in mind that not everyone will want to share a double bed, so consider who stays regularly, and browse twin bedroom ideas or shared bedrooms for other options.
36. Leave shoes at the door
Encourage your guests to kick back and leave their shoes and the door, ideally swapping to slippers or bed socks. There is some evidence that germs can spread on the soles of shoes so you don't want them being padded through your home. Instead, have simple shoe storage ideas, such as a basket at the front door or outside the room, where shoes can be left and welcome your guests with their indoor footwear.
How do I make my guest bedroom comfortable?
The key to making a guest bedroom comfortable and inviting is investing in a good quality bed and mattress.
'Opting for a mattress that is comfortable and supportive is essential for providing guests with a peaceful sleeping environment that will leave them feeling well-rested the next day,' says Alison Jones, a sleep expert at leading mattress brand, Sealy UK (opens in new tab).
'There's not a one size fits all approach to buying a mattress as everyone's individual needs are different, so when buying for a guest bedroom it is advised to opt for medium firmness. Keep a look out for mattresses with deep down support, specifically in the center third, as this will prevent the mattress from sagging as guests sleep on it over time.'
What should you have in a guest bedroom?
'Apart from the bed and a bedside table, a guest room also requires somewhere to store – or at least hang – clothes, especially if guests are visiting for a party and need to hang a dress or suit before the event,' says Hotelier Julia Hands.
'If there isn't space for a wardrobe, hooks with good-quality hangers serve well. More than two nights and I would say a wardrobe – even a small one – is a must, along with a comfy chair.'
Less is often more when it comes to guest bedrooms. Avoid furniture that looks intriguing, but is not practical. 'I am not a fan of ticking clocks either,' says Julia.
How do you style a guest bedroom?
'When styling a guest bedroom, it is best to keep the decor simple and tasteful,' explains designer Nicky Dobree (opens in new tab).
It's your home and you should feel happy and comfortable, but don't forget it is you that they've come to see. The room should reflect you and your home but don't over-personalize it with too many pictures and ornaments.
Irene Gunter, founder of Gunter & Co (opens in new tab), suggests ensuring you use proper curtains or Roman blinds, and also to be punchier with pattern or color, adding: 'You can risk it in here.'
In small guest rooms, decorative options include choosing a neutral backdrop and then adding pattern and color, or taking a bolder step.
Interior designer Penny Morrison (opens in new tab) says: 'Dark lacquered walls are smart in a study and pictures to stand out well against them. When the room turns into a guest bedroom, bright lampshades can be introduced to add color accents, alongside boldly patterned cushions and throws for extra coziness.'
What is the best color for a guest bedroom?
The best color for your guest bedroom is the one that makes you happy, and chimes in nicely with the rest of your home.
To recreate the individuality that a boutique hotel offers, don't be afraid to push boundaries by mixing the bold and the bright in terms of color. For ultimate comfort, invest in sumptuous yet colorful bedlinen and choose accessories with character for depth of interest.
If you are after a calming color palette, a green bedroom is a great choice for your guests. Used to evoke a semblance of peace, serenity, and tranquility, green is having something of a moment this year.
How do you make a guest room cozy?
A trick often missed when revamping a spare room is to make it feel as comfortable as other rooms in the house. Add cushions and layer fabrics, or carve out a snug sleeping area and decorate with dark, cosseting tones. If the room layout is narrow and you need to learn how to arrange a small bedroom, a single bed might slide in horizontally under a window. Then one option is to hang a curtain at each end of the bed, creating an alcove.
Jennifer is the Digital Editor at Homes & Gardens. Having worked in the interiors industry for a number of years, spanning many publications, she now hones her digital prowess on the 'best interiors website' in the world. Multi-skilled, Jennifer has worked in PR and marketing, and the occasional dabble in the social media, commercial and e-commerce space. Over the years, she has written about every area of the home, from compiling design houses from some of the best interior designers in the world to sourcing celebrity homes, reviewing appliances and even the odd news story or two.
With contributions from