How to style a bed – a five-star hotel guide to dressing, layering and styling a bed
Styling a bed beautifully can give your bedroom a boutique hotel feel that's smart and elegant. Here's how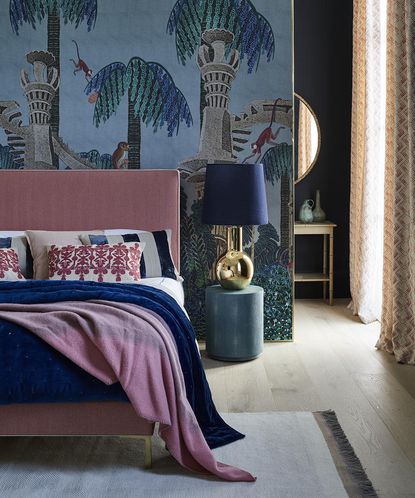 (Image credit: Jake Curtis)
Whether you are styling a bed in your master room or a guest room, a bed should look inviting. And certain to deliver on the promise of a luxurious night's sleep. To help you make the most of this bedroom essential, we've spoken to industry experts to reveal how to style a bed for maximum impact and comfort.
Before dressing a bed, it is important to get the foundations – the bed linen – right. A set of bed linen can make all the difference between a good and bad night's sleep. And between a beautiful look and a slightly scruffy affair.
Once you have established that solid base, the three most important elements of styling a bed are the pillows, cushions and throws. They should complement your other bedroom ideas and the bedroom color scheme, but also add texture and depth to the room.
How to style a bed
Bedroom styling is all about creating layers of comfort – with the bed the focal point of the space. Use this quick guide to find out how to style a bed – then you can welcome guests in style, and treat yourself to a hotel-style bedroom, every night of the week...
1. Ensure your bed is eye-catching
You may already be compiling bed ideas, but if not, it's well worth considering if you want your bed frame to be part of your bed styling. It might be that you want to choose a shapely frame that chimes with your home's period – a solid wood four poster with canopy in a traditional scheme or a modern, brightly painted one in a more modern bedroom, as above.
Or, perhaps you want the headboard or bedlinen to be the focal point?
2. Style a bed with a beautiful headboard
Stand-out headboard ideas are guaranteed to frame any bedlinen you put on the bed. When considering a headboard as part of styling a bed, you need to consider four things. The headboard's height – very tall or wider-than-the-bed headboards are much grander-feeling than standard sizes; its shape – add curves to boxy rooms, for example; its material – to add texture; and its colors – to complement and tie together both the bedroom's scheme and the bedlinen.
3. Consider a color scheme when styling a bed
When styling a bed it is important to consider bedroom color ideas to settle on a color scheme, starting with the bedsheets. Simple, white bedsheets are the perfect neutral base, much like a crisp white shirt. Tie the bed in with the rest of the bedroom by selecting cushions and throws in complementary colors. Or use it as an opportunity to add some seasonal color to the room.
'Warm tones will create a cozy atmosphere throughout the autumn months, reflecting the falling leaves with rust and ochre hues,' explains Emily Dunstan, Home Buyer at Heal's (opens in new tab). 'Whilst warm neutral hues can be layered to offer a crisp and fresh vibe in the spring and summer seasons.'
However, if you are tempted by the plethora of printed sheets on the market Lucy Ackroyd, Head of Design at Christy (opens in new tab) suggests starting with the bedding before decorating the rest of the bedroom. 'If you pick a bold design for your bed, such as botanical duvet covers with matching printed cushions. Then use this as the stimulus to decorate the rest of your room, incorporating complementary paint colors and plants,' she explains.
4. Pick the best pillows and cushions – and position them correctly
Pillows above or below the duvet? We say over – that is how you will see them positioned in the best five star hotels. Smooth out the duvet first, then place the pillows on top.
Picking out the best pillows for your bed is vitally important – our edit for buys that won't just look smart but will ensure you sleep better, too.
Then: cushions. We prefer them sitting smartly, symmetrically and upright so that they face into the room. Your partner may moan, but two pairs, as shown above, make your bed look more luxurious than just one on each side.
5. Style a bed with a reversible duvet
A duvet can of course also be folded back if you don't want to smooth it beneath your pillows – and if it's reversible with a pretty design on the underside that complements that of the upper side, it allows for more visual layering of your bedlinen.
6. Use throws to layer on different textures
Texture is key to creating a cozy and inviting bed you will want to snuggle up in. Layer different textures with cosy woolly blankets, knitted cushions and even faux fur for a touch of luxury. You can even add texture in at the foundation of the bed with a crushed linen duvet cover.
Wrinkled linen bedding is perfect for creating a relaxed look. A clever trick to keep your bed looking stylish if you don't have time to iron your bedding.
7. Invest in good quality bedlinen
A common bedding mistake is to choose the wrong type of bedding - always check the label to see what the bedlinen is made out of before investing. Linens and cottons are the perfect bedding material. 'The natural fibres keep you cool in summer, warm in winter and they look great,' explains Charlie Marshall, Loaf founder.
It is best to aim for a 300 or 400 threat count linen, woven from good quality cotton for a great nights sleep. 'It is the thread count choice for many top hotels,' explains Robert Lancaster-Gaye, co-founder at Tielle Love Luxury (opens in new tab). 'Higher thread count isn't always an indicator of quality.'
It is also worth thinking about investing in different layers for your bed, such as a flat sheet and thin quilt. These are great for adding warmth and comfort, but can also help if you and your partner have different sleeping temperatures
Styling a bed – a simple step by step
1. Start with a valance sheet to hide any unsightly bed frames.
2. Put down a mattress topper for added comfort and support. We like the Panda mattress topper.
3. Cover with a mattress protector, to prevent against stains and mites. We really rate the Casper mattress protector.
4. For a hotel-look use a flat sheet to cover the mattress. However, you can also use a fitted sheet for ease.
5. Layer a top sheet facing down against the mattress and a thin quilt if using.
6. Drape a duvet/comforter on top, and fold back the top sheet to create a cuff.
7. Stack one or two pillows on top of the bedsheets.
8. Drape a bedspread or throw over the bed. For a boutique hotel look, add a runner at the end of the bed.
9. Layer up a selection of cushions in complementary colors.
How do you dress a bed with cushions?
When adding cushions to a bed, take the time to have fun and add some flair to your bed. Cushions are relatively inexpensive to replace making it the ideal opportunity to try out different colours and textures.
'Contrast cushions in varying textures, complementary colors, different shapes and sizes for a stylish look,' suggests Lucy Ackroyd, Christy's. 'Go for somewhere between three and six cushions depending on the width of your bed and group them together by size, with the largest at the back.'
How many pillows should be on a bed?
There is no right or wrong answer to how many cushions or pillows you should have on a bed. It is all down to what you find most comfortable.
As a guide Lead Home Stylist at West Elm (opens in new tab), Mariam recommends using no less than three cushions, and one or two pillows on each side of a bed.
'We start with the standard size sleeping pillow, and then start stacking them out,' she explains. 'You can use two standard size pillows stacked horizontally for a more contemporary feel.'
How do you dress a bed with throws?
A statement throw is an essential finishing touch, making a bed look well-put-together with minimal effort. Adapt your throws with the shifting seasons. For example, fall and winter will call for layers of cozy blankets, while in summer a simple cotton throw is all you need to make a statement.
'When dressing your bed for winter try layering different textured throws and mixing your materials,' suggests Chrissie Rucker, founder of The White Company (opens in new tab). 'This is a great way to elevate your bed whilst ensuring it still feels warm and cosy during the colder months.'
When choosing throws consider how you will be draping them across the bed each morning. Knitted blankets will flow best when casually draped over a bed, while stiffer throws will look neatest folded at the end of the bed.
Remember a bed should go beyond being practical. Chrissie Rucker sums it up best, saying 'it should be comfortable and inviting – a sanctuary at the end of the day.'
How many layers should a bed have?
A bed should have anywhere between three and seven layers. These can include the following: a mattress protector, bed skirt, fitted or flat sheet, top sheet, duvet/comforter, blanket/throw – and, of course, pillows.
Rebecca is the News Editor on Homes and Gardens. She has been working as a homes and interiors journalist for over four years. She first discovered her love of interiors while interning at Harper's Bazaar and Town & Country during my Masters in Magazine Journalism at City, University of London. After graduating she started out as a feature writer for Women's Weekly magazines, before shifting over to online journalism and joining the Ideal Home digital team covering news and features. She is passionate about shopping for well-crafted home decor and sourcing second-hand antique furniture where possible.