Bedroom color ideas – 18 paint and decor hues that will transform your sleep space
These bedroom color ideas will help you pick the perfect hue from dawn til dusk, from textured finishes to soothing paints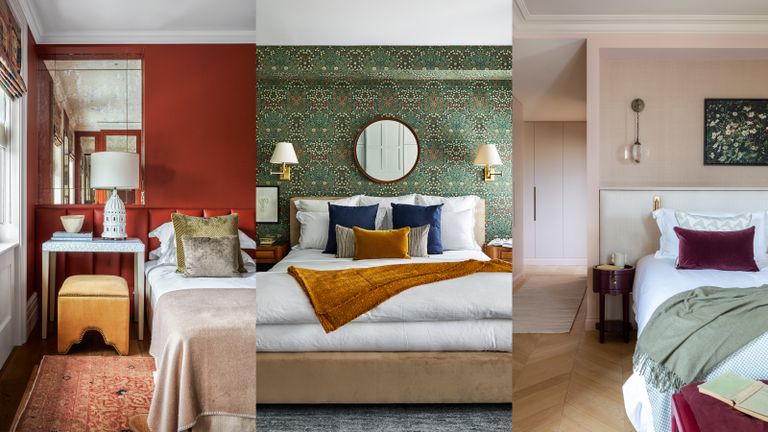 (Image credit: Davide Lovati/Zoe Feldman/Kitesgrove)
Thinking carefully about your bedroom color ideas is vital to getting the room's scheme right, as color has the power to change the mood from fresh and invigorating to soothing and restful.
For a classic look, many will err on the side of caution with their bedroom ideas and choose a completely neutral scheme, forgetting that a little lift of color can cheer up a room immensely.
Painted finishes work well for timeless schemes and, of course, can be updated at a later stage if you're confident enough with a paintbrush. Alternatively, go bold with a wallpaper which can allow you to add more than one color with ease.
Bedroom color ideas
Our curated selection of bedroom color ideas are sure to inspire you, whether you are looking for bold shades for your walls, or accents to enliven a simple scheme. From snooze-inducing blues to earthy pinks, these ideas will help you choose the perfect hue for a good night's sleep.
1. Keep your bedroom color scheme soft and gentle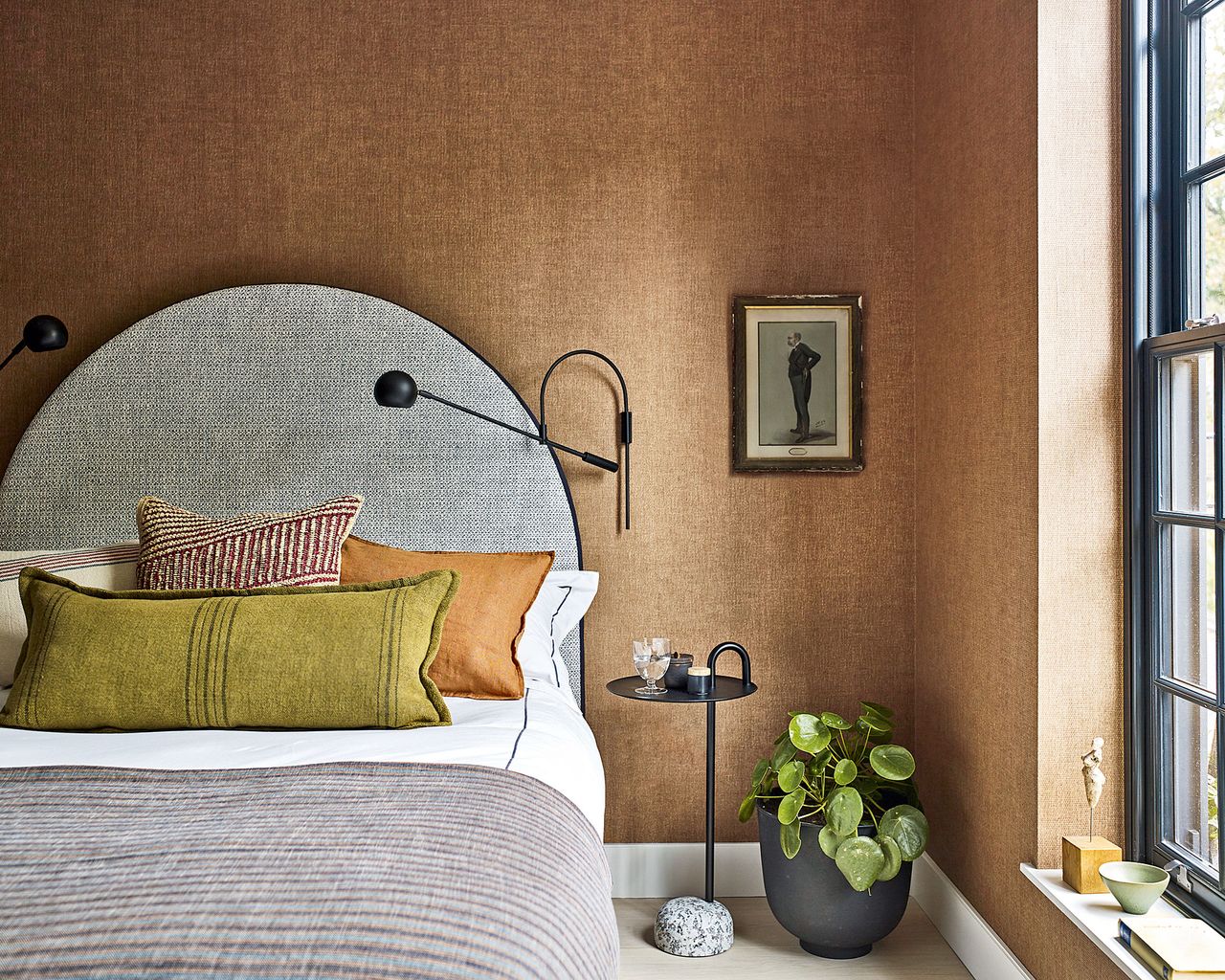 This is a contemporary bedroom but the use of soft tones, shapes and details creates connection with nature that makes it appear almost timeless.
'For this Chelsea house project we worked to a selection of nature-inspired finishes,' says Irene Gunter of design practice Gunter & Co, 'with a strong preference for earthy terracotta and green and blue tones which are offset against sleek black details.'
Irene describes this bedroom as having 'a lovely, cozy shape' which was further enhanced by the 'warm, enveloping' hand-woven texture of the wallcovering – Casablanca from Altfield. 'Having a curved headboard also allowed us to have a more generous bed size without it overwhelming the wall behind.'
2. Combine soft hues with bold brights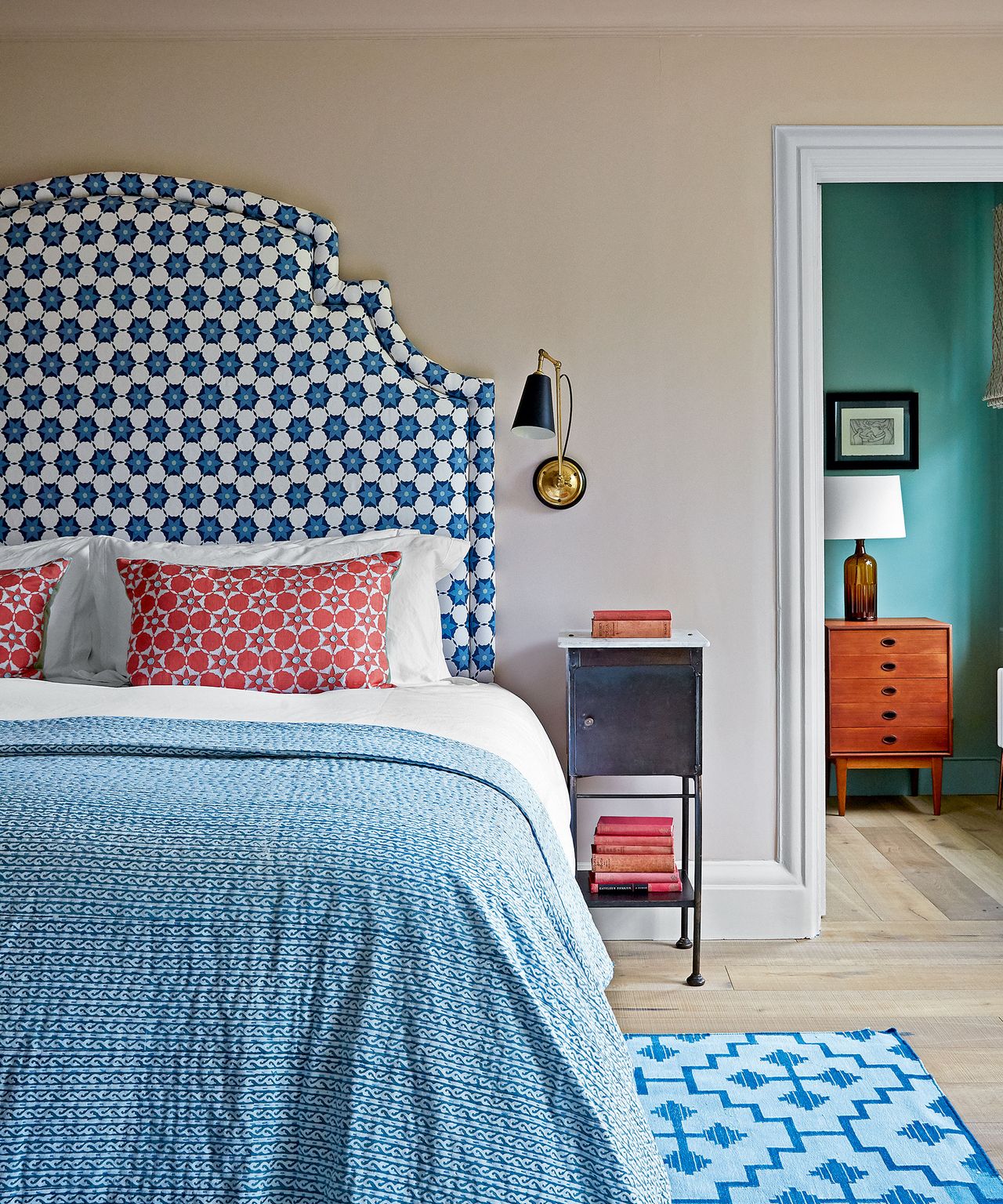 In this bedroom by interior designer Nicola Harding, the jewel green of the client's husband's dressing room contrasts perfectly with the soft pink walls of the bedroom (Farrow & Ball's Setting Plaster).
'We created an overall color palette that flows through the house and therefore has a sense of harmony,' says Nicola. 'We used paler colors in the rooms that have good light and stronger colors in the darker rooms.'
Arguably, the standout feature of this room is the vibrant headboard. Pattern on headboard ideas not only injects energy but, as Nicola points out, is also more forgiving than a plain one, should it mark. She had this headboard made by Naturalmat using the Carolina linen from Vanderhurd.
3. Modernize your neutrals with grey
If you're looking for a neutral bedroom scheme that feels fresh and modern, embrace grey bedroom ideas.
'Greys are hugely versatile, from cool off white shades, through warmer neutral mid tones to the very deep and mysterious,' says Judy Smith, Color Consultant at Crown. The walls of this bedroom put together by Jonathan Adler lean towards the darker end, but are kept fresh by being paired with crisp white.
'They have more color and texture within them than straight black,' adds Smith. 'A monochrome scheme of black and white is much more unforgiving than shades of slate and clay, which will change subtly with the light throughout the day, giving them personality and character.'
4. Go from morning 'til night with white
Heading towards the lighter end of the spectrum, white bedroom ideas have the unique ability to feel both soothing and calm before sleep, but bright and airy in the mornings. Layer whites on whites to create a sophisticated, elegant scheme and embrace both gentle tonalities of white – from dove grey to ivory – as well as layers of texture. On the bed, use classic crisp white sheets as the base, and make the room feel cozy with woolen blankets and boucle cushions.
5. Rouse yourself with earthy reds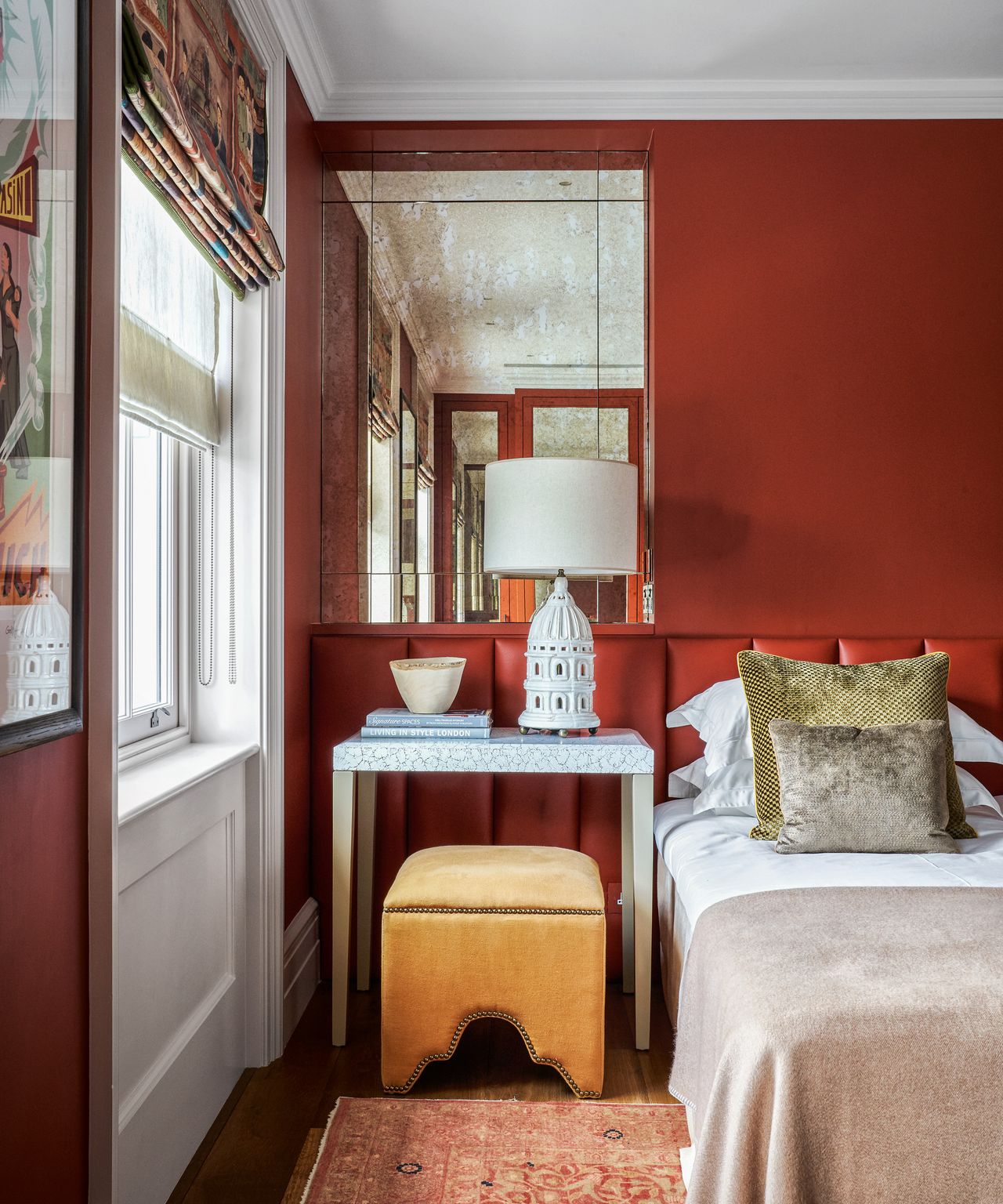 Your bedroom scheme needs to not only help you fall asleep, but be a pleasant environment in which to wake up. 'As a guide, warm colours such as red, orange and yellow are considered to be stimulating while cool colours such as blue and green tend to be more restful,' says Smith. 'It's useful to consider these factors when designing spaces, we live, work and play in.'
If you're the type who likes (or needs) a bit of get-up-and-go in the mornings, consider earthy tones of red. While not traditionally thought of as one of the best bedroom colors, these reds are at once regal and romantic. To keep this choice feeling modern, choose a red with an orange undertone, pair with crisp white ceilings, and accessorize with ochre pieces like in this North African-inspired scheme.
6. Choose blue for a serene scheme
'I love blue in bedrooms because it's contemplative and calming,' says artist and color expert Annie Sloan. 'My bedroom is painted in deep dark Aubusson Blue because I wanted the space to feel cosy and calm.'
An enduring favorite, blue bedroom ideas are proven to have a soothing effect on the brain, helping ready you for sleep. While lighter blues or bold accents are more instinctive choices, don't be afraid to use darker shades on the walls. In this bedroom by interior designer Alexis Hughes, a deep navy blue paint is paired with white ceilings and a gloss finish to allow light to bounce around the room.
7. Head over to the dark side
Far from being fodder for moody teenagers only, dark bedroom schemes are gaining in popularity among the design conscious, with even black bedroom ideas making waves among jewel tones of blue, burgundy and green.
'Darker tones of charcoal can be used to add drama anywhere in the home, from a living room to a bedroom or even a small hallway,' says Smith. 'With clever lighting and mirrors you can create a look that is both strong and atmospheric.' In this bedroom, a black-based wallpaper design is built upon with patterns-on-patterns in autumnal tones, a black four poster bed framing the look.
8. Let the natural world in with green
Following a huge paint trend across much of the home, green bedroom ideas are a great way to channel the invigorating and relaxing qualities of the natural world. 'Green is a grounding, calming colour and works beautifully in bedrooms, especially when paired with the right lighting to make the most of all the pigments in a high-quality green,' says Sloan.
In this room by design agency Kitesgrove, a small format white and green wallpaper is paired with a deep emerald velvet headboard. 'Greens are soothing and a bit more unexpected than a blue if you are trying to introduce color,' says interior designer Zoe Feldman. 'Incorporating wallpaper can create a 'jewel box' that hugs you in your bedroom.'
'Dark green paint colours are best used in a space with good natural lighting or somewhere you're hoping to create a sense of cosiness and safety,' adds Sloan.
9. Warm up blue's benefits with purple
'Purples in general are warm, comforting colours,' says Sloan. 'They have the receding values of blue, making a space feel larger, as well as the warming properties of red, making a space feel cosy. This makes them great for bedrooms.'
When picking your purple, you'll need to choose your shade carefully to avoid the scheme feeling dated. Pick a tone with some grey in it like in this example, stay light with pale periwinkles, or delve into the dark bedroom ideas trend with eggplants, mulberries and grapes.
10. Layer harmonious colors
Of course, it's often not just one color you're looking to decorate with in a bedroom – especially if you're delving into the world of bedroom wallpaper ideas like in this example by Feldman. To create a coherent scheme that feels unchallenging and enveloping at the end of the day, layer up on harmonious colors i.e. ones that sit beside each other on the color wheel. In Feldman's design, a green-based wallpaper is paired with blue and yellow scatter cushions on the bed, mirroring the details in the pattern.
11. Rethink pink and choose a natural shade
Long gone are the days when pink was just for bedroom ideas for girls. The color is gaining traction across all rooms of the house, and showing a new, earthier side to itself. Pink's comforting qualities make it a perfect pick in a bedroom for all genders, but to make it feel modern, avoid the sugary sorts. Opt instead for pinks with brown undertones, from orange-laced terracotta to a natural blush like in this bedroom, also by Kitesgrove, and pair it with muted shades and natural textures
12. Take one color and explore all of its tones
While sticking strictly to one color may sound like an easy way out of concocting color combinations, going monochromatic can make a real statement.
'To make an impact, use one color – or tones of one color – in a room,' says Smith. 'If you paint walls, skirting, doors, cupboards, radiators – and even window frames – in the same color it will look thoughtful and sophisticated.'
In this example, a tonal palette is explored through the soft furnishings used in the bed ideas. Brown ochres are explored from pale incarnations on the bedspread through to robust, warm examples in the woven headboard and lampshade, through to dark details in the scatter cushions.
13. Add interest with all-over floral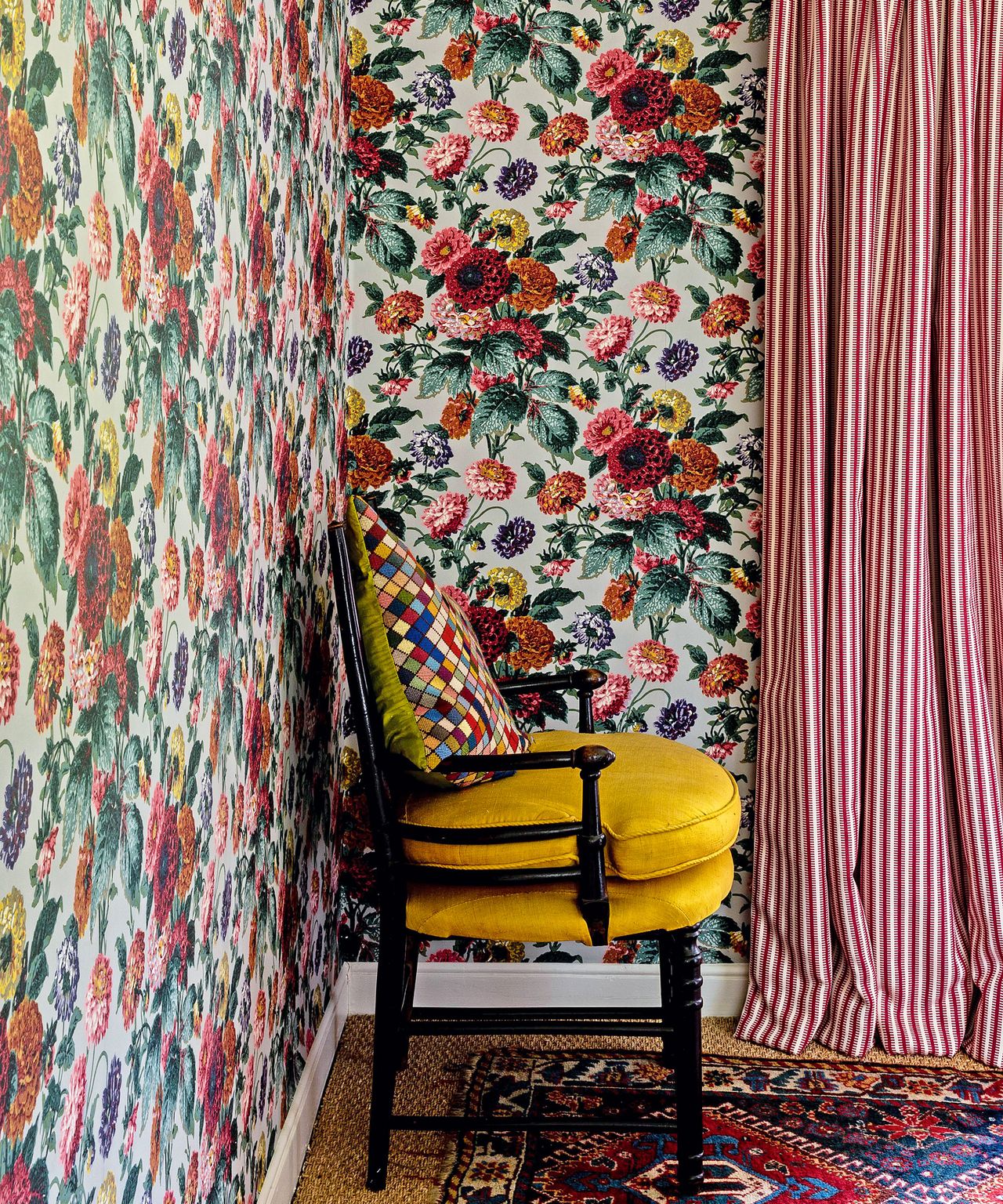 Dahlias have been enjoying a wild resurgence in popularity, so Flora Soames' wallpaper was a bold, on-trend choice here. 'It sets the tone for the layering of antiques and fabrics, from Soane's Jajim Stripe curtains to an antique cushion on the chair,' she says.
'When choosing fabrics and soft furnishings, opt for co-ordinating rather than matching to prevent the room from looking contrived,' says interior designer, Birdie Fortescue. 'Try basing colors on a piece of art or favorite print – this makes a great jumping off point.'
14. Evoke stillness and serenity with color
To create a soothing space, opt for deep soporific hues such as Little Greene's Millefleur Tapestry wallpaper in Knight from National Trust Papers II Collection,' says the company's creative director Ruth Mottershead. 'It works wonderfully as a feature wall behind the bed.'
15. Decorate with a soothing blue color palette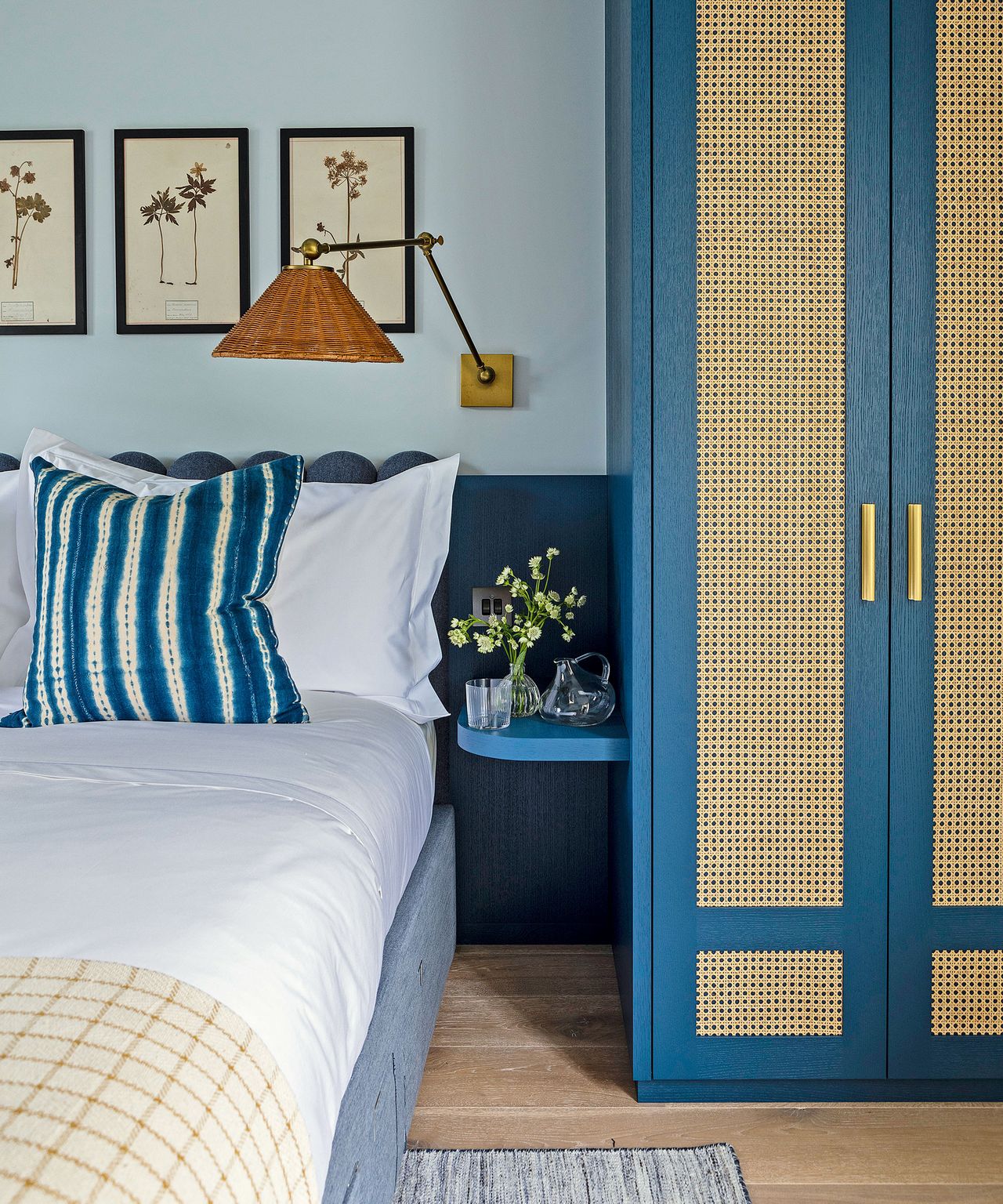 If you crave a calming atmosphere in your bedroom, blue – in all its variations – could be the solution.
Katie Lion, an interior designer with Kitesgrove, chose blues for this small but soothing space: 'The inky teal is a beautiful color that instantly feels sophisticated and calming. We didn't want it to take over the room so we limited its use to the headboard, cushions and built-in cupboards, then used a paler blue for the walls and ceiling (Farrow & Ball's Skylight) which helps the room feel light and balance the darker blues.'
Katie used space-saving tricks such as wall lights (the Padma sconce with wicker shade from Arteriors), to create more surface space on bedside shelves, and discreet under-bed storage ideas.
16. Factor in harmonious hues
This bedroom is all about a harmonious duet in green and white. Verdant imagery and a garden room concept were central to this flat by interior designer Jessica Summer. 'This leafy wallpaper by Liberty was the perfect note for this look,' she says.
'I love colorful rooms, but I like to introduce this with tonal variations and textures, rather than strongly contrasting colors,' explains Jessica. 'This makes a cheerful yet balanced space one will never tire of.'
17. Take a bold approach to color and pattern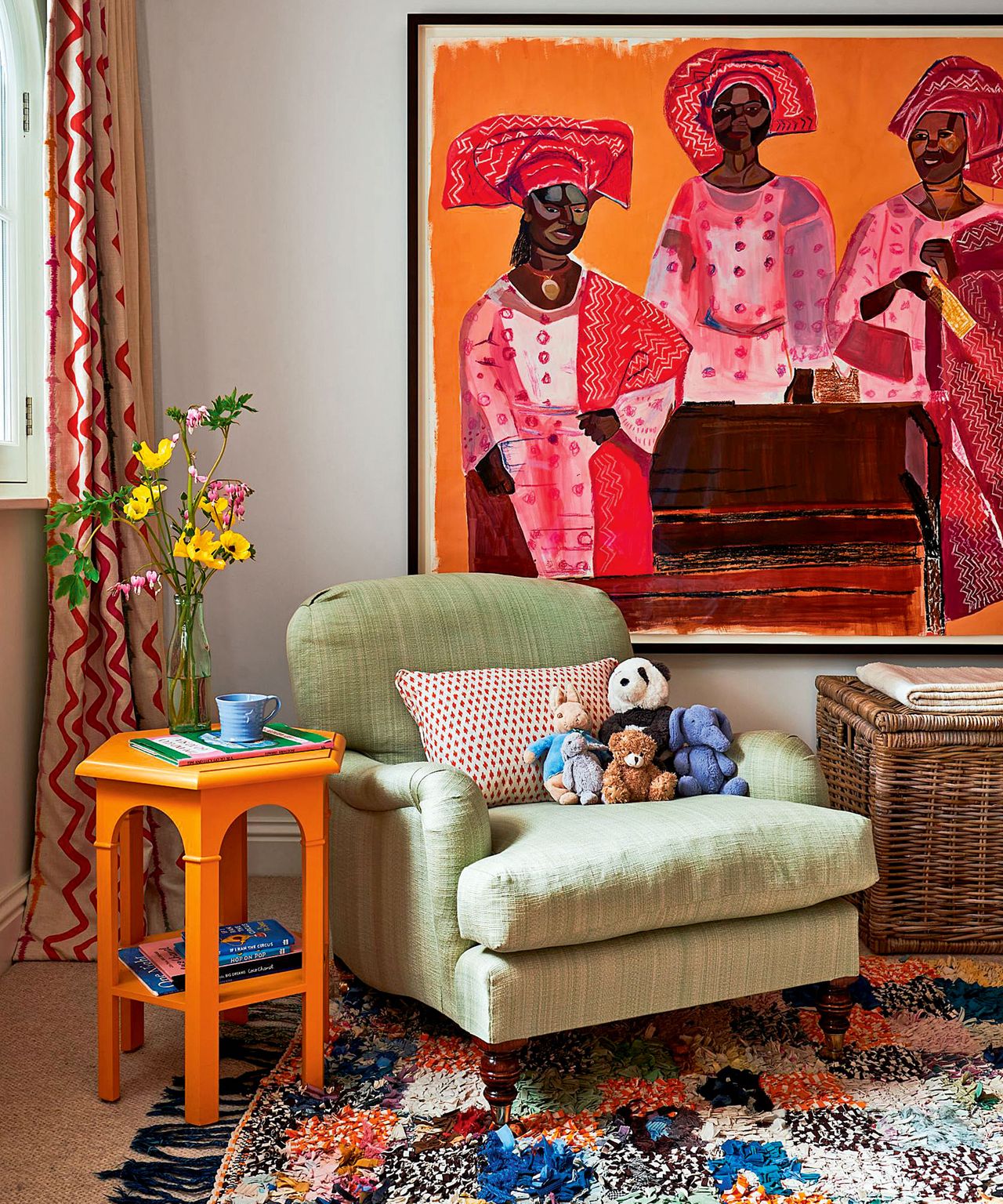 Use treasures from your travels to give your bedroom both artistic interest and personal meaning. 'We designed this vibrant girl's bedroom to complement the client's art collection,' says interior designer Kate Guinness who sourced the rug in Morocco.
18. Work in threes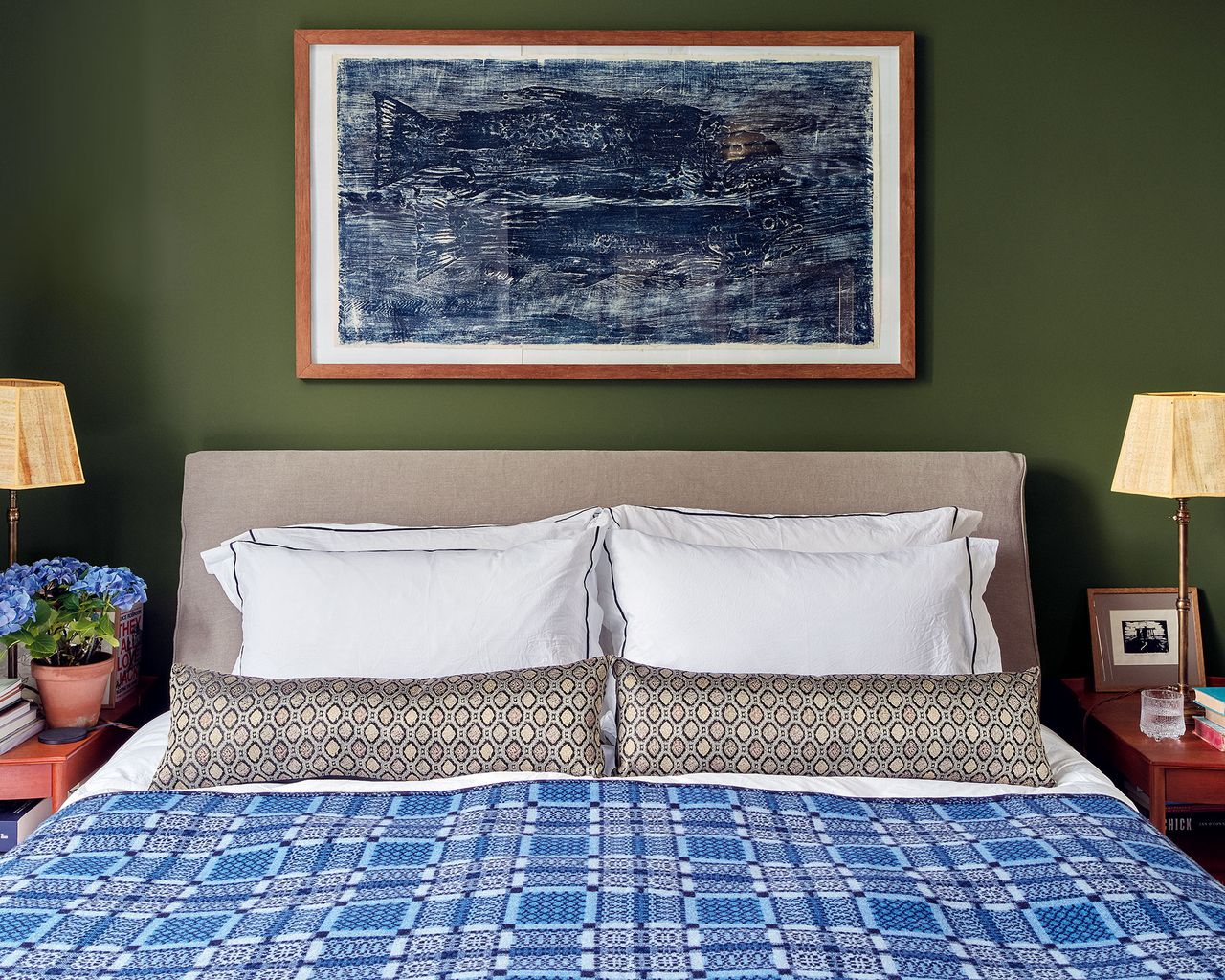 A simplified palette can be a good way to approach a bedroom, especially when you are daunted by the sheer variety of color options.
'Any more than three colors in a bedroom can be overpowering,' says interior designer Tom Morris. 'This space is large so we went for this deep green (Little Greene's Olive Color), which is a backdrop to the indigo colors in the fabrics and the print above the bed.
Which is the best color for a bedroom?
Choosing the best color for a bedroom is almost entirely down to personal taste. We say 'almost' because there are a few key factors you'll need to take into consideration when choosing a bedroom color.
If you tend to find it difficult to nod off, steer clear of brights and opt for soothing colors in more muted tones, such as blues and purples with a touch of grey in them, or even grey itself. Dark colors are also great for creating a cocooning space that looks great at night when cleverly lit with warm, glowing lamps.
For those who don't find sleeping to be too much of an issue, opt for something a little more invigorating. Bright shades are still a no-go, but consider warm earthy tones or red, orange and brown to create a scheme that will feel romantic in summer and cozy in the cooler months. An all-white scheme is soothing in its simplicity by night, but fresh and bright in the mornings.
What is the most relaxing color for a bedroom?
The most relaxing color for a bedroom is down to personal preference, but blue has been proven to induce a calming effect on the brain and is therefore an enduring favorite in the bedroom. Pair with crisp whites for a fresh look, or layer muted tones for a softer scheme. It even works surprisingly well en masse in darker shades – wall-to-wall navy blue is a growing favorite that looks stylish and is super relaxing.
Outside of blue, consider its closest relatives. After a year or so of being stuck indoors, green is gaining popularity for its affiliation with nature. Choose shades of sage and olive to stay on trend, or create a jewel box effect with emerald. Purple works well for a warmer scheme, while soft greys are an on-trend choice for a soothing, neutral scheme.
Jennifer is the Digital Editor at Homes & Gardens. Having worked in the interiors industry for a number of years, spanning many publications, she now hones her digital prowess on the 'best interiors website' in the world. Multi-skilled, Jennifer has worked in PR and marketing, and the occasional dabble in the social media, commercial and e-commerce space.
Over the years, she has written about every area of the home, from compiling design houses from some of the best interior designers in the world to sourcing celebrity homes, reviewing appliances and even the odd news story or two.