Dark bedrooms — 11 ideas for inky colors and jewel tones
These dark bedrooms set the tone for slumber, including dramatic black backdrops and blue as deep as the night sky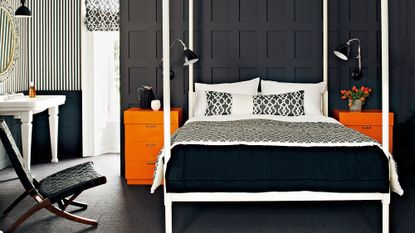 (Image credit: Future/Adrian Briscoe)
These dark bedrooms will help turn your sleep space into a sanctuary of crepuscular slumber when night starts to fall and the stars begin to twinkle.
'A dark interiors scheme works in almost every area of the home, but especially well in the bedroom,' says Nina Tarnowski, Founder and Designer at Woodchip & Magnolia. 'It creates a warm, cozy and inviting space to retreat to at the end of the day.'
Along with the 'cocooning' furniture trend, work-from-home life has induced a renewed respect for comfort, as well as creating areas of escapism in our homes.
Dark bedrooms do just that, creating a sleep-friendly space imbued with densely hued decadence. And when it comes to bedroom ideas that lull us to sleep (stylishly), we're all in favor.
Dark bedrooms
From daring black wall paint to forest green color schemes to take you back to nature, these stunning dark bedrooms will offer inspiration along with expert advice on how to recreate them.
1. Dark walls make for the perfect art gallery
'Black bedrooms can be extraordinarily successful, and a great foil for a bedroom filled with artwork', says Patrick O'Donnell, Brand Ambassador for Farrow & Ball.
'Darker colors form a much better background for paintings and artworks than white, which art galleries and museums have discovered', concurs Martin Waller, Founder of Andrew Martin.
For art-lovers who want to avoid bedroom color ideas that mimic the 'white cube' look, this is the most obvious way to allow an eclectic collection to pop from the walls.
But it's not the only option, as this black bedroom demonstrates, allowing a piece with a white background and mounting to really make a statement.
2. Soothe with dark blue
'Dark colors are a great choice for the bedroom as they look wonderful at night,' says Francesca Wezel, Founder of Francesca's Paints. 'Both dark green and dark blue are particularly soothing colors, which is exactly what you want for your bedroom.'
If you're after a blue bedroom that mirrors the night sky, opt for inky blues on the walls.
Navy works really well when used in large amounts, while this midnight blue is a more luxurious alternative, deepened further by the use of blue velvet furnishings and a royal blue textured throw.
3. Luxuriate in maximalist patterns
Dark bedrooms are never going to be subtle, so why not go all out and embrace the maximalist trend?
'If you're ready to jump into the deep end of moody interiors, go for oversized florals in rich jewel tones, a statement wall mural, or paint walls and the ceiling in inky blues and deep charcoal shades for a decorating scheme that adds a real wow factor,' says Nina Tarnowski at Woodchip & Magnolia.
In this opulent dark room, a boldly patterned bedroom wallpaper idea sets the tone for the rest of the room's blend of warm ochres and dramatic blacks.
'Wallpaper has a huge impact on the mood of a room, so it's key to get the design right', adds David Harris, Design Director at Andrew Martin. 'Opt for darker, more dramatic tones, such as purple or navy, to make larger rooms appear more intimate.'
4. Soften black bedrooms with tints and patterns
A black bedroom might make you think of moody teenagers, but think again. Black wall paint is a major trend, one that brings sophistication and chic to bedrooms – as long as you pitch it just right.
'Avoid pure black and look at slightly softer versions, such as Farrow & Ball's Railings, a dark slate version with just the tiniest hint of blue through it,' says O'Donnell.
Softening the shock of black is key to making it work. 'Black interiors aren't for everyone, so if you're looking to dabble with the dark side, wallpaper is a great place to start', adds Tarnowski. 'Opt for delicate patterned motifs that have a softer base tone, like vintage brown with contrasting flecks of blush and black.'
5. Immerse yourself in dark green
'Deep greens are another restful color choice for a bedroom', says O'Donnell. 'Not only does a green bedroom help impart the mood of relaxation, but it will create a lovely link to the outdoors.'
Green is trending across all parts of the house, as we hanker to get back to nature. To really capture that sense of walking through a forest, create your very own canopy with paint.
'Try decorating on both the walls and the ceiling for a fully immersive experience. This will also help blur the boundaries of a room with limited space.'
6. Contrast dark walls with a white ceiling
Dark walls will make rooms feel smaller, which is great if you're looking for cozy bedroom ideas for larger rooms.
But compact rooms can implode under an all-out dark paint scheme – something that may be putting you off the drama you can achieve with gray bedroom ideas, for example.
The solution? Contrast dark walls with a white ceiling to open them up, and make them feel taller.
'Try something like Farrow & Ball's Down Pipe or De Nimes on the walls which never feels too cold or overwhelming, especially when used with an off white for a clean contrast on the ceiling,' says O'Donnell.
7. Team dark colors with natural materials
Dark blues, greens and grays work really well with marble, brass and walnut when designing luxury bedroom ideas.
'The rich background colors of paints, such as Andrew Martin's Greenwich Blue, Canopy, Welsh Slate and Wild Truffle, set off these natural elements beautifully and add real luxury to a room,' says Harris.
Richly toned materials will enhance a dark scheme's decadence, but lighter woods and fabrics will freshen up a cooler look.
'Dark colors look restful and sophisticated, but make sure to add some balance through accessories and furniture in lighter colors or natural textures, to give the bedroom warmth and light', recommends Kathryn Lloyd, Color Specialist at Crown Design Studio.
8. Use your floor to either lighten or indulge
Creating a dark bedroom isn't all about the walls. You need to think about how your floor material and color will contribute to the effect.
'A great way to brighten up the home, a light finish on flooring will allow for contrast when paired against darker walls and furniture,' says Jenna Kane, a member of the Product Development team at Kersaint Cobb.
In this bedroom, a Kersaint Cobb carpet picks out the black from the wall color, but brightens it with dominant white stripes. 'Pale carpets are perfect for creating a light, airy look all year round and darker shades will help generate a rich and luxurious effect.'
9. Dark bedrooms can still be full of color
'A common misconception of "dark interiors" is that everything needs to be in moody hues like black or gray,' say Jenna Choate and Mariana Ugarte, Founders at Interior Fox. 'But it's possible to take a colorful base color and still design your room on the darker side.
'It's all about the shade you choose. Instead of yellow, opt for a dirty mustard. It's a versatile shade that can be paired with black accents or complementary earthy tones, like rusty terracotta and deep olive/avocado greens.
If you're focusing your darker color solely on the walls, it's important to look for paints with high levels of pigment to achieve full coverage.'
10. Dark bedrooms work even better in neutral homes
If your home is a colorless oasis of taupes and off-whites, then you're likely to feel like a dark bedroom isn't for you.
To quite the contrary, a dark bedroom works even better when it is a complete contrast to the rest of the house, zoning the sleep space as an area for unwinding.
'Particularly if the rest of your home is painted in light and neutral shades, it can feel very soothing to enter a bedroom with a dark color scheme,' says Lloyd. 'It will instantly help you switch off and relax.'
11. Take control of your lighting
'Warm ambient bedroom lighting ideas are essential. A non-directional light is best for setting a softer tone for the evenings,' explains Natalie Mann, New Product Development Co-ordinator for Iconic Lights.
Lighting is always an important consideration in the bedroom, but is perhaps even more so when you're balancing its use in a dark bedroom.
'Choosing the correct light bulb can make a world of difference in enhancing the natural light in a darker room,' says Mann.
'For the bedroom, a warm white bulb is best, as it creates soothing, ambient light. Consider dimmer switches to allow for full control on varying the light intensity, meaning you can set the tone depending on the time of day.'
Are dark colors good for a bedroom?
Yes, dark shades are amongst the best bedroom colors.
'Contrary to what many people assume, dark colors are perfect for a bedroom,' says Lloyd. 'Inky blues, rich greens, charcoal grays and deep berries create a cozy and enveloping atmosphere, ideal for a good night's sleep.'
While white bedrooms might help mornings feel brighter, what you really need from a bedroom is a space to relax, unwind and ultimately sleep. Surrounding yourself in dark colors will help convince your body clock that it's time to nod off for the night. Blue is proven to be a particularly soothing color.
'Rule of thumb – don't be afraid of the dark, as long as you're bold and confident with your choice, you'll be sure to love it,' says Tarnowski.
What can I do about a dark bedroom?
If your bedroom is low on natural lighting, then embrace it. 'While dark colors in a bedroom can often feel like a leap of faith, they can create beautifully cocooning spaces, especially if the room is poorly lit with natural light,' says O'Donnell.
Rather than fighting against it with lighter tints, indulge in a space that it naturally conducive to sleep, and turn it into a color-filled jewel box of a room by painting the walls and ceilings a richly-hued emerald or sapphire.
'Paint is the cheapest, easiest and most effective way to transform a space, especially since there are more walls in a home than anything else,' explains Waller.
Sign up to the Homes & Gardens newsletter
Decor Ideas. Project Inspiration. Expert Advice. Delivered to your inbox.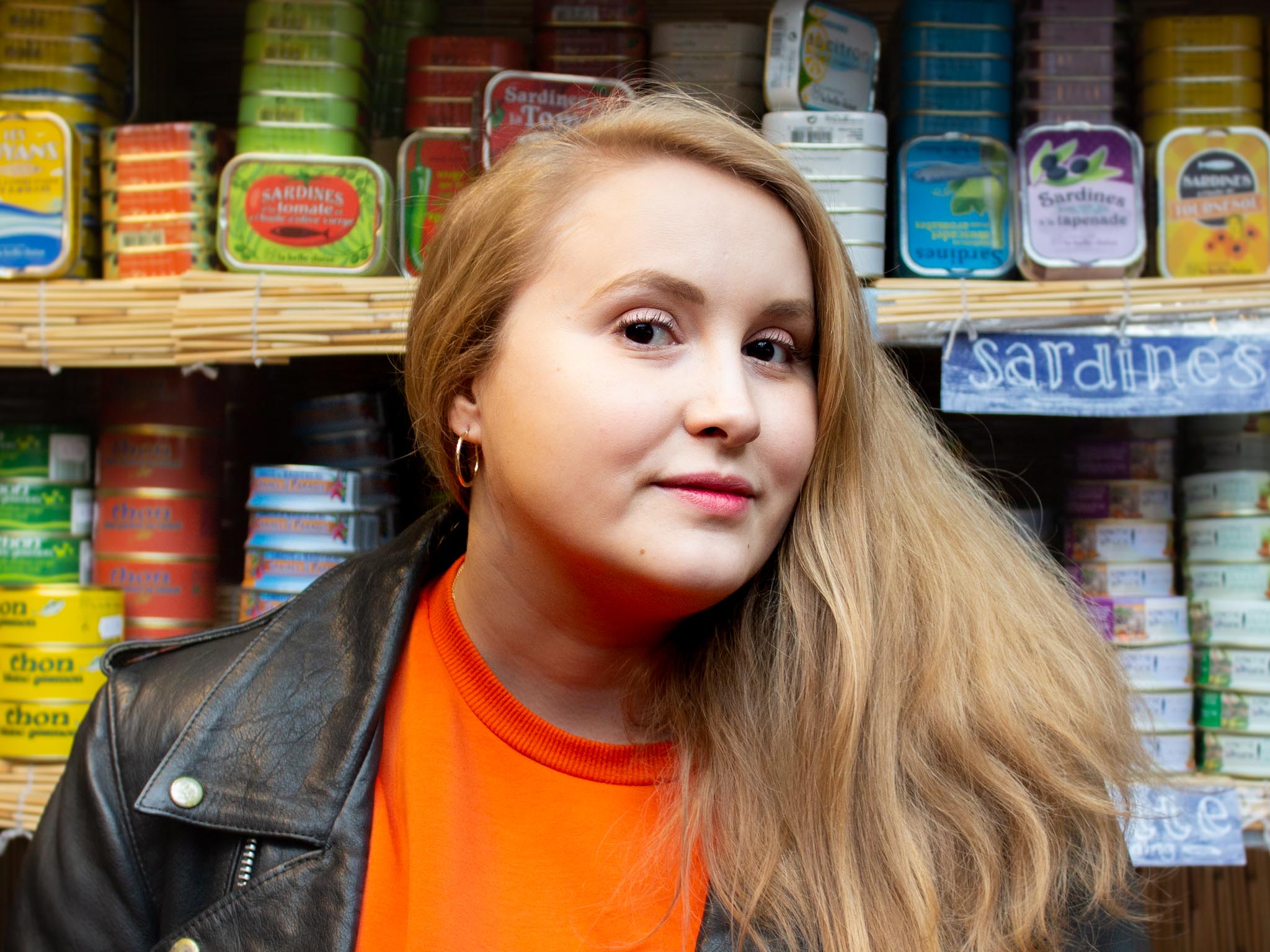 Ailis started out at British GQ, where a month of work experience turned into 18 months of working on all sorts of projects, writing about everything from motorsport to interiors, and helping to put together the GQ Food & Drink Awards. She then spent three years at the London Evening Standard, covering restaurants and bars. After a period of freelancing, writing about food, drink and homes for publications including Conde Nast Traveller, Luxury London and Departures, she started at Homes & Gardens as a Digital Writer, allowing her to fully indulge her love of good interior design. She is now a fully fledged food PR but still writes for Homes & Gardens as a contributing editor.