Luxury bedroom ideas – 17 ways to create a boutique hotel-style room
Be inspired by these luxurious and decorative ideas for bedrooms, from standout patterns to surprising touches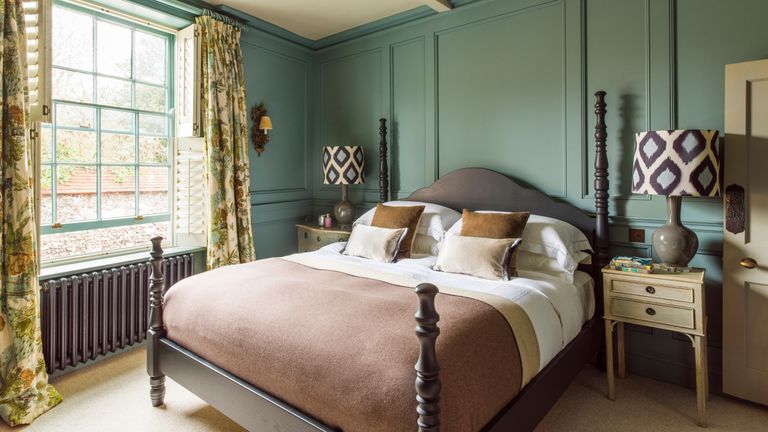 (Image credit: Future / Mel Yates)
Have you always wanted to crate a luxury bedroom in your own home? Us, too. Considering we spend around a third of our lives in bed, we should make sure that we're giving ourselves the best experience, and highest quality rest we can. Up the ante on your space with these ways to create a luxury bedroom at home.
From materials to colors, nearly every element is involved in turning your bedroom into something from a top tier hotel. Making these changes will not only make you feel like you're on holiday (yes, even on a Sunday evening with a tough week looming), but you'll find it easier to unwind and drift off into the deep sleep your body requires to truly rest and recover.
Read on to find out how to create a luxury bedroom – and for more bedroom ideas, don't miss our inspiring gallery.
1. Step back into nature
Painting both walls and ceiling in the same color can create a cocooning feel. Soft greens were used in this garden-inspired room and adding leafy patterns and florals works well as they're all based on the same color palette. The Colefax and Fowler curtains tie in nicely with the headboard covered in Rapture & Wright's Walled Garden fabric. It shows how accessories can help bring the design to life – including the Wisteria lamps with Empire shades in Cloud Chevrons by Pooky.
2. Center a scheme around one color palette
Picking a palette of one core color and using different tones of it is a way to be bold without incidentally clashing. Wendi Wolf Lewitt designed this cocooning bedroom as such, with built-in open shelving, too, so personal belongings can be displayed.
3. Play with panelling
Panelling is a popular way to add character to your walls and there are plenty of techniques to try. Consider cladding half or three-quarters of the height of your walls and painting the wood in a contrasting color.
Test out the shades in your room before committing, to see what they look like in different lights. The woodwork here is finished in Paint & Paper Library's Blue Gum, which looks much brighter as light floods the space, complementing the headboard and curtains. The tongue and groove design not only adds an interesting visual element but is practical, too, as it allows the wiring of the light and touchscreen below to be hidden and has created a shelf for pictures above.
4. Give antique furniture a refresh
A bold paint job is often all it takes to give antique furniture a new lease of life, which interior designer Elizabeth Hay has done with these two locally found beds. The deep red makes a bold statement, so paler tones were applied to the walls for balance.
5. Focus on the details
Bedroom design is all in the details. 'Fabrics are a really effortless way to add a decorative element to a bedroom,' says Hayley McAfee, design director of Villa Nova. 'Upholstered pieces, such as a headboard or chair, can act as a starting point for the rest of the room.
6. Pick your palette
'The bedroom is somewhere you want to relax, unwind and switch off from the everyday. Tranquil blue tones and calming neutrals not only look luxurious, but are known for their relaxing and regenerative powers,' explains Zoffany designer Peter Gomez.
'Using muted, pared-back hues will create a sophisticated and soothing space. If you want something a bit warmer, a shade like pewter will help to create a cozy, cocooning environment where you can wrap yourself up and escape from it all.'
7. Enhance a focal point
While we may envy the bedroom of a favorite five-star hotel, we must remember that bedrooms are deeply personal spaces and should be decorated accordingly. 'If you are tempted to just have a feature wall or wallpaper, then it is best to use the wall behind the bed to ground the room,' says Joe Studholme, Farrow & Ball's color curator. ' But if you are feeling daring you might consider using wallpaper on the ceiling – you will spend a lot of time admiring it from the bed!'
8. Invest in stylish storage
Are you planning to recreate the luxurious aesthetic of a hotel bedroom? Then bespoke storage is the most stylish option for you.
'Bespoke fitted furniture allows you to create tailored storage solution that not only maximizes use of the space but is also designed to suit what you want to put away and what you want to display,' says Roselind Wilson, owner and director of Roselind Wilson Design.
'It's also the perfect opportunity to create a statement design that is as individual as you are. You can specify materials and colors to match your room scheme or existing items of furniture, and a style that suits your taste and type of property.'
9. Play with pattern
'Mixing patterns is one of the most enjoyable parts of a design scheme, ' says textile designer Bethie Tricks. 'I tend to use the rule of three as a starting point – pulling together patterns that share a similar color or design element to ensure they echo each other subtly while adding variety and a sense of continuity. Using the biggest pattern on the floor in the form of a rug helps to anchor a space.
Apply another on one of the main pieces of furniture, such as a headboard or armchair, and finish with either a pattern wallpaper or curtain fabric. You can pick out colors from these patterns to finish the scheme when choosing your bedding and other decorative accessories.'
10. Opt for pure artistry with a mural
Choose the right design for your space and take a feature wall to the next level. From hand-blocked panels to digitally printed vistas, murals of picturesque landscapes are an expressive way to bring epic scale and romance to a scheme. In the bedroom, you want to using calm color that evoke the pace and tranquility of far away shores.
11. Incorporate decorative panelling
Panelling is a simple way to bring architectural shape to featureless rooms, while protecting walls from the general wear and tear of family life. Intricate fretwork, simple rustic boards and traditional panels all offer their own distinctive style – and add a luxurious finish to any space.
Available in a wide range of mouldings, from subtle tongue and groove to grand period designs, there's a panelling style to suit every bedroom.
12. Size it up
The headboard you choose will set the tone for your bedroom and opting for an oversized statement style can help anchor the space. For your own scheme, consider creating a headboard with your favorite fabric for a finish that feels personal. Go for a wall-mounted design that also sits on he floor for support and finish with stud work or a contrasting pipework for a luxurious hotel-style look.
13. Swap out your sheets
We've all been in a luxury hotel and come away dreaming about how soft and luxurious the sheets on the bed felt. However, as Lucy Ackroyd, Head of Design at Christy notes, 'it's incredibly easy to replicate this feeling in your own home simply by ensuring you have the best bedding for the job.'
'Crisp, clean sheets give an instant feeling of luxury,' says Lucy. 'Opt for pure cotton, high thread count linen which will help regulate temperature and moisture levels. Plus, they will feel much smoother against the skin than synthetic offerings.'
14. Dress for success
The simple act of dressing your bed properly will make your bedroom feel extra special and luxurious. In theory, there are myriad ways to dress your bed, but if you're looking for that chic, luxury hotel room look, there are a few tips to take into account that will elevate your bed both in terms of style and comfort.
'On a double bed, go for two pillows on each side and invest in a couple of pillow shams to match your bedding,' says Lucy. 'Place the pillow shams on top of your usual pillows to hide them behind a more elegantly coordinated facade.'
'Next comes the cushions,' explains Lucy. 'Go for somewhere between three and six cushions depending on the width of your bed and group them together by size, with the largest at the back. For the finishing touch, a statement throw (or two!) is essential for a luxe, beautifully dressed bed.'
15. Consider your materials
No matter how pretty you've made your bed look by dressing it to the nines, remember that what's on the inside counts, too.
Lucy suggests to, 'opt for good quality, filled inner bedding that will stand the test of time and maintain that plush feeling after every wash. Plus, make sure to fluff up pillows and duvets every time you dress your bed for that full, cozy, "can't wait to dive in" feeling.'
16. Add serenity with scent
Smell is one of our most powerful senses, and can completely change your mood, as well as transport you somewhere else. It's no surprise, then, that the right scents can put your body into relaxation and sleep mode.
'Lavender has long been known as a popular sleep aid, and for good reason as research highlights the calming effect is has on the nervous system,' says Lucy. 'To really engage the senses, layer your scents throughout the room – a diffuser will ensure your choice of aroma hits you every time you enter the room, while candles will provide additional ambience whilst also giving a glorious hit of fragrance.' Do remember, however, to always keep candles at a safe distance from your sheets and extinguish well before you think you'll nod off.
17. Create calm with color
The color palette you choose for your bedroom can have a surprisingly big impact on your sleep. When selecting your color scheme, consider the feeling and mood you want in the room and see which colors evoke these in you.
'White is known for feeling bright and airy, and can help provide a sense of cleanliness – particularly useful if you have been working from home and are feeling trapped within the four walls,' advises Lucy.
Green and blue are both calming colors that evoke the feeling of being outdoors, but make sure to avoid colors like red or orange which are stimulating and could diminish the all important wind-down before sleep.'
How can I make my bedroom luxurious?
If you are after simple ways to add a touch of luxury to your bedroom, look no further than decorative elements.
Decoration is all about accessories. A quick way to incorporate more detail into your scheme is with cushions, throws and lampshades. You can switch these out easily, season to season, or as your mood changes.
How can I make my room look expensive?
An easy way to make your bedroom look expensive is with a decorative mural or wallpaper. 'Beyond just decoration, the transportive effects of a scenic wallpaper within a bedroom crates expansive surroundings at an intimate scale,' says Claud Cecil Gurney, founder of de Gournay.
Another way to add grandeur is to introduce art to your space. 'Bedrooms are our private inner sanctuaries and give that artwork is such a personal choice, it can be used to elevate schemes and provide a sense of identity,' says Roslyn Keet, associate director, David Collins Studio.