Bohemian bedroom ideas – introduce character with a one-of-a-kind look
We have lavishly interpreted a flamboyant flair for fashion with these beautiful boho bedrooms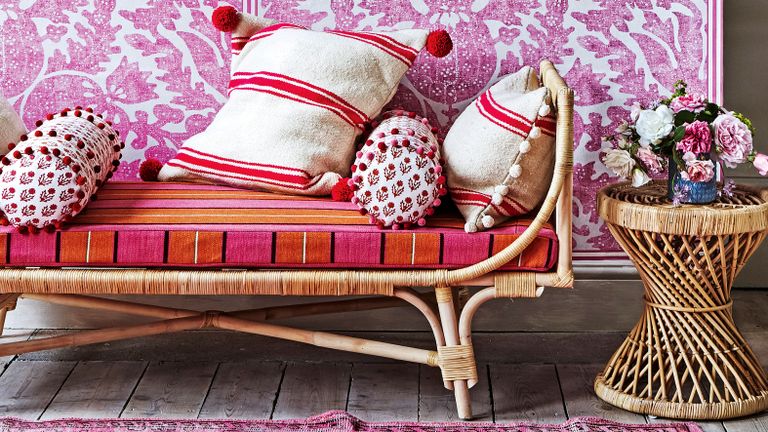 (Image credit: Future / Jan Baldwin)
If you are after bohemian bedroom ideas, then you've come to the right place. Popular during the Seventies – when rattan furniture, clashing colors and house plants reined supreme – boho decorating trends are having something of a resurgence, and it is easy to see why.
Sometimes in decorating, you just need to stop worrying about what goes with what and go with the flow, follow your instincts and choose patterns, colors and furniture that make you happy. This look might appear spontaneous, but there's actually a simple formula behind the freedom, you know…
Read on to find out how to create a bohemian bedroom – and for more bedroom ideas, don't miss our inspiring gallery.
1. Go for an all-out bohemian bedroom
Folksy prints, natural textures and pom-pom trims – mix them together for a relaxed modern Ibiza vibe. Here, a chic wicker bed oozes summer style with a fun injection of pom-pom accessories, macramé and rattan furniture.
2. Add quirky design details
Keep the space calm. You know how it works: color and pattern need calming with lots of off-white or beige. Introduce made-you-look details by making the room personal. Add eccentric touches, wall murals, quirky artwork and even paint effects. Here, the wall mural represents the sky and – the pampas grass decoration exemplifies the sun – for a relaxed indoor/outdoor aesthetic.
3. Give your bedroom an element of boho Balearic style
This year's must-have, the hanging cocoon chair combines with a woven suede ottoman for all-out texture. Swap plants for pampas grass, as shown here, giving a softer, more boho feel. Grasses demand little and yet add excitement to any space.
4. Provide textural interest
From seagrass and bamboo to rattan and cane, natural woven textures are ideal for bringing bohemian interiors to life. Here, woven wallpaper, upholstered headboard and layered bed linen provide textural interest.
5. Bring the outside in with unexpected finishes
Lush, burnished boho… That's the vibe in this urban oasis. We particularly love the make-do-meets-luxe aesthetic. Here, carefully chosen flea-market finds and upcycled pieces look chic, not cheap, while the ubiquitous charcoal color scheme is reinvented with touches of green, 
gold and natural wood.
6. Clash pattern and color
In this space, earthy hues merge with block-print and batik patterns on globally-inspired textiles. 
Dress your bed with an assortment of layered throws and scatter cushions and don't be afraid to 'pattern clash' – this adds character and eclectic appeal with homespun familiarity. A captivating, faded floral wallpaper feature continues the exotic journey, experimenting with scale and palette, whilst vintage inspired pieces such as the French antique cane headboard and burnished brass lamp add welcoming charm with timeworn finishes. 
7. Tone down with a single color palette
Inspired by the simplicity of modern Alpine schemes, our take on the trend for bohemian style focuses on understated sophistication, with natural textures and a soothing color palette of dusky pink, accents of brass and a twinkle of fairy lights.
Luxurious velvet, chunky knit, soft washed linen, quilted cotton, soft felt and deep alpaca: layers of rich texture create an inviting – yet muted – boho retreat. The confined color palette keeps the look serene rather than chaotic. 
8. Combine verdant greens and deep blues
A color palette of deep indigo blues and aqua-minty greens makes for a striking boho bedroom. A rattan bed creates a strong focal point. Layer with the softest washed linens and add privacy with a beautiful silk screen.
9. Unleash your wild side with a jungle palette
Create a bohemian vibe by mixing leaf motifs, natural textures and bold color for a look that is totally tropical. Best in high-traffic areas, sisal works well edged with bold color, while the screen echos the trellis designs we often see in gardens.
10. Introduce a sense of fun and frivolity
This space, designed by interior designer Matthew Williams, is a true example of bohemian chic – just the right side of eccentric to make the space funky, not fusty. Here, ornate touches such as an ostrich feather lamp add 'grandeur and decadence, which I like to throw in here and there,' says Matthew.
11. Dare to go bold in a boho bedroom
Classic florals are the main players in a bohemian scheme, but you can throw in ditsy prints, stripes and geometrics, and folksy designs, too. In this space, shades of rose bloom in this flamboyant scheme, with touches of burnt orange to give a nod to the tropical heat.
How do I decorate my bedroom in a boho style?
'The modern bohemian bedroom is a place where creativity, individuality, and a wild mix of color and pattern meet in a contemporary environment,' says Emily Henson, author of Bohemian Modern. 'Whitewashed walls and polished concrete are brought to life by vibrant Moroccan rugs and wall hangings; a cozy chair made from wicker suspended from the ceiling, and a veritable jungle of house plants – clustered in pots, hanging from the ceiling or even growing on the walls.' 
What is a boho style bedroom?
With many years of trend-spotting behind us, we know a classic look when we see one. This laid-back aesthetic is all about natural materials and tactile textures that create a soft palette of warm neutrals.  
'The style certainly gives a nod to '70s chic, with its use of shagpile rugs, Swiss cheese plants, and macramé, but it stands firmly in the present day by boldly contrasting those elements with sleek modern art on the walls and polished surfaces,' says Emily Henson.