Shared bedroom ideas – 10 ways to divide a shared kids' room
From twin beds to super cool bunks, these shared bedroom ideas have an option for everyone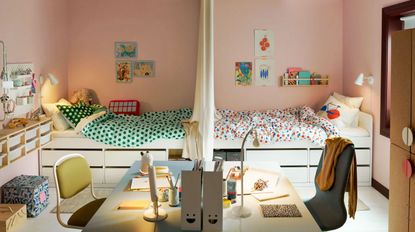 (Image credit: IKEA)
Sign up to the Homes & Gardens newsletter
Decor Ideas. Project Inspiration. Expert Advice. Delivered to your inbox.
Thank you for signing up to Homes & Gardens. You will receive a verification email shortly.
There was a problem. Please refresh the page and try again.
It can be tricky designing shared bedroom ideas and figuring out how to divide a shared kids' room. You may have twins, or two children of different ages who love to share – or are simply tight on space and have no other option.
Creating a magical shared space that will keep both children happy and dividing a shared bedroom so that each child has their own individual area is a fine art.
The size of the room can be an issue too, so we've sourced bedroom ideas, design tips and advice for rooms of all shapes and sizes, for both boys and girls, and for different ages and stages.
Shared bedroom ideas
The first consideration when thinking about shared bedroom ideas is floor space. If you are lucky enough to have a separate playroom, you can give the bedroom over to twin beds, creating a calm haven for children to unwind and sleep in.
If, however, you have less square footage, bunk beds or loft beds will be a better choice, so that there's room for play and study.
The next consideration is how to divide a shared bedroom – and this, again, is down to floor and wall space.
Below, you'll find kids' room ideas for shared bedrooms of all styles and sizes.
1. Traditional twin beds create a hotel-smart shared bedroom
Making a shared bedroom feel special can be hard, but simple design tricks like placing a canopy above each bed head will create a truly magical feel. When the children are in bed it will create a little privacy for each, and block light if one likes to read before bed and one doesn't.
This shared bedroom idea will work particularly well in period properties that suit a grand gesture – keep the drape choice light and airy like in this smart scheme by Albion Nord so they enhance space rather than dominating.
2. A simple splash of color can suffice
When it comes to kids' bedrooms, we often think we need to fill them full of bright shades and patterns. In fact, a predominantly monochromatic scheme with a splash of sunshine yellow can be all it needs – with a little pattern to enliven the space, of course. This also has the advantage of working just as well for girls' bedroom ideas, bedroom ideas for boys, or in shared bedrooms for children of both genders.
We love the way the California Shutters shutter color is used on the wall and bunting too; it's subtle yet stylish. You could do this with any shade and you would get the same fabulous result.
3. Use a pale color when the room is small
Shared rooms are not always the largest, so it's worth considering neutral kids' room paint ideas that will enhance, rather than hinder, the feeling of spaciousness.
'I love Repose Gray SW 7015 because it's a true, neutral gray that has always been a top seller,' explains Sue Wadden, director of color marketing at Sherwin-Williams.
'It pairs well with so many textures and finishes, making it the perfect blank canvas for any space.'
4. Paint the beds instead of the walls
We're all quick to paint walls, so this idea is a refreshing one. Of course you don't need to go as bright as Little Greene's Cape Red. The calming green of the wallpaper acts as a perfect backdrop for numerous color choices.
5. Take advantage of nooks and crannies
L-shaped rooms and alcoves lend themselves to one of the most classic shared bedroom ideas – bespoke bunk beds. Who wouldn't want to go to bed in this room by Benjamin Moore?
The color choice is fabulous too – using a lighter blue on the top and dark blue below gives the bed depth and makes for an interesting visual space. If the room is wide enough you could even create a double bed for each child.
At each bed head there's a little niche shelf, a great idea for a glass of water, book and light.
6. Make use of attic spaces
Attic spaces are ideal for kids' rooms – there's something fun and exciting about sleeping in a lofty, enclosed space when you're young, and you can make it even more atmospheric by using the natural shape of the roof.
Hanging aeroplanes and balloons, for example, and incorporating shelving into the wall space behind the beds are a great way to highlight the coziness of a room and are a lovely small bedroom idea for kids. Keep the decor light and airy, like in this room by PaperBoy to make the most of natural light.
7. Ditch pale pink and go for bolder for girls
Ditch the stereotypical pastel shades for girls and ramp it up a notch with bright pink and mauve, as in this lovely shared bedroom by House of Jade Interiors.
It will see you past the toddler stage and up towards early teens. Keeping furniture white will ensure it goes with anything as your and their tastes change – and pop in a metallic for a touch of glamor.
Artwork also enhances any shared bedroom ideas – you can use it as a starting point for a scheme or simply enjoy the colors and design.
8. Choose shapely headboards to create a coordinated look
We're big fans of shapely headboards in adult bedrooms – they can be used to create a feeling of layering, luxury and occasion, and introduce new colors, patterns and shapes into a bedroom scheme.
So why not adopt the same approach with children's beds, for a look that will work just as well when thinking about shared bedroom ideas for teenagers?
9. Create a dream world with pattern
Children's bedroom wallpaper ideas are a fabulous way to pull a scheme together as Nina Tarnowski, founder of Woodchip & Magnolia explains:
'Reimagine your children's shared bedroom into a space they could only dream of with wallpaper. Be brave with your choice of color and pattern, and create a bedroom that the kids can't wait to play and sleep in.
'For a room that two siblings can share and one that offers longevity, opt for warmer tones that feel more grown up – this will ensure the décor grows with them. A delicate floral design in shades of mature pinks balanced by soft neutrals is a great option.'
10. Create a unique hideaway
We absolutely adore this shared bedroom idea by Dulux – it's essentially a wooden hideout built around existing bunk beds at one end of a large room.
The result is a sleeping space that can be shut away behind wooden doors, so the space can also incorporate playroom ideas for the day time.
As the entire scheme is painted in the same blue, the whole structure blends together perfectly. The rustic beams and floorboards add a log cabin feel but with a modern twist, creating a place that kids will love to spend time in.
11. Build storage into shared bedroom ideas
Good bedroom storage ideas are a must in shared bedrooms, as it's likely that floor space will be limited. This can extend from under-bed drawers on wheels to niches for kids to store their books, favorite toys and night time drinks, and good vertical storage that has a small footprint but plenty of shelf and hanging space.
When choosing or specifying storage furniture for shared bedroom ideas, think ahead to what your children might need in two or three years' time. This might mean something as simple as having moveable shelves that you can adjust to go from storing teddies to gaming equipment, for example.
12. Divide a shared bedroom with soft furnishings
If you want to know how to divide a shared bedroom without bunks – perhaps your children are too young for them or both prefer being at floor-level – this is a clever idea: put beds end to end and simply divide with soft furnishings.
Of course, you could replace the drape with a stud wall that would give each child a cubby, but this is a flexible option that can allow light into both sides of the room should you not be able to position both beds opposite a window.
Note the under-bed storage, which is always a practical and accessible option, and the bedside wall lamps that allow each child some independence in deciding lights out time.
How do I arrange a shared bedroom?
When thinking about how to divide a shared kids' room, first look at the flexibility your floorplan offers.
If you can keep both beds on the floor – rather than opting for bunks – they can be divided from each other with the use of canopy drapes, by a ceiling-hung drape or building a shallow stud wall that creates nook beds for each child.
Dressing the beds in the same colors but with different designs is another way to visually divide the room and indulge each child's taste.
Personalization is important, so if you can, give each child their own display and storage space – on opposite walls or adjacent on the same walls. This will give them pride in that area (and may even foster competitive tidying – we live in hope). And this may be a good space to site individual desks, too.
Shared closets are tricky if they are small, but if you can divide them into left-hand, right-hand, you will go some way to curbing the chaos.
How do you make a shared bedroom fun?
Making shared bedroom ideas fun can be split into two distinct areas: the decor and the play elements of the room.
First to decor, which can range from fun wallpaper prints to murals and create-their-own wall art with chalk drawings on blackboard paint. Choosing calming colors – blues, greens and pastels – will help create a fun space that feels somewhere they can also unwind in, which is vital.
Now to play areas: this is all about maximizing floor or table top space so that kids can indulge in the activities they enjoy. So, floor space will be useful for children who love to set out train tracks, while larger table tops (under which you can hide storage drawers) are perfect for creatives or for rooms where there is little storage elsewhere.
Bunks can be fun, especially if set up with a safe slide for quick exits and, of course, if you have room, a climbing wall with padded flooring beneath is the ultimate toy for kids who need to let off steam physically.
Sign up to the Homes & Gardens newsletter
Decor Ideas. Project Inspiration. Expert Advice. Delivered to your inbox.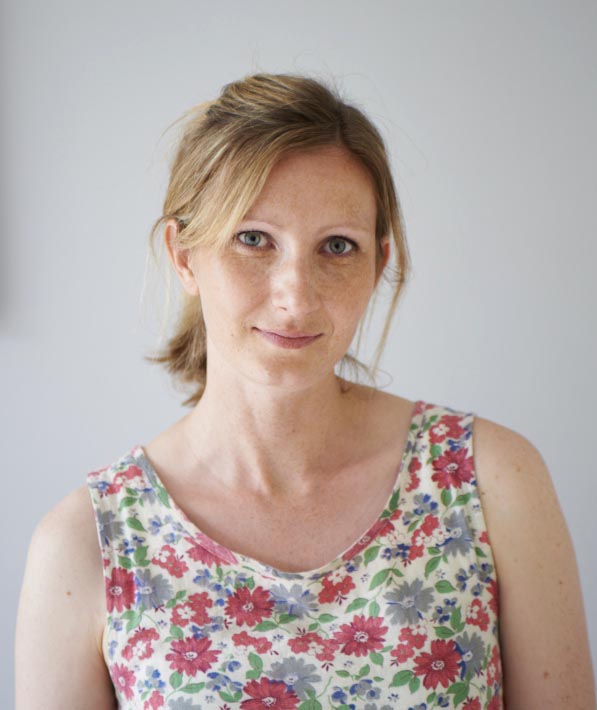 Sophie has been an interior stylist and journalist for over 20 years and has worked for many of the main interior magazines during that time, both in-house and as a freelancer. On the side, as well as being the News Editor for indie magazine, 91, she trained to be a florist in 2019 and launched The Prettiest Posy where she curates beautiful flowers for modern weddings and events. For H&G, she writes features about interior design – and is known for having an eye for a beautiful room.