Bedroom storage ideas – 10 stylish and creative ways to tidy up your sleep space
These clever bedroom storage ideas will keep bedroom clutter in check to create a relaxing retreat. From multi-functional furniture to clever closet solutions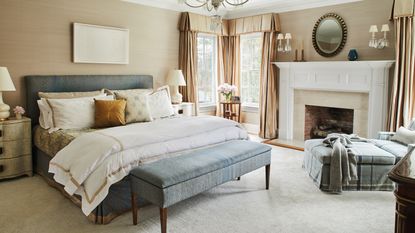 (Image credit: Carrier and Company/Sam Frost)
Feel like you're always playing Tetris with bedroom storage ideas and losing?
It's time to get wise with your wardrobe organization and smarten up your sideboards.
Neglect storage solutions from your bedroom at your peril, as tidiness is the first step to a strong design scheme.
While your bedroom might not be on show to visitors as often as other rooms, making sure you keep the clutter in check will ensure a relaxing environment for unwinding at the end of the day.
When organizing a bedroom, solutions should come in all shapes and sizes, from clever walk-in closet ideas, to thinking big with built-in furniture or adding inserts into your shelving.
It's also a chance to get creative with your bedroom ideas. Get ready to dream up seating that doubles as blanket storage, headboards that charge your phone and more.
Bedroom storage ideas
Whether you're looking to build a clutter-free design from scratch or add clever tidying solutions to an existing room, we asked the experts to share their top bedroom storage ideas and found some stunning examples of bedroom organizers, to inspire you to clean up your act.
1. Go bespoke with built-in storage
For space efficiency, built-in storage is always the way to go.
Go bespoke with a little help from an expert, and you'll be able to not only make the most of your space, but come up with a personalised solution.
'A designer can measure exactly what needs to be housed or displayed and make sure that everything has a place, will be accessible and will be aesthetically beautiful,' says Simon Tcherniak, Senior Furniture Designer at Neville Johnson.
Keep this at the forefront of your plan when considering dressing room ideas. In this bedroom, a bespoke, double galley arrangement of drawers and cabinetry ensures that all the user's clothing storage needs are met.
2. Choose bedside tables with drawers
Still just using your nightstand to hold a glass of water and a phone charger?
Make your bedside table space work harder for you by combining the accessibility of a tabletop with the storage capabilities of a chest of drawers.
'Include bedside units and case pieces in the bedroom with drawers to maximize storage space that can be hidden while keeping your items organized,' says interior designer Zoe Feldman.
'A deep chest as a bedside table plays double duty, providing bedside storage and additional clothing storage too,' adds Jesse Carrier, Co-Founder of Carrier and Company.
3. Hide storage in multi-functional pieces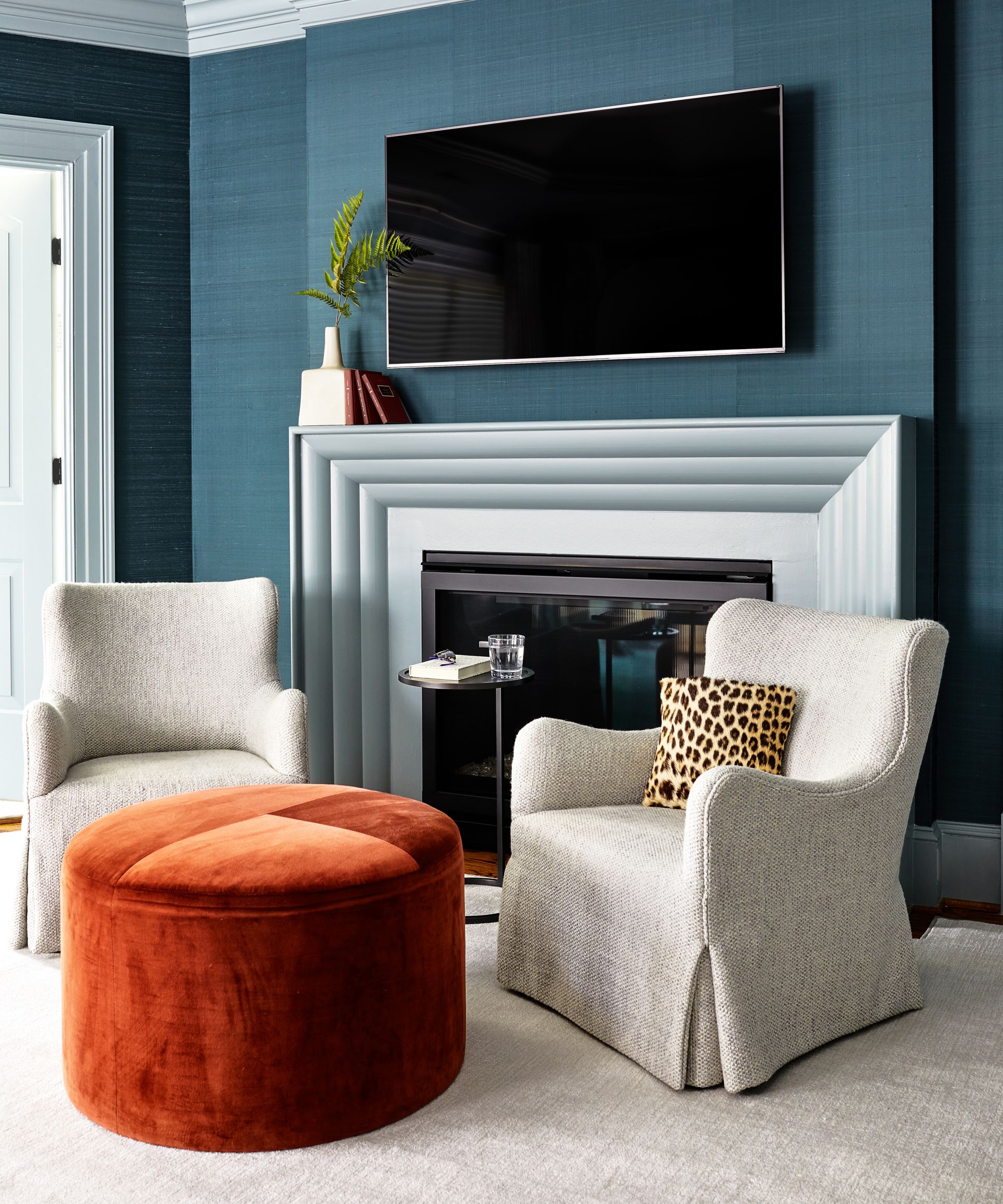 'Adding multi-use pieces, like storage ottomans, is a great way to get function out of your space without being too literal in your approach,' says Feldman.
Mixing an ottoman stool in with your dressing room is a great way to mix storage and style.
Not only do they make great seats for your dressing table, but their size makes them perfect for storing bulkier items like hairdryers.
4. Think high and deep
If maximizing space is a high priority, look up. Make sure built-in storage solutions are as tall as possible and as deep as possible. This is particularly important if you're thinking about how to turn a room into a walk-in closet and want to make the most out of limited dimensions.
'Pull-out shelves help you make use of deep spaces, and a tall wardrobe may benefit from a pull-down rail,' says Tcherniak.
Worried you're not tall enough for ceiling-height cupboards? 'If you need to access your higher-level wardrobe storage regularly then a built-in ladder can be useful.'
5. Insert built-in storage into irregular spaces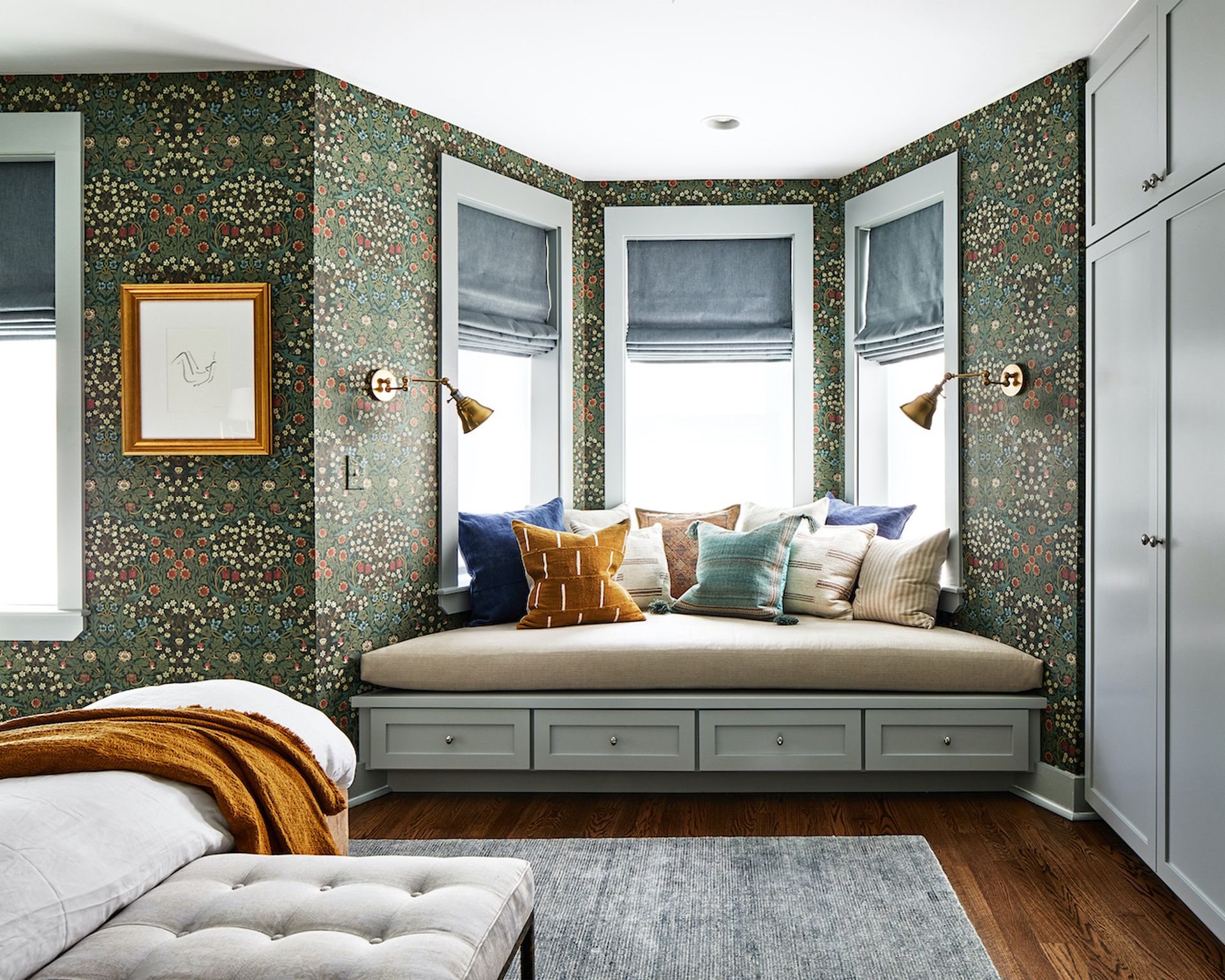 Bedrooms aren't always an easily divisible box you can fill with sensible square-shaped storage. More often than not they're home to the odd characterful but awkward nook, like a bay window or unexpected alcove.
'Incorporate built-ins in spaces that may have an irregular shape to incorporate extra storage space while adding decorative millwork,' says Feldman, who put together the cushioned window seat with additional drawer space below in the master bedroom idea shown above.
'Whether they serve as wardrobe space or extra seating, such as a daybed with storage underneath, the extra space will always come in handy.'
6. Use the end of the bed as an unobtrusive storage space
Storage benches or chests at the foot of the bed are a storage marvel for multiple reasons.
Not only can they be decorative items that double as seating, but their positioning makes their use a clever idea that simply extends the bed's length, rather than needing to squeeze into another vacant space in the bedroom.
In this room by Carrier and Company, a lidded custom bench allows for discreet storage, blending into the framework of the bed by using the same upholstery fabric as the bed's headboard - a clever trick if looking at headboard ideas for your own space.
'The bench at the foot of the bed can store extra bedding like blankets and provide a place to sit and put your shoes on in the morning,' says Carrier.
7. For small rooms, maximize your closet space
Consider clever small bedroom storage ideas for box rooms where fitting in even the most standard storage furniture is a challenge, and think about how your closet can fulfil a variety of organizational needs.
'In this client's home we had zero room for bedroom storage – no nightstands or dresser space,' explains interior designer Kate Taylor, 'so we had to maximize the functionality of his closets to accommodate his wardrobe plus! We made the walnut custom closets beautiful and well organized.'
Shoes and t-shirts have their own designated and well-designed storage areas, while the whole unit reaches from floor to ceiling.
8. Make bedtime more convenient with a built-in headboard
'Consider a built-in headboard with bedside cabinetry to optimise on available wall space in smaller bedrooms,' suggests Tcherniak.
'Incorporating reading lights, niches for books, small drawers for perfume bottles and cable management for charging devices overnight ensures that everything is accounted for, and all without intruding on the rest of the room.'
This spectacular feature headboard is the centrepiece of this room.
As well as being decorative, the smart bedroom lighting ideas in the picture above make reading in bed easier and also open up space on the bedside table tops for decorative items.
9. Bury storage beneath the bed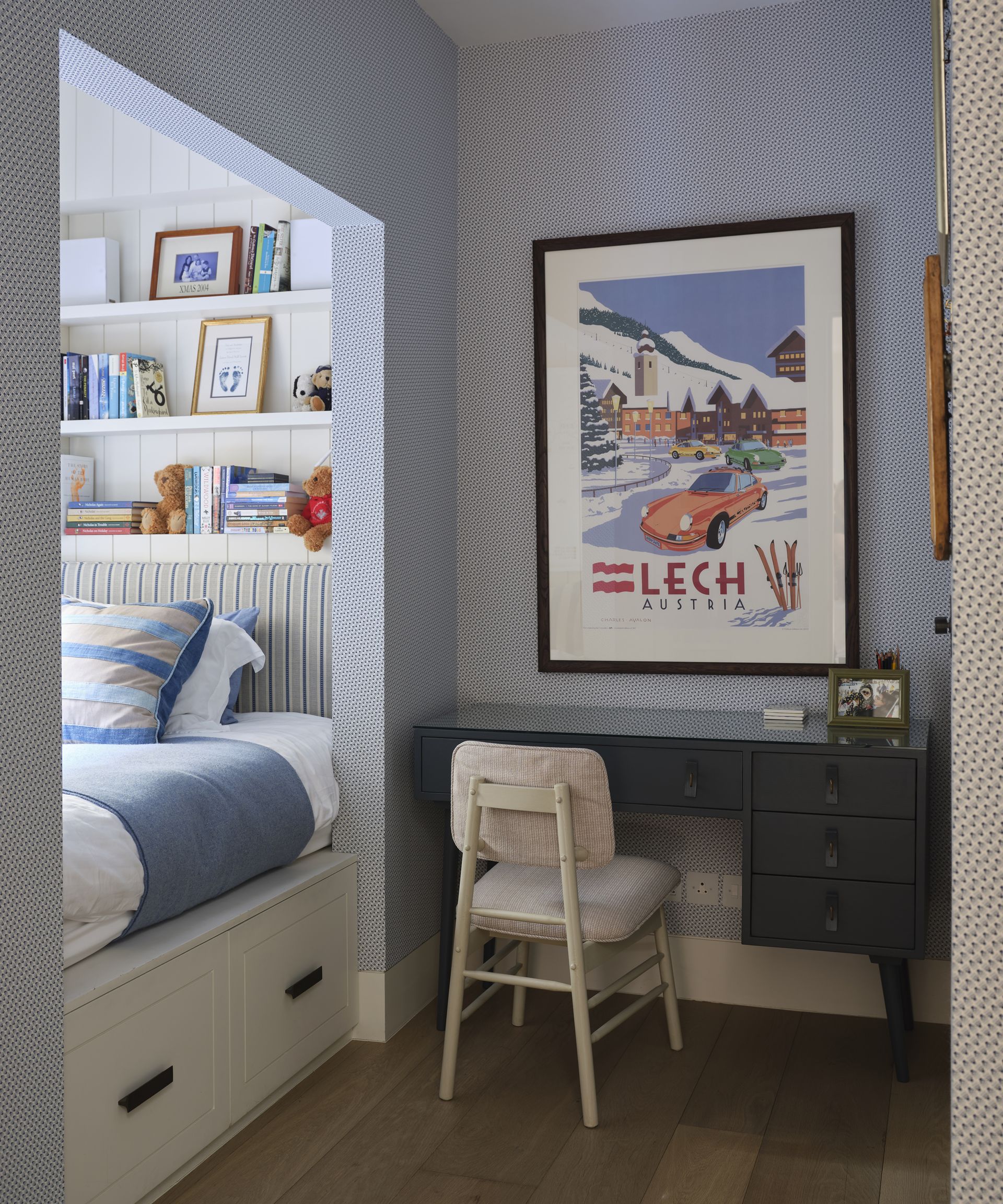 Beds can take up a lot of space, so be sure to make your bed as useful as it is comfortable.
Drawers beneath the bed are a great way to slide infrequently required items out of sight and out of mind.
Beds with built-in drawers are the best way to go for maximum accessibility, as demonstrated in this kids room idea. But it's also perfectly possible to purchase inserts that will slide into the dead space under the majority of bed frames.
10. Use woven baskets as stylish storage inserts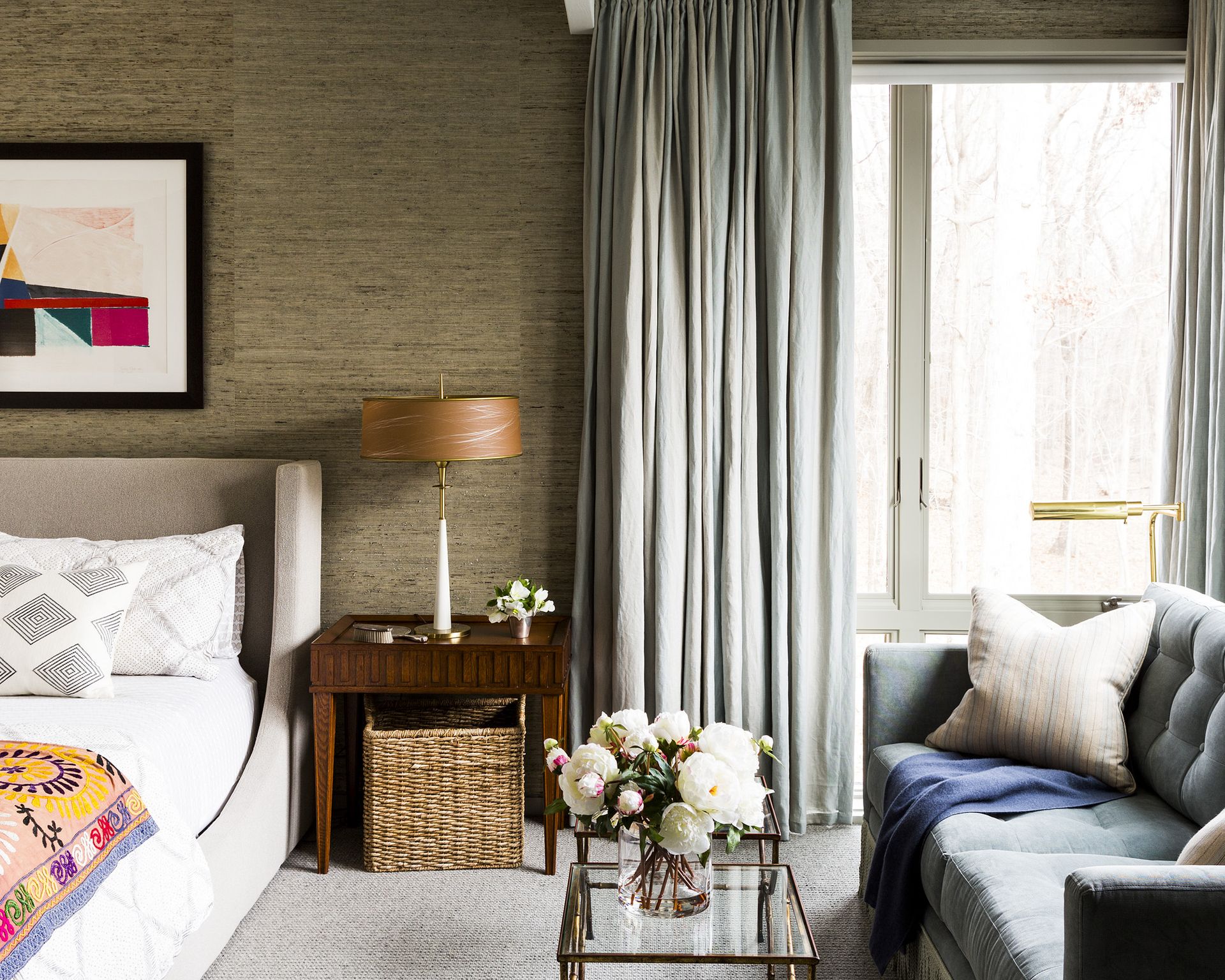 If you're loath to switch out your delicate, drawer-free nightstand for a chest, or want to tidy less attractive objects away but only have open shelving to hand, think about baskets.
'Tucking an attractive basket or lidded box beneath an open bedside table is a way to add discreet storage and an opportunity for a decorative element,' says Carrier.
Whether big or small, the likes of woven basketry and hampers can also be used for the likes of shelf inserts and magazine holders, tidying up mess while adding natural textures to a room.
How do I add storage to a bedroom?
If you're at the design stage, built-in wardrobes and drawers will always be the best move for making the most of space in small bedrooms.
If there's not enough floor space to build deep wardrobes, then aim high and take your storage right up to the ceiling.
Once this element is maximized, start thinking about furniture in the room that you can swap for more storage-friendly options. If you have a basic bedside table, consider changing it for a chest of drawers, or swap a dressing table chair for a lidded ottoman with a storage cavity.
How do I get more storage in my bedroom?
Once you've maximized your wardrobes, nightstands and chests of drawers, you'll need to start getting creative to add more storage into a bedroom.
Finding vacant spaces that can be converted into storage solutions is the most important step. Is there a bay window that could house a bespoke (and storage-filled) seating area? Or can you get creative with your bed ideas - is there empty space under the bed? Is there ample space at the end of your bed that could be used to house a storage bench?
These are all big questions, but think small too. Turn sections of open shelving into makeshift drawer units by choosing well-fitting storage baskets to slide onto them and house miscellaneous small objects.
Think about rearranging the interior of drawers and wardrobe space too. While adding inserts may sound like you're trying to squeeze additional objects into an overflowing space, often keeping things neatly organized will open up more space than the inserts take up.
Ailis started out at British GQ, where a month of work experience turned into 18 months of working on all sorts of projects, writing about everything from motorsport to interiors, and helping to put together the GQ Food & Drink Awards. She then spent three years at the London Evening Standard, covering restaurants and bars. After a period of freelancing, writing about food, drink and homes for publications including Conde Nast Traveller, Luxury London and Departures, she started at Homes & Gardens as a Digital Writer, allowing her to fully indulge her love of good interior design. She is now a fully fledged food PR but still writes for Homes & Gardens as a contributing editor.