Dressing room ideas – 16 designs for a beautifully organized space
Our dressing room ideas will make luxurious additions to any home. If you are keen to get ready for the day (or night) in style, consider these points
(Image credit: Mel Yates)
If you believe that getting dressed isn't just a daily necessity, but a ritual, you're likely always on the lookout for the next, best dressing room ideas. In fact, they're probably as important to you as the next Macy's sale or Met Gala red carpet.
Creating a separate dressing room is a smart move and doesn't always require as much space as you think. Your dressing spaces and walk-in closet ideas can start small, as clever cabinetry – whether commissioned or bought off the peg,– will maximise storage space for a smart and streamlined look.
It's also the best way to take care of your clothes and accessories – from designer shoes to races day millinery.
Dressing room ideas
Whether you have a walk-in wardrobe or capsule bedroom storage, these ideas will make a dressing space effortlessly calm and organized.
1. Create your own catwalk
Long, narrow rooms make a perfect dressing space as they come with the ideal layout for a catwalk. Place a mirror at the end wall, but also remember to add them to the sides so you can check out your outfit at every angle.
As a narrow room can feel tight, it's a good idea to use the same color furniture and walls to cheat a wider look. Going made to measure will help eke out every ounce of storage space.
2. Utilize space in hallways
Think outside of the box when carving out space for a dressing room. Hallways, for example, are a perfect location for generous storage.
Go for floor-to-ceiling cabinetry – as this is a transient area, decorative elements are perhaps not as vital as in other areas of the home, but choosing a beautiful splash of colour and considered hardware can turn simple wardrobes into something you may find yourself lingering at.
This colour trick is also wonderful if the space leads directly into another, such as how in this Barlow and Barlow design the hall works as an entranceway to the bedroom.
The colour guides you in, and visually links by being referenced beyond, here with the divan and pillow trims, but a pretty throw or curtain trims would work equally as well.
3. Style your shelving
Open shelving and doorless wardrobes are a great direction to take if you're concerned about having wall-to-wall cabinetry. This is especially beneficial in more narrow spaces, as it will help the room to feel lighter and airier.
Keep things interesting by lining open wardrobes, like in this project from Ham Interiors.
'We love lining wardrobes and particularly open dressing room joinery in fabric to add interest and softness to what can be a large mass of cabinetry,' says Nicholas Cox, interior designer Ham Interiors. 'We often go for a simple stripe or small scale simple pattern fabric in complementary tones to the rest of the bedroom scheme.'
4. Add a library ladder
Library ladders are a beautiful vintage pantry addition or home office idea, so why not move them into a dressing room. Having steps to hand not only adds a stylish focal point to the space, but maximises storage potential as everything will be easily accessible.
For both hardwood and carpeted spaces, choose a hooked-over, solid option rather than a traditional rolling library ladder – they provide the most stability for the former, and rollers struggle to work on thick pile wool. Consider matching the ladder hardware to the other brassware in the room for a co-ordinated finish.
5. Double up with a guest bedroom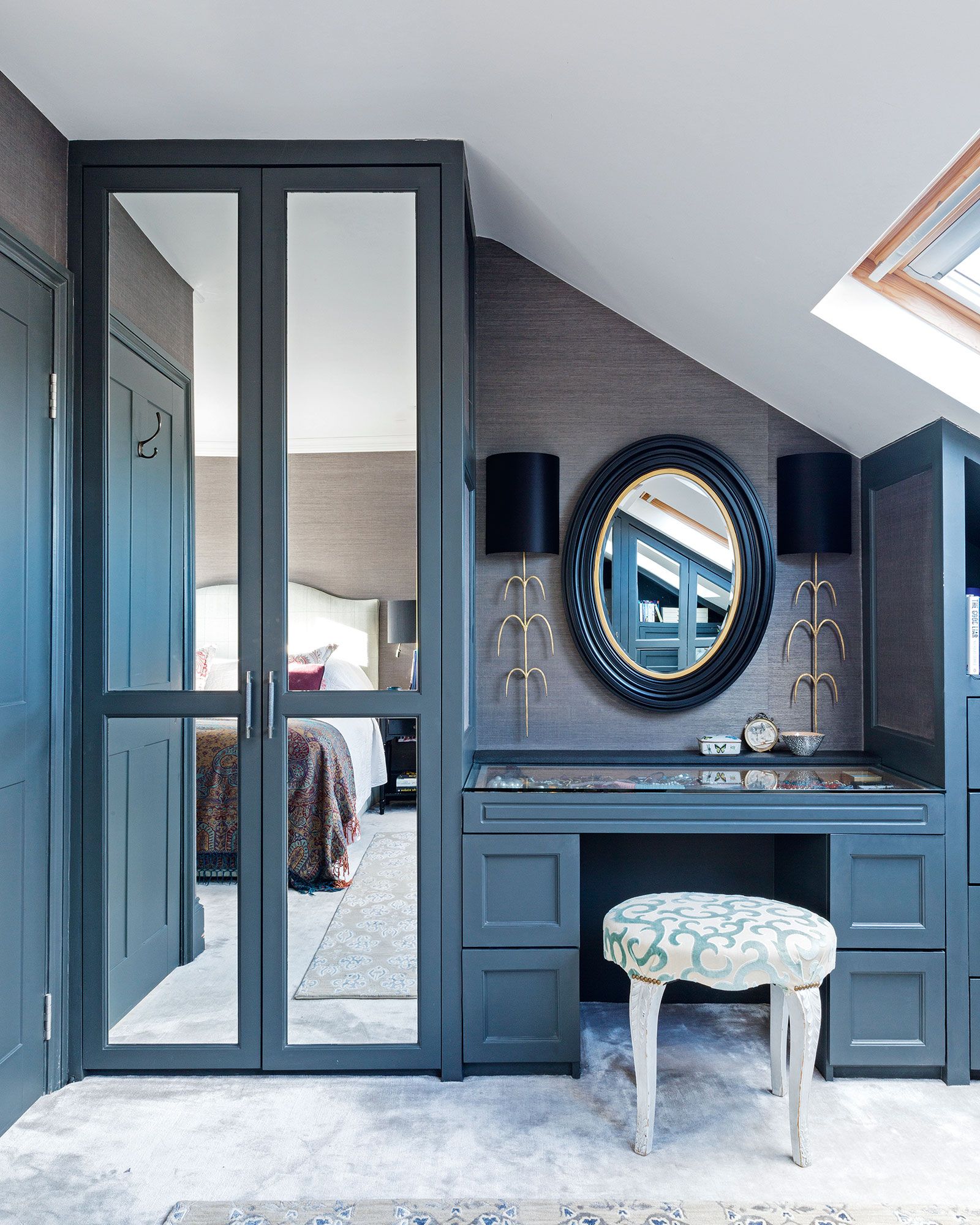 Be clever with how you use your square footage by combining your dressing room with a guest bedroom idea. In a space which, for most of us, is unused for a significant portion of the year, you can easily integrate your dream dressing room elements to get the best of both rooms.
Built-in wardrobes all around the room, with the exception of around the bed itself, allow for all the required storage, but make sure to choose a pretty palette for the cabinetry so it stays a stylish bedroom when guests are in residence.
A dressing table is equally as useful for guests to have a space to sit as it is for prepping your hair and make up.
6. Put on a light show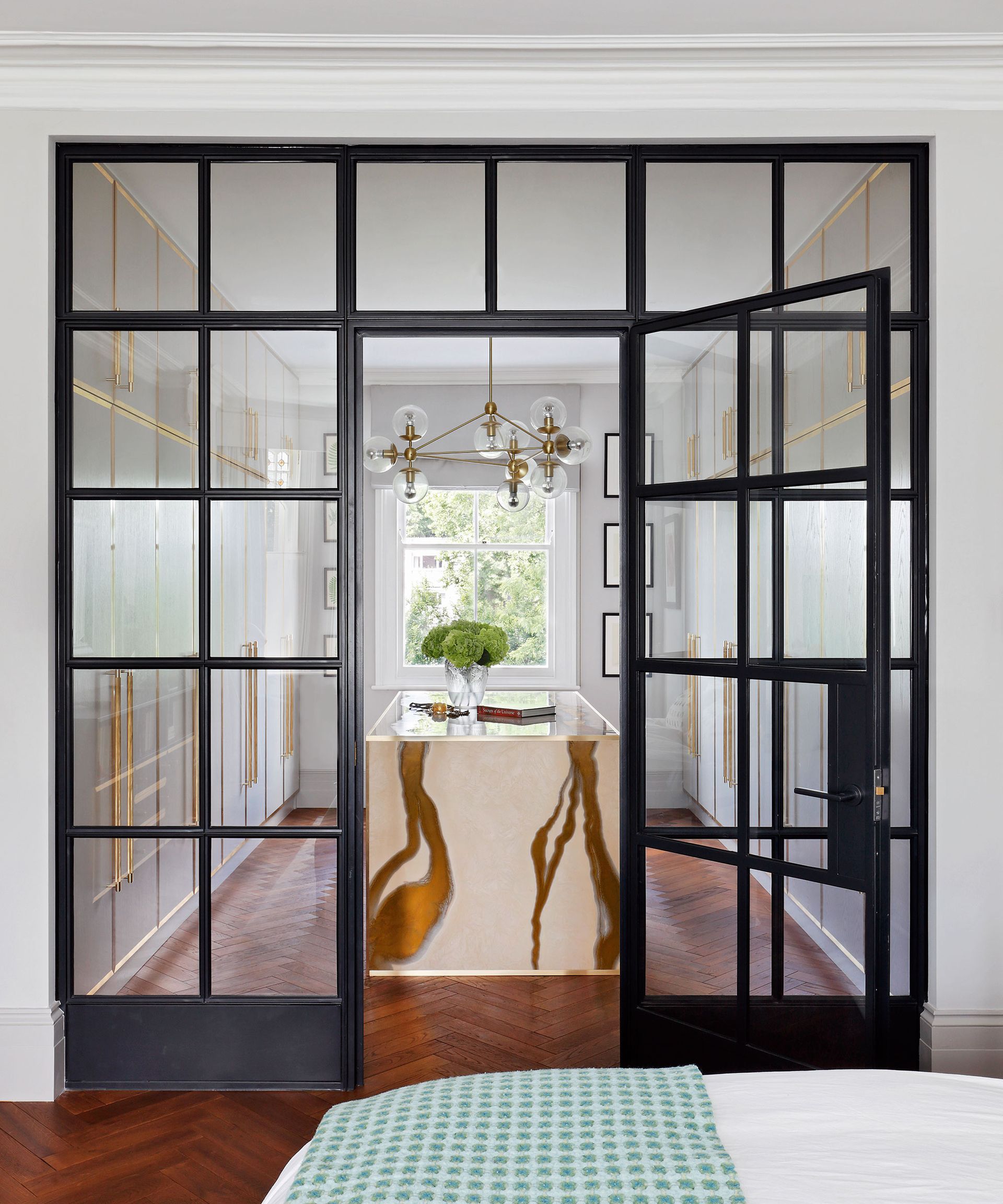 The owners of this home had the luxury of space for a walk-in wardrobe, but didn't want to block off the light from a large window at one end of the house. The solution? A contemporary, black steel-framed glass screen, which adds sharp definition to the pale decor without inhibiting the flow of light.
Keeping the same dark parquet flooring throughout creates a sense of unity and flow. Crittall Windows supplies screens and doors like these, with glazing specially designed to maximise natural light levels and soft-close doors that reduce noise.
It's an important element of any bedroom storage idea, but one that's all too easily forgotten.
7. Make a chic statement
Making a feature out of the wardrobes in a dressing room can have a wonderfully striking effect. In this Cotswolds space by Pippa Paton, the wardrobes were designed to make a strong statement in an otherwise simple space.
'Book-matched crown cut walnut with a strong grain was chosen to reflect the owner's love of wood and a leather upholstered seat in the same finish doubles as a luggage rack, and is on wheels for flexibility,' says Pippa.
To add extra softness to this wood-heavy space, 'simple white linen curtains dress the window, and a window seat idea upholstered in the same fabric overlooks the garden.'
8. Keep things calm
Creating a chic and relaxing space is often top of the list when designing a dressing room - and never more so than when the dressing room is open to the bedroom. If your space doesn't have a door, like in this Sims Hilditch space, then ensure it acts as a welcoming retreat or feminine softness.
Details like a thoughtful window treatment idea, a vase of fresh flowers and a comforting chair can make all the difference in turning it into a calm and pretty room rather than a purely functional area.
Having something soft underfoot is key, too, so either continue in the carpet from the bedroom or pick up a thick pile rug to finish the space.
9. Go bespoke
For a dressing room that truly has it all, there's nothing quite like bespoke fitted furniture. This Neville Johnson room has a feeling a luxury throughout, with thoughtful storage the name of the game.
'Abundant storage space has been built in through tailored touches including open shelving – a classic handbag or shoe storage idea – with an incorporated solid wood ladder with a built-in rail, providing easy access to all possessions, as well as adding an interesting dimension to the arrangement of the room,' says Simon Tcherniak, Senior Furniture Designer at Neville Johnson.
'A co-ordinating island has been added to the room for additional drawer space and to create a stylish focal point.'
10. Take it to the top
The biggest concern when installing a dressing room is, without a doubt, fitting in enough storage. No matter what your space, careful planning can help ensure you make the most of what you've got to maximise every inch. Look to typically neglected areas, such as the space above the doorframe, to add in extra shelving.
For your wardrobes, be realistic about how high up you should go. Aim for where you can reach hangers comfortably and not have your longer pieces dragging on the floor, then build extra cupboards above for seasonal items, or other pieces which you don't require regular access to.
11. Create a sleek niche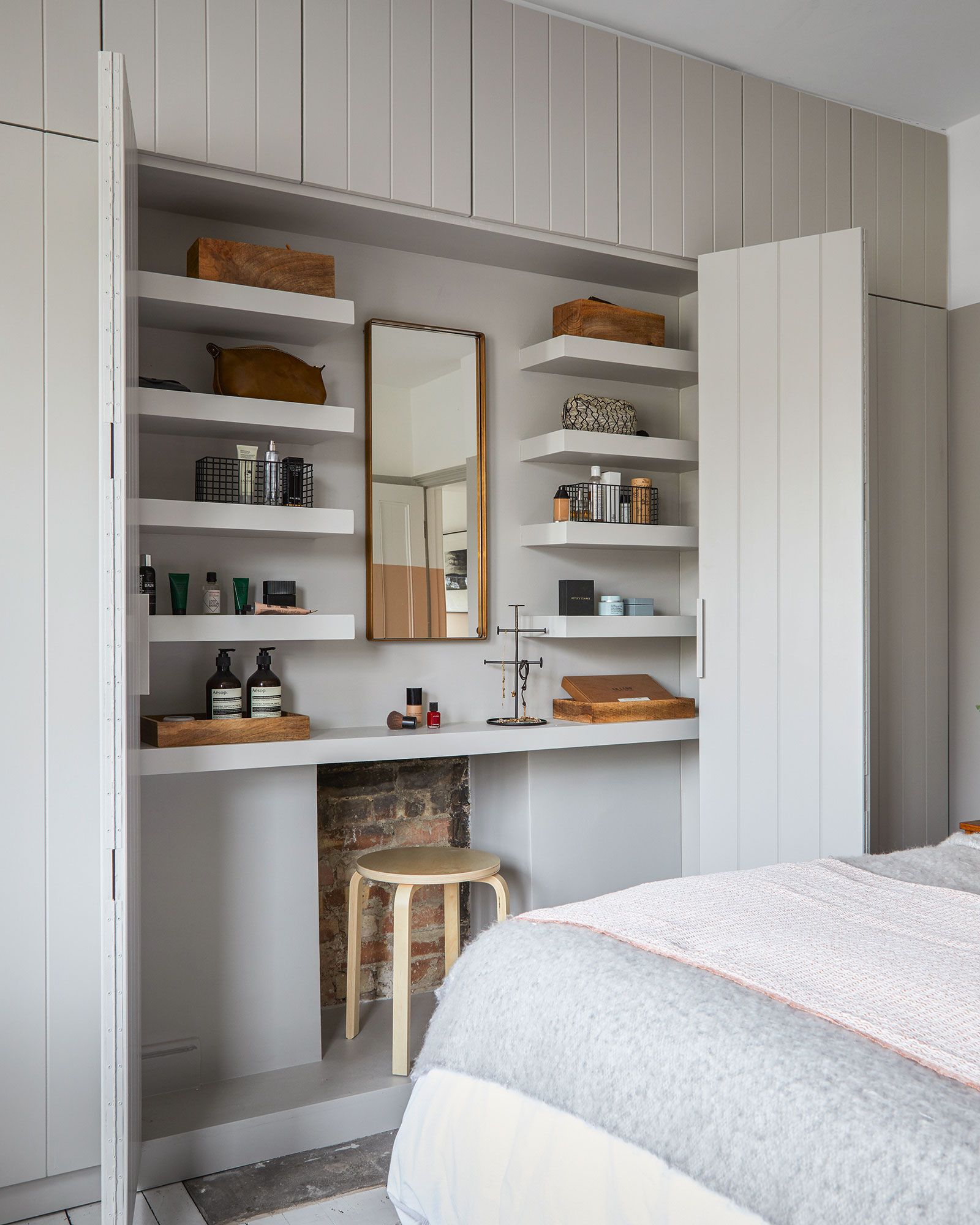 For homes with limited space, like country cottages or coastal hideaways, consider a sleek tucked away dressing table instead of a traditional dressing room.
This small bedroom idea discreetly sits amongst the wardrobe doors and, providing ready access to clothing while still providing a welcome space to sit and indulge in glamor when getting ready to leave the home. A clever addition of concertina doors means that space is saved in the room even when opened, and a neat stool can be easily slipped underneath the table.
Consider painting the inside of a dressing table niche like this in a fun pop of color, or cover with a pretty wallpaper to make it truly feel like you're opening up the doors to a new space.
12. Utilize a compact space
A bedroom with en suite is on many people's home wish list, but getting the two to work in harmony can be challenging. Not so with this compact dressing room designed by Suzy Hoodless, which creates a calm pause between sleeping and bathing zones.
Taking inspiration from the pale-pink bedroom walls, Suzy created a 'strong but complementary contrast' by painting the whole dressing room space in Little Greene's Theatre Red. As it's on the darker side, good lighting was crucial.
'It's lit simply with downlighters on the ceiling, and the cupboards are illuminated inside,' says Suzy. 'The sliding doors don't interfere with the space and create a sense of easy flow.'
13. Channel a bygone era
Flamboyantly romantic wallpaper paired with plain stonewashed linen and a silky soft carpet, continued from the adjoining bedroom, creates a luxurious, cocooning feel in this inviting dressing room.
For more inspiration on using tactile texture, explore our curtain closet ideas.
14. Create your own salon
Consider customized storage when designing a dressing room space. A bespoke cabinet maker will incorporate every item to be stored, from jackets and long dresses to sportswear, ensuring that the space suits a client's requirements.
The overall effect is that of your own salon, where you can try out new looks, and get a second opinion by providing somewhere for others to sit.
In addition, it is important to have a place to lay out and accessorise outfits. Seating areas, full-length mirrors and dressing table ideas are all worth consideration if you have room.
15. Get creative with wallpaper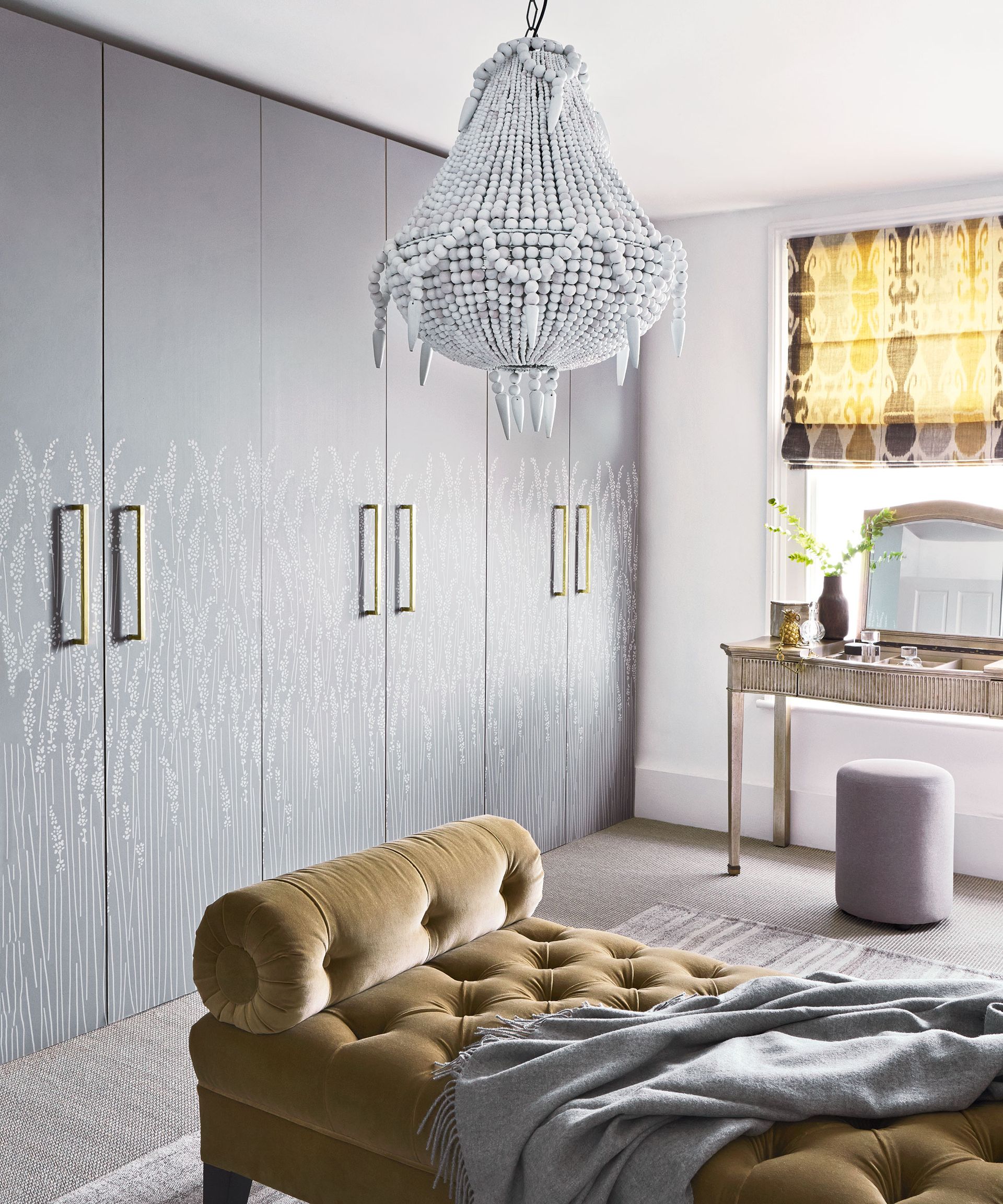 Fitted wardrobes need not be dull or conventional. A dressing room is the perfect place to experiment with style. An inventive way to soften a wall of wardrobe doors in a dressing room is to cover them with a pretty wallpaper.
16. Opt for pure artistry
Celebrate the exuberant charm of murals and statement wallcoverings. The painterly mural covering the doors of the built-in wardrobe creates a focal point in this glamorous area, offset by smart brass detailing and soft pink walls.
How to design a dressing room
Start by looking at everything you own – clothes, shoes and accessories – and work out what storage you need. Designer Nathalie de Leval says, 'Thinking about how you store clothes – whether you prefer hanging or folding – helps define what you need.'
Assess what you use the most. 'Which items do you reach for daily? Having them closer to hand will make mornings effortless,' Interior designer Louise Bradley recommends.
Avoid repetition. Deborah Bass, creative director of Base Interior, counsels against too much uniform storage. 'Have freestanding items as well – an antique chest, for instance – to avoid that show-home look,' she says.
Get the lighting right. This is crucial for dressing and make-up. Downlights can be harsh, so think about integrating LED strips into joinery, says Sally Storey, creative director of John Cullen Lighting. 'They're easy to install behind downstands above doors, in cupboards or under eaves. Soften with dimmers, so you can't see the LED dots.'
With dressing tables, ensure your face is lit evenly. 'This can be achieved by back- or front-lighting the mirror, or having wall lights either side,' says Sally.
Don't forget touch and sound. 'Choose handles carefully and ensure drawers slide smoothly,' says Nathalie de Leval. Line drawers with velvet or wool to protect accessories, dampen noise and add an extra tactile element. Cedarwood shelves protect against moths and have a delicious scent.
Consider the impact of wardrobe doors. Think of them as part of the room design. 'Paper-backed fabric is a lovely way to add texture – we often use grasscloth from Thibaut,' says Lucy Barlow, creative director of Barlow & Barlow.
Pick materials carefully. 'Gravitate towards natural materials like timber, rattan and linen in bedrooms and dressing rooms,' says Deborah Bass. You can also use mirrors on doors, but if you'd rather not, try Deborah's canny technique. 'Have mirrored panels inside the doors, and a freestanding mirror you can move around.'
How much space do you need for a dressing room?
Few of us have the perfect set-up. If you can, says Philippa Thorp, director of Thorp, locate a wardrobe between the bedroom and bathroom, so you can dress after showering. 'We like to design all three rooms as a self-contained suite so there's no rushing around in your towel.'
In tighter spaces, such as corridors or eaves, build to fit as much as possible – shallow niches are ideal for shoe shelves. Pocket doors are good for awkward spaces, says Sandrine Zhang Ferron, founder of Vinterior. 'They won't impact the space either side, so you may gain more room.'
What are the latest dressing room trends?
'The current trend is for 'his and hers' dressing rooms. Sleek, masculine black walnut with mirrored detailing creates an ideal masculine look, while a hand-painted collection with exquisite details such as mother-of-pearl and silver has a more feminine feel. Beautiful materials also help create a glamorous dressing space.'
'Examples of these include antiqued mirror, silver leaf and opalescent paint finishes for cabinetry and glass dressing table tops complemented by ornate handles,' says Steven de Munnich, Design Director, Smallbone of Devizes.
Sign up to the Homes & Gardens newsletter
Decor Ideas. Project Inspiration. Expert Advice. Delivered to your inbox.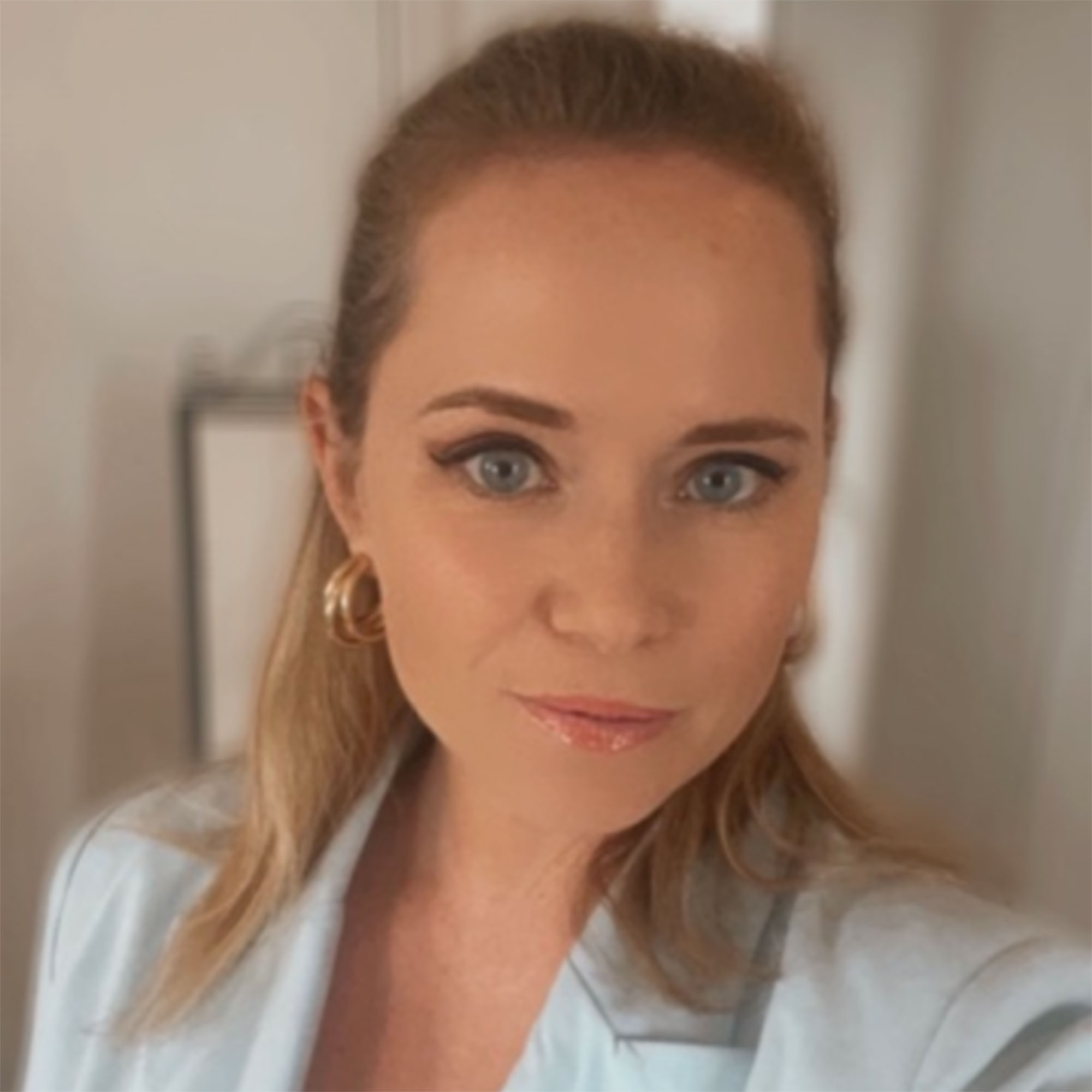 Thea Babington-Stitt is a Content Editor at Future. She has been an interiors journalist for nearly 10 years and has held positions at LivingEtc, Country Homes & Interiors and Homes & Gardens. Currently, she is writing for Ideal Home and Style At Home's websites and magazines.