Curtain closet ideas – 11 designs that add elegant texture to a closet space
From concealing a walk-in closet to creating a unique fabric door panel, our collection of curtain closet ideas will be sure to inspire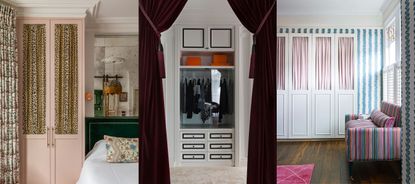 (Image credit: Barlow & Barlow | Bolshakova Interiors, Boca do Lobo | Jessica Buckley, Mary Wadsworth)
Curtain closet ideas can not only enhance your closet space with inviting texture, color and pattern, but they can also be used to help zone a room, conceal an open closet and separate a walk-in closet from a bedroom space.
Whether you are exploring walk-in closet ideas, dressing room ideas, or simply want to add an inviting and stylish element of texture to your bedroom, closet curtain ideas can work in both classic and contemporary interior designs.
A curtain can bring a cozy element of tactile texture and warmth to a room, with bedroom curtain ideas a great way to experiment with beautiful patterns and colors, creating a stylish point of visual interest and a unique design feature in a room.
Curtain closet ideas
Explore our collection of curtain closet ideas, from bespoke, built-in looks, to stylish walk ins, to get some clever curtain closet inspiration.
1. Create an enhanced feeling of texture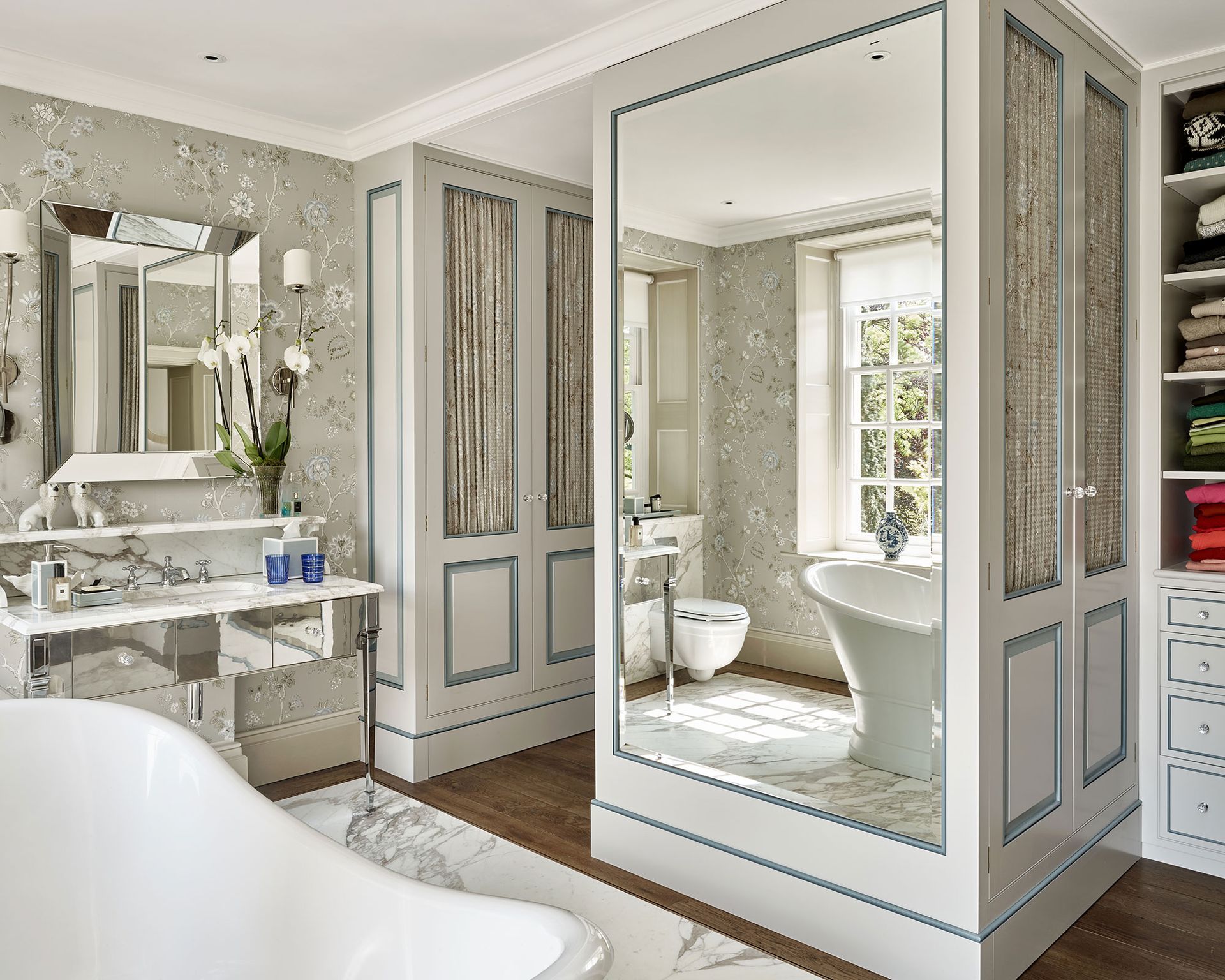 One of the main reasons we look to curtain closet ideas is to add inviting, cozy texture to a space.
'Whether walk in, free-standing or built in, the simple addition of a closet curtain can transform the look of the design, adding stylish character and making the area look softer and more pleasing on the eye,' says Jennifer Ebert, Homes & Gardens' digital editor.
In this luxurious dressing area and bathroom space in the Gloucestershire home of interior designer Joanna Wood, the glass closet doors, framed with elegant patterned curtains, work with the mix of contrasting materials to create a stylish design rich with texture, with the closet curtains adding a subtle element of softness to the bathroom space – a beautiful look for master bathroom ideas.
2. Use a door curtain to separate a walk in closet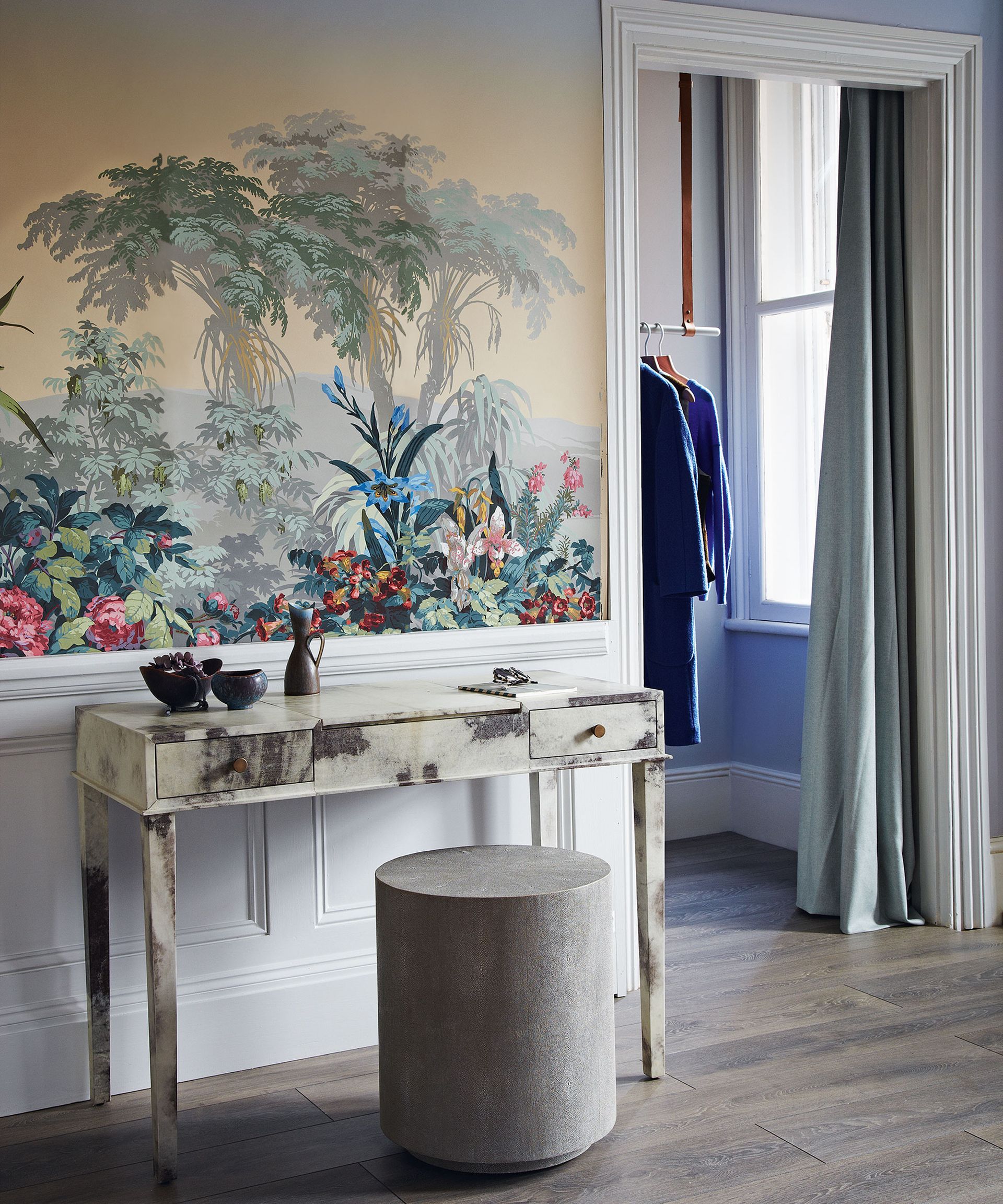 A door curtain can be a great option for curtain ideas across the home, as well as for room divider ideas for open-plan living, with it working wonderfully in a bedroom to separate and conceal a walk-in closet.
As shown in this modern bedroom, featuring an eye-catching jungle wall mural, the sleek blue curtain complements the color palette on the mural and adds an inviting layer of texture to the more minimal looking design, a much softer and more inviting option compared to a door or screen.
Whether you embrace closet organization ideas and have a tidy space, or your closet is more organized chaos, using a curtain to cover the entrance can help your bedroom feel more restful and calming, a great tip to help you sleep better at night.
3. Establish a luxurious look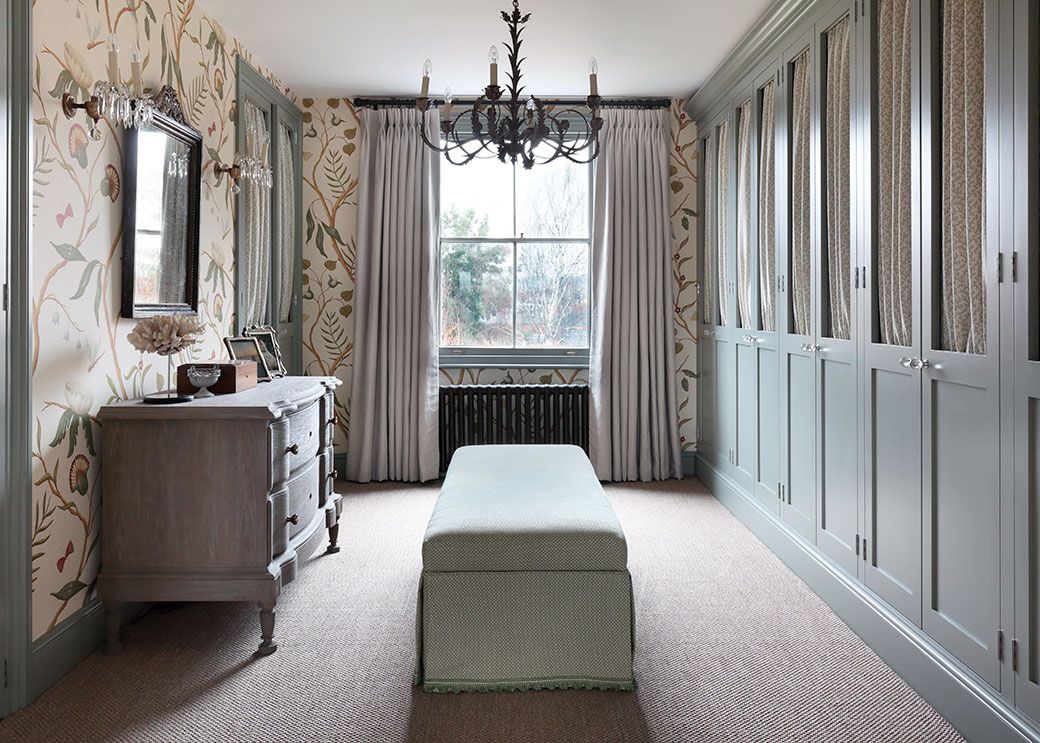 A curtain is a simple way to make your closet look and feel more luxurious and elegant.
As shown in this large walk-in dressing room space, the fabric door panels beautifully enhance the bespoke, built-in wooden closet designs, creating an atmosphere of subtle grandeur and style.
Working with the window curtains, carpet and large ottoman to create an inviting and cocooning space full of soft texture, no matter the size of your closet, a fabric door panel can elevate the design from simple to sophisticated.
4. Keep things coordinated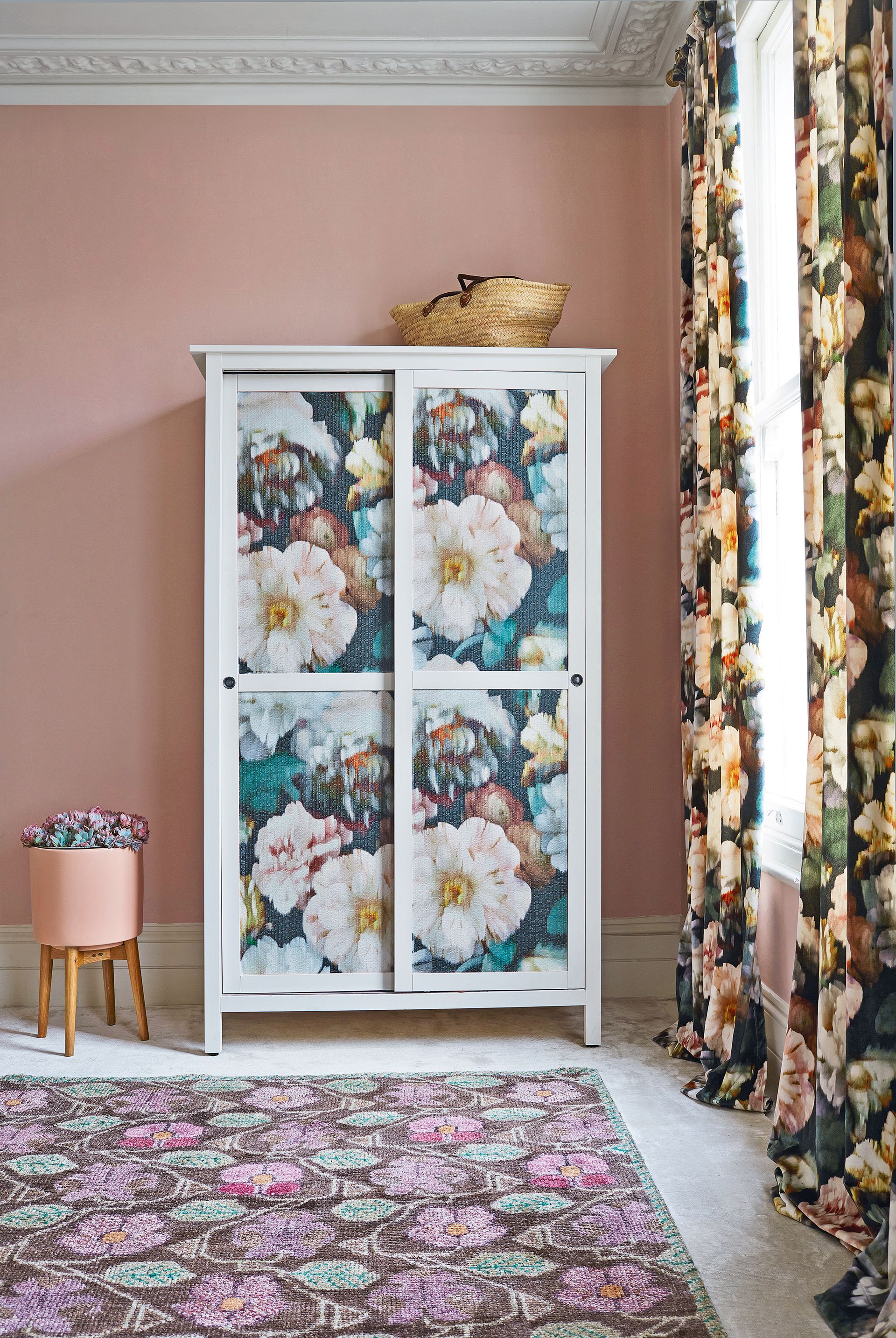 Whether you are looking for ways to use leftover fabric or curtain material, or simply want to create a unified and coordinated look, matching your closet curtain ideas to the other curtains in the space can make for a glamorous and unique design.
The dramatic floral print use in this bedroom adds vivid shape and color to the space, and powerfully celebrates the beauty of the natural world.
A great example of floral room decor, this simple white closet has been elegantly refreshed with stylish floral fabric.
5. Embrace an elegant, neutral design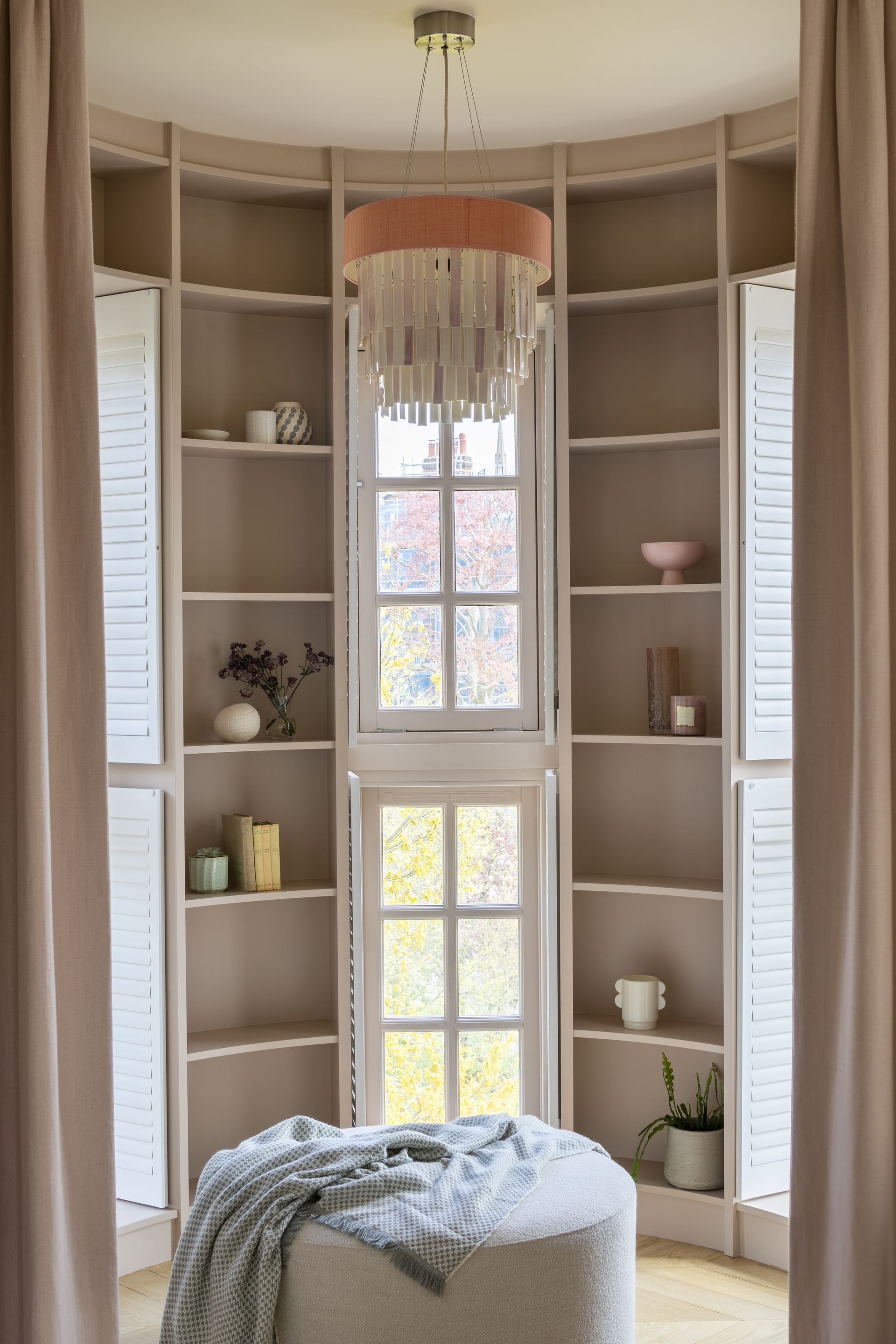 This unique, rounded walk-in closet, designed in a Hampstead penthouse in London by Kitesgrove, features a unique, bespoke shelving unit that neatly fits into the space, with the design elegantly framed by a pair of neutral curtains.
Establishing a calming look, great for neutral room ideas and pared-back aesthetic room ideas, the curtains add softness and texture to the minimalist, modern closet design.
6. Create a colorful closet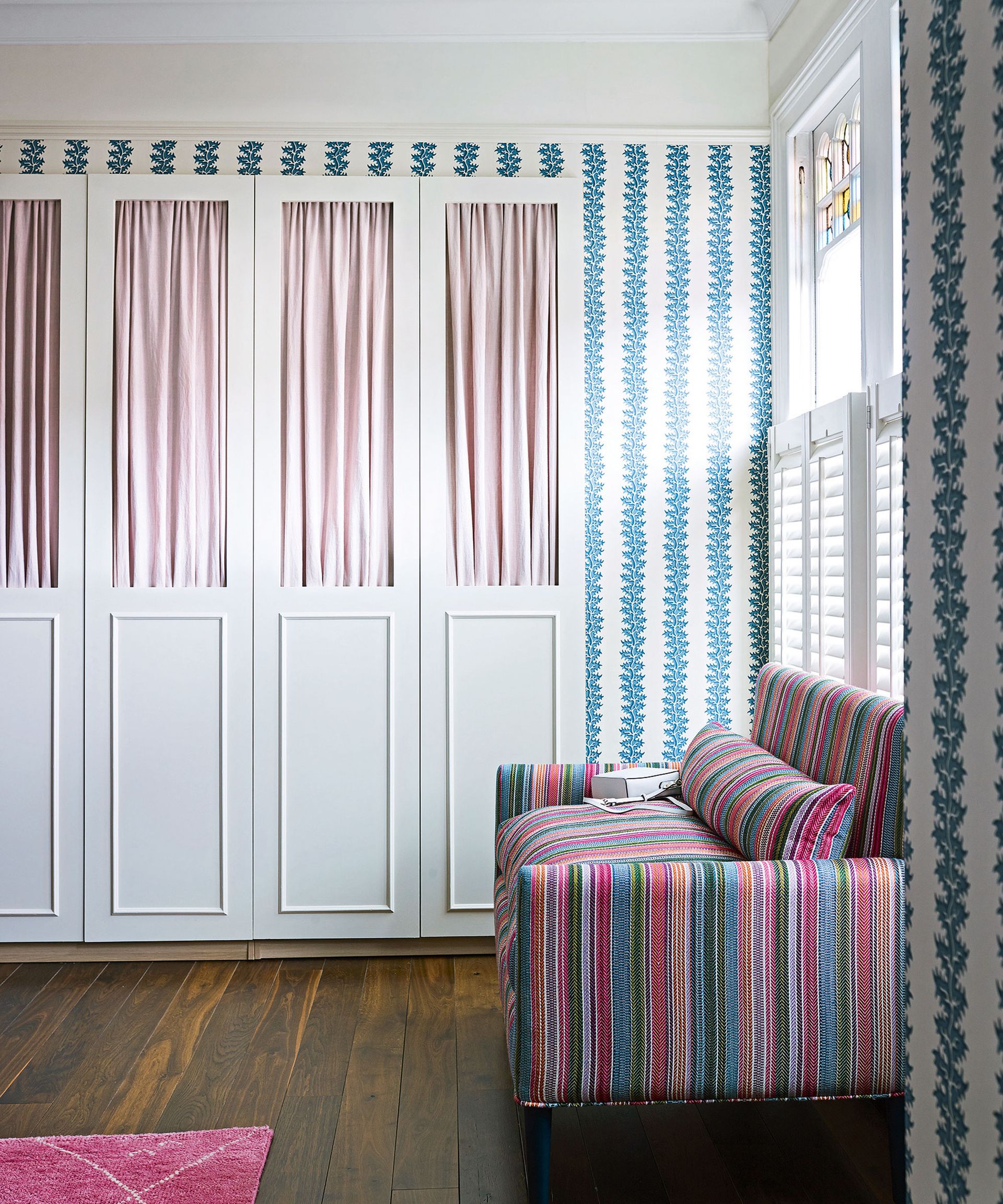 This bedroom, designed by Jessica Buckley Interiors is a beautiful example of how to work with contrasting colors, patterns and textures to form a stand-out bedroom design.
The unique closet door curtains, instead of being framed behind glass, have been left exposed, creating an enhanced element of texture and an eye-catching visual contrast with the mirrored, wooden white panels below - with the blue patterned wallpaper beautifully framing the large closet space.
With the blush pink curtains working harmoniously with the pink and blue color palette in the rest of the bedroom, the use of color creates a truly inviting and stylish sleep space.
In order to create the perfect color combinations and color pairings in your home, always consult the color wheel.
7. Zone the space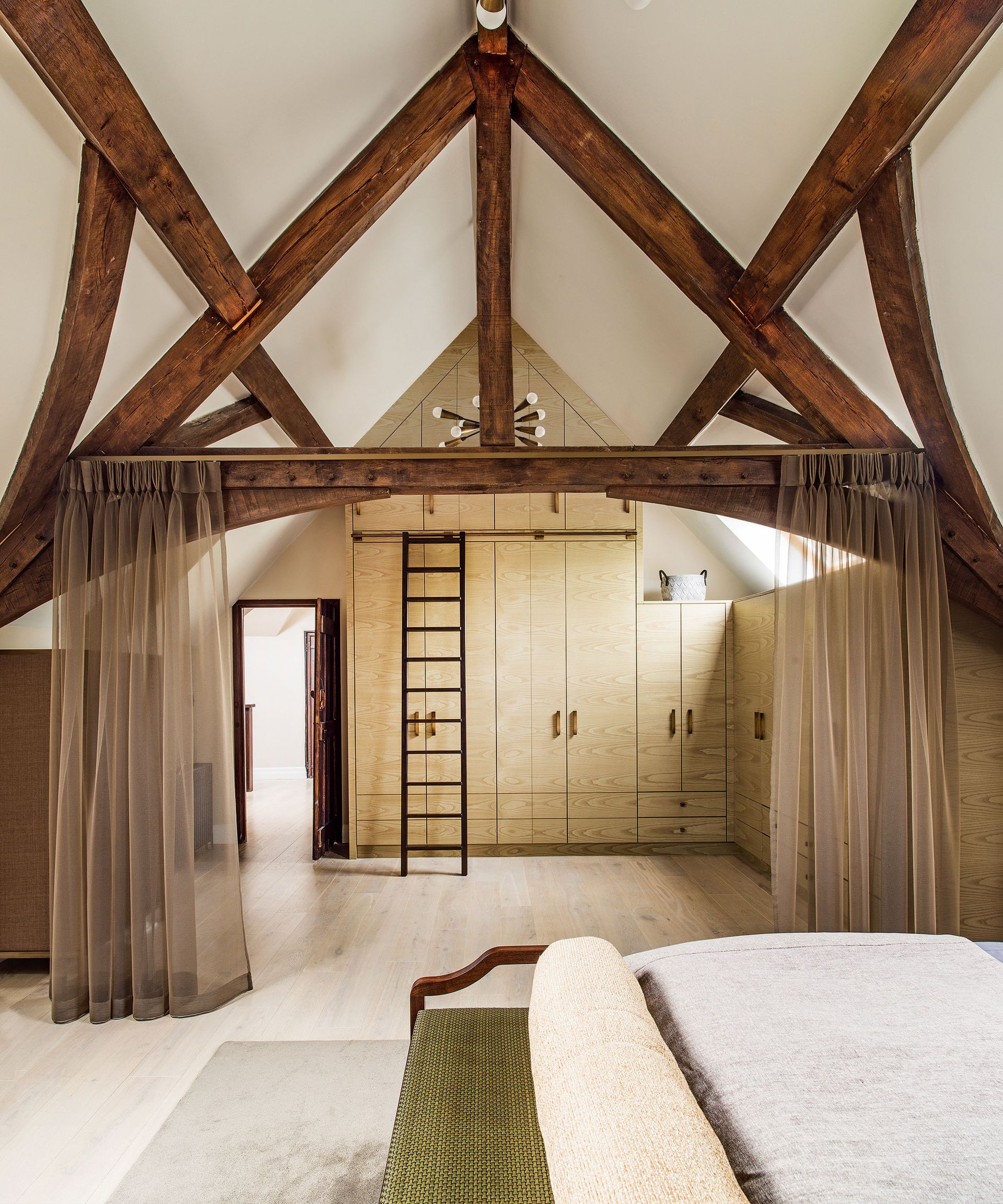 Curtains are an innovative design feature that should not just be limited to windows, they can be a great tool to help zone a space and create a divide in a room, ideal for larger bedrooms or open-plan living rooms.
In this beautiful bedroom with a striking vaulted ceiling, the romantic, sheer curtains may not be part of the closet design on the bespoke wall of integrated wooden storage, but they work well to create a stylish sense of separation between the large storage area and sleep space.
The sheer curtains still create a feeling of space and openness in this bedroom, as well as adding delicate, tactile texture to the wooden bedroom design, and show how thinking outside the box with your curtain closet ideas can create beautiful designs.
If you do not have a separate room to use as a walk in closet or dressing room, why not get creative with curtains and create a room within a room effect.
8. Make a statement with your closet curtains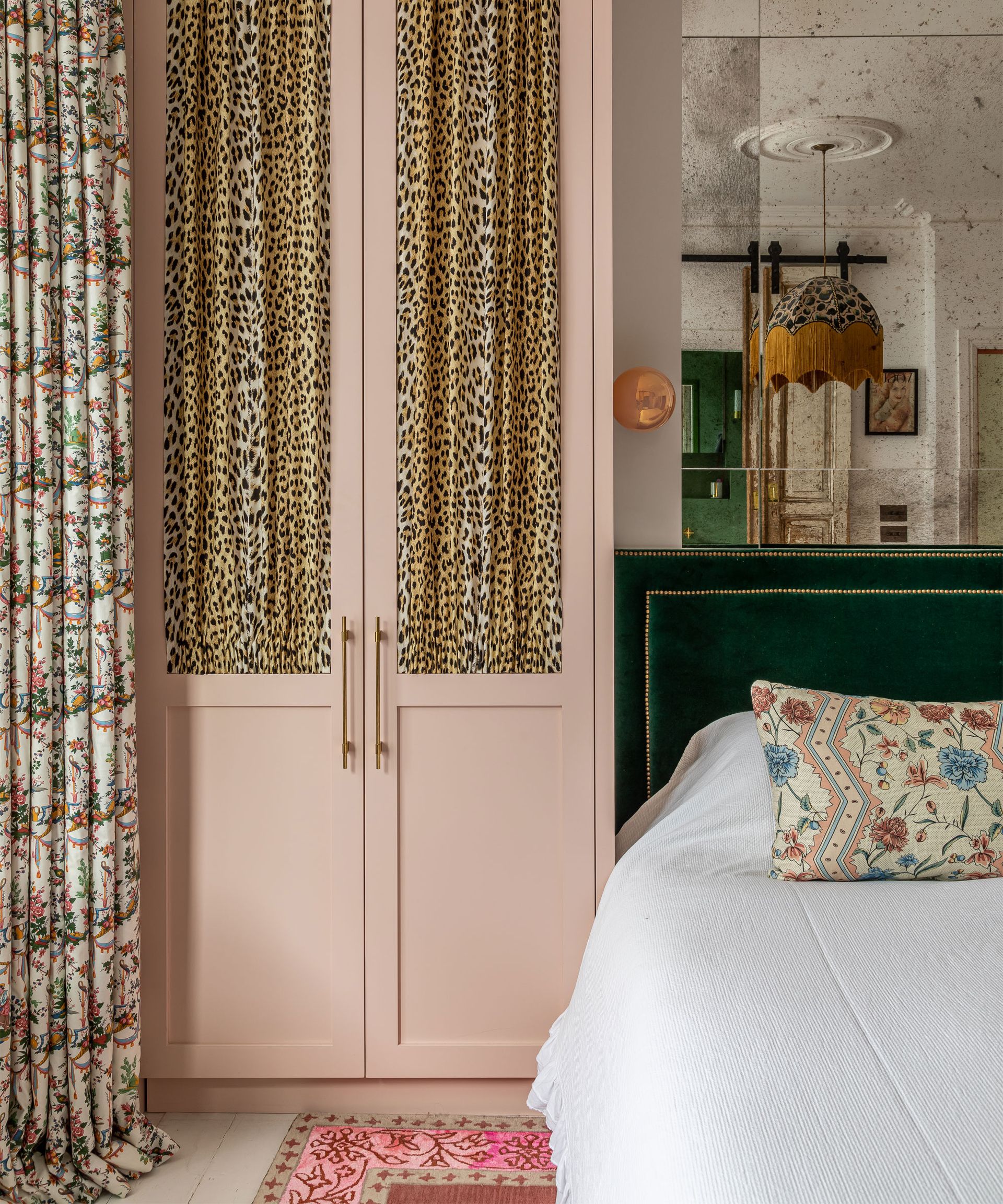 A closet is often one of the largest bedroom furniture ideas, and an essential component to consider when designing a bedroom.
Whether you create a beautiful, bespoke built-in design, or opt for a free-standing style, getting creative with your closet ideas and choosing a design that is both practical and looks beautiful and unique can celebrate this functional furniture item.
In this colorful bedroom, designed by Barlow & Barlow, rich with contrasting texture and pattern, the pink painted closet has been paired with playful leopard print fabric to create unique curtain door panels. Establishing an elegant contrast with the more traditional floral fabric used on the window curtains and decorative cushion, this closet design definitely makes a stylish statement.
9. Pick an elegant drape design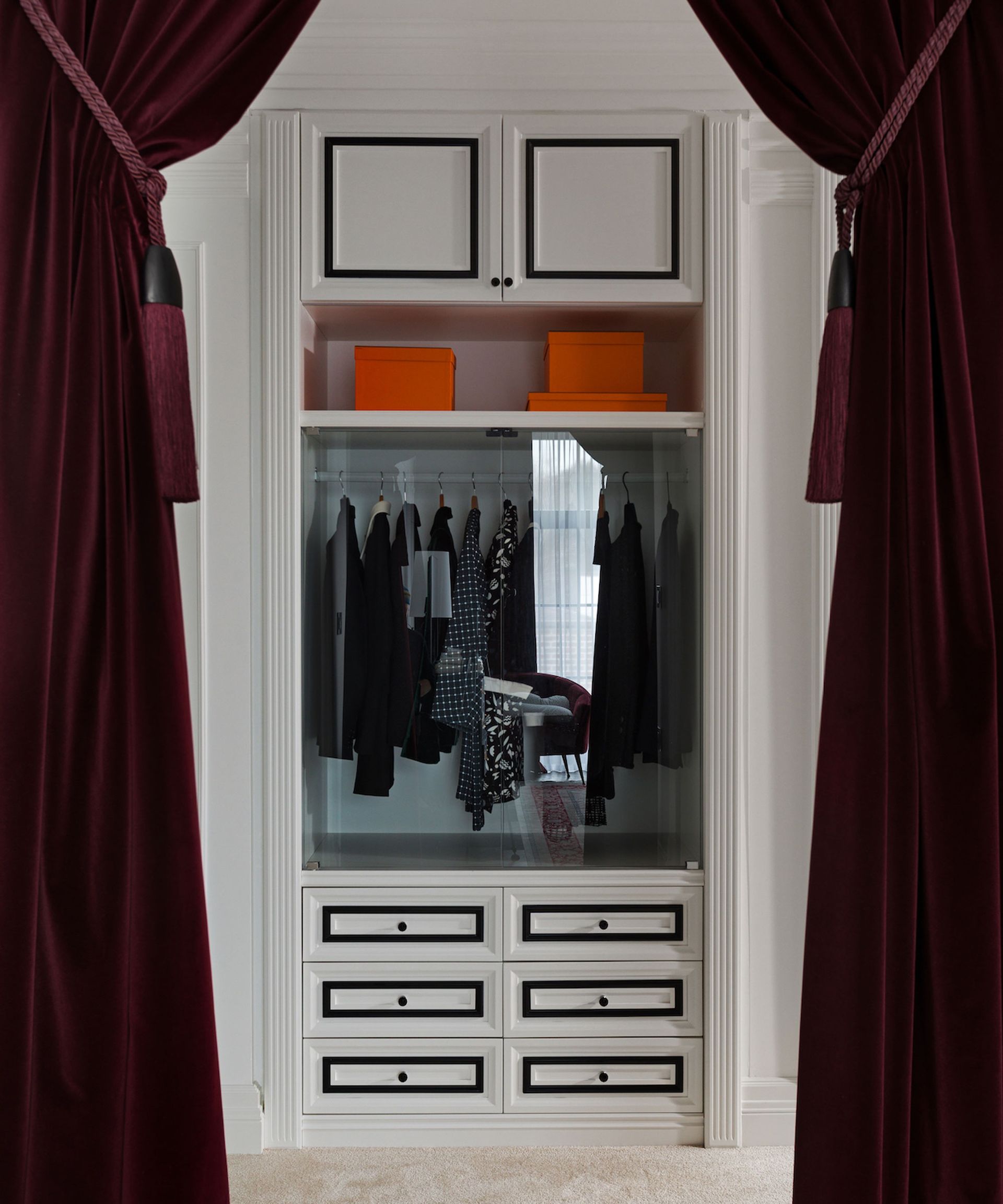 Drapes are often much thicker and heavier than curtains, usually made from sumptuous fabrics such as velvet and silk. With living room drape ideas always proving popular, drapes can also look beautiful in a bedroom space, helping to make the room feel more elegant and cozy.
This modern walk-in closet, designed by Bolshakova Interiors with products from Boca Do Lobo, has been finished with a pair of pretty purple drapes. The classic drape design beautifully frames the contemporary closet space, adding rich color and a luxurious touch of inviting texture, as well as establishing an eclectic mix of old and new design.
10. Use a curtain to coverup an open closet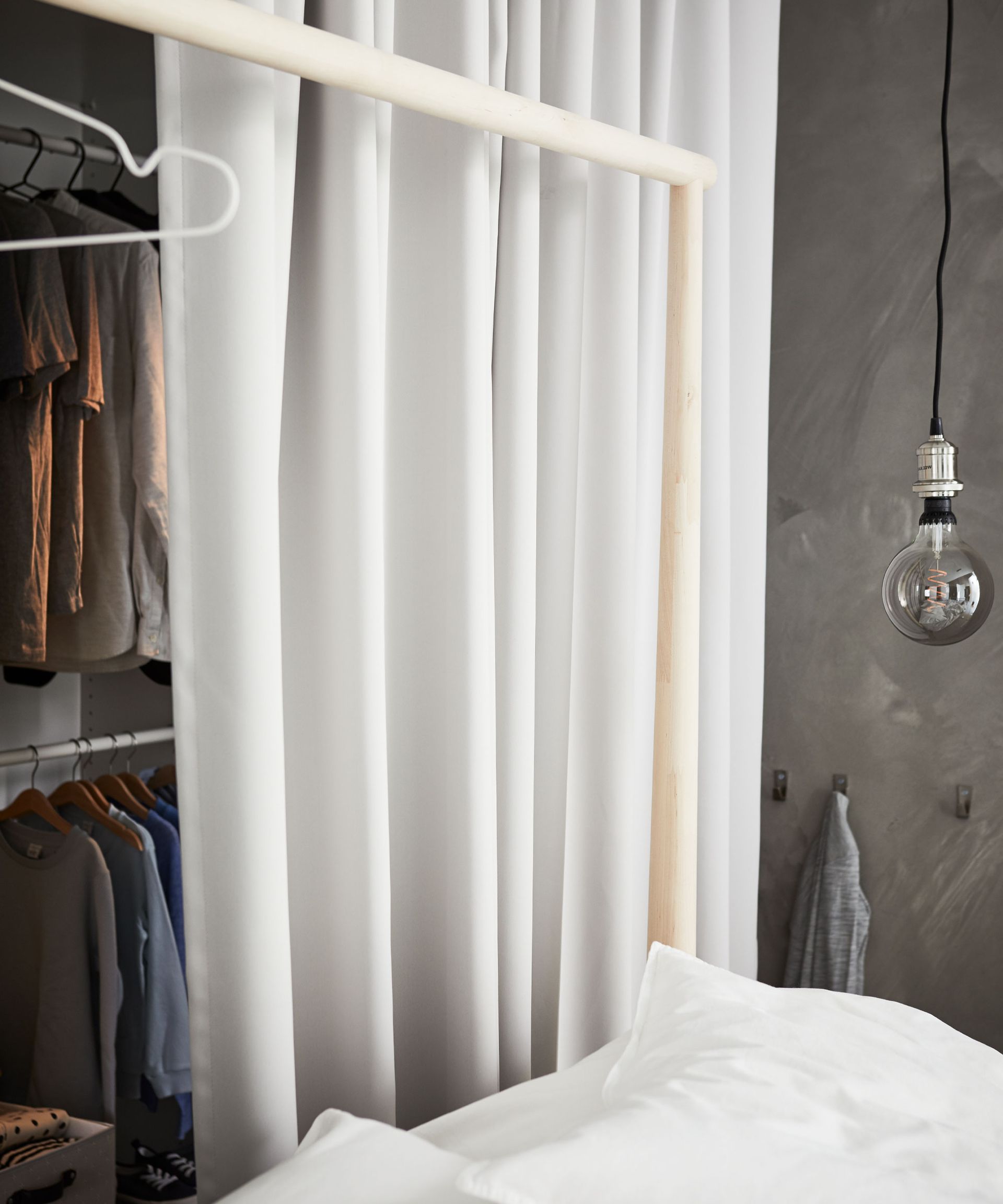 Using a curtain to cover your closet can not only create an elegant curtain wall, filling your space with inviting texture, but it can cleverly conceal the contents within, hiding away any mess and making a room look more tidy, calming and relaxing.
Ikea specialize in a range of open wardrobe, curtain and complex track rail systems, with the Majgull room darkening curtains, shown above, used to hide the open closet space in this bedroom.
11. Don't forget walk-in closet window curtains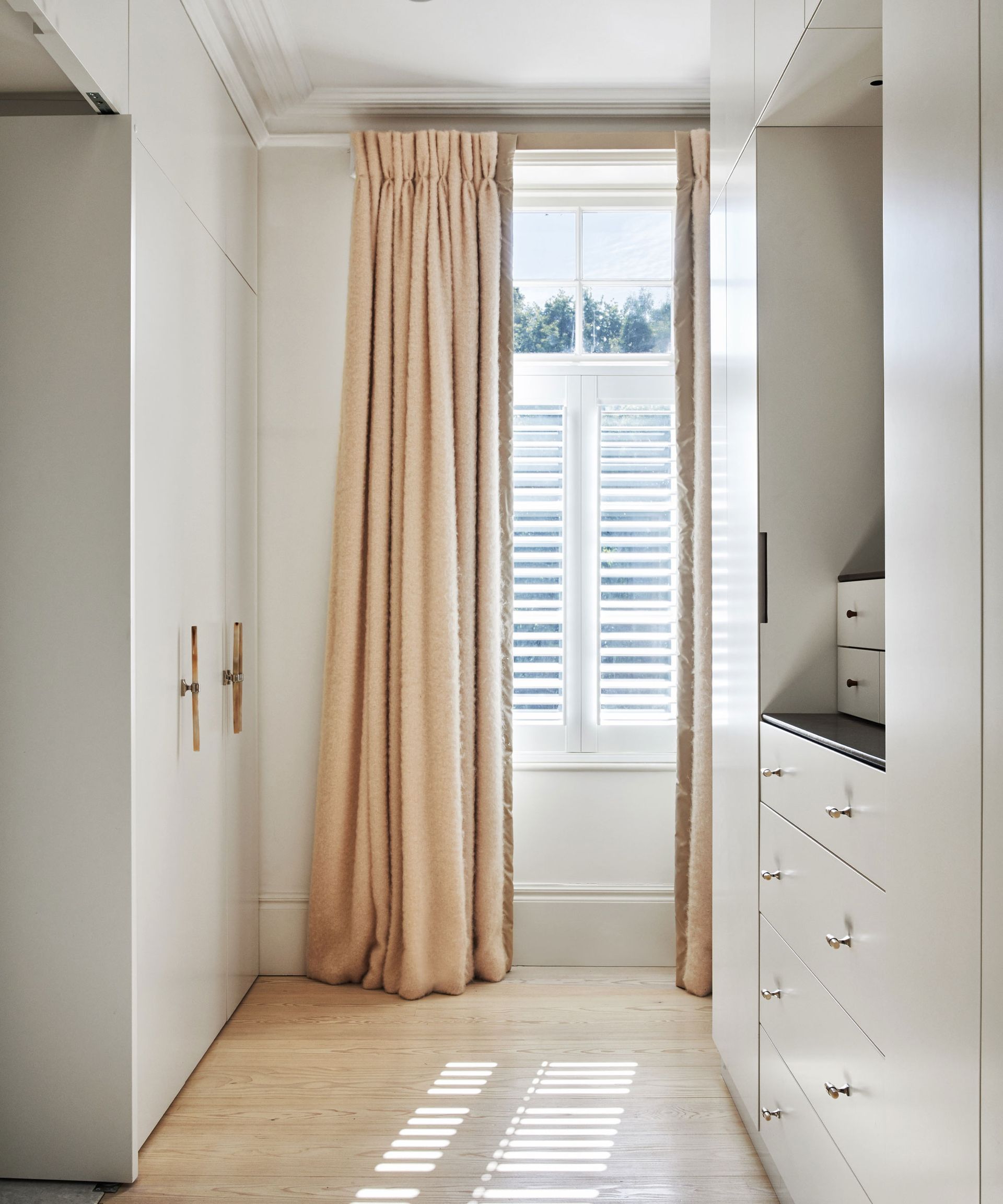 If your walk-in closet or dressing room has windows, adding curtains can help to add character to the space, as well as bringing in a comforting element of homey texture.
As shown in this modern, minimalist walk-in closet, the textured beige curtains work with with the pale wood flooring to add warmth and natural color to the white design. The window has also been finished with white wooden shutters, adding an enhanced level of privacy, light control and texture to the space.
How do you cover a closet without a door?
As we have explored with our curtain closet ideas, you can cover a closet without the need for a door.
Whether used to create stylish fabric door panels, or with tracks mounted on the ceiling to create an elegant curtain wall, a curtain can add beautiful texture, warmth and softness to your closet space.
Other ways you can cover a closet without a door include, bespoke panels that can work as sliding doors, a folding screen positioned in front of the closet, or a wall divider that separates an open closet from the main part of the room.
Sign up to the Homes & Gardens newsletter
Decor Ideas. Project Inspiration. Expert Advice. Delivered to your inbox.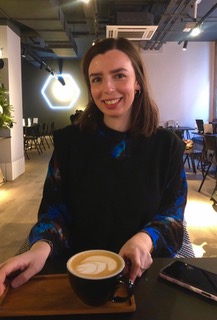 Zara joined Homes & Gardens in February 2022 as a Content Editor. After studying English Literature at University, she worked as an Ecommerce Website Editor, Content Writer and Buying Intern at multiple independent businesses within the luxury retail and lifestyle sectors. Her role at Homes & Gardens unites her love, experience and passion for the world of design and desire to create inspiring written content. She enjoys nothing more than discovering new trends, brands and products, whether that be in fashion, interior design or lifestyle.