Master bathroom ideas – 21 designs to help you relax and soak in style
Create a standout sanctuary with our favorite master bathroom ideas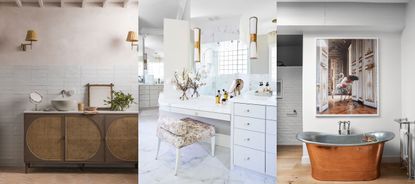 (Image credit: Mandarin Stone | Jessica Bennett of Alice Lane Interior Design | James Merrell)
Our master bathroom ideas will help to transform your main washroom into a stunning oasis of calm and relaxation.
A master bathroom should be much more than a purely functional space, it is a chance to get creative and indulgent with your bathroom ideas, creating the perfect retreat away from the busyness of the rest of the home.
To create the ultimate master bathroom, your design ideas should be fresh and inviting and stylish and unique, as after all, this is a room that we spend a great deal of time in preparing for the day ahead and unwinding in the evening.
Master bathroom ideas
From doubled-up fixtures and fittings to stunning statement bathtubs, we have collected a range of classic and modern master bathroom ideas, as well as spoken to the experts, to help make your daily bathroom routine a true joy.
1. Enhance your vanity area
In this bathroom by Jessica Bennett of Alice Lane Interior Design, the space is defined by a custom built counter and storage unit that wraps around the curved bathroom wall, creating a beautiful, enhanced vanity area that feels like a dressing room. Finished with comforting seating, the overall look feels luxurious, relaxing and extremely functional, ideal for large bathroom ideas.
Bennett states of the design, 'we freshened up the bathroom with a beautiful white marble, a freestanding tub, and a new off white vanity. We added some sparkle with glowy lights and plenty of mirrors to bounce the light around.'
Creating an enhanced vanity area in your master bathroom can not only make the most of the light available – especially if you're lacking good natural light in your bedroom or dressing room space, but can create a standout design where you can feel relaxed and comfortable as you get ready and unwind each day.
2. Create a room within a room
Whether it's a grand walk in shower, or glass dividers used to zone, creating a room within a room for your bathroom layout can create a truly unique space, perfect for luxury bathroom ideas.
Barrie Cutchie, Design Director at BC Designs states, 'one of the most important things to consider in a bathroom is the layout. Getting it right from the start will mean that you have a bathroom that works for everyone. Don't think about how you use your bathroom currently, but how you'd like to use it in the future and use that as a starting point. If your layout isn't quite right, think about the ways you might be able to make small but effective changes. It might be that you add in a folding shower screen or wet room to provide a larger area to move around in and to ensure there is space for everything you require, including a bath.'
In this larger bathroom, two separate spaces have been created to establish a grand, master bathroom suite. The rooms are both separated and connected by the sleek glass panels, with elements such as the elegant brass fixtures and fittings pulling the whole design together. A beautiful master bathroom that creates distinct areas for washing, bathing and relaxing, the look is great for shower room ideas.
3. Consider your master bathroom lighting
With modern, forward thinking bathroom lighting ideas getting more innovative and creative as a way to add style, color, texture and practicality to your bathroom space, think carefully about how your master bathroom lighting ideas can complement your overall space when planning how to design a bathroom.
In this colorful, contemporary bathroom, the elegant, scalloped wall lights add beautiful texture to the space, reminiscent of the natural beauty and curves of sea shells. Complementing the textures of the sleek, red paneling whilst matching the traditional white basin, the lights act as both decorative wall decorations and practical light sources.
4. Establish a serene spa space
For a truly relaxing master bathroom idea, create a space that embodies the beauty and tranquility of a serene spa.
Whether you look at calming, neutral color palettes, or use matching wall and floor tiles to create a cohesive, sophisticated look, taking inspiration from the beauty of a spa and using spa like materials is guaranteed to create a stand out space. For more inspiration, see our spa bathroom ideas.
This bathroom is defined by an organic, elegant simplicity, with features such as the unique, textured sink, irregular rounded mirror and petite wooden stool taking center stage within the calming, neutral space.
Barrie Cutchie states, 'organic shapes, which curves naturally are, introduce a softer feel to a bathroom, with an immediate sense of relaxation.'
The patterned floor tiles add depth and contrast, with the overall design making you feel instantly at ease as you step through the door.
5. Don't forget the decoration
When planning on where to put artwork in your home, the bathroom isn't often at the top of the list, however, bathroom art ideas can add beautiful decoration and character to the space.
As the master bathroom is an area that we spend a lot of time in each day, placing beautiful pieces of artwork in the room will ensure they are looked upon and appreciated every day.
As shown in this bathroom, the large-scale artwork makes a stunning statement in the space, perfectly complementing the striking copper colored bateau bath.
6. Keep things rustic and relaxed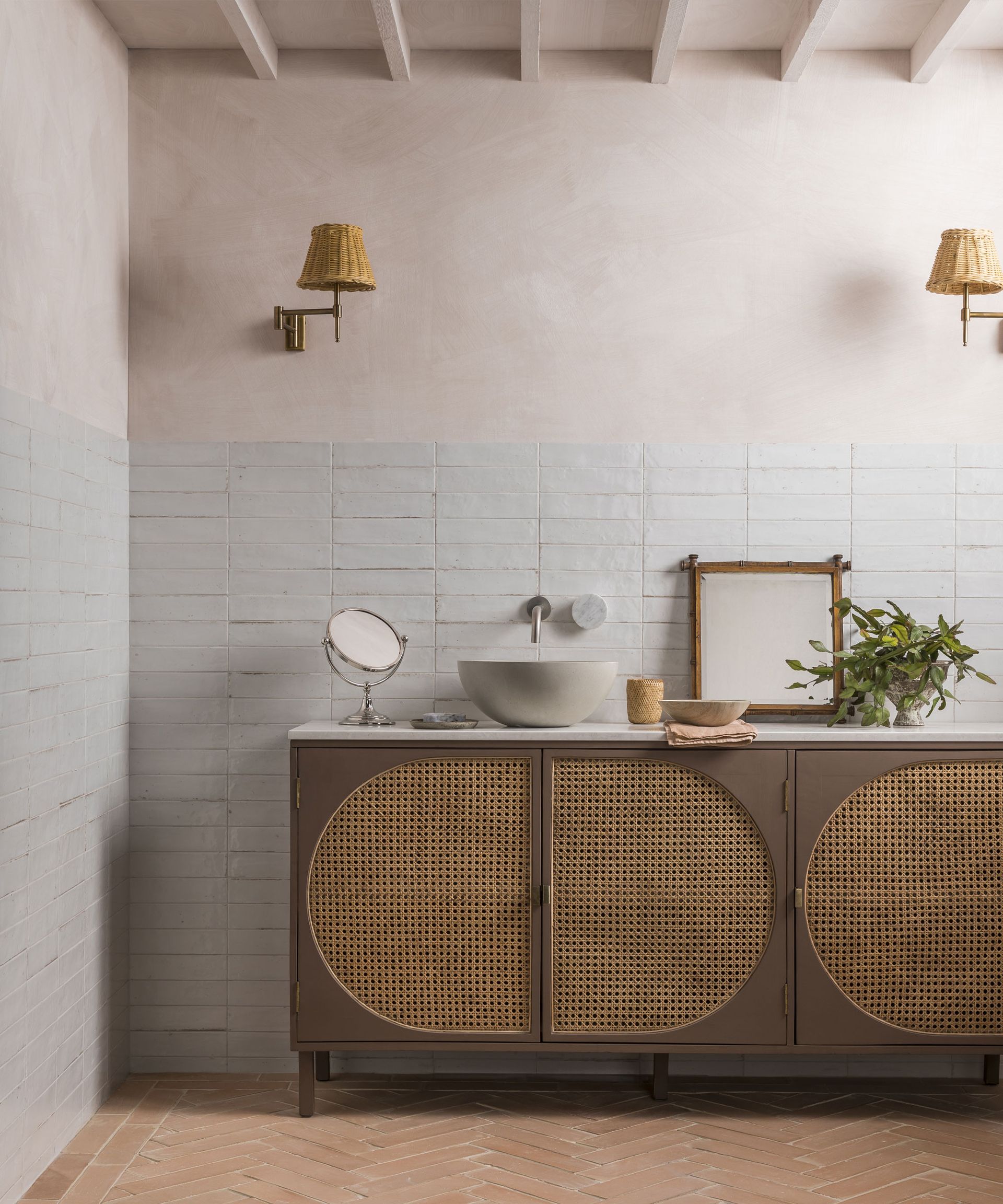 For a more rustic and relaxed master bathroom scheme, look to calming color palettes and natural materials and textures to create a unique, indoor-outdoor look.
This master bathroom has been decorated with beautiful textured tiles from Mandarin Stone, with Hoxton White Gloss Porcelain on the walls and warming Alicante Terracotta on the floor. Finished with a striking unit with rattan doors, woven wicker wall lights and plants, the overall natural and neutral space is inviting and timeless.
7. Bring in unique furniture pieces
People often view bathrooms as purely functional and clinical spaces, however, incorporating unique furniture pieces can help to add inviting character and texture.
As shown in this bathroom by Neptune, the tall, wooden and glass cabinet creates a beautiful storage and display space. An elegant, traditional cabinet that can integrate into both classic and contemporary spaces, this design creates a practical area to store bathroom accessories, whilst creating a stylish display space for ornaments and decorative designs, great for bathroom storage ideas.
8. Get creative with paint
A master bathroom is a great place to get creative with bathroom paint ideas. Bathrooms are increasingly becoming areas in the home to be bold and brave with color, paint and wallpaper, creating an unexpected, adventurous design in comparison with the rest of the home.
Whether you want to coordinate with the colors used throughout your interior space, or create a room that is like no other, paint can be a simple and easy way to transform the space.
In this traditional bathroom, the gorgeous green paint uplifts the room, adding color and vibrancy to the space – with the green shade used still in keeping with the overall traditional feel in the period property. For more green inspiration, see our green bathroom ideas.
9. The time is right for bold color
Neutrals may help induce a sense of calm but if that's just not your style, prioritize creating a room where you feel comfortable.
As we have discussed, master bathrooms are increasingly becoming a space where homeowners are looking to express character and, for those with bolder tastes, that means embracing bright bathroom color schemes.
'There's been an increase in use of color and pattern, with our customers really embracing the design challenge of making a scheme that feels exciting and that reflects their personality,' says Lee Thornley, founder of Bert + May.'
In the bathroom picture shown above, the design dives into a contrasting combination of red and blue, accented with playful white stripes and checkered floors.
10. For bathrooms with freestanding tubs, think in 3D
Choosing a freestanding bathtub is the ultimate master bathroom centerpiece but remember that it's a design choice that will need the rest of the room to follow suit.
'You must keep in mind that you can see all around it,' says James Lentaigne, creative director at Drummonds. 'This means that you need to take a 3D approach to the bathroom layout.
'Scale your bath according to the space available and make sure that you have plenty of room all around it, even when other pieces, such as basins and loos, have been put in place. You want to be able to see it from all angles and for the whole room to feel spacious.'
11. Double vanity basins don't have to be bulky
A double vanity is an opulent addition to a large master bathroom, celebrating abundant space.
But if the thought of two sinks conjures ideas of large, boxy sideboards, think again. In this room, the elegant bathroom vanity idea is pared back with open space below the sinks, making its addition dainty, not dominating.
'Double vanities create the perfect centerpiece for a master bathroom,' says Lentaigne. 'One of the joys of classically-inspired bathroomware is that it has beautiful proportions, which lend themselves well to being scaled down.'
12. Choose smaller marble tiles for a contemporary look
Marble has had quite the Renaissance in recent years but if you want it to work seamlessly in a modern bathroom, think small.
Large panels lend true luxury, but smaller tiles of the stone or even marble-effect porcelain are more adaptable, accessible and absolutely on trend.
In this walk-in shower idea, emerald green tiles display the amazing variety of patterns and tones to be found in the stone. Look out also for tiles in unusual, tessellating shapes for a really unique look.
'We have recently introduced a collection of white, pink and green marble tiles in square and herringbone shapes, encouraging our customers to play with the marbling pattern in combination with the tile shape, which has had some stunning results,' says Thornley.
13. Let the light in
The bathroom trend towards big and bright has been applied to more than just color.
'Space and light are the hallmarks of a luxury bathroom,' says Joyce. 'Many homeowners have increased the size of their master bathroom in recent years to create a greater sense of sanctuary and comfort.'
This white bathroom has really made the most of a large space and stunning vaulted ceiling by going all white. With comparatively small windows, an all-white paint scheme allows the light to bounce around the room and brighten every corner.
14. Statement tubs aren't just for big bathrooms
'People often associate freestanding baths with huge bathrooms but this doesn't have to be the case,' says Barrie Cutchie.
'Several of the best-selling models on the market are available in a smaller footprint; around the same size of a standard sized shower.'
'We've also seen some really clever use of space and position of baths. If you have recently converted a loft, often there is limited space under sloping roofs. This can be the perfect opportunity to add a freestanding bath under the eaves, maximizing space that was otherwise unusable.'
15. Go maximalist with patterned walls
Bringing in color to a bathroom is one thing, but combine that with an audacious print, and you have yourself a very voguish washroom.
'Maximalism is very much on-trend with more and more people experimenting with bold patterns and bright colors,' says Lentaigne.
'Bathrooms are one of the few places in the house where you can get away with strong, vivid tones which might be over-the-top in other rooms.'
This spectacular bathroom wall idea features a bold landscape mural with contrasting blues, greens and reds, and employing minimal hardware gives it free aesthetic reign.
16. Trick the eye with luxury vinyl flooring
'When planning a bathroom, choosing the right flooring is crucial,' says Sarah Escott, Design Manager at Amtico.
'Not only does it have to complement the design aesthetic, but it also has to withstand the trials that come from water and humidity, while remaining easy to clean.'
The necessity for water-resistant bathroom flooring ideas does put limits on the materials you can use, but it doesn't have to limit your aesthetic.
'LVT [Luxury Vinyl Tile] is a fantastic option for the bathroom,' says Escott. 'The variety of designs available makes it possible to reproduce the look of wood and stone without the extra care that is needed with natural material.'
17. Double up on walk-in showers
Doubling your vanity units seems like the ultimate master bathroom luxury – that is until you've doubled your showers.
This stylish wet room idea combines a freestanding bath with two showers in a comparatively small bathroom, all thanks to a clever layout.
A bath in the eaves gives way to showers at the taller point of the room and the walk-in nature of the showers, the positioning of the screens and minimal fittings means that two showers take up little more space than just one.
18. Bring the party with patterned floors
If patterned walls seem like too much of a headache first thing in the morning, turn your bathroom into a dance floor with underfoot motifs.
This ornate Mediterranean-style bathroom floor tile idea enlivens the largely white room.
'Using fun patterns and designs on the floor is a great way to add personality as it won't dominate the whole space, and can be combined with softer touches in the rest of the décor to prevent it becoming too overwhelming,' says Thornley.
19. Make sure your bath is comfortable for you
'When choosing a new bath the main point to consider is comfort,' says Lentaigne.
'Even if you love the look of a bath, you will never fully enjoy using it if you find it uncomfortable. How do you usually bathe? Different shapes suit different positions, some baths are better for sitting upright and reading a book, and others have curved sides for you to lie back into.'
'If you can, get into the bath before you buy it!' adds Joyce. 'We showed two baths at the recent Design Week show at the Design Centre in Chelsea. Very different, yet opinion was divided as to which was the most comfortable.'
20. Bring the outdoors in with natural motifs
A collective longing for the great outdoors has recently seen green paint colors, natural textures and organic motifs weave their way all over our homes.
The bathroom is no exception, where green tiling has grown in popularity and the maximalist trend has been dominated by natural print.
Here, a partially-paneled green bathroom is decorated above with a wallpaper filled with drawings of botanical specimens. A beautiful example of what can be achieved with bathroom wallpaper ideas.
21. Enhance a fitted bath with on-trend tiles
'While a freestanding bath is normally at the top of everyone's list, a standard fitted bath can be just as interesting when it comes to bathroom design, particularly if you decide to dress it up with tiles,' says Cutchie.
'There are plenty of options in how to dress up a fitted bath and the enclosed casing is the perfect canvas to have fun. You can either choose to blend it seamlessly by continuing your tiles on the panel or create an even bigger focal point by contrasting the tiles.'
What should I put in my master bathroom?
The master bathroom is the washroom where you can go all out - double vanity units, freestanding baths, luxurious walk-in showers (not one, but two) all have their place here.
But what you really need to make sure you have in your bathroom is enough space to allow whatever pieces you choose to breathe.
'The size of the space will determine what pieces will fit into the room and will impact the layout you choose for your bathroom', says Lentaigne.
'Make the most of the space available and think about how the bathroom is used – for example should it include one basin or two? Does it need both a bath and a shower? Or just a bath or a shower?
'Decide in advance how the room should feel – is it a relaxing sanctuary or functional shower room – and then choose materials and products that reflect that feeling.'
'Examine the space you currently have and how well you are using it,' advises Cutchie.
'Consider if you are getting the most from your walls, or if unused items are taking up valuable floor space. Take a look at the windows in the room – often, this is an awkward place to fit washbasins or WCs. Could your bath go under the window?'
What is trending in master bathrooms?
We are increasingly wanting to spend more time that usual in our master bathrooms, leading to designs that focus on the importance of calm, relaxation and wellness.
'Master bathrooms are getting a major upgrade at the moment, with a real focus on creating a special and inviting space that we want to spend time in,' says Lee Thornley.
'As many of us spend more time at home, the need for a place of calm to 'switch off' has become pressing, we've seen a return to the idea of the long, indulgent soak,' adds Emma Joyce, Communications Manager at Victoria + Albert Baths.
'Painted baths and colored ceramics are riding high in the popularity stakes, and with good reason. Color is a way of expressing ourselves and can add warmth, depth and plenty of drama. This coincides with bathrooms now being given the same attention as other rooms in the home when it comes to thinking about the design and not just the functionality,' says Cutchie.
Whether that's looking towards nature and natural materials and color palettes for inspiration to instill a sense of calm, or going the complete other direction and creating a bold, maximalist space that beautifully embodies your personal style, spending time carefully planning you master bathroom ideas will only help you to use and enjoy the space more.
Sign up to the Homes & Gardens newsletter
Decor Ideas. Project Inspiration. Expert Advice. Delivered to your inbox.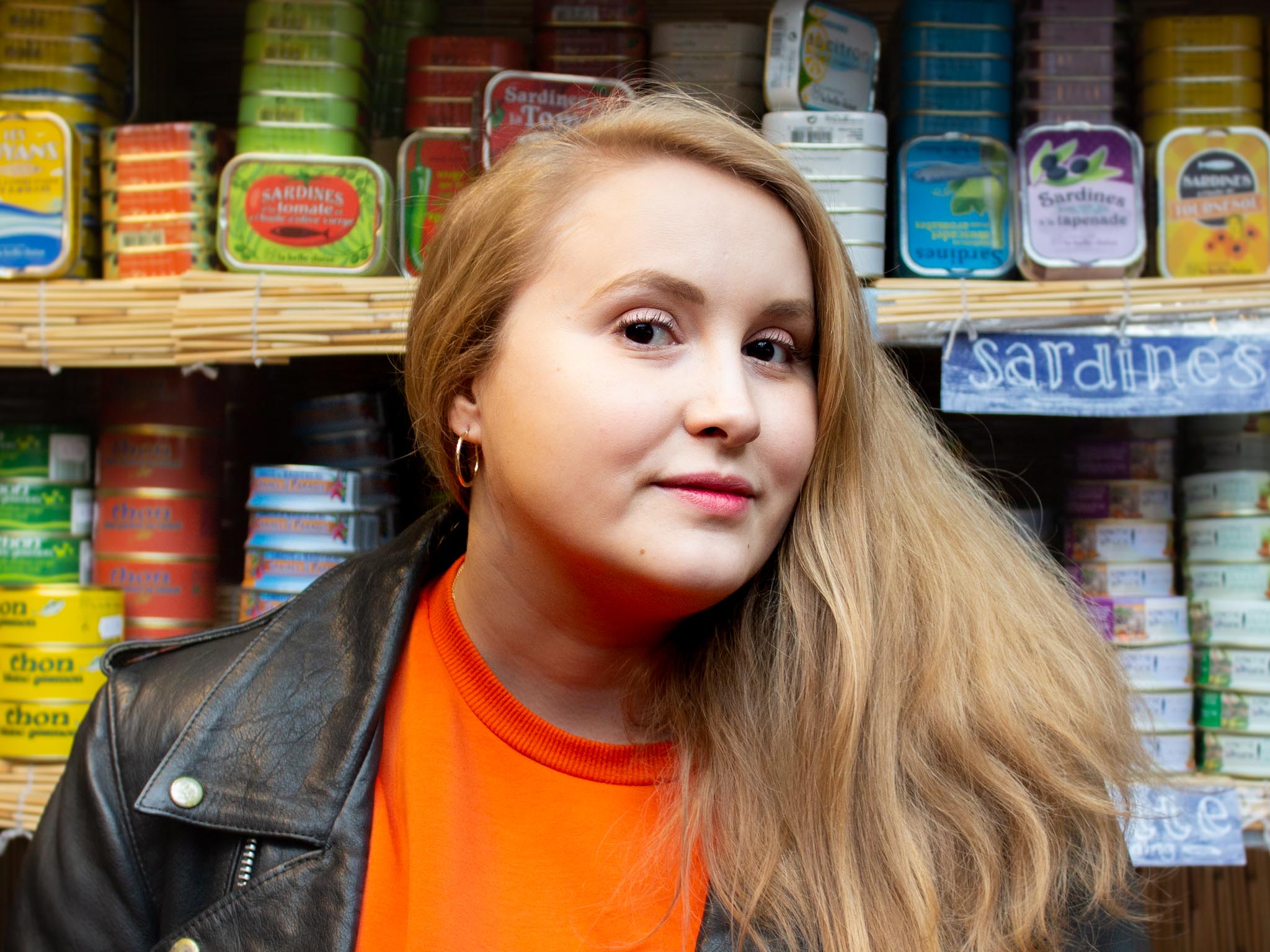 Ailis started out at British GQ, where a month of work experience turned into 18 months of working on all sorts of projects, writing about everything from motorsport to interiors, and helping to put together the GQ Food & Drink Awards. She then spent three years at the London Evening Standard, covering restaurants and bars. After a period of freelancing, writing about food, drink and homes for publications including Conde Nast Traveller, Luxury London and Departures, she started at Homes & Gardens as a Digital Writer, allowing her to fully indulge her love of good interior design. She is now a fully fledged food PR but still writes for Homes & Gardens as a contributing editor.