Spa bathroom ideas — 10 ways to turn your bath space into a luxury suite
Elegant, sophisticated and luxurious, these spa bathroom ideas will tempt you to turn your existing bathroom into a haven of relaxation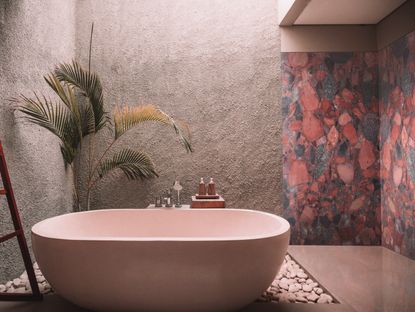 (Image credit: Cullifords)
Sign up to the Homes & Gardens newsletter
Decor Ideas. Project Inspiration. Expert Advice. Delivered to your inbox.
Thank you for signing up to Homes & Gardens. You will receive a verification email shortly.
There was a problem. Please refresh the page and try again.
Creating the ultimate spa bathroom ideas are all about using key design details that add that luxurious look and choosing 'spa' type materials like wood, stone, bamboo and marble.
The largest but comfiest roll top, a rainfall shower, plants, beautiful scents and oh-so-soft white fluffy towels are also essentials.
'The emergence of spa bathrooms has sprung from a combination of people's desire for a space to relax and unwind from everyday life, as well as the fact that people are travelling more and staying in hotels with luxurious en-suite bathrooms, which they look to replicate in their own home,' says Barrie Cutchie, Design Director at BC Designs.
Spa bathrooms are clutter free too and lend themselves to those who love a minimalist approach to interiors, so storage needs to be considered as does lighting and your color palette.
Bright bathroom ideas that use colorful shades and bold patterns won't create the relaxing space we all crave from a spa bathroom, so opt for muted shades.
Spa bathroom ideas
Below, we've listed our favorite spa bathroom ideas, from all over marble and wall to wall wood, to gold fixtures and fittings, and elegant walnut shelving, so you can boost your mood and give yourself a little self-care in your tranquil spa bathroom in no time.
1. Can't convert a bedroom? Go up into the loft instead
Sat at the top of the house, where, if you're lucky, you may get disturbed less, your spa-like master bathroom can easily fit into the eaves.
Keep the bathroom color scheme muted if natural light is an issue and use the palest shades of gray and chrome fittings to keep it airy. Glass doors are the best choice too as they'll make a small bathroom look bigger.
'Spa bathrooms center around quality materials with a focus on natural, both with texture and the color palette; think marble and soft whites, grays and neutrals,' explains Barrie Cutchie, Design Director at BC Designs.
2. Be creative with natural stone
'Natural stone can offer a feeling of relaxation ideal for a spa-like environment. In some cultures, certain stones are considered to have healing properties and as a result you will often find beautiful natural stones in some of the most luxurious spas around the world, explains Oliver Webb, Director at Cullifords.
'Bringing this touch of nature into your bathroom at home will add an instant feel of spa luxury.'
You can also use it to add color. We tend to think of natural stone as being neutral. However, you can get some stunning slabs that come in blush, rose and dark gray, as shown in the bathroom picture above.
3. Go for gold – for the ultimate spa bathroom finish
Gold is the epitome of luxury in a wet room, glistening bright and full of decadence. Of course, you can use brass as an alternative and it will look equally as good.
In this stunning wet room idea designed by Chelsea-based interior design studio, Kitesgrove, the gold trim offers the most fabulous finish and adds a warmth to the seamless all-tiled scheme.
4. Consider an inset bath
The ultimate in decadence, an inset tub will really mimic the bathroom in your nearest spa.
The opposite to having it all on show like a roll top, sometimes concealed in the floor, an inset bath looks uber stylish if you don't have the space to have it placed in that way.
Not always possible in a standard bathroom layout, you can have it placed against a wall encased in tiles with a step up to get into it.
5. Use walnut veneers to line your shelving
Another key material is walnut. There's nothing quite like it with its depth of color and texture, and of course, walnut veneers are perfectly acceptable if real walnut is too much of an investment.
Take this bathroom by BC Designs as an example. The bathroom wall idea featuring walnut inset shelving looks great with marble and the two luxury materials combined really give that spa bathroom feel.
Add in some glass shelving and you're well on your way to creating an elegant space to relax in.
6. You can go monochromatic for a more dramatic look
Not all spa bathrooms are neutral. This striking space designed by JL Designs has a strong visual look that's both spa-like and dramatic, as Jessica Davis, owner and principal at Nashville based JL Designs explains:
'We really wanted to focus on the symmetry of the space and while creating a spa-like feel by using a monochromatic color scheme, which by nature is very calming, we were able to create an interesting yet relaxing bathroom.
'By adding the pop of green in the artwork it elevates the space and allows it to become not quite as expected.'
You can add in color by using artwork, such as the bathroom art idea shown above. Keeping the theme contemporary is a good idea for creating a cohesive look in a modern bathroom. Note the frames match the gold pendant light.
It's these design details that make a space stand out. We like the way the accessories have stayed black and white, as it makes the artwork more of a focal point.
7. Place your tub by a window for a spa-like feel
'We've noticed a huge rise in the desire to create a calming bathroom interior that encourages revitalisation,' says Lee Frost, Director of Waters Baths of Ashbourne.
'To create this relaxing look in the home, it's important to position your bath in the right place to achieve that tranquil ambiance. If you're working with a larger space, it's fundamental for the area to not feel too overcrowded. Therefore, positioning the bath in a spot that will naturally draw the eye is highly recommended.
'For smaller spaces, customers should choose a more show-stopping, back-to-wall or corner style to help ensure the space is completely maximized.'
8. Give an all-white scheme texture
From what we can see, this beautiful spa bathroom designed by Texas based Maestri Studio features four bathroom tile ideas in varying shapes – the marble wall and floor tiles and the two metro designs on the right side.
This gives the bathroom such a stunning look as the textures change as you look around the space, yet they all work harmoniously together. Varying scale is a great design detail to use in all interior spaces and you can see how well it works in this white bathroom.
9. Opt for wood in a spa bathroom
Believe it or not, this 'wood' bathroom is in fact covered from wall to floor in wood-effect porcelain tiles from Stone & Ceramic Warehouse and they come complete with a textured surface and finish.
Wood and wood ceiling ideas in bathrooms can be very appealing, it's characterful and charming to the eye, but of course, not completely practical in some cases. This is where porcelain copies come into their own.
The result in this case is a fabulous Scandi-style spa bathroom that's both cool and stylish.
10. Love wallpaper? It can work if it's subtle
Wallpaper isn't necessarily the first thought when you're designing a spa bathroom. However, with a range of wallpaper ideas to choose from, it can look really sophisticated if you choose the right design in the right colorway.
In this spa bathroom designed by Irene Gunter, Founder of London based interior design studio Gunter & Co, the wallpaper is cleverly used in panels so they add subtle pattern and decoration whilst retaining the neutrality of a spa bathroom.
11. Use refreshing colors
All-white home bathrooms can feel cold and clinical. Give yours a lick of color to create a more authentic, at-home spa experience.
Current bathroom trends look to nature for inspiration – natural colors like blues, browns, grays and greens will give your bathroom an organic feel that will soothe you after a stressful day.
If you have a small bathroom, go for paler greens and grays, which will make the room feel like a more spacious spa.
How do I make my bathroom look like a spa?
Heated flooring will take your bathroom from ordinary to spa. There's nothing quite like stepping out of the tub onto warm tiles.
Other design features include adding greenery. There are always plenty of plants in spas and there's a good reason for that due to their oxygen enhancing properties and bringing nature in is a key element.
Don't forget scents. Essential oils are mood-enhancing and can put you into relaxation mode after a busy day working. Spas and bathhouses nearly always have a small wooden stool; it's pretty much the only piece of furniture you'll see. They're great for keeping towels and toiletries to hand when you're relaxing in the tub.
What is a spa type shower?
Spa bathroom showers are usually double the size of what we have at home and the shower heads are the size of a dinner plate.
You can have this too. Just opt for the largest size you can get, be it round or square. The idea is to create a rainforest style feel and this can't be done with a standard small shower head.
Spa showers are tiled from top to toe without a shower curtain in sight. Have glass doors fitted instead and install a wet room if you have the budget and space.
Sign up to the Homes & Gardens newsletter
Decor Ideas. Project Inspiration. Expert Advice. Delivered to your inbox.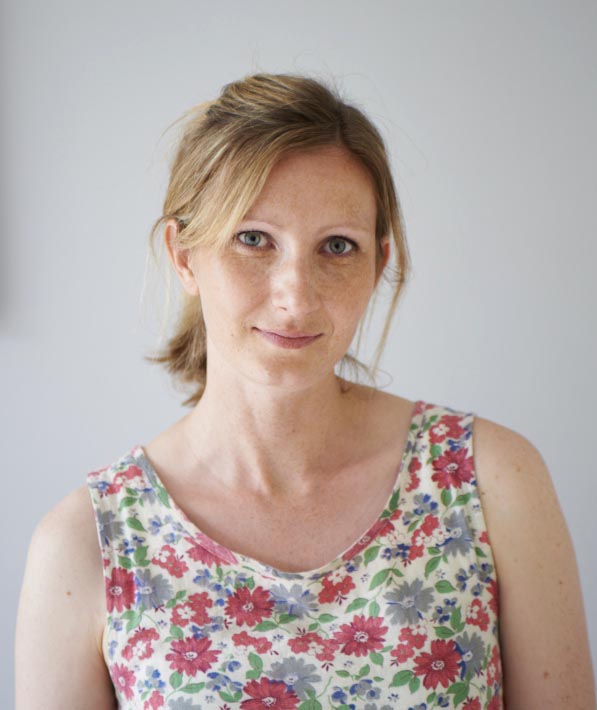 Sophie has been an interior stylist and journalist for over 20 years and has worked for many of the main interior magazines during that time, both in-house and as a freelancer. On the side, as well as being the News Editor for indie magazine, 91, she trained to be a florist in 2019 and launched The Prettiest Posy where she curates beautiful flowers for modern weddings and events. For H&G, she writes features about interior design – and is known for having an eye for a beautiful room.