How to make a small bathroom look bigger — clever tricks to stretch your space
If you're wondering how to make a small bathroom look bigger, these are the best, most aesthetically pleasing and most practical design tricks you can use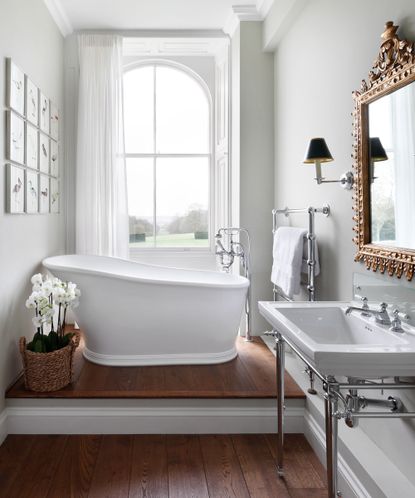 (Image credit: VSP Interiors)
If you're wondering how to make a small bathroom look bigger, there are lots of clever design tricks you can use.
Most of us would like to make our small bathrooms look bigger. After all, bathrooms are often the smallest rooms in the house. Yet it's vital they functions well and, because we go there to relax, we want them to look great, too.
So, it's worth learning key interior design tips and tricks. Whether with decor, with mirrors or even layout, you can instantly make your space feel larger and brighter.
That way, when you look for small bathroom ideas, you can pick the very best, safe in the knowledge that you are choosing space-enhancing elements for your room.
How to make a small bathroom look bigger
Below, we take you through all the tricks you can employ to make a small bathroom look bigger. We'd advise using these bathroom ideas in more spacious areas, too, to really max out the square footage.
Warning – there are lots of tips for using mirrors, and you needn't limit yourself to just one. But be aware of the views you are reflecting; not everyone wants to look at themselves in the bath or shower or... you know where.
1. Come up with an ingenious layout
A small bathroom is only as good as its layout, so pay the bathroom layout ideas you're toying with a huge amount of attention first, and see what you might be able to do with a few clever tricks, such as those above in the bathroom designed by London based interior designer Louise Bradley.
Despite the small footprint, the tall, mirrored cabinet on the left is a great small bathroom storage idea because it packs in lots of space for tidying away bathroom items. The wall-to-wall vanity counter allows for a full-length bath, while providing family-sized storage, too.
2. Be selective with your material choices
The materials you choose for your scheme are essential to how light or dark the bathroom will feel.
This stunning bathroom designed by Alison Henry Design Studio does have the added bonus of a huge skylight, but that aside, any light bathroom tile ideas will instantly brighten up a space as James Lentaigne, Creative Director at Drummonds explains:
'Glamorous and reflective materials such as marble, glass, mirror and metallic finishes instantly scream luxury and create a wow factor in the bathroom. They also have the added advantage of brightening the space by bouncing light around the room.'
3. Bounce light about with reflective surfaces
We love a wall of mirrors as a design feature, but a tall and/or wide single piece will still do a fabulous job, especially if the frame is mirrored too.
A dark framed design will draw the eye to the mirror. In this case you don't want that to happen – the key is to create a seamless feel.
Double the effect of the fake square footage with clever bathroom wall ideas, like in this bathroom by Maestri Studio, by hanging light-reflecting tiles behind the mirror, adding wall lights either side, and by choosing fitted furniture that matches the wall and floor colors.
4. Make space for wall-to-wall mirrors
Decorating with mirrors is a must for making a small bathroom look bigger.
'We like to use full size mirrors that run from wall to wall, or from floor to ceiling,' says international interior designer Ina Rinderknecht of the bathroom above.
'Using large mirrors above the vanity can produce a lofty effect by filling the space and creating an optical illusion with its reflections. But make sure that there is an adequate background to be reflected in the mirror.
'You can also install a decorative pendant light in front of a mirror, because by placing a light source close to the mirror, it will reflect the light back into the room. This intensifies the overall brightness of your space, making it feel more spacious.'
If you don't mind catching your reflection whilst you're walking around your bathroom – admittedly it's not for everyone – then installing a wall of mirrored tiles will double the size of your space and reflect the light back instantly, as in the bathroom below.
It's a wonderful way to lighten up your bathroom. Opt for antique style mirrors for a distressed look rather than an obvious 'mirror' type mirror. It will add more charm to your space.
5. Always opt for wall-hung units
Whatever the size of your bathroom, wall-hung units – or failing that, units that stand on slim legs – are the best option for faking square footage, simply because you can see beneath them, right to the edges of the room.
Wondering what to avoid if you want to make your bathroom feel bigger? A wall of fitted furniture. It will make the floor area, and therefore the entire space, look smaller.
Either way, choose a design that's the same color as your walls for a cohesive look, and consider wall-mounted taps, which allow for slimline basins and more space on the top of them for bathroom paraphernalia.
6. Swap angles for curves
The key to a successful bathroom is how it flows visually. This includes the bathroom color scheme, the cohesion of the fixtures and fittings, and how the floor and wall tiles work together.
When floor space is tight, you can borrow some back by cutting corners – literally. This is where curves come into play, like in this bathroom by Bert & May. Rounded edges on baths, showers and furniture are much friendlier and, of course, save space, all adding to the visual flow of the bathroom.
7. Choose frameless glass screens to fake square footage
'A great way of adding to the feeling of space in a bathroom is to use a glass panel,' says Jo Oliver, Director at The Stone & Ceramic Warehouse. 'A clear glass shower screen will reflect light effectively and will open up the space, allowing you to see the whole bathroom without any barrier, instantly making it feel larger.'
We love this look as it means you can create a cohesive look throughout a small bathroom and see it via the glass. For example, the warm brass fixtures and fittings and the use of color throughout.
8. Pick mirrored – or light-colored furniture
You can visually double the size of your bathroom if you use both a mirror on the wall and mirrored furniture.
This stunning bathroom fully encompasses the all-around mirrored look, even down to the picture frames on the wall. The only downside is all of the glass cleaning.
'I love going to town with mirrors in a bathroom. They naturally help reflect the light and add a lovely dose of luxe and glamor,' says London-based interior designer Samantha Todhunter.
9. Hide storage behind mirrors
Wall cabinets are often necessary when it comes to bathroom storage ideas, but to keep the space feeling streamlined, why not double up with a mirrored wall cabinet?
These can sometimes be recessed into the wall so that you get the depth of storage, but visually the mirror doesn't intrude into the room, as in this space by Kitesgrove.
This streamlined scheme shows how the mirror can echo the rest of the space, too. The vertical brass trim of the basin unit matches that of the mirror. These small yet very effective details are what pushes a scheme into a designer realm. The brass is then carried through into the door pulls and faucets.
Louise Bradley expands on using mirrors to make a small bathroom look bigger and mentions the importance of incorporating them into your powder room ideas, too.
'Mirrors are essential within a bathroom. These should be both well-lit and well positioned to ensure they can be used effortlessly. Not only are they functional but a mirrored wall can also make a smaller bathroom feel much larger and more spacious.
'Making the most of natural light when positioning a mirror is a clever way to enhance the space. We often incorporate a bespoke pivot mirror within the vanity, whether it be in a guest powder room or master bathroom, being able to move the mirror means it can be used throughout the day for your beauty routine.'
10. Match flooring and wall colors
'One of the best things you can do to give the illusion of space in a small bathroom is use the same flooring from the shower into the rest of the bathroom, and to have space under the vanity so you can see the continuation of that flooring,' says Corine Maggio, Founder of California-based CM Natural Design.
Playing with scale also works. Hexagonal small bathroom tile ideas on the floor add a decorative aspect and contrast against the white square wall tiles that zone the bath and shower area.
11. Top and tail the bathroom with white
'When your space is super narrow, you need to pull all the design tricks out of the bag,' says Irene Gunter, founder of interior design studio Gunter & Co.
'One top interior design tip is to paint the ceiling white and the floor a shade or two lighter. Use large format tiles to help make the space look bigger.'
Pick up the white again with basin unit and sanitaryware. It prevents the 'middle' of the scheme from looking too heavy. Use white paint around the window instead of tiles to highlight it and reflect the light back in.
12. Keep the dark color on the floor
You don't need to reach for the white paint to lighten up a scheme. A gentle gray will do nicely too, just keep the ceiling and sanitaryware white instead.
For balance, look for small bathroom flooring ideas that add texture, such as a rich colored wood flooring, which in the room above has been matched with antique pieces to prevent the space from being sterile.
In this country home, Heni, Co-Founder of VSP Interiors kept the look simple and elegant.
'No trends – just classic detailing and antiques. The reclaimed wooden floor was crucial for adding warmth in the high-ceilinged space. We also created a raised platform to make the most of the vistas and to make installing the waste pipes much easier.'
13. Invest in good lighting
This bathroom was designed by Illinois based design studio M. Lavender Interiors, and is a great example of how you can make your bathroom look bigger and brighter with decor. But it also highlights the importance of good bathroom lighting ideas, too.
The dramatic forest green walls and ceiling anchor the scheme, whilst the white marble tiles and units create an airy feel. We love the use of the pretty green, floral wallpaper within the panelling around the mirrors – an idea to steal for sure.
Keep the lighting 'light' too, white lampshades will add brightness higher up, while pale fixtures and fittings either side of a mirror will throw out softly diffused light that makes a great foil for brighter, overhead lighting.
14. Don't skip on bold color
Bathroom color ideas can be included in your plans to make a small bathroom look bigger, but choose them with caution.
A light and airy bathroom can be achieved with pastel paint shades and pretty fabrics. Keep the wall color bright and uplifting – this delightful sky blue is ideal and reflects the natural light from the window.
Drapes should be kept on the wispy side. A cotton lawn or voile would work well so they don't block the window. Opt for furniture that's not chunky; thin legs are preferable in this case and no dark wood as it will look heavy visually.
'And don't forget about lighting,' says renowned London interior designer Penny Morrison. 'Good lighting is essential in a bathroom, mirrors should have at least one if not two wall lights, above or on both sides as well as downlights.'
15. Play with tile styles
Clever tile ideas can be used to create an interesting scheme whilst keeping things light, you can mix and match tile designs successfully.
Do consider teaming white metro tiles with marble. It may feel like it shouldn't work on paper, but it does in reality. Tie it all together with white paint. The failsafe option for brightening up as Will Thompson, Head of Product Marketing explains:
'A coat of paint can easily rejuvenate a bathroom by enhancing light within the space. At Valspar, we recommend using a lighter color for superior reflection that instantly brightens the room; darker more matte finishes absorb light, creating a shadier, moodier aesthetic within your bathroom.
Whites, such as Valspar's The Perfect White and Artic Fox, bounce light off surfaces and are great for achieving maximum brightness, no matter the shape or size of the bathroom.'
16. Swap plain wall panels for mirrored paneling
More on mirrors, of course... 'Mirrors are a practical and aesthetic necessity in any bathroom. They set the tone, and a traditional bathroom would look best with a framed mirror,' says Betsy Kasha, Co-Founder of Paris based interior design studio Kasha Paris
In this bathroom, you can see how the mirrors have been used within the cupboard doors. This is a really effective way of maximizing the space whilst brightening up the bathroom and hiding storage areas – and perfect if you are searching for clever, space-stretching ensuite ideas.
'In a contemporary bathroom a mirror should be flat on the wall and not beveled,' continues Betsy. 'They are great for expanding and brightening a bathroom, especially if it's small.'
17. Choose texture over color
You don't need to use paint if flat walls aren't your thing; consider textured tiles instead.
The herringbone pattern is a trend right now and although mainly seen on floors, you can also use it successfully on walls.
These gorgeous Mother of Pearl style wall tiles add a lovely tactile element to this bathroom and they contrast texturally with the plain white floor tiles. Add in a vintage style rug for a touch of color and look for rustic pieces like a wooden stool for a bit of warmth.
18. Use bold wallpaper – selectively
When planning a bathroom, we immediately think we have to use light colors in every form, all the way, but, that's not necessarily true. It's how you use them that matters.
This bathroom designed by VSP Interiors has a beautiful bold red basin unit, rich colored wood floor and a bold, quite large print wallpaper.
But it works for several reasons. The white painted tongue and groove panelling, the white marble countertop and the large mirror, and these are all tricks of the interior design trade for you to copy.
Sign up to the Homes & Gardens newsletter
Decor Ideas. Project Inspiration. Expert Advice. Delivered to your inbox.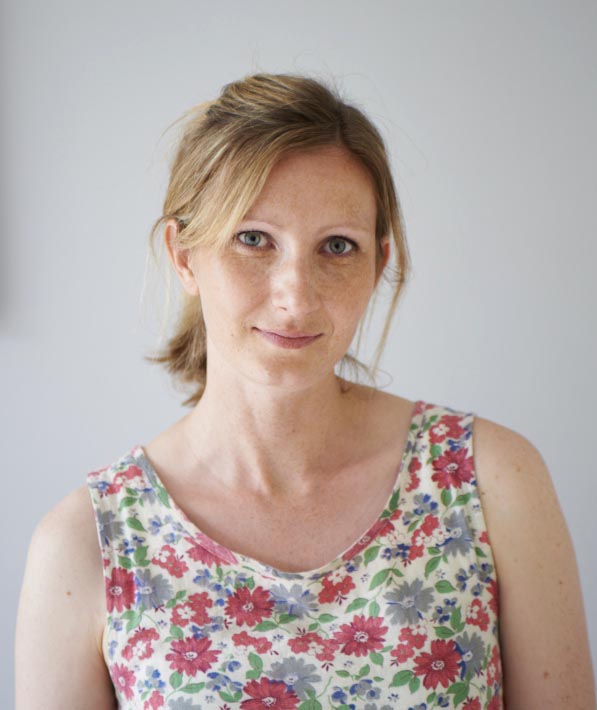 Sophie has been an interior stylist and journalist for over 20 years and has worked for many of the main interior magazines during that time, both in-house and as a freelancer. On the side, as well as being the News Editor for indie magazine, 91, she trained to be a florist in 2019 and launched The Prettiest Posy where she curates beautiful flowers for modern weddings and events. For H&G, she writes features about interior design – and is known for having an eye for a beautiful room.