Small bathroom flooring ideas — from bold colours and striking patterns to soothing neutrals and more
Elegant small bathroom flooring ideas for compact bathing spaces, cloakrooms and petite en suites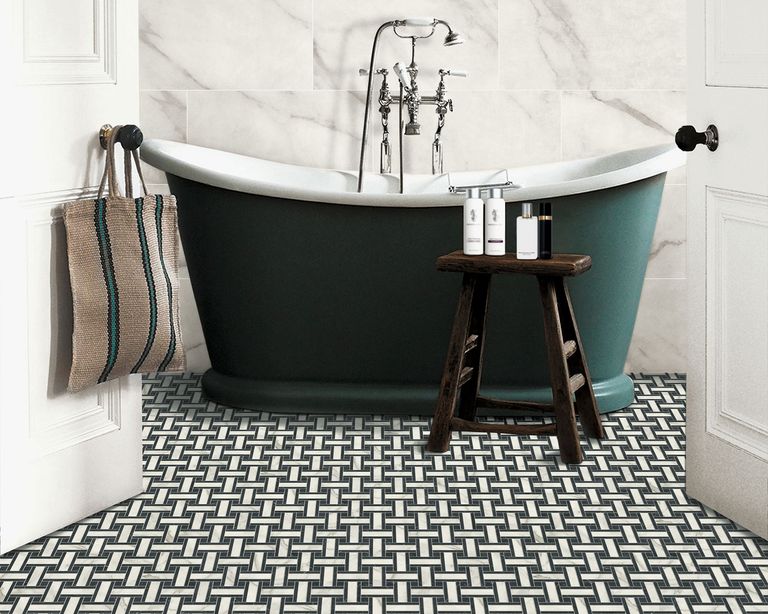 (Image credit: Lapicida)
The average UK bathroom is not much bigger than the size of a king-size bed but with clever small bathroom flooring ideas and careful décor decisions, your bathing space can look elegant and stylish regardless of size.
Expanses of mirror, reflective surfaces and wall-hung fittings all improve the sense of overall space. But don't feel limited to plain colours or neutral finishes when it comes to bathroom floor ideas.
The trend for patterned tiles and strong colour shows bold to be beautiful even in the smallest of rooms. Many flooring companies offer free apps to help visualise the finish in your room and one of the real upsides of only needing a square metre or two is that you can splash out on a super luxe finish.
Any floor covering you choose will have to be waterproof and anti-slip, as splashes are inevitable. Follow the manufacturers' advice around cleaning and care, especially for natural stone, and invest in the laying of tiles with the correct prep and substrate as well as tanking where necessary.
Don't forget the underfloor heating. It's a must for year-round comfort and, with no need for radiators, it frees up wall space. The final touch is a luxury bathmat for a soft step out of the shower and a quick soak up of any puddles.
Small bathroom flooring ideas
1. Carry the look up the wall
Matching bathroom floor tiles with wall tiles will open out the space, especially if you pick a pale tone with a natural pattern, such as these Carrara marble-effect tiles.
Stick to one uniform tile or look for ranges that offer different shapes in the same finish for added creative interest.
2. Trick the eye
Geometric tiles can shake up perceptions of a small space. Here they unfold like a long carpet, leading the eye up to the skylight and beyond. It's a great trick to use when you lay bathroom floor tiles in a narrow space, as it brings some personality to the scheme.
These Parisian Café Tri Rosa tiles are porcelain, designed to replicate old encaustic cement tiles.
3. Introduce some colour
Linoleum and rubber are both natural products that have long-been used to add a pop of colour to the bathroom.
Okofloor is the next generation; an even greener form of sheet flooring that is colourfast and suitable for use with underfloor heating. Made from organic castor and rapeseed oils, it has a subtly textured finish and is available in seven modern colours.
4. Make a statement with monochromes
Monochrome bathroom tile ideas are timeless – think Art Deco black and white. The irregular laying pattern of these diagonal striped tiles creates interesting movement – are they chevrons or stripes or both?
While running the patterns across the bath panel boosts the sense of floor space and doubles the impact.
5. Go luxe with natural stone
Real stone is the luxury option that will bring unique pattern and texture to your floor. Stone needs proper sealing and there are some cleaning products that should be avoided, but it has solidity, it holds warmth well and has enduring style. Check that joists can take the extra weight, although this is unlikely to be a problem in a small bathroom.
'When you are laying stone on a suspended floor, look for a minimum of 20mm thickness to reduce flexing and floor movement underneath,' advises James Cherrington, Director of Lapicida. 'Good sub-floor preparation is essential.'
Lapicida offers a range of natural stones and mosaics as well as porcelain tiles that replicate the effect.
6. Try stone-look porcelain
Stone effects on a porcelain tile combine a sense of luxury with practicality and affordability, and the current trend for onyx is a real gem.
Mandarin Stone has taken inspiration from this mineral, capturing much of its reflective qualities, depth and character in a porcelain tile, which looks every bit as precious as the real thing.
7. Consider wood-look luxury vinyl tile
You can use real wood in a bathroom. Engineered planks have the stability to weather the changes in temperature and humidity, but luxury vinyl can be a better and more practical idea for small bathrooms.
Luxury vinyl tiles are built of several layers of material compressed at high temperatures to give stability and a tough finish, and are available in a wide range of wood effects.
8. Create a stylish grid pattern
Smaller tiles work well in compact spaces and are easier to cut around awkward fittings. The hexagon continues to be a popular motif, creating a more organic patterning than squares and rectangles. Many ranges have matching tiles in squarer formats too so you can get creative with your tile-laying.
These porcelain Chalkstone Honeybee Bone tiles have a matte finish and are suitable for floors and walls.
9. Aim for a balanced look
Adding a little pattern can be a beautiful thing, but do consider the balance of the room. A small patterned floor in an all-white room may get lost but a matching splash back boosts its presence and creates a beautifully layered scheme.
10. Create a cohesive scheme
No surface sits in isolation in the bathroom, so think about how the various elements connect.
This clever bathroom idea uses a mix of two dark floor tiles, one with a wood effect and one plain, and the change in texture separates the bathing zone from the shower. It is a subtle effect but one that feels very considered, picking up on the timber of the vanity and window frames.
Hopefully these small bathroom flooring ideas, together with our advice and tips, will help you transform your space into one that is both practical and beautiful.
What is the best flooring for a small bathroom?
First things first, it's important to consider the best flooring for a small bathroom. Whether you have a bath or a shower, splashes are likely to reach the whole floor, so it needs to be practical. Anti-slip, easy to care for and totally waterproof are the essentials, and make sure it's compatible with underfloor heating too.
Consider the sub-floor. Ground-floor bathrooms on solid surfaces can be tanked and turned into wet rooms , but flexible timber joists and boards can be trickier to seal effectively.
Tiles, lino, stone, quality vinyl and rubber all make good floor coverings but a lot rests on the way it is laid, so always use a recommended professional for installation.
What is the best tile size for a small bathroom?
So, you've got your design sorted, now it's time to consider the best tile size for your small bathroom.
Small tiles have the advantage of being easy to cut and fit around pipework and fittings but they are not the only solution. Large format tiles continue to be popular and can give a smart, almost grout-free finish in a small space. But they need to be laid properly, with full tiles running down the centre and cut tiles off to the sides.
Choose a shade of grout that will blend. Matching floor and wall tiles can really open out the space, but do go for something with a bit of character and warmth.
What are latest trends for flooring in a small bathroom?
If you're struggling for inspiration, why not look to some of the latest tile trends for flooring in small bathrooms?
As we continue to spend more time at home, there is an overarching trend for quality and durability in all rooms as well as a need for privacy and retreat in our bathrooms.
Natural materials, dark bathroom colour ideas, texture and the opulence of metallic glazes on tiles give a luxurious feel and a timeless quality. At the brighter end of the spectrum, sparkling white wall tiles can be teamed with patterned tiles or block colour on the floor for an uplifting look that sparks joy.