Marble bathroom flooring ideas – 10 ways to create a luxurious look with marble
New interpretations keep this metamorphic rock an enduring classic – and make marble bathroom flooring ideas a must-see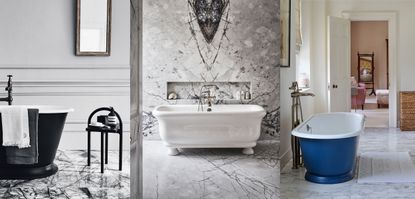 (Image credit: Future)
Elegant and timeless, marble bathroom flooring ideas still remain one of the most popular and lusted after materials to use underfoot. Marble is naturally water-resistant and adds a luxurious spa-like feel to a bathroom whether you have a modern space or a more traditional one.
It is certainly not a budget option but the beauty of marble flooring is that you can add it to your bathroom ideas in varying amounts and it can still have a big impact. So whether it is in the form of large format tiles, textural mosaics or book-matched bathroom flooring ideas, all will help elevate your bathroom design.
Marble bathroom flooring ideas
You don't have to stick to classic bathroom flooring – there is a variety of colors and designs to choose from that will suit your marble bathroom ideas. Here are 10 fresh ideas which will inspire you to work marble into your bathroom flooring.
1. Lay down marble tiles in a traditional bathroom
If contemporary bathroom floor tile ideas are what you are after, then look no further than marble.
'Classic, timeless, and effortlessly chic, marble is a stalwart of bathroom design,' says Barrie Cutchie, design director at BC Designs. 'It suits both modern, minimalist schemes as well as the more classic, traditional ones and is also material that can blend the two styles effortlessly together.
'It is also myth that large format tiles should only be used in large rooms. In fact, smaller spaces are perfect for them as using oversized tiles can trick the eye into thinking the room is much larger than it is so are perfect for en suites or smaller shower rooms.'
2. Turn your bathroom in a luxurious retreat with marble
If you are looking for next-level luxury bathroom ideas, exotic stone flooring and surfaces are the way to go.
'A great bathroom is the ultimate luxury especially after a long day skiing when you want to relax and unwind,' says Tara Bernerd, founder and creative director at Tara Bernerd & Partners. 'At this chalet in the Swizz Alps for a private client, we sought to mix the traditional pine with book-matched Arabascato marble on both the floor, washbasins and shelves.
'The flooring brings a real statement to the space and I love the unexpected combination of the marble with the more industrial concrete-grey Tadelakt used on the walls and the black metal frame for the fluted glass doors, that bring an edge to the room and lifts it from the norm.'
3. Add texture underfoot with modern mosaics
Tiles can be used to add individuality – as in this crisp white bathroom scheme, where mosaic tiles create interest.
'Marble flooring is a great way to add a sense of luxury to a bathroom as well as functionality,' explains Katie Lion, interior designer at Kitesgrove. 'For this bathroom, we wanted to introduce a hint of subtle pattern and these Calacatta Borghini Mosaics from Anne Sacks have a really pleasing small scale geometry that enhances the space, and actually makes it feel bigger.
'The diagonal weave is a modern take on classic marble, and the naturally occurring tonal nuances of the individual pieces make it feel decorative and characterful.'
4. Add marble to a small bathroom
Whether you opt for a sleek streamlined look, or traditional detailing, there are plenty of ways to pack a decorative punch by using marble in a small bathroom.
'With a little careful planning, even the smallest of bathrooms can become a thing of beauty. That's what Justin Coakley of @design_at_nineteen discovered when he turned the loft bathroom of his London home into a stunning sanctuary,' says Grazziella Wilson, creative lead at Ca'Pietra. 'Justin used brick tiles in a honed finish from Ca' Pietra to give the space its monochrome backdrop, then added matt black shower fittings, wall light and accessories to complete the look.
'The classic white marble with its subtle grey veining creates a luxe look for less while a compact vanity unit with vessel basin adds to the hotel chic feel. The floor is Aliseo marble wicker mosaic which gives a modern finish to the rest of the scheme.'
5. Go for an all-over marble
Marble bathroom flooring is a great way to add a feeling of opulence. Long celebrated for its natural beauty, each slab of marble will feature different veining and individual coloration, making it especially prized as a high-end bathroom flooring choice.
'We were inspired by the Art Deco motif of the building and created a modern take of the 'chevron' pattern,' says Jarvis, owner and designer at Jarvis Studio. We highlighted the design pattern with a grout color that picks up the tone of the marble cabinets.'
6. Plan for a glamorous ensuite
With an ensuite bathroom, used by adults only, you can afford to be more adventurous with the decor. As well as being more relaxed about the robustness of surfaces, you can splash out on the fixtures and fittings to help create the dream bathroom you've always wanted.
'In the master ensuite designed by Sophie Head, Artisans of Devizes' Aliseo marble tiles and bespoke stone solution are the perfect partner for the walk-in shower area,' says Hamish Smith, creative director at Artisans of Devizes. 'Cool and contemporary with a luxe look, the swirling veined natural stone creates a serene sanctuary perfect for relaxing in after a long day.'
7. Carry through the marble from the floor to the wall
Master bathrooms are increasingly becoming so much more than a functional space. They are a retreat from a busier-than-ever household, a space where a renewed respect for cleanliness can be indulged, and progressively a design outlet onto which to project personality-filled bathrooms.
'This particular bathroom was designed as a "Her Master Bathroom" and the real Crema Evora marble has a lovely feminine feel to it,' says Ottalie Stride, creative director at Albion Nord. 'The veining, while quite obvious and striking, is a soft accent to the main stone colour, rather than a contrasting vein. Similarly, this stone itself is not too overbearing and can be applied to both wall and floor.'
8. Balance material and color in a bijou bathroom
Choosing marble bathroom flooring ideas carefully is a vital part of the bathroom design process. It's important not only that the material suits the look and style of your kitchen, but that it suits your lifestyle too.
'Marble can make an elegant yet practical bathroom flooring option,' says Isabel Fernandez, director at Quorn Stone. 'Marbles take very well to neoclassical designs including chequerboards and diamond-laid formats with cabochon inserts. This can help achieve a classic yet contemporary feel and is the perfect stone for a timeless decor full of grandeur. Very similar to limestone tiles, marble tiles come in a range of finishes to suit a particular bathroom style.
'We often find the most practical stone finish is tumbled. A softly tumbled, imperfect finish makes for a forgiving choice for a master bathroom. This finish often yields stunning pastel tones that blend seamlessly with interiors.'
9. Combine finishes for a truly modern shower room
Tiles are both waterproof and washable, making them perfect for the walls of walk-in showers, showers with trays, and for the floors of wet rooms, too. Aside from their practicalities, the availability of marble tiling in a wide array of shapes, sizes, colors and finishes, means that the design possibilities are endless.
'Combine materials in a herringbone pattern to create to create a dramatic contrast of colors,' explains Louisa Morgan, marketing director at Mandarin Stone. 'Using an antique 'tumbled' finish marble in a bathroom will offer a little more grip underfoot than more high-gloss 'polished' finishes.'
10. Devise a scheme fit for a hotel
If you are considering marble for bathroom floors, why not carry them through to the walls for a truly luxe look that's reminiscent of the world's best hotel bathrooms? Classic marble may be centuries old, but this versatile material can feel just as relevant in a contemporary setting.
'Marble is regarded as the definitive luxury touch in the bathroom, and marble flooring is favored by many of the finest hotels – for example, Chelsea's Belmond Cadogan or Bruton's At the Chapel hotel, which pair our baths with marble flooring beautifully,' says Emma Joyce, brand manager at Victoria + Albert Baths. 'There is something calming and serene about the marble that imbues a space with a sense of opulent relaxation. Marble seems especially en vogue right now, and we are seeing many high end hotel and residential projects opting for its timeless elegance.'
Is marble flooring good for bathrooms?
Marble is an excellent choice for bathrooms because of its ability to keep water from seeping into the floorboards below. A material of choice for the Romans and Ancient Greeks, it certainly stands the test of time, but it is more porous than porcelain tiles and other manmade materials and may stain and scratch. If, however, you are willing to adopt a regular maintenance routine and are prepared to re-seal it occasionally, you will be able to enjoy its classic beauty for years to come.
There are few materials that can create a feeling of sophistication in modern bathroom design that marble can. Elegant, understated and effortlessly beautiful, marble can be used to great effect in a luxury bathroom.
What is the best marble for a bathroom?
Consider the marble carefully for spaces where you are using it in swathes because no slab of marble is the same as another. If money is no object, book-matched marble is an elegant and timeless exotic stone so using it on both walls and floors will create a cohesive and yet striking look. Marble is also naturally water-resistant making it a great investment for the future.
Sign up to the Homes & Gardens newsletter
Decor Ideas. Project Inspiration. Expert Advice. Delivered to your inbox.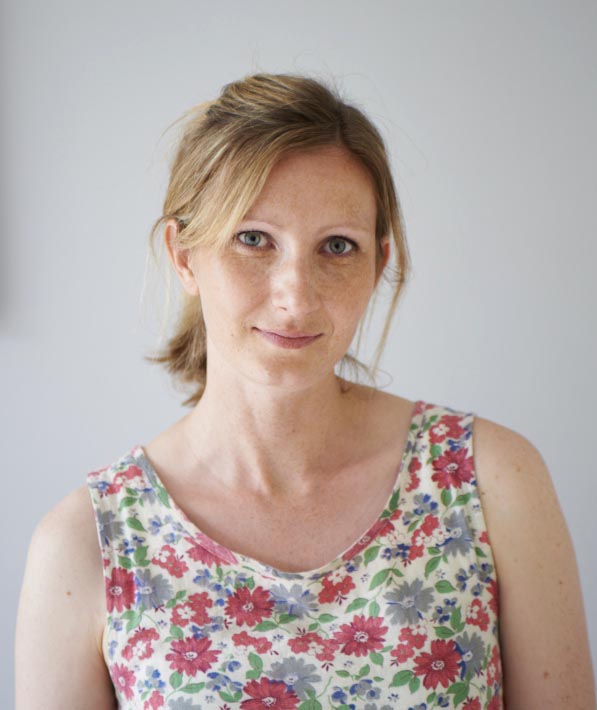 Sophie has been an interior stylist and journalist for over 20 years and has worked for many of the main interior magazines during that time, both in-house and as a freelancer. On the side, as well as being the News Editor for indie magazine, 91, she trained to be a florist in 2019 and launched The Prettiest Posy where she curates beautiful flowers for modern weddings and events. For H&G, she writes features about interior design – and is known for having an eye for a beautiful room.