Ensuite ideas – stylish decor and design ideas for ensuites of all sizes
These inspiring and achievable ensuite ideas will help you give your bathroom an elegant upgrade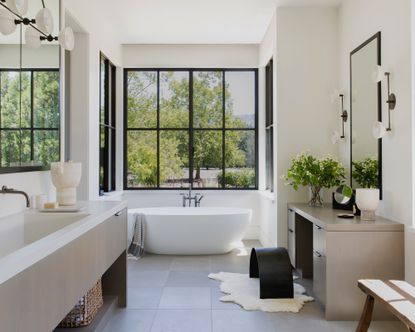 (Image credit: Geremia Designs)
Sign up to the Homes & Gardens newsletter
Decor Ideas. Project Inspiration. Expert Advice. Delivered to your inbox.
Thank you for signing up to Homes & Gardens. You will receive a verification email shortly.
There was a problem. Please refresh the page and try again.
Ensuite ideas come pretty high on a must-have list, when it comes to home luxuries. So much so, that once you've had one, the prospect of moving elsewhere without a similar space just isn't worth thinking about.
These bathroom ideas for ensuites help create a sanctuary in your home where you can steal a few calm, precious moments away to yourself.
With an ensuite bathroom, used by adults only, you can afford to be more adventurous with the decor. As well as being more relaxed about the robustness of surfaces, you can splash out on the fixtures and fittings to help create the dream bathroom you've always wanted.
From embracing that tile you love, to testing out paint colors deemed too bold elsewhere, it's the room where you can have a little fun. And if it doesn't work out, it's worth remembering that with small bathroom ideas, any decorating fails will be easier to remedy.
So whether you have a clear idea of what you want for your ensuite space, have notions for something a little bit different, or are starting your bathroom project completely from scratch, we've gathered some gorgeous ensuite ideas to help you create your dream master bathroom.
Ensuite ideas
1. Inject the feeling of space with reflective surfaces
There are lots of clever, space-boosting design tricks that work wonders on an ensuite and make a small bathroom look bigger.
Decorating with mirrors is top of the list. 'Mirrors are essential for bouncing natural light around the room, instantly brightening and uplifting,' enthuses Yousef Mansuri, Head of Design at C.P. Hart.
'Be brave and experiment with shapes and sizes. Oversized mirrors help to make a room look much bigger, while an interesting frame design can add important detail to plain décor.'
Practical features to look out for include integrated demister pads and bathroom lighting ideas for the mirror. 'It is always practical to put an illuminated mirror on a separate circuit to the other lights in your ensuite to give the option of ambient lighting when required, usually at night,' adds Yousef.
2. Step into the light
Stepping out of a dark, cozy bedroom into a light-filled ensuite is an uplifting way to start any day.
In this modern design by Scenesmith, dead space between the bedroom and ensuite was fitted with bespoke wardrobes in rich ebony oak veneer. The luxurious walk-through dressing space ends in sliding pocket doors that can be left open to allow borrowed light from the ensuite into the North-facing bedroom.
'The dark finish of the cabinetry contrasts and exaggerates the delight of the bright, sun-lit ensuite beyond,' explains Scenesmith's director Sophie Smith.
3. Raise the floor
If you're lucky enough to have a view worth seeing from your ensuite, make sure the bath is perfectly pitched to enjoy it.
'The view from this new ensuite is stunning, so we built a raised platform to make the most of the vistas across the gardens, while at the same time making it much easier to install the new waste pipes,' recalls interior designer Henriette Von Stockhausen.
Here, Henriette has opted for a clever small bathroom flooring idea by choosing reclaimed wood - crucial for adding warmth in the high-ceiling space.
'The most important thing for me in any bathroom is to make it feel like a room, so I love to add art, rugs and curtains, just as you would anywhere else in the house,' adds Henriette.
4. Add pattern and color using wallpaper
Taking design cues from the living room to soften the hard lines and cold surfaces usually found in ensuites is a growing trend. Think flowing curtains, vintage furniture and pretty patterns.
Thanks to modern ventilation systems, and a bit of common sense, you can even incorporate wallpaper in your ensuite.
'Wallpaper works really well in ensuites, injecting maximum pattern and color in a small area,' says interior designer Penny Morrison.
Penny recommends using small bathroom tile ideas for splashbacks or upstands behind the bathtub and basin to protect wallpaper from direct splashes: 'A large sheet of glass sealed over the wallpaper is one of my favourite solutions, as it allows you to enjoy more pattern.'
5. Create a smooth flow from room-to-room
When searching for ensuite ideas to help you decorate, try to create a sense of flow from your bedroom into the bathroom with a complementary scheme. 'This does not necessarily mean being too matchy. However, picking out key colors works particularly well,' advises, Helen Shaw, UK director, Benjamin Moore.
'Your ensuite should feel personal and have the same haven feeling as your bedroom. Soothing pastel shades or off-whites help to ensure the room feels relaxing while also maintaining a feeling of spaciousness due to the lightness of the colors.'
Why not take things one step further and create the ultimate bedroom-bathroom feel with master bedroom ideas with bath.
6. Let there be light
Nothing beats natural daylight for waking you up in the morning. Combine with one of these walk-in shower ideas and you'll be ready to tackle whatever the day brings.
If a regular window is out, consider a roof window or sky light directly above the shower area, pitching the ceiling up into the loft space if necessary. Invest in self-cleaning glass and triple glazing to keep your ensuite cosy and quiet.
7. Use curved fixtures and fittings to make the most of the space
If you want to include a bathtub in your ensuite, curves are the secret to comfortable access.
In this master bathroom, Gunter & Co were tasked with finding space for a generous shower and double-ended bathtub, without making the room feel cramped. 'There is nothing spa-like about a tub that's wedged in,' says interior designer Irene Gunter.
'We designed a curved vanity and had a shower enclosure curved to match, which gave us the extra inches we needed around the tub.' Bespoke curved glass is expensive but quadrant enclosures, which are curved at one end, are readily available.
8. Reconfigure the boundaries between your bedroom and bathroom
When reconfiguring your sleeping quarters to include an ensuite, don't assume the bedroom should be allocated the biggest space. Since your eyes are mostly closed when in bed, why not go big in the bathroom?
Kitchen Architecture shows us how it's done with this decadent ensuite and dressing room idea, which means the bedroom can afford to be smaller.
Featuring floor-to-ceiling built-in wardrobes amid sleek designer bathroom fittings by Agape, the luxury of spaciousness is achieved without compromising on clothes storage.
9. Maintain your privacy
The dream scenario in any ensuite layout is to position the toilet on the same wall as the entrance, so on view from the bedroom.
Sadly, the soil pipe position on an external wall often overrules. Here, bathroom company Ripples commissioned a bespoke iron modesty panel, which has become the highlight of this traditional ensuite.
Other options include hiding the toilet behind a shower enclosure or dwarf wall. 'Frosted, fluted or tinted shower glass is a really nice, unintrusive way of creating privacy in the shower,' adds Jo Sangster, senior designer, Ripples.
10. Add a powder room area to your ensuite
If your ensuite bathroom is blessed with an abundance of natural light it could be the perfect spot for a dressing table. East-facing bathrooms are particularly suitable for applying make-up as the light is soft and flattering.
In this Californian ensuite, Geremia Design included a generous dressing table in the same grey-stained oak veneer as the basin unit opposite. 'The natural light is perfect for reflecting accurate skin tones in the mirror and the view is nice too. It's a pleasant place to sit,' says principle designer Lauren Geremia.
A space-saving small bathroom storage idea is to consider combining the two by tucking a stool under one end of a wide basin/vanity unit.
11. Spread out with a double washbasin
Traditionally known as his and hers washbasins, yet now more correctly named a double basin, oversized bathroom vanity ideas with sinks offer oodles more space if you share both bedroom and bathroom with a partner.
You can choose separate twin washbasins with matching dual mirrors, or opt for a lengthy trough-style sink and a single landscaped mirror, or a combination of both.
Either way, it's definitely worth it if you have the space, not just because of the harmony and symmetry that it adds to an ensuite, but because it also gives you room to stretch out.
12. Create a hidden entrance
Installing a new ensuite, as well as fitted storage? Why not design your walk in closet around the door to your bathroom by giving it a concealed entrance?
Placing the entrance to your ensuite behind a matching closet door will streamline your bedroom space further, while creating a hidden sanctuary for you to completely relax in.
13. Don't hold back with luxe fixtures
Save the practical design choices for the family bathroom. Your ensuite is where you want to splash out on your decor, from marble tiles and sleek flooring to that gorgeous brass bathtub you've always wanted.
Also, as is the case with many ensuites, you don't necessarily have to shut the room off from your bedroom, either. The benefits of leaving the space open, much like an open plan living space, include more light in both rooms, as well as the obvious visual space gain.
While you don't necessarily need to have each space decorated in a matching style, you should aim to choose certain pieces of furniture or decor colors that will link the two spaces together.
14. Make the most of the space with a wet room
If space is an issue, consider making your ensuite a wet room. Smart wet room ideas allow you to remove any barriers or screens leaving the space more open, both physically and visually.
'You can create a true wet room by not having a shower screen at all,' says Michael Marcer of Ripples, 'especially if you have underfloor heating to dry the room quickly. But we usually put in a small screen to prevent the rest of the bathroom getting wet.'
15. Stick to soothing textures and shades
If your personal taste is more farmhouse than futuristic, then allow your ensuite to be the place where you can execute this look to the max.
Decorate the space in soft, soothing shades and splash out on the ultimate bathroom indulgence. A claw-footed tub will help you to achieve a super relaxed scheme.
What typically makes up an ensuite bathroom?
If you're wondering what typically makes up an ensuite bathroom, you've come to the right place.
You can have an ensuite toilet, but the bare minimum required for an ensuite to earn bathroom status is a WC, basin and shower.
A compact ensuite bathroom that utilises space saving fittings is possible within just 13 square feet but aim for at least 17 square feet if possible. An ensuite with a bath should be around 5 x 6.5 feet for comfort.
The amount of space you afford should reflect anticipated use. For example, an ensuite for occasional guests can afford to be much smaller than one for a master bedroom that is typically used daily by two people.
How do I get more light into an ensuite?
There are a number of ways to get more light into an ensuite.
Since windowless bedrooms are undesirable, ensuite bathrooms created in space stolen from bedrooms are often windowless.
Installing a new window doesn't usually require planning permissions. The window should be similar in design and construction to those in the rest of the house, and windows on upper-floor side elevations should feature obscure glazing.
Other options include widening the doorway between bedroom and ensuite to share light from the bedroom. Internal windows play a similar role and can be installed above head height to protect privacy.
Skylights and rooflights are also great for bringing in daylight without worrying about being overlooked by neighbors. Suitability will depend on the type of roof above your ensuite, and budget constraints. A sun tunnel is less disruptive and emits a soft defused light.
How do you decorate and arrange a small ensuite?
So you've got your layout sorted, but how do you decorate and arrange a small ensuite?
There are no hard or fast rules, but it helps to start by establishing if you're looking for the calm, clean lines of minimalist fittings or the more decorative but cosier vibe of traditional/vintage design.
If natural light is lacking, seek out light-reflecting materials like glossy tiles and of course mirrors. An ensuite can also prove the perfect place to experiment with luxurious materials, such as designer mosaics, as the smaller surface area won't blow your budget.
The quickest way to make an ensuite feel cramped is to overcrowd it with fittings. Allow at least 28 inches (70cm) in front of the toilet and wash basin and 32-40 inches (80-100cm) in front of the bathtub and shower.
Sign up to the Homes & Gardens newsletter
Decor Ideas. Project Inspiration. Expert Advice. Delivered to your inbox.
Linda graduated from university with a First in Journalism, Film and Broadcasting. Her career began on a trade title for the kitchen and bathroom industry, and she has worked for Homes & Gardens, and sister-brands Livingetc, Country Homes & Interiors and Ideal Home, since 2006, covering interiors topics, though kitchens and bathrooms are her specialism.