Walk-in closet ideas – 17 designer looks for wardrobes and dressing areas
Incorporate walk-in closet ideas into your bedroom scheme. More than simply a smart storage solution, walk-in wardrobes are rising fast on dream home wish lists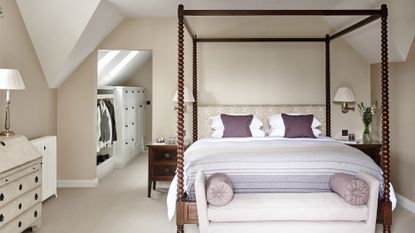 (Image credit: Sims Hilditch)
Dressing room, walk-in wardrobe or walk-in closet ideas are undoubtedly luxurious additions to the home, but these are also an increasing aspiration.
Just as many are embracing the nostalgia and practicality of a larder or pantry as an extension of a sociable kitchen, there is also a notable rise in those seeking the indulgence – even the romance – of a private dressing space as an extension to a beautiful master suite.
A walk-in closet is an eminently practical storage solution for keeping clothes ordered, crumple-free and easy to view, helping to avoid unnecessary repeat purchases or forgotten items lurking unworn.
If space allows, a dressing room is an even more desirable addition to any bedroom ideas, offering a highly personal place to enjoy preparing for the day or for an evening event.
Walk-in closet ideas
Here, we glean advice from respected interior designers and fitted furniture experts on the best locations for a walk-in wardrobe, and the most important design details to consider when planning walk-in closet ideas.
1. Figure out how much space you need
If you are planning small bedroom ideas, a walk-in closet with a single run of open wardrobes can be created on a relatively small floor footprint. Dressing rooms, on the other hand, can be as luxurious and large as a standard-sized bedroom.
'A bespoke bedroom furniture company will usually be able to create a walk-in wardrobe or dressing room from any practical size available, but a room width or depth of at least 1.3 m is a sensible minimum to have in mind,' says Simon Tcherniak, senior designer at Neville Johnson (opens in new tab).
'To hang clothes without restrictions you really need a depth of 650mm, and you also need space to walk in.'
2. Subdivide a master bedroom to create a walk-in closet
If a bedroom is relatively spacious, you could consider adding a partial partition to create an area for a dressing room or walk-in storage.
Interior designer Clare Gaskin (opens in new tab) designed this ingenious master suite layout within a room measuring 4.9m x 3.6m. She repositioned the bed away from the far wall to allow the addition of a stud partition behind it to subdivide the space.
The partition wall, decorated with stunning gold bedroom wall decor, acts as a peninsular. It touches the exterior wall on one side and leaves a walkway on the other into the new walk-in wardrobe, which is also adjacent to an en suite bathroom (en suite not shown).
'The position of the smaller bedroom window was a key consideration for the layout,' she says. 'By incorporating this into the new walk-in wardrobe I could harness the benefit of natural light streaming into the space.'
3. Turn a spare bedroom into a dressing room
If you're wondering how to turn a room into a walk-in closet, an unused bedroom next to a main bedroom could be converted into a luxurious dressing room for daily use and enjoyment.
The team at HÁM Interiors (opens in new tab) advise it is wise to ensure direct access, which may require knocking through to provide an arch or doorway into the guest bedroom you wish to connect.
'When planning a dressing room, it's best if there is direct access from the bedroom to ensure privacy,' says Kate Cox from HÁM Interiors. 'We try to keep the space as open as possible.
'Creating a double width opening and removing doors brings a bright and airy feel to a space; it also affords a beautiful view from the bedroom and lets light flow through the rooms.'
4. Design a dressing area in an attic bedroom
Attic bedrooms can be incredibly inviting and atmospheric, although careful thought will need to be given to layout to incorporate walk-in wardrobe ideas that work under sloping eaves, as full height wardrobes are usually an impossible option.
This attic bedroom features a modest walk-in closet at one end, located just before entry into the en suite bathroom. The attic roof shape required an innovative approach to bedroom storage ideas.
'The room was full of awkward spaces and sloping ceilings, so we designed bespoke joinery to maximize the space in the eaves, and recessed cupboards and shelving into the walls, creating a beautiful and clutter free space,' says Louise Wicksteed, design director for Sims Hilditch (opens in new tab).
5. Create a walk-in closet within a bathroom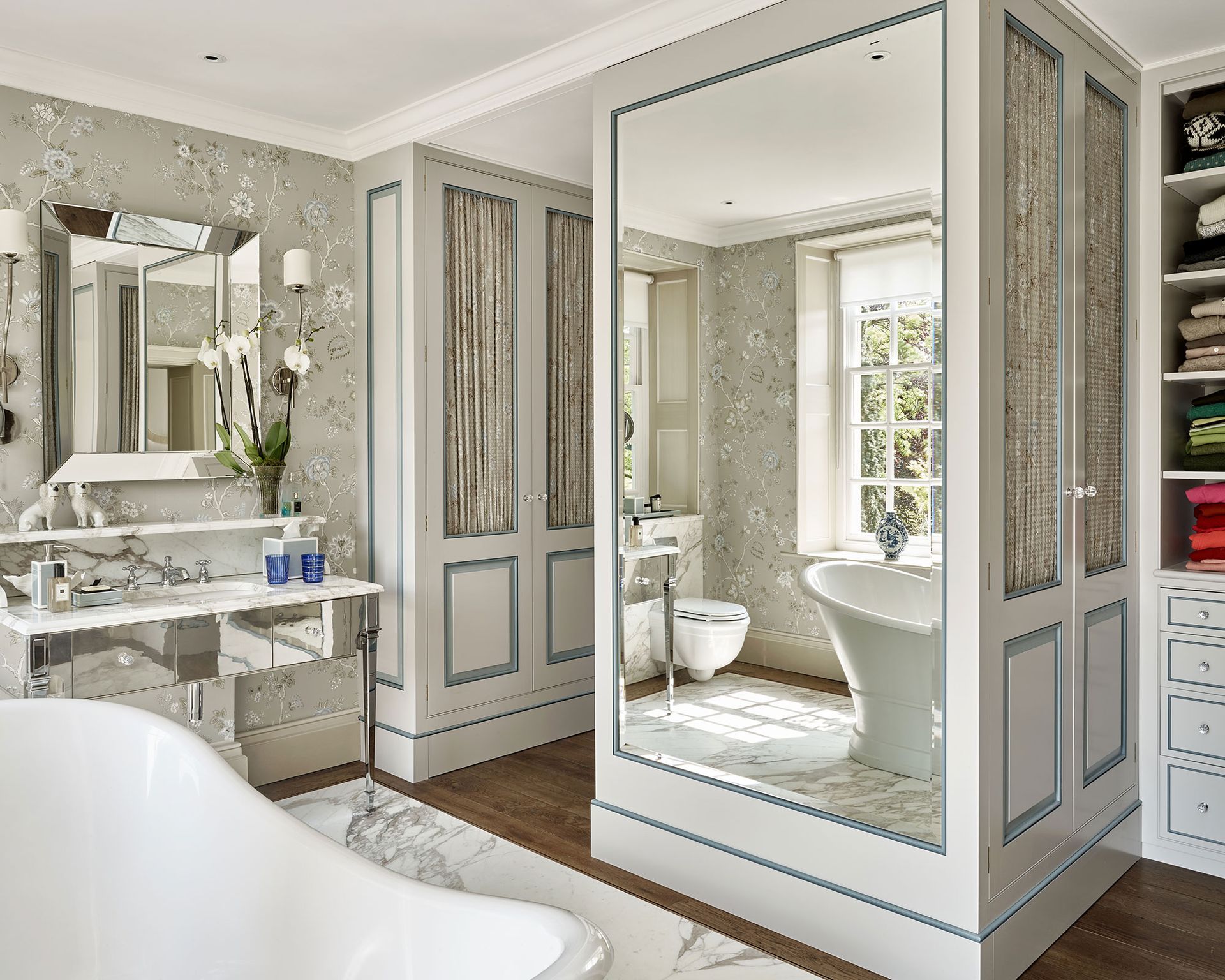 Luxury bathroom ideas often include a dressing table to sit and dry hair and apply make-up. If this is the case, it can make sense to create access to a walk-in wardrobe from, or even within, your en suite ideas.
Interior designer Joanna Wood (opens in new tab) has applied this approach to many projects, including her own home, and finds it a highly practical option when it comes to walk-in closet ideas.
6. Give a clear brief to your designer
Wherever you opt to locate your storage, working with an architectural furniture specialist or interior designer is the best way to ensure every centimetre of storage space is utilised to best effect, especially when planning small bedroom storage ideas.
When planning walk-in wardrobe ideas, it is important to pay detailed consideration to the requirements of your particular storage needs, remembering to allow for future purchases. This will ensure you can give a clear and useful design brief to your designer.
'Of all the rooms we work in, the dressing room is the most personal,' explains Bruce Hodgson, founder of Artichoke (opens in new tab). 'A meticulous brief is the bedrock of good design – we spend time with the client to understand the way they wish to use the room, understanding their particular quirks and preferences.
'Does the client prefer to hang or fold clothes? Do they roll or hang ties? What types of shoes and boots are owned and what kind of security needs are required for valuables? Do they like to drink chilled champagne or wine while they prepare for an evening out? In many ways creating a walk-in closet is like measuring up for a tailored suit.'
7. Take architecture into account
As well as the practicalities of storage, layout and lighting, it's also important to consider how to work with the architecture and aesthetic of your property to really bring walk-in closet ideas to life.
International interior designer Jonathan Rachman (opens in new tab)advises: 'Know your architectural interior elements – and use them as yet another design element.
'You must either make a dressing room a cohesive part of the house – or a jewel box within the suite – but don't try to do something that's off the wall. The space needs to feel like it belongs to the property.'

8. Plan internal storage meticulously
Made-to-measure storage allows for the creation of compartments to accommodate every storage need.
'If you go for a fitted wardrobe, you can dictate the amount of hanging space and drawers, as well as deciding where you would like it to be built in your home,' says Simon Tcherniak, senior designer at Neville Johnson. 'This ensures optimum storage in any location.'
He advises that ingenious storage solutions include:
Roll-out shoe trays – these provide excellent visual display of the shoes, and make them easy to view and sort.
Baize lined trinket drawers for elegant storage of jewellery, watches and cuff-links.
Full height mirrors – these can be incorporated on the inside of a door to save space, and are crucial for that important 'final once over' after dressing.
Adjustable clothes hanging facility – a must if you want to future proof your storage requirements. This includes extending tie, belt and scarf racks, too.
Shoe trays and shoe storage ideas made to fit the exact size of your feet.
9. Mix fitted & freestanding furniture
Adding a piece or two of freestanding furniture, as can be seen in this stylish gray bedroom and dressing area, can avoid an overtly functional result and invite you to linger in a dressing space. However, spatial flow needs careful consideration.
'An ottoman with concealed storage is great for hiding shoes away – but when planning freestanding elements, bear in mind that the wardrobe doors will need to open with enough space for someone to still be able to stand behind them,' says Kate Cox from HÁM Interiors.
'Be creative with the use of furniture; don't be limited simply by the title of the room,' explains San Francisco-based interior designer Jonathan Rachman. 'A dressing room can multi-function as a reading nook, somewhere to take a nap or a place to have afternoon tea or a cocktail if you are imaginative with furnishings.'
10. Include a dressing table for a touch of luxury
A well-lit dressing table is the ideal spot to apply make-up, dry hair and put on jewelry in comfort. A freestanding table has a traditional, romantic look ideal for those seeking a less fitted finish, and, if positioned in front of a window as in this charming white bedroom, can make the most of soft natural light onto the face.
For a more streamlined look, neat, fitted dressing table ideas can be incorporated within a run of wardrobes. It can be left permanently visible or enclosed behind a door if you prefer.
You might use the same materials as in your walk-in wardrobe ideas for a seamless design, or add subtle contrast, with an unusual drawer front, for example in lacquered brass, a faux shagreen, or perhaps a marquetry monogram detail.
Atlanta-based interior designer Lauren de Loach (opens in new tab) advises: 'A vanity is not limited to a counter and cabinetry – any surface, even a petite desk can serve as a dressing table.
'I often include drawer storage to hold beauty products, as well as a small tray to accommodate any loose jewellery or hair accessories that require convenient access. Finishing the space with a charming chair provides a fresh look and a touch of personality.
'When working to create visual interest, it is important to play with mixing modern and traditional styles, hard and soft surfaces, and clean and curved lines.'
11. Maximize natural daylight
Where a walk-in closet is created in a space without its own window, great care and attention needs to be paid to bedroom lighting ideas.
In this project by Interior Designer Garry Meakins (opens in new tab), two large existing bedrooms were re-modelled into a master suite, comprising bedroom, bathroom and link corridor, with a stunning bedroom accent wall acting as a focal point.
The corridor was ingeniously designed to house a dressing room, and by fitting internal glazed panels, Garry cleverly ensured excellent ingress of natural daylight into the space.
'This dressing room is an internal room without direct natural light, so the glazed dividing screens through to the bedroom facilitated a neat, natural boundary without compromising daylight,' says Garry Meakins.
'Good lighting in walk-in wardrobes is key, and can be achieved within joinery using LED strip lights. However, natural daylight is still the best and impossible to artificially replicate.
'One of the most important things to consider when designing any space are the factors you simply cannot change. The orientation of a room relative to the rise and fall of the sun is one of those. I will forever be a proponent of East-facing bedrooms. There is nothing better than waking with the sunshine, if at all possible.'
12. Plan additional lighting carefully
Dressing rooms without windows need careful thought when it comes to planning artificial light sources – and every walk-in wardrobe will need excellent lighting at night.
'Task lighting is required for a dressing table where our client might be applying make-up, but this shouldn't take away from the overall relaxed and luxurious aesthetic of the design,' says Louise Wicksteed from Sims Hilditch.
'We recommend using a combination of floor, wall and bedroom ceiling light ideas to make the space versatile, or even installing a 5-amp dimmer switch which controls all lighting.'
13. Consider a bespoke tea-station or cocktail bar
Turn dressing and undressing into a soothing ritual by creating opportunity to enjoy a relaxing drink, too. Irene Gunter of Gunter & Co (opens in new tab) suggests that the inclusion of a fridge to hold miniature bottles for a small bar, or an area to brew a cup of tea, can enhance the space enormously.
'We had the pleasure of designing a 'his and hers' dressing room in one of our recent Chelsea projects. As one of the bespoke design features, we created a small tea-making station in the gentleman's dressing room for early morning or late-night refreshments without having to go down to the kitchen. It includes a brass boiling water tap, discrete sink and a small fridge.'
14. Add softness with textiles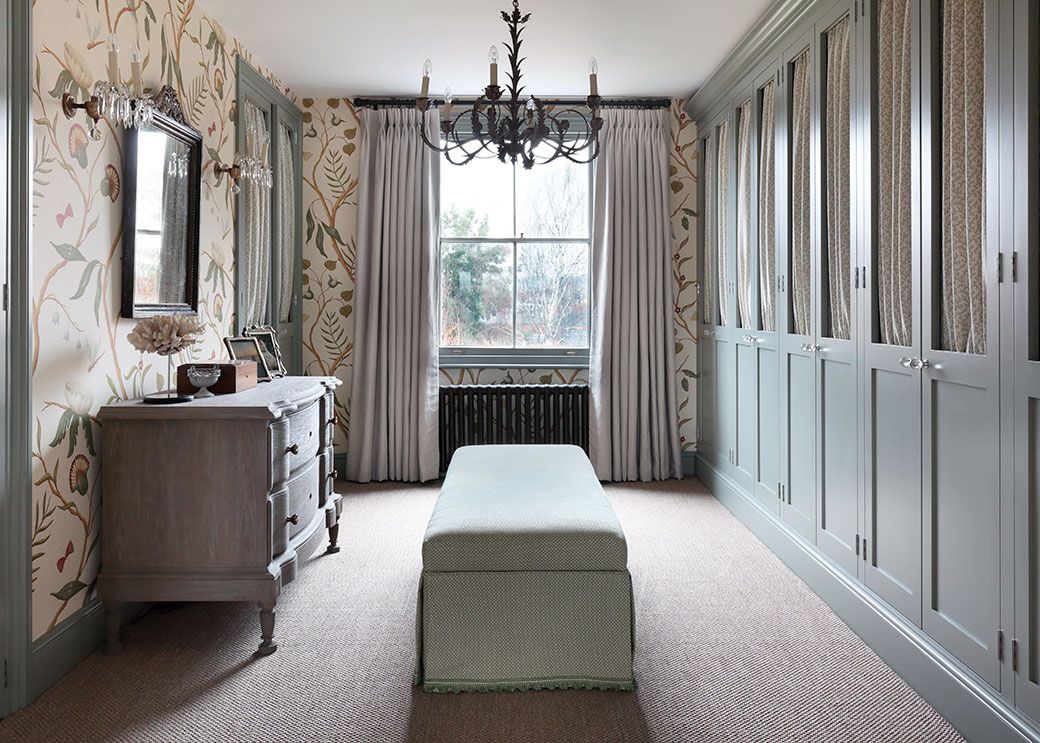 'Bringing in fabrics and carpets softens a space and balances hard cabinetry,' says Kate Cox of HÁM Interiors.
'If you can, incorporate bedroom curtain ideas into your walk-in closet. Even if it means losing a small amount of hanging space, they can transform the feel of a room.'
15. Decorate a walk-in closet with pretty flourishes
Once the functional, practical elements are on plan, you can consider bedroom color ideas, finishes and decorative details.
'Walk-in wardrobes, like any other room, must tell a story,' says Jonathan Rachman. 'I am by default a romantic person thus also a romantic designer.
'I love using chinoiserie or classic wallpaper ideas, for example, but mix that with modern light fixture and accessories: this makes the space not only elegant but warm and liveable.'
16. Include mirrors
Naturally, a full-length mirror is an essential addition for any dressing room or walk-in wardrobe. This might be free-standing, wall-mounted or fitted as a door fascia.
In a space with a double run of wardrobes, fitting the doors with mirrors can ensure you can view yourself from every angle, opening a door to position one mirror at an angle if you wish.
Do be sure to allow enough space to step back at least a metre from the mirror for the best view point. If you opt for a free-standing mirror, mirror panelling within decorative door fascias can be another attractive design detail to maximize light and incorporate an element of luxury bedroom ideas into the setting.
17. Create visual flow in an open-plan master suite
This master bedroom – with walk-in wardrobe – is located in a luxurious new-build apartment on an aspirational waterfront location on Sydney Harbour. It features a smart open-plan layout, with bedroom at one end, bathroom at the other, and a dressing area in between.
Interior designer Lisa Burdus (opens in new tab) was appointed by her client to create a beautiful scheme and finesse the property developer's floorplan to create a cohesive, inviting suite.
'His and hers' storage was allocated to opposite sides of the suite, in mirror image. The client wanted wardrobe storage without doors, and Lisa chose an oak finish to bring warmth to the scheme. She specified the addition of a neatly-sized bespoke storage island to sit in the middle to significantly increase drawer storage.
Are walk-in closets worth it?
Walk-in closets are most certainly worth investing in. We have seen the desirability of this design asset increase dramatically over the years and walk-in wardrobes are a growing bedroom trend.
'The two rooms that really sell a house are the principle suite and the kitchen, as these are the most invested in spaces,' says Joanna Cocking, head of prime country sales at Hamptons.
'My overview would be that, while walk-in wardrobes and dressing rooms connected to the master bedroom have always been an aspirational addition, they have grown in popularity and I've definitely seen an increase in the number of 'his and hers' dressing rooms in the past five years.'
Joanna goes on to say: 'People often ask me if converting a bedroom or reducing a room in size will impact property value, and I'd say that, as long as you adhere to the magic five bedrooms or above, you can add a dressing room or walk-in closet or be a little more creative with space and layout, adapting an airing cupboard or converting a box room, and so on.
'A dressing room can be a really special private space and the recent focus on more life at home has undoubtedly amplified its attraction.'