Small walk-in closet ideas – 10 smart design schemes for tiny spaces
Yearning after a teeny bit more space for your clothes? Invest in a small walk-in closet and you'll wish you'd done it years ago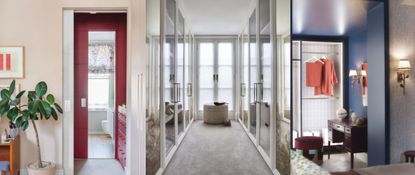 (Image credit: Future)
Small walk-in closets are a possibility – especially if they are fitted out cleverly to cope with all your clothing storage needs. They can transform how adult bedrooms look, and help children keep their bedrooms neat and their clothes in good order, too.
We've sourced our favorite small walk-in closet designs to show that your bedroom ideas don't actually need huge square footage – just natty tricks to maximize the space you have.
Small walk-in closet ideas
If you are looking for walk-in closet ideas that are ideal for a smaller space, this is a great place to start. We've put together our top small walk-in closet ideas to inspire your bedroom remodel.
1. Small walk-in closets can be perfectly formed
This small walk-in closet design created by interior designer Sara Cosgrove is a perfect example of how you can make a tiny space work well. The curvy joinery makes the spacious but small walk-in closet efficient, which is exactly what you want to achieve in a smaller space.
Mirrors are used to the maximum here. The shoes look great in the front section and add a decorative element as you walk-in. Keep your clothes folded each side and more seasonal pieces in the drawer at the bottom.
2. Stretch space with white walls and pale flooring
Design studio Kasha Paris are experts at designing pieds-à-terre – and this includes stunning small walk-in closets that combine elegance with practical luxury.
For apartment living at its best, you need to make the most of every inch of space. In this bedroom, the vanity is in the bedroom rather than in the closet – as some are – while the warm-toned herringbone floor and straight-laid floorboards define the two zones (a great tip to steal for larger, dressing room ideas). An open plan feel has been adopted between the two spaces, which keeps the view through into the closet light and airy – ideal for a small square footage.
3. When space is tight choose clever lighting
Often small walk-in closets are tucked away and can be in spaces that have little or no natural light, which is where well thought-out bedroom lighting ideas come into play.
'When designing a small walk-in closet, it's important to think about lighting and light-reflecting surfaces to make a windowless or smaller room come to life, making it a beautiful place to spend time in,' advises Philipp Nagel, director of Neatsmith.
'Including warm recessed LEDs, mirrored door designs and decorative glass finishes helps to maximise light and a sense of space within a small walk-in closet.'
4. Create a multi-functional space full of personality
If you want to know how to turn a room into a walk-in closet with a personality, this is a great example – even if the bold shades aren't to your taste.
'Our inspiration for this closet was our client's wardrobe,' says Tina Schnabel, senior interiors associate at BarlisWedlick.
'Our client has an amazing collection, and she loves color with playful prints. We used her love of color and pattern to create a dynamic space with a dark and moody backdrop, and a playful ceiling wallpaper. The dark backdrop allows her clothing and accessories to pop against the millwork and wall paint color.
'The space needed to function in many ways for our client. A walk-in closet for storage, but also a lounge space, and a desk space. Our client's schedule is busy and packed to the minute, so this space is private for her to take calls and quick meetings. She didn't want a space that was too serious, but playful, to function in all these ways.'
5. Opt for elegant muted tones and glass doors
If a neutral color palette is more your bag, then be inspired by this small walk-in closet by Gunter & Co, which demonstrates how bedroom storage ideas can be elegant as well as practical.
With natural light pouring in through the French doors at the back, the emphasis has been placed on the glass doors being used to reflect light toward the front of the closet. They give it a spacious feel and allow you to see your clothes and shoes straightaway.
It's always a good idea to have somewhere to sit too– this round stool blends in whilst also adding a touch of pattern.
6. Have a full length mirror at one end
A top tip for a small walk-in closet design: add some space- and light-enhancing dazzle and glitz with 3D style floor tiles, a full length mirror and metallics – we love this gold-effect freestanding built in basin.
The beauty of a small walk-in closet is that it's your own private space that can totally reflect your character and individuality. Don't forget to install some under-cabinet lights so you can easily pick out your outfit and match accessories easily.
7. Add a decorative aspect with Chinoiserie
'Add elegance to a small walk-in closet or dressing room by combining harmonious finishes to create a calming and luxurious space,' advises bespoke luxury interior designer Louise Bradley.
'Practicality should always lead, taking into consideration the clients' functional requirements. However, never underestimate the importance of unique decoration to make a statement. We opted for bespoke hand-drawn Chinoiserie for the joinery doors with bronze handle detail, combined with decorative lighting and a mirrored wall to optically lift and expand the space.'
8. Make a small walk-in closet glow – literally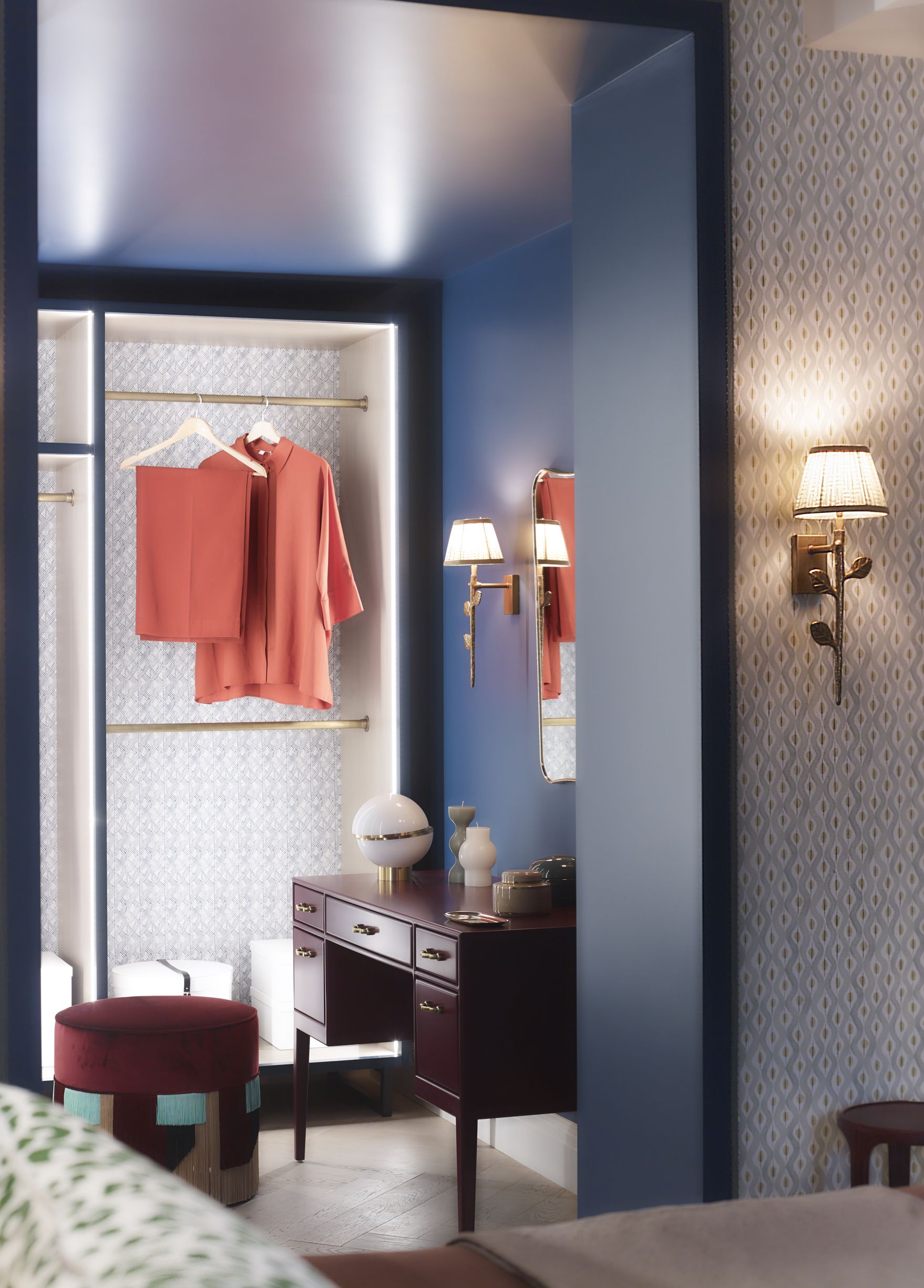 There are ways to incorporate special features into your small walk-in closet, so you're not just stepping into a purely functional space. Take this stylish closet as an example – the hanging space is illuminated and has a wallpaper back while the gold rails add a luxurious touch and tie in with the wall lights both in the closet and on the bedroom wall.
Encompassing the hanging section is a deep velvety blue that further highlights the closet space and tonally matches the claret vanity and velvet covered stool.
9. Choose one single color for a cohesive look
There's something harmonious about choosing one single color for a scheme, and it's an interior design trick to apply when space is tight.
In this charming small walk-in closet, the alabaster shade from floor to ceiling provides a welcoming feel. There's a good mix of drawers and hanging space and the double mirror provides enough reflection to bounce the light around. A comfy armchair is always worth considering – you can drape tomorrow's clothes on it or use it for relaxing in at the end of the day. The ribbed carpet adds an extra layer of luxury too.
10. Use an accent color to highlight not hide
Often, when faced with a tiny space, the tendency is to hide it away, not make a feature of it. This small walk-in closet idea shows how the opposite can work very successfully.
A challenging space is often when we get the most creative, and by painting this uber small walk-in closet in a ruby red turns it into a modern design feature. The blush shade on the bedroom walls softens the view through to the closet and then the bathroom, and sliding doors are a great option because they save space by not opening out into a room.
What is the smallest size a walk-in closet can be?
A walk-in closet needs to be at least 4ft wide by 4ft deep – large enough to install at least three hanging rails in a U-shape. That would be the minimum; under the rail, you will need space for drawers or shelves, for shoes and a couple of baskets or boxes for accessories. Obviously the more you can fit in the better – have a shelf above the hanging rail that could be used for hats and shoe boxes, too. The key is to maximize every inch of space.
What would you need in a small walk-in closet?
To make the most of your small walk-in closet the essentials would be hanging space, a full-length mirror, hooks or shelves for hats and handbags, drawers for clothes and accessories like jewelry and watches – and the key ingredient for a small space – great lighting. Knowing how much fitted wardrobes cost to install will help you budget for what you need to prioritize.
Sign up to the Homes & Gardens newsletter
Decor Ideas. Project Inspiration. Expert Advice. Delivered to your inbox.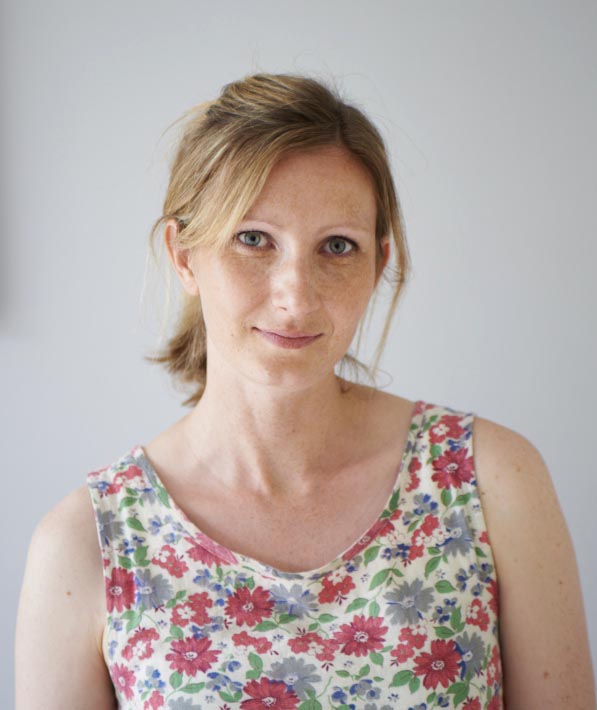 Sophie has been an interior stylist and journalist for over 20 years and has worked for many of the main interior magazines during that time, both in-house and as a freelancer. On the side, as well as being the News Editor for indie magazine, 91, she trained to be a florist in 2019 and launched The Prettiest Posy where she curates beautiful flowers for modern weddings and events. For H&G, she writes features about interior design – and is known for having an eye for a beautiful room.