How much do fitted wardrobes cost to install? Get the lowdown
Budgeting for an ultra-practical bedroom storage solution? This is how much fitted wardrobes cost to install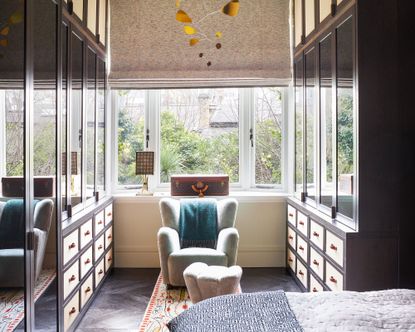 (Image credit: Rachael Smith / Future)
Asking the question how much do fitted wardrobes cost to install? Fitted wardrobe costs can eat up a large proportion of a bedroom remodel budget – but the spend will be more than worth it because of the gains you can make in terms of space.
Fitted wardrobes maximize storage whether they're featured in walk-in closet ideas, or part of a bedroom floorplan, and the range of styles and materials makes getting the perfect look easy.
'From a practical and visual perspective, fitted wardrobes offer the most effective and efficient way to make use of the space within your bedroom,' says Rachal Hutcheson, national retail manager at Sharps. 'Before exploring wardrobe options it's worth being clear about your requirements, budget, and desired style.'
Our guide has all the information you need on how much fitted wardrobes cost to install.
How much do fitted wardrobes cost to install?
A way to realize dressing room ideas or as part of the bedroom, fitted wardrobes can solve a whole host of bedroom storage issues.
'There are many solutions to choose from yet, despite appearances, not all the offers are equal and different designs will utilize your space with varying degrees of efficiency,' advises Rachal Hutcheson. 'It is important to understand how each design makes use of the area and the types of construction used before committing.
'Choosing a reputable company that employs expert designers and consultants will make all the difference in the planning and purchasing process. Their experience in working in houses that present similar challenges can help you to arrive at a design that meets your preference in terms of style, as well as making the layout work for your unique needs.'
The cost of fitted wardrobes will be influenced by a variety of factors, including whether the design is a walk-in version, the materials from which it is made, and the choices made for the interior. The type of doors you choose will also determine the cost: sliding doors tend to cost less than hinged doors.
Also crucial is whether the wardrobe is made from prefabricated parts or it's a completely bespoke fitted wardrobe.
What is the basic cost of fitted wardrobe installation?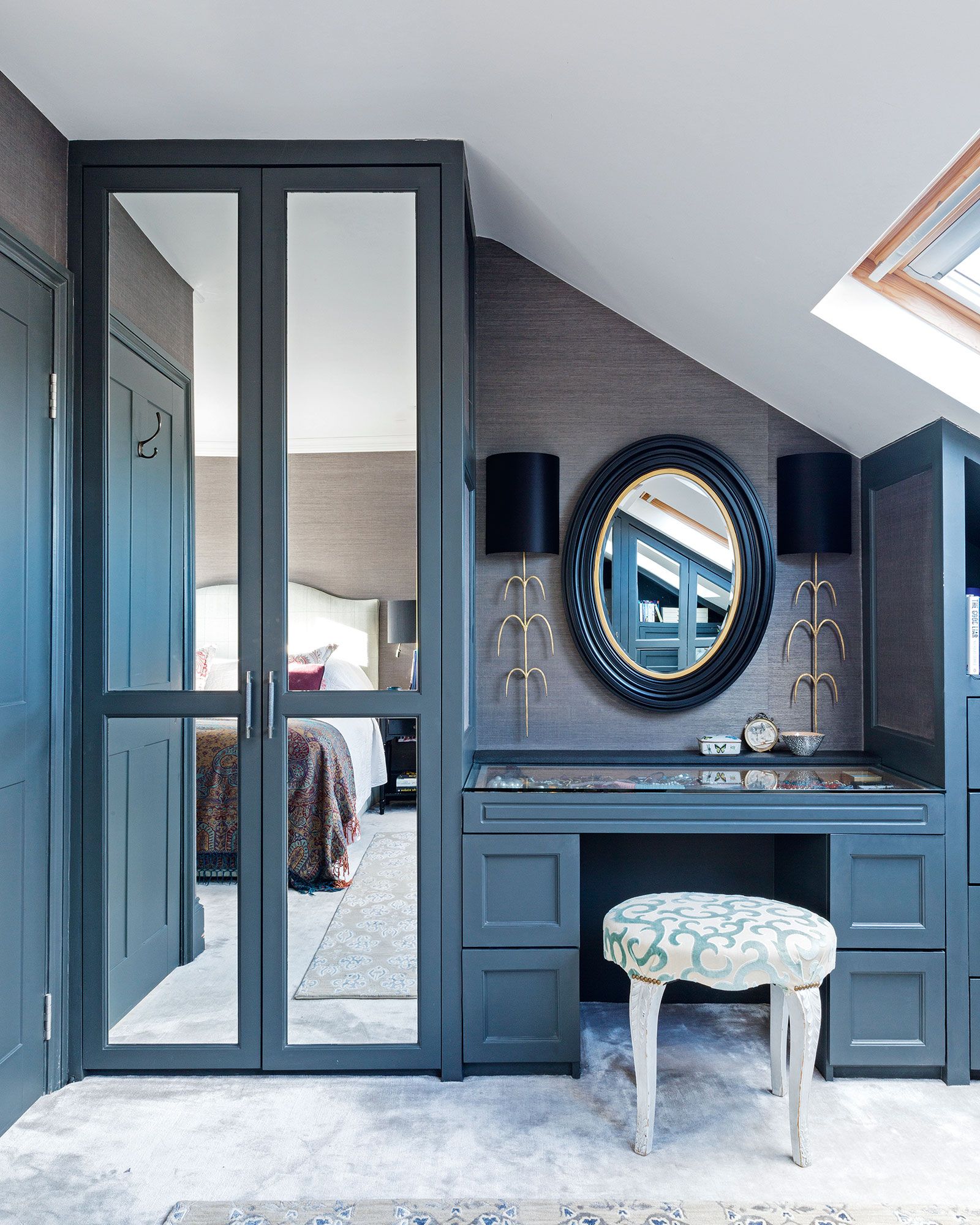 As a starting point, how much fitted wardrobes cost to install depends on what type they are.
The average cost of fitted wardrobes ranges from $1,600 (£1,200) for a two-door wardrobe up to $20,000 (£15,0000 or more) if you are turning a room into a walk-in closet. Budget flat-pack fitted wardrobes can cost as little as $700 (£500), while a bespoke design may cost upwards of $8,000 (£6,000).
'Fitted wardrobes usually cost between $1,000 and $3,000,' agrees Volodymyr Barabakh, co-founder and project director of Fortress Home.
'This assumes that the wardrobe is a reach-in rather than a walk-in,' he continues. 'For walk-in wardrobes we can double this price.'
A completely bespoke fitted wardrobe will cost more. 'You can expect to pay from around $3,500 (£2,500) for bespoke fitted wardrobe installation,' says global editor in chief of Homes & Gardens Lucy Searle.
'But bear in mind that would be for a small design with a very simple interior. Prices can be much higher for larger designs, and more than basic shelving and a hanging rail inside.'
You will also need to factor in the cost of labor if you are hiring a professional to install fitted wardrobes. The average labor cost for wardrobe installation is normally around $270 to $415 (£200 to £300) per day, although rates can vary in different areas.
'When designing your wardrobes be sure to factor the size and requirements of your wardrobe into your budget; larger designs and awkward crevices need extra care and attention to design and create a quality product,' says Rachal Hutcheson.
'Similarly, prices can vary depending on the range and accessories you decide to opt for. Bespoke solutions, unique to your specifications, are a great way to make the most out of your space, but are more expensive than freestanding wardrobes.'
How does size impact on how much fitted wardrobes cost to install?
How much do fitted wardrobes cost to install according to their size? As you might expect, a smaller wardrobe will generally cost less to install than a larger version. With the materials and parts plus the labor, a small wardrobe might cost from around $1,000 or $1,500 (in the UK, from around £2,000) but a large version could be $5,000 or more (from £4,500 in the UK).
How do the materials chosen affect how much fitted wardrobes cost to install?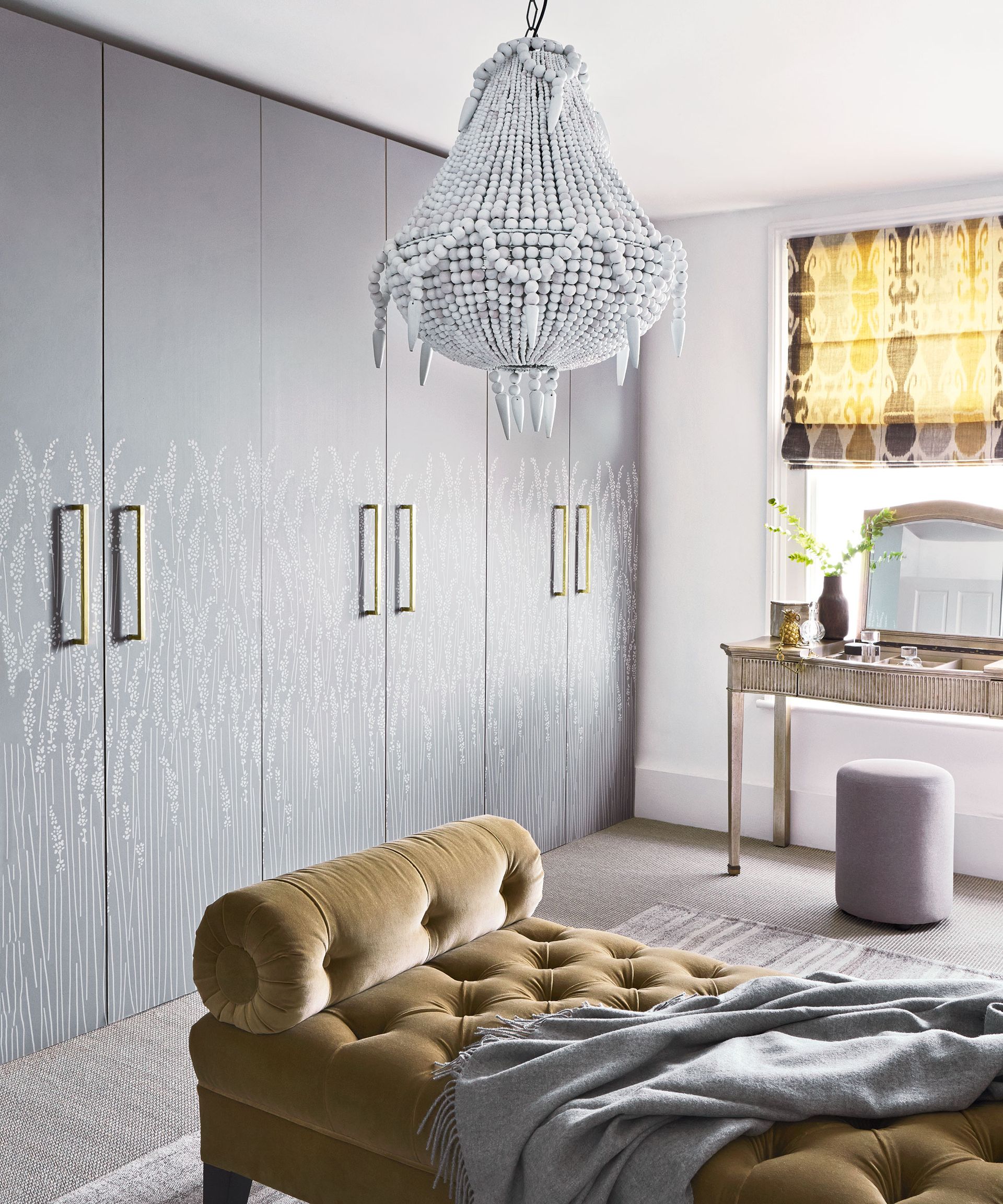 The materials from which a fitted wardrobe is made have a large influence on how much fitted wardrobes cost to install.
'The most commonly used material for fitted wardrobes is wood, and of these the most affordable material is MDF with a laminate wooden finish,' says Volodymyr Barabakh.
'Plywood and cherrywood make for a sturdier wardrobe with a more luxurious finish but can increase the overall cost of materials used by 30 to 50 per cent.'
General contractor in NYC and Westchester Dylan Murray of Murray Craft Builders frequently works both with designers and directly with clients on custom fitted wardrobes. 'For the exterior, it can be shop-sprayed lacquer or hand-painted plywood,' he says. 'Finished solid wood like curly maple is the priciest option.'
The materials used inside the wardrobe can result in a larger cost as well. 'An interior trend we've been seeing is a painted interior with wallpaper on the back wall. This gets pricier especially depending on the kind of wallpaper the client requests,' explains Dylan Murray.
How does internal configuration affect the cost of installation of fitted wardrobes?
While size does have an impact on the cost of a wardrobe, its internal configuration is also a hugely important factor, and one that can often be overlooked. Features such as shelves, drawers and other types of dividers contribute to the overall cost, explains Volodymyr Barabakh.
'For every additional shelf or drawer you can expect to add $60 to $120 to the overall cost of the wardrobe,' he says. In the UK, a drawer might cost from around £150 in a custom wardrobe interior.
'Interior options can get pricey with more customization – the more drawers and custom pullouts (for jewelry or shoe storage, for example),' says Dylan Murray. 'Standard shelves and rods are the base. If customers want closet lighting ideas, electricity or even a safe for jewelry, of course that gets expensive.'
Are there any other factors that influence how much fitted wardrobes cost to install?
Be aware that the answer to the question how much do fitted wardrobes cost to install can also be subject to other considerations.
'Sloped ceilings and alcoves mean more customization so that is more expensive,' says Dylan Murray. 'But built-in storage is a good way to maximize space for alcoves and nooks.'
Rachal Hutcheson agrees. 'Small or awkward spaces often need intelligent solutions to make the most of them, so consider curved corner rails, pull-out trouser rails, and pull-down hanging rails to ensure your wardrobe is as efficient as it can be,' she says, while acknowledging that these, of course, will add to the cost.
'Another big factor that influences the cost of a fitted wardrobe is whether its installation affects the electrical wiring within your walls,' says Volodymyr Barabakh. 'The cost of adjusting this wiring is around $10 per square foot, so if there is a lot of rewiring needed then this can significantly push up the cost of the project.' In the UK, for moving a socket or switch, expect to pay from around £150.
What are the benefits of fitted wardrobes?
There are numerous benefits of fitted wardrobes. 'One of the main advantages of fitted wardrobes is that they help to maximize space, as they are typically fitted against a wall, which takes up less floor space,' says Thomas Goodman, property expert at MyJobQuote. 'They can also be tailored specifically to your room's dimensions, so fitted wardrobes are ideal for small and large rooms.
'Fitted wardrobes also help to increase storage, especially in small bedrooms and small walk-in closets. This is not only useful for storing clothing, shoes and other personal items, but it can also help to prevent clutter, making rooms look neater and will also make the space look bigger.'
What about the cost versus benefit ratio of fitted wardrobes? Rachal Hutcheson agrees that fitted wardrobes are the ultimate way to make to most of your space thoughtfully and intelligently.
'Bespoke fitted wardrobes are created to fit the exact contours of your room,' she says. 'Working in this way ensures every last inch of space behind the doors is used, from wall to wall and right up to your ceiling, even those awkward corners and nooks which are presented by high or sloping ceilings and alcoves. Although, this may not sound like it will make much of a difference the reality is that a bespoke design will offer, on average, 40 per cent more space than ordinary fitted wardrobe designs.'
Do fitted wardrobes add value to a house?
Good fitted wardrobes could add value to a house if they are well designed. This is particularly the case in a smaller home where additional storage space is a valuable asset.
'Installing fitted wardrobes can add value to your home, as beautifully designed storage is a huge hit with homebuyers,' says Thomas Goodman.
'Fitted wardrobes are the perfect solution, as they not only provide an attractive and functional space to store items, but they also maximize space, as they are typically installed flush to a wall.'
Fitted wardrobes can have the effect of making bedrooms look more spacious, which can make your home stand out from the competition when you're selling. The reason? Not only can they replace a freestanding wardrobe to streamlined effect but, if they have interiors with drawers and more, there's less need for items such as chests of drawers that take up floor space.
With the right choice of materials, fitted wardrobe can also make any bedroom scheme look more stylish creating additional appeal for potential buyers.
How long do fitted wardrobes take to install?
Installing fitted wardrobes can be a relatively quick job for a professional contractor. 'As far as timing, shop drawings and building could take a month but the actual installation can usually be done in a few days depending on the complexity of the project,' says Dylan Murray.
The size of the wardrobe will naturally play its part in the time taken, as will the complexity of the internal configuration. Don't forget also that if electrical wiring needs adjustment, the project will take a little longer, too.
Sign up to the Homes & Gardens newsletter
Decor Ideas. Project Inspiration. Expert Advice. Delivered to your inbox.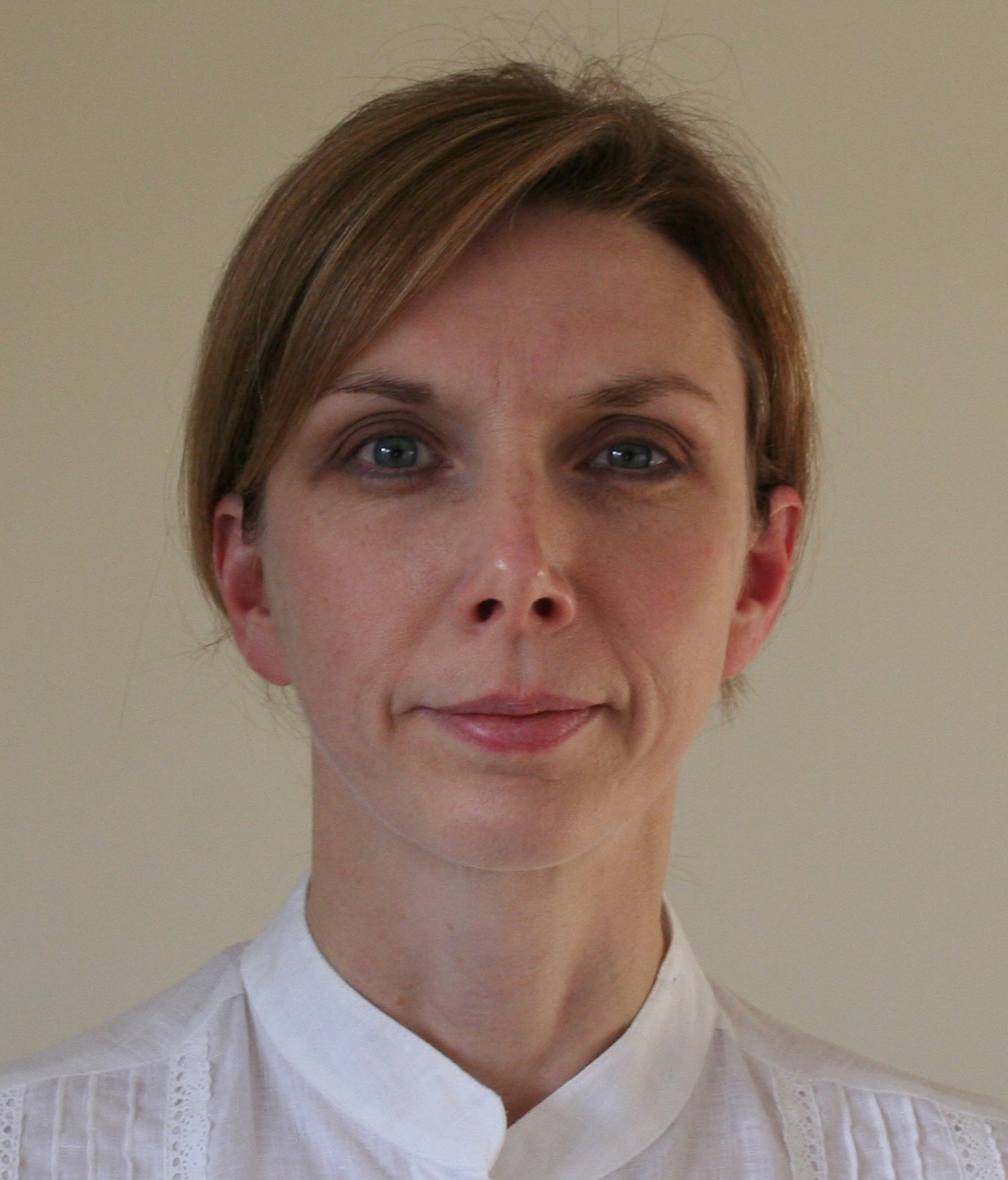 Sarah is a freelance journalist and editor. Previously executive editor of Ideal Home, she's specialized in interiors, property and gardens for over 20 years, and covers interior design, house design, gardens, and cleaning and organizing a home for H&G. She's written for websites, including Houzz, Channel 4's flagship website, 4Homes, and Future's T3; national newspapers, including The Guardian; and magazines including Future's Country Homes & Interiors, Homebuilding & Renovating, Period Living, and Style at Home, as well as House Beautiful, Good Homes, Grand Designs, Homes & Antiques, LandLove and The English Home among others. It's no big surprise that she likes to put what she writes about into practice, and is a serial house renovator.