How to turn a room into a walk-in closet – for an organized, clutter-free bedroom
Turning a rarely-used room into a walk-in closet will allow you transform a bedroom bursting at the seams into a serene space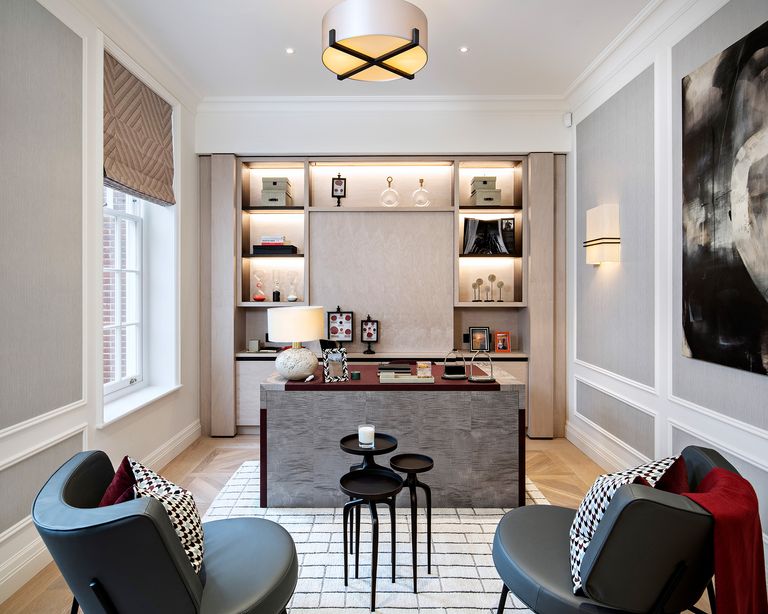 (Image credit: Savills)
If keeping clothes neat in a bedroom closet that's not fit for purpose is proving a struggle, it's surely time for a re-think. By re-purposing a spare room as a dedicated walk-in closet space, you'll become an organizational diva, instantly able lay your hands on just the item you need. 
Best of all, the design and storage design can be customised so that everything's pristine and ready to wear.
See: Bedroom ideas – designs and inspiration for beautiful bedrooms
Choose a room to convert
Any room currently used as a home study, bedroom or bathroom is a prime candidate for conversion to a walk-in closet. Proximity to the main bedroom is a big plus so you're in luck if your home has a box room that's barely used and could be knocked through. 
However, blocking off access to the corridor needs careful thought as it might put off potential buyers when you come to sell. Another easy route to success is simply to steal space by partitioning a large bedroom.
How much space will I need for a walk-in closet?
Realistically, you'll need at least 8 x 5ft (2.45 x 1.53m) space to work with. Even rooms with awkward areas such as alcoves or a sloping ceiling can easily be kitted out with shelves, drawers and hanging space. 
Though a high ceiling isn't essential, one that is 7ft 3in (2.2m) or taller allows for double rails of hanging space. A larger room could be the envy of your neighbors, accommodating a freestanding drawer unit, a vanity, space for ironing and pressing garments or a comfortable armchair. 
Where do I position storage in a walk-in closet?
Depending on the space and position of the window and door, units can be in a single or double run, or a U-shape. Don't crowd the room too much. You need space to stand as well as for closet doors and drawers to open. Sliding doors and open storage are an advantage where space is tight. 
Only the largest rooms can take an 'island unit' of drawers, as you'll need space to walk around them. If dressing space is needed, allow a minimum of 4ft (120cm) depth. A shelf can be fitted above the window or drawers below it. Online planners allow you to drag and drop closet units onto a virtual room, moving them around to find an arrangement that works.
See: Small bedroom storage ideas – for a practical, smart and versatile scheme
Make a checklist of all the things you intend to store. These might include this list below, and we've suggested practical solutions for some: 
Hanging space for full-length dresses and coats. 
A high rail can take shirts while trousers go on a rail beneath.
Or the lower space could be used for drawers and shelving. 
Pull-down rails for less-used clothing. 
Shoes can be organised on pull-out racks.
Shallow drawers with dividers will take care of smaller items. 
Dedicated space can be assigned for anything precious, such as a small safe for jewelry.
Clothing that's out of season.
Sports gear.
Suitcases.
Spare bedding or towels.
What construction work will be needed to turn a room into a walk-in closet?
Deciding to move a door for easier access or partitioning a larger room with stud walls to create the walk-in closet has benefits but will add to the cost. Some plastering work may be needed to make good the area. Another cost consideration is removing or repositioning a radiator. Any changes to the electrics should be planned in at an early stage so consider the options for lighting and sockets. 
It's helpful to make decisions on the décor early, too, in case any flooring installation, painting or wallpapering needs to be done before the units are installed.
How do I turn my bedroom into a walk-in closet?
To turn your bedroom into a walk-in closet, you have two choices. 
One is to take on the remodel yourself – flat pack units come with every conceivable arrangement of drawers, hooks, rails and hangers. Bear in mind that these standard size units may not fit the room exactly. 
A better route, in our opinion, is to use a company that specializes in fitted furniture. They will survey the room, talk to you about what you need to store and come up with solutions tailored to your needs, making sure that every inch of space is put to good use, including alcoves and sloping ceilings. Some companies have units with fixed door sizes, adjusting the panels between them for a precise fit. But a truly bespoke design from a specialist company or individual joiner is a fabulous option as the frame, doors and all the fittings will be made to measure.  
Which walk-in closet design will work best for your space?
The choice for unit finishes is wide open, from pristine white to classic oak or painted designs. 
For small or dark spaces, doors could be mirrored or fitted with etched glass – or simply painted in a pale color. For walk-in closets that are a little more open, choose fabric or wallpapered panels to adorn the space. 
Planning in some open storage without doors will not only make the space appear bigger but allows some display space for your favorite handbags. 
If the walk-in closet adjoins the bedroom, select flooring, paint finishes and curtains or blinds for a seamless transition. 
It's well worth spending a little extra on those things that make a world of difference. A full-length mirror, freestanding or mounted on a wardrobe door, and a dressing table with drawers for cosmetics and hair styling will make this room a true gem. Fit internal wardrobe lighting and as the doors open the lights all your favorite items will instantly come into sharp focus.  
See: Dressing room ideas – for a beautifully organised space
How much does it cost to turn a room into a closet?
To turn a room into a walk-in closet, expect to pay, on average from $750/£500 to $3,500/£2,500 – although you can, of course, spend much more for a bespoke build – from $8,000/£5,600 to $16,000/£11,500. 
Using off the shelf flat-pack elements you could build your own furniture for a few hundred dollars.