Dressing table ideas — 10 stylish tips for giving your table a glamorous makeover
Mirror, mirror, on the wall, what are the fairest dressing table ideas of them all? Storage and seating are key to a well-dressed space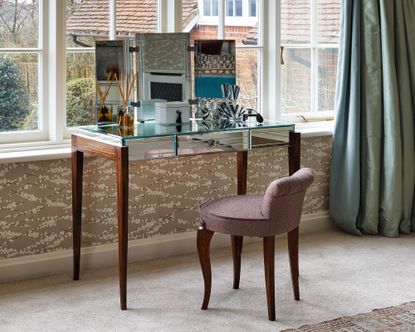 (Image credit: Davide Lovatti/Future plc)
Mirror, mirror, on the wall, what are the fairest dressing table ideas of them all?
Arguably the most glamorous corner of any bedroom – or, if you're lucky, walk-in closet – is the dressing table.
As a space dedicated to beautification, it deserves to get some serious aesthetic attention and to be placed high up your list of bedroom ideas.
Getting a dressing table right is really about balancing three key features: the table itself, the mirror, and the seat.
It's easier to make these elements all tie together with a matching color scheme and style, but carefully balancing a more eclectic style will showcase your interior design artistry.
Dressing table ideas
Whether you're looking for luxurious dressing room ideas that feature grand dressing tables, glistening mirrored furniture that channels vintage glamor, or simply a storage-first piece of functional furniture to hide your hairdryer, we've got you covered.
We spoke to design experts to get their tips and uncovered some spectacular inspiration to help give your dressing table a makeover.
1. Place a dressing table near a natural light source
Even more important than what your dressing table looks like, is where your dressing table is. Having good light is essential when making sure you look your best, so set yourself up for success.
'Locating a dressing table by a window or a source of natural light is always preferable for the best light quality', explains Alexia Sheinman, Director at Pembrooke & Ives.
'Where this is not possible, aim to use fixtures that cast an even light for the face, such as a vertical linear light.'
2. Get reflective with a mirrored table
Looking so good that one reflection isn't enough?
Ramp up the vanity with a glamorous mirrored table. Accompanying an elaborate wall mirror, here is a simple two-drawer table, featuring bevelled mirror panels and reflective, curved metal legs.
Practically speaking, using mirrors is a clever small bedroom idea, as they are a great way to make smaller spaces feel bigger.
When thinking about walk-in closets, adding a mirrored table to the dressing area is a great way to get the workspace you need without adding a dominating piece of furniture into a compact area.
3. Go bespoke for personalized storage
A tidy dressing table is essential to keeping the area chic. Internal bedroom storage ideas, like the one shown above, are also key if you want to hide items away neatly.
'A bespoke fitted dressing table can be tailored to suit the specific daily needs of the homeowner,' says Simon Tcherniak, Senior Furniture Designer at Neville Johnson.
'Whether it is to display perfume bottles, store toiletries, jewellery and more, a custom built-in dressing table will include clever storage solutions that will enhance and streamline an overall dressing area.'
Going bespoke is also a route to consider for dressing rooms in general. A custom wardrobe will make sure the whole space stays spick and span.
4. Pick a chair for comfort, but a stool for space
Every dressing table needs a perch. To choose the right one, work out where your priorities lie.
'A dining chair style seat is often the preferred option as they are the most comfortable', says Interior Designer Jenny Allan, 'but upholstered mini stools are also a great choice when space is restricted.'
This luxury bedroom idea features a sleek, built-in dressing table, accompanied by a stool that combines simplicity and fun, thanks to a fluffy seat.
Crucially, the stool is small enough to slide easily under the worktop space, allowing easy access through the narrow gap between the table and the bed.
5. Turn an underused nook into a dressing area
Dressing areas come in many shapes and sizes.
If you don't have the luxury of pondering how to turn a room into a walk-in closet, adding a dressing table to an awkward or otherwise unused nook in your bedroom can turn a dead space into a dedicated glamor zone.
In this room, a bay window is the perfect spot. Note the lamps either end of this long dressing table, which has been styled to work like a console would in a hallway, creating pools of welcoming light and a sense of occasion.
6. Go for a mirror shape that suits your decor
Whether it's connected to the table or a separate addition, choosing a mirror carefully is important to the finished look.
'If the room is contemporary, a mirror with clean lines and rectangular in shape could be a great option,' says Allan. 'Alternatively, if the room is more traditional, a curved top mirror with some decorative detailing may suit best.'
'The size of the mirror is also very important as proportion is such a fundamental element of a design. Typically a dressing table mirror should be half to two thirds of the length of the dressing table.'
7. Create separation for a dressing table that's also a study space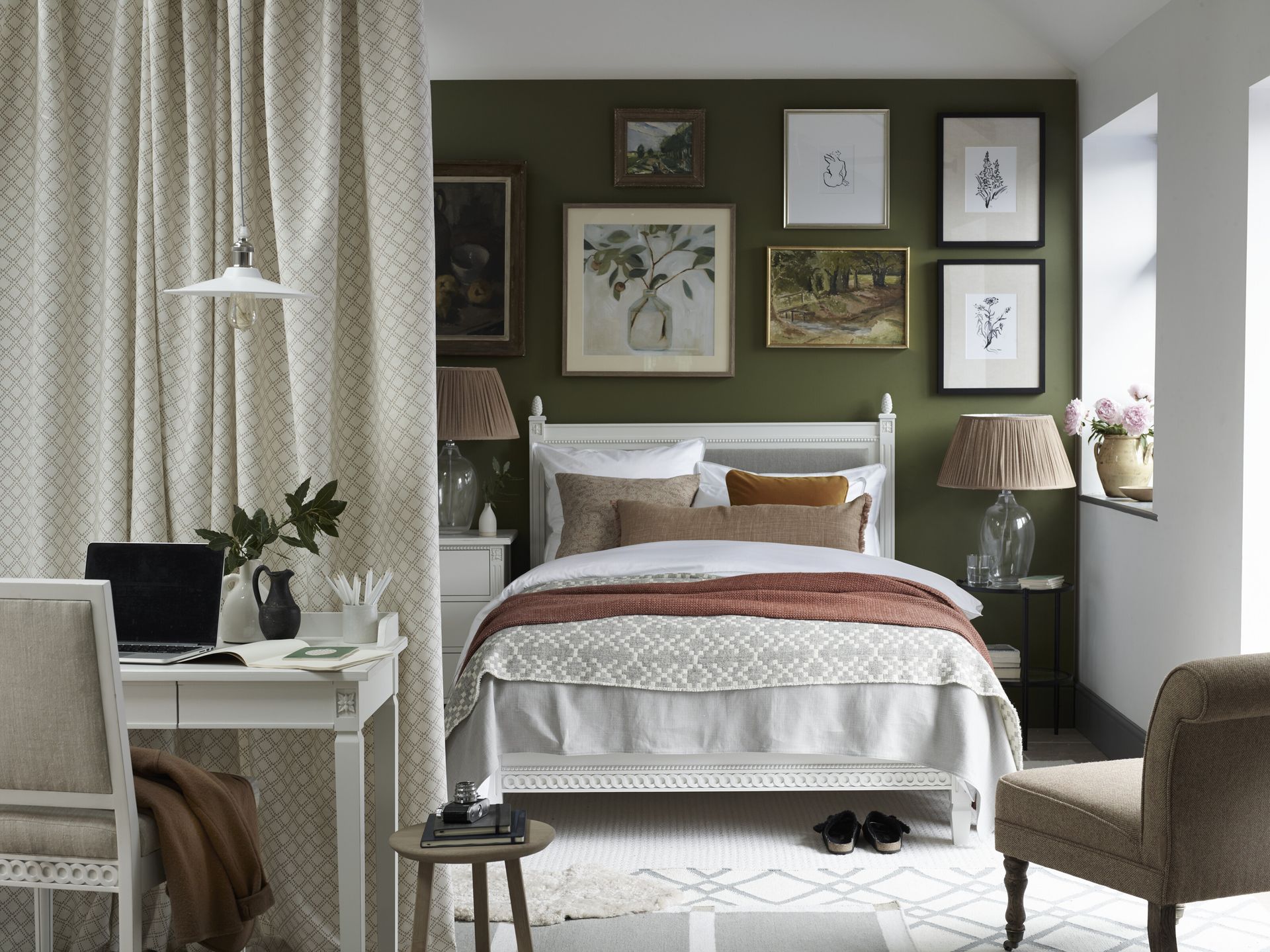 It's likely that your bedroom – or your children's – is doubling up as a study space, or perhaps just somewhere to pen a note to a friend or do some late night online shopping.
If so, it's ideal to create separation between your sleep space and your dressing table/desk.
In this master bedroom, a curtain creates a soft separation between two rooms knocked into one. You can create a similar effect with a floor-standing screen.
8. Be selective with your vintage items
'Buying vintage or antique pieces for an interior can really create that homely feel,' says Allan, 'but it's important to be selective so the room doesn't feel cluttered with random objects.'
The bathroom idea shown above features a dressing area that allows a select few standout vintage pieces to take the lead, namely a richly grained antique dressing table and spectacular Italian-style gold mirrors, while the background decor fades into white, marble and paler wood.
'We sometimes add one or two high quality vintage items per space, which give the rooms that extra character and charm,' adds Allan.
9. Whisk yourself away with a mural backdrop
A dressing table is a space for anticipation and escapism, so make its backdrop one that inspires.
In this room, the dressing table is backed with a tropical mural wallpaper, surrounding the sitter in the haze of a glowing sunset settling on a rainforest far away.
The faded, vintage-style color scheme of this wallpaper idea nods to 1950s elegance, updated with contemporary details, such as the slim, marble-effect table.
10. Complement or contrast with your chair choice
'When choosing a dressing table seat, the fabric must complement the whole room but also be practical,' says Allan.
'Adding a pop of color with the dressing table chair or upholstered stool is a chic way to add interest to the room.'
In this room, the color of the stool takes the blue-green tones from across the bedroom and dials them up to a brighter, bolder shade.
What should be on a dressing table?
Quite simply, as little as possible. If you've chosen a really beautiful statement piece, let it do the talking, and move as much clutter down below as possible to keep the space serene.
If you want to add character to the top of the table, do it through useful but beautiful objects.
A vase of flowers and selected trinket boxes are infinitely preferable to hairdryers and toiletries. One key addition you may need to consider is a lamp, as good bedroom lighting ideas are essential, day and night.
'Either adding a slim lamp with a delicate shade – nothing too overpowering – or adding wall lights are ideal options when looking at providing adequate lighting for a dressing table,' says Allan.
How can I make my dressing table look nice?
Tidiness really is crucial when styling a dressing table.
'Have a home for everything,' suggests Sheinman. 'Find the right kind and sized containers to keep everything you may need so that everything has a place to go back to.'
Internal storage is really important to consider when choosing a dressing table. If you're inclined to need lots of products on a daily basis, then ensure you have ample concealed storage.
Sign up to the Homes & Gardens newsletter
Decor Ideas. Project Inspiration. Expert Advice. Delivered to your inbox.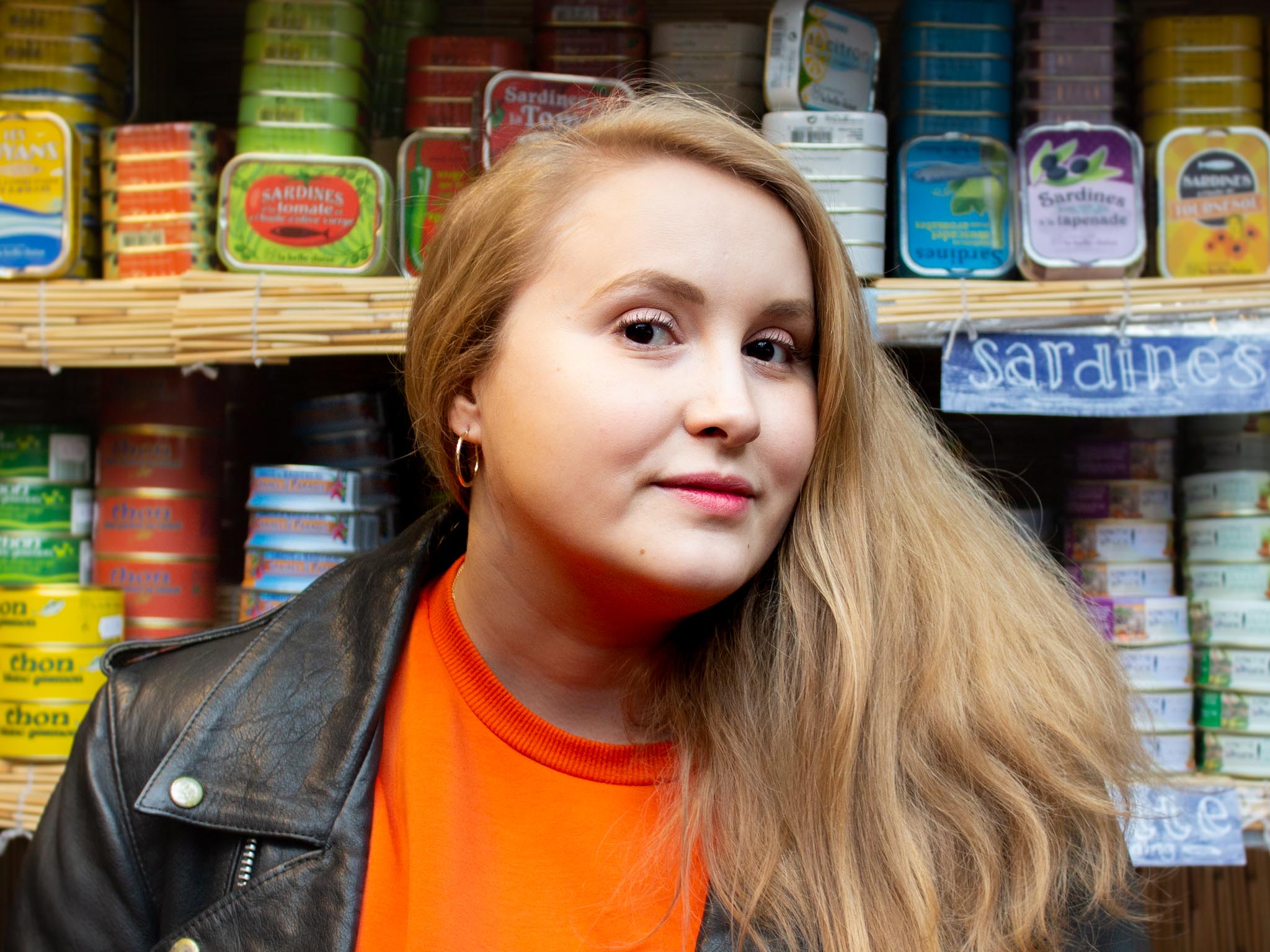 Ailis started out at British GQ, where a month of work experience turned into 18 months of working on all sorts of projects, writing about everything from motorsport to interiors, and helping to put together the GQ Food & Drink Awards. She then spent three years at the London Evening Standard, covering restaurants and bars. After a period of freelancing, writing about food, drink and homes for publications including Conde Nast Traveller, Luxury London and Departures, she started at Homes & Gardens as a Digital Writer, allowing her to fully indulge her love of good interior design. She is now a fully fledged food PR but still writes for Homes & Gardens as a contributing editor.