Bedroom lighting ideas – 18 clever and unique ways to light your space
Bedrooms are all about creating atmosphere and bedroom lighting ideas play an important role in this respect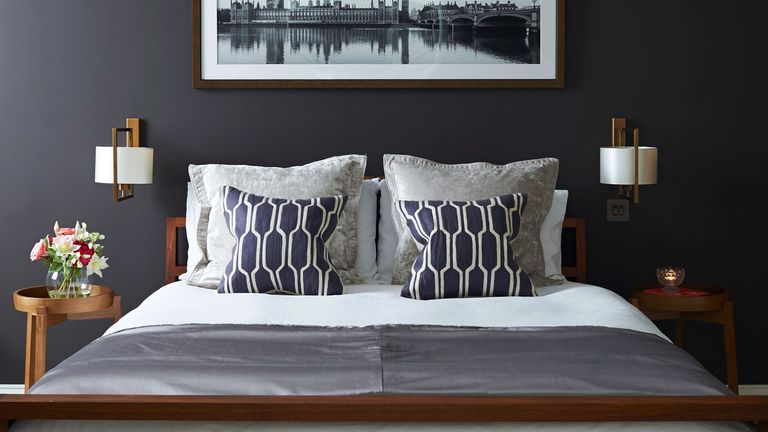 (Image credit: Future / Jonathan Gooch)
These smart bedroom lighting ideas will help you re-energize your space.
The key to a well lit bedroom is to introduce multiple layers that integrate both ambient, decorative and task lighting seamlessly.
Never underestimate the quality of good lighting – it is just as important to your wellbeing and preservation of eyesight, as it is to aesthetics.
This is why bedroom lighting is so important and worth planning in the early stages when designing your space and choosing bedroom ideas for your home.
Bedroom lighting ideas
1. Plan a flexible lighting scheme
According to Chris Jordan, Managing Director at Christopher Wray; 'Flexibility is a key part of designing a lighting scheme for the bedroom.
Layering different lighting solutions, such as table and floor lamps with wall or bedroom ceiling light ideas will help you to achieve this. Ensuring you can adjust the lighting to reflect the mood that you want with ease.
2. If space allows, set up a statement floor lamp
Be careful with floor lamps, as bedrooms tend to have lower ceilings, so anything too tall could dominate and disrupt the space.
However, if space is not a problem, a striking floor light will allow for a beautiful statement feature in the bedroom. Accent lighting should be controlled on a separate circuit to the ambient lighting and should generally be at least three times brighter.
2. Introduce adjustable light fixtures
Wondering how to plan bedroom lighting?
'Well-planned lighting can make a small bedroom look bigger or a basement bedroom feel as if it is above ground,' says lighting designer and Design Director at John Cullen, Sally Storey.
If floor space is at a premium, or you prefer a relatively minimal scheme, then wall-hung light fixtures are the best option. Opt for one that is fully-adjustable, with a far reach.
3. Make a statement with oversized lamps
Your lighting doesn't have to be purely functional, it can be pretty, too.
In this cozy bedroom idea, a decorative light adds a gentle glow, and washes soft light across the textured wallpaper.
4. Double up your lighting options
Always make sure you have directional light for reading, as well as an ambient option, as shown in this gray bedroom.
'I often double up by combining a task light, such as an Anglepoise, with a lamp on a bedside table or pendant hung above,' explains Interior Designer, Suzy Hoodless.
'I also like to use decorative wall lights as well as a central pendant in bedrooms. They offer an opportunity to create a sculptural look on the walls as well as providing soft, warm light.'
Use dimmer switches to avoid harsh lighting at night.
5. Provide enough lighting for guests
'I like the main lighting to be provided by lamps in a guest bedroom,' says Sally Storey of John Cullen Lighting.
Good lighting can make a small bedroom feel bigger or add intimacy to a larger room.
Bedside lighting helps to make a statement of the bed, but ambient lighting isn't always enough so incorporate subtle additions.
6. Give yourself plenty of lighting options
Where lighting is concerned, more is often better. There are many studies that suggest optimal lighting can improve happiness, positivity and increase energy, so it could prove beneficial to give yourself plenty of options when it comes to lighting.
Of course, natural light will always be considered to be the gold standard, but once the sun sets, artificial light really comes into its own.
In this master bedroom, wall-hung lamps and a table lamp mean you will never be in short supply of lighting.
7. Ensure your light is fit for purpose
Bedside lamps, like the ones shown in this dark bedroom, create the softest, prettiest light in a bedroom, but they may not offer sufficient light to read by.
This is particularly true of card shades, which tend to push light up and down, not sideways. If you want to read by your bedside lamp, consider a linen or cream silk shade, which offers more sideways light, better for reading, or add a task reading light.
8. Tackle task lighting in the bedroom
A bedroom needs to have a considered lighting scheme.
'Task lighting for reading is essential,' advises interior designer Emma Sims Hilditch.
A pair of impactful lamps to highlight a bed is a must. 'My advice is to go as big as you dare, especially to add drama to a country house scheme.' Large lamps make a statement and glass options are good, as they don't look too bulky.
It's important to have lights that can be controlled independently from each other, so you don't have to reach over a sleep partner to turn off a reading lamp.
9. Light the way in a dressing room
If you're in need of practical lighting to complement your dressing room ideas, think about recessed downlights.
'I always try to use these sparingly as they can spoil a pretty ceiling,' says interior designer Emma Sims Hilditch. 'Strategic positioning in front of wardrobes can shine light inside, or, if you are decorating from scratch, I advise wiring a strip of LEDs inside the wardrobe, activated by a switch that comes on when the doors are opened.'
Always put lights on dimmers; lamps should be on a 5-amp circuit and switches placed at the bedside and the door.
10. Make a statement with bedside lighting
'It's vital to consider both ambience and practicality when lighting a bedroom, especially if it's a compact space,' says Lucinda Waterhouse, co-founder of Oka.
'The lights beside your bed are probably the most important in your home. Used daily, they are essential all year round and, what's more, they are likely to be the most prominent accessories in your bedroom.'
Make a statement with a signature piece in a punchy color, or keep things simple with a pared-back classic design.
11. Go for a less is more look
Less is emphatically more when it comes to bedrooms.
Instead of studding the ceiling with spots, interior designer Emma Pritchard of Design Box says, 'Position downlights in front of wardrobes or dressing tables but keep them to a minimum. If you're tight on bedside table space, try suspending ceiling lights over tables to create an elegant focal point as you enter.'
For reading lamps, interior designer Fiona Andrews advocates Vaughan's adjustable fittings or the wall-mounted flexible Cama LED by John Cullen. Inside wardrobes, she favours Decolamp's discrete Decolite fluorescent tubes.
12. Brighten up a reading corner
With the correct lighting, your room can take on different looks throughout the day, night and seasons.
Add ambience with a floor lamp that gets switched on early evening, while an Anglepoise lamp provides a directional light suitable for reading in that comfy armchair.
13. Install a wall light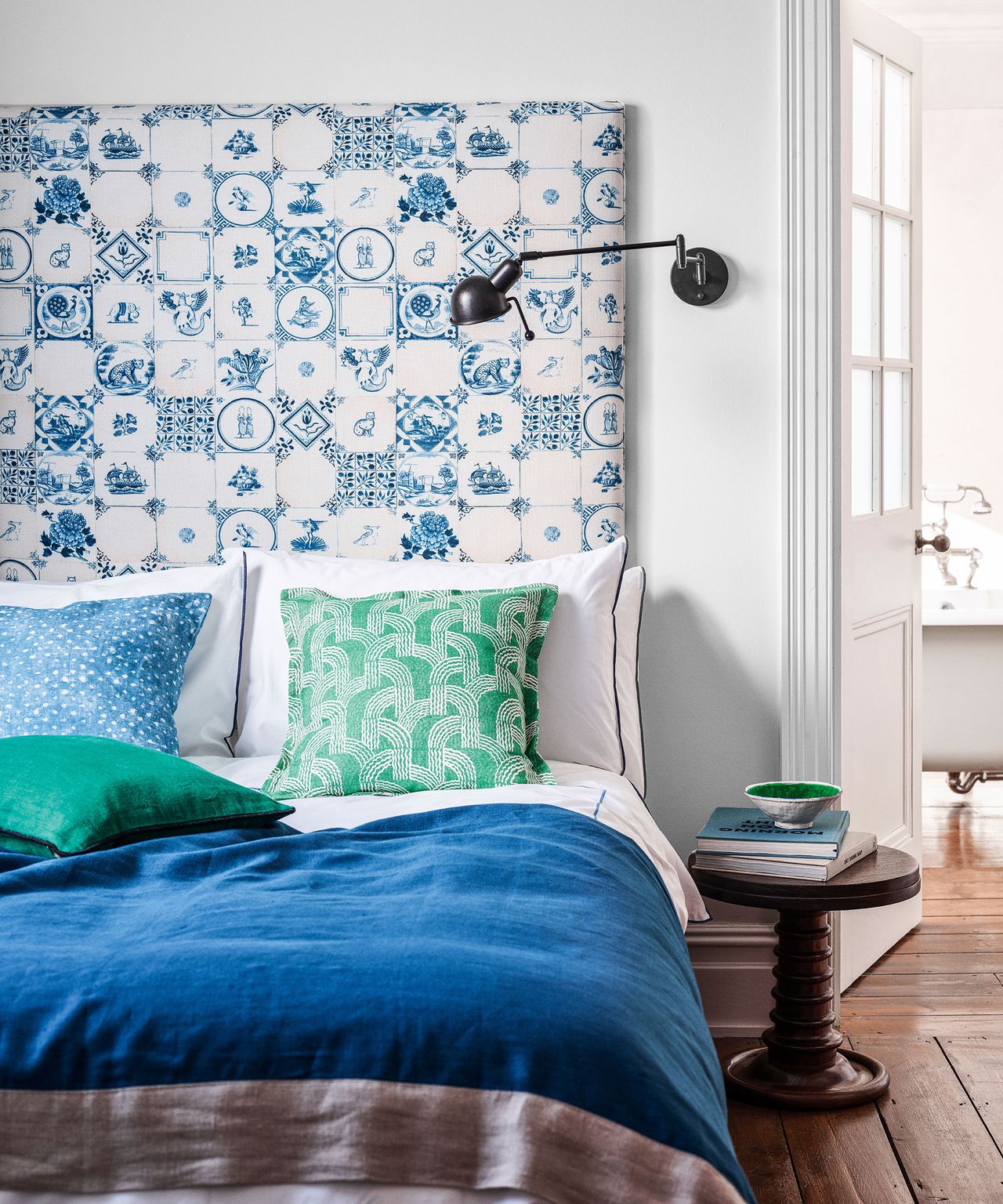 Don't overlook bedroom wall lighting ideas either. Downlighters especially have become very popular, with an array of different styles, and are perfect for adding interest and ambience to a focal wall.
Wall lighting is a wonderful option if you're looking for ways to illuminate your small bedroom, as it negates the need for floor space.
14. Consider gentle window treatments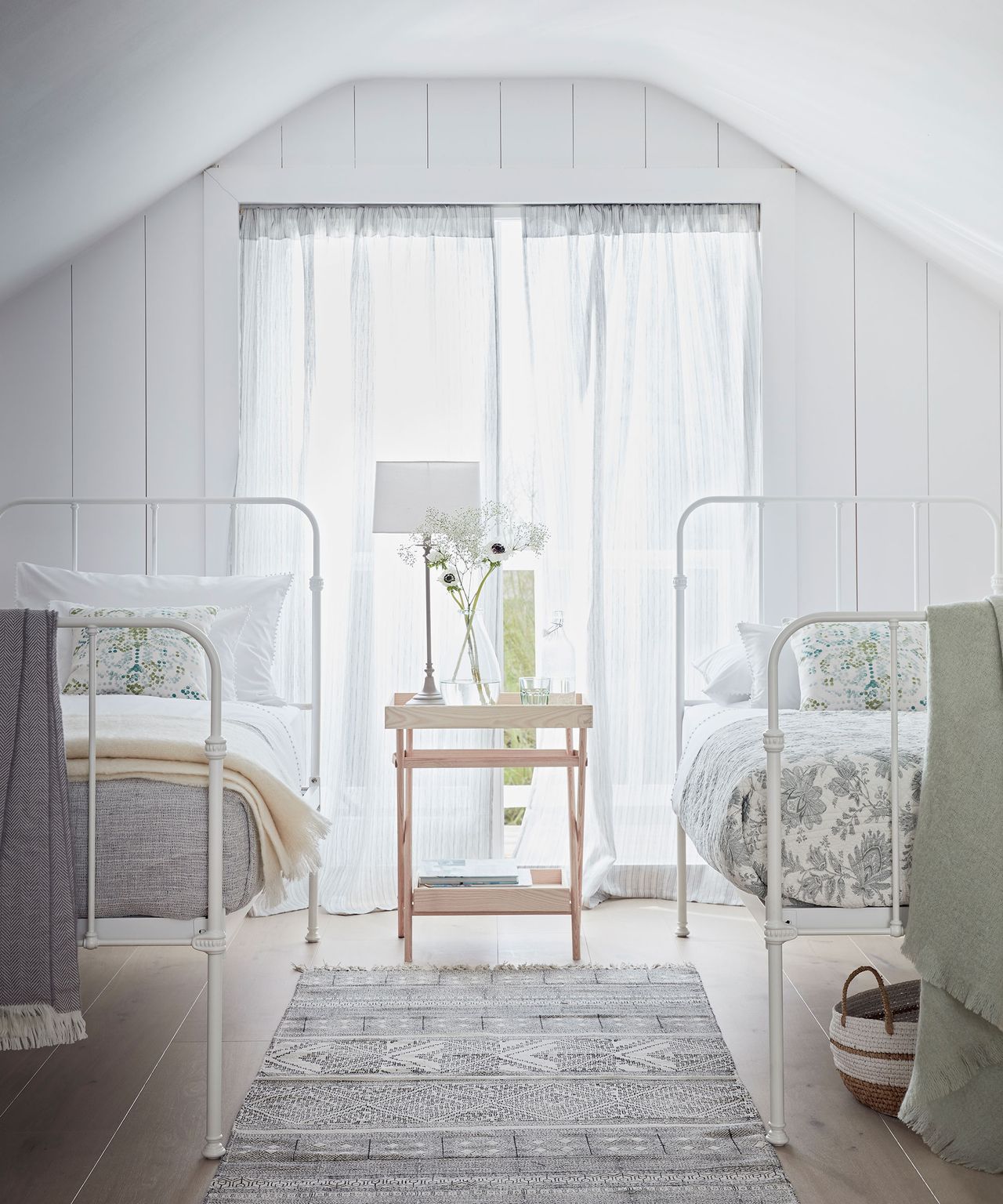 Illuminate your room in the same way as this white bedroom, with plenty of natural light. Window dressings like heavy curtains can be very light draining.
Fit a voile or muslin drape to enjoy a beautifully diffused light streaming into your room, while still offering some privacy.
15. Incorporate lights into your joinery
Incorporating bedroom lighting into joinery is the ideal way to add accent lighting into the room, especially in more contemporary solutions.
'Under-cupboard lights fitted into shelving will illuminate objects, or LED contour stripes under bedside tables create a funky, floating effect,' explains Sally Storey.
'And don't forget a floor washer near the entrance to the bathroom to act as a night light.'
16. Have fun with pendants
A variety of bedroom chandelier ideas and pendants have become popular for their drama, but they don't always need to be hung in the centre of the room.
Try hanging a pendant low over a desk or table, or perhaps three blown glass spheres suspended at different levels in the corner of a room or next to a bed.
Using a pendant in an unusual way can add a fun, new layer of lighting, like in this luxury bedroom from Rebecca Hughes Interiors.
17. Light a focal point
If you like striking headboard ideas or statement bedding, lighting them from above with a large pendant can produce a beautiful effect, while throwing light onto artwork adds texture.
18. Zone your bedroom lighting ideas
Matthew Williamson designed this bedroom at the Belmond La Residencia.
'I like to create beautiful zones of light that add atmosphere as you move through a space. I have table lamps dotted all around a room to create spots of light. However many lights you think you need, you probably need more. One ceiling light and a table light is really just the starting point.'
What is the best lighting for bedrooms?
A bedroom acts as a sanctuary from our extremely busy lifestyles, and a good lighting scheme should reflect that, creating a relaxing atmosphere that encourages a good night's sleep.
'For a comfortable scheme, I would suggest layered lighting,' advises interior designer Rebecca Leivars.
Designers talk about mixing or 'layering' light sources to add depth and texture to rooms.
Donna Grindley of Heathfield & Co lighting explains: 'The first layer is ceiling fittings: pendants, chandeliers and down lighters for overall light. The second layer is wall lights, which create more subtle illumination and bounce shadows around a room. Then there are table lights – decorative, ambient lighting. The fourth layer is floor or standard lamps.'
You can add layers to existing schemes. LED strip lighting adds glamour to bookcases while a floor-standing up light will illuminate a dark corner. A designer bedroom lighting tip is to put a diffuser inside a lampshade to soften the glow.
Any light fitting will have two personalities, lit and unlit, so a piece may only reveal its full potential when illuminated. Something subtle in the day may become far more exotic once darkness falls, casting wonderful rays and shadows, so consider its effect on a room at all times of the day.
How important is bedroom lighting?
'Good lighting is mood enhancing. The most important thing with all lighting is that it should be dimmable. Generally, I prefer low-level lighting, as it's more ambient, flattering and atmospheric,' explains interior designer Sophie Ashby.
'I would rely on table lamps, floor lamps and wall lights rather than spotlights, and I like a combination of vertical uplighting and downlight. I love using wall lights as bedside lights because they free up valuable tabletop space and, as they are a bit higher, they direct the light in a much more useful way.'
How can I improve my bedroom lighting?
Lighting can completely transform a room. From a simple dimmer switch to create a moody feel to a bright spotlight that draws attention to details, a clever lighting scheme can make more of every room in your home.
A fitting doesn't have to be big and bold to add wow-factor to a scheme. Just by being creative with shape, proportion, volume and materials you can instantly transform your room. Something as simple as the symmetrical placement of a pair of table lamps can help balance an interior scheme.
Pendant, wall and table lights should add to the design and enjoyment of the room. Soft, atmospheric lighting that doesn't create glare can be achieved with angled downlight from the ceiling, while pendants next to the bed that hang between 100 and 150cm from the floor add a beautiful touch.
How do you light a small bedroom?
Lighting will help to visually maximise a small bedroom. For example, try lighting the narrower sides of the room to provide a sense of width, whether with wall lights or tiltable recessed spotlights. Choose lampshades that allow light to reflect upwards if you need to give some height to a low ceiling too.
'Don't forget the usefulness of task lighting next to the bed or dressing table, and bear in mind, too, that downlights need to be positioned around the sides of the room, but never directly over the pillows of the bed. Angle them towards curtains or into wardrobes instead, where you need to be able to see clearly,' advises interior designer Staffan Tollgård.
Jennifer is the Digital Editor at Homes & Gardens. Having worked in the interiors industry for a number of years, spanning many publications, she now hones her digital prowess on the 'best interiors website' in the world. Multi-skilled, Jennifer has worked in PR and marketing, and the occasional dabble in the social media, commercial and e-commerce space.
Over the years, she has written about every area of the home, from compiling design houses from some of the best interior designers in the world to sourcing celebrity homes, reviewing appliances and even the odd news story or two.