What colors make a bedroom feel warmer? 6 shades that create an inviting space
We explore and discuss with the experts, what colors make a bedroom feel warmer?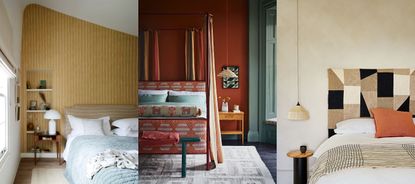 (Image credit: Mary Wadsworth | Jon Day Photography | Future)
It's that time of year again, when we wonder what colors make a room feel warmer. After all, with the weather cooling, a warming bedroom can make for a more inviting and comforting space. And there's no arguing with that.
There are many bedroom color ideas that make a bedroom feel like a relaxing retreat, but warming colors, such as orange, yellow, red and purple can all make a stylish, colorful statement while also establishing a really snug atmosphere.
Some warm colors associated with warmth can be very vibrant; however, there are many other calmer, more neutral shades, such as beige and brown, to choose for your bedroom ideas that can be easier to live with while creating a cocoon of coziness. There's more advice on choosing and using, below.
What colors make a bedroom feel warmer?
What colors make a bedroom feel warmer? We list them below, but the first step is to analyze your bedroom's natural daylight before moving on to your room color ideas. South- and west-facing rooms will receive warm light during the day, so you can choose cooler shades, while east-facing rooms only in the morning, so warmer tones are advised. North-facing bedrooms are those in need of the most warming to create a cozy bedroom, so look for more saturated variations of the colors below. Remember too that you'll be looking at the color under artificial light for at least half the time, so ensure you swap out cool-colored bulbs for warm ones.
1. Orange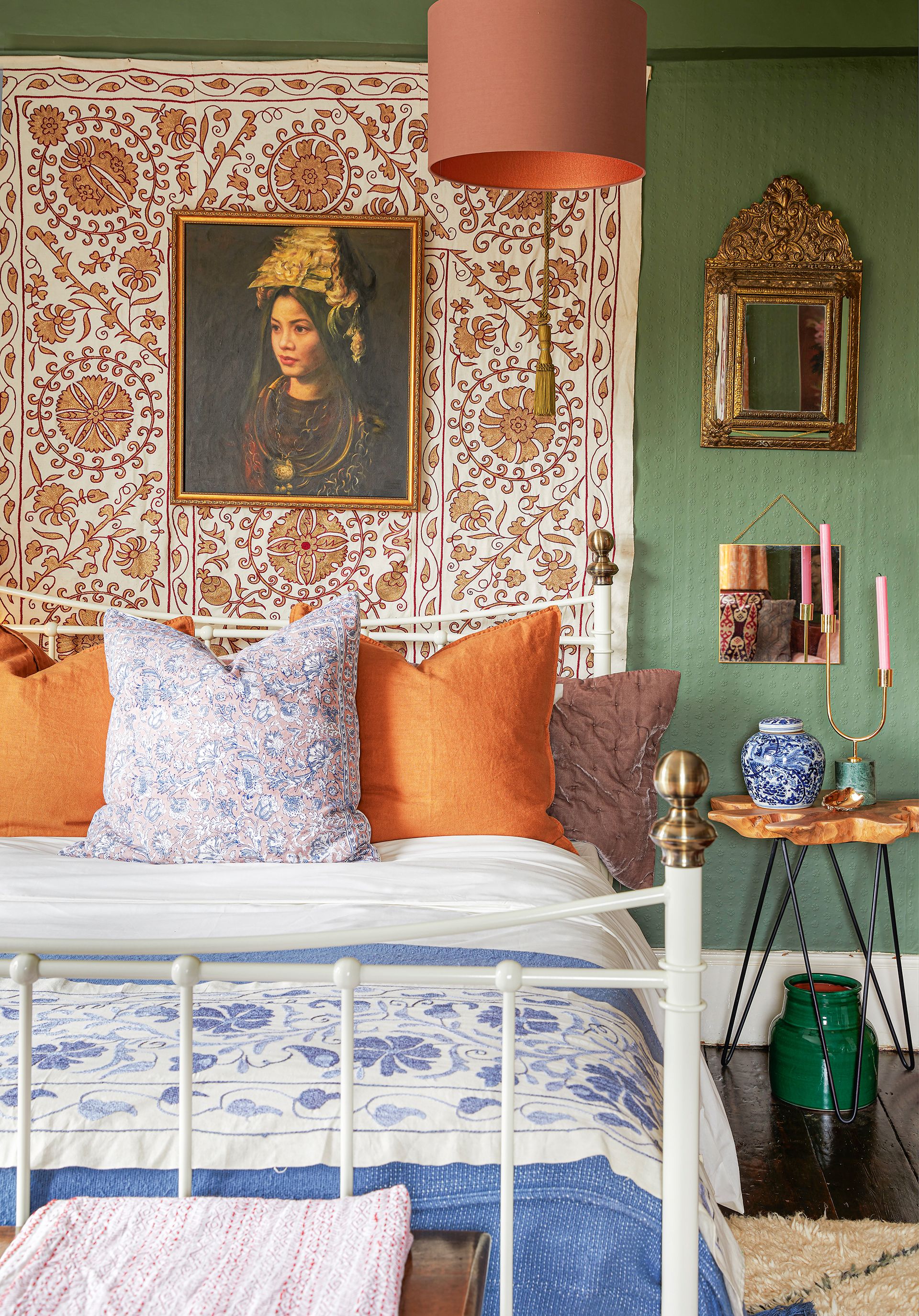 A color synonymous with fall leaves and cozy evenings by the fire, there are many shades of orange that can add warmth and an earthy, natural character to your bedroom space.
When decorating with orange in the bedroom, injecting elements of green, like in the space above, can establish not only a beautiful color pairing, but a design that embodies the calming and rejuvenating qualities of working with nature's palette.
Whether you pair a bright orange with a calming sea blue, or enhance the depth of terracotta decor with a bold red, always look to the color wheel to gain insight on what color combinations for rooms work best.
You do not always have to turn to bedroom paint ideas to create a warming space; as shown in this bedroom, orange has been used for the lighting, accessories and soft furnishings, achieving a softer look through pops of color, balanced perfectly by the green. And all of this is easy to swap out when you move from fall decor to spring decor ideas.
2. Yellow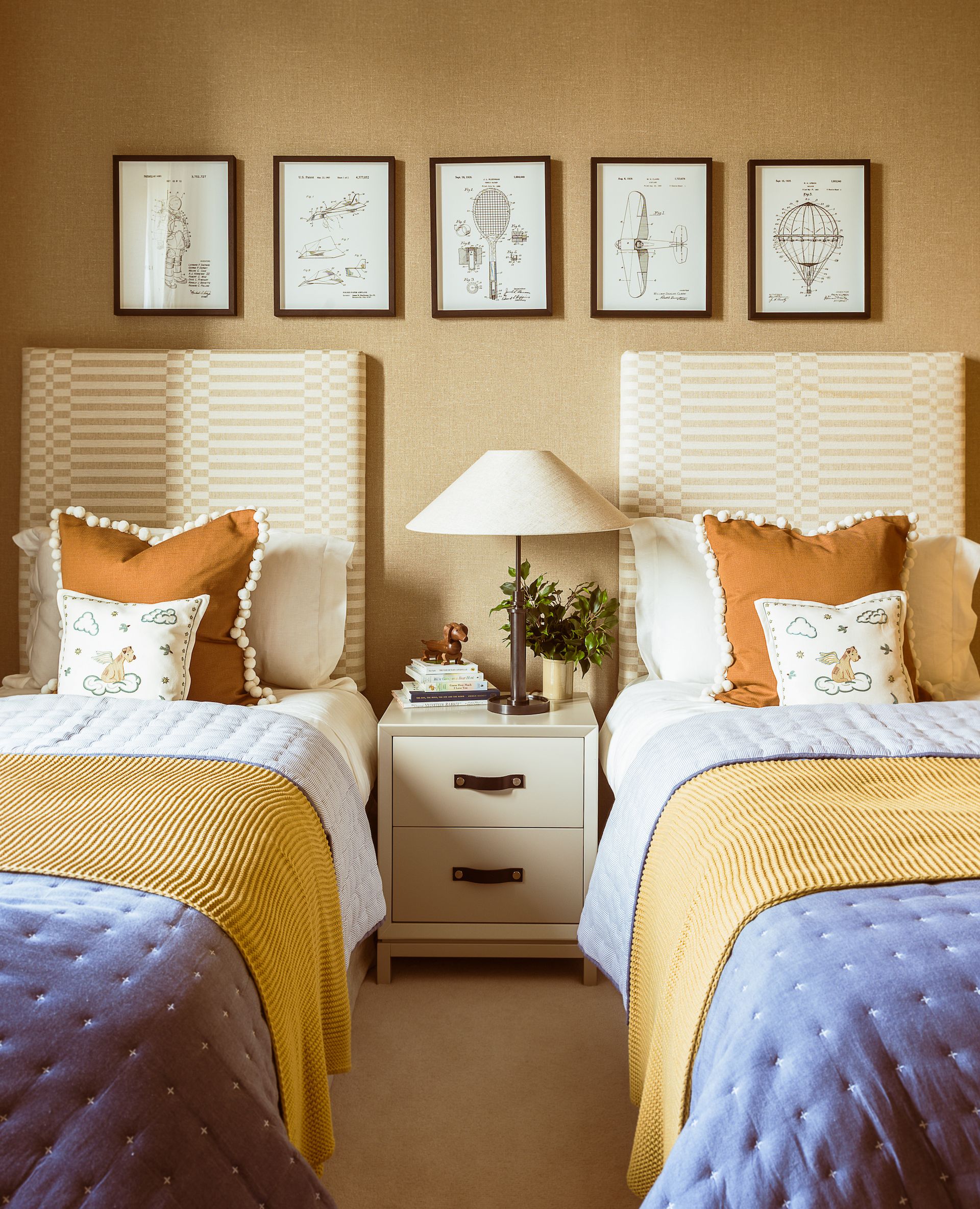 A joyful shade often used for happy room ideas, yellow is a color that makes a bedroom feel warmer because of its association with the sun.
With so many variations to choose from, decorating with yellow can work in both modern bedrooms and with more traditional bedroom ideas.
Yellow bedroom ideas can range from warming mustard yellow to an impactful chartreuse, with more muted, softer yellows working well to add warmth to a bedroom.
Martin Waller, founder of global design brand Andrew Martin, states 'the use of yellow can create a mellow and uplifting interior all at the same time. It transports us back to long lazy sun-drenched days in the Mediterranean and it can brighten us up on gloomy days. It works brilliantly with blues, teals, greens and reds, and for real crisp freshness use with white.'
3. Red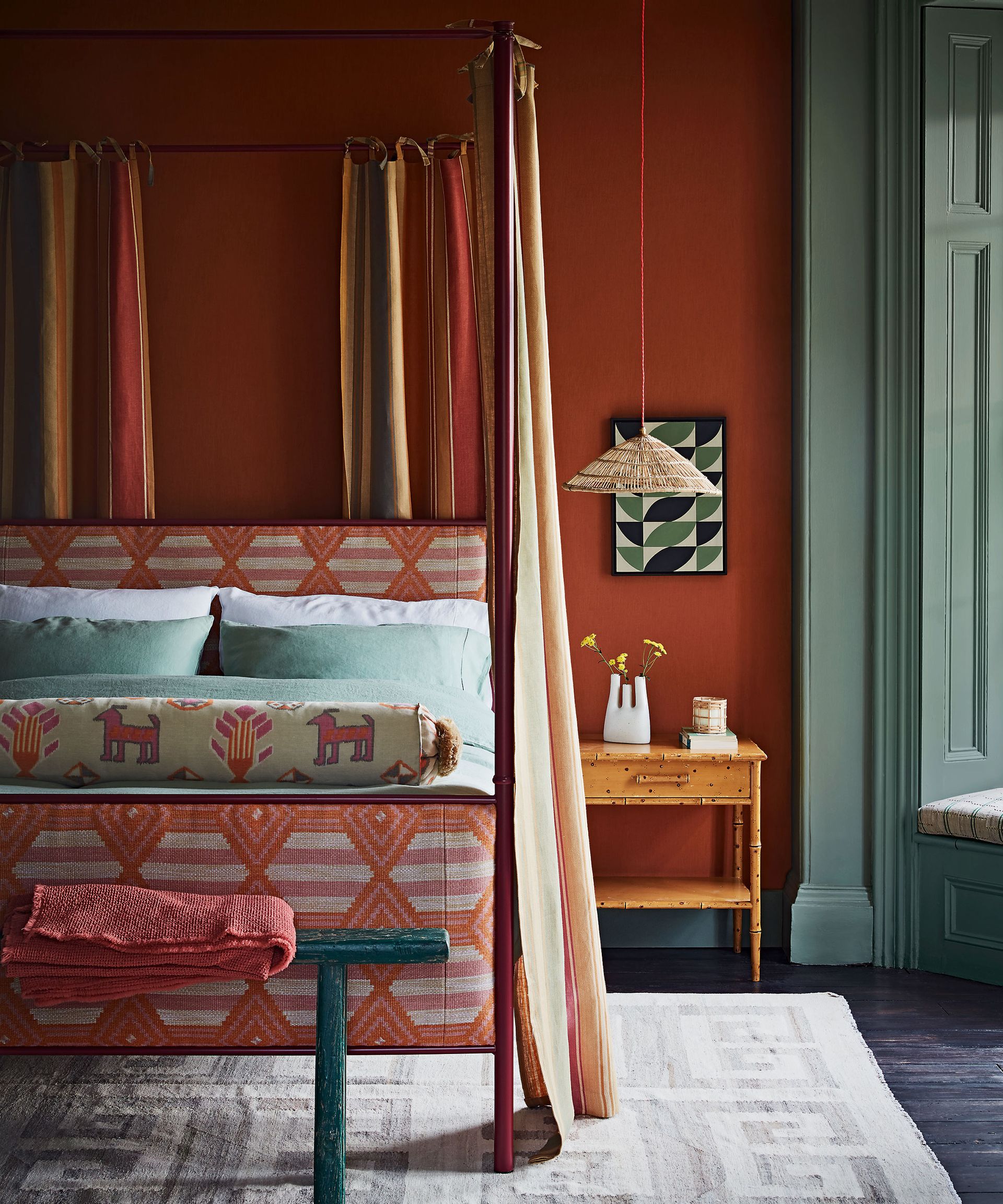 Helen Shaw, Benjamin Moore director, states, 'red can be confident and charismatic, or rich and sensuous. From the deepest garnet to a soft rose, red is very often used as a statement color to liven up a space.'
Energetic and bold, red is considered the warmest color on the spectrum, with red bedroom ideas guaranteed to make an impact.
A deep red can be a brilliant choice to make a bedroom feel cozy and warm, and when paired with inviting pools of light, it can create an immersive and romantic space with a beautiful glow.
The warming red in this bedroom has been elegantly complemented by a soft green, creating a sophisticated, luxurious design with a stylish, homey and cozy appeal, with the use of soft fabrics and contrasting textures enhancing the feeling of comfort and unique character.
4. Purple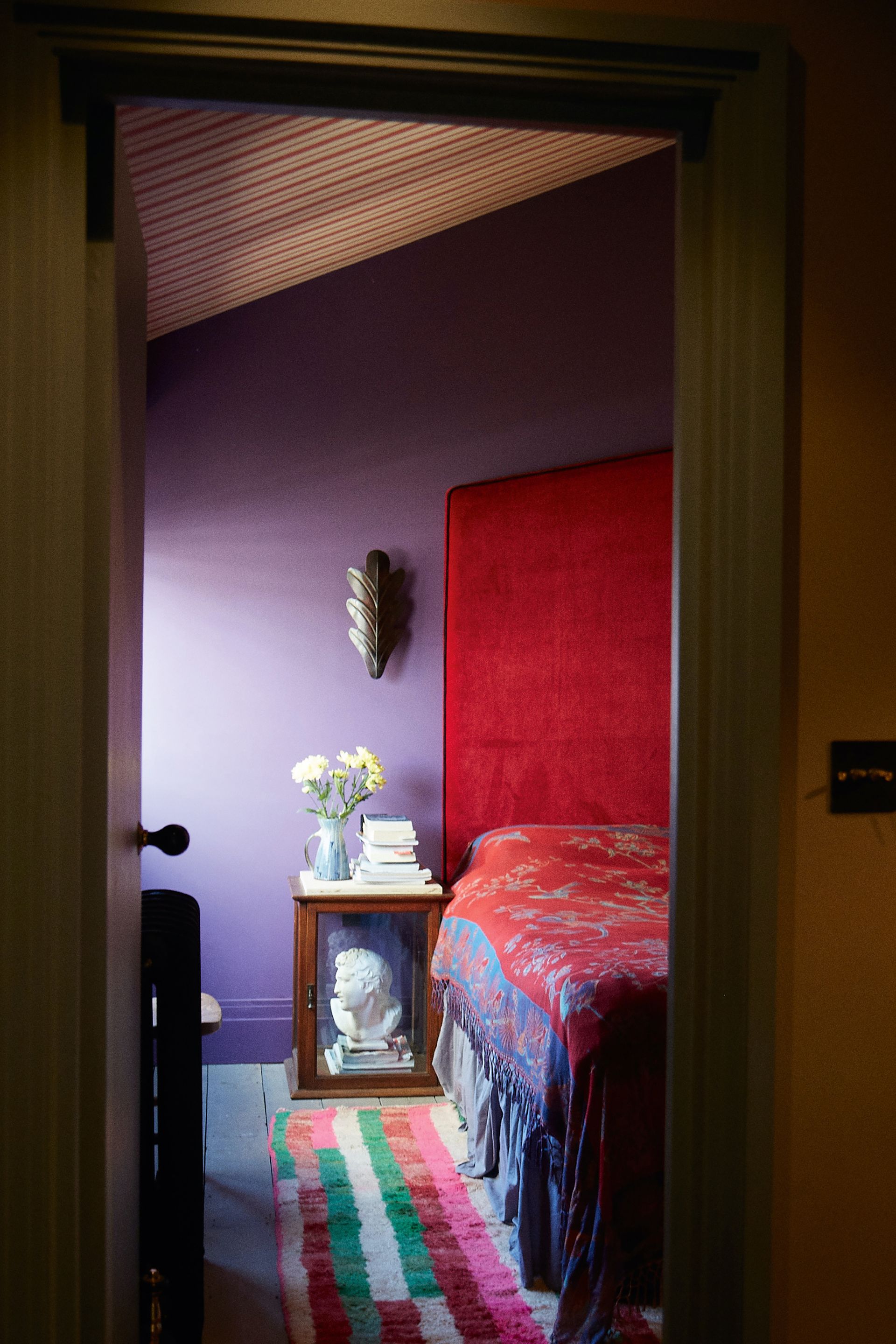 Purple can be seen as both a warm and cool color, with lighter shades, such as lilac and lavender cooler, and darker, richer shades such as plum and aubergine, warmer. As for colors that make a bedroom feel warmer, think the deeper end of the spectrum, with purples that have a large dose of red in them.
A purple bedroom can create an elegant, almost regal feel, with the color often associated with royalty, wealth and grandeur. When we think of autumnal colors, often orange, red and yellow are at the top of the list, however, as the fall and winter months begin to settle in, purple can be seen across the natural landscape and in the changings colors of the leaves.
Whether you choose to use a palette of darker shades, or combine purple with other warming tones, like in the bold bedroom above designed by Rachel Chudley, decorating with purple can create a rich, warm and cozy bedroom environment.
5. Brown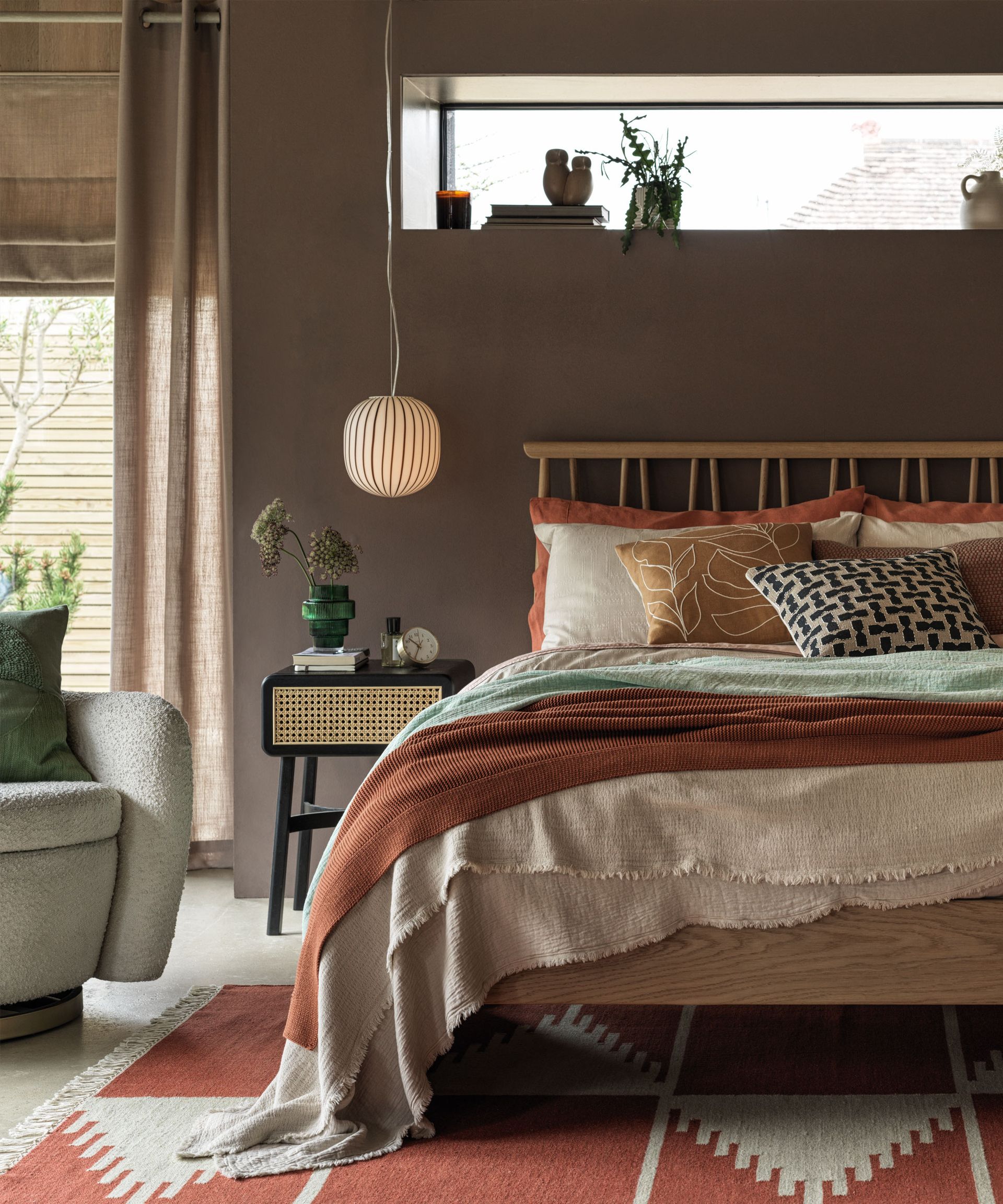 Mor Krisher, head of design at Caesarstone says 'there is a warm intimacy that comes with the dark; a sense of quiet and calm that cossets and cocoons.'
Its associations with nature and the earth mean that decorating with brown can create a grounding, calming and warming environment in the bedroom, with darker shades helping to establish a protective and sheltered atmosphere.
Suzanne Duin, founder of Maison Maison says, 'brown, a color firmly rooted in nature, is reliable and timeless. It is a warmer and more contemporary alternative to a gray canvas, suitable for pairing with just about any color.'
This modern bedroom by John Lewis, is defined by a beautiful blend of contrasting textures and a warming, cozy color palette. The muted, brown painted walls work with the oranges and other light neutrals to create an inviting space that feels soft and comforting, an elegant example of brown room ideas.
6. Beige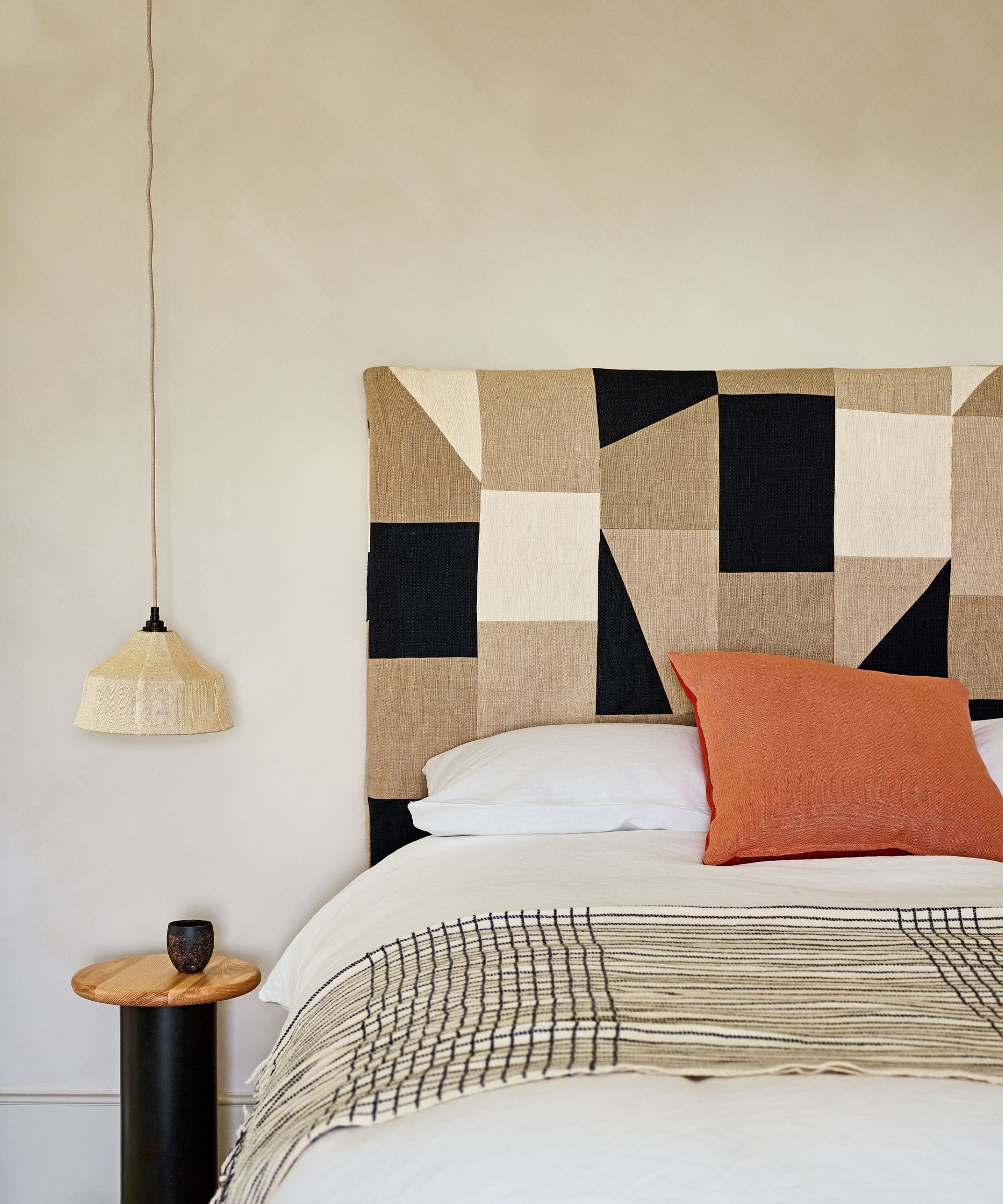 A warming, timeless and versatile neutral, a beige bedroom is far from boring. A shade that is often used for paint ideas throughout the home to create an timeless backdrop, the color can make a bedroom feel light and bright, as well as restful, soothing and warm.
'Colors of nature, such as earthly beige, have been a firm favorite for the last few seasons, and over the past few years, nature has become more important than ever. The outdoors has been an escape, somewhere to go to recharge our batteries or even just take a break. We want to channel that feeling in the home with warm, cozy shades inspired by the natural world,' says Justyna Korczynska, senior designer at Crown Paints.
With warming yellow and caramel undertones, whether you use beige floor to ceiling in the bedroom and pair with natural materials to create a serene, neutral sanctuary, or simply use it for your bedroom paint ideas or bedding, this adaptable shade can work in bedrooms of all ages and styles to add notes of warmth and softness.
What is the warmest color for a bedroom?
Red is usually labeled as the warmest color on the color wheel for a bedroom. With associations with fire, love and passion, it is a shade that can bring drama, warmth and unique style to a room.
When paired with other warm shades such as yellow and orange, it can create a beautiful design rich with vibrancy, color and impact.
How can I make my bedroom look warmer?
'As a guide, warm colors such as red, orange and yellow are considered to be stimulating and cozy, while cool colors such as blue, lilac and green tend to be more calming and restful,' says Justyna Korczynska of Crown Paints. As well as introducing color, layering beds and flooring with blankets and rugs, and ensuring bedroom curtains are plush are all sure ways to make a bedroom look warmer.
Sign up to the Homes & Gardens newsletter
Decor Ideas. Project Inspiration. Expert Advice. Delivered to your inbox.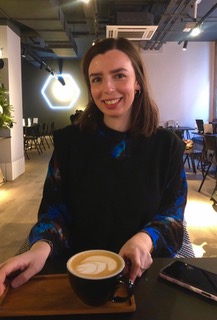 Zara joined Homes & Gardens in February 2022 as a Content Editor. After studying English Literature at University, she worked as an Ecommerce Website Editor, Content Writer and Buying Intern at multiple independent businesses within the luxury retail and lifestyle sectors. Her role at Homes & Gardens unites her love, experience and passion for the world of design and desire to create inspiring written content. She enjoys nothing more than discovering new trends, brands and products, whether that be in fashion, interior design or lifestyle.