Brown room ideas – 10 ways to use this versatile color
Be inspired to create warm and grounding spaces with these brown room ideas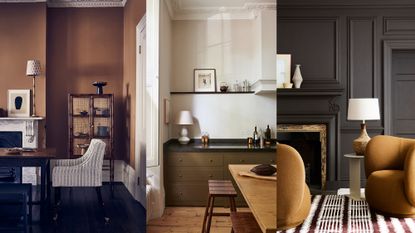 (Image credit: Simon Bevan / deVOL / Little Greene)
Brown room ideas are currently enjoying a renaissance. While brown was once regarded as dated and drab for many years, brown is now becoming increasingly popular as we seek to trade in cool greys for more warm, grounding shades of nature.
Prized for its earthy natural feel, brown is also extremely versatile. Encompassing a wide array of shades from light cappuccino and mushroom through to taupe and tan, right through to rich chestnut and deep chocolate, brown can be used to create myriad interior looks from calming and comforting to dramatic and chic.
'Brown interiors are the epitome of elegance, incredible with blues, pinks and lighter muted neutrals oozing sophistication and style,' say the team at Edward Bulmer Natural Paints.
If you're thinking of decorating with brown as your chosen room color idea then read on to be to discover a beautiful array of brown room ideas from brown living room ideas to brown bedroom ideas, plus find expert advice on how to use this shade which is so often overlooked.
Brown room ideas – 10 ways to use this neutral color
Brown room ideas are ideal for those thinking of decorating with neutrals but who want a warmer alternative to the ever popular grey room ideas, plus, with so many shades to choose from, there's scope to create all sorts striking interior looks.
'We are spending more time than ever at home and over the past year it has very much become a sanctuary. As such we are continuing to see a shift away from cooler grey interiors to a warmer palette and shades of chocolate brown deliver an immediate enticing, sumptuous layer of comfort and coziness,' says Ruth Mottershead, creative director at Little Greene.
'With their earthy tones, chocolate browns are a subtle nod to nature and complement beautifully with natural materials such as wicker, rattan and stone finishes, all very popular as we continue to look to embrace the beauty of the natural world in our homes.'
1. Turn heads with a dark brown living room
Dark living room paint ideas are a bold choice but are becoming increasingly popular, and, while dark blues and greys are often the go-to shades, this scheme proves how brown can be a beautiful alternative.
With their warm undertones velvety dark browns will bring drama and look effortlessly chic whilst also bringing a comforting feel. 'Using deep, dark shades in living spaces creates a dramatic, intimate and cocooning feel. Dark colors like 'Chocolate Color' and 'Baluster' make a real statement when used all-over, as they have an innate warmth that makes a space inviting and enveloping without feeling heavy and imposing,' says Ruth Mottershead.
2. Use brown to bring atmosphere to a hallway
Hallways are a wonderful place to decorate differently, as they are small transient spaces, so you can afford to be bold. Plus, using dark colors in the hallway can help rooms leading off the hallway feel brighter.
In this hallway idea by Oka, the brown walls are beautifully complemented with a textured wood chest of drawers, botanical artwork and a patterned lamp and shade in spice tones, all of which bing texture and enhance the earthy, rustic theme.
3. Pair brown with natural materials
If you're using brown as part of a pared-back, neutral room idea then introducing plenty of natural materials is a brilliant way to bring texture and depth to prevent the scheme feeling flat.
'The use of natural fibres, timbers and earthy hues create a sense of balance and understated luxury. It's a look that can be easily achieved too, whether you accessorise with woven baskets and planters, or play with natural textiles such as linen cushions, throws and tablecloths, and of course jute and flatweave rugs,' says explains Samantha Wilson, interior designer and founder, Collection Noir.
'Introducing marble, travertine and natural stones accompanied by contrasting ceramics lifts the look, adding depth and texture.'
4. Create a contemporary kitchen with brown cabinetry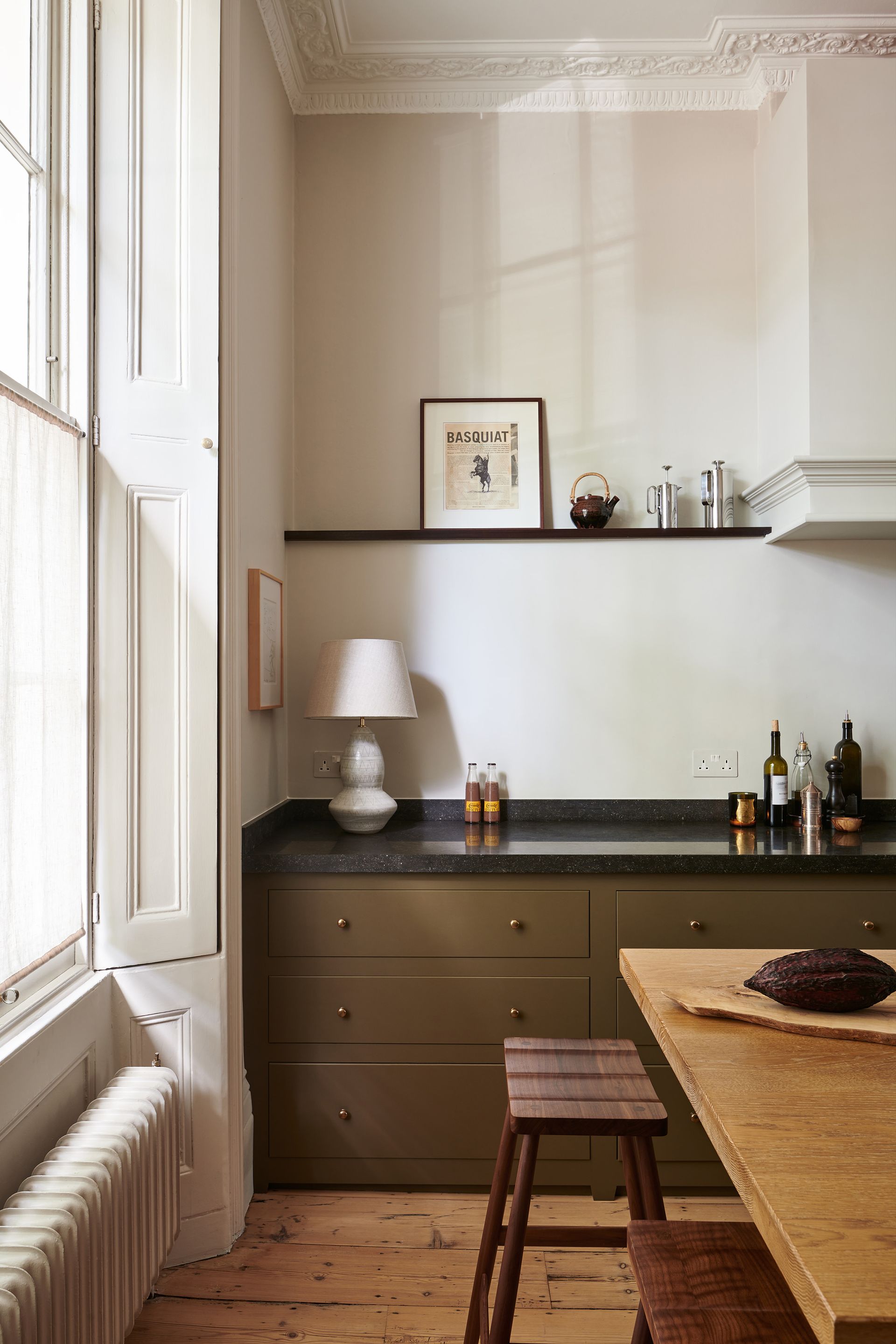 Bringing a subtle hint of color without being overpowering a space, brown can make a fantastic color for everyday spaces like kitchens. In the beautiful neutral kitchen by Devol, the classic shaker cabinets are painted in a deep brown and paired with natural wood flooring and furnishings to create a look that is organic and earthy yet beautifully contemporary.
'The color choices here are a triumph, deep chocolate brown furniture, good enough to eat, and a stony off-white on the walls. Paired with elegant Belgian Blue limestone and oak worktops, brass hardware and a French range cooker, the mix is spot on,' says the team at Devol.
5. Use light browns for a calming feel
Browns are great colors for neutral living rooms as they help bring warmth. While dark browns can look stunning, and are great for creating an intimate atmosphere, lighter browns may be preferred by for those looking for a calmer backdrop which is easier to live with.
'Neutrals are timeless and sophisticated, and the right one can completely transform a space. Browns are incredibly versatile; while darker shades like London Brown™ No. 287 will add depth and drama, a lighter, mushroom neutral with pink undertones like Egerton Place™ No. 297 is a soft, earthy shade that creates a romantic and refined space,' explains Dominic Myland, director of Mylands Paints.
In this scheme painted in Egerton Place™ No. 297 beige living room curtains add to the tranquil and traditional feel, while a sculptural beige couch living room idea and glossy black coffee table give the space a contemporary edge.
6. Liven up brown with the right accent colors
Brown needn't be used as part of a neutral scheme, it can pair beautifully with an array of accent colors. For his living room Lee Thornley chose to pair dark brown with teal, mustard along with plenty of texture to create a head-turning yet comforting space.
'While neutral spaces are safe and calming, it is the more daring designs and colors that bring spaces to life. For this renovation, it is the combination of smooth wood, graphic shapes and bold paint colors, like Little Greene's 'Purple Brown' in the living room, that really made each room distinctive and exciting. Experimenting with textures and colors give your home depth and create intrigue,' explains Lee Thornley, founder of Bert & May.
7. Find the right accent color for brown
Brown is a hugely versatile color to decorate with as it pairs well with multiple colors on the color wheel. If you're looking to create a warm, and inviting dining you you can't go wrong by teaming dining room walls in a mid, taupe brown with hints of rich terracotta, as demonstrated here in this traditional dining room scheme by Oka.
'Warm neutrals are colors that envelope and comfort and look at their best within a palette of natural tones like other earthy shades and soft grey greens,' explains Justyna Korczynska, senior designer at Crown. 'Brown sits very well amongst other soft neutral tones such as terracotta and beige.'
Alternatively, 'brown paired with white combines the qualities of a natural earthiness with a strong contemporary style,' adds Justyna Korczynska or, if white is too mainstream for you, brown pairs well with a navy blue.'
8. Use brown as a blank canvas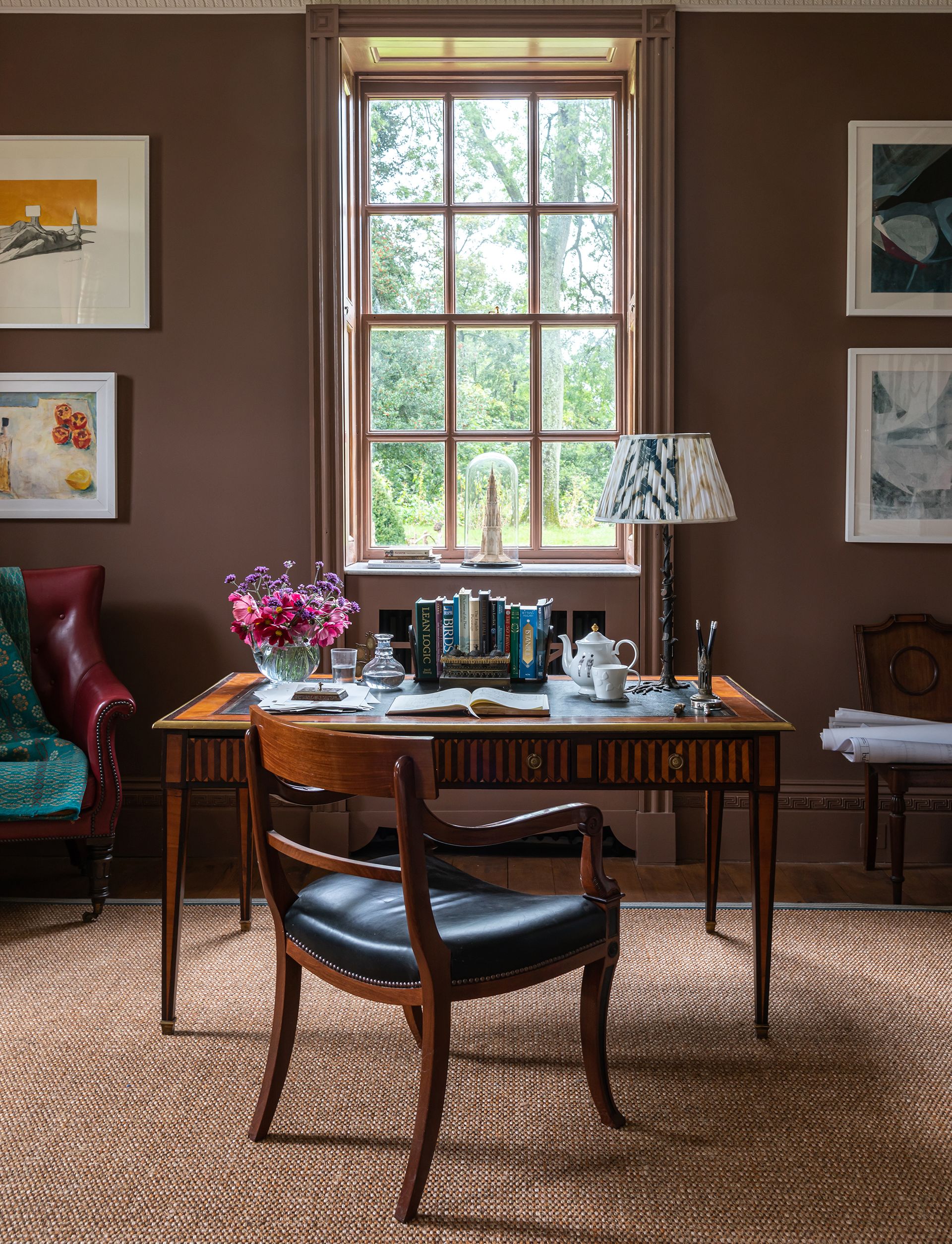 If you love decorating with art and colorful furnishings then brown can make a harmonious backdrop for combining characterful pieces in an array of styles.
'Color does not exist in a vacuum - we use it to ally with other great design and to improve the home as much as we can,' explains Edward Bulmer interior designer and founder of Edward Bulmer Natural Paints.
'I see more earth pigment based warmth gathering favor and would even suggest that more people will find how useful brown is as a wall paint in support of clever color in artwork and furnishings. Being polychromatic, brown goes with everything but in deeper hues it is particularly good at flattering beautiful, well drawn patterns.'
9. Decorate with wood
With each species offering fabulous colors and grains, from rich walnut to light ash, wood is a fantastic way to bring brown shades into your home, plus is perfect for those looking to decorate sustainably.
In this bedroom designed by Lee Thornley, the combination of a wooden headboard, reeded panelling and a dark wood parquet flooring makes for a room full of warmth, depth and texture. Walls in Mylands' Market Green™ No.38 provides the perfect balance for the rich, warm tones, as do the velvet teal throw and indigo blue cushions.
10. Create an element of surprise with a brown bathroom
Brown is not a color usually associated with bathrooms, but it can make a beautiful alternative to popular grey bathrooms for those looking for a neutral, sophisticated space with added warmth.
Perfect for brining pattern, texture and character to a bathroom, these Carmona Marron bathroom wall tiles from Bert & May have a distinct Moroccan feel. 'The weathered leather tones and worn rich chocolate browns from our palette pair beautifully with the deep purple brown color from our Little Greene collection,' say the team at Bert & May of this beautiful space.
Is brown good for a living room?
Brown is a good color for a living room as it will bring a warm and comforting feel, plus, using darker shades can make spaces feel wonderfully intimate.
'Chocolate browns are perfect for creating restful living spaces that bring comfort to the home and envelop a space. At the richer end of the spectrum of neutral shades, they partner beautifully with creamy whites and naturals such as 'Flint', 'True Taupe' and 'Furrow', adding a stronger tonal splash of color that will warm up an otherwise cooler interior,' says Ruth Mottershed, creative director of Little Greene.
When using born in a living room she suggests to, 'paint over all four walls, panelling and woodwork to bring focus into a room to create a sleek aesthetic and allow your favorite artwork, rug or piece of furniture to be center stage. Or try the reverse and add drama to architectural features by highlighting fireplaces and doorframes.'
Patrick O'Donnell, Farrow & Ball's Brand Ambassador also agrees that brown can be a great color for a living room.
'Red-based browns such as London Clay, one of our stalwart browns, make for an ideal living room or drawing room choice. Due to the red through it, it is perfect for light-starved spaces to deliver warm and cozy comfort in equal measure. Use an empathetic white on your ceiling and trim, something that shares a red undertone such as Dimity or Joa's White for a perfect bedfellow.'
What bedroom colors go with brown?
If you're wondering what bedroom colors go with brown then there are many to choose from, however which is best for your scheme really depends on what look you want to achieve, plus it's also important to think about the orientation of your room.
'Brown is an earthy, well-grounded color that complements many colors,' says Simon Temprell, interior design manager at Neptune. 'Dark chocolate brown will sit beautifully with warm, muted plaster-pink, such as our Old Rose, or you could bring some balance to this warm shade by contrasting it with a cooler shade such as Flax Blue or Cactus.'
'Brown will work in any room, north or south-facing, but be careful with your complementary colors as they will have to be modified depending on the quality of light in the room. Avoid bright white, and opt, instead for warm, creamy whites with brown or yellow undertones.'
If you're looking for an accent colors to use in a brown bedroom then you can't go wrong with earthy colors such as beige, orange and terracotta as these will bring warmth and coziness. Alternatively, for a touch of glamor try adding in warm metallics.
Sign up to the Homes & Gardens newsletter
Decor Ideas. Project Inspiration. Expert Advice. Delivered to your inbox.
Pippa is Content Editor on Homes & Gardens online contributing to Period Living and Country Homes & Interiors print issues. A graduate of Art History and formerly Style Editor at Period Living, she is passionate about architecture, creating decorating content, interior styling and writing about craft and historic homes. She enjoys searching out beautiful images and the latest trends to share with the Homes & Gardens audience. A keen gardener, when she's not writing you'll find her growing flowers on her village allotment for styling projects.