Bathroom wall tile ideas – 10 inspiring looks for your space
These stylish yet practical bathroom wall tile ideas will bring personality to your space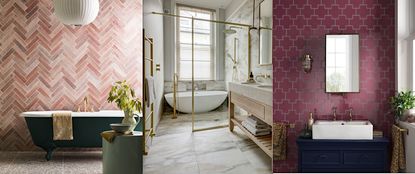 (Image credit: Future)
Choosing bathroom wall tile ideas is an exciting and inspiring part of any bathroom design project. Hardwearing, water resistant and easy to clean, wall tiles are a practical surface solution for bathrooms, en-suites, shower rooms and wetrooms, but are also a brilliant way to bring personality to a space.
As well as being decorative, wall tiles are a great bathroom idea for zoning different areas and, where attention is given to scale and shape, bathroom tiles can be clever devices for creating the illusion of space in small bathrooms. To help get you inspired we've rounded up a selection of ideas along with tips from the experts.
Available in an infinite array of materials, colors and shapes, wall tiles offer scope to create myriad looks. Even the plain white tile can be used to create all manner of decorative effects when laid in creative configurations.
Bathroom wall tile ideas
While inspiring, choosing bathroom wall tiles for your bathroom wall ideas can be daunting, too, as there are so many looks to choose from, plus once installed they are not easy to change which makes it a big decision.
'Try to make decisions based on the fact that you have to love this space for years to come and therefore a timeless design provides longevity,' says Joel Fry, Designer at West One Bathrooms.
'When choosing bathroom tile ideas it is important to remember that bathrooms can't always be easily pulled out and remodelled with minimal disruption as tiles are fixed using strong adhesives and sanitaryware is firmly secured,' he adds.
Essentially what design you chose is 'a balance between aesthetics and practicality,' says Damla Turgut, founder and creative director, Otto Tiles & Design. 'The choice of finish is dependent on the area your tiles will be laid, wall or floor, and of course the look you're trying to achieve.'
It's also worth noting that different areas will have different surface needs. In a shower enclosure you will need tiles floor to ceiling, but elsewhere, you may consider tiling to dado level.
Another factor that may influence your bathroom tile ideas is the size of your bathroom. In a large master bathroom you may want to use tiles of different shapes and scales to create separate zones and help break up the space. Alternatively, if you are remodelling a small bathroom or wet room, you may consider using the same tile throughout, as this can give the illusion of space.
1. Create luxury with marble tiles
If you're looking to create a bathroom with spa-like sophistication, then marble is the perfect material. Boasting beautiful natural veining, marble bathroom tiles will bring texture and a timeless elegance to a bathroom while keeping the space feeling fresh and bright.
Small rectangular marble tiles make a brilliant shower tile idea for small bathrooms as they create a decorative feature while large square floor tiles co-ordinate with the look but have the benefit of being far easier to clean.
'Don't be afraid to use large slabs of terrazzo or marble in small bathroom spaces,' says Tom Rutt, founder, TR Studio. 'Covering walls and floor in the same tile can create a real wow factor with a luxurious, spa like aesthetic and can trick the eye into making a space appear a little larger than it is.'
2. Choose subtle subway tiles
A popular tile style that has its roots in the Victorian period, rectangular subway bathroom tile ideas show no sign of abating. A versatile design they can be laid in brick format for a more traditional feel, or in blocks for a more contemporary look, alternatively, you could try using them vertically for a twist on tradition.
This soothing sage ceramic tile would be perfect for a classic country bathroom yet looks equally effective when used as a backdrop to a vibrant orange roll top bath in this modern, eye-catching bathroom designed by Studio Duggan for a London townhouse.
3. Create a patchwork feature wall
Tiling a bathroom wall in an assortment of colorful patterned tiles is a brilliant small bathroom idea as it distracts from the size of the room. These encaustic tiles from Bert & May are handmade in Spain using natural pigments.
'An accent wall is also a great way to add color to a small bathroom. Using a plain colored or patterned tile to define and zone a shower or bath area can create a real statement and a wow factor' says Damla Turgut, founder and creative director, Otto Tiles & Design.
4. Make a statement with herringbone tiles
If you have a bathroom with tall ceilings consider making a statement of them with a dynamic herringbone design that draws the eye upwards. Heavily glazed and boasting tonal variations, these ceramic pink Hoxton tiles from Mandarin Stone will bring texture and pattern with a vintage industrial feel to bathroom walls.
5. Create a dappled effect with marble mosaics
If you are looking for shower tile ideas then mosaics are a beautiful way of bringing delicate texture as this West One Bathroom proves which features its Zen mosaic tiles. Each scallop-shaped tile offers a subtle variation in tone bringing a shimmering ripple effect reminiscent of fishscales.
Be sure to use a light grout to create a more seamless look – a dark one which highlights individual tiles can make the space feel smaller. For added luxury finish the shower with burnished fittings.
6. Turn heads with shape and color
Bathrooms wall tile ideas can be seem as clinical and cold yet with so many intriguing and colorful tile designs to choose from this needn't be the case for a head-turning try the cliq tiles in Hot Pink from Topps Tiles.
'When it comes to small bathrooms, a lot of people think that you should avoid using bold, bright, or dark colors and patterns, often choosing lighter tones to create a spa like feel and to maximize the feeling of space. But color chosen well can add a real sense of luxury to a bathroom space, no matter the size,' says Damla Turgut, founder and creative director, Otto Tiles & Design.
7. Opt for durable marble-look porcelain tiles
While natural marble tiles are beautiful and luxurious, they are heavy and expensive. Porcelain tiles, on the other hand, are generally lighter than marble tiles making them easier to install, plus are generally more cost effective. What's more, porcelain tiles can be easier to clean and maintain compared to marble tiles as natural stone is porous so may need periodic resealing to protect them.
Emulating the beautiful veining of authentic marble but with the durability and easy installation of porcelain, these Antique Marble Porcelain Macchia Vecchia tiles from Lapicida make a beautiful alternative to the natural stone.
8. Use glossy white tiles for a classic feel
Timeless but with decorative interest, this en-suite design by Drummonds proves that white bathroom tile ideas needn't be boring.
'White tiles are a classic and enduring choice for bathroom walls. They come in an array of shapes, sizes and finishes and are a perfect counterpoint for more decorative elements such as patterned floor tile ideas, coloured sanitaryware and warm metal brassware,' says Comment from James Lentaigne creative director at Drummonds.
'Paired with a border of black tiles, two different shapes of white tiles – square and rectangular – have been used to great effect in this bathroom to create design interest,' he adds. 'The owner wanted the new shower room to have a classic, masculine feel.'
9. Try large scale onyx tiles
If you're looking to create wow factor why not try large scale onyx tiles? Designed to capture the veining and beautiful coloring of authentic onyx stone, these porcelain California tiles from Ca' Pietra are both stylish and practical. Available in Jade, Pearl and Beige colorways and with a gloss finish, they would make luxurious master bathroom idea.
10. Make a statement in a shower room
Small bathrooms and shower rooms needn't lack in personality, in fact, they are a brilliant space for embracing a bold design as they are not in constant use. Using striking geometric bathroom wall tile ideas in a shower enclosure is a brilliant way to bring an element of fun and surprise to what can be an overlooked space when it comes to decorating.
To prevent the look being too stark consider softening the scheme by painting the walls in warm colours. These Fired Earth geometric tiles make a striking black and white bathroom idea and have been paired with mustard yellow and brown for a Mid-century feel.
Which tiles are best for bathroom walls?
The best tiles for bathroom walls will depend on the area in which they are being used, the look you are trying to create and the material they are made from.
'All porcelain tiles are suitable for walls and floors, but larger sizes may require extra skill to install,' says Rob Whitaker, creative and product director at Claybrook Studio. 'Ceramic tiles can be used for walls although the base clay shade may be visible on the edges. Glazed and hand-painted tiles are for walls only on the whole. Any tile professional can advise.'
'Ceramic tiles can be produced by hand or machine using red and brown clays alongside whites, whereas porcelain uses only white clay, and is machine-produced to avoid air pockets and baked at a higher temperature so tiles are less porous,' adds Rob Whitaker.
'Porcelain is great for floors in wet areas like bathrooms, while ceramic is better for walls. Cement tiles, also called encaustic tiles, are crafted using marble powder, natural pigments and cement and colours are usually stronger and crisper.'
You may want to consider using different tiles inside a shower enclosure suggests says Andrew Bendall, marketing manager at Craven Dunnill Jackfield.
'Patterned tiles and decors are also perfect for creating a statement shower enclosure that makes any bathroom stand out. We would not recommend textured tiles or natural stone on the floor but slip resistant tiles are a perfect alternative to a shower tray or wet rooms.'
What is the most popular wall tile for bathrooms?
As bathroom wall tiles are not easy to change once fixed, often timeless, simple designs are a popular choice.
'We still find year after year that most clients are seeking classic lasting designs in their main bathroom and then go wild for color in the downstairs WC or in the shower area of the main bathroom,' says Joel Fry, Designer at West One Bathrooms. 'You can mix and match tiles by injecting some interest with texture or pattern or even use a contrasting grout color.'
'We are also seeing a growing trend for fragmented tile designs – it shows off the shape of the tile and adds an unusual intriguing feature,' says Joel Fry.
When we asked the experts what tiles were popular at the moment it sparked inspiration for all sorts of ideas.
'Marble tiles for walls and floors are enduringly popular. Glazed mosaics with a linear Japanese feel, like our Zeze and Kasama ranges, are also popular, as are larger-format porcelain tiles for floors,' says Rob Whitaker, creative and product director at Claybrook Studio.
'Mosaics for walls will grow in popularity through 2022, particularly for bathrooms. Reclaimed, eco-conscious tiles are also gaining in popularity,' he adds.
The classic subway tile also remains a popular choice for bathroom walls says Andrew Bendall, marketing manager at Craven Dunnill Jackfield.
'The current trend for small rectangular tiles laid vertically or in a brick effect can be particularly striking and very effective in a shower enclosure while larger format tiles need less grout so are easier to clean.'
What are the best wall tiles for a small bathroom?
The best bathroom wall tile ideas for a small bathroom will add personality.
'Shaped tiles are a great choice for small bathrooms and shower rooms. Subway/herringbone, fish scale, hex and diamond shapes are all great ways to add color, pattern and interest to a small bathroom without overwhelming the space,' says Tom Rutt, founder, TR Studio. 'We particularly love the narrowness of subway /herringbone tiles laid horizontally on walls which creates a really fresh, modern look with a very timeless appeal.'
Sign up to the Homes & Gardens newsletter
Decor Ideas. Project Inspiration. Expert Advice. Delivered to your inbox.
Pippa is Content Editor on Homes & Gardens online contributing to Period Living and Country Homes & Interiors print issues. A graduate of Art History and formerly Style Editor at Period Living, she is passionate about architecture, creating decorating content, interior styling and writing about craft and historic homes. She enjoys searching out beautiful images and the latest trends to share with the Homes & Gardens audience. A keen gardener, when she's not writing you'll find her growing flowers on her village allotment for styling projects.