Black and white bathroom ideas – 10 monochrome looks to inspire your next remodel
Black and white bathroom ideas can be tricky to get right, a considered approach will be rewarded by a simple but impactful scheme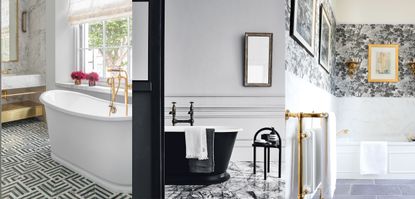 (Image credit: Jonathan Bond / Future / CP Hart)
Black and white bathroom ideas are the perfect way to decorate if you're looking for a timeless, chic and sophisticated space. Simple and understated, the classic pairing can be used to create an infinite array of captivating looks from bold, edgy and contemporary to luxurious, traditional, elegant.
Decorating with contrasting tones can be tricky to get right, but with a considered eye and with each tone used in the right proportions, this daring tonal duo can be used to create beautifully balanced interiors.
Two-tone schemes can run the risk of being cold and flat – the key to decorating in monochrome is to ensure to add interest and depth through tonal variations, intriguing shapes, pattern and texture.
With so many inspiring bathroom ideas out there it can be hard to know where to start, so we've rounded up some beautiful black and white along with some expert tips to help get you started.
Black and white bathroom ideas
Sophisticated and versatile, black and white bathroom ideas have remained popular over the decades and show no signs of abating as we enter 2022.
'In contrast to vibrant colors, the monochrome style remains an iconic design trend, providing a timeless and classic look. It's the equivalent of wearing black trousers, a white t-shirt and a black leather jacket – but in bathroom design. The contrast between stark white tiles and bold black brassware creates the same glamorous and edgy style that is seen on the high street,' says stylist Lisa Talbot as she rounds up the latest trends for bathroom brand Roxor.
By limiting your bathroom color ideas to two contrasting tones, you can create a graphic look with real impact and drama perfect for a glamorous, edgy feel. Alternatively, for a space which is more relaxing, embrace a monochrome scheme that layers various tonal shades from light gray bathroom ideas through to deeper charcoals for a gentler feel.
The key to decorating with monochrome schemes is to add in plenty of interest and texture to prevent the scheme from falling flat, clinical and uninviting. Decorating with patterned wallpapers, fabric blinds and decorative wall tiles is a brilliant way to do this, as well as opting for fixtures and fittings in burnished brass or gold finishes. When it comes to bathroom wallpaper ideas there's no need to hold back says Ruth Mottershead, creative director, Little Greene.
1. Wow with a luxurious geometric floor
Marble bathroom ideas are guaranteed to bring luxury to a space, but when introduced in the form of 3D geometric tiles they can also bring a beautiful contemporary twist to a traditional bathroom, too, as this space by Cuschieri Architects proves.
'We used marble tiles to tone in with the more traditional fittings, but the floor still makes a powerful statement,' says architect Paul Cuschieri.
Setting the tone for a luxurious Art Deco feel in this black and white bathroom the statement floor is teamed with Drummonds' Humber bath.
2. Add a striking monochrome mural
For a room with wow-factor nothing turns heads quite like a statement wall mural –and there's no reason why you can't have one in the bathroom thanks to the innovative Wall & Decò system from West One Bathrooms which offers a water-resistant alternative to wallpaper and tiles.
'Upscaling really makes an image pop. Wall & Decò's incredible designs are 100 per cent waterproof so they can be used anywhere in the bathroom, including inside the shower,' says Kirsten Wain, designer, West One Bathrooms. 'Each print is rendered to fit the wall dimensions and can be adjusted to ensure focal parts of the design take prime position.'
Statement designs such as Wall & Decò's Imaginary Paradise waterproof wallpaper, pictured above, would make a really effective master bathroom idea as these bathrooms are often the largest, giving the wall space to really show them off.
3. Introduce texture with veined marble
You can use bathroom flooring ideas through veined marble tiles as a beautifully decorative way to channel the black and white bathroom aesthetic. Covered in beautiful natural markings, these Calacatta Viola polished marble tiles from Mandarin Stone bring interest and texture to what could be a stark space.
4. Soften the scheme with a fabric blind
Black and white bathrooms can often have a masculine, contemporary feel. If you're looking to soften the look consider adding printed fabrics through fabric window blinds.
With its simple floral motif reminiscent of Indian block printed designs, Tasha's Trip Charcoal linen by Kit Kemp at Christopher Farr Cloth makes for a lovely roman blind in this black and white bathroom and teams well with the additional pattern from the Indian inlay pearl furniture.
'For blinds or curtains to work in a bathroom, make sure the room is well-ventilated to prevent mildew developing,' advises Yvette Murrel contributor at Homes & Gardens. 'Avoid full-length designs – or at least ones that hang on the floor – and opt for a lightweight fabric that will not only maintain privacy while letting in light, but will also dry quicker in case they do get damp.'
5. Opt for a feature floor
Patterned floors are a brilliant way of making a playful statement in the bathroom without overpowering the space – this makes them an effective small bathroom idea as they bring personality to a space while allowing the walls to be kept plain to keep the space light and airy.
'Using a bold floor tile is a wonderfully effective way to elevate a bathroom – it grounds the room, emphasizes the sense of space and scale, and packs a chic punch without being too overwhelming,' advises interior designer Samantha Todhunter.
A tessellated floor pairs well with white walls and marble tiles to keep the rest of this space light and uplifting, while gold fittings and fixtures bring luxury and warmth.
Opting for a tiled design which is not clear where one tile begins and an other ends is a brilliant idea for small spaces, too, explains Irene Gunter, interior designer and founder, Gunter & Co Interiors.
'When it comes to tiling, I prefer bathroom tile ideas where you don't obviously see where one tile starts or stops, making the entire floor appear seamless. Mosaics, large marble slabs or quirky geometric shapes can all be used to achieve this – especially when using bright colors like a powder blue. Whatever you do, try to avoid standard 60x60cm tiles as they visually divide the room into squares, accentuate that not too many of them fit.'
6. Build a scheme around statement wall tiles
Available in almost any shape, shower tile ideas in a wide variety of materials and with a huge array of decorative surface designs to choose from offer endless scope for decorating a bathroom. If you're stuck on where to begin with your design, picking out some tiles you love could help spark the rest of a scheme.
Asked to create a luxurious en suite for the main bedroom of an early Victorian house, CP Hart designer Stefania Marino was inspired by her clients' choice of tile. 'They brought me an image of an eye-catching black and white hexagonal design. It sparked the idea for a bold monochrome scheme, which would also make the most of the original black cast-iron fireplace,' she recalls of the project in south London.
Moving the entrance door allowed her to position a large 1,500x900mm enclosure in its place, with a Crittall-style matt black frame chosen to introduce industrial style.
'The taps and shower fittings are finished in polished chrome to balance the matt black elements in the scheme,' says Stefania of the Italian-designed Gessi Eleganza range. 'I wanted to contrast the modern industrial look with a little glamor and elegance to make the room unique.'
7. Soften the look with sinuous curves
Whether you are looking at mainly white bathroom ideas or dark bathroom ideas, a beautiful freestanding bath with a sinuous, curved silhouette is a brilliant way to bring elegance and to soften a black and white bathroom. CP Hart's Elter composite stone bath makes a beautiful focal point in this scheme designed by Stefania Marino.
'To soften the scheme, the freestanding composite stone bath has a gently curved shape,' she says of the bathroom, which sees the bath placed in front of the floor-to-ceiling windows: 'I wanted my clients to be able to lie back and see the green of the garden, and the sky,' she adds
On the floor hexagonal marble-effect tiles bring subtle pattern while keeping the scheme bright and uplifting.
8. Bring personality with a decorative wallpaper
As practical spaces bathrooms can often run the risk of being clinical and cold. However, this needn't be the case as this beautiful bathroom proves. Often people shy away from bathroom wallpaper ideas but a statement wallpaper is an easy way to bring personality and texture to these spaces. Try papering above wall tiles to prevent the paper being damaged, plus make sure your space is well ventilated. Capturing the beauty of nature into the bathroom this Richmond Park design with its decorative leaves from Zoffany looks beautiful with marble tiles.
9. Create a traditional feel with patterned wallpaper and blinds
'For a traditional bathroom in black and white consider papering the walls with a dramatic wallpaper and using the same design across blinds, suggests Lee Clarke director of Warner House.
'Bathrooms are a great place to create a sense of drama so be brave and use the same pattern on all the walls and even the same design on blinds or curtains. Whether you are going for a classic or an ultra-modern look, there is a wide choice of designs to suit all styles,' says Lee.
'The Knotted Sash design is an absolute classic Warner print dating back to 1900. A simple, yet bold trompe l'oeil pattern which looks delicate in pink for a bedroom and bold in black for a dramatic bathroom. I just love the simplicity of the design, yet it carries so much presence.'
10. Create two-tone drama with black walls and marble surfaces
If you're thinking of splashing out on beautiful marble tiles consider contrasting them with dark walls to make the tiles really shine. We tend to shy away from using dark colors in small spaces but dark bathroom ideas can be really effective in creating a luxurious, cocooning and soothing feel.
'Bathrooms are somewhere you can indulge in strong pattern and color without upsetting the flow of your overall interior design,' says Ruth Mottershead, creative director at Little Greene.
How do you add color to a black and white bathroom?
There are many ways to add color to a black and white bathroom. Decorating the walls and floors of a bathroom in a neutral, tonal variations of black and white will help keep spaces feeling timeless, but adding in color through accessories such as towels, mirror framed and small pieces of furniture such as wall-hung bathroom cabinet ideas will help add interest and bring the space to life.
Bathroom paint ideas, such as painting furniture, are also a quick and easy way to bring color to timeless black and white schemes, plus the color can be refreshed if tastes change.
'Painting fitted furniture in a bathroom is a good opportunity to introduce stronger colours complemented with neutral walls or vice versa. Painted paneling is still very popular and we love combining our beautiful stronger colors – such as Malahide or Invisible Green – with exquisite wallpapers,' says Edward Bulmer, interior designer and founder, Edward Bulmer Natural Paint.
'Painting an old bath is another good way to inject some color and our paints are perfect for traditional cast-iron baths: colors such as our earthy browns Brick or Etruscan Brown are favorites.'
How do you soften a black and white bathroom?
To soften a black and white bathroom consider factoring in a range of different tonal variations into the palette, from light grey through to charcoal rather than simply decorating with the stark tones of pure black and white.
Adding in an array of different textures and patterns will help too, consider decorative wallpapers and window treatments in printed fabrics provided they are suitable for wet areas and the space is well ventilated. Patterned tiles will also help take the harsh edge off a black and white bathroom.
Introducing accents in softer colors, such as green bathroom ideas or blue bathroom ideas, can also help calm the scheme. Pastel pink works well with black and white, as do the ever-popular botanical greens.
Fixtures and fittings such as towel rails in burnished brass and gold make beautiful finishing touches which will help warm the space and add a touch of luxury and sparkle.
Sign up to the Homes & Gardens newsletter
Decor Ideas. Project Inspiration. Expert Advice. Delivered to your inbox.
Pippa is Content Editor on Homes & Gardens online contributing to Period Living and Country Homes & Interiors print issues. A graduate of Art History and formerly Style Editor at Period Living, she is passionate about architecture, creating decorating content, interior styling and writing about craft and historic homes. She enjoys searching out beautiful images and the latest trends to share with the Homes & Gardens audience. A keen gardener, when she's not writing you'll find her growing flowers on her village allotment for styling projects.