Shower tile ideas – 20 ways to create impact and interest
These shower tile ideas will help transform your washroom; we showcase the best materials, patterns and layouts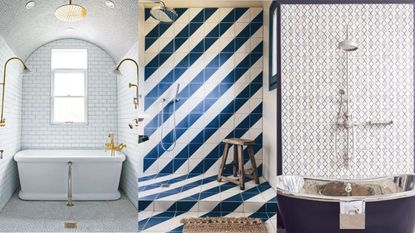 (Image credit: Leanne Ford Interiors / The Albion Bath Co / Bert & May/@thelandscapelodge / Future/Allan Callender)
If you're planning a remodel, you are likely looking for new shower tile ideas. Even in the smallest of rooms, these can be transformative, creating not just the opportunity to add color and pattern, but to introduce space-enhancing visual tricks, too.
Usually we'd say the shower itself is the best place for a brainstorm, but thinking outside the cubicle and taking a look at these inspirational ideas for showers might just be the next best thing.
Both waterproof and washable, bathroom tile ideas are perfect for showers both with and without trays, and for the floors of wet rooms, too.
Aside from their practicalities, the availability of tiling in a wide array of shower-fit materials – from porcelain and glass, to ceramic and stone – as well as shapes, sizes, colors and finishes, means that the design possibilities are endless.
Shower tile ideas
Whether you're looking to conjure contemporary cool with shower wall ideas or channel some classic elegance with marble shower floor ideas, you need good tile to turn walk-in shower ideas into practical but perfectly pretty spaces. These shower tile ideas will help turn your washroom into a waterproof wonder.
1. Create drama and play with proportion
'Whether you are designing for walk-in shower ideas or looking for small bathroom shower tile ideas, using all the visual tricks you can will make a small bathroom look bigger,' says Lucy Searle, Editor in Chief, Homes & Gardens.
'Decorating with stripes is one way to do this; diagonal lines draw the eye upwards and outwards which can trick the eye into seeing a space as wider and taller at the same time.'
2. Rethink what shower tiles can do
If you are looking for shower tile ideas with a difference, why not embrace the latest of bathroom trends: wall mural ideas?
'Many tile brands are now designing murals with tile so that you can create a feature wall with walk-in shower tiles, as seen in this bathroom by Drummonds, or behind the bathroom basin or over the bath,' says Jennifer Ebert, Homes & Gardens' digital editor. 'Forward-thinking brands such as Wall&Deco are also designing waterproof wallpapers that can be used in a similar way in bathrooms and even wet rooms.'
3. Go for all-over color with shower tiles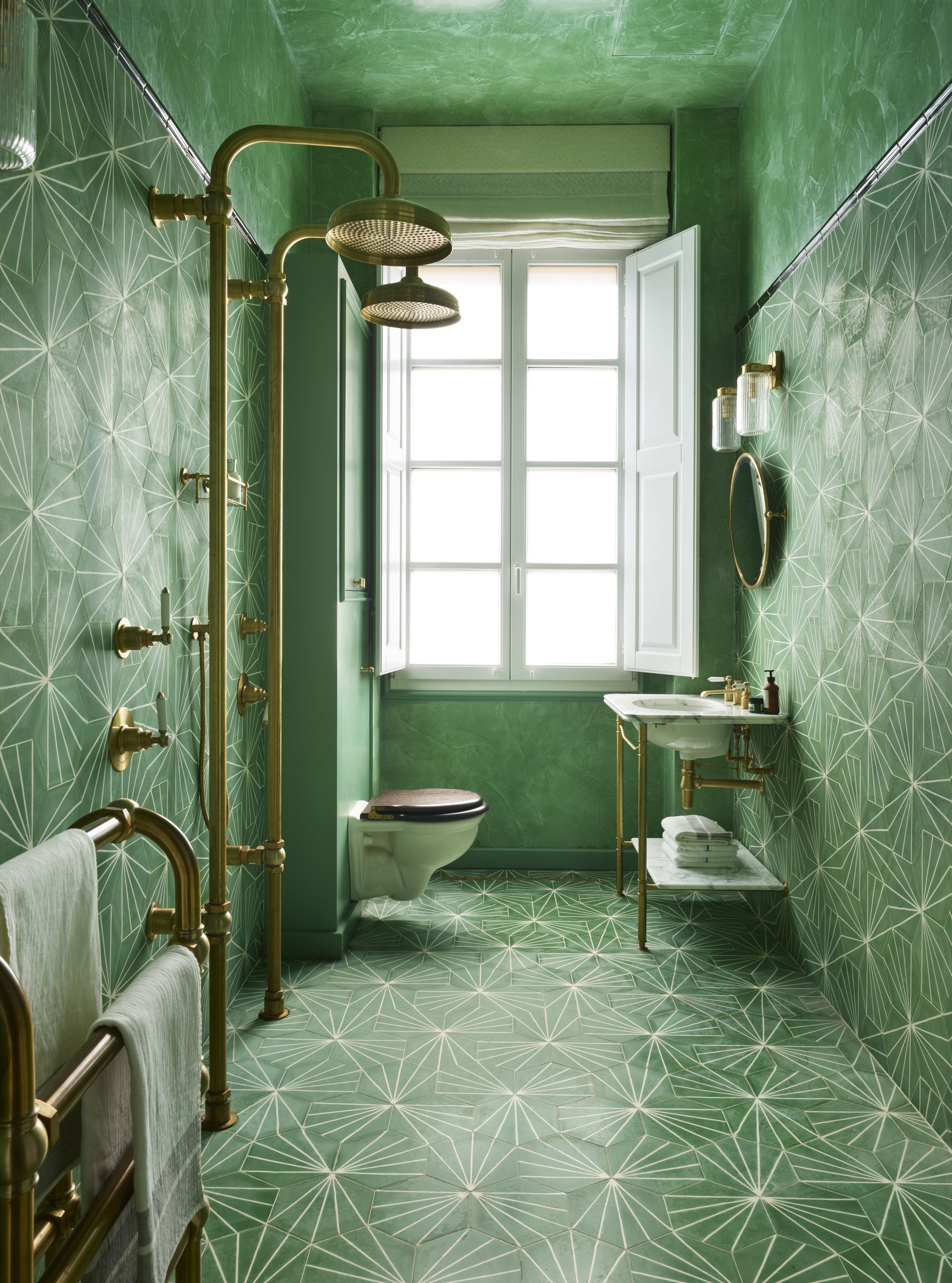 Shower tile ideas can be used to create enormous impact if matched with wall and bathroom ceiling ideas in matching finishes. Your bathroom paint ideas can be easily color-matched to tile color, though you can choose other waterproof or water-resistant surfaces such as Tadelakt, which mimics traditional Moroccan plasterwork and can come in a range of colors. Combined with matte or low-sheen tiles, it can give even the tiniest of shower rooms incredible impact.
4. Play with tile sizes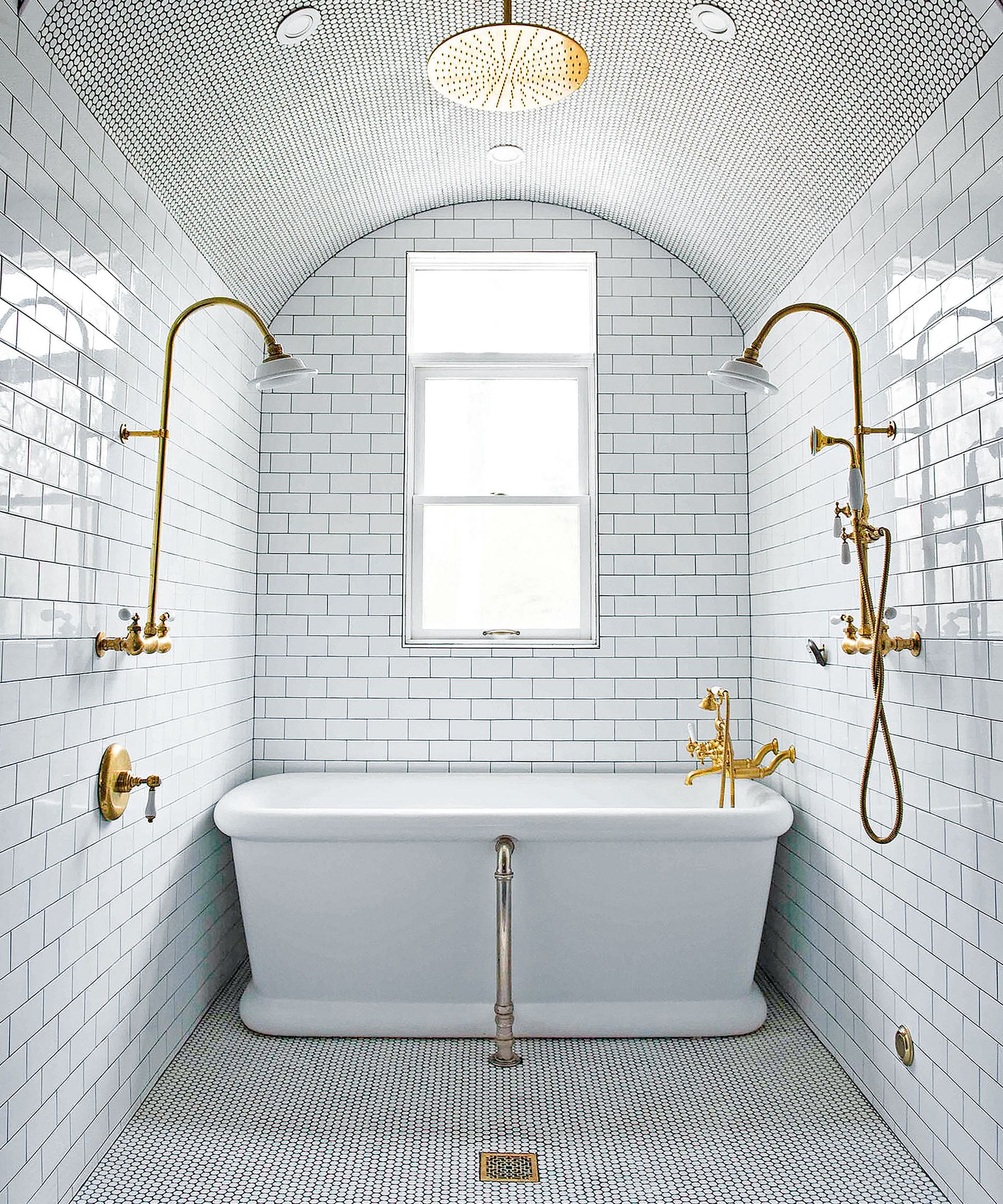 If you are working up a plan for bathroom shower ideas, it's likely you're designing a bathroom that has more than one function: both as a shower or wet room space and a bathing space.
Whether it a family bathroom or a Jack and Jill bathroom, this is going to be a busy space. In this case, and with all multi-purpose rooms, it pays to keep the decor simple. However, simple does not mean plain or bland. You can use shower tile ideas to add visual interest simply by using two different tile sizes in the same color, as in the bathroom above.
5. Make a statement with shower tile on the floor
Just as you might keep the walls of a living room plain but throw down a colorful rug to add visual layering, color and pattern, the same can be achieved with shower tile. This is a useful ploy in a smaller space; with plain wall tile, the room will feel calmer and spacious, while the patterned floor tile will bring character and interest.
'Note the sloped lip where the floor and wall tile join,' says Lucy Searle. 'This is a good way to ensure there are no areas in your shower where water pools, creating an opportunity for mold to grow on grouting. When you are tiling in a shower, it pays to use this technique both on the floor and in any storage niches.'
6. Bookmatch marble for drama
Marble bathroom ideas can be an incredibly dramatic material to use for shower tile ideas, and bookmatching it creates extra impact and a sense of balance that's important in enhancing a small space – add it to your wet room ideas if you're looking to create a sophisticated feel.
'Natural stone, in slab, tile and mosaic forms, is a material we use often,' says Charu Gandhi, founder of interior design studio Elicyon. 'Marble instantly suggests classic elegance and something special, and it can be bookmatched to stunning effect.'
Founder of luxury interior design agency Taylor Howes, Karen Howes adds, 'Luxurious real marble and durable, easy-to-maintain marble-effect porcelain always suggest tranquility and a connection to nature. I suggest using mosaics on the floor and larger-format tiles in the shower.'
7. Use mosaics to make the most of curves
Mosaics allow you to create flexible shower tile ideas, and are especially useful for creating shower bench ideas that are both practical and free of sharp edges.
'There is a real trend for installing shower benches in cubicles and wet rooms now,' says H&G Editor in Chief Lucy Searle. 'Largely inspired by the need for creating spa bathrooms at home post-pandemic, they can be tiled to create an eye-catching feature.'
8. Contrast floor and wall tiles in a shower
To create a really impactful look, create contrast with tile layout patterns and ideas. This Art Deco style bathroom designed by Yousef Mansuri, director of design at CP Hart, includes a wet room style shower – but space isn't actually that big. So as not to detract from the room's size – and its many Deco features – the white and black chequerboard floor tiles were continued into the shower area. To contrast with the floor, the owner, who grew up in Spain, chose azure blue glazed wall tiles to remind him of the ocean; they are finished with a polished black trim for definition.
9. Pick porcelain for practicality
Porcelain tiles can be designed to mimic the look of other materials – it could be something as simple as a marble-look, or you could choose something more adventurous, such as a wood-effect. Either way, it's a versatile way to create more impactful shower room ideas without spending a fortune on natural materials.
'A porcelain tile is a great option as shower tile ideas as they require no sealing. With any bathroom project it is also worth considering the slip resistance of the tiles – a balance of beauty and practicality should be met,' says Isabel Fernandez, Director at natural stone flooring company Quorn Stone.
10. Create a feature wall with shower tiles
If you want to create a luxurious appeal, one way to do so is to make room for a large shower area – and to draw attention to it with a feature wall of brightly patterned tiles.
'When it comes to pattern, I like to keep things simple but bold, as this creates a more contemporary look than a busy mix. Pick a genre of pattern and stick to it, combining perhaps two graphic patterns, for example, rather than mixing in a floral as well,' advises interior and textiles designer Eva Sonaike.
11. White marble is a timeless option
'An interior design classic, marble's cool and opulent aesthetic looks beautiful in a range of interiors, from minimal and laid-back chic to maximalist styles saturated with color,' says Lee Thornley, Founder of Bert & May.
'Until recently, marble was a luxury statement, timeless but out of reach for many interiors enthusiasts. However, smaller format tiles are now bringing this stunning material into more homes, and it has been lovely to see the beautiful natural patinas within the stone creating a unique and natural design in so many, varied settings.'
White shower tile ideas are easiest to work around, making white-gray marble a hugely popular choice that works well either as an accent or in abundance. Even when used generously over large tiles — as in the bathroom picture shown above — its effect is still relatively understated.
12. Get tonal with deep blues
With its calming properties and associations with watery worlds, blue is an excellent choice for shower room tiles.
To shake off the clichés, go dark with your choice of shade, and to stop it being too domineering, embrace a little tonal range.
In the shower room shown above, square tiles in a few different tones give a sense of movement to the wall, like gently undulating waves. Pair it with pure white fittings to keep things light.
13. Keep it neutral (for now)
'The tiles in a bathroom are an important part of the room and often span both wall and floor,' says Isabel Fernandez, Director at Quorn Stone. 'With this in mind we find neutral colors work well for the tiles, as pops of color can be added through accessories, tap finishes and painted vanity units.'
In this room, a spectacular standalone shower cubicle is clad in white and gray marble, while the rest of the room is treated to a large multi-colored bathroom art idea on the wall.
14. Go big with patterns
For an invigorating start to the day, embrace pattern in your shower tiles – and don't be afraid to use them in bulk. In this room, a rustic tile has been used in repetition to create an all-encompassing, Mediterranean feel.
'We are seeing an increase in bold use of color and pattern when it comes to choosing shower tiling schemes', says Thornley.
'Where previously iterations of fairly traditional 'spa-like', pared back schemes were very popular, the shower is being increasingly seen as an opportunity to add an exciting splash of color and personality into a bathroom.'
15. Create a glamorous nook amid rustic charm
The jewel-like quality of tiling means it has the capability to turn a shower nook into a glamorous getaway.
Here, a farmhouse-style design embraces natural textures and wood paneling throughout most of the room, while a partially concealed shower area is picked out in white-gray marble, adding a distinctly luxurious touch.
If the natural stone panels are slightly beyond your budget, it is now possible to get marble-effect tiles made from porcelain that are both convincing and more accessible.
16. Subway tiles are made for monochrome looks
Subway tile ideas aren't going anywhere, and while these on-trend oblong favorites are available in pretty much every color and finish, a classic high-shine white with black grouting will bring some vintage character to a monochrome look.
A black border helps break up their wall-to-wall use in this shower tile idea while the patterned bathroom floor tile idea makes the subway tiles feel less utilitarian and more purposeful.
17. Journey under the sea with green marble
Of course, Calacatta-style white isn't the only marble rippling into shower rooms these days, as the material's sinewy natural pattern makes it a fit for wet rooms in myriad colors. The atmospheric deep sea tones of emerald green are a particularly on-trend choice.
'Our clients are increasingly opting for the richer, darker Verde Guatemala marble we now offer as an option on many of our products and we expect this material to prove ever more popular,' says James Lentaigne, Creative Director at Drummonds.
'Green marble works extremely well with brassware and accessories in warm brass tones or dark antique finishes, helping to create a refined, luxurious look.'
18. Create a standalone statement with tiling
Shower tiling doesn't have to be confined to a cubicle. If you're looking for a practical backsplash to a standalone bathtub and shower head, use tiles to turn an awkward wall space into a work of art.
In the bathroom wall idea shown above, just part of the wall has been filled with patterned tiles to create a deliberate feature, framed like a picture with wall paint. Tiling just a small — but carefully chosen — area is great for using more expensive tiles to make an impact without breaking the budget.
19. Get geometric with your marble
Large panels of marble allow full appreciation of the material's natural motif, but using it in small amounts lends focus to the details. In this shower, the stone's irregular layers are contrasted with the strong geometric lines of a patterned tessellation, which is both instantly impactful and endlessly entrancing.
20. Bring the whole room together with all-out tiling
For rooms with more open-plan shower areas, tiles can be used to either zone an area, or encourage a boundary-less feel.
In this wet room, wall tiles run out of the shower space and across the bath to tie this area together. The floor tiles continue across the whole room, reassuring all users that their soggy feet won't do damage wherever they tread.
What is the best tile for a shower?
If you're wondering how to tile a bathroom wall, or which materials are best to use, porcelain, glass, stone and ceramic all work really well in a shower space.
But regardless of what material you choose, Thornley warns you should understand it fully before getting started, as there are costly mistakes to avoid when buying tiles.
'One of the most important things for shower tiling is to make sure that you know what kind of tile you are using, and to ensure that you install it correctly. Different materials need different treatment, it will not only make a huge difference to the longevity of your bathroom, but also to the finished look if you get it wrong.'
What is the best size tile for a shower?
There is no hard and fast rule for the best tile size for a shower, though you will see advice that says smaller rooms require a smaller tile so that it feels in proportion to the space. While this can work, it doesn't play to the visual tricks you can create with tile to make your space feel larger and more characterful. In fact, using a large-scale tile in a small shower room can make it feel larger than small-scale tile, which will have more grout lines, creating a visually busier (and therefore smaller) space.
What is the easiest tile to keep clean in a shower?
For Fernandez, porcelain is the way to go for a low-maintenance result.
'They are a great option for bathroom spaces as they require no sealing and most bathroom cleaners can be used to keep them looking their best,' she says. 'A porcelain tile can also be used in conjunction with epoxy resin grout which ensures the grout lines remain free from discoloration and any dreaded black mould.'
Sign up to the Homes & Gardens newsletter
Decor Ideas. Project Inspiration. Expert Advice. Delivered to your inbox.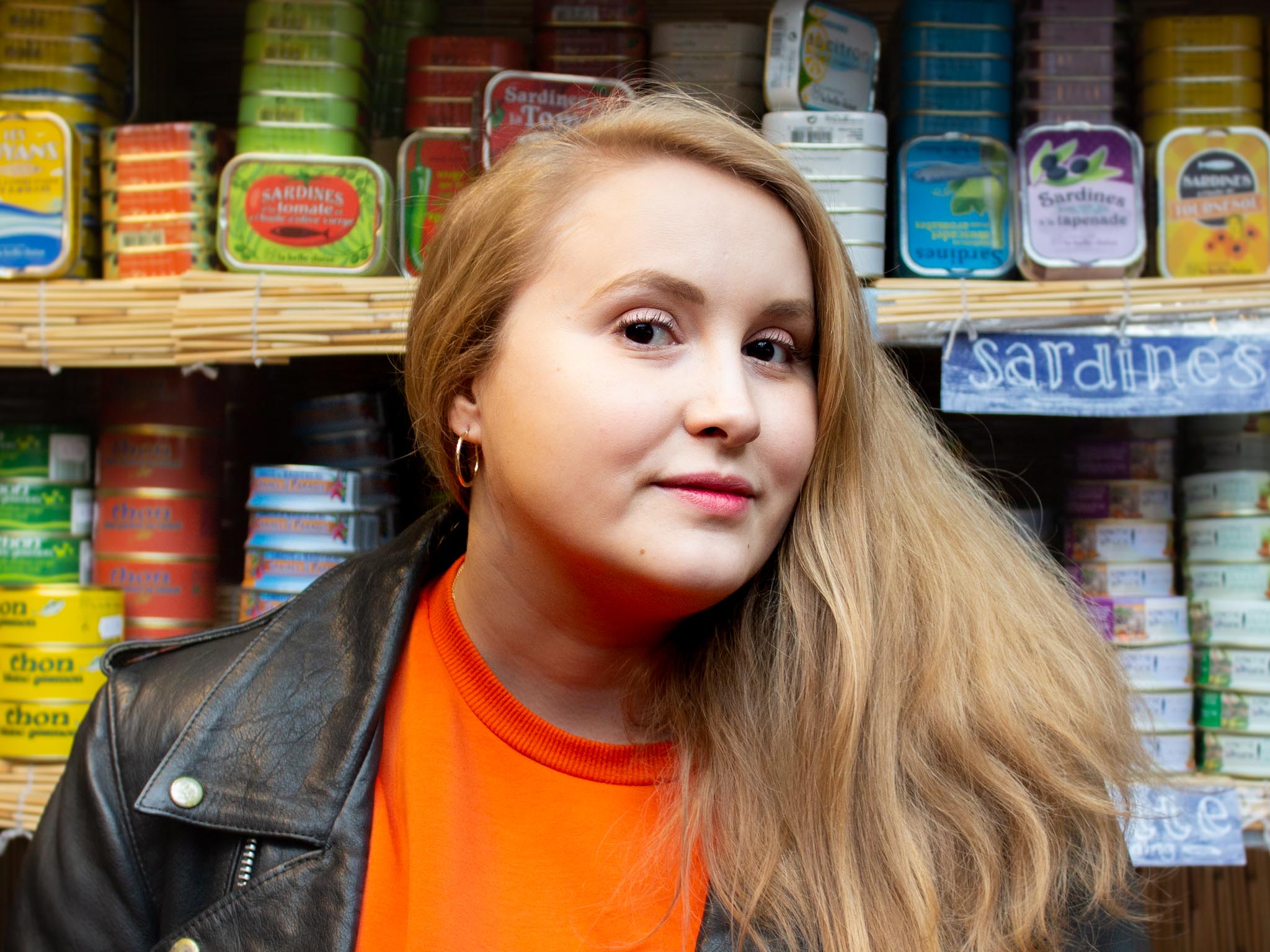 Ailis started out at British GQ, where a month of work experience turned into 18 months of working on all sorts of projects, writing about everything from motorsport to interiors, and helping to put together the GQ Food & Drink Awards. She then spent three years at the London Evening Standard, covering restaurants and bars. After a period of freelancing, writing about food, drink and homes for publications including Conde Nast Traveller, Luxury London and Departures, she started at Homes & Gardens as a Digital Writer, allowing her to fully indulge her love of good interior design. She is now a fully fledged food PR but still writes for Homes & Gardens as a contributing editor.