11 costly mistakes to avoid when buying tiles – according to experts
What to do – and what not to do – when you're tiling any space...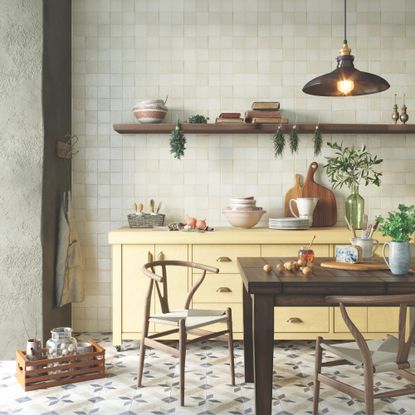 (Image credit: Otto Tiles)
Sign up to the Homes & Gardens newsletter
Decor Ideas. Project Inspiration. Expert Advice. Delivered to your inbox.
Thank you for signing up to Homes & Gardens. You will receive a verification email shortly.
There was a problem. Please refresh the page and try again.
Choosing tiles is an exciting venture, but also a task where you will need meticulous planning to ensure you get it right first time.
Floor and wall coverings can make or break a room and getting it wrong can be a costly mistake to have to correct.
To help you with tile decision-making and pick from the plethora of bathroom tile ideas and kitchen tile ideas out there, we've pulled together the 11 common mistakes to avoid when buying tiles, with top tips from experts.
1. Not ordering enough tiles
You've spent time doing the calculations and ensuring you've ordered the exact number of tiles, only to get to the end of your bathroom or kitchen renovation and realise you're a few tiles short of completing it. Definitely one of the most frustrating feelings in the world, even more so if you've hired a professional in to fit it!
Hamish Smith, Creative Director at Ca' Pietra, says: 'A common and sometimes costly mistake when ordering tiles online is not taking into consideration wastage and breakages, which is why we recommend ordering an extra 10% to cover this. A small cost for ensuring you have the right amount of tiles to complete your project. Please note, when it comes to laying tiles in a herringbone formation, we recommend ordering an extra 15%, to allow for all of those fiddly cuts that need to be made.
'It's also worth noting that different batches of tiles can vary in colour too, so that's why it's even more important to get it right from the get-go, to prevent any mix-match shades in your design.'
2. Throwing spare tiles away
Just as important as ensuring your order enough tiles, is saving spares. Once you've finished a project, keep any spare tiles in case you need them in the future.
Kamila Chalfin at Tile Giant says: 'Even if you have a whole box left, keep them somewhere safe rather than returning them to a store. Tiles are printed in batches and new styles are issued every year, so if you need an extra one in the future, the chances are you might struggle finding an exact match!
'Even if the style is still available, the batch will be different and may not match the shade exactly. Remember, if you drop something heavy and crack a tile in a few years time, you may want to change just one tile rather than redoing the whole floor. If you have a few spares in your cellar or attic this will be very easy.'
Amanda Telford, Marketing Manager at CTD Tiles, agrees: 'Having spares to hand will cover you for any unexpected repairs or replacements needed in the future, avoiding the need to retile your whole room.'
3. Picking the wrong size tiles
Tiles come in a vast range of sizes, from 7.5 x 15cm metro bricks to large format 60 x 120cm tiles. Whilst these mean you have the freedom to create your perfect home, picking the wrong size can mean the difference between the success or failure of a project.
'One of the most common design choices when tiling is opting for small tiles in small spaces,' says Kamila Chalfin. 'If you're looking for small bathroom tile ideas, you may think large format tiles are not for you. But that's not the case! The more grout lines you end up with the smaller your space will feel – the fewer grout lines the more illusion of extra space and seamless finish.'
'Yes, you may only need two tiles to complete your project, but if you are after a modern, sleek look this is the best way of achieving a seamless finish in-keeping with the latest tile trends.'
'If you are opting for bold or colorful patterns, small format is the way forward. Pair with wood panelling or coordinating wall paint to create a spacious and fun space.'
Hamish adds: 'Another thing to consider is grout lines as these will make an impact on the final result. The smaller the tile, the more grout lines and this can make the space look busy. If lots of grout lines are unavoidable, consider using a colored grout in a similar shade to the tile to help them flow in more symmetry.'
4. Not ordering a sample first
Another common issue is not ordering a sample of your chosen product first.
Hamish explains: 'Ordering either a swatch sample (a small cut of the full tile) or a full tile sample (the best for helping you envisage how it will look in your home), will help you to see the true color, texture and finish on a tile.'
'When it comes to tiling, it's important to plan in advance and see the tile in the room and imagine how it will look when tiled,' agrees Amanda Telford. 'Often tiles look very different in a showroom to what they do at home due to lighting. It is also important to view the tile in your room at the angle it will be tiled. For example, if you're looking for bathroom floor tiles, make sure you look at the tile lying flat. If it's your wall, make sure you view the tile standing up against the wall you are tiling.'
5. Choosing price over quality
'As the saying goes, "buy cheap, buy twice",' says Hamish. 'Purchasing a lower cost but inferior product may save you money initially, however it will inevitably need replacing much quicker than those of better quality.'
Damla Turgut, Founder of Otto Tiles & Design, agrees adding: 'When you compare encaustic cement tiles, you'll find a breadth of pricing within the marketplace. If your budget is restricted, it's easy to simply opt for the lowest price point. But with a lower price, you get a lower quality.
'Handmade encaustic cement tiles will naturally have a slight colour gradient. Using natural dyes, they are rich in color and depth. The cheaper versions on the market are often very flat, and very bright in tone using artificial colors. A better option here would be a ceramic tile which are easier to maintain and more cost effective than a low-priced encaustic cement option.'
6. Not planning the layout
Ahead of fitting the tiles, it's important to consider layout and how you would like them to appear. Consider all your different kitchen layouts and bathroom layout ideas first - ideally creating a rough design sketch of your chosen design before fitting anything.
Not only will this help you determine how many tile cuts are needed, in turn helping you order the correct amount, it will also help to confirm that you have the right size tiles for the space.
7. Not picking the right tile for the job
'Where you are adding tiles will influence the type of tile you will want to go for,' says Hamish. 'For example, is the tile going to be used externally or internally? If externally, is the material weatherproof and slip resistant? If internally, is the tile suitable for heavy foot traffic, can it be used with underfloor heating, does it need sealing regularly or is it light enough to be used as a wall covering? You might love a product but it's so important to check that a tile will work in the intended space, the last thing you want are cracked tiles or stone that is slippery when laid in an unsuitable area.'
Amanda Telford agrees, saying: 'It's so important to take into consideration the right tile material for floors in high traffic areas such as kitchens, hallways, conservatories and other living areas with high usage and footfall.
'We would always recommend using porcelain tiles over ceramic tiles in these areas. Porcelain tiles are much more hardwearing and capable of withstanding every day, busy living and will last for years. Ceramic tiles are slightly less hardwearing but perfectly suited to any wall application, or low footfall areas with light or barefoot traffic such as small bathrooms or cloakrooms.'
8. Not hiring a specialist
'Installing tiles is a specialist job,' says Hamish. 'The skill and experience required for this should not be underestimated, and that's why one of the costliest mistakes you can make is to use an inexperienced tiler.'
'When choosing the right tiler for your project, consider someone who is experienced in the particular material you have chosen. Whilst porcelain and ceramic tiles are most commonly used, large format, encaustic, glass and natural stone tiles can come with their own set of challenges during fitting.
'Another top tip is to not book your tiler until you've received your goods to ensure you don't have a tiler sat waiting for nothing to do, whilst still invoicing you for their time.'
9. Not factoring in delivery
Once you've decided the right tiles for the space and the right amount needed, it's worth considering delivery time and how the tiles will be delivered.
Hamish says: 'If ordering a large amount, they will likely arrive on a pallet, often meaning curb side delivery if a large hard surface driveway is not available.
'Once you receive your order, check that you have all your tiles and that they are in good condition. If you opted for natural stone, please remember there may be some variations in color, tone and natural character which make them so beautiful and unique to each project. We recommend that you shuffle tiles from different boxes so that you have a uniform effect across the whole surface.'
10. Not sealing your tiles
Don't allow your efforts in finding the right tiles for your project be in vain. If you have purchased natural stone, or tiles that require sealing, it is important to ensure you seal them correctly and with the right product for the job.
Hamish explains: 'Natural stone, encaustic, crackle glaze and terracotta products will require sealing. Once your tiles are installed, you will need to use an impregnating sealant for protection against fading and staining, such as Stone Essentials Stain Block (or for crackle glaze tiles, a crackle glaze sealant).
'This should be applied after they have been installed and cleaned using Stone Essentials Deep Clean or similar, but prior to grouting, in accordance with the product label. You should apply a second coat after grouting.
'You could also choose to apply a surface finish such as Stone Essentials Stone Shield or Wax polish as this will offer further protection and give an attractive patina, although in non-wet areas only. This would be applied after grouting once fully dry (around seven days depending on humidity).'
11. Picking the wrong grout color
'Not only will grout color affect the final project result, picking the wrong colour could also affect and even damage your tiles,' says Hamish. 'We recommend using lighter colored grouts for most products, in particular natural stone, encaustic and terrazzo tiles, rather than black or bright coloured as these can cause staining in the natural pores of the tiles.
'Ensure you have selected a grout product that is suitable for use with the material of your chosen tile, and desired joint width.'
Damla Turgut adds: 'Don't leave the grout color choice or the grout width to your builder. Choosing a grout colour might seem unnecessary but the wrong color or grout space can ruin the overall effect.
'When choosing a grout color, try to match it to the main colour or background colour of your chosen tiles and always ask your retailer for advice on installation, for example we always recommend that Zellige, Bejmat and Terrazzo tiles are installed with little to no gap in between for the best effect.'
Sign up to the Homes & Gardens newsletter
Decor Ideas. Project Inspiration. Expert Advice. Delivered to your inbox.
Ruth Doherty is an experienced digital writer and editor specializing in interiors, travel and lifestyle. With 20 years of writing for national sites under her belt, she's worked for the likes of Livingetc.com, Standard, Ideal Home, Stylist and Marie Claire as well as Homes & Gardens.