Bathroom tile ideas – 12 stylish looks that are both classic and timeless
Need some bathroom tile ideas for your washroom renovation? Take a look at our favorite styles for both walls and floors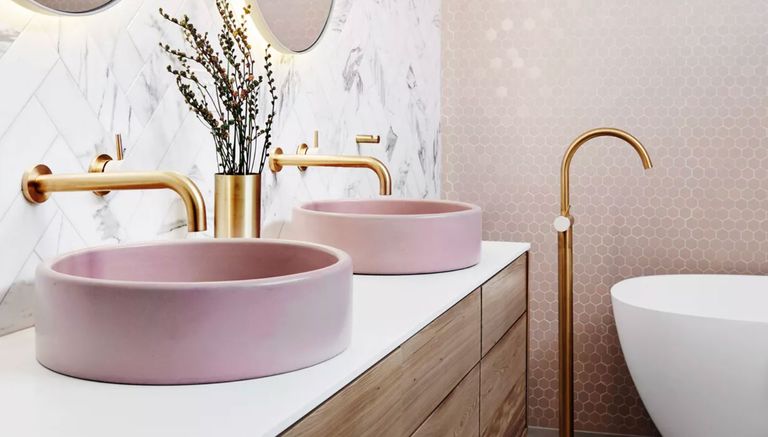 (Image credit: Norsu Home)
There are endless bathroom tile ideas to choose from thanks to the fact that these days, tiles come in every color, shape and size imaginable. 
Tiles come in a seemingly endless array of materials, finishes and price points, which means there bathroom tile designs for everyone, whatever your style and bathroom ideas. 
Much like paint effects, the tiles you choose can alter the look of a room, making it feel bigger than it actually is or adding visual interest to a dull space. 
Unlike paint though, re-tiling a bathroom can be costly and a hassle you won't want to have to repeat often, so it's important to choose a design that you won't tire of too soon and will last you for years to come.
'Hotels have been a major influence on recent bathroom design, leading to the popularity of marble,' says Rob Whitaker, Co-founder and Creative Director of Claybrook. 'Porcelain tiles are ideal for using with this look, as they are now available in just about every colour and pattern.'
'For bathroom floor tile ideas, porcelain tiles are super-practical, washable and waterproof, and made from a material of consistent quality. Now porcelain can replicate marble, stone, timber and terrazzo so cleverly that you can't tell the difference from the real thing,' explains Rob.
Best bathroom tile ideas
When choosing tiles, consider size, finish, even grouting. With modern tile technology creating exciting new designs all the time, you'll be spoilt for choice.
Depending on what bathroom tile ideas you choose, tile prices can vary quite considerably from simple 'field' or plain ceramic tiles at the lower end, to glass mosaics and marble at the other. 
Settling on your budget first will help you to choose your material accordingly but don't fall foul of a basic bathroom remodel mistake and forget to factor in grout and adhesives costs, as well as include a 10 per cent contingency for breakages. Spares will be useful in case of breakages at a later date.
If expensive glass mosaics or hand-crafted tiles are a must-have but your budget is tight, then think about using your chosen tiles as a feature and tile elsewhere with standard format tiles. 
Decorative borders will add a cost-effective hit of pattern or colour, or think about tiling just one area. For example, use your shower tile ideas to make a statement by tiling just the inside of the shower cubicle.
Poor fitting will ruin even the most expensive of tiles, while the cheapest can look fantastic if laid by an expert. 
If you know how to tile a bathroom wall and want to tile the room yourself, then invest in a good tile cutter and use ready-made grout if possible, as it is easier to use than powdered.
1. Introduce an ocean-inspired look
Inspired by the colours of the ocean and with a crackle-glaze iridescent finish, these porcelain scallop-shaped tiles will add fresh impact to any showering space. Green is very much the colour of the moment, and this vivid shade is both invigorating and refreshing - perfect for a shower area.
The bold shade is offset by the rest of the grey bathroom, from the plain subway tiles on the adjacent walls to the matching faded patterned floor tiles that extend through the rest of the space.
2. Play with shapes and colour for variety
Black and white can be rather austere, so here, Otta Design has incorporated a mix of materials to add another dimension to the space. 
The reflective qualities of the marble and the mosaic effect tiles work together to create a luxurious sanctuary, an effect worth noting if you're looking for spa bathroom ideas.
The hexagonal floor tiles provide a subtle pattern without dominating, adding a sophisticated feel that brought the scheme together. 
A frameless screen helps to achieve a luxurious wet room appearance, allowing the tiles to come to the fore, with a neat niche for toiletries contributing to the elegant minimalism of the scheme.
3. Choose a vertical hang
'Many people are opting for subway-style tiles fixed in vertical, rather than horizontal brick-bond, patterns,' explains Rob Whitaker of Claybrook. 
'While tiles might run all the way up to the ceiling in the wet zones, in other areas of the bathroom, half-height wall tiling offset with lovely bathroom paint ideas above ensures plenty of character,' he adds.
4. Mix and match your materials
Beloved by ancient Chinese dynasties, the Moors and the Greeks, the enduring bathroom color idea that combines blue and white takes on a fresh, modern feel in this colorful bathroom using contemporary furniture and pops of fresh yellow.
This scenic statement tile-look wallpaper echoes the traditional Portuguese azulejos still found on the palaces of Sintra, Lisbon and Porto, yet looks like the real thing when teamed with the rich denim blue porcelain floor tiles.
As well as being striking in color, these porcelain floor tiles add extra safety, too. 'You should always use porcelain tiles in a family bathroom, including a slip-resistant design on the floor, as they are hardwearing and will still look good in years to come,' advises Katie Gisby, senior design consultant at Ripples.
5. Try the unexpected
A striking and original bathroom wall idea is to hang a chevron motif that will give the scheme a refreshing, graphic edge. Coloured tiles laid diagonally are all the more eye-catching against bold, dark flooring and co-ordinating fittings.
6. Add instant luxury with marble tiles
Classic and timeless, Arabescato marble with its striking veining, embodies Italian elegance at its very best and is nearly always high on any list of bathroom tile trends. 
Additional shades of grey on the blind and the wall ceramics bring cohesion to the simple, stylish look in the bathroom picture above.
7. Channel an artistic vibe
Bathrooms are where tiles really come into their own. The vast array of materials, colours, textures and designs can be used to create both simple designs and artistic creations, from a floor-to-ceiling scheme, to a feature splashback or decorative design strip. 
Created by interior designs Caz Myers, petrol blues and retro pattern bring this whole bathroom together to create a bold but orderly ensuite bathroom: 'We were looking for something striking and different – these tiles score on both,' says Caz.
8. Stick with classic monochrome style
Marble floor tiles evoke the refined sophistication of grand Parisian apartments. In this scheme, a marbled floor was chosen for practicality, as well as style. 
White bathrooms provide the perfect plain backdrop for eye-catching fixtures and fittings. Here, the smart black bathtub with aged brass faucets anchors the look, reinforcing the classic aesthetic.
9. Choose a small and subtle pattern
The devil is often in the detail when it comes to creating a striking bathroom. Keeping it compact, penny tiles are small but impactful. 
An excellent choice for bathrooms of all sizes, penny tiles are perfect if you're looking for small bathroom tile ideas, but also look great in roomy spaces.
These timeless bathroom tile ideas will always add an interesting aesthetic, are extremely versatile and – like any good tile – are also easy to maintain in even the wettest of areas. 
10. Play with scale
Vinyl has come a long way since its early days and is now seen as a sophisticated yet practical bathroom flooring idea. As well as being incredibly hardwearing, vinyl is also easy to clean and comes in a variety of styles.
In this inviting bathroom, the block colour of the wall panelling and floor allows a wonderfully whimsical wallpaper with a strong motif to shine.
11. Opt for a subtle patchwork pattern
Patchwork tiles may automatically make you think of bold colour and pattern, yet depending on the choice of design, you can opt for a far more subtle approach. 
These delicate tiles come in colorful designs and completely colour free for a varied degree of subtle pattern. The slightly textured design on the flooring also adds a slip-resistant effect, perfect for wet room or shower room ideas.
12. Pick the right tiles for underfloor heating
Underfloor heating is an excellent choice when considering wet room ideas, as it speeds up the drying process after bathing. You do need to make sure you choose the right tiles for the flooring though. 
'Porcelain tiles are ideal for use with both wet (water) and dry (electric) underfloor heating systems and are good conductors of warmth,' advises Rob Whitaker. 
'The type of underfloor heating recommended can vary depending on the size and shape of the room and its subfloor, but it is important to use a flexible adhesive and grout during installation to allow for thermal movement.'
'The adhesive must be fully dry, which generally takes about seven to 10 days, before underfloor heating can be used.'
13. Match contrasting bathroom tiles
The tiles in this bathroom by Norsu Home aren't obvious partners, but they create the perfect contrast within a small space to create a characterful finish. Matched with CP Hart's Vola taps the result is glamorous.
What is the most popular tile for bathrooms?
In recent years, the subway or metro tile has seen a huge resurgence in popularity, most likely because it its versatility. 
From the classic look of plain white horizontal subway tiles to the ever-expanding array of colors available, there are so many bathroom tile ideas that can be re-created with subway tiles. You can also hang them vertically, on the horizontal or in a parquet-style pattern for visual variety - the decor options are almost limitless.
What tiles should I use in a small bathroom?
Just because you're limited on space doesn't mean that bathroom tile ideas for smaller spaces are in limited supply, too. Smaller bathrooms, from ensuites and wetrooms, to simple compact family bathrooms, don't automatically have to be a plain white room to get the feeling of space.
'Natural stone remains a firm favourite of mine for use in bathrooms, not least because there is such a huge range of colours, textures and sizes available,' says Ella Small, Director at Mandarin Stone. 'You can choose to tile the entire bathroom with the same product on both walls and floor to give a greater feeling of space and connectivity.'
Adding color and pattern won't necessarily make a small space feel smaller either - chosen carefully, they can often give the space a cocooning, rather cramped feel.