Gray bathroom tile ideas – 10 ways to work gray ceramics, porcelains and stones on walls and floors
These gray bathroom tile ideas will show you how to make an impact with this most versatile neutral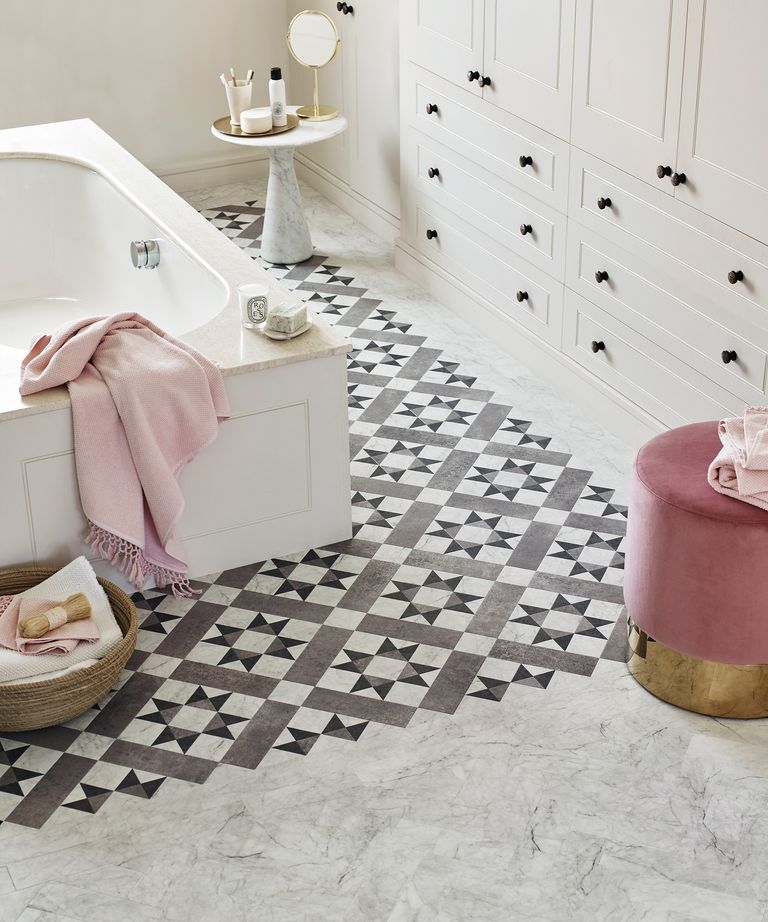 (Image credit: Amtico)
One of our favorite ways to decorate a space, our gray bathroom tile ideas combine practicality with a subtle chicness.
Tiles are the go-to option for bathroom walls and floors – and for good reason, too. Being hardwearing, water-resistant and with a huge variety of designs to choose from, you can find bathroom tile ideas to reflect your own style no matter how much space you have to work with.
Gray, meanwhile, is an extremely versatile neutral shade that works in classic and contemporary homes alike, so it's no wonder that gray bathroom tiles are a popular choice today. Pair with pops of color, or make it monochrome – the final look is really up to you. Quite frankly, there are so many bathroom ideas to choose from.
Gray bathroom tile ideas
Take a look at these stylish gray bathroom tile ideas for serious design inspiration.
1. Add interest with mosaics
'Gray need not be used as a solid color when tiling.' explains Rob Whitaker, Creative Director at Claybrook.
'Mosaics are a great way to bring movement and visual interest into a space when utilizing more neutral shades. Marble mosaics are a case in point – the natural material means even within one shade there are variations in tone.'
Likewise, the 2021 tile trend of grayscale terrazzo tiles creates a captivating canvas when used on the walls or for bathroom floor tiles.
2. Scale up
Large format tiles are ideal for bathrooms and wet rooms – if you're looking for shower tile ideas.
Often seen in luxury spas, oversized stone gray tiles add a sense of grandeur, but are also practical. With less tiles to work with, they are quicker to lay and minimal grout lines mean they are easier to clean too.
3. Mix your materials
When it comes to decorating the walls of your bathroom, you may want to consider using a combination of materials.
Tiles are sensible for wet zones – think around the bath, above the basin and in a shower enclosure. We have a handy guide on how to tile a bathroom wall if you need some help.
You could add some feature wallpaper elsewhere in the space. Water-resistant wallpapers are available, or ask your decorator to apply Decorator's Varnish for added protection in case of splashes.
4. Play with texture
If you plan to keep the color scheme neutral with gray bathroom tiles, you can add interest by bringing different shapes and textures into the design.
Look out for tiles with repeating patterns or unusual shapes that will work with the style of your space.
Play around with the options too. You can often create a variety of different looks simply by repositioning the layout of the tiles.
5. Use tiles to zone
Enhance your bathroom layout by using tiles to help zone the space.
Place a border of patterned tiles within a shower or around a bath to highlight these areas, keeping the rest of the bathroom neutral with a plain yet complementary tile.
And if you are looking to cover a large amount of floorspace, consider alternative materials such as Luxury Vinyl Tiles (LVT). They're worth considering if you're looking for bathroom flooring ideas, since they mimic the look of real stone, but are often easier to maintain and won't feel as cold underfoot on those early mornings.
6. Consider your finish
Most bathroom tiles will come in two finishes – matte or gloss. Which you go for is really down to personal preference.
Matte tiles don't show up marks and smudges as obviously, and tend to be less slippery. Gloss tiles, on the other hand, have a more reflective surface that enhances light.
These work particularly well when applied to the walls by making the room feel brighter, great if you're looking for small bathroom ideas.
7. Take an all-over approach
Using the same gray bathroom tiles throughout your space can create a sleek, seamless look.
Some tiles are more suitable for floors than others, so check if the design you like can be applied to both floors and walls to avoid any costly mistakes when buying tiles.
Keep an eye out for appropriate slip ratings, and if you wish to have underfloor heating make sure your tiles can sit on top of your system – most porcelain and ceramic tiles should be able to.
8. Create a two-tone effect
'When it comes to gray bathrooms, why not mix two coordinating shades to add visual interest to your walls and floors,' suggests Katy Black, Marketing Director at Verona.
'For example, you could select lighter shades for walls and darker tones for floors.' When deciding on a combination, try warm tones together for a relaxing feel, or cooler shades for a fresher look.
9. Use pops of color
Gray tiles can be a subtle backdrop that allow colorful items in your bathroom to shine.
Introduce pops of color to your design through towels and accessories, or go one step further and commit to bold brassware and statement sanitaryware.

If you love the bathroom above, you could even consider incorporating some of these pink room ideas into your scheme.
10. Find the right shade
While lighter gray tiles can create a softer, more feminine look, deep graphites and charcoals can instantly add a more contemporary edge to your bathroom scheme.
Where possible, request to see samples in person so you can visualise different combinations and scales of size to find what works for you.
What colors go with gray bathroom tiles?
'Gray tiles are a blank canvas, so your accessory options are endless,' says Katy Black, Marketing Director at Verona.
'If your gray tiles have a softer, warmer undertone, try using earthy, organic bathroom colors such as dark greens or deep auburns with natural timber. For cooler shades, choose crisp white towels and mats with a strong matte black accent, or add a flash of color with teal or navy.'
Should floor tiles be darker than wall tiles?
It is a popular approach, but not necessarily the only option – in fact doing the opposite can create a strong effect.
'Darker wall tiles add impact and mood to a space, and pairing them with a pale floor simply adds to the drama,' advises Rob Whitaker, Creative Director at Claybrook.
Another idea is to use the same shade across both the walls and floors, as this can make the bathroom look sleek, seamless and bigger – a great tile idea for a small bathroom. Many tile ranges are now available in the same design but different formats to achieve this look.
Should grout be darker or lighter than a tile – and what grouts go with gray tiles?
Using a grout that is a similar shade to your tiles can help to create a premium finish, and matching your grout to your tiles will also help disguise any discoloration that inevitably occurs over time.
While white grout is often seen as the conventional choice, if you are aiming for a modern look then you could opt for a dark grout against light gray tiles. Just be sure the tiles have been appropriately sealed or glazed, otherwise excess grout may stick or sink into the tile.
Yvette's first steps into interior journalism came several years ago when she joined the team at specialist consumer magazine Kitchens Bedrooms & Bathrooms, which is where her love for home design (and obsession for decorating) began to truly flourish. She worked on the title in a variety of positions, before being appointed as Features Editor on Essential Kitchen Bathroom Bedroom magazine, further cementing her voice as an expert in the three core rooms of our homes.
During her years working in London, it became a running joke that Yvette wanted a fully stocked cocktail trolley in her apartment but would need to leave the city if she wanted to afford – and comfortably fit – one in her own home. Funnily enough, in 2019 she did exactly that, and can now be found sitting happily in her spacious Bristol adobe, cosmopolitan in hand.
With a keen eye for new trends and innovations, Yvette continues to write about homes and interiors as a freelance journalist, sharing tried and tested advice for renovation projects and top tips for transforming your home into something beautiful.