Tile trends 2023 – we asked designers what's big, what's new, what's now?
Explore the top tile trends for 2023, with new takes on traditional classics, tactile textures and statement shapes and materials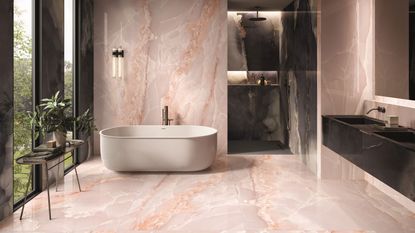 (Image credit: Porcelain Superstore)
Tile trends for 2023 show how this enduring design feature can continuously be reinvented to transform the look and feel of your home, from the bathroom to the kitchen and beyond.
Tiles are some of the most decorative and versatile surface finishes, and have been a staple within interiors for centuries, with an evolution of shapes, sizes, materials, colors and patterns (this list could go on and on). Beautiful as well as hardwearing and extremely durable, tiles are a great way to breathe stylish new life into the home, whether that is through kitchen tile ideas or bathroom tile ideas.
For 2023 tile trends, we have spoken with the experts as well as collected some of our favorite fresh looks. Whether you love a quintessentially Victorian floor tile, or the finish of an artisan glazed design, these exciting, upcoming trends cover an array of styles and finishes.
Tile trends for 2023
When picking tiles for your home, key aspects to consider include the tile material and finish, size, color, pattern, layout and, ultimately, the overall look and impact you want to achieve with the design.
From walls to floors, countertops and all manner of surfaces, tiles can be used to add beautiful texture, impactful color and artistic pattern to the home, as well as establish layers of strong protection.
With so many changing trends and styles to choose from, these transformative tile trends for 2023 can help you narrow down your selections and be in the know with very latest in tile design.
1. Textured tiles
You could say that with whatever tile you choose, the design will add texture and dimension to a room, however, recent tile trends show that more of us are opting for tiles with more irregular, shifting surfaces, rather than those that are smooth and sleek.
From more rustic, subtle textured styles, like the playful sherbet blue and white tiles shown above from Tileworks at Original Style, to spectacular 3D designs with raised detailing, grooves and shapes, these designs can establish an eye-catching sense of depth and movement in a room.
2. Checkerboard
We all know that checkerboard has taken the world of fashion and interiors by storm over the last few years, and whether you like it or not, this classic pattern is staying around for 2023.
Whether you opt for a more traditional black and white palette, or create a union of vibrant, modern colors, a checkerboard tile pattern can add an beautiful, graphic touch to a space.
'Checkerboard, once subsumed within traditional design, has now emerged as its very own trend, and evolved into one of the hottest surface and tile trends within bathrooms. We should also mention that stripes are just as popular, and for the ultimate combination, the two can be contrasted together,' says Barrie Cutchie, design director at BC Designs.
Even though checkerboard is one of the most popular styles of tile, there is so much variety in terms of color, size and material, so you really can establish an utterly unique checkerboard tile design in your home.
3. Artistic statements
Chris Gulson-Brooke, founder of Maitland & Poate says, 'bold colors and patterns are set to continue to be popular and in demand for 2023. Homeowners are wanting to add their own personality and style to their homes, stepping away from the greys and subtle color combinations to add a more vibrant, inspired color palette.
The addition of a pattern, be it with a whole floor, complete wall, or simply an eye-catching tiled splashback, can fill a room with individual and unique flair – ideal when coordinated with other textures and furnishings for an overall inviting look.'
For centuries, tiles have been used to bring color, pattern and texture into the home, and we are only getting more adventurous in our chosen designs as time goes by. Tiles provide the perfect platform to create an impactful design statement in the home, just like a beautiful work of art.
4. Luxurious natural stone
From stunning onyx tiles, to granite, limestone and using marble in home design, these natural materials can establish a luxurious and dramatic look for tile ideas in the home, with these materials often a popular choice for bathroom ideas and for countertops.
We have seen a rising trend in spa bathrooms in 2022, and this style is set to continue into 2023, with a focus on luxurious materials, elegant design details and creating a space that feels like your very own wellness retreat. These materials are also great for creating a calming, indoor-outdoor feel and connection with the outside world, which is a key interior design trend for 2023.
Materials such as marble and onyx are ideal for spa-like, luxury bathrooms, creating a truly opulent feel. Of course, if you want the real thing, these tiles are not the cheapest, but there are a range stone-effect tiles out there to choose from, as shown by the stunning Jewel Onyx Pink Tile by Porcelain Superstore above, which is actually crafted from porcelain.
5. Timeless terracotta
An ancient, earthenware tile that has been used for thousands of years, terracotta will always be one of the most popular and enduring tile trends.
Hamish Smith, creative director at Ca'Pietra says, 'when it comes to choosing tiles, terracotta designs are certainly having their moment. From baked clay tones that warm up any room, to earthy texture with just the right balance between rugged and refined, it's no wonder that terracotta is a forever trend.'
Smith goes on to say, 'the beauty of our Marlborough Terracotta (aside from its Siena-style coloring) is that it builds up a patina over time. In other words, the more you use it and the older it gets, the better and more characterful it will look. To add an inviting warmth to your space, lay these tiles from the kitchen through to hallway, cloakroom and dining room.'
6. Magical Moroccan
Known for its vibrant colors, intricate designs and mixture of textures, Moroccan style has become one of the most significant trends of the year, as shown by the worldwide success of North African handicraft products, such as Berber rugs, raffia baskets, metal lanterns and decorative Moroccan tiles.
The trend will keep going strong and is also a timeless style that won't date. Add some extra color and create a unique appearance, full of patterns and life, by using ceramic hydraulic tiles, which are long-lasting and extremely easy to install and keep clean. They are also suitable for most floors and tiling bathroom walls.
Using Moroccan tiles is a fool proof way to add a colorful and characterful touch to a room, either as a wall or floor covering. You can also create a focal point, choosing one element of the room, like the kitchen island, and cover it using patchwork prints.
Ca'Pietra's Hamish Smith explains, 'a decorative tile adds instant impact underfoot and it's a fantastic way of refreshing or updating kitchens, bathrooms and hallways. Opt for an encaustic tile that will age beautifully and create a lived-in look over time, porcelain tiles for ease of maintenance, or mosaic tiles underfoot to really bring the room to life.'
7. Colors that are at one with nature
We are constantly inspired by the natural world in interior design, from material to texture and color, and 2023 will see a collection of palettes that are at one with nature, helping to create a grounding, calming and relaxed atmosphere in the home.
'As life takes on a slower pace and the world around us pauses to breathe and reflect, more and more of us are gaining pleasure from recharging and relaxing at home. With this in mind, when it comes to tiles think lush greens, deep moss tones and the rich, rustic reds of autumnal leaves,' says Ca'Pietra's Hamish Smith.
'Green in all its many forms is ideal for interior projects, as it's a calming, soothing palette that suits all spaces. It is inherently tranquil and connected to nature, and this is why choosing tiles from this color palette will have longevity.
If you're exploring green kitchen ideas or green bathroom ideas, instead of using paint, why not incorporate the color through beautiful tiles instead – or use both!
8. Art Deco exuberance
Decorative Art Deco fan shapes take the lead for 2023 glamour. Above, Fired Earth's High Society Glass Gatsby tiles are wonderful for small bathrooms that need help to feel bigger and brighter.
Art Deco tiles can make for a striking visual impact and decorative design feature. Think strong colors such as black, white and gold and unique geometric shapes, such as scallops and hexagons.
9. The bigger the better
'Large format tiles offer a striking appearance that's guaranteed to turn heads when people enter a room,' says Topps Tiles' Harriet Goodacre. 'Their considerable size provides a spacious feel thanks to minimal grout lines. They also bring a decadence that is associated with the most premium of hotels.'
There's plenty of variety in large format porcelain tiles as they are available in multiple effects, such as iconic types of marble, mixing this trend with the natural effect one.
Harriet adds, 'colored marble can provide greater variety, such as emerald greens or an indulgent black. Our Stadia Storm tile offers a regal style with its rich charcoal hue and high gloss finish.'
A top tile trend for 2023, large format tiles are ideal if you want to make a small bathroom or small kitchen feel bigger.
10. Tiles that blend indoors and out
Creating a seamless feel from indoors to outdoors has become a trend in itself, making it easier to move between the spaces and enhancing our connection with nature and the great outdoors.
As time goes on, so does the development of tile technology, and many of us are choosing to use the same tile material for both inside and outside for a smooth, united finish – as Hamish Smith from Ca'Pietra confirms below.
'Use large format tiles to create a seamless blend between indoors and out. We are seeing that many homeowners are really looking to create one large living space, which is why choosing a large format tile really helps a home feel "as one".
Are tile floors on trend for 2023?
Tile floors are on trend for 2023 in kitchens and bathrooms, though you are more likely than ever to see layering over it with rugs to soften them and to add an extra layer of interest.
Is subway tile out of fashion for 2023?
Subway tile remains in fashion and will continue to do so because it is such a timeless design. It is being superseded in popularity by other geometric shapes, such as hexagons, but it remains perennially popular.
Sign up to the Homes & Gardens newsletter
Decor Ideas. Project Inspiration. Expert Advice. Delivered to your inbox.
Ruth Doherty is an experienced digital writer and editor specializing in interiors, travel and lifestyle. With 20 years of writing for national sites under her belt, she's worked for the likes of Livingetc.com, Standard, Ideal Home, Stylist and Marie Claire as well as Homes & Gardens.