Terracotta decor – 10 ideas for using this warm, earthy shade
Add warmth and charm to your interior with terracotta decor ideas that will bring personality to any room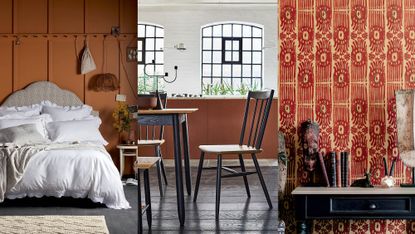 (Image credit: Future)
Sign up to the Homes & Gardens newsletter
Decor Ideas. Project Inspiration. Expert Advice. Delivered to your inbox.
Thank you for signing up to Homes & Gardens. You will receive a verification email shortly.
There was a problem. Please refresh the page and try again.
Terracotta decor ideas conjure the sun-baked walls of ancient civilisations, and take inspiration from earthy tones.
Evocative of North Africa to Italy and South-East Asia, this clay-inspired color is named from 'terra cocta', which in Latin means 'baked earth'. Not quite decorating with red, and not quite decorating with orange, terracotta brings its own unique atmosphere to a room.
Terracotta clay is a centuries-old material that has been widely used for sculptures and pots, as well as architectural decoration.
When used in decorating, terracotta is a giving shade, either playing its part as an accent color, or as the main backdrop in a decorating scheme.
Its generosity of character means that terracotta has the ability to wrap its arms around your home with its all-year-round mood of warmth.
This baked earth tone is sometimes interpreted with hints of burnt orange, chalky plaster pink or rusty reds, but moreover, it represents the richness of the soil from where it originates.
Terracotta decor – ideas to inspire
Though it's not an obvious color for a living space, there are so many beautiful terracotta decor ideas that you can use in your home.
Its depth of color means that terracotta is perfect for north-facing rooms, adding a glow to the darkest of corners and making spaces feel cosy.
'People can be a bit wary of using red as it's naturally quite a vibrant color, but I think it all comes down to the tones you choose. Richer shades such as terracotta and blood orange can bring a real sense of warmth to a space,' says Sue Jones, co-founder of Oka.
'I would suggest using them as accent colors and mixing them with a calming, neutral palette.'
1. Add warmth to the bedroom with terracotta walls and headboard
Creating a cocooning feel with terracotta walls and fabrics is simply one of the best bedroom ideas.
George Miller, home designer at Neptune, says the brand's Burnt Sienna shade is 'a versatile hue evocative of sun-warmed rooftops and terracotta planters with spicy earth tones that complement not only cosy spaces, but also light and airy rooms.'
Pair it with bright white to make the room feel crisp and clean. A statement Clemmie headboard in Lara linen in Burnt Sienna is the perfect complement.
2. Highlight window frames with a bold terracotta shade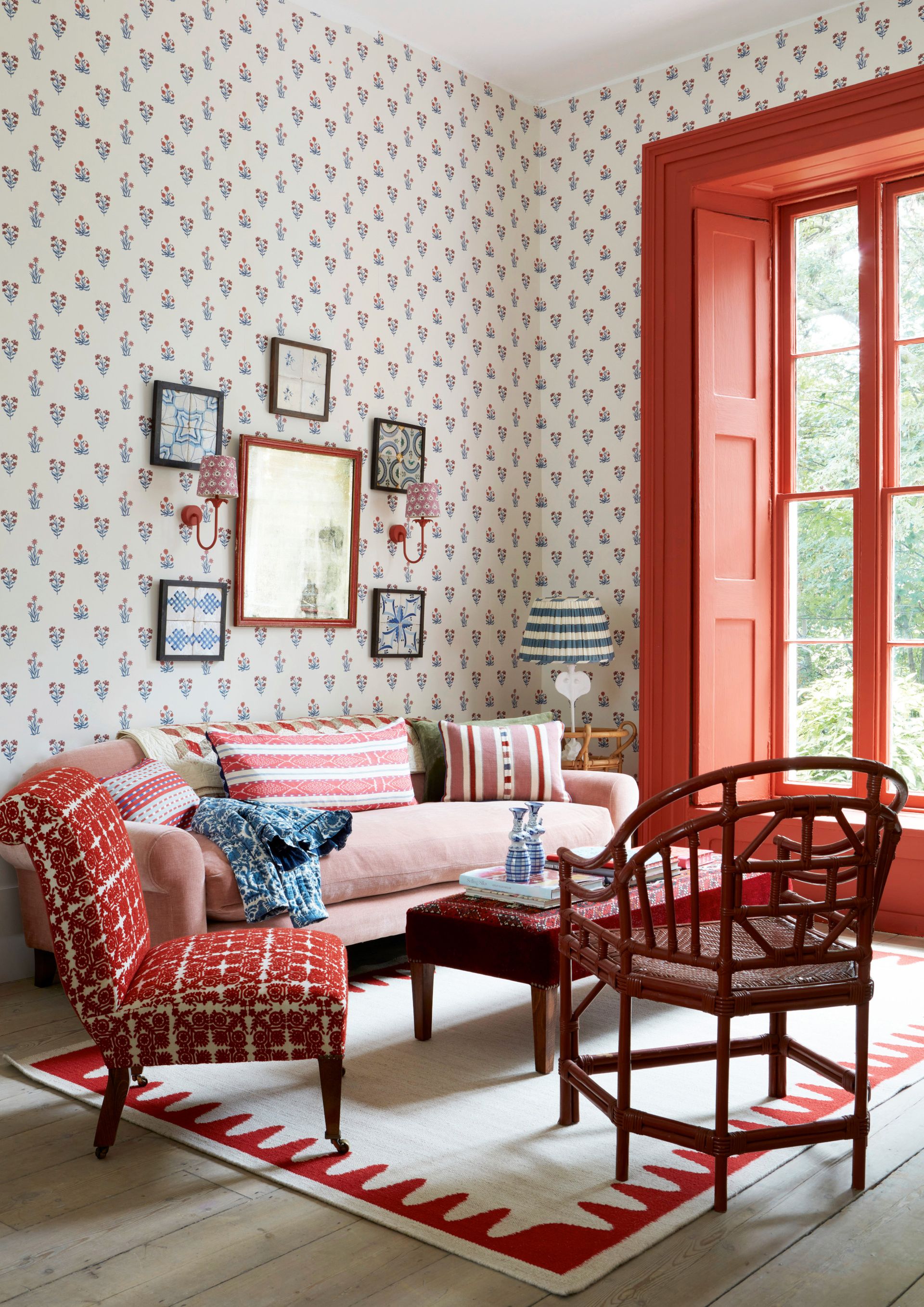 For living room ideas that really pack a punch, consider painting your window frames and shutters a bright terracotta hue.
Woodwork painted in Beetlenut at Paint & Paper Library adds a bold highlight to this living room, but also helps to accentuate the view and changes the feel of the light entering the room.
Your terracotta decor ideas don't always have to be bold – in this large living room, it works beautifully with teamed with a small-scale floral wallpaper featuring terracotta detailing.
Jaipur Flower in Ruby by Daydress at Dado Atelier, is a hand-block-printed floral sprig design that takes inspiration from the Mughal flower paintings that line temples and palaces across India.
It's teamed with a blush sofa for softness, and a terracotta accent chair.
3. Use soft terracotta shades for a calming feel in a dining area
When it comes to choosing which dining room ideas work best, consider how you want the space to feel.
Bare plastered walls are wonderful terracotta decor ideas and a softer take on the look. They add warmth and rustic charm to a scheme, making dinner time a relaxing experience.
'In historic interiors, clay mixed into limewash created the first wall paint color. It was easily found locally, and this availability made it cheap so it was deployed in lesser-status rooms or in servants' quarters,' says interior designer Amanda Ransom, who specialises in historical interiors.
Mid-century-inspired furniture by Ercol adds an on-trend feel in this space. A mix of light and dark wood finishes create a beautiful contrast, while soft terracotta curtains add a romantic touch.
4. Decorate with statement wallpaper in a dark terracotta hue
Add personality to a terracotta scheme with pattern using bold geometrics, hand-blocked floral prints or ikat designs.
Conjure the creative history of South-East Asia, South America and West Africa with a Tribal ikat vertical striped pattern wallpaper – this design is Mind the Gap's take on a traditional pattern found in ancient civilizations throughout the world.
When used wall-to-wall in small rooms such as studies or cloakrooms, it creates an immersive experience.
5. Conjure country house style with terracotta walls and floral prints
Terracotta works surprisingly well with country decorating ideas. Patterned soft furnishings are central to this cosy country living room that so beautifully embraces terracotta decor ideas.
Combine the warmth of terracotta walls with the elegance of an upholstered vintage chair in a chinoiserie-style fabric, such as this Tree Poppy design at Colefax & Fowler.
Don't forget to make the most of deep windowsills with tailored window seat cushions.
6. Use terracotta tiles in the bathroom for a Moroccan edge
Don't just be confined to using terracotta as a color – consider the impact using real terracotta tiles can add to your bathroom ideas.
Experience the sensation of warm terracotta tiles underfoot. Tile floor to ceiling in a Moroccan-inspired herringbone pattern with Marrakesh terracotta brick tiles from The Baked Tile Co, in a mix of darker and lighter shades.
Style your bathroom with trailing plants and a Moorish-shaped mirror to finish the look.
7. Add spicy terracotta accent pieces for a sophisticated look
Choose a neutral backdrop with some of the best wall paneling ideas for an all-year-round decorating scheme. Then accent with rich earth tones for a pleasing colour balance.
Tactile finishes like velvet, wood and lacquered ceramic enhance the enticing feel of your terracotta decor ideas.
A bold accent chair and table lamp in a spicy terracotta hue, both from Oka, tone in beautifully with warm wooden furniture and add interest to an otherwise pared-back scheme.
8. Create a cosy sanctuary with dark terracotta walls
Evoke the relaxing warmth of evening sun on bedroom walls with an orangey terracotta shade – such as this Middle Buff paint by Little Greene.
It pairs beautifully with dark stained floorboards and natural woven accessories.
For the perfect night's sleep, combine it with a bed plump-full of embroidered white bedlinen. This Elise double duvet cover with pillowcases is from Secret Linen Store.
9. Add warmth to a monochrome kitchen with terracotta cabinetry
Terracotta isn't an obvious choice for painted kitchen ideas. However, it adds an earthy warmth to this striking monochrome scheme.
Mirror the profile of original steel windows with a dark wood dining table and chair set, and paint exposed brickwork white to keep the space feeling light and airy.
This mid-century inspired Monza extending dining table and chair set is from Ercol.
10. Go bold and beautiful with statement terracotta fabrics
Add a little 1970s chic to soft furnishings with a crewelwork geometric patterned fabric.
Inspired by artisanal embroidery, offering a modern take on chunky stitching, this Perception fabric by Harlequin is here styled with a bold contemporary vessel for a dramatic effect.
What colors go well with terracotta?
Get the best out of your terracotta decor ideas by teaming with complementary and contrasting colors.
For a light, summery feel, contrast terracotta with a palette of white and off-white linen hues.
For richer, jewel-box interiors contrast a terracotta scheme with French Majorelle blues through to indigo and navy.
Or for a more casual look, team with upholstery and soft furnishings in paler denim blues.
George Miller, home designer at Neptune, suggests taking a tonal approach by 'choosing other earthy hues that tone down a scheme, resulting in a room that's calm and soothing.'
While Stefan Ormenisan, founder and creative director of Mind the Gap, says: 'Terracotta's rich earthy tones pair beautifully with deep rust or orange for an eclectic North African-inspired interior scheme, or alongside blush pinks and pale stone hues for a fresh contemporary pairing.'
Sign up to the Homes & Gardens newsletter
Decor Ideas. Project Inspiration. Expert Advice. Delivered to your inbox.
Charis has been a professional stylist for several years, starting her career at Country Living and then as a homes and lifestyle editor before going freelance.
Most of her work as an interior stylist has been working on both editorial and advertising projects for clients such as Marie Claire, Homes & Gardens, Sanderson, and leading high-street brands.
She currently writes decorating and house features for Period Living, Saga and Country Living magazines.
In addition to styling for advertising and editorial clients, she also works on interior design projects for private clients too.