Decorating with orange – how best to use this vibrant and versatile color in interior schemes
Decorating with orange can have surprisingly sophisticated results so find expert advice on the best way to use it in interiors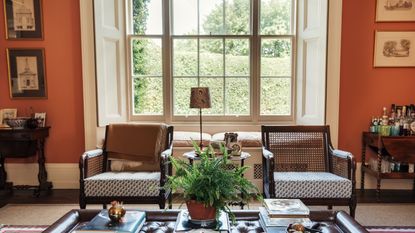 (Image credit: Louise Roe Interiors / David Parmiter)
For a scheme that works year-round, try decorating with orange. Warm and vibrant, orange can add a contemporary edge, spice and sophistication, or a cosy mood to a country-style interior. Uplifting and warming in darker months and zesty and vibrant in summer, it adds a joyous element to any space and is a very versatile color that will work alongside many other shades.
You may opt for decorating with orange in bold, bright, and zesty tones, or burnt orange of flickering flames tinged with hints of red and yellow, for a smokier, more relaxed option. Whatever tone you choose, orange will provide decorating schemes with energy, and warmth.
There are many ways to use orange in interior design but it needs to be handled with care as too much, or the wrong shade, could result in a scheme that is an assault on the eyes. Get it right, however, and you'll be surprised at how elegant it can be.
'When colors hover between one shade and another they can take on interest and intrigue,' explains Edward Bulmer, interior designer and founder of Edward Bulmer Natural Paint.
Decorating with orange – what to consider
Decorating with orange is a brilliant way to breathe life and vitality into interiors and is proving increasingly popular among interior designers.
In the 1970s, orange was hugely popular for both flamboyant fashion as well as interiors. It was used in floor to ceiling schemes in bold geometrics and floral-patterned designs and textures. Today, Burnt Orange offers a more collaborative and perhaps less dominating presence. It does though still share many of the same styling elements especially velvets, corduroys, hessian wall coverings and rattan that were part of the 1970s look.
'Orange is the new black and looks great with every color you pair it with,' says Emma Deterding, founder and creative director, Kelling Designs. 'It brings in warmth, brightness and an uplifting energy whether you use it on a whole wall or bring in pops of orange through your accessories.'
When decorating with orange the key to success is knowing how much to use and when to use it, as it can be a very dominating shade. For those confident with color, using orange wall-to-wall can create a bold fall color scheme that can work year-round; or for a more subtle approach, consider introducing the shade as an accent color and using it across furniture, window treatments, textiles and accessories to punctuate an existing scheme.
It's also important to think consider tone, too. Uplifting and vibrant, zesty shades are brilliant for bringing joy to everyday spaces such as kitchens. Alternatively, richer, deeper shades such as terracotta, rust and fiery paprika are perfect for bringing a cozy feel to living rooms and studies.
Create an energizing home office with orange wallpaper
With the decorating boundaries of studies and home offices now nicely blurred, inspire your working space with wallpaper in a detailed print. Orange is an energizing color that will help to inspire productivity and creativity as a home office idea – when used with caution.
Providing the perfect seasonal backdrop, orange brings warmth on the shortest of winter days while dancing like a geum when the sun is shining.
Add warmth to a bathroom with orange walls
Whilst painting a drafty bathroom a warm color won't affect the actual temperature in the room, it can create a great deal of psychological warmth, especially when you add treasured wall art, accessories and plants. As a bathroom color idea, orange is definitely one to consider.
'Burnt orange is a wonderfully optimistic color but it is not one for the cautious. It is a serious, grown-up color,' says Helen Sanderson, creative director of fabric company Ian Sanderson.
Choose upholstery in orange
Dropping orange into a neutral scheme by way of upholstery, soft furnishings, or as an accent wall offers a more measured approach to its use. Elevate a taupe-paneled dining room idea with a set of luxurious burnt orange velvet dining chairs.
'I love a bit of a color pop, and I think the key is to be a bit daring. Burnt orange is a great shade to use at this time of year, but it doesn't have to be reserved for cushions and accessories,' says OKA's co-founder, Sue Jones.
'I love how these dining chairs look paired with lots of natural tones and textures; they make a dining room feel cozy, which is what the season calls for,' Sue adds.
Juxtapose orange with contrasting colors
If you are decorating with teal, for instance, adding pops of burnt orange into the scheme offers decoration that you will never tire of.
It is worth learning how to use a color wheel for interior design so that you can see how orange works with colors on the opposite side of the color wheel.
'Burnt orange makes fabulous partnerships with teal and with surprise elements of subdued blush pinks,' says Helen Sanderson.
Make an impression with bold orange walls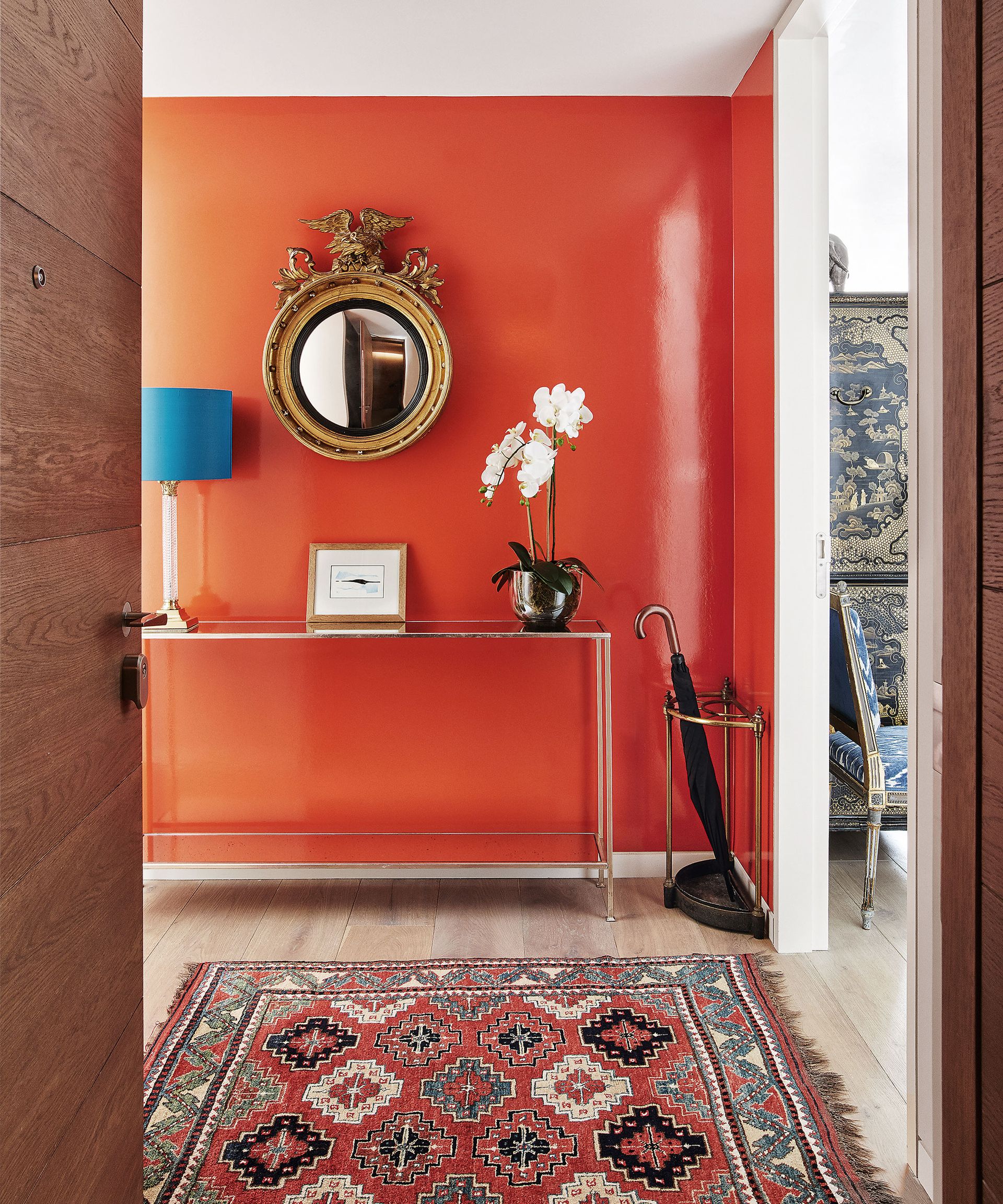 When used wall-to-wall, zesty oranges are guaranteed to make a statement and bring joy and energy to any space. If you're looking for hallway paint ideas then orange is a brilliant choice as it will create a warm and joyful welcome for guests.
Hallways and entryways can easily be overlooked when it comes to decorating but they are a great place to be bold with color. 'A hallway is the first part of your home that anyone will see when they enter, so it's important to make sure it's a true reflection of your personality and style,' explains Emma Deterding.
Use rich, rusty tones for a cozy feel
When it comes to decorating with orange paint colors, it's important to think about the warmth of the color as this can impact the look and feel of the space.
While vibrant yellowy oranges have the power to lift and energize – oranges which contain plenty of red, such as rich, rusty oranges, have the ability to evoke a cocooning and intimate feel, making them a brilliant choice for a cozy living room paint idea.
To enhance the warmth of these rich red-oranges such as paprika, consider pairing them with plenty of natural materials such as wood and textural linen.
Layer up different tones of orange
When decorating in a single hue it's important to factor in plenty of variations in tone and texture to ensure the scheme has life and depth, otherwise orange rooms can run the risk of feeling flat.
To create an all-orange living room with plenty of interest consider using paint ideas that combine two tones of oranges and choose a rug with a gentle pattern as done in this scheme by Kelling Designs.
When it comes to furniture, choose pieces with sculptural shapes covered in sumptuous fabrics such as soft velvet or chenille and opt for deeper shades to the walls to ensure they sing out.
Balance orange with pastel pink
Orange can be a powerful and dominating color when used in isolation, so if you're thinking of using it for your living room paint ideas then consider combining the shade with softer colors such as pastel pink suggests Annie Sloan.
'I absolutely adore vivid, juicy, vitamin C-packed orange with a soft pastel pink. I'm hoping it'll be the new green and pink, because it's such a rewarding contrast,' says the color and paint expert.
'Both colors are playful and beautiful, so they work fabulously in a social space such as a kitchen, living room or diner. The juxtaposition of hot orange and a cool-toned pale pink is simultaneously knowingly retro yet elegantly contemporary.'
Add a splash of orange to a kitchen island
Kitchens are rooms we spend huge amounts of time in, so it makes sense for them to feel happy and joyful – decorating with zesty orange is the perfect way to lift spirits even on a gray day.
Using orange for your painted kitchen cabinet ideas is guaranteed to turn heads, alternatively, for a color pop that's easier to live with, consider limiting the orange to your kitchen island ideas instead suggests Richard Moore, design director of Martin Moore kitchens.
'You can always successfully incorporate bold colors into a kitchen – it just depends on how adventurous you want to be with it. For those who want to introduce colour without overwhelming a space, we would recommend choosing stronger shades for small touches such as a feature island, bench seating, or even cupboard interiors.'
Use orange as a backdrop for flamboyant florals
Decorating with orange and similar vibrant tones is a brilliant way to balance large scale floral prints. Bold and beautiful summer decor ideas, colorful, flamboyant florals are guaranteed to make a statement so why not let them really shine by setting them against a bold backdrop?
In this room design by Kit Kemp vibrant orange walls are the perfect foil to a statement headboard idea.
Use terracotta tones for a country feel
Decorating with orange needn't be limited to maximalist and contemporary schemes, but can also work well for country decorating ideas, too. If you're looking for a palette for a rustic kitchen then consider using a terracotta wall paint with a textured finish to create a warm and relaxed feel.
'Earthy tones such as terracotta are everywhere at the moment, it's a colour that evokes warmth and reassurance, creating a calming environment,' explains Justyna Korczynska, senior designer at Crown.
Warm up dark schemes with pops of orange
Orange is a wonderful accent color for gray, so if you love idea of having a dark living room but are cautious about the space feeling too cold then consider adding a vibrant orange sofa to help warm up the space, as demonstrated in this scheme by fabric designer Vanessa Arbuthnott. To enhance the feeling of coziness and luxury, opt for a velvet which will bring added texture in the light.
'I think this dark grey paint, curtains and chair really need orange to enliven and warm up this great contemporary scheme,' says Vanessa Arbuthnott. 'The pop of orange on the upholstered velvet sofa is in a pleasing balance with gray… not too much and not too little,' she adds.
Introduce orange accessories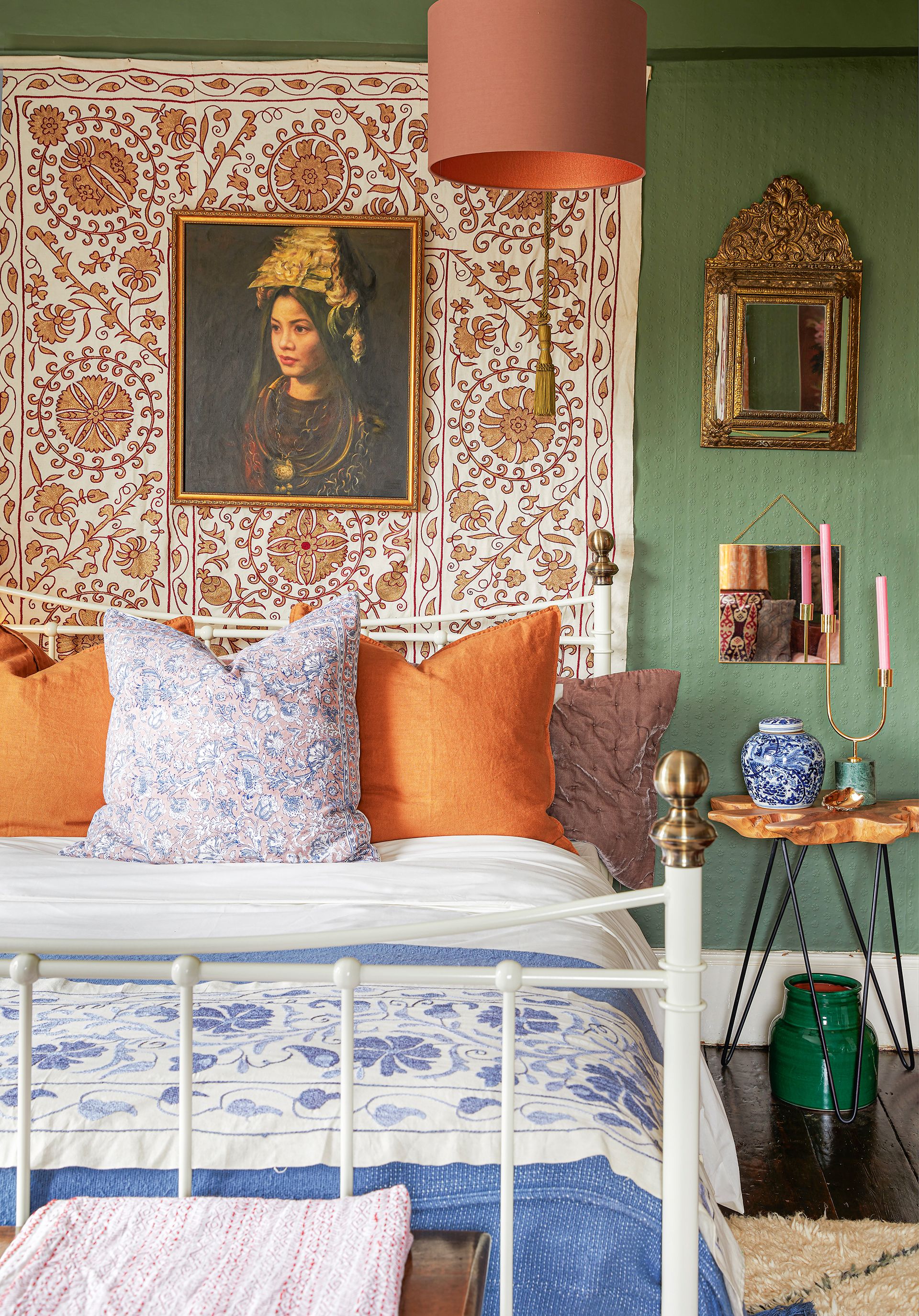 Orange is a confident color to use wall-to-wall, especially when it comes to bedrooms – for a gentler approach to decorating with orange try introducing it across fabrics and accessories such as lampshades.
Sitting opposite green on the color wheel, orange makes a perfect accent color for warming up green bedroom room ideas as this scheme demonstrates.
'Orange is also a great way to add a strong pop of color with a cushion or a lampshade and will work with gold tones as well as cool soft whites,' says Saffron Hare, creative director of James Hare. 'Beautiful rich greens work well with orange, they are a fantastic contrast but really complement each other,' she adds.
Decorate with ornate orange wallpapers
Wallpaper ideas in orange shades are a fabulous way to add bring personality color and pattern to a room and work particularly well in cloakrooms. As spaces we only spend small amount of time, cloakrooms and small bathrooms are brilliant spaces to be bold with decor. An ornate Chinoiserie design in a vibrant orange is a playful cloakroom idea which will create an element of surprise among visitors.
Add an orange hallway runner
As transient, connecting spaces, hallways are a great place to be more adventurous with color – why not consider a vibrant stair runner idea to create an eye-catching focal point?
'A bold, bright flatweave wool runner adds instant impact creating a warm and inviting first impression, taking color up through the heart of the home,' says Andy Guard, creative director at Roger Oates Design.
'Orange works perfectly against a bright white background or a dark, sophisticated grey to create a bright pop of color in otherwise forgotten or uninteresting spaces,' he adds.
Is orange a good color to decorate with?
Orange is a good color to decorate with. A warm and vibrant shade, orange is a good way to bring a joyful feel to interiors plus partners well with many colors.
'If you're thinking of decorating with orange it's important to consider tone, but also the amount you use, as it can be a dominant shade. Used in large amounts wall-to-wall it can create real wow-factor, alternatively limiting it to accessories is an easy way to lift a neutral scheme,' explains Emma Deterding, founder and creative director, Kelling Designs.
What colors go well with orange?
Orange pairs well with a huge array of colors from neutrals and pastels to bold tones such as black and teal.
'Acid yellow or orange work well with the deepest navy, or mustard and deep sea green with taupe and black,' explains Justyna Korczynska, senior designer at Crown Paints. 'Pale and watery greys are perfect with super brights like orange,' she adds.
Orange is also a beautiful shade to complement earthy tones. Being 'an autumnal color by nature, it often works well when paired with natural hues such as greens, browns and neutrals,' explains Louise Wicksteed, design director at Sims Hilditch.
Finally, black also pairs well with orange, but must be used carefully, as paint and color expert Annie Sloan explains. 'Black is a fabulous accent color for a hot orange because it allows the orange to project more vividly. Our eyes interpret the orange as being even crisper, more vivid and brighter when transposed against a dramatic black,' she explains.
'However, use sparingly for accents rather than as your two main colors or risk everything going a little Halloween.'
How do interior designers use orange?
Interior designers use orange in decorating in many ways, whether this is adding bold splashes of color, drenching a room in its warming hues, or adding accents through the use of furnishings and accessories.
'We very rarely do a design scheme that doesn't have some orange in it so it all depends on how brave you want to be,' explains Deterding. 'You can liven up a neutral design scheme by choosing textiles and accessories in shades of orange, for instance, introducing a sofa in a bold orange velvet will add a focal point in a living space with muted, neutral walls and floors,' she adds.
'If you are more daring though, then why not paint the walls orange and play with neutrals for upholstery and use accessories in teals and pinks to layer color, pattern and brightness. After all, isn't Hermes Orange the pinnacle of luxury and joy?!'
Sign up to the Homes & Gardens newsletter
Decor Ideas. Project Inspiration. Expert Advice. Delivered to your inbox.
Pippa is Content Editor on Homes & Gardens online contributing to Period Living and Country Homes & Interiors print issues. A graduate of Art History and formerly Style Editor at Period Living, she is passionate about architecture, creating decorating content, interior styling and writing about craft and historic homes. She enjoys searching out beautiful images and the latest trends to share with the Homes & Gardens audience. A keen gardener, when she's not writing you'll find her growing flowers on her village allotment for styling projects.
With contributions from