Fall color schemes – 15 colorful looks to embrace this cozy season
From rich, fiery reds and burnt oranges, to calming neutrals and earthy colors of nature, these fall color schemes will make your home feel invitingly seasonal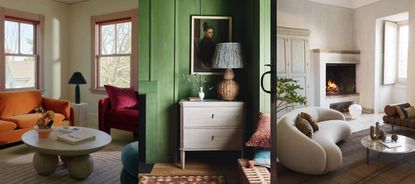 (Image credit: Anthropologie | OKA | House of Dome)
As the leaves turn from green to fiery oranges, yellows and reds, and the harvesting of autumnal vegetables increases our appreciation for earthy browns and inky purples, it's time to reflect the changing of the seasons in our homes through beautiful fall color schemes.
Fall is the time of year where you want you home to feel wonderfully snug, cozy and comforting. Along with plenty of pretty fall decor, an inviting fall color scheme can help you celebrate the season in style.
However, don't think that fall color schemes are only for fall. As here, our collection of room color ideas can work all year round, creating a home that has that welcoming essence of fall right throughout the year.
15 fall color ideas to embrace across your home
While a glance at your outdoor fall decor ideas and the natural surroundings that inspired them will likely serve you with ample chromatic inspiration, we've gathered some stunning ideas on how to integrate fall color ideas into your home, and asked the experts to highlight their favorite hues and combinations to help you get it right.
1. Go for gold for a luxe look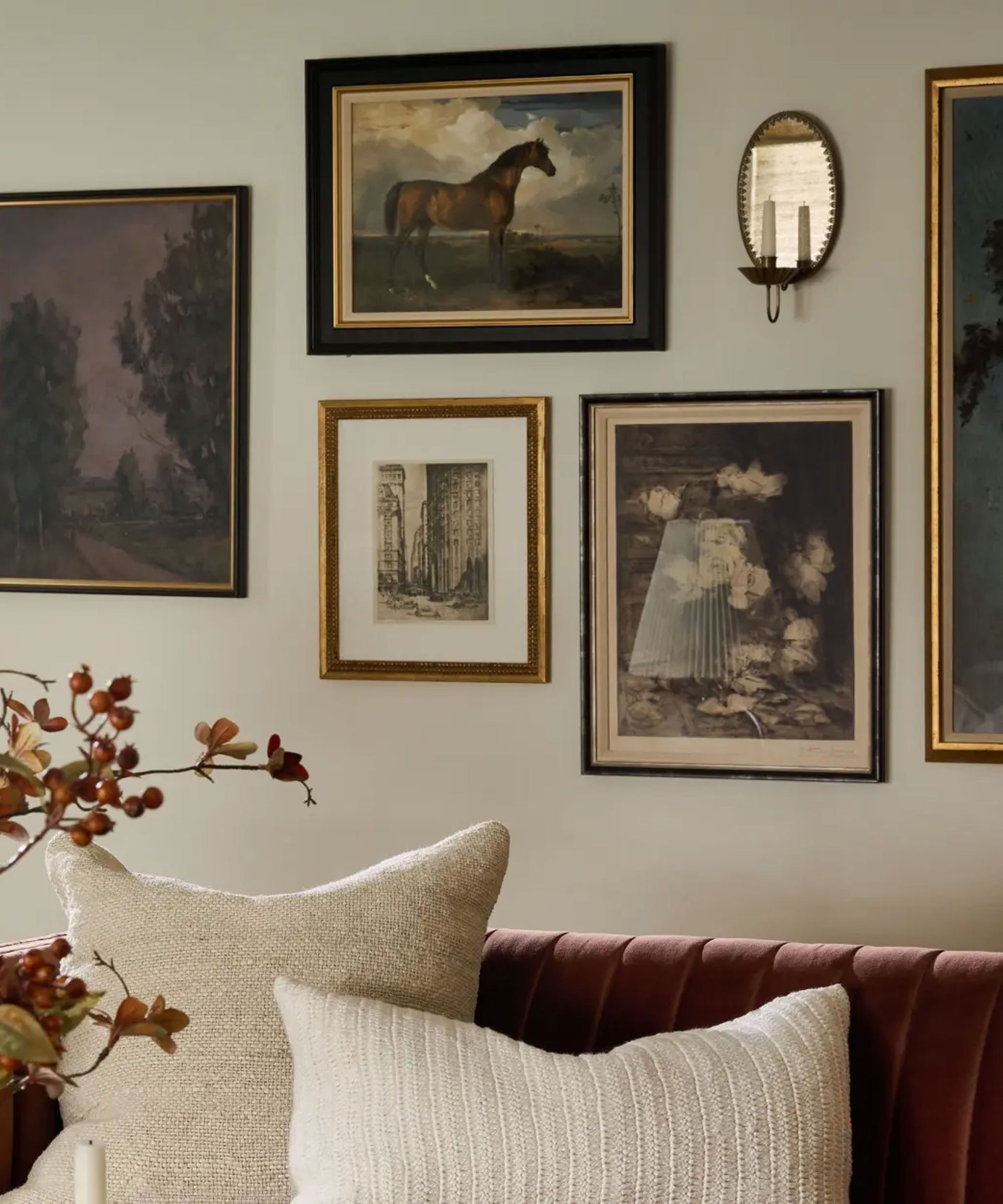 Gold is so often associated with Christmas decor ideas, but when used in the right way, a glistening gold scheme can enrich a room with plenty of cozy character and warmth, perfect for fall.
Fall color schemes do not always have to revolve around paint ideas, a golden fall color scheme can be achieved through the use of furniture, accessories and lighting. As shown in this living room by Magnolia, the gallery wall, created through a stylish assortment of vintage and antique frames, as well as the elegant Oval Antique Mirrored Sconce, works with the rich red sofa and fall foliage to enhance the neutral room with a refined fall palette.
2. Be bold with beautiful brights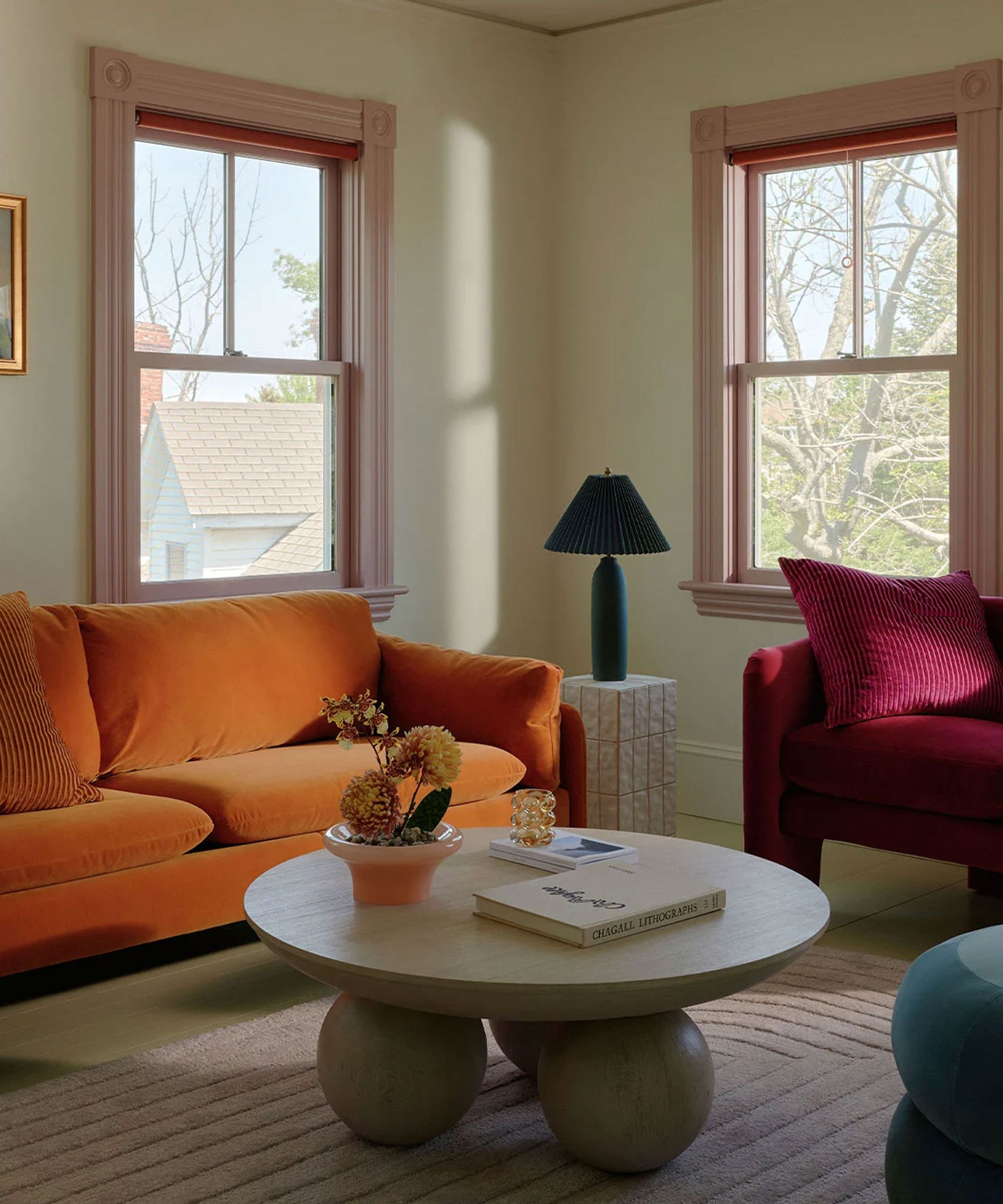 We adore this color scheme from Anthropologie's Autumn In Color collection. If bold brights are more your style, then look no further for some beautiful inspiration.
Embracing more vibrant, saturated hues such as chartreuse, tangerine and primrose, their new pieces, such as the tangerine-covered Gilmour Sofa and electric-pink Effie Tripod Chair – both with matching Fiora Pillows, offer a more contemporary take on a traditional fall color scheme.
Beautifully balanced by the calming cream painted walls and more neutral furniture accents, this living room color scheme will be sure to uplift the dreariest of fall days.
3. Channel the falling leaves with a burnt orange
If you've started scouring the sidewalk for the most vibrant leaves to inspire your fall wreath ideas, don't let the inspiration stop there. Terracotta decor is a wonderful addition to your fall color schemes.
The undisputed color of fall, using earthy oranges will wrap a cozy layer around any space. 'Where we put on coats, scarves and gloves, your home needs extra rugs, throws and patterns,' adds Martin Waller, founder of Andrew Martin. 'Think burnt oranges and deep red tones in rugs and cushions just like the scattering of autumnal leaves.'
Refreshing your throws and cushions in the colors of fall is a simple and easy way to switch up your decor for the season, as interior designer, Brooke Spreckman says, 'one way to incorporate fall into your home is through re-doing your throw pillow covers with a new color palette. If you have lighter tones, try swapping all of them out with a richer palette of fabrics.'
Martin Waller is the founder of the London-based, luxury furniture retailer, Andrew Martin, which sells everything from beautiful sofas and lighting to fabrics, rugs, and more. Waller has been involved with design projects all over the world, with many of his designs influenced by his international adventures.
Principal and Owner of Design Hutch Interior Design, Brooke Spreckman has been practicing Interior Design since 2013 in Los Angeles, San Francisco, New York and beyond; and has a diverse background in residential and commercial design.
4. Connect to nature with tranquil, earthy tones
'A palette of muted tones is the perfect way to bring a cozy feel in cooler months, and rich earthly shades offer an instant connection to nature, creating an ambience that is calming and tranquil,' says Stefan Ormenisan, creative director of MindTheGap.
'Opting for a more refined palette such as this, is also an excellent way to easily introduce a mix of patterns, where the muted colors act as a unifier for a mix of differing scales and motifs. It is also an easy palette to update, simply by adding a pop of color with a brightly colored cushion or throw.'
As the verdant greens of nature start to disappear for winter, fall is a great time to introduce earthy, green room ideas into the home. As shown in this cozy corner by OKA, the deep green walls add a moody yet fresh feel to the space, with the layering of rich reds and oranges tones, and the use of warming, tactile, natural textures, perfectly balancing the green for a more cozy, fall color scheme.
To enhance your green fall color scheme even further, don't forget to decorative with plenty of fall foliage.
5. Pick a palette of pinks for a more fresh feel
Looking for living room fall decor that will look fabulous year-round rather than relying solely on fall trends? Then look no further than a pretty pink palette.
There is no denying the rising popularity of pink room ideas in recent years, with many of us decorating with more muted, calming pink shades in the home – just like we would use enduring neutrals such as gray and cream.
Beautifully shown in the elegant living room by OKA, the earthy, pink painted walls are complemented wonderfully by the patterned upholstery and rug, creating an rich, layered fall color scheme that is perfect for those who prefer more maximalist decor.
6. Opt for a deep eggplant shade for a cocooning feel
'So many of us have become more color confident over the last few years, that this fall is the time to take the plunge and redecorate at least one room in a rich color.
My favorite way to achieve this is to go bold. For the ultimate statement, create an ultra-luxe, all-encompassing, floor to ceiling finish in one color, such as a lustrous, deep shade burgundy,' says Helen Shaw, director at Benjamin Moore.
We explore decorating with purple further in our dedicated piece.
Helen Shaw is part of Benjamin Moore's UK division. Color expert and international marketing director, Helen and her husband Craig are founders of Shaw Paints, acquired by Benjamin Moore in 2020.
7. Layer calming coffee tones for a cozy, neutral look
'Beige room ideas have a reputation for being safe and boring, but we reckon that's a bit unfair, it's warmer than white and works beautifully with rustic or wooden pieces.
Here, beige is accentuated by coral and walnut shades plus there's plenty of pattern to amuse the eye without being overwhelming,' says Natascha Dartnall, founder and director of ND Studios.
Beige and brown room ideas will always work wonderfully together, so if you're considering embracing beige for your fall color scheme, why not complement it with the warmth of wood. Interior designer, Tess Twiehaus says, 'when decorating for fall, bring in more wood elements and don't be afraid to mix different tones within a space. A lot of people try to stick to one or two wood tones in a single room, but you really miss out by doing so. Mixing woods will always bring so much interest and warmth.'
Los-Angeles based Interior designer, Tess Twiehaus, is the founder of design firm, Tess Interiors, a full-service interior design studio creating bespoke, expressive spaces for high-end residential and commercial clients.
8. Let your patterns and prints take center stage
'To me color and texture are so important to get right when creating a welcoming and warm home environment. Investing well in good quality fabric for curtains will help to keep the house warm as the nights draw in whilst also creating a cozy interior,' says designer, Molly Mahon, founder of Molly Mahon.
'I'm constantly inspired by nature, and I see my walks through the countryside as a perfect opportunity to soak up the colors of fall. To me, my Strawberry Print – a rambling pattern of wild strawberries, stands for tradition, nostalgia and British charm. I love the delicate fall shades of rust and copper especially when pared with a rich yellow ochre.'
'Plains aren't for everyone and it's easy enough to decorate with pattern by adding some seasonal prints into a scheme as the year progresses. Drapes and couch pillows with prints will always lift a space, choose a mixture for an eclectic mix and add in some bold scarlet red for a punch of color for your fall scheme,' says Lucy Searle, global editor in chief, Homes & Gardens.
Lucy Searle has written about interiors, property and gardens for over 30 years, starting within the interiors departments of women's magazines before switching to interiors-only titles in the mid-1990s. In 2018, Lucy took on the role of Global Editor in Chief for Realhomes.com, taking the site from a small magazine add-on to a global success. She was asked to repeat that success at Homes & Gardens, where she has also taken on the editorship of the magazine, which is the UK's oldest interiors magazine at 103 years old. Lucy is a serial renovator and also owns rental properties in the UK and Europe, so brings first-hand knowledge to the subjects she oversees.
9. Balance bright blues with cozy, contrasting shades
Decorating with blue is definitely possible for a fall color schemes, it's all about combining the cool color with warming accents, and layering the space with plenty of cozy, inviting texture.
When many of us focus on fall decor, we primarily decorate our living rooms, bedrooms and dining spaces – but who says you can't decorate the bathroom too?
In this beautiful blue bathroom, the gorgeous blue tiles and painted woodwork have been paired with a rich, red-painted floor, with cozy elements of softness and texture added through the Anthropologie Maeve Leopard Bath Towel and the neutrally shaded Anthropologie Rosita Bath Mat. A beautiful balance of warm and cool, soft and hard, this colorful bathroom makes for a truly welcoming retreat.
Ok, so not all of use are going to be re-doing our bathroom ideas for fall, but incorporating simple changes, such as through new cozy bathroom towels, bathroom rug ideas and even a fresh shower-curtain, can help switch up your bathroom color ideas for fall.
10. Fire up a scheme with deep reds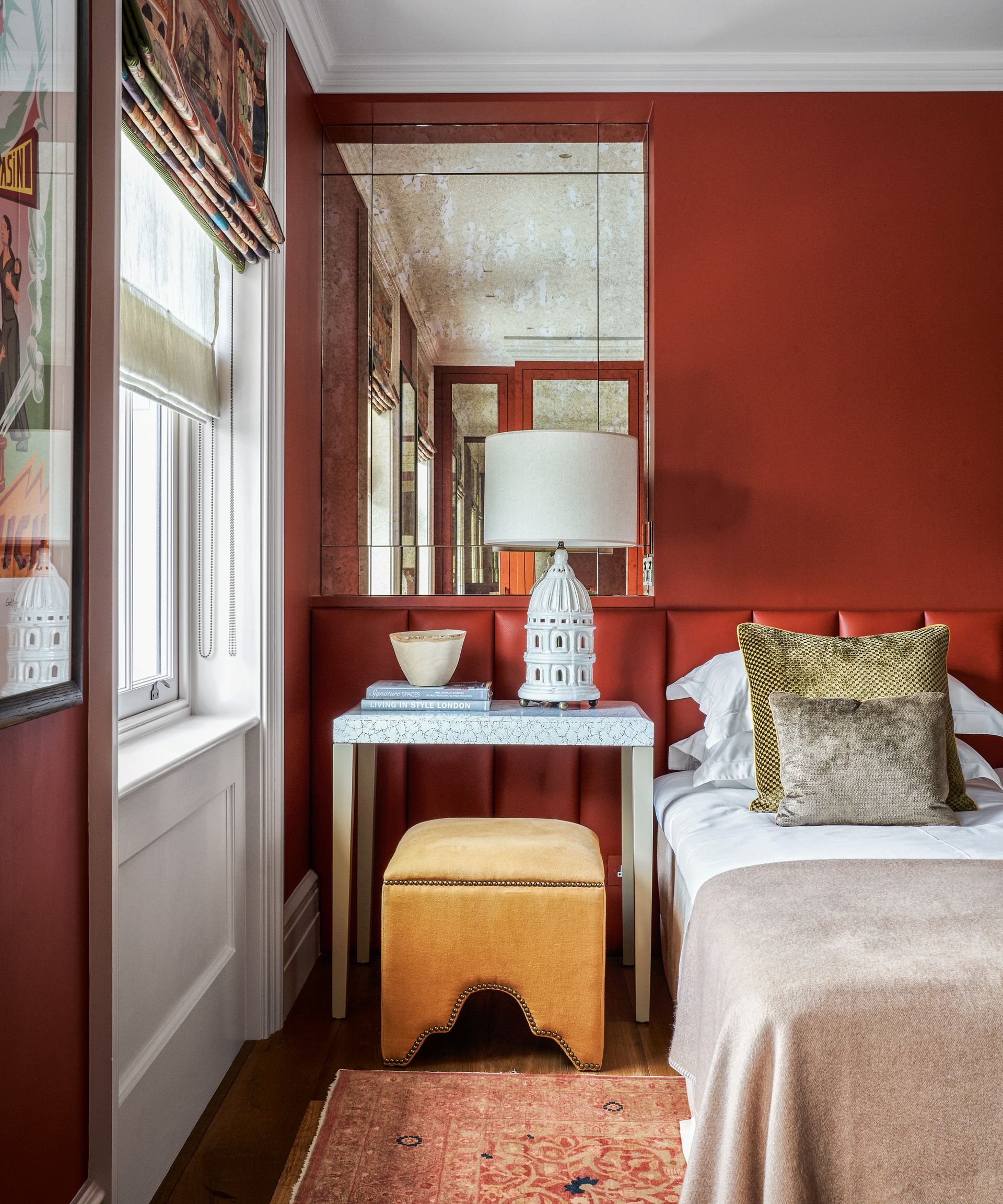 Perhaps the ultimate interior indulgence, sumptuous red room ideas are a daring choice, but inarguably enveloping when done right. 'Deep maple reds from Farrow & Ball's Blazer to Preference Red make for the perfect fall living room palette,' says Patrick O'Donnell, Brand Ambassador for the paint gurus.
In this example, red takes the reins of the bedroom color ideas, keeping things light enough with white accents and warm neutrals, as well as a complementary yellow ochre stool. 'Brick reds and rich mustard yellows look beautiful together,' adds O'Donnell. 'Use empathetic whites to balance the tones and avoid the room looking too cloying.'
Patrick O'Donnell is Farrow & Ball's color consultant & brand ambassador and has been with the brand since 2012. Patrick works with designers in the UK and North America, helping to bring their projects alive with the iconic, F&B color palette.
11. Pepper calming neutrals with rich autumnal hues
For people who like their color in small doses, it's perfectly possible to create an fall color scheme with a neutral background.
In this example, a cream wall color is paired with natural brown woods with orangey undertones, and accessorized with soft furnishings from Mind The Gap that sport rusty red, muted blue accents and tons of texture.
'Muted shades like Pressed Putty and Pebble Shore look beautiful in combination with more rich autumnal hues like ruby, aubergine or forest greens,' says Marianne Shillingford, color expert and creative director at Dulux. 'They quieten down the sharper notes and bring out something much more mature for spaces like the living room, kitchen and adult bedrooms.'
12. Ground yourself with dark browns
Decorating with brown is far from boring – as the nights draw in, it's time to embrace the dark side.
In this room with decor and furniture by John Lewis, shades of dark brown perfectly envelope the room, with their natural connotations emphasized by the grassy fall table decor ideas.
'As summer rolls into fall, the natural exterior palette gently shifts to colors of spice and amber that inspire our interior choices,' says Patrick O'Donnell from Farrow & Ball. 'Mix together earth browns, rich chocolate tones and the softest, most nuanced of whites. Rich browns such as Farrow & Ball's earthy Broccoli Brown are an elegant yet practical choice for a fall color scheme.'
13. Choose warmer grays for a cozy neutral scheme
If you're keen to mirror what's going on with the weather during fall, then gray always has a place in a fall palette. To make your gray room ideas feel cozy rather than dreary, pick grays with brown, pink or green undertones for a warming sensation that conjures the natural world.
'Although gray, with its comforting versatility will still be with us for a while, we don't see the rushed return to anything gritty urban – or indoors for that matter – anytime soon,' says Marianne Shillingford from Dulux. 'Color-wise we are throwing open the doors and windows and inviting every shade of nature in for tea.'
In this example by interior designer Beata Heuman, gray bedroom ideas are given warmth and texture through the brown-gray woven wallpaper, and are enlivened by orange and green accents in the decor.
14. Uplift a room with a joyful use of ochre
If you're missing the sun already, welcome it back into your home by sprinkling shades of yellow throughout your space.
Temper a sunshine yellow to make it fall-appropriate by adding a hint of brown or a dark green into the mix. 'Our wonderfully rich ochre India Yellow is a perfect choice for an interior that echoes the season outside,' adds O'Donnell. 'Layer it with strong contrasts for all-year relevance such as darker tones like Down Pipe for a bold counterpoint!'
Instead of embracing paint for your yellow room ideas, why not enrich a room with accents of yellow through furniture, accessories or even artwork.
15. Pair cooler, inky colors with muted forest tones
Just because fall signals a newfound passion for fiery hues, that doesn't mean cooler colors get totally tossed to the wayside. Darker, inky colors can form part of a cocooning scheme, that will feel autumnal if also inclusive of natural ochres.
Among the kitchen color ideas in this scheme by Little Greene, the Vine wallpaper in blue features muddy greens alongside muted blues, while these brown-greens spill out onto the cabinetry and an aubergine linen tablecloth adds extra depth to this absorbing scheme.
Shop fall decor