Decorating with green walls – with paint, pattern, or subtle accents
Follow this expert advice on decorating with green walls, whether with bold washes of color or through subtle pattern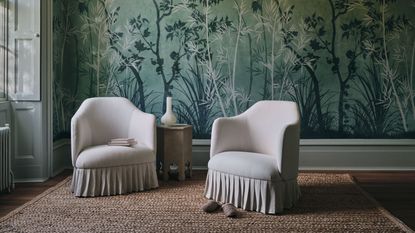 (Image credit: Sayuri Jade wallpaper by Romo)
With the alluring connection with nature, there is so much scope for decorating with green walls. Pale shades can create relaxing spaces, rich, velvety greens offer a sophisticated aesthetic, while vibrant tones can feel enlivening and exuberant.
A naturally organic shade, green is very easy to live with. Take inspiration from the varied greens and textures of the forest. For a soothing ambiance, layer lighter or darker tones with tactile fabrics such as linens and velvets.
There are many different shades of green across the spectrum that pair well with many other colors within interior design. The important thing is to pair whatever hue you choose with the right accent color to create a feeling of flow throughout a room. This is why it is important to know how to use a color wheel.
'Green reassures us on a very primitive level. We know we can find food and water, which means green equals life. Using greens in our home, we can bring in these feelings of rest and reassurance,' says Karen Haller, color and design psychology specialist and author of The Little Book of Colour.
However, include green in a room carefully. 'Surrounding ourselves with too much green or the wrong shade can lead to feelings of stagnation and lethargy,' Karen adds.
Whether you are decorating with green walls painted in a bold block color or introducing it through pattern, there are many green room ideas to inspire for every space in your house.
Decorating with green walls – and more
With so many ways of decorating with green walls, whether you are considering green bathroom ideas to green bedroom ideas, it's advisable to first examine the architectural features and flow of your space before settling on room color ideas.
'Green is incredibly versatile, but it's important to consider the colors that already exist within the space, be that furniture, flooring, artwork or textiles; these are all elements that should be included as colors within your palette,' says Ruth Mottershead of Little Greene.
'Most importantly, consider the atmosphere you want to create; is it calm and cocooned or energetic and vibrant? Vivid, lively greens work well in rooms that are made for entertaining, such green dining rooms, kitchens, and green living rooms. But you don't have to commit to all four walls: you can opt for just a pop of bright, rich contrasting green on dining chairs, woodwork or paint a single door – it's a quick and easy way to add impact and an element of surprise to an interior.'
In addition, there are different varieties of the various shades of green when you are decorating with green walls. For instance, 'dark green can have a warm, yellow undertone or a cool, blue hue,' explains Justyna Korczynska, senior designer at Crown. 'Deep green as a color family is incredibly versatile and can be paired with so many different shades and materials that will bring out either its warm or cool tone. Deep green really comes to life with plenty of natural light, so south-facing rooms would be best. However, it can work in a dark, narrow space too, when paired with terracotta shades and mid-tone wood to bring in warmth.'
Create a deep green cocooning backdrop
Highlight wall paneling ideas with a velvety rich green, such as Botanical Noir from Crown, taking it over architraves and skirting to ceiling height.
Painting all five walls (including the ceiling) in the same shade when decorating with green walls creates a cocooning effect, perfect for snugs.
Take inspiration from the forest
The majesty of ancient forests has long inspired interior designers to experiment with decorating with botanicals and whether it is the grandeur of an oak tree or the enchanting shape of an acanthus leaf, rich velvety greens offer our imaginations and our homes a nurturing connection to nature.
For an elegant and relaxing living room when decorating with green walls, create an oriental forest scape inspired by timeless chinoiserie designs, such as this wallpaper from Romo, with its captivating silhouette of delicate wildflowers and elegant trees, for a dramatic, continual wallcovering. Contrast with chairs upholstered with floor-length pleated skirts in a light neutral fabric.
Use contrasting color blocks
Forget the old prejudices of not using blue and green together, and create a sophisticated color-blocked scheme with a carefully considered combination of the two.
In this two-tone kitchen, kitchen walls in Farrow & Ball's velvety green, Beverley, pair beautifully with cabinets and moldings in the brand's Selvedge blue, and pops of yellow and orange accessories add joyful accents for year-round cheer. This perfectly demonstrates the versatile choices open to you when decorating with green walls.
Offer a warm welcome
Create a warm and inviting scheme by decorating with green walls. Green is a balanced and welcoming shade as a green hallway idea – and it is also practical as it will not show up the marks and scuffs often associated with high-traffic areas.
Here walls painted in Fynbos from Paint & Paper Library offer a wonderful contrast to patterned hall tiles and pale woodwork.
Dip into forest bathing
Turn your bathroom into a green sanctuary by custom matching shutters as bathroom window treatment ideas, to green wall paint as this stunning green bathroom shows.
This shutter idea of matching the color to the wall paint or wallpaper makes a striking statement.
For a fully immersive bathing experience when decorating with green walls, paint all five walls the same color, adding a reflective focal point with a brass or antique copper bath.
Contrast vine wallpapers with dark wood
Rich greens work particularly well with antique dark woods. Contrasting a pretty vine wallpaper design with upholstery in reversible geometric pattern linen looks wonderful when teamed with antiques such as mahogany and bobbin-turned furniture.
'I use a lot of green because it is very calming,' says interior designer Sarah Vanrenen. 'Nature has really come to the fore and greens and blues evoke that very well.'
'I also love using patterned wallpaper in green. I don't think space is a barrier to going bold – don't be put off by using strong colors and patterns in even the smallest spaces and use it on all four walls. The effect is dramatic and green works with so many other incredible colors too.'
This pretty large vine wallpaper combines well with a little sprinkle of blush pink by way of pleated lampshades and antique lusterware ceramics.
Pick a pale green to promote restfulness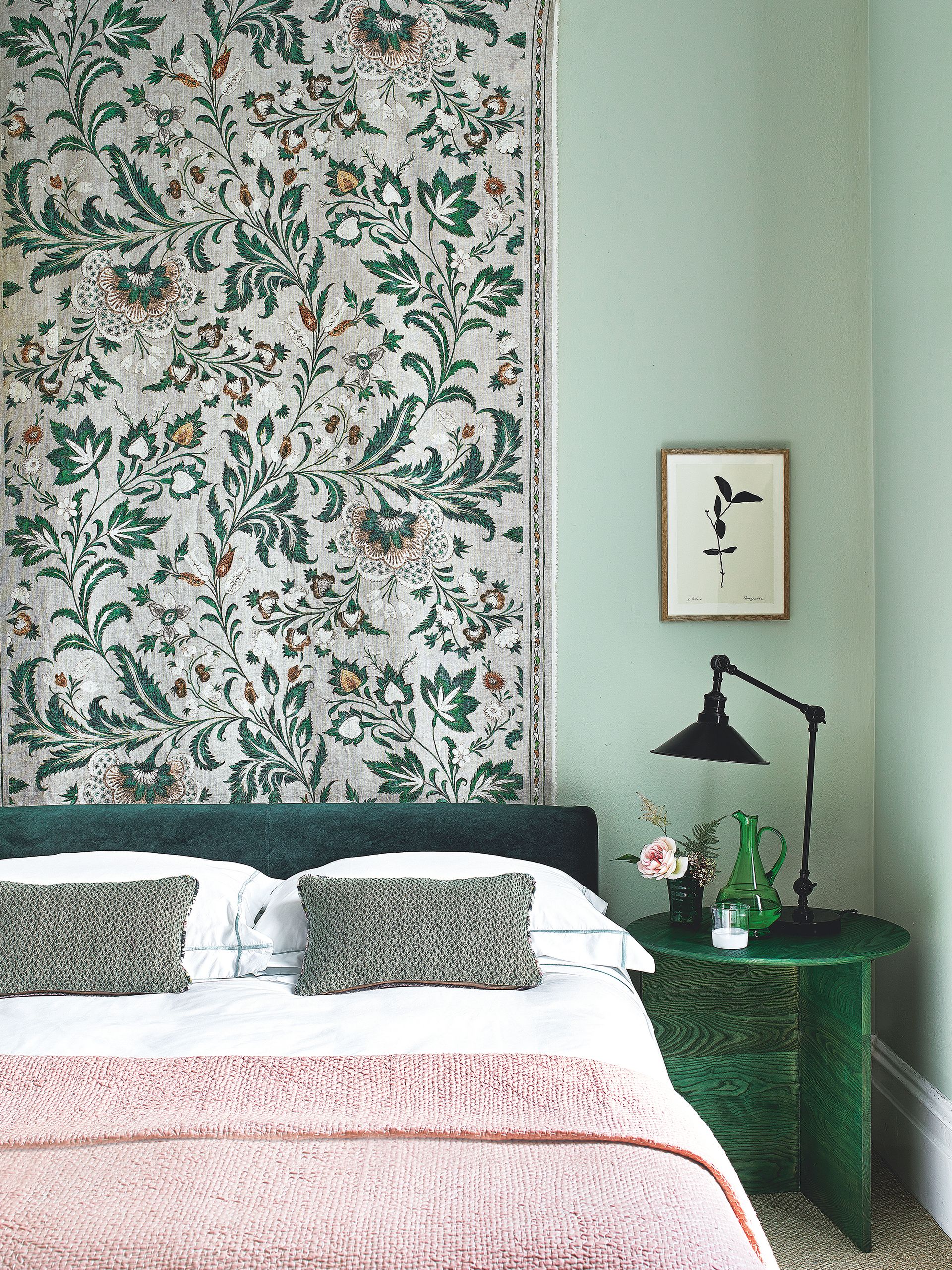 A pale green is restful, especially in a busy space; but in a bedroom that's lit warmly, it can feel incredibly soothing, especially if matched with a blush pink. Green is generally considered to be the best color for a bedroom by paint experts, as well as one of the most relaxing colors. You can use the color wheel to ensure the green you pick matches accent colors of the right tones. Conjuring scenes of romantic, flower-filled country gardens, pink and green is a natural pairing. The important thing is to pair whatever hue you choose with the right accent color, like the soft pink above, to create a feeling of flow throughout a room.
Try pairing warm, pale green hues such as Little Greene's Ulla with blush pink for a restful and romantic bedroom scheme.
Decorate with sage green for a relaxing living room
Chalky sage green walls are a restful choice for a living space. Pair with botanical design elements and fresh greenery to invite the feeling of nature indoors.
The smart bold stripe armchair and elegant rug with scallop edge detail add a modern note. It is fun to play with different shades of green in the mix, as here with the artichoke green of the armchair from Ceraudo and the celadon green of the cane side table from Trove.
'The wall canvas, with floral botanical design wallpaper from Designers Guild is a clever way to introduce a panel of pattern in a contained way, without overwhelming a room,' says stylist Kiera Buckley-Jones.
Dare to go for a wall-to-wall apple green for warmth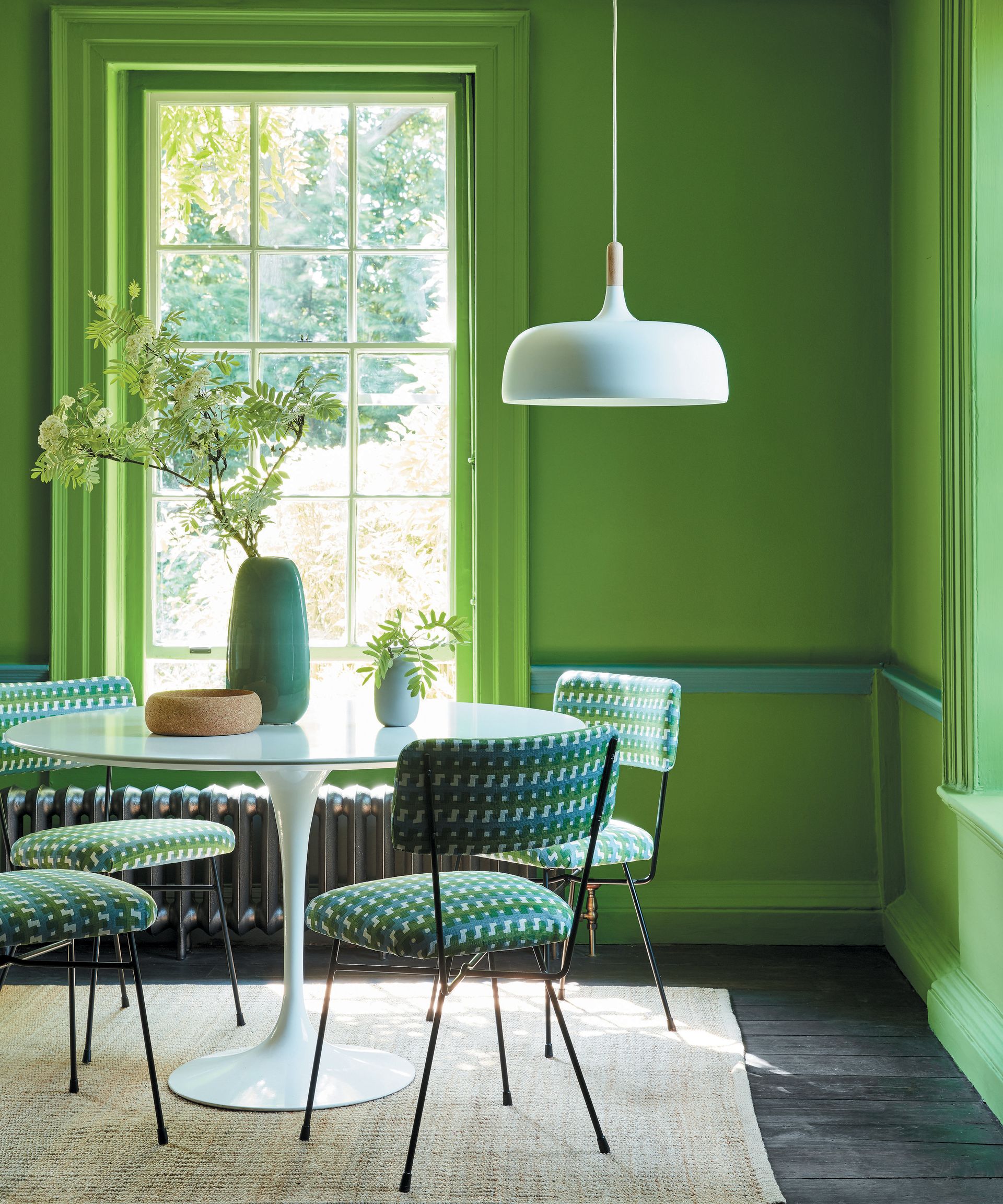 An easy way to introduce color to a living room is to go bold with your walls. Whether you opt for a bright paint color, or choose a wallpaper in a vivid green tone, you can really transform a room instantly and easily.
For an optimistic space consider painting walls in vibrant, jewel-like peridot greens. Try walls in Sage & Onions, a shade from Little Greene's National Trust Greens collection, with a dado painted in the blue-toned Tea with Florence for a contemporary twist.
And as the two colors most regularly seen together in nature, combining green and blue room ideas requires our eyes to do little, to no, adjusting, which is perfect for creating a feeling of harmony – even in small dining rooms.
Decorate with emerald green for a heritage feel
With its roots in the timeless beauty of nature, mid-greens make brilliant backdrop for displaying artwork. Try a mid-green paint in a living room as a base for hanging a variety of your favorite plates for an interesting living room feature wall.
Be brave when choosing living room color schemes in small spaces. Keeping the wall the same color as the furniture helps to blend the room together – if nothing stands out, then your eye will flow around a space, and in a small living room this can be key to making it feel larger.
Create a vintage kitchen with leaf green cabinets
Leaf green can be teamed with contrasting colors to create a vintage kitchen aesthetic, as this kitchen from British Standard by Plain English proves. Shaker-style cabinets in Little Greene's Hopper are paired with chequerboard tiles and exposed salmon-pink plaster walls for unique, homely look, but you could also pair with a paler green for a fresher feel.
'People are being braver and having more fun with color in the kitchen,' adds Richard Moore, Design Director at Martin Moore. 'Previously our clients were choosing bold colors, such as electric blue and hot pink, for smaller accent pieces in the kitchen. However, today we are seeing an increase in the number of people opting for bright colors throughout the kitchen, especially on kitchen cabinets and walls.'
Pair olive green with period patterns
With warm, earthy undertones, light olive shades are a brilliant choice for decorating with green and are a good match for rusty tones, natural materials and folksy fabrics as this scheme by Lorfords and Edward Bulmer proves.
'Early recipes for olive green seem to have been a browny hue but by the 19th century the addition of Prussian blue meant that it was a full green close to the colour of a plump Mediterranean olive,' says Edward Bulmer.
'Too dark and the color tends to black when in the shade, so I have kept it a strong mid tone. It can be a great woodwork color and is also robust enough for exterior use.'
Bring vitality to a kitchen with olive green cabinetry or walls
Imbued with the nourishing powers of nature, green kitchen ideas are having something of a moment. This hasn't gone unnoticed by designers, who recognize the power of green and have introduced it into their kitchen ideas in a variety of smart, creative and sophisticated ways.
'Serpentine, our striking olive green, is used to splendid effect here in our latest Devine design. It's a stunning color with earthiness and depth that leaves you feeling nourished and full of life, perfect for kitchen environments,' says Tom Howley of the eponymous kitchen company.
'This bold color may pack a punch, but you have a scheme with undeniable appeal when combined with burnished brass hardware and Caesarstone Organic White worktops.'
Equally, olive green walls can make a dramatic impact when paired with paler cabinetry for a timeless aesthetic.
Bring the outside in with a bold botanical wallpaper
With green available in a whole host of shades, it's easy to find green living room ideas that will suit your look and give your scheme a seasonal lift, whether it's a large-scale makeover for the living room or simple styling project.
Fabric and wallpaper ideas featuring botanical prints are pretty without being too feminine, and they work just as well in both modern living rooms and country living room schemes. In this botanical-inspired green living room, Cole & Son trellis wallpaper speaks of blissful spring and summer days in the backyard.
Choose a delicate mural for a beautiful finish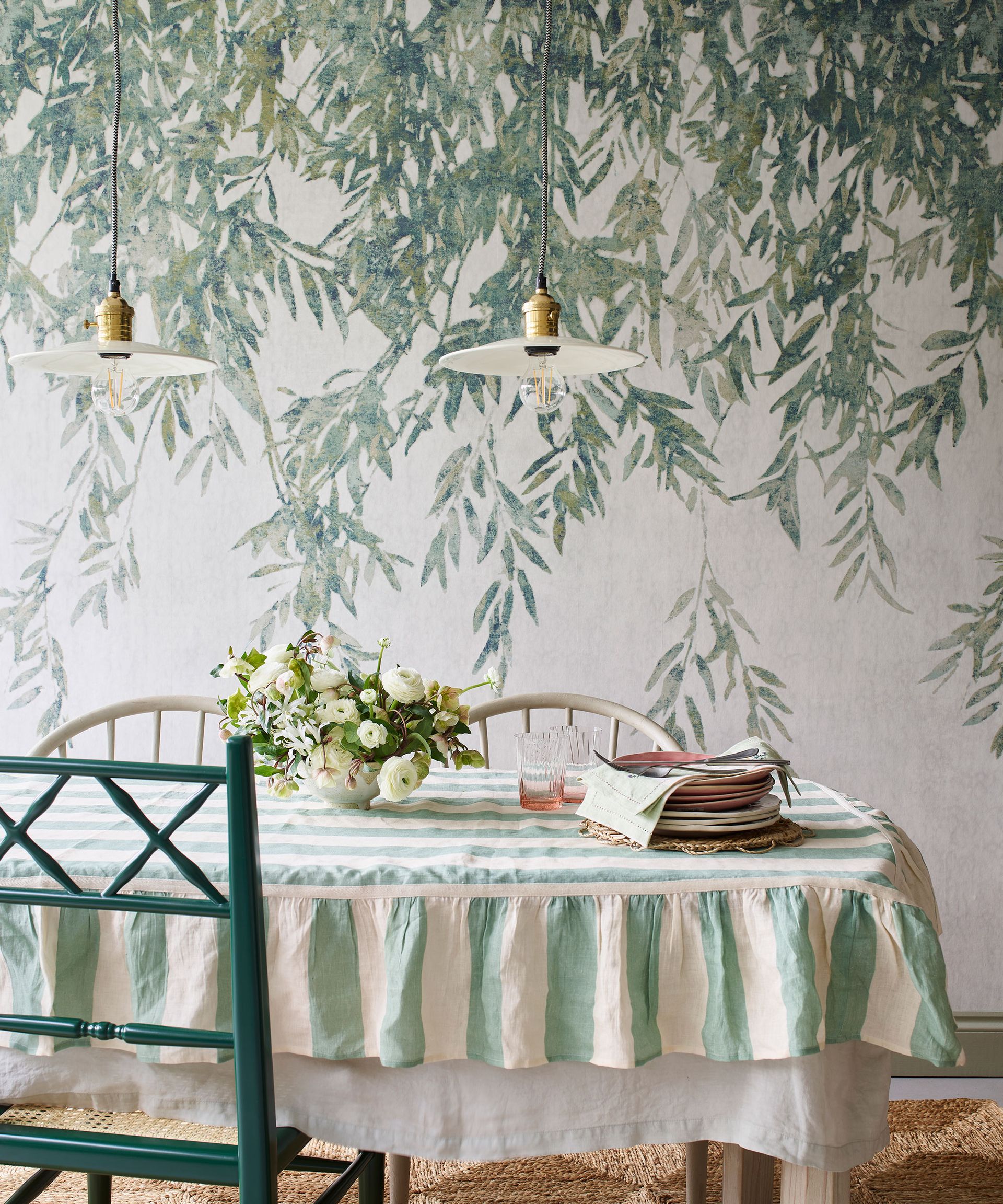 Wall mural ideas are having a real moment, and foliage wallcoverings and botanical designs work really well at evoking an elegant, almost conservatory-like feel, linking the room with the outdoors. This delicate Romo wallcovering of wistful willow branches performs as an elegant backdrop for gathering at the table with friends and family, a beautiful example of green dining room ideas.
The table is decorated with a wonderfully whimsical, ruffle-edged cloth from Amuse La Bouche, in this fresh minty stripe, which enhances the overall fresh and informal feel.
'The combination of delicate foliage and perky stripe is a heavenly combination here, evoking a fresh and airy dining space, elegant but not too formal,' says Kiera Buckley-Jones, the stylist who created this space for us.
Combine green abstracts with white for a fresh feel
Is there any color more suited to this current climate than green? At at time when our happiness and health have seemed more important than ever, it's only right that we'd want to surround ourselves in shades that symbolize growth and renewal.
If papering wall-to-wall with green prints is too daunting a prospect, consider using green fabrics to bring a fresh twist to a neutral living room which can be introduced through window treatments, upholstery or on lampshades, and then choose a white wall paint with a green undertone.
Bold abstract prints in leaf green including Schumacher's Full Circle fabric (on curtains) and Rapture & Wright's Albaicin linen mix fabric (on chair), with its Moorish feel, both help create a to a lighthearted, cheerful look.
Mix green plains, stripes and florals for elegance
Opting for curtains and upholstery in contrasting leafy green fabrics is a good way to soften and liven-up large rooms with high ceilings. Pairing prints which are complementary in tone, but which feature contrasting designs and scales will help the look feel coherent – while also creating layers of depth and interest. Try Charlotte Gaisford's elegant Chandolin Flower fabric on curtains.
'I have lots of green fabrics in my collections and in my own home. I love the uplifting feeling that a swathe of fresh green can bring to a room, whether in curtains, wallpaper or soft furnishings. Furniture in contrasting patterns but similar colors pull it all together,' says Charlotte Gaisford.

Put green on the ceiling for a contemporary twist
Make working from home a more inspiring experience by papering a small home office with a whimsical, uplifting green wallpaper. Ceiling ideas like this are making a real splash in interiors at the moment. Here Lake August's Nasturtium wallpaper makes a real statement as a ceiling wallpaper and gives a cocooning effect when used on walls and across the fifth wall – the ceiling.
Frame a green wallpaper with a bold border
Including wallpaper among your green hallway ideas not only helps bring visual interest to transient spaces, they are also a vehicle for showcasing your personality.
Occupying only a small part of your home and one that is used for short periods of time, entryways are also the perfect location for those big patterns and color that might feel overwhelming elsewhere.
Try a decorative green wallpaper complete with a border for an elegant, vintage feel. Here, the traditional green scheme gives this otherwise neutral entryway a light touch, despite the pattern-on-pattern approach.
Decorate a green bathroom for an Art Deco appeal
Regardless of the size of your space, you can still have fun with an array of colors, patterns and bathroom paint ideas, as this stunning green bathroom shows.
Conjuring the luxury and grandeur of the Jazz Age, emerald green was a popular shade in the Art Nouveau and Art Deco periods and was often used in glass products by the likes of Lalique glassware and Pilkington. These emerald green ceramic bathroom tiles contribute to a luxurious sleek feel in this bathroom, especially when teamed with luxurious brushed brass fixtures and fittings from Drummonds.
Turn your bathroom in a vintage-inspired haven
For a more traditional bathroom scheme, switch the modern wet room look for a panelled bath and a decorative botanical wallpaper. 'Decorating with green works very well in bathrooms as it reflects and complements the aquatic tones of water. We love using wallpaper in bathrooms to add a pattern and texture, which can have prepped or glass lining to prevent it getting wet,' explains Penny Morrison, Founder and Design Director at Penny Morrison Studio.
This Aspa design by Sarah Vanrenen for Penny Morrison at The Fabric Collective would be perfect for a country manor.
What color goes with a green wall?
There are many colors that go with a green wall. Green is a hugely versatile color that can pair well with all sorts of shades, but works particularly well with earthy, natural tones, as Ruth Mottershead of Little Greene explains.
'Green combines fabulously with earthy tones, along with paler shades like creams and stone, and darker, richer colors such as browns, blacks, cherry reds and ochre which can give a more dynamic effect.'
'Used in its wide range of hues, green is incredibly versatile and can add drama or calm to a room,' adds Edward Bulmer. 'I also believe that because of its make-up, it forms a very reliable background for a whole range of other natural materials like wood, stone and terracotta. For this reason, it is often a very good choice for hanging pictures on.'
Mirroring the landscape, green and blue is also a combination that can work well in interiors, suggests Tricia Guild, founder and creative director of Designers Guild.
'People feel nervous about teaming blue with green, but I believe it's a quintessential pairing. Just imagine the landscape – the endless blue optimism of a summer sky against a green and pleasant land. It's a classic combination that evokes familiarity and comfort. Make it more dynamic by using glamorous fabrics, such as our Varanasi printed silk taffeta.'
Neutrals offer a fresh contrast as well as colors such as turquoise, blush pink, and copper.
When it comes to decorating with green in kitchens, pairing green with crisp white can be particularly effective.
'Bright white is a great choice for creating crisp contrasts that will freshen and lift earthy greens. Two-toned kitchens have been in popular demand over the past year or so, not only combining colors but materials too. With bold color now materializing in kitchen design, using a two-toned palette enables you to add a bright shade without overwhelming the space,' says Tom Howley, Design Director at the eponymous kitchen company
'Another underrated combination to consider is light green and pink. A lush sage and blush combo are a match made in heaven for feminine bedroom scheme,' say Rob Abrahams and Rob Green, co-founders of Coat paints.
How do you add green to a room?
If you are thinking of painting a room in green then consider the tone and warmth of the color as well as the position and lighting of the room. While many greens are beautifully neutral and work well in all sorts of situations, there are certain paint ideas which will work better in different rooms.
Energizing and uplifting, zesty lime, vibrant apple and botanical leafy shades are an uplifting choices for green kitchen ideas while greens with warm undertones, like olives as, are great for creating cozy green living rooms and for north-facing rooms. Alternatively, those at the cooler end of the spectrum such as soft mints and verditer shades are often well-suited to calming green bedrooms.
'Light greens are a great choice for north-facing rooms because of their warm undertones and are super adaptable, calming and reliably pair with both dark and neutral colors to create the perfect room combination,' say Rob Abrahams and Rob Green, co-founders of Coat paints.
'Dark greens are also a great choice for smaller spaces such as a narrow hallway or small bedroom. It may sound unusual to choose a dark shade for a small space, but it's a great way to embrace the coziness that comes with compact areas. Try painting the walls, skirting boards and ceilings in one deep shade to soften the edges of the room to make it appear bigger than it is.'
What color trim goes with green walls?
There are many color trims that can go with green walls. You can pair them with a lighter or darker shade of green than your chosen wall paint or wallpaper, or pick out another color used in your decorating scheme for a complete contrast. For instance, anchor the look of kitchen cabinets by using a trim in a matching shade, add a contemporary edge to pale green walls with dark trim, or pick up on the hues of soft furnishings and accessories by reflecting in the trim color.
Sign up to the Homes & Gardens newsletter
Decor Ideas. Project Inspiration. Expert Advice. Delivered to your inbox.
Pippa is Content Editor on Homes & Gardens online contributing to Period Living and Country Homes & Interiors print issues. A graduate of Art History and formerly Style Editor at Period Living, she is passionate about architecture, creating decorating content, interior styling and writing about craft and historic homes. She enjoys searching out beautiful images and the latest trends to share with the Homes & Gardens audience. A keen gardener, when she's not writing you'll find her growing flowers on her village allotment for styling projects.
With contributions from