Green dining room ideas – 10 ways to use this natural color
Create a beautiful design inspired by nature with our green dining room ideas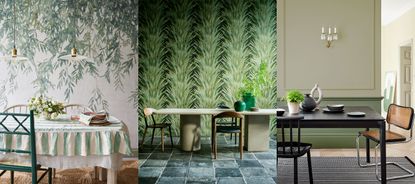 (Image credit: Future | ARTE | Little Greene)
Green dining room ideas can help to create a comfortable and calming ambience when entertaining and relaxing with friends and family.
From vivid, bright shades such as lime and chartreuse, perfect for bright, modern rooms, to more relaxed options like moss or emerald, which suit cozy spaces used mostly in the evening, these dining room ideas are perfect for homes of any period or style, and for kitchen diners, too.
Decorating with green can be a versatile option for the home. Often associated with the beauty of nature and being in the great outdoors, working with green in a dining room can create a sophisticated, grounding space.
Green dining room ideas – 10 inspiring looks for your dining space
From beautiful botanical wallpaper designs, to creative paint ideas, we have curated a collection of green dining room ideas to help you create the perfect green scheme. Whether you want your dining room color ideas to be bold or subtle, there are many green dining room color ideas to choose from.
1. Keep your dining room light and bright
A great option for small dining room ideas, using a pale, light green shade can make a space feel bigger and brighter.
This dining room has been painted with Mellow Sage by Crown Paints, and does what it says on the tin - literally - as the result creates a calming, mellow space where natural palettes and textures work in harmony.
Complementing your green dining room ideas with the use of natural materials and textures can create an inviting, indoor-outdoor environment that is utterly timeless.
2. Combine contrasting patterns and prints
The dining room is often a busy, social space full of life and excitement, so why not reflect this atmosphere with the use of bold, playful patterns and prints.
This dining room incorporates multiple green textile designs to create an inviting, comforting and stylish space. A hanging wall mural embodies an intricate, green leaf print, elegantly contrasting with the striped tablecloth. The overall pale green and cream palette unite the different shapes and objects together as one, creating an elegant dining room design rich with texture and personality.
3. Pick a stand out piece of furniture
You do not have to cover your dining room in green paint or wallpaper for green dining room ideas, thinking about using color for larger furniture pieces and accessories can create a striking, modern look. As Helen Shaw, Benjamin Moore UK Director states, 'a pop of color can also be added to a dining room via furniture and accessories,'
The glossy, mint green dining table truly takes center-stage in this dining room. Establishing a striking statement within the neutral space, the use of green adds a playful pop of color, beautifully drawing you to be seated at the table.
The dining table is often the central piece of furniture in a dining room, so why not enhance its importance and presence through unique color choices and materials, ideal for modern dining room ideas.
Plus, if you are embracing green kitchen ideas, and want to create a subtle visual link between the two spaces, this is a great way to do so.
4. Uplift a traditional space with green paint
'If you are looking to spruce up a traditional dining room with paint and color, green can create the perfect balance between classic and contemporary,' says Jennifer Ebert, Homes & Gardens' Digital Editor.
This dining room, painted in Garden Green by Little Greene, is given an uplifting and fresh makeover with the use of paint. The green shade adds a modern edge to the space without being too overwhelming or conflicting with the original features, perfectly complementing the natural materials, such as the stone flooring and wooden dining chairs.
Using paint is a simple way to transform your dining room, and as shown here, the use of green is an adaptable choice for spaces of all ages and styles - one to remember for traditional dining room ideas.
5. Take inspiration from nature
The color green represents the beautiful natural elements found in the outside world, such as flowers, plants and trees, so why not elevate this connection by using stylish botanical designs and displays in your dining room.
This space uses the stunning Selva Abanico wallpaper by ARTE to bring the beauty of the outdoors indoors. Inspired by the pandan leaves found in a tropical jungle, the design is defined by a vertical pattern of a collage of leaves in different shapes and shades of green.
This green leaf wallpaper design beautifully adds height and depth to this dining room space, an elegant example of dining room wallpaper ideas.
6. Incorporate a secondary color
A well established feature of interior design, secondary and accent colors can help to create a balanced color palette, and a design that is both visually appealing and harmonious - for more guidance, see our exploration of the 60-30-10 rule.
When planning your green dining room ideas, incorporating other colors into your scheme can make way for beautiful color pairings, and establish a stylish contrast.
The beauty of working with green for your dining room is that it can be combined with an array of different colors; from a bright yellow to a calming cream.
In this dining room, the bright pink dining chairs add a playful element of color and contrast to the space, with the overall look creating an inviting mix of the classic and the contemporary.
7. Use more than one shade of green
If you are struggling to decide on what shade to use for your green dining room ideas, why not use more than one?
With so many different shades available, you can create beautiful color combinations for your green room ideas.
In this dining room, the paneled walls are painted in two colors by Little Greene. The darker Sage Green creates a grounding atmosphere, with the lighter, Book Room Green adding a sense of lightness to the space. Creating a colorful, contemporary look, this pretty palette of greens shows just how versatile this color can be for dining room paint ideas.
8. Enhance your green dining room with accessories
'A place for conversation and entertainment, you want your dining room to be a welcoming area in the home that reflects your character and style identity, so do not forget to incorporate accessories and unique decorative pieces to really make the space your own,' says Homes & Gardens' Editor in Chief Lucy Searle.
In this dining room, the green scheme is enhanced by the two, low hanging pendant lights and the high shelf decorated with green plates and ornaments. In perfect view of the dining table, the shelf and its contents can be easily taken in and appreciated when seated - one to remember for dining room wall ideas.
Matching your accessories and dining room lighting ideas with your green scheme can create a harmonious and well-considered design.
9. Bring in an element of contrast
As we have discussed, accent and secondary colors are key when planning your decorating ideas for a space, so why not take this one step further by incorporating a bold element of contrast in your green dining room.
You know the age-old saying, 'blue and green must never be seen', well, that no longer applies. Color clashing, great for maximalist decor ideas, can create an adventurous, striking design - and is proving quite popular in recent interior design trends.
Whether you layer pattern on pattern, like in the dramatic dining room above, or mix old and new designs, bringing in a striking element of contrast to your green dining room can create a truly characterful space.
10. Choose a vivid, bright green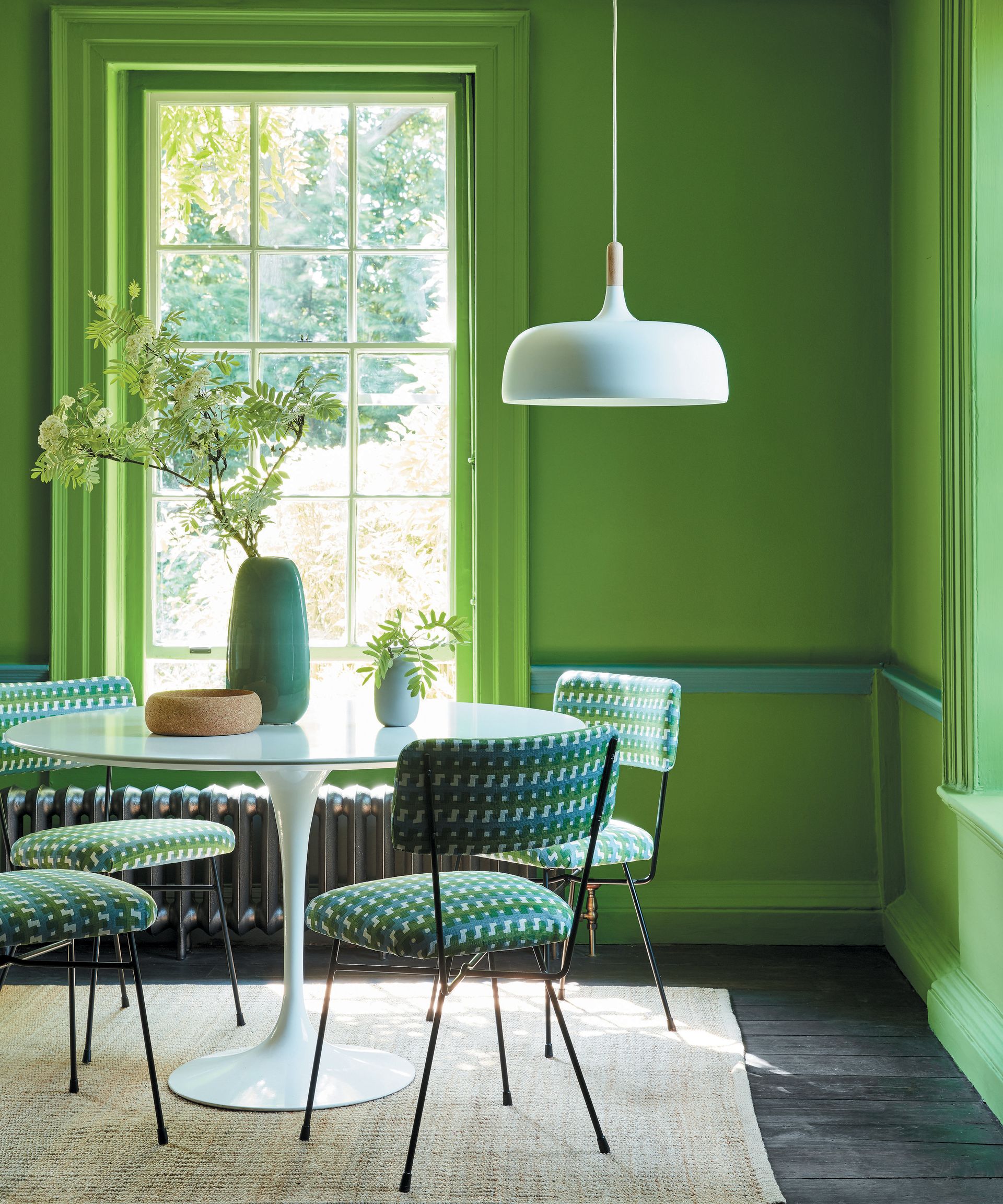 A dining room is a great place to be daring with color, not used as often as some of the other rooms in the home, create an unforgettable dining experience with a brave color choice.
This vibrant dining room has been decorated in Sage & Onions green by Little Greene, with Tea with Florence blue on the dado rail. The room feels full of energy and life, and makes colorful, contemporary statement.
Is green a good color for the dining room?
A truly versatile shade, green can work wonderfully in a dining room.
Whether you want to create an enhanced feeling of relaxation and calm with the use of pale green paint and natural materials, or establish a bold, unique design through striking color combinations and vibrant patterns, there are green options for all.
As the color has a deep connection with the natural world, it really is a timeless choice for your interior designs, evoking feelings of peacefulness and tranquility like that found in nature.
Design Director Tom Howley states, 'as a color we associate primarily with nature, this grounding shade has an incredible way of reconnecting us with our surroundings, creating moments of calm and positivity.'
Sign up to the Homes & Gardens newsletter
Decor Ideas. Project Inspiration. Expert Advice. Delivered to your inbox.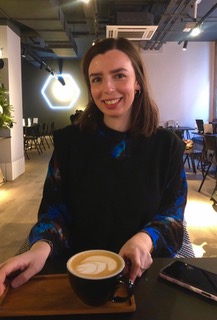 Zara joined Homes & Gardens in February 2022 as a Content Editor. After studying English Literature at University, she worked as an Ecommerce Website Editor, Content Writer and Buying Intern at multiple independent businesses within the luxury retail and lifestyle sectors. Her role at Homes & Gardens unites her love, experience and passion for the world of design and desire to create inspiring written content. She enjoys nothing more than discovering new trends, brands and products, whether that be in fashion, interior design or lifestyle.