Dining room lighting ideas – 15 focal features that set the mood
This is how dining room lighting ideas have an important role to play in the decor and atmosphere of your space. Our top inspirations will give you a ton of choices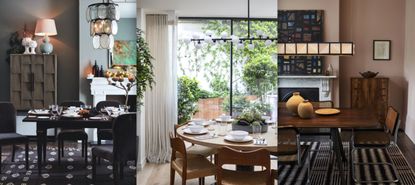 (Image credit: Future)
Dining room lighting ideas deserve more focus – arguably – than those of any other room in a home. After all, they are vital for setting the mood of a room at night, and might – at the other end of the spectrum – be used to illuminate home-working on gloomy days or long evenings.
More than that, if you are looking for impactful dining room ideas, it's worth bearing in mind that they are there to draw attention to the focal point of the room: the dining table. And, therefore, they need to be able to hold their own aesthetically within the space.
Ideally, your dining room lighting ideas will be perfectly proportioned and at just the right height, too, might introduce new materials to the room – or highlight existing ones – and should be adjustable to conjure up the light levels you need at any moment.
Dining room lighting ideas
When you are lighting a dining room, consider aesthetics first: what kind of light do you need over the table; do you need supplementary dining room lighting ideas elsewhere within the space, and how will they work with your decor? From there, you can think about adjustability and controls.
1. Create contrast with shape and material
'Dining room lighting is, secondary to the table, the star of the show,' says Lucy Searle, Editor in Chief, Homes & Gardens. 'It is there to highlight the table, which can glow in its flattering pools of light, but it is also there to be a sculptural focal point in its own right.
'One way to do this effectively is through contrast, as shown in the modern dining room above: the cool modernity of the white pendants complement the contemporary dining chairs, and table, but act as an intriguing foil to the more traditional window dressings.
'I love the lights above; Arhaus' Watley White Cone Pendants are similar but painted gold inside, which means they give off a warm glow.'
2. Pick an eye-catching central pendant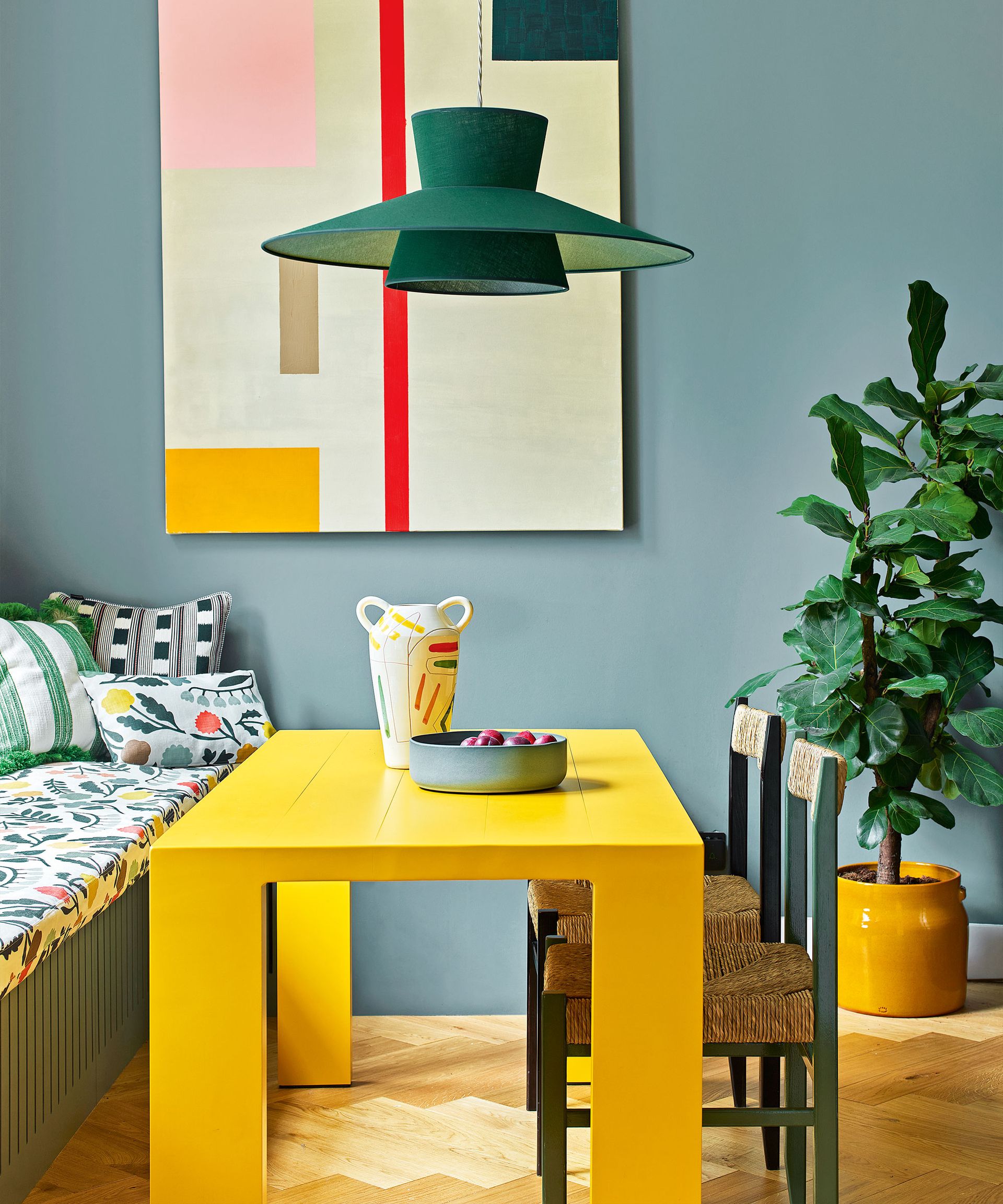 If yours is a small dining room or you are looking for dining room ideas for apartments, it's likely you won't have room for a grouping of lamps or a sizeable chandelier. However, that doesn't mean you can't create impact with dining room lighting. Simple choose a shapely piece in a stand-out color to create a beautiful, colorful vignette.
3. Choose texture to add warmth
The beauty of rustic dining rooms is often to be found in the dining room lighting. 'These make for wonderful opportunities to add texture to a space,' says Homes & Gardens' digital editor Jennifer Ebert. 'What's more, a bulb that shines through a natural woven material, such as in the room above, is softened and warm, which is the perfect light for dining with family, or with friends.'
4. Pick wall lights to accentuate the grandeur of the room
Traditional dining rooms often have more generous proportions, and while a central pendant can feel grand, it can also feel forbidding. But you can use dining room lighting ideas to create a cozy, intimate atmosphere, even if your table seats 12. One successful way to do so is with wall lighting: with small shades, it can throw small shadows up and down the wall, while the table itself can be illuminated by candlelight.
5. Create drama with a super-sized dining room light fitting
A large dining room lighting idea will draw attention – but it needn't be fussy. In fact, modern dining room ideas often call for a pared back look.
'I love to play with scale when it comes to dining room lighting, it's the perfect way to create drama and impact,' says Ginger Curtis, owner and principal designer at Urbanology Designs.
'The traditional rule of thumb says that the diameter of your chandelier should be about a half to two-thirds of the length of your table. But we don't always follow rules; in fact, we like to break them. For something that feels like more of a statement, go bigger than the rule of thumb to create that wow moment!'
6. Double the impact of dining room lighting
Dining room lighting ideas can double up over a long table – and dramatic fittings will draw the eye upwards – which is perfect if you have a statement ceiling.
'Lighting is an opportunity to make a big statement in your dining room. These starburst chandeliers draw the eye upwards to the detailed ceiling and artwork above the mantel. We chose to hang two fixtures for greater impact,' says Karen B. Wolf, creative principal at Karen B. Wolf Interiors.
7. Soften hard surfaces with curves and natural textures
Dining rooms in modern homes can lack the welcoming softness that make a space feel inviting – but this can be mitigated with a curvaceous light fitting.
'Create a point of focus in your dining room by choosing an eye-catching pendant light. Positioning a statement piece centrally over your dining table draws your eyes to the center of the room, as well as casting an atmospheric glow over the table,' says Katie Lion, interior designer at Kitesgrove.
'This sculptural light from PINCH is a favorite – it is equally beautiful lit or unlit, and its softly undulating layers of banana fiber create intriguing light and shadow effects.
'If budgets are tight, changing a lampshade can be an easy way to update the feel of the room – try opting for a larger scale piece or interesting pattern or color.'
8. Add side lamps to create pools of light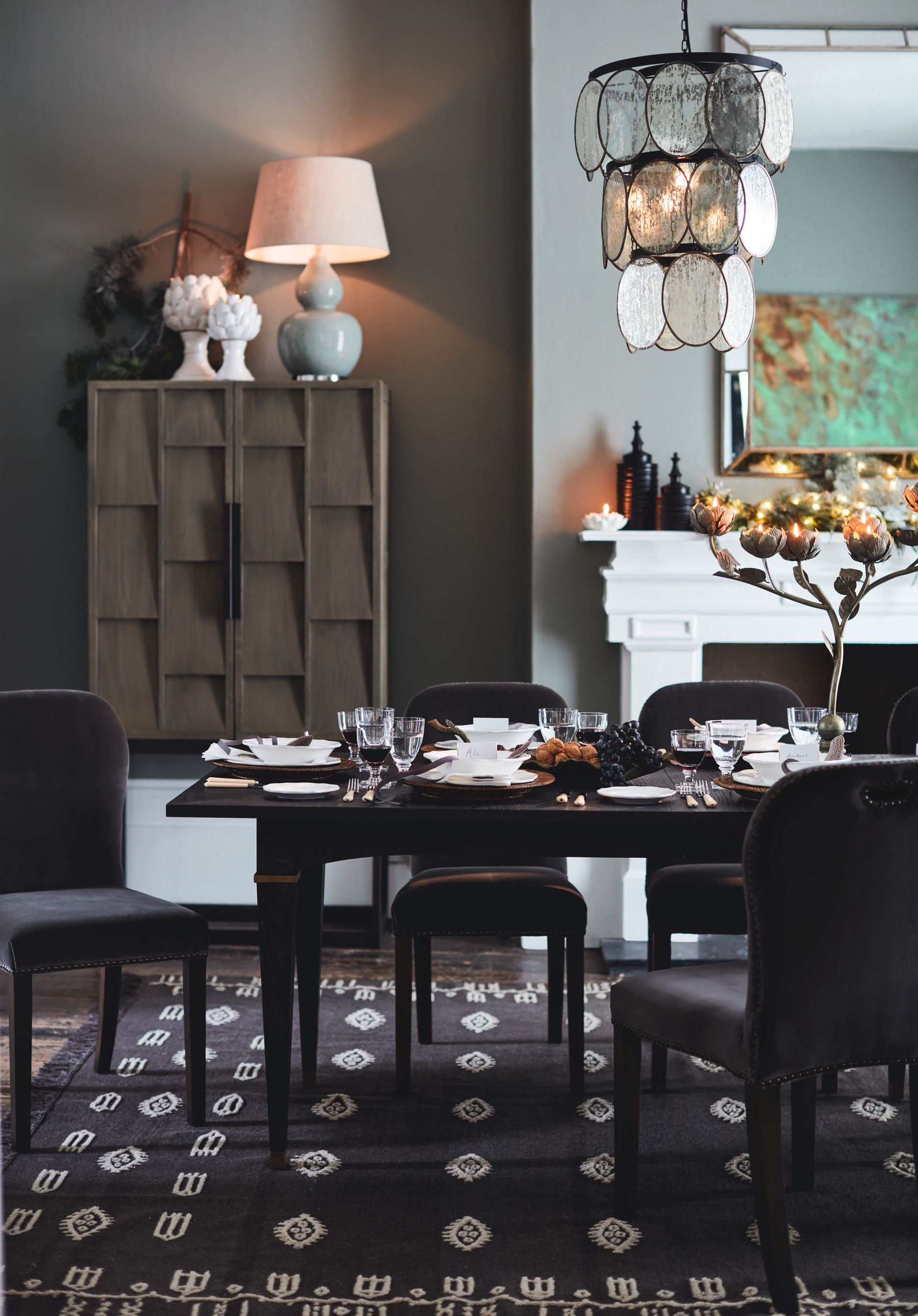 Dining room lighting ideas shouldn't rely solely upon overhead lighting – table lamps can create welcoming pools of light, particularly against darker dining room color schemes.
'Don't underestimate the power of lighting to completely transform the look and feel of a dining room. To create a warm and inviting atmosphere, soften the glow of overhead lamps with a pendant light and consider swapping out bright bulbs for those with a lower wattage,' says Sue Jones, co-founder and creative director at OKA.
'Once you've mastered the main light, illuminate dark corners of the room with floor and table lamps.'
9. Ensure controllability for different dining room lighting ideas
'Bringing together both wall and pendant lighting allows you to create an atmosphere in any dining room; whether that's for a morning coffee or an evening meal with friends,' says Louise Bradley, founder of Louise Bradley.
'The use of lighting is so important to any space, the pendant lighting in this dining room adds to the focal point of the table, whilst the wall lights add to the backdrop and frame the artwork.
'If possible, ensure that each layer of lighting can be controlled individually, this will allow you to set various moods for the room at different times of the day and evening. In the evening I always set the lights low and use candles on the table as they create another lovely source of light for a relaxed evening setting.'

10. Choose crystal dining room lighting for a trad feel
Traditional style dining room lighting ideas – with crystal chandeliers a classic example – bring grandeur, occasional, and beautiful twinkling light to a space.
'Dining room lighting needs to be extra flexible so it can be combined with candle light,' says Henriette von Stockhausen, co-founder of VSP Interiors. 'Always put lights on a dimmer so that you can create different moods depending on what time of day it is. I adore using antique chandeliers with a crystal or alabaster dish over the center of the table along with wall lights and picture lights that create a glow.'
11. Use dining room lighting to define zones
If you are considering kitchen diner ideas, you can use your dining room lighting to create pools of light that mark out the different areas of the room.
'Dining room lighting is a really great way to help delineate and zone a space in an open plan living room. This is your moment to have fun and make a statement with a beautiful pendant light such as the mid-century lamp at this villa in Ibiza,' says Tara Bernerd, founder and creative director at Tara Bernerd & Partners.
Ideally the light should be dimmable, allowing you to set the mood just so, depending on the atmosphere you are looking to set – whether it be for a small or large dinner party in the evening, or perhaps to brighten the space for a lunch during the day.
12. Ground a dining space with a statement pendant
Simple but dramatic lighting can be used to focus attention on an entertaining area – even in small dining rooms.
'To make a real style statement in your dining room you can choose a striking overhead light like the one seen above. The contemporary cluster of lights adds a sense of drama to the dining room whilst also providing functional lighting on many different levels,' says Katie Lion, interior designer at Kitesgrove.
'Always position a statement light in the center of your room so that the space remains balanced, and wherever possible, incorporate a dimmer switch as this will allow you to instantly change the feel of the room – ideal for creating an atmospheric dining room in the evening or a light, bright home office during the day.'
13. Hang dining room lighting low – but not too low
Dining room lights need to be at the right height – too high and they won't connect with the table, and the space will lack atmosphere, too low and it will interfere with the diners' eyelines. Ideally, it needs to be between 3 to 5ft above the table top.
'Hang pendants low over the dining table to help create dramatic, intimate zones. Don't forget choice of materials – bone china pendants bring a lovely softness of finish and a beautifully translucent glow that works particularly well over dining tables for flattering overhead illumination,' says Charlie Bowles, director at Davey Lighting. 'This soft light is ideal for creating a cosy atmosphere that makes you feel instantly comfortable and relaxed.'
14. Play with scale
'Pendants are a great way of creating an impactful silhouette. Don't be afraid of larger pendants, playing with scale is an interior designer's trick to make a statement and create interest, which works particularly well with industrial-style lighting, such as our Titan Size 5 pendants,' says Charlie Bowles, director at Original BTC.
15. Rely on floor lights for a relaxed appeal
Floor lamps can make great dining room lighting ideas, especially if you want to create a relaxed appeal.
'By using a floor lamp rather than pendant lighting in a dining room you are able to create a more intimate atmosphere. Go for an adjustable lamp that you can adapt in terms of not just height, but also direction of light to give you the most flexibility,' says Kyra Blades, home designer at Neptune Farnham.
Standing your lamp taller will give more generous light, and dropping the height will be more direct, ideal for a cozy set up. Enhance the look by lining your table with tall dinner candles, and be sure to choose a floor lamp with a fabric shade to offer warm glow.'
What lighting for a dining room is best?
Lighting that draws attention to the dining table is the best lighting for a dining room, but that is not the only priority. The best dining room lighting also must be dimmable so that you can change the atmosphere of the room at the flick of a switch. It should also flatter diners and be at the right height: too far from the dining room table top and it will feel disconnected; too low and it might impede the diners' views of each other.
What lighting do you need in a dining room?
Dining rooms, first and foremost, need controllable lighting that can be dimmed and brighten to suit your needs and the mood you want to create. An impactful pendant – around one third to two thirds the length of the table – placed centrally over the table will create focus for the room that can't be beaten. Table lamps on side or console tables will create lower, welcoming pools of light, and table lamps can be used to direct soft light onto the table.
What is popular in dining room lighting?
Currently, multi-armed pendant lights are popular in dining room lighting. These tend to have opaque shades that focus the light downwards – meaning you will want to use warm lightbulbs that can be dimmed to create soft, warm pools of light.
Sign up to the Homes & Gardens newsletter
Decor Ideas. Project Inspiration. Expert Advice. Delivered to your inbox.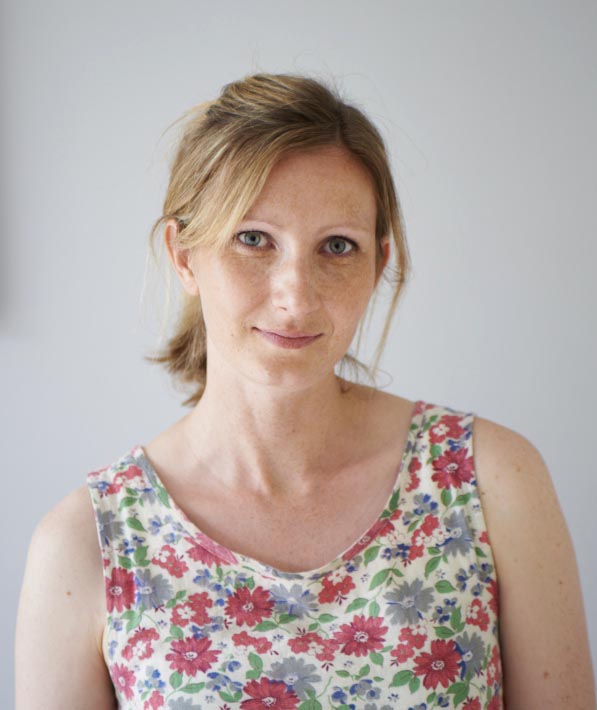 Sophie has been an interior stylist and journalist for over 20 years and has worked for many of the main interior magazines during that time, both in-house and as a freelancer. On the side, as well as being the News Editor for indie magazine, 91, she trained to be a florist in 2019 and launched The Prettiest Posy where she curates beautiful flowers for modern weddings and events. For H&G, she writes features about interior design – and is known for having an eye for a beautiful room.