Lighting a dining room – expert tips on how to get it right
How to achieve perfect proportion and just the right amount of atmosphere when lighting a dining room, according to experts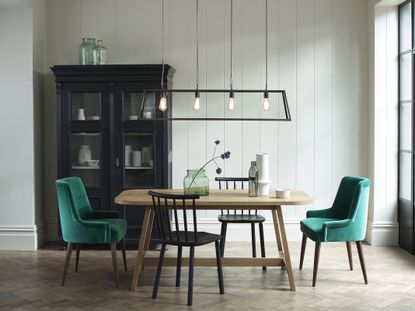 (Image credit: Davey Lighting)
There's more to lighting a dining room that you might realize; as well as considering aesthetics, you need to think about what you mostly use the dining room for – are you a consummate entertainer, a home study station or both? – and how to make it work for every occasion.
'If you plan to use the dining space as a makeshift study, the room's lighting will need to be adapted with additional light sources to accommodate its multifunction,' advises Helen Pett, Design Ambassador, Arteriors London. 'Complementary wall lights on three of the four walls, for example, will allow for a sufficient spill of light while still adding a decorative element, or you could install rows of down lights across the ceiling to ensure there is light evenly spread across the space.'
It's that time of year again, when the darker evenings are drawing in and we are thinking about stylish and clever dining room ideas and ways to best illuminate our homes. Luckily, we've rounded up a host of expert tips to make lighting a dining room a breeze.
Lighting a dining room – how to get it right
'The style of the room as well as the size and shape of your dining table will likely dictate the lighting scheme you choose to center around it,' says Pooky founder Rohan Blacker. 'Ensure lighting is chosen to suit both practical uses as well as being aesthetically pleasing.
'For most, dining room lighting is a design feature in its own right and can be the perfect eye-catching conversation starter that also paves the way for the rest of the room's décor.'
See how to create the perfect balance of form and function when lighting a dining room below.
1. Create ambience with wall lights and table lamps
When lighting a dining room, first consider the ambience you wish to create within the space, especially if you are considering grey dining room ideas or darker blue dining room ideas, which will be cooler and need warmer bulbs.
'Opt for warm yellow bulbs and integrate statement table lamps or arched floor lighting to create a soft, after-dinner glow,' says Wayfair's Resident Style Advisor Nadia McCowan Hill.
Louise Wicksteed, design director at Sims Hilditch, highlights the effectiveness of dining room wall ideas for creating a pleasant atmosphere. She says: 'It is always effective to have wall lights symmetrically placed around the room, this offers an even distribution of light and creates an ambient glow.'
2. Consider the sense of scale
Before you invest in your dining room lighting, make sure to look at the ratio of light versus table.
Interior designer Raili Clasen says: 'Our one rule of thumb in selecting lighting for a dining room is the proportion of lighting to table.
'One single round pendant over a long linear table seems to leave out both sides of the table. Instead, we would choose something linear, with non-symmetrical arms spanning the entire length of the table.
'For a round dining space, an oversized round light is perfect.'
3. Take the room's natural light into account
If you're fortunate to have a natural light-saturated room, you can focus more on form than function.
Katie Glaister and Henry Miller-Robinson, Co-Founders of K&H Design, explain: 'We created a contemporary dining room for a Notting Hill garden apartment (above). The lighting only needed to create an impact at night as we were spoilt by the natural light that flooded in from the bay window at the far end of the living room to the French doors opposite the dining room.
'Having one central pendant above a glass dining table creates a strikingly modern look which reflects elegantly. We had the cylinder spotlights and led tracks neutralized to blend in with the ceiling, so as not to distract from the simple pendant but to give enough light to the dinner guests in the evenings.'
Louise Wicksteed, of Sims Hilditch, suggests it's always a good idea to make the most of a natural source of light. 'If possible, we suggest placing the dining table near a large window allowing natural light to stream in throughout the day, while also providing a look out point to enjoy the views.'
4. Choose a central pendant or cluster of pendants for a round or square table
'For those with round or square dining tables, a centrally positioned pendant or pared-back directional chandelier with one or multiple light sources would work really well, as do a cluster of pendants hanging at different heights,' says Pooky's Rohan Blacker.
He adds: 'Both are statement-making as a pretty feature while providing optimal lighting for dinner time.'
5. Go linear for longer tables
If you've got a rectangular table, it's a good idea to spread the light source.
'Longer, rectangular tables require light that spreads across the length of the table,' says Rohan Blacker. 'We recommend opting for either a linear chandelier with multiple light sources as part of its design or a trio of pendants styled side by side which will have the same effect.'
He continues: 'For a playful touch, use different colors, finishes, heights or even different pendants but complementing shapes and styles. This will draw the eye and add a dash of quirky personality to the room.'
6. Use the rule of three
Harness the eye-catching decorative display power of the rule of three – a styling trick designers use to group objects together in threes for a visually appealing finish.
Rectangular, longer tables also work really well with a trio of pendant lights, which also help to define the space in a kitchen diner.
Wayfair's Nadia McCowan Hill advises: 'In a kitchen diner space try hanging a trio of pendant lights directly above your table to section off this area.'
Martin Waller, of Andrew Martin, adds: 'Use statement lighting to create different zones, that each have a purpose. Hang pendant lighting over dining areas to draw people into an inviting dining scene.'
7. Add a statement chandelier
Add opulence and drama to your space with a timeless chandelier.
Helen Pett, Design Ambassador, Arteriors London, states: 'If the room's sole purpose is a dining room, we are big believers in creating a focal point of drama by choosing a chandelier or low hanging cluster of pendants which will float prettily as a centrepiece in the room and atop the dining table as a practical light source for wining and dining.
'We've recently seen a demand for jewellery pieces, statement lighting designs which really add something different and special to the dining room.'
Louise Wicksteed concurs: 'If you are lucky enough to have a dining room with high ceilings and windows, having a statement light pendent is a great way to fill the space and adds an element of drama to the design.
And Wayfair's Nadia McCowan Hill says: 'More is more with an oversized statement chandelier, which can imbue even the simplest of spaces with drama that makes the eye linger.'
But what should you be looking for? Jane Rockett, co-founder of Rockett St George, says: 'Vintage-style chandeliers always look amazing in the dining room and are a timeless staple you can trust.'
8. Embrace low-hanging lighting
Over-table lighting is best hung low to create a cozy, cocooning feeling and to emit a soft glow.
'Opt for a central lighting feature over the dining table and don't be afraid to let this hang low,' says Jane Rockett, co-founder of Rockett St George. 'A low-hanging chandelier looks fabulous in the dining room and helps create a more intimate atmosphere.
'Also, by positioning your ceiling light above the center of the dining table, you can benefit from beautiful patterns of light and shadow across your table.'
9. Don't forget the dimmer
A dimmer switch is the secret to versatile and multifunctional dining room lighting.
'Never forget to have your central light installed on a dimmer as, especially in the dining room, you want to create that beautifully subtle glow of light that only a dimmer can achieve,' explains Jane Rockett.
Pooky's Rohan Blacker agrees, adding: 'Ensure you install a dimmer switch for lights in a dining space. If possible, make sure you have the decorative lights on a different circuit to the functional ones if you do have the two sets.
'This gives you options for creating a certain mood depending on the occasion; from bright, practical lighting for daily family meals to subtle and romantic mood lighting for a more formal, entertaining affair.'
10. Establish a convivial atmosphere with candlelight
If there's one source of light you shouldn't forget for an intimate, inviting dinner party atmosphere, it's candlelight.
Jane Rockett says: 'The secret of lighting any dining space is down to candlelight. This light is alive, it dances, it glows and, let's be honest, it makes us all look a little bit more beautiful.
'It also makes your interior glow and helps create a warm and inviting atmosphere. So, whether you're dining solo or are surrounded by friends and family, candles are the ultimate mood enhancer and we always recommend introducing as many as possible to your dining table.'
Nadia McCowan Hill agrees, adding: 'Incorporate soft-focus, romantic light into your scheme by adding glimmering votives to a small set-up or elegant tapered candles in quirky candelabras scattered down a long rectory-style table.'
What is the proper height for a light fitting in a dining room?
The proper height for a light fitting in a dining room is around 3ft above the top of your table. This is low enough to allow for the pendant light to illuminate the table rather than the entire room, but is high enough that any guests sitting at the table won't have their view of the diner opposite blocked by the light fitting.
What is the trend for dining room lighting?
The trend for dining room lighting rarely changes: low level, dimmable lighting on a pendant – or series of pendants – over the dining table itself, with separate controls for wall lights, table lamp lighting, and candlelight. The key to getting dining room lighting right is to create a warm glow around the dining table itself so that the room feels welcoming, sociable and convivial, while avoiding lighting the ceiling and the rest of the room too brightly, which takes the focus away from the dining table.
Sign up to the Homes & Gardens newsletter
Decor Ideas. Project Inspiration. Expert Advice. Delivered to your inbox.
Ruth Doherty is an experienced digital writer and editor specializing in interiors, travel and lifestyle. With 20 years of writing for national sites under her belt, she's worked for the likes of Livingetc.com, Standard, Ideal Home, Stylist and Marie Claire as well as Homes & Gardens.