Small cottage kitchen ideas – design inspiration for rural homes
Be inspired by these key design ideas for creating practical spaces brimming with rustic charm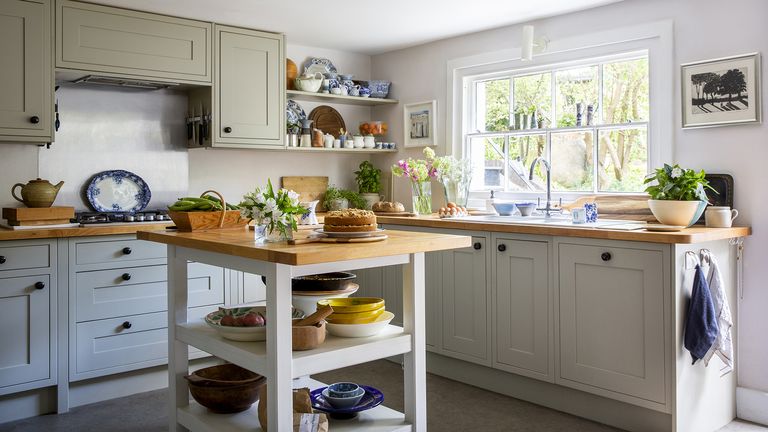 (Image credit: Future / Kasia Fiszer)
Small cottage kitchens are full of prized original features, from rustic wooden ceiling beams and original masonry, to quirky inglenooks and alcoves. It's these characterful features, teamed with their quaint proportions, mix of rustic wooden furniture and quirky collectables that make cottage kitchens such cozy and homely spaces.
However, their small footprints and low ceilings can be tricky obstacles to tackle when it comes to creating the perfect design. But just because your space it small, you don't have to compromise on practicality or style. To help inspire your small cottage kitchen design we've shared our top tips, from cabinet choices to wall colors, alongside some handy advice from the experts.
See: Kitchen ideas – decor and decorating ideas for all kitchens
Small cottage kitchen ideas
When you are searching for small cottage kitchen ideas for your own home, preserving the rustic charm and original character of the room is key. 'The charm of small cottage kitchens is often the quirky and eclectic mix of old and new that gives the feeling of a cozy and welcoming space,' Helen Parker, creative director at Devol, explains.
With this in mind, we've gathered plenty of ideas for how to create a practical small cottage kitchen without having to compromise on those prized architectural features.
See: Cottage kitchen ideas – design inspiration for larger spaces
1. Create an airy feel with base cabinetry only
'Small cottage kitchens usually have low ceilings, so keeping clutter to a minimum is key to them feeling spacious and easy to work in,' continues Helen Parker.
One way to achieve this is to factor in lots of base cabinetry storage (pictured in this Devol Real Shaker kitchen), as this will allow you to keep the walls open and bright plus will allow characterful masonry and beams to take the lead.
2. Choose Shaker-style cabinets for a timeless feel
Taking its name from the Shakers – a Christian sect that settled in America in the late 18th century – Shaker design championed simplicity, honesty and quality. Extremely popular today, Shaker-style kitchen design with its simple straight lines and framed doors will complement any kitchen, no matter how small. Taking its cue from nature, a light sage color, as pictured in this kitchen, will complement the rural surroundings of a small cottage kitchen and the warm tones of natural timber.
3. Preserve original features with bespoke design solutions
Small cottage kitchens have beautiful original features, but these can cause design issues. Calling in a professional kitchen designer who can create bespoke design solutions for your space is a great place to start.
Talking about this Cotswold Chapel kitchen by Sustainable Kitchens, co-founder Sam Shaw explains how 'part of the brief was to preserve the room's rustic charm, so we embraced the original features by fitting an Aga and extractor into the cove.'
The Aga gives a homely cottage feel, while disguising the extractor allows for a clean streamlined look which is important in small spaces.
4. Consider glazed wall cabinets
In small cottage kitchens, space is at a premium, so it's important to factor in lots of storage. 'Use glazed wall cupboards so they feel less imposing,' suggests Adrian Bergman, senior designer at British Standard by Plain English kitchens. 'Paint the interior of glazed wall cupboards a different color to draw the eye through to the back.'
This feature was created by H&G's sister brand, Period Living magazine
Subscribe to Period Living for more inspiration
Period Living is the UK's best-selling period homes magazine. A subscription provides you with all you need to know about caring for and improving a traditional house and garden.
5. Paint wall cabinets to match the walls
If you decide to go for glazed wall cabinets, one trick to making small cottage kitchens feel larger is to paint the outsides of the cabinets in the same color as the walls, as co-founder of Sustainable Kitchens Sam Shaw explains.
'This kitchen was to suit a family of six so needed to incorporate plenty of storage, we disguised extra storage by painting wall cabinets the same shade as the wall to blend in using the high ceilings efficiently.'
The kitchen is painted in Farrow & Ball's Chappell Green which is a brilliant color for complementing the warm honeyed tones of natural wood and stone in small cottages. Painting the doors, door frames and skirting in the same color, too, will help the space feel larger and more unified, even when using a darker shade.
6. Opt for warm neutrals to create the illusion of space
Painting walls and cabinets in a neutral shade is a go to solution for keeping spaces feeling light and bright. For many years, greys and cooler tones have been popular, but to make spaces feel truly homely, as a small cottage kitchen should, it's worth considering warmer neutrals.
This Real Shaker kitchen from Devol is kept warm and welcoming with cabinetry painted in its creamy Linen shade, while tall wall cabinets and white Carrara marble worktop also help to keep things looking bright and streamlined.
7. Bring cottage charm with natural wood cabinetry
Real wood cabinetry will stand the test of time, and, when left with a natural finish showcasing the beautiful timber grain, it will also create a charming rustic feel perfectly suited to a rural cottage, as this small cottage kitchen proves. It will need care and maintenance to keep it looking its best, but it's certainly worth it.
8. Make your worktops deeper
Another key thing to consider when designing a small cottage kitchen where space is tight is to 'increase the depth of the worktop to make up for limited wall space,' suggests Adrian Bergman, senior designer at British Standard by Plain English.
'Smaller appliances can clutter the worktop so this is an easy fix to counter this. Be careful not to go too deep as you may find it difficult to access your wall cupboards.'
See: Cottage curtain ideas – inspiration for a pretty, cozy home
9. Add in a moveable kitchen island
Whether it's a butcher's block, vintage metal trolley on casters, or an old wooden table, a moveable piece of furniture will give an extra surface for prepping, but will give flexibility to the layout of a small space as it can simply be repositioned when extra space is needed.
Search flea markets for intriguing vintage pieces in natural materials with time-worn patinas which will complement the features of a rustic cottage.
See: Portable kitchen island ideas and mobile islands – perfect for small spaces
10. Create impact by painting cabinets in a vibrant color
If you're lucky enough to have lots of natural light in your small cottage kitchen, such as in this Plankbridge shepherd's hut kitchen, then you can afford to be color confident with cabinetry. This vibrant green brings a playful touch to a classic shaker design.
11. Install some wall hooks
Wall hooks will keep surfaces clutter-free and helpful for hanging pans, kitchen essentials and textiles when base cabinet space is limited. However they also help create that homely feel that we all love about a small cottage kitchen, opting for vintage wall hooks will help create that sort after mix of old and new.
12. Choose a paint color to complement original features
When it comes to choosing a color for a small cottage kitchen Ruth Mottershead, creative director of Little Greene advises: 'It's important to consider the colors that already exist within the space, be that furniture, flooring or furnishings, these elements should be included as colors within your palette to draw out the style you wish to follow. Are there architectural features or areas of interest to draw attention to? Color is a fantastic way to highlight these features or brighten gloomy corners.'
Don't miss our cottage lighting ideas for pretty, practical solutions.
13. Add a pulley dryer
When space is limited, it's important to utilise every inch. Hanging a pulley dryer from the ceiling is a great way to get laundry drying up and out of the way but add hooks to it and it can also double up as a place to hand pots and utensils, in fact, anything! A common sight before the days of washing dryers, a pulley maid will give your small cottage kitchen a homely, vintage feel.
14. Add in high shelves to display collectables
In small cottage kitchens you have to make use of every nook and cranny. Often the focal point of a small cottage kitchen, above the Aga is a brilliant place to add in a wall shelf and showcase those cherished ceramics that make your space feel so quaint and homely.
Pippa is Content Editor on Homes & Gardens online contributing to Period Living and Country Homes & Interiors print issues. A graduate of Art History and formerly Style Editor at Period Living, she is passionate about architecture, creating decorating content, interior styling and writing about craft and historic homes. She enjoys searching out beautiful images and the latest trends to share with the Homes & Gardens audience. A keen gardener, when she's not writing you'll find her growing flowers on her village allotment for styling projects.