Small cottage kitchen ideas – 20 design tricks for small, rural spaces
Be inspired by these key design ideas for creating practical spaces brimming with rustic charm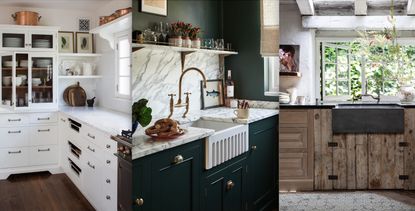 (Image credit: Karen Harautuneian/deVOL/Amy Neunsinger for Leanne Ford)
Small cottage kitchens are full of prized original features, from rustic wooden ceiling beams and original masonry, to quirky inglenooks and alcoves. It's these characterful features, teamed with their quaint proportions, mix of rustic wooden furniture and quirky collectables that make cottage kitchens such cozy and homely spaces.
However, their small footprints and low ceilings can be tricky obstacles to tackle when it comes to creating the perfect cottage kitchen ideas and design. But you don't have to compromise on practicality or style just because you're dealing with small kitchen ideas. To help inspire your small cottage kitchen ideas, we've shared our top tips, from cabinet choices to wall colors, alongside some handy advice from the experts.
Small cottage kitchen ideas
Preserving the rustic charm and original character of a small cottage kitchen is key to its success.
'The charm of small cottage kitchens is often the quirky and eclectic mix of old and new that gives the feeling of a cozy and welcoming space,' Helen Parker, creative director at deVOL, explains.
With this in mind, we've gathered plenty of ideas for how to define your cottage decorating ideas for a practical small cottage kitchen, without having to compromise on those prized architectural features.
1. Focus on luxe countertops
Elevate your small cottage kitchen ideas by introducing high-end surfaces, colors and accessories that impart a precious, jewel-box feel to your space.
The kitchen pictured here is only 40 square foot in size, yet it is brimming with elegant style, including a backsplash and surfaces in Arabescato marble and dramatic colors mixed with characterful accessories.
By honing your kitchen countertop ideas, and making them a key part of your cottage kitchen design, you maximize their impact.
'Despite its small scale, this cottage-style kitchen has an outsize personality that makes it such a charming space. Investing in luxe materials such as marble and natural stone makes a big impact without a huge outlay when it comes to a small room like this,' says Lucy Searle, Editor in Chief of Homes & Gardens.
2. Use characterful reclaimed materials
This charming cottage kitchen is a project from interior designer Leanne Ford – and showcases all her hallmarks of charm, authenticity and a touch of the unexpected.
'When I first started designing this house I thought, I don't want to fight this house; I want to go with it. It had storybook whimsy, beautiful ivy on the brick and magical old windows that I couldn't take away. We even kept the original blue floor tile and the same footprint as the original kitchen so the space feels like it has always been there. But then we added bright white paint and soapstone countertops from Walker Zanger to balance it out. And there you have it – a modern space that is still full of charm and soul!
'I asked a friend to help me cut up my favorite old table to turn it into the cabinet front for the space that lived beneath the kitchen sink. This well-loved, repurposed piece added the right amount of character to the kitchen to honor its original charm and soul.
As a final touch, Leanne focussed on her kitchen sink ideas and what this essential piece could add to the overall look of the design.
'I finished the space off with a stone farmhouse sink from Native Trails that added in clean and timeless lines that would complement the wood.'
3. Add a statement refrigerator
You may be worried that a classic retro-style refrigerator will dominate a small cottage kitchen, but this Big Chill Classic Fridge has been trimmed down by 6 inches – from a standard 36 inches to a slimline 30 inches – to fit comfortably within a smaller space.
'We were going for a cottage vibe in the kitchen and this fridge was everything we wanted. The Classic 30in is an easy replacement for most residential fridges, and it has classic finishes with an industrial modern twist,' explains Adam Miller, who can be found on TikTok at Old House Adam.
Where should a refrigerator be placed? That depends on the size and your small kitchen layout ideas, but it's wise to keep to the classic kitchen triangle format of sink, stove and refrigerator if possible.
Adam also converted vintage desk into a small kitchen island for characterful cottage style.
'I put off turning an oak desk into the kitchen island for months, but after a trip to the lumber yard, we picked out this beautiful white oak that matched the table perfectly,' he says. 'I routed a shelf to match the desktop, and only joined it with biscuits, dowel rods, and wood glue. We added the shelf and the feet, added the matching stain and voila!'
4. Install a pot filler
It may seem counter-intuitive to need an additional faucet in a small cottage kitchen – after all, you don't have to walk many steps to reach the sink and fill up a pan from the tap there.
In fact, having a pot filler tap is a great idea in a small cottage kitchen, as it prevents the to-and-fro traffic across the space that can cause difficulties when there's more than one person in the room. A pot filler is also the one kitchen feature that can increase your home's value most.
Other small-space ideas include incorporating slim, open shelving instead of boxy wall cupboards and integrated appliances concealed behind solid painted doors for a streamlined, unfussy look that only serves to emphasize the small cottage kitchen charm.
5. Fit a shelf above a window
Making the most of vertical space is key in a tiny kitchen – and it's a great way when to add the homey comfort that's associated with small cottage kitchen ideas. What do you put on a small kitchen window? Why not consider a shelf?
This kitchen is designed by Karen Harautuneian, Founder of Hub of the House Studio and co-founder of Hart & Toth Cabinet Co.
She has used the go-to-trick of a designer working on small white kitchen ideas, by opting for white walls, ceiling and cabinetry to maximize the sense of light and space.
But she has also thought about practicalities and the best ways of organizing a small kitchen in order to make the most of every inch. A shelf above the window can be used for items you want to reach easily but don't want cluttering up your countertop.
There's still room to get creative with the details that make a difference.
'When I design a small cottage-style kitchen, I love repurposing vintage sash pulls as cabinet hardware and using a rich wood floor to contrast the often white cabinetry,' Karen says.
6. Don't be scared to go dark
Dark kitchen cabinet ideas, especially gray kitchen ideas, may seem out of step in a small cottage kitchen – perhaps too dramatic for a smaller space. In fact, dark gray is regarded by designers as one of the best kitchen cabinet colors for the sense of elegance, depth and luxury it can bring to a scheme.
There is also a feeling that it's better to embrace the lack of light in a small room, rather than trying to fight it.
'If you have a dark room, rather than battling to make the space feel lighter and brighter, opt for deep, rich colors to create a cocooning atmosphere,' suggests renowned interior designer, Nina Campbell.
7. Create an airy feel with base cabinetry only
'Small cottage kitchens usually have low ceilings, so keeping clutter to a minimum is key to them feeling spacious and easy to work in,' continues Helen Parker.
One way to achieve this is to factor in lots of base cabinetry storage (pictured in this deVOL Real Shaker kitchen), as this will allow you to keep the walls open and bright plus will allow characterful masonry and beams to take the lead.
8. Choose Shaker-style cabinets for a timeless feel
Taking its name from the Shakers – a Christian sect that settled in America in the late 18th century – Shaker design championed simplicity, honesty and quality. Extremely popular today, Shaker-style kitchen design with its simple straight lines and framed doors will complement any kitchen, no matter how small.
Shaker kitchen ideas work well in a small cottage kitchen, both for their timeless look and because the wooden cabinets can be designed to fit even the most awkward space.
'Taking its cue from nature, a light sage color, as pictured in this kitchen, will complement the rural surroundings of a small cottage kitchen and the warm tones of natural timber,' says interiors stylist, Sara Bird.
9. Preserve original features with bespoke design solutions
Small cottage kitchens have beautiful original features, but these can cause design issues. Calling in a professional kitchen designer who can create bespoke design solutions for your space is a great place to start.
Talking about this Cotswold Chapel kitchen by Sustainable Kitchens, co-founder Sam Shaw explains how 'part of the brief was to preserve the room's rustic charm, so we embraced the original features by fitting an Aga and extractor into the cove.'
The Aga gives a homely cottage feel, while disguising the extractor allows for a clean streamlined look which is important in small spaces.
10. Consider glazed wall cabinets
In small cottage kitchens, space is at a premium, so it's important to factor in lots of storage.
'Use glazed wall cupboards so they feel less imposing,' suggests Adrian Bergman, senior designer at British Standard by Plain English kitchens. 'Paint the interior of glazed wall cupboards a different color to draw the eye through to the back.'
11. Paint wall cabinets to match the walls
If you decide to go for glazed wall cabinets, one trick to making small cottage kitchens feel larger is to paint the outsides of the cabinets in the same color as the walls, as co-founder of Sustainable Kitchens Sam Shaw explains.
'This kitchen was to suit a family of six so needed to incorporate plenty of storage, we disguised extra storage by painting wall cabinets the same shade as the wall to blend in using the high ceilings efficiently.'
Choosing your kitchen color ideas and the best colors and finishes for your painted kitchen cabinet ideas is a key part of the design process.
The kitchen is painted in Chappell Green from Farrow & Ball, which is a brilliant color for complementing the warm honeyed tones of natural wood and stone in small cottages. Painting the doors, door frames and skirting in the same color, too, will help the space feel larger and more unified, even when using a darker shade.
12. Opt for warm neutrals to create the illusion of space
Painting walls and cabinets in a neutral shade is a go-to solution for keeping spaces feeling light and bright.
'For many years, grays and cooler tones have been popular, but to make spaces feel truly homey, as a small cottage kitchen should, it's worth considering warmer neutrals,' says Homes & Gardens Editor in Chief, Lucy Searle.
This Real Shaker kitchen from deVOL is kept warm and welcoming with cabinetry painted in its creamy Linen shade, while tall wall cabinets and white Carrara marble worktop also help to keep things looking bright and streamlined.
13. Bring cottage charm with natural wood cabinetry
Real wood cabinetry will stand the test of time, and, when left with a natural finish showcasing the beautiful timber grain, it will also create a charming rustic feel perfectly suited to a rural cottage, as this small cottage kitchen proves.
Whatever wood cabinet ideas you choose, your units will need care and maintenance to keep them looking their best, but it's certainly worth it.
14. Make your worktops deeper
Another key thing to consider when designing a small cottage kitchen where space is tight is to 'increase the depth of the worktop to make up for limited wall space,' suggests Adrian Bergman, senior designer at British Standard by Plain English.
'Smaller appliances can clutter the worktop so this is an easy fix to counter this. Be careful not to go too deep as you may find it difficult to access your wall cupboards.'
15. Add in a moveable kitchen island
Whether it's a butcher's block, vintage metal trolley on casters, or an old wooden table, a moveable piece of furniture will give an extra surface for prepping. What's more, portable kitchen island ideas like this will give flexibility to the layout of a small space as it can simply be repositioned when extra space is needed.
Search flea markets for intriguing vintage pieces in natural materials with time-worn patinas which will complement the features of a rustic cottage.
16. Create impact by painting cabinets in a vibrant color
If you're lucky enough to have lots of natural light in your small cottage kitchen, such as in this Plankbridge shepherd's hut kitchen, then you can afford to be color confident with cabinetry. This vibrant green brings a playful touch to a classic shaker design.
You could also take this approach to farmhouse kitchen island ideas, painting them a bright color to create a focal point.
17. Install some wall hooks
There are certain tricks that designers use to keep order when they are organizing a kitchen.
Wall hooks will keep surfaces clutter-free and helpful for hanging pans, kitchen essentials and textiles when base cabinet space is limited. However they also help create that homey feel that we all love about a small cottage kitchen, opting for vintage wall hooks will help create that sort after mix of old and new.
18. Choose a paint color to complement original features
When it comes to choosing a color for a small cottage kitchen Ruth Mottershead, creative director of Little Greene advises: 'It's important to consider the colors that already exist within the space, be that furniture, flooring or furnishings, these elements should be included as colors within your palette to draw out the style you wish to follow. Are there architectural features or areas of interest to draw attention to? Color is a fantastic way to highlight these features or brighten gloomy corners.'
Remember, cottage lighting ideas are also key to creating a welcoming but well illuminated space.
19. Add a pulley dryer
When space is limited, it's important to utilise every inch. Hanging a pulley dryer from the ceiling is a great way to get laundry drying up and out of the way, whether you are installing it in your small cottage kitchen or organizing a laundry room.
Add hooks to your laundry rack and it can also double up as a place to hang pots and utensils, in fact, anything! A common sight before the days of washing dryers, a pulley maid will give your small cottage kitchen a homey, vintage feel.
20. Add in high shelves to display collectables
In small cottage kitchens you have to make use of every nook and cranny. Often the focal point of a small cottage kitchen, above the Aga is a brilliant place to add in a wall shelf and showcase those cherished ceramics that make your space feel so quaint and homely.
When you're styling a shelf like this, which is more about display than storage, be sure to created a balanced vignette of favorite items.
What kitchen layout is popular in small homes?
The layout of your kitchen will depend on the space available to you. Galley kitchen ideas are the best option for narrow and long spaces. L-shaped kitchens give a sense of flow, and may allow space for a dining area at one end of the space. Or you may find that a freestanding kitchen, which allows flexibility to move furniture and flex it to fit your space, offers you the greatest freedom for the kitchen layout in a small home.
Sign up to the Homes & Gardens newsletter
Decor Ideas. Project Inspiration. Expert Advice. Delivered to your inbox.
Pippa is Content Editor on Homes & Gardens online contributing to Period Living and Country Homes & Interiors print issues. A graduate of Art History and formerly Style Editor at Period Living, she is passionate about architecture, creating decorating content, interior styling and writing about craft and historic homes. She enjoys searching out beautiful images and the latest trends to share with the Homes & Gardens audience. A keen gardener, when she's not writing you'll find her growing flowers on her village allotment for styling projects.