Kitchen sink ideas – 10 kitchen sink designs for your remodel
So much more than somewhere to rinse the dishes, these kitchen sink ideas are awash with good design to flatter your kitchen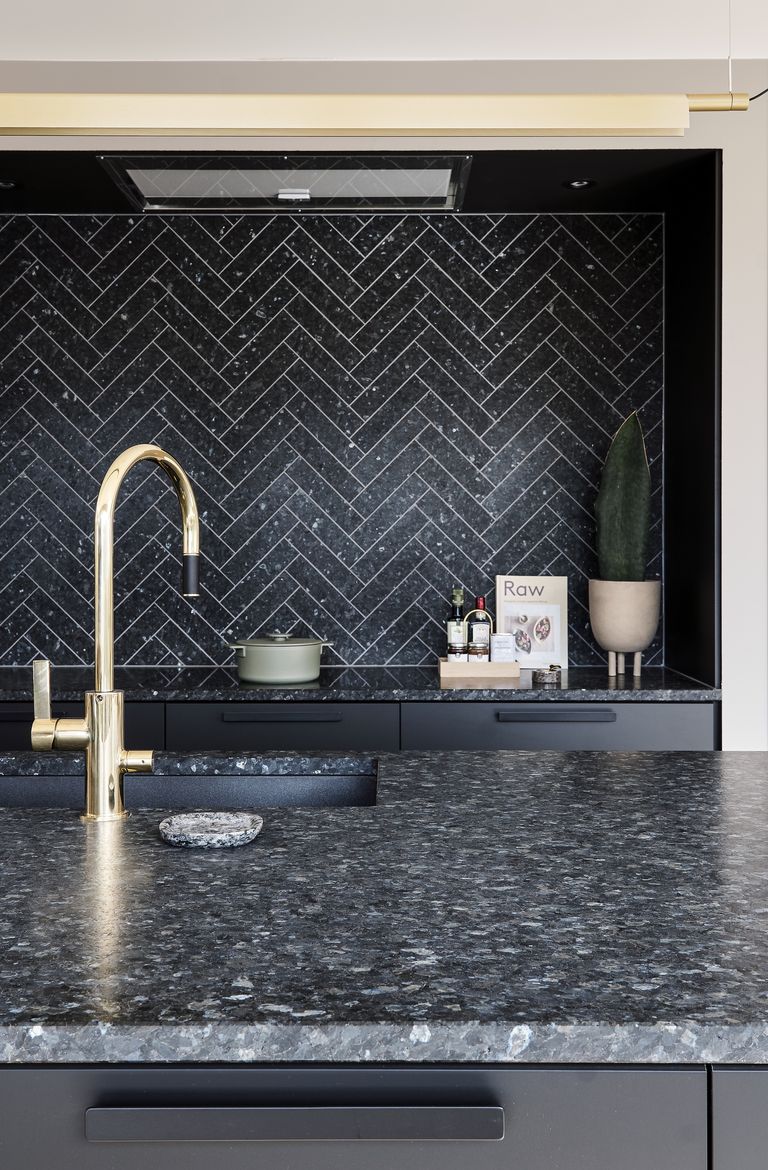 (Image credit: Lundhs)
Kitchen sink ideas are easily overlooked in favor of more glamorous fittings, but this hard-working element of kitchen design is more than just practical. Yes, it has to be able to withstand the knocks and scratches most cooks will throw at it, and yes it has to be easy to clean, but its material, installation type and even shape and size can have a big impact on how your kitchen looks.
So, when considering your long list of kitchen ideas, add the kitchen sink – and the faucets that go with it – right at the top. Here, we take you through our favorite kitchen sink ideas – and our experts bring you some useful advice, too.
1. Make a statement with black
If your kitchen countertop ideas are favoring black, teaming a black kitchen sink with them will give you a sleeker, more modern finish than a contrasting white kitchen sink. You can still have a classic feel – as shown in this kitchen above, where a traditional-shaped Butler sink is impactful in a new colorway.
'We chose a black Belfast sink in this oak Henley kitchen,' says Meaghan Hunter, Neptune. 'Not only is this a modern take on a classic, it also blends seamlessly with the work surface and sets off the black-bronze handles beautifully.'
2. Consider handcrafted copper
Looking for farmhouse kitchen ideas with a twist? This copper beauty is subtly hammered to achieve its rustic style.
Copper doesn't just look beautiful, it's recognized for its anti-bacterial properties too, making it a great choice for a kitchen sink.
Whether you keep it polished or let it develop a rich patina is up to you. There's the option to have it oxidized for a beautiful burnished effect as well.
3. Team with brass fittings
Country kitchen ideas call for faucets in a traditional material. And where you have opted for a traditional range cooker with brass fittings or have chosen cabinet and drawer handles or hardware in the same warm metal hue, a burnished brass will blend perfectly with the metallic finishes.
'Brass ages beautifully and its warmth complements the cool color scheme here,' says Merlin Wright, design director, Plain English.
4. Opt for sturdy and stylish stone
Easy to maintain, extremely hard- wearing and beautiful to boot, Lundhs' Antique stone surfaces are a wonderful choice for kitchen countertops. So why not go one better with a stone sink for seamless style?
Many of Lundh's stone surfaces are made from igneous rock formed from the cooling of magma millions of years ago, and quarried in Norway; they are known for their blend of blue and brown crystals, which work especially well with wood grains and other natural earthy materials, or in a black kitchen where some texture is needed as relief.
5. Keep it delightfully discreet
If you prefer not to make a feature of the sink, an undermounted model, with a drainer carved into the countertop, will discreetly disappear while giving you ample space for the practicalities of cooking, preparing or clearing up after a meal.
This works particularly well if you are considering kitchen island ideas with the sink included.
6. Go for the double
If your kitchen is large enough and you're a keen cook, opt for a double sink.
'Although popular for its luxurious aesthetic, one of the main benefits to a double design is the space to separate items, whether this is clean and dirty dishes, heavy and fragile items or food prep,' says Ben Burbidge, managing director, Kitchen Makers.
'However, think about the design of the cabinets under your sink at an early stage as the deep dimensions need to be factored into your plan.'
7. Create character with Carrara
Marble is admired for its natural beauty, and these spectacular kitchen sinks are made from a single block of Italian Carrara marble.
Known for its nuances, this material best suits those who like their kitchen to develop character over time as Carrara will mark and age quickly, however, once it has 'settled in' it will last a lifetime and offer a luxurious twist to utilitarian farmhouse style.
8. Pick a vintage look for farmhouse kitchens
Traditional kitchen ideas call for timeless, vintage kitchen sink ideas, with this fluted design our favorite front-runner. The width of this kitchen sink design allows for a shallower depth – an ideal design if the person who does the dishes is tall, as deeper kitchen sinks can create discomfort and backache.
9. Choose a small sink for a tiny kitchen
Small kitchen ideas dictate the need for a small kitchen sink. To keep the space feeling sleek, have the sink under-mounted or moulded from the same material as your countertop and backsplash ideas. Also, have fluting cut into the countertop material so that you drain dishes without the need for a space-eating rack.
10. Fit a surface-mounted sink for a rustic appeal
A countertop-mounted ceramic – or indeed stainless steel – sink is the easiest of the sink styles to install and replace, making it a popular choice amongst renovators. Beware with ceramic sinks that they can be prone to tiny scratches and cracks that can show up stains. If you are going for a rustic appeal, this may not matter to you; however, if you want a streamlined modern look, you may want to choose a tougher material, such as a composite.
What is the most popular kitchen sink style?
Countertop-mounted kitchen sinks are the most popular because they are easy to install – or to remove and replace compared to other kitchen sink types. However, when choosing a kitchen sink style, you need to consider how often you entertain or cook for a crowd and whether others like to help with the prep.
'The style of sink you choose should reflect the size and shape of your kitchen as well as your aesthetic and lifestyle,' says Ben Burbidge, managing director, Kitchen Makers.
What is the best kitchen sink configuration?
The best kitchen sink configuration is one that has at least one bowl a minimum of 8in in depth. You will find some sinks that are even deeper than that, and the deeper the sink, the easier it will be to fill and wash large pots. Some sinks also feature a smaller, shallower bowl intended just for use with the garbage disposal.
Think about whether you want a left- or right-hand drainer, or even both. 'A drainer is handy even with a dishwasher,' says Helen Parker, creative director, deVOL. 'We always suggest grooves in a stone worktop for draining. Wood drainers are an option, but need drying after use and oiling.'
How do I choose the sink size?
Think how you'll be using the sink. Is it just for filling pots and washing up or are you a keen gardener who may be harvesting muddy veg?
'The sink has to suit all your daily needs, as well as how you'd like it to look,' says Annie Tullett, home designer, Neptune.
'The sink is somewhere you use frequently, so our advice is to go big. A sink can be so beautiful if you get it right,' adds Helen Parker, creative director, deVOL.
What type of sink is easiest to clean?
'Stainless steel is functional and the easiest kitchen sink to look after, but doesn't age as well as copper and brass,' says Helen Parker, creative director, deVOL. 'Marble can stain, but keep it clean and it will serve you well.' Durable and easy to clean, ceramic is good for a busy kitchen, however, avoid placing hot pans onto it.