Green kitchen ideas: 16 ways to use olive, sage, apple and more
These green kitchen ideas demonstrate that going for verdant shades has never been more sophisticated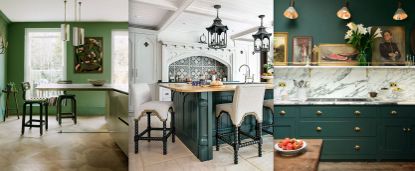 (Image credit: Future)
Is there anything more suited to 2022 than green kitchen ideas? At a time when our happiness and health have seemed more important than ever, it's only right that we'd want to surround ourselves in shades that symbolize nature, growth and renewal.
This hasn't gone unnoticed by designers, who recognize the power of green and have introduced it into their kitchen ideas in a variety of smart and sophisticated ways.
'Despite many regarding the kitchen as a "neutrals only" space, rich, bold colors marry unexpectedly well within a kitchen setting,' explains Helen Shaw, Benjamin Moore's UK Director. 'The reason being that these spaces tend to be a busy and bustling heart to the home rather than a room for serenity.'
'People are being braver and having more fun with color in the kitchen,' adds Richard Moore, Design Director at Martin Moore.
'Previously our clients were choosing bold colors, such as electric blue and hot pink, for smaller accent pieces in the kitchen. However, today we are seeing an increase in the number of people opting for bright colors throughout the kitchen.'
Green kitchen ideas
On of the most on-trend of kitchen color ideas, green is perfect for cabinetry, walls and accessories, and you can pick from muddy, moody shades for a traditional feel, and brighter greens for a livelier space.
These are our favorite green kitchen ideas – use them to inspire your remodel.
1. Brighten a dark green kitchen with marble
When you opt for a darker shade you can really have fun playing with contrasts – and you can introduce this with dramatic kitchen countertop ideas. The deeper green you choose, the more dramatic the marble will look – and if it has a high level of veining then all the better, as it will add a fabulous decorative element to the space.
We love the idea of having a marble shelf too – an interior design style trick to steal from this beautiful deVOL green kitchen.
2. Choose a green and white kitchen for a dark space
Green, like most shades, looks fabulous with white – and is perfect for cabinetry, if you are looking for classic painted kitchen ideas. You can't beat the clean crisp feel that the two colors together create – especially in dark or low-ceilinged kitchens.
And when you team it with a vibrant shade the contrast is even greater with the result being a bold and beautiful space, as Chris Spink, Founder of Hush Kitchens explains:
'The clients were keen to make a bold statement with their kitchen cabinets and chose a vibrant bright green (Jewel Beetle by Little Greene). When using such a strong cabinet color, it's best to choose a neutral for the walls (Slaked Lime by Little Greene) so the green really pops.'
Adding in rustic wood and rattan will give your green kitchen a spot of texture, which makes all the difference against the flatness of smooth, white kitchen walls, countertops and units. Brass looks great with this bolder shade too as it's a yellow-based green.
3. Pick olive for the look of a French chateau kitchen
'Olive is the chameleon of the Chalk Paint™ palette,' says Annie Sloan, Color and Paint Expert.
'It can be a neutral, dropping into the background or it can be the shining star of a color scheme. It's warm, earthy, and mutable – a useful color and real hidden gem.
'It's a classical color, but also works as an anchor for a cool 1950s mid-century modern color palette. Olive is a bit of a dark horse in the sense that you can easily forget how much interest and sophistication it brings to a space.'
4. Use green as an accent with blush pink
If a green kitchen isn't your thing, but you want to introduce a shot of this fresh shade, then use it on one area – like in your kitchen island ideas. It will still take pride of place, but will be subtler.
All shades of green look great with pink tones – be it blush, rose, coral or a barely-there shade. And this shade of dark pink is fantastic if you love the idea of red kitchen ideas, but want something softer.
This Harvey Jones kitchen shows how you can break up a scheme, with its white units, jet black bar stools and statement kitchen lighting ideas in the form of beautiful glass globe pendants.
5. Double up with two shades of green
Why have one when you can have two? This beautiful pale green shade on both the interior and exterior of these Crittall doors frames the entrance to this deVOL green kitchen perfectly.
Inside, the kitchen is painted in a darker green that adds depth to the overall scheme. Using two shades like this adds balance to a space, and this is what makes a room work visually.
Using two shades can be also a great option for a kitchen-diner, or to connect your green kitchen with green dining room ideas.
6. Use artwork as a starting point
Searching for green kitchen ideas but not sure what shade to pick? If you have a painting you love, it could be your inspiration.
The moss green from Francesca's Paints shown here matches the green of the artwork perfectly.
You can then choose second and third accent colors that will complement the rest of the scheme – in this case, the wooden side table and black bar stools match well. The bright green forms a background for the stainless steel units and countertops that are sleek and contemporary.
7. Embrace wabi-sabi with sea green
Green kitchen ideas are perfect for a busy space. Mix beautiful imperfection with a delicate sea or mint green, and you have the essence of this traditional Japanese philosophy of design.
In this kitchen, the restful color used for the kitchen storage ideas elegantly showcases the monochrome ceramics and wooden artisan pieces within.
8. Add dark grandeur to a Gothic masterpiece
While green can be gentle and soothing, it can also bring elements of the rich and regal – so if you are looking to add a bold splash of color to a neutral, white or pale gray kitchen, this painted kitchen island is the perfect inspiration.
In this sensational Gothic-style scheme, a deep emerald green island is a rich and powerful centerpiece, enhanced with wrought lantern-style pendants and ornate stools featuring beaded legs.
9. Be cocooned in wall-to-wall olive
Though relatively small, this green kitchen has a powerful look and cosseting feel that's largely down to the strength of the tone. A rich olive like this works with darker warm tones of wood – walnut and darker oak are both excellent choices.
Keeping the walls free of units – here a Shaker-style peg rail offers hanging spaces for utensils linens and pans – will ensure that your small kitchen ideas don't feel cramped and crowded.
10. Introduce green in kitchen cabinetry
Sometimes Mother Nature can deliver on a scale that's truly jaw dropping. Take this island and splashback in dramatic Amazonite conceived by Trilbey Gordon. In a room that had been robbed of its original features, it brings luscious character in spades.
Unlacquered brass brings more depth and glamor, while smart dark metro tiles and herringbone flooring allow the colors to pop.
11. Channel contemporary chic
It's easy to associate green with a rustic look, but Life Kitchens' latest open plan kitchen design demonstrates that it can also be the key to contemporary opulence.
Matte handleless units are finished in Regiment – a succulent shade that balances a heritage feel with calm and refined flair.
12. Combine dark green with woody tones
Ready to dive head-first into green kitchen ideas? Then consider a jewel-like emerald green in a contemporary slab style that oozes color confidence.
It looks so strong and bold when used in black and white kitchens, like the almost-black grained backsplashes and flooring in this kitchen by Burbidge.
13. Play with texture
Love the idea of blue kitchen ideas but want a softer finish? A deep blue-green is a great compromise.
'From the soft tones of sage to the more impactful hues of forest green, green creates a sophisticated and enveloping effect that looks fresh and contemporary,' says Melissa Klink, Head of Design at Harvey Jones.
Melissa explains that combining these colors with a palette of earthy and natural tones 'truly brings the outdoors in, so pair green cabinetry with natural textures such as wood, linen and cotton'.
14. Create a period feel with a deep sea green kitchen
Dark gray-green kitchens are growing in popularity, and offer an indulgent, grown-up look that work in almost any setting – whether that's a snug galley in a period townhouse, or a vast rural kitchen extension.
Brushed brass details, delicate ribbed glass details and subtle beading on the fascias contribute to the classic appeal, but it's the deep color – Burbidge's Baltic Green – that is ultimately timeless.
15. Work with different tones of green
You have plenty of options when it comes to pairing green with other colors – but if you're looking for kitchen painting tips and inspiration, frankly, you can't go wrong with more green.
Here, moss green countertops and woodwork frame paler aquamarine walls.
16. Like a change? Limit green to kitchen walls
Love green kitchen ideas but nervous about using them on cabinetry? Using green for a feature kitchen wall decor idea or as an accent color on just one element of your kitchen's architecture can be very effective.
Before you pick a shade, consider your room's orientation: a south- or west-facing room can take a cooler, bluer green, but a north- or east-facing room that receives little warm daylight will need a green with a hint of yellow in it, such as the one in the room above.
Matching green like this with country wallpaper ideas for kitchens adds a decorative element that makes your kitchen more like a living space, and less a functional room.
Is green a good color for a kitchen?
'Shades of green are an increasingly popular choice for kitchens,' says Benjamin Moore's Helen Shaw. 'At the center point of the color wheel, green can adapt to both cool and warm schemes, working to tie varying hues together.
'Deep green is also effective in creating a natural, grounding feel in industrial, tech-heavy homes, working well to encourage a connection with nature.
'And as the two colors most regularly seen in nature, blue and green are the two colors which require our eyes to do little, to no, adjusting, which is perfect for creating a feeling of restfulness and harmony in chaotic spaces like the kitchen.'
What colors go with a green kitchen?
Green is exceptionally versatile, which means lots of colors go with green kitchen ideas.
Paler green shades go perfectly with brass accents, natural wood tones, and deep, rich blacks, while deeper emerald and forest greens are ideal for color blocking with deep magenta and ochre.
Try a lush palm green with a deep blush pink for a take on the classic Miami look. Turquoise can look incredible with lime, while deep sages such as Farrow & Ball's Lichen, are natural suitors for beige tones and work well in cream kitchens.
What are the most popular green colors for cabinets?
There are so many different shades to choose from, but below are the most popular green colors for cabinets, according to experts:
'Forest green has seen a real surge in popularity for the coming year, as well as the more neutral sage tone which is perfect for adding a pop of colour while also keeping a more zen feel in the kitchen,' says Benjamin Moore's Helen Shaw.
'One of our most-loved kitchen paint colors is our darker green, Cactus,' says Neptune kitchen designer Annie Tullet. 'It's a shade people gravitate towards because of its earthiness and its ability to make a space feel warm. Even though it has cool base tones that help it suit contemporary homes, too.'
According to Martin Moore's Richard Moore, 'Green is proving especially popular because there are so many different shades to experiment with, from soft sage and earthy olive greens to rich, forest tones. A combination of coordinating green tones add texture add warmth to a space and pair well with warm brass handles.'
Don't forget to research how much it costs to have kitchen cabinets painted before committing to any color choices, too.
Sign up to the Homes & Gardens newsletter
Decor Ideas. Project Inspiration. Expert Advice. Delivered to your inbox.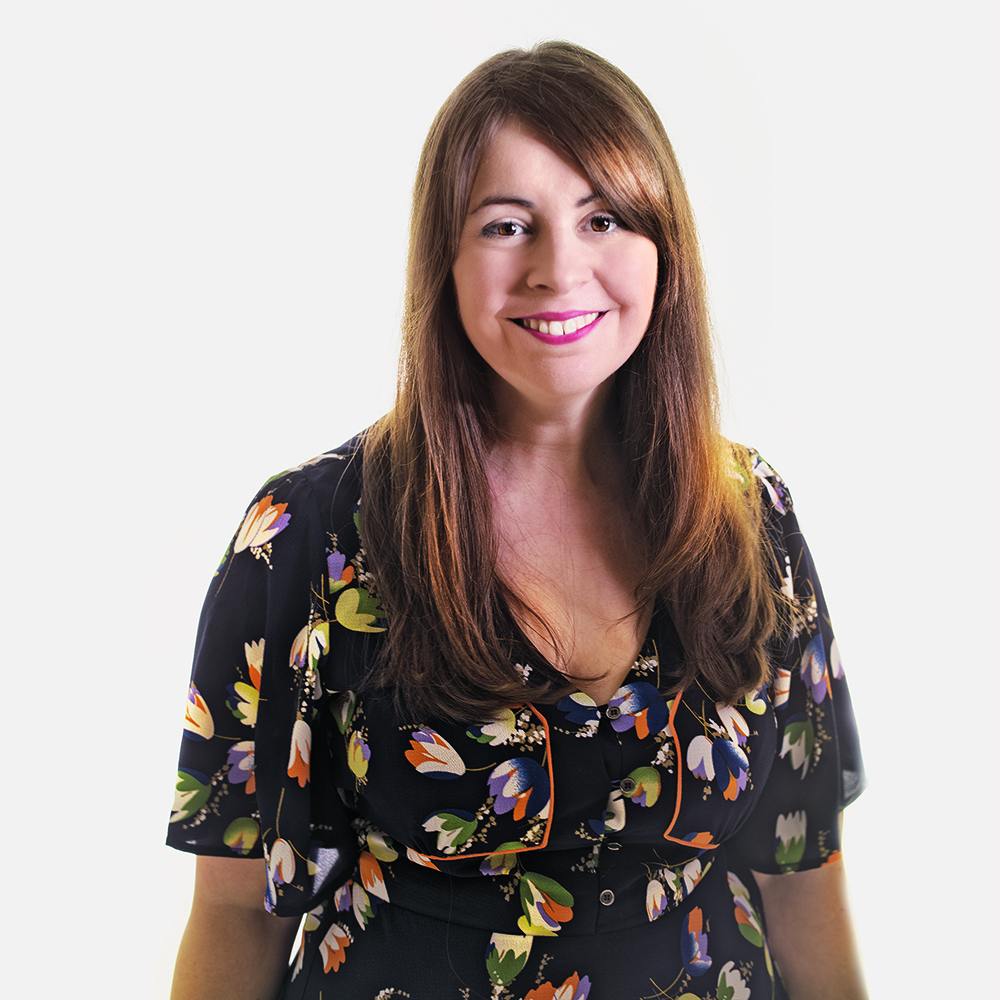 Editor-in-Chief, Homes Audience
Amy Cutmore is Editor-in-Chief, Audience, across Future's Homes portfolio. A homes and interiors journalist of 20 years standing, she has spent much of that time writing about technology, appliances and kitchens. While other people count how many countries they've visited, Amy tots up how many countries' washing machine factories she's toured (it's eight by the way, from South Korea to Slovenia). She can't leave the house without a decent pair of noise-cancelling headphones, and is always ready to explain an acronym – be it QLED, DAB or HDMI.