Red kitchen ideas – 10 ways to use this bold shade elegantly
Rich, sophisticated and eye-catching, these red kitchen ideas will tempt you to ditch conventional colored cabinetry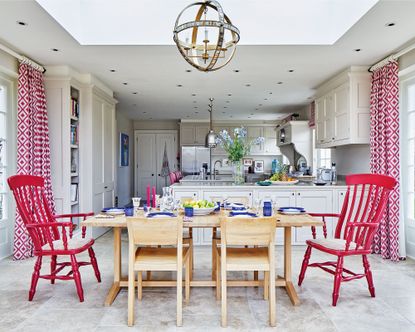 (Image credit: Future / Davide Lovatti)
When most of us think of red kitchen ideas, we imagine traditional, rustic kitchens with punchy colored cabinetry, or contemporary glossy spaces with lipstick red cabinet fronts.
And while, of course, you can find beautiful examples of both below, it's worth knowing that red kitchen ideas can span anything from rusty terracotta through to dark cherry – in a whole range of styles.
So if you're considering a red kitchen or simply looking for inspirational kitchen ideas to kickstart your kitchen remodel, thinking outside of the box can really pay off.
Red kitchen ideas
Below, we've listed our favorite red kitchen ideas – some include all-red kitchens, others are subtler, with touches of red that you could add right now to update a kitchen you feel needs a quick refresh.
1. Choose a rusty brick red for a traditional kitchen
If you are looking for kitchen color ideas that will never date, here is one to consider. This beautiful shade adds instant warmth and a lovely coziness to this kitchen by Plain English – which doesn't have a ton of natural light. A muted orange-red is a shade that works so well with the authentic features and bare floorboards.
We love the cohesiveness of the matching units, window woodwork and shelves – ideas like this really make a space gel and are a design feature worth considering. Brass fixtures and fittings look great with red tones and are a big trend in kitchens currently.
2. Create an accent wall in bold lipstick red
On the whole, ultra bright reds look better in modern kitchens – the clean lines, smooth walls and floors suit the tones. And equally, a red this bright looks fabulous in a crisp white kitchen, with jet black and tangerine accents.
It's also worth considering what finish you want on the units – the matte finish here suits this kitchen as the flooring is also matte. The space is light enough without needing a reflective surface to bounce light around. Chrome fittings add to the edginess too.
3. Opt for berry shades in traditional spaces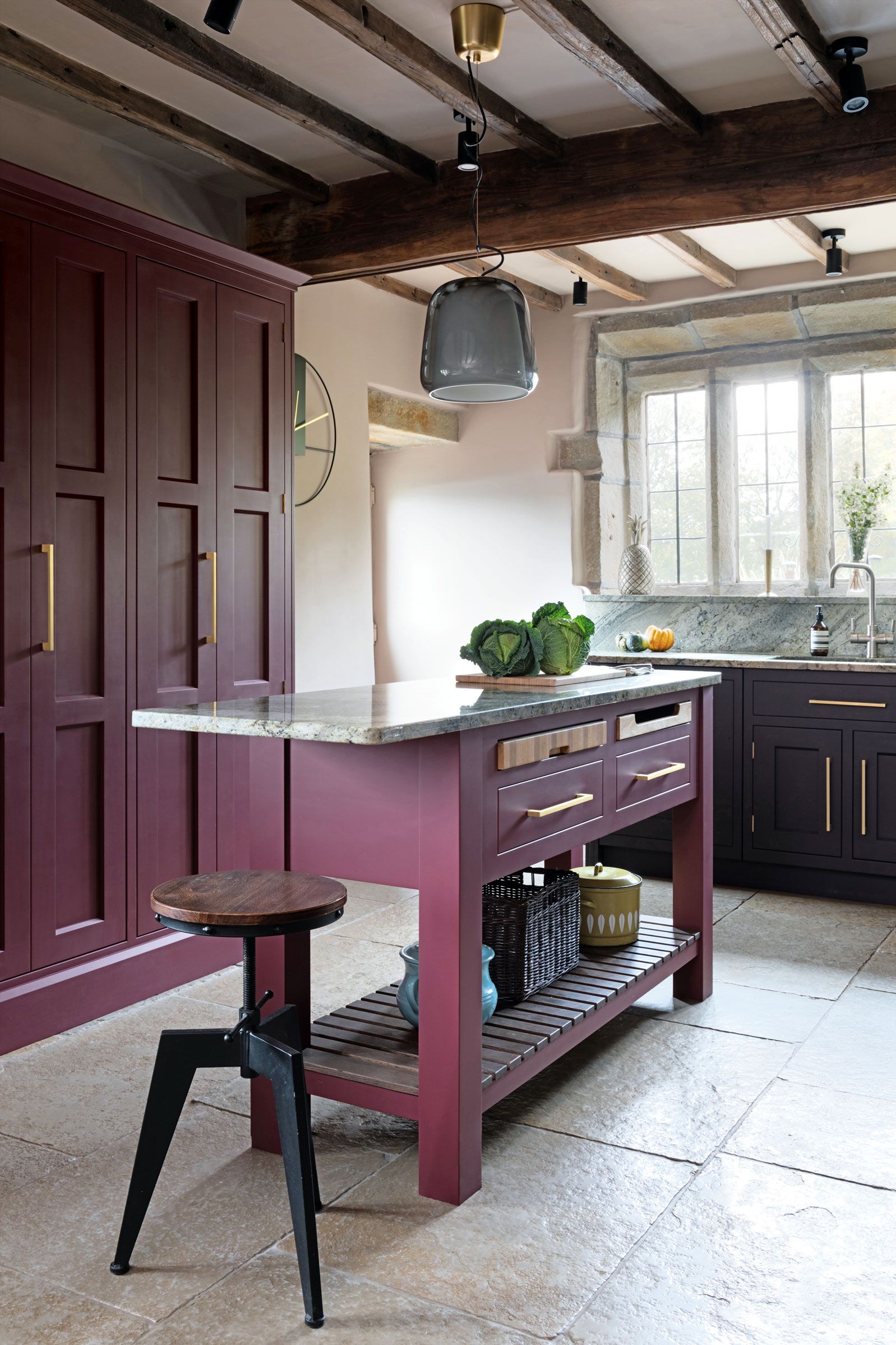 If you are looking for painted kitchen ideas, plums and currants are good natural red shades to consider, so why not use both in your kitchen?
Here, the window units in a deep currant contrast beautifully with the more plummy tone of the kitchen island and wall unit. Nature is always a great source of inspiration, so use it to guide your color choices.
This kitchen doesn't have much natural light, so using a darker shade once and the lighter shade twice is a good way to add warmth without making the space feel dark. The natural stone wall and barely pink walls help lift the scheme too.
4. Use a glossy cabinetry finish to reflect light in a small space
Glossy cabinetry has been around for a while now, and if you love a contemporary scheme they're a good bet – especially in a small space, like this Ikea kitchen, where the reflections will be favorable for space-stretching.
As touched on above, they will reflect only a little light, so if you are looking for small kitchen ideas, team a cherry red with a blush pink for contrast and pop in some jet black. Make sure the red is the main color and use the others as accents. The white floor and ceiling top and tail the space and keep it light and fresh.
5. Limit the red to the kitchen island
If you are looking for bold kitchen island ideas to bring a plain or neutral cream kitchen to life, choosing red for the cabinetry is a great idea – you'll get the strong hit of red without it being overwhelming in this often busy space.
For best effect, contrast the color and/or material of the countertops with those in other parts of the kitchen too.
6. Combine on-trend kitchen cabinet colors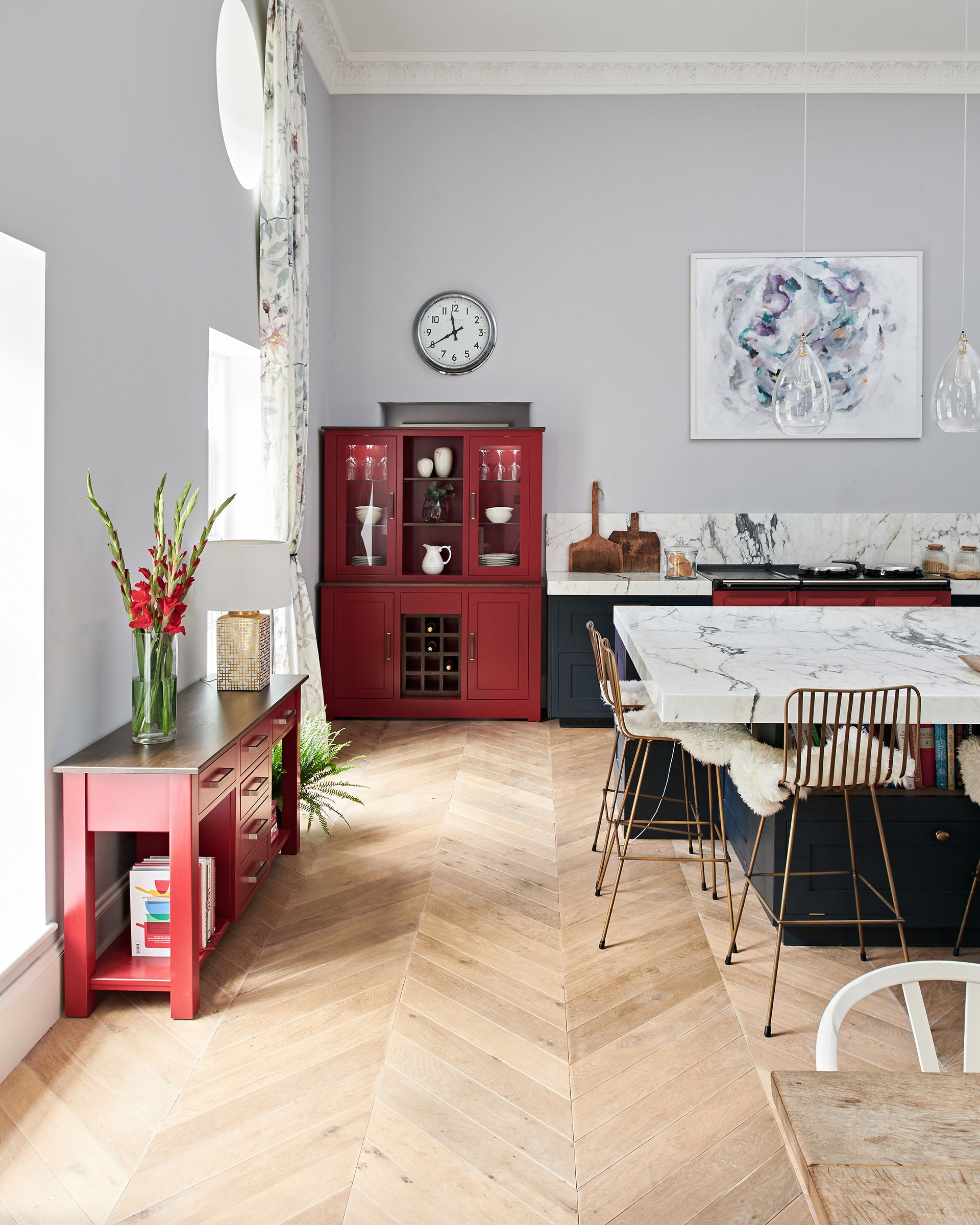 Gray and navy are two key kitchen colors that show no signs of abating in popularity. Teaming both of these with crimson can work wonderfully – as you can see in the pale gray kitchen above by Painted Furniture Company.
The key is to balance the three shades successfully – and you can see how well this works here. The navy units and island form the backbone of the color scheme, and the soft gray walls add the contrast between them and the crimson units and range cooker. The chunky marble countertops create a decorative touch that looks fabulous against the flat walls.
7. Add red to a kitchen as an accent shade
If the thought of red cabinetry is too bold for you, but you love the shade, you could use it as an accent instead, like in this black and white kitchen by California Shutters. That way you can change it up and use as much or as little as you like.
Shutters are a good option for red kitchen accents, as it means you can keep your kitchen units neutral and simply bring in the color with accessories – napkins, vases, tableware, the odd chair, for example.
8. Use reclaimed wood to add notes of red
Did you know that mahogany has a reddish hue? This fabulous antique unit is the mainstay in this kitchen; its dark color grounds the space. The authentic orange-red terracotta tiles lift the overall look and the patina from the metal bistro set adds texture and character.
The main point to remember is that red can cover a multitude of shades, and this kitchen is a great example of this.
9. Paint a kitchen cabinet in red to create contrast
If you know how to paint kitchen cabinets, you know how to revamp a kitchen in a weekend.
Of course, you can paint existing kitchen units, but transforming or upcycling an old, characterful piece of furniture to create a real contrast of styles and color at the same time can be far more impactful.
10. Add a note of red to a kitchen with seating
Just as a standalone red kitchen cabinet can add a splash of bold color, so can red-painted dining chairs or bar stools – painting existing chairs like these may even save you shopping for new seating - a great feature to introduce for red dining room ideas also.
Note the perfect match in tone here between the red and blue – they are equally matched for a comfortable pairing.
How can I make my red kitchen look nice?
The key to making red kitchen ideas look nice is to choose the right shade of red to match the style of your kitchen. Traditional, country or cottage style kitchens suit more muted shades of red, or reds that stray towards earthy tones, with a matte finish on the cabinetry; more modern kitchens can take cleaner reds that stick to the original primary shade, as well as much darker reds – in both gloss and matte finishes.
Matching red cabinetry to the right countertop colors is vital, too: red goes with white, off-white, gray, black and wood finishes in all styles of kitchen, but we would avoid anything glitzy, which will date a red kitchen quickly.
What color goes well with red in a kitchen?
Colors that go well with kitchen range widely, depending on the style of kitchen you are working with. You can either match the tones of primary red kitchen cabinetry with black, white, navy blue or olive green kitchen accents, or soften it with off-white, burnt orange, dark green or gray.
Earthy, natural colors work really well with red in more natural shades – think brick-red with cinnamon, paprika and turmeric spice shades.
Sign up to the Homes & Gardens newsletter
Decor Ideas. Project Inspiration. Expert Advice. Delivered to your inbox.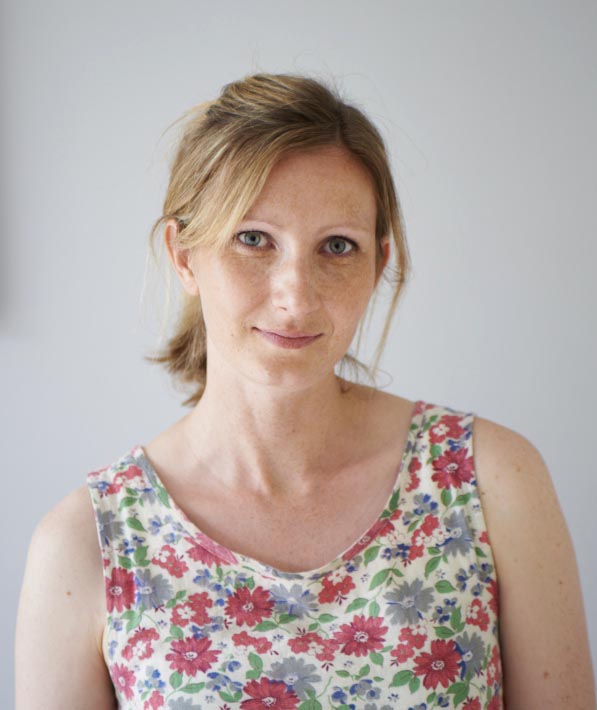 Sophie has been an interior stylist and journalist for over 20 years and has worked for many of the main interior magazines during that time, both in-house and as a freelancer. On the side, as well as being the News Editor for indie magazine, 91, she trained to be a florist in 2019 and launched The Prettiest Posy where she curates beautiful flowers for modern weddings and events. For H&G, she writes features about interior design – and is known for having an eye for a beautiful room.