16 grey kitchen ideas – for timeless, classic designs you will love forever
Grey kitchen units can transform a kitchen design, adding character, individuality and a timeless elegance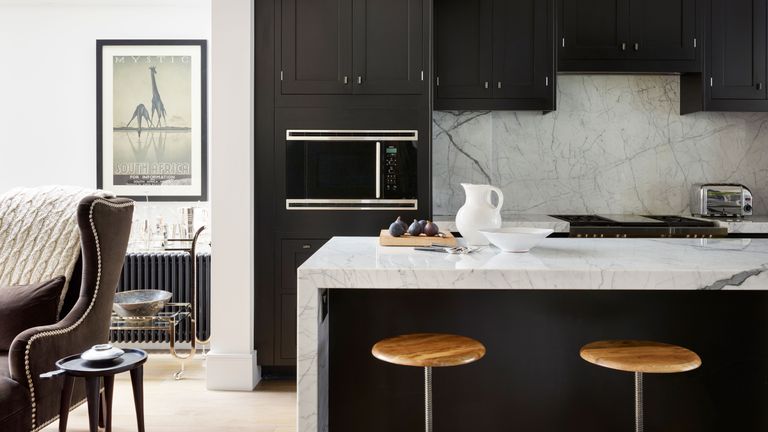 (Image credit: Future / Darren Chung)
Grey is still very much the neutral of the moment and looks smart and crisp paired with white but can still benefit from a little extra color. 
You might think kitchen ideas would be limited with one color, but if you hold together a fan of grey paint charts, you'll see how widely the tones vary. The cool end of the spectrum has blue undertones, passing through tints of green and yellow, ending up at warm shades with red bases that give them brown, pink or purple tints.
Our selection of the best grey kitchen ideas will help you on your way to planning and designing the grey kitchen of your dreams.
Grey kitchen ideas
Read on for our favourite grey kitchen ideas and inspiration.
1. Go with the grain in a grey kitchen
A grey scheme doesn't have to take the form of paint. Look to a pale ash wood or laminate for a similar effect that is great for more contemporary spaces.
Beautiful wood is a timeless choice for your kitchen. Pick woods with mid-tones such as pale ash for a timeless look.
2. Look out for luxury
Dark greys look instantly dramatic – pair with a thinly-veined marble work surface for a truly modern design. Coveted for its subtle tone and beautiful veined effect, you can see why marble is such a hit – it looks good wherever it's put and will continue to look striking year after year.
3. Be bold with color
We have seen the revival of grey in interiors over the last seasons but this time it's combined with wood tones to instantly add warmth and depth. Grey can give a calm and relaxed feel to the home, and is a fresh alternative to the classic neutral palette and acts as a great backdrop to introduce splashes of other colors. A vibrant red really sings out against the grey walls.
4. Opt for statement style
If you are cautious about going all-grey, then isolate it to just the kitchen island or cabinetry. This will make a stylish statement, and can be changed as often as you like, with little effort.
'Grey paints are warmest when they're a mix of blue and orange pigments, rather than black and white. Using these will make the kitchen feel more homely,' explains Pip McCormac, Editor of Living Etc.
5. Play with pattern
The wonderful thing about grey is that you can pair it with just about any other color. Here, the strong black, white and grey palette, echoed in the undercounted curtain, rug and cabinetry, is lifted by pops of green gingham upholstery.
6. Choose a pale and interesting hue
Whether it's pale or slightly darker, dove grey is a great all-rounder. You can dress it up with silvers and metallic shades for a luxe look or keep it simple with natural colors and earthy textures.
7. Marvel at the wonder of wood
Grey might be on trend, but its elegance and design flexibility give it a timeless quality. Use either as a feature color or to complement another finish – wood grains look especially dramatic against a smoky grey tone.
8. Elect a winning combination
A match made in heaven, cool shades of grey bring out the warmth and beauty in natural wood. This is a great combination for kitchen cabinetry – suiting both classic and modern styles – but it also works well for accessories. For the perfect accents, add splashes of mustard yellow and pale marble, to play with the cool and warm on a whole other level.
9. Use grey as a canvas for vivid color
Work in a bold accent color to give grey a modern feel. Grey has the advantage of complementing a whole host of colors, so anything goes, whether it's a punchy purple or vivid green. Paint a feature wall, opt for a bright backsplash, or use colorful accessories. 
10. Complement the living area in an open-plan space
Think about how all the various finishes – including the flooring and wall colors – work together, and use wall and pendant lights to create a comfortable mood when not cooking.
11. Use a combination of light and dark 
Contrast light and dark for a more dramatic look. Combine dark grey unit with bright white worktops, or light greys with smart black granite surfaces. 
12. Consider how it will look during the night and day
One of the beauties of grey is that it can feel fresh by day, but warm at night. When picking a shade, take a sample door home so you can look at it in daylight and artificial light to get a feel for how it will appear at different times. 
13. Curate a tonal palette 
Choose worktops and backslashes in tonal shades to complement the color of your cabinets. Paler, browner shades of grey look good next to natural stone worktops, while crips white worktops will set off darker grey.
'Neutral tones such as grey are timeless and don't go out of fashion – they help create a feeling of light and space, and ensure the look isn't harsh,' says Graeme Smith, Conceptual Designer, Second Nature Kitchens. 
14. Choose the perfect grey
Consider taste, light levels and the size of the room when choosing. Lighter greys help create a feeling of space, but darker, graphite greys area great for adding drama to a big room. Also, a high-gloss finish looks sleek and will help reflect light, whereas a matt finish blends better with other surfaces in an open-plan area. 
15. Use grey as a modern backdrop 
Grey is ideal for kitchens in an open-plan area because it blurs the line between kitchen and living zones. It can blend with a huge variety of floor types, colors and finishes, bringing a sense of unity to the separate areas. 
16. Decorate with colorful accents 
Grey works well with most colors, which is why it's such a versatile choice. For an urban, contemporary look, team it with vivid yellow or pink. Deep reds, purples and oranges can add extra warmth, or opt for blues and greens for a cooler feel. 
Is grey a good color for the kitchen?
Grey works particularly well in a kitchen as not only is it modern and contemporary, it is also timeless, classic and surprisingly easy to live with. 
Grey's dominance of all things home-related continues, and you can carry the look through to the kitchen, with ranges available in shades to suite all tastes and styles, from modern to country. 
'Grey is a sophisticated color scheme in both modern kitchens in a gloss finish, or matt in a classic kitchen,' says Danny Lay, Sales Director, Caple. In fact, grey is even whispered to be the new white when it comes to interior design.
How do you add warmth to a grey kitchen? 
Wood is a wonderful way to add a level of warmth and coziness to an otherwise cold, dark kitchen.
'Grey kitchens will always be popular, but where it gets interesting is how the popular grey tones support the trend for smoked and treated wooden finishes. Different types of grey will bring out the richness of smoked oak or walnut. Using these treated woods as internal accents within your cabinetry (like drawers or shelves, for example) will add another level of luxury. 
'Imagine opening your matte grey double pantry to shelves and drawers and spice racks in an elegant wooden finish,' says Tom Howley, Design Director, Tom Howley.