Grey kitchen ideas – 35 classic designs you will love forever
Grey kitchen ideas can transform a kitchen's design, adding character, individuality and a timeless elegance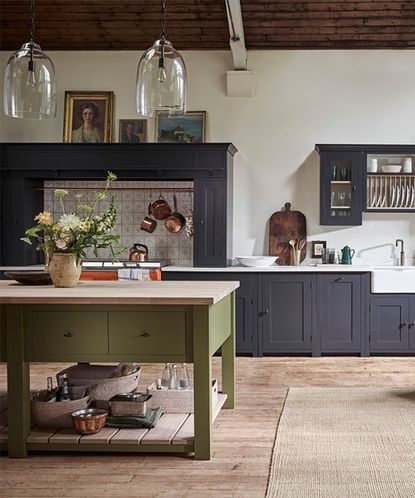 (Image credit: Neptune)
Sign up to the Homes & Gardens newsletter
Decor Ideas. Project Inspiration. Expert Advice. Delivered to your inbox.
Thank you for signing up to Homes & Gardens. You will receive a verification email shortly.
There was a problem. Please refresh the page and try again.
There are so many possibilities when it comes to grey kitchen ideas. Grey is still very much the neutral of the moment: it looks smart and crisp paired with white but can still benefit from a little extra color.
You might think kitchen ideas would be limited with one color, but if you hold together a fan of grey paint charts, you'll see how widely the tones vary. The cool end of the spectrum has blue undertones, passing through tints of green and yellow, ending up at warm shades with red bases that give them brown, pink or purple tints.
Decorating with grey harmonizes well with almost every other hue, making it a most adaptable neutral and giving good reason for its popularity, says Helen Shaw, UK director at Benjamin Moore.
Grey kitchen ideas
Our selection of the best grey kitchen ideas will help you on your way to picking your favorite kitchen color ideas and painted kitchen ideas, and planning and designing the grey kitchen of your dreams.
1. Stay neutral with soft grey
A new kitchen is a big investment, while updating an existing one can involve a lot of upheaval, so whichever style or color you opt for it's important that it has staying power. Grey has the benefit of being a neutral, which means that it will look timeless on its own, contrast well with other colors and complement many different materials and surfaces.
Traditional cabinetry like the Hartford kitchen from Tom Howley has a timeless look that won't date and sits well with classic white marble worktops and a neutral flagstone floor. Though the beauty of grey is that it will go equally well with alternative color, worktop and floor choices.
'Grey is calming and softens a room. In psychology it represents peace and balance which is so important within a home. It's practical, simple and reliable,' says Suzanne Francis, kitchen designer at Tom Howley.
'When it comes to color choice – soft, muted grey tones can create a warm atmosphere for dinner parties without the worry of passing color trends,' adds Tom Howley, Design Director.
2. Add drama with darkest grey
Take grey to the opposite end of the spectrum and go for the darkest kitchen cabinet colors for a bold, dramatic look that's perfect for a more contemporary setting. Dark kitchen ideas can be doubled up with black granite countertops for added intensity and to add an extra element of luxe.
Avoid very dark grey and black kitchen ideas in a small space as it can be quite overpowering floor to ceiling. Ideal for larger kitchens or an open-plan space like this, having areas of white wall beyond will add light relief and create a more balanced scheme.
Partner dark grey with rich jewel tones or metallics that will pop against it, like these claret-colored bar stools or mirrored backsplash that adds a touch of sparkle.
3. Bring in mellow yellow
Using a mid-toned grey will imbue any kitchen space with a sense of warmth, so is perfect for a traditional kitchen in a period property or on rustic painted cabinets in a homely, country kitchen. Partner medium greys with other warm-toned shades: it's wonderful with yellow kitchen ideas, terracotta decor or even teal to create a characterful kitchen that will make a great backdrop for display pieces.
'Grey is everywhere, dark and moody or light and uplifting. In a kitchen it creates a calming air and can be a lovely backdrop for adding a splash of color, I love it with yellow, fresh, and a little retro,' says Helen Parker, Creative Director at deVOL. 'I also love it with terracotta, giving an industrial look a soft and unexpected Mediterranean twist. Add some white stone worktops and suddenly it's classic and sharp, clean and crisp.'
'I hope grey is here to stay, it's the basis for so many good looking kitchens, strange that it was once considered dull and lacking inspiration, left for the likes of an office staple or a regular businessman's suit. Now it's chic, industrial, classic and so so easy to get right.'
4. Fall for fluted finishes
Bring classical style to a grey kitchen with elegant fluted-finish cabinetry. While columns and architectural-style fluting has been around for centuries, it's enjoying a renaissance in interior design with fluting, ripples, ridges on everything, from kitchens to bathroom cabinetry, reeded glass doors and timber panelling.
Adding fluted detailing and curved finishes to a kitchen can help to soften harsh lines and hard surfaces and bring a sense of fluidity and flow. Avoid over-using the finish with wall-to-wall fluted finishes and instead keep to key areas such as a freestanding island unit or on just a run of wall units (rather than both wall and base units). Opting for a mix of light and mid grey units adds another subtle element of decoration.
5. Enhance a natural grain with grey
Grey kitchens can come in many variations, making it a versatile color choice for both classic and contemporary kitchens. Aside from paint or lacquered finishes, wood kitchen cabinet ideas, specifically staining timber in subtle grey or dark dusky tones, allow a natural wood grain to be the focal point.
In Ledbury Studio's Ascot kitchen installation, the team has combined a grey-stained natural oak for the base units, teamed with a contrast stain on the island, which has been wrapped with a dramatic Quartz waterfall worktop in soft grey.
'The couple wanted a sleek, contemporary aesthetic for their kitchen, so we chose grey-stained natural oak for the base cupboards,' explains Charlie Smallbone, founder of Ledbury Studio. 'Then, to create a contrast, the island cupboards are also oak but stained white. Staining timber in this way allows the natural beauty of the grain to shine through.'
'The doors are also grey-stained oak with exquisite brass inlay in a diamond-shaped design. One of my favourite elements is the liquid pewter finish with shagreen-like texture we created for the wall cupboards in between,' adds Charlie.
6. Partner exposed brick with lead grey
Grey and white kitchens can look a little clinical, but exposed brickwork adds bags of character, texture and warmth. The simple Shaker cabinets of this deVOL kitchen have an honesty that will sit well in pretty much any setting, from classic period or urban industrial kitchen like this smart set-up.
Lead grey painted units feel warm and authentic, topped with Carrara marble counters with their naturally mottled and cloudy appearance. Finish off with a mixed metallics, from antique brass taps and handles, shiny beaten copper pendants to brushed steel appliances to add contrast.
7. Bring in a feature island
Don't want to commit to an all-grey kitchen? Bringing in a standalone piece of furniture, such as a kitchen island or a freestanding larder cupboard, is an easy way to break up the intensity of grey and will give the kitchen a focal point if painted in a contrast color.
'Grey is delightfully versatile,' says George Miller, Home Designer at Neptune Fulham. 'It has more personality than plain white and adds depth and history, but is also happy to be a foil to brights like this bold lime green or a sunny saffron yellow. In kitchens, greys work well with stainless steel appliances and tone with marble work surfaces. Consider Shingle, a pale grey, on cabinetry teamed with a contrast teal island or go darker with the mid-toned Cobble set against a warm neutral like Lily.'
8. Go grey with wall color
Put the focus on the kitchen wall decor ideas with grey plaster walls that will partner beautifully with dark grey cabinets or a rustic timber kitchen if all-grey is too dark and foreboding.
This DIY plaster-effect finish is inspired by Moroccan 'Tadelakt' and is achieved by applying Chalk Paint onto a plain base color using thick strips of cardboard. Simply drag, wipe and scrape the paint along the wall, building up layers of color and tone until blended to your liking. Once dry, finish with a thin layer of wax to seal and protect your handiwork.
'Updating your kitchen is the perfect project for painters of all abilities,' says paint and color expert Annie Sloan. 'With a partner and no interruptions, you could do the walls and your kitchen cabinets in a weekend. Or if the thought of a big project is overwhelming, break it down and try it over two weekends instead.'
9. Add shimmer and shine
Bring a touch of luxe to any space with a striking two-color marbled kitchen shot through with accents of gold. Mixing dark with light is a great way of including grey in a kitchen scheme without it overpowering the space – and adding gold into the mix will guarantee some extra glitz and sparkle.
Keep cabinets sleek and streamlined in a luxury kitchen like this. Opt for simple slab-front doors, integrated handles and no unnecessary extra detailing – let the luxe finish do all the talking.
'Our Q-Line combines a range of styles which can be mixed together to produce a high-end contemporary kitchen,' says Emma Stuart Stephens, Head of Marketing at Mereway. 'Doors and cabinets are handmade and sanded numerous times to ensure the perfect finish, with standout glass and ceramic door finishes that allow for the creation of some truly iconic luxury kitchens.'
10. Pack the kitchen with personality
For farmhouse kitchen ideas, opt for freestanding mix-and-match units in a steely grey hand-painted finish. Dark grey will bring out the best in other colors, so team grey paintwork on kitchen cabinets with weathered timber countertops, a mismatched tiled backsplash and cheery kitchen linens.
Open cubby-hole shelves like this are crying out for a display of country crockery and kitchenware, so fill them with stacks of patterned plates and glassware, colorful cloths and linens, painted enamelware and rustic woven baskets. Open shelving always looks super-jolly and characterful, but on a practical level it makes kitchen essentials much easier to access too.
11. Choose a show-stopping design
This modern kitchen has been masterminded by Melbourne-based interior architecture practice Studio Tate. Statement finishes, such as graphic terrazzo surfaces on the wall and island unit, breathe life into the monochromatic palette/
'To ensure a seamless flow between the external architecture and interiors, a reduced color palette of soft grey and black was chosen for the cabinetry,' says Alex Hopkins, design director, Studio Tate.
12. Mix old and new
With its moody colors and rich textures, this is a modern reinvigoration of classic Shaker-style cabinetry. The bespoke Roundhouse kitchen is finished in Farrow & Ball's Pitch Black, with brass handles and hinges to add a hint of glamor.
'The feature wall of polished plaster frames the wall cabinets, while the fluted glass adds interest and allows for the display of items,' says Paul Welburn, designer at Roundhouse. Other details include antique silver mirror backs in the wall units and handles in antique brass.
13. Introduce metal effects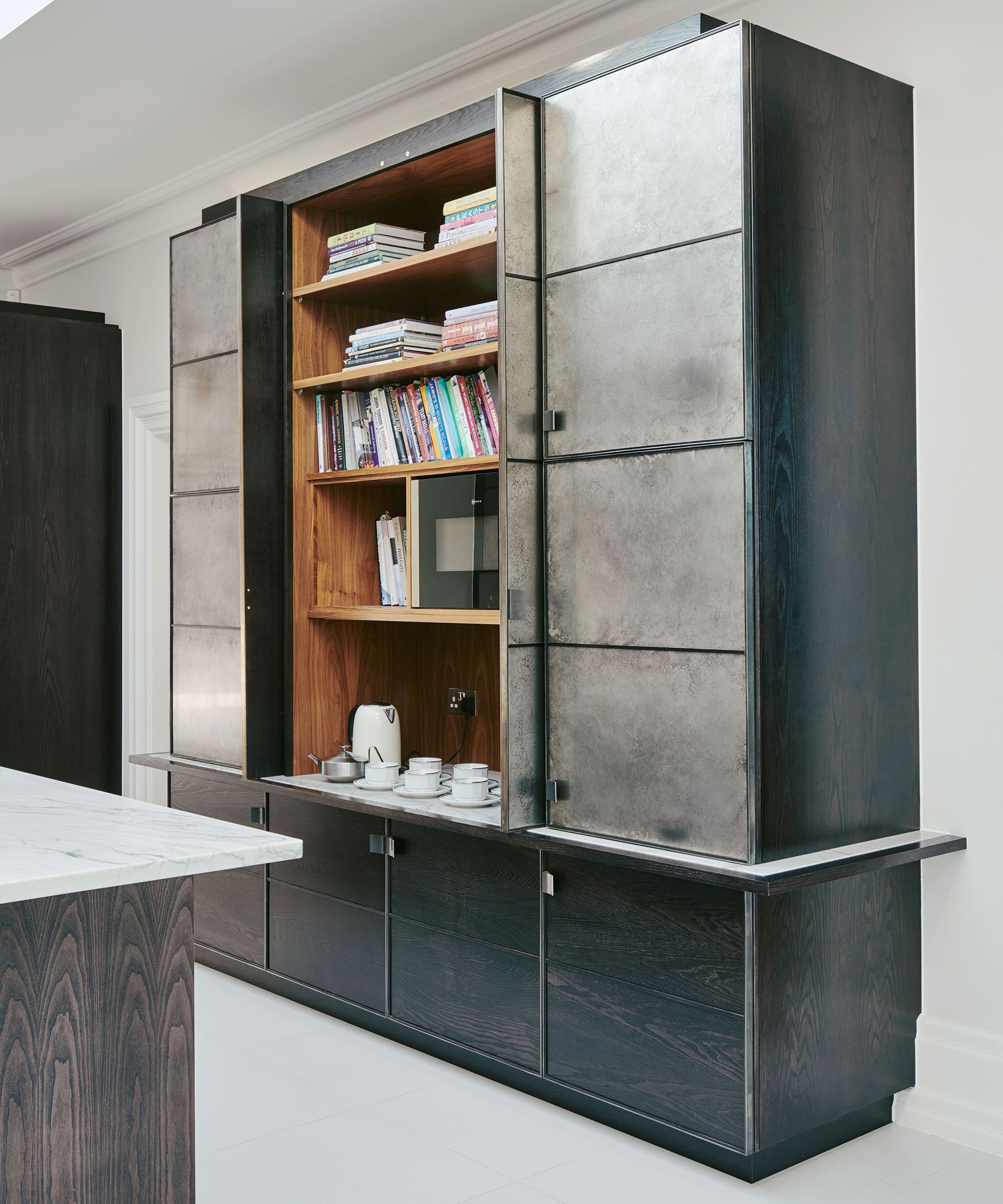 This breakfast cupboard from The Metallics Kitchen Collection by Ledbury Studio features hand-textured pewter fronts with dark-stained ash. Concave handles bring another point of difference to the doors, which are fashioned from stainless steel that has been blasted to dull the shine and darken the appearance.
'I love combining fine craftsmanship with beautiful and unusual materials and textures,' says designer Charlie Smallbone. 'It's the part of designing a bespoke kitchen that excites me the most.'
14. Bring in mesmerizing materials
Arresting materials in the kitchen are having something of a resurgence. Use marble to bring wow-factor to an otherwise subdued or lifeless grey kitchen. Dramatic and distinctive, cosmic black granite brings glamor to this grey kitchen by Martin Moore. 'There is a growing trend for statement finishes, with kitchen countertops matching backsplash,' says Richard Moore, design director.
15. Be bold and distinctive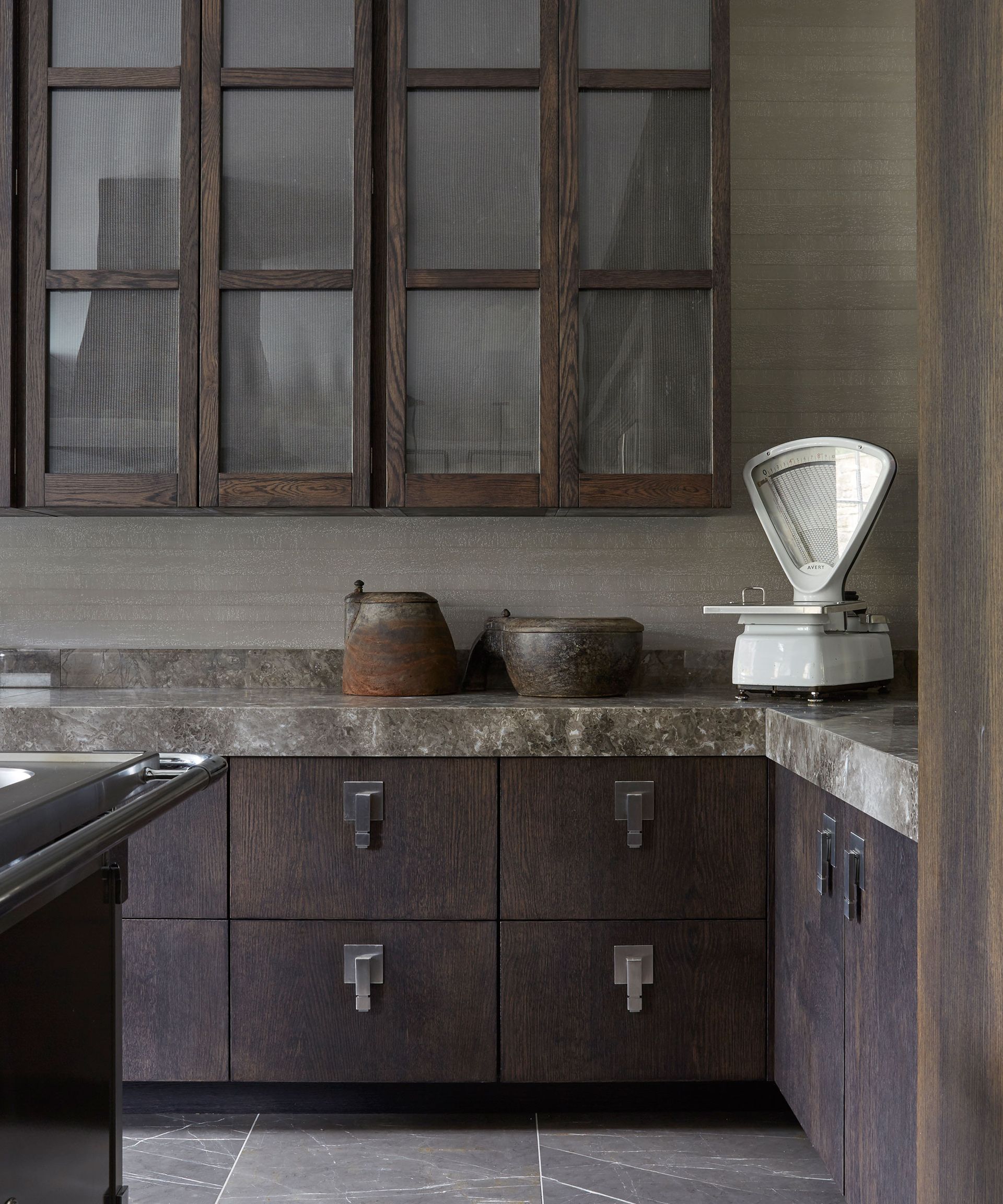 When choosing grey for a kitchen, or any space for that matter, it is important to think about accent colors for grey. Pure grey is made from black and white. However, most greys will have a hue and this provides a good signal as to where to go next, says Betsy Smith of Graphenstone Paints.
'The key to bringing cohesion to spaces is to keep to the same undertone for walls, ceilings and kitchen flooring. Identify hints of colors in flooring or cabinetry; walnut, for example, has a red tinge and oak more yellow. Jute is quite pinky while seagrass is greener, cork is orange and natural stones have a whole spectrum of hues. Use these clues to inform color combinations.
In this dark kitchen cabinet scheme, chunky countertops bring an air of authority, while grey marble, from Italy, works well with smoky timber cabinetry. Interior designer Fiona Barratt-Campbell says, 'The kitchen is made by a local artisan joiner. The handles are also custom, and something different to the usual pull bar.'
16. Confine grey to cabinetry
'Taking the plunge with a grey color palette needn't plunge the whole kitchen into darkness,' says Mioko Fujisaki, director, Kitchen Bee Design. 'The cabinetry is rarely anywhere near the largest surface area. You'll see far more floor, ceiling, wall and countertop, and keeping those areas light will provide contrast and a brightening effect.
'Reflective surfaces, such as metallics and mirrors, bounce more light into the kitchen. Mostly you need a little courage. If you love dark colors, and follow these steps, the results will be fabulous.'
17. Create a color contrast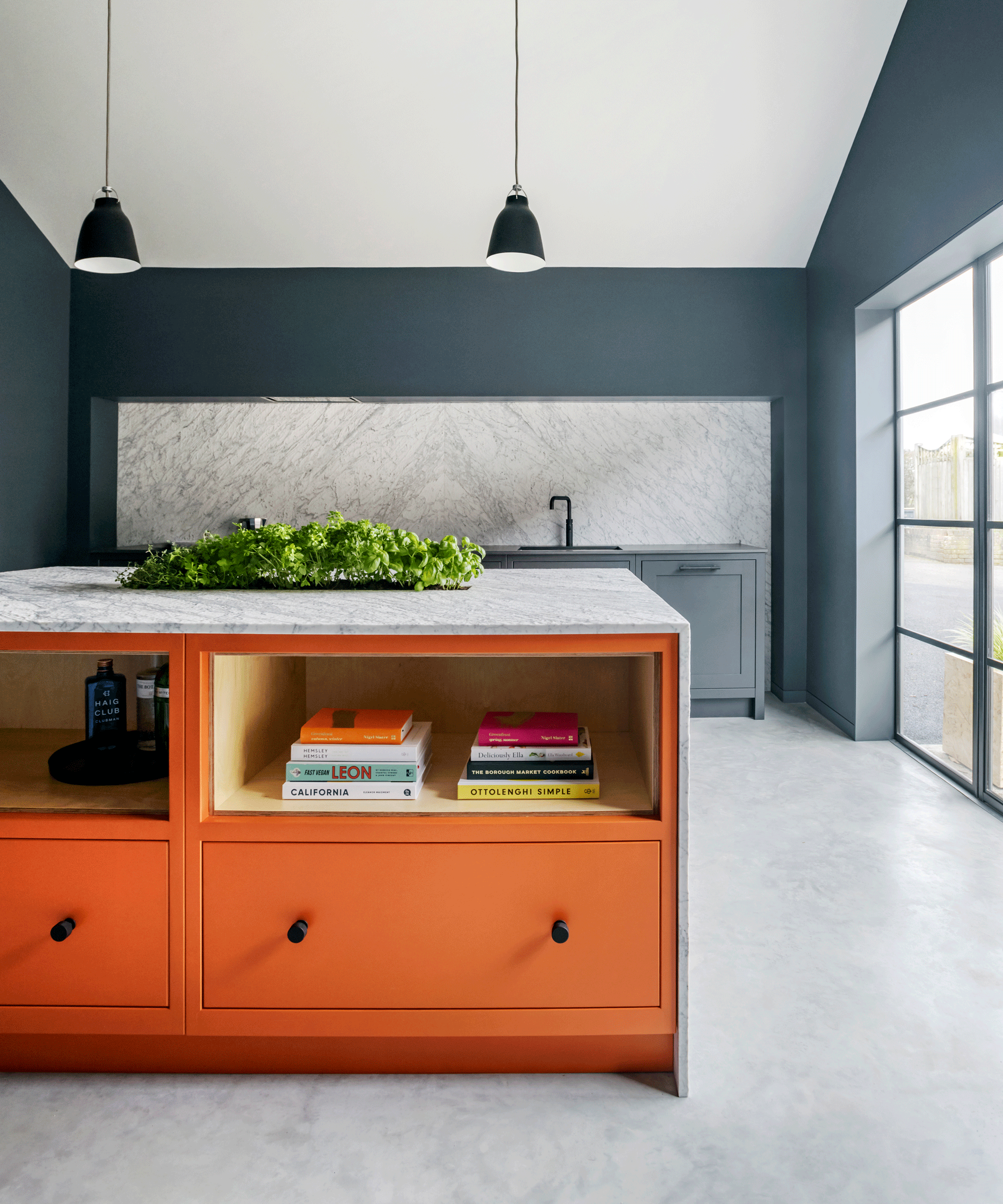 Worried your kitchen color combination will clash? 'The beauty of a grey painted kitchen is that it will pair beautifully with just about any other color on the color wheel. Plus, should fashions or your taste change, it's simple to create a new look, especially if you restrict your bold choice to one unit, like an island or dresser,' says Jasper Middleton, design director, Middleton Bespoke.
'When choosing bold shades it's important to consider the architecture of the space as a whole in order to give the color room to breathe,' he adds. 'Here the bold pop of orange is balanced by the soaring ceiling and simple backdrop of polished concrete and mid-grey hues.'
18. Add variation with grey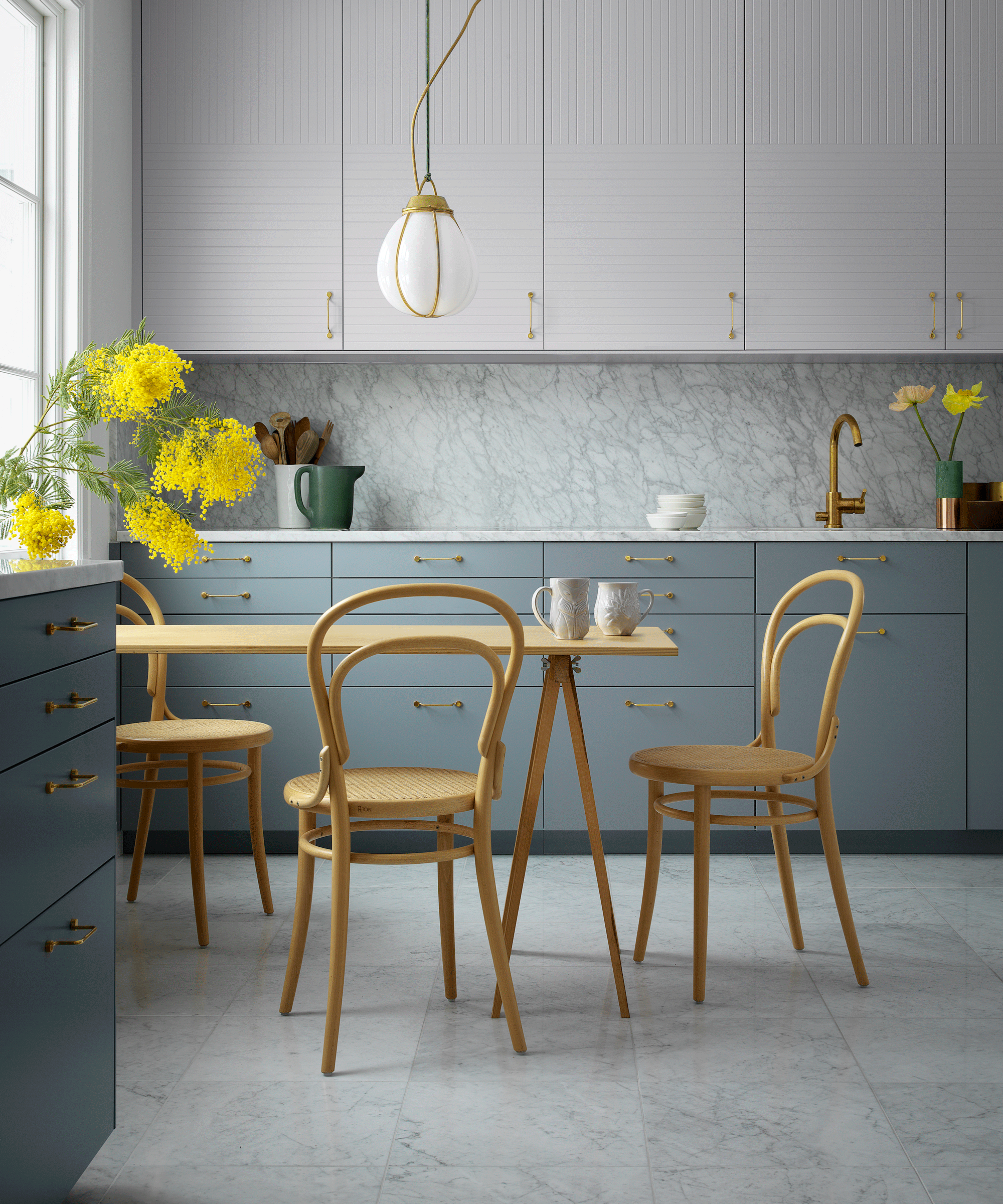 Tone-on-tone color involves using different saturations of one color to achieve contrast and movement. It's a great option for those who struggle with combining colors but don't want a flat look in a grey kitchen.
To make life easier, many paint companies graduate popular shades numerically, for example Paint & Paper Library's neutrals come in five tones, from light to dark. In north-facing rooms where the light is cold, it's wise to use the lighter tone on wall cabinets to help keep any potential gloominess at bay. In this airy grey kitchen, Superfront's geographic surface pattern elevates the grey-on-grey combo for a two-tone kitchen look that's modern yet refined.
19. Stain wood cabinets grey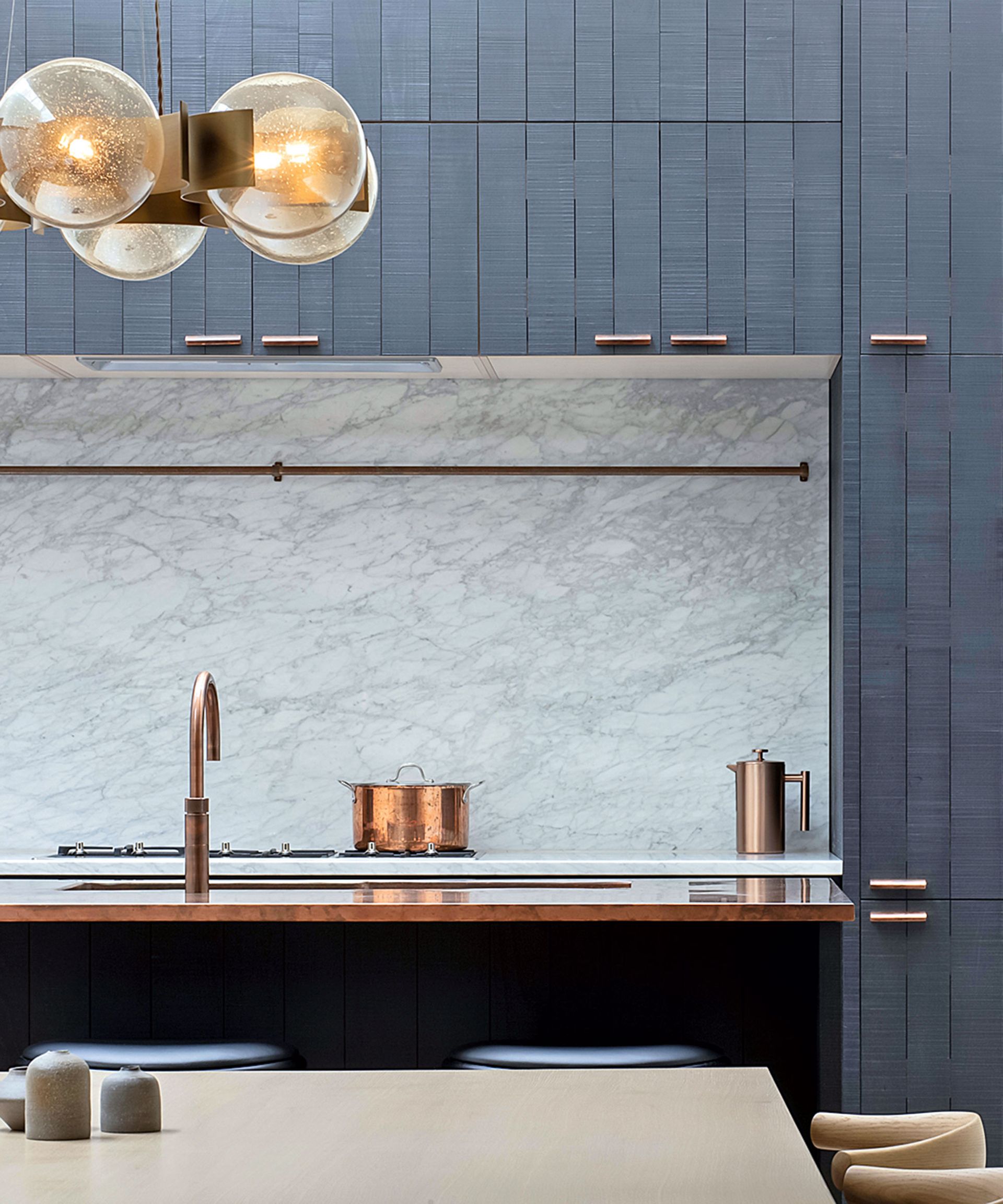 Taking timber in a contemporary direction requires a considered approach to avoid missing out on the wood's natural beauty. TR Studio chose deVOL's Sebastian Cox range, featuring cabinetry in grey-stained beech.
'We like to use wood in a very calm way in kitchens. You can maintain clean lines and use sleek surfaces, but wood itself brings craft and texture, both visual and tactile,' says Tom Rutt, founder, TR Studio.
'We love how this kitchen strikes the balance between traditional and contemporary. It is clearly a real solid timber door, but the ash-grey color makes it abstracted and adds a modernity.'
20. Go with the grain in a grey kitchen
A grey scheme doesn't have to take the form of paint. Look to pale ash wood or laminate cabinetry for a similar effect that is great for more contemporary spaces.
Beautiful wood is a timeless choice: pick woods with mid-tones for a look that won't date.
21. Look out for luxury
Dark greys look instantly dramatic. For luxurious grey kitchen ideas, pair with a thinly-veined marble work surface.
Coveted for its subtle tone and beautiful veined effect, you can see why marble is such a hit – it looks good wherever it's put and will continue to look striking year after year.
22. Be bold with color
We have seen the revival of grey in interiors over the last seasons, but this time it's combined with wood tones to instantly add warmth and depth.
Grey is a fresh alternative to the classic neutral palette and acts as a great backdrop to introduce splashes of other colors. Here, a vibrant red kitchen pantry really sings out against the deep grey walls.
23. Opt for statement style
If you are cautious about going all-grey, then isolate it to just the kitchen island or cabinetry, like in this stunning white kitchen. This will make a stylish statement, and can be changed as often as you like, with little effort.
'Grey paints are warmest when they're a mix of blue and orange pigments, rather than black and white. Using these will make the kitchen feel more homely,' explains Pip McCormac, Editor of Living Etc.
24. Play with pattern
The wonderful thing about grey is that you can pair it with just about any other color.
Here, the strong grey, black and white kitchen palette, echoed in the undercounter curtain, rug and cabinetry, is lifted by pops of green gingham upholstery.
25. Choose a pale and interesting hue
Whether it's pale or slightly darker, dove grey is a great all-rounder for painted kitchens. You can dress it up with silvers and metallic shades for a luxe look, or keep it simple with natural colors and earthy textures.
26. Marvel at the wonder of wood
Grey might be on trend, but its elegance and design flexibility give it a timeless quality. Use either as a feature color or to complement another finish – wood grains look especially dramatic against a smoky grey tone.
27. Choose a winning combination
A match made in heaven, cool shades of grey bring out the warmth and beauty in natural wood.
This is a great combination for kitchen cabinetry, suiting both classic and modern styles – but it also works well for accessories.
For the perfect accents, add splashes of mustard yellow and pale marble, to play with the cool and warm on a whole other level.
28. Use grey as a canvas for vivid color
Work in a bold accent color to give grey a modern feel. Grey has the advantage of complementing a whole host of colors, so anything goes - whether it's a punchy purple or vivid lime green kitchen accent color as pictured above.
Paint a feature wall, opt for a bright backsplash, or use colorful accessories.
29. Complement the living area in an open-plan space
Think about how all the various finishes – including the kitchen flooring and wall colors – work together.
Use a variety of kitchen lighting ideas, including wall and pendant lights, to create a comfortable mood when not cooking.
30. Use a combination of light and dark
Contrast light and dark grey kitchen ideas for a more dramatic look. Combine dark grey units with bright white worktops, or light greys with smart black granite surfaces.
31. Consider how a grey kitchen will look during the night and day
One of the beauties of grey is that it can feel fresh by day but warm at night. When picking a shade, take a sample door home so you can look at it in daylight and artificial light to get a feel for how it will appear at different times.
32. Curate a tonal palette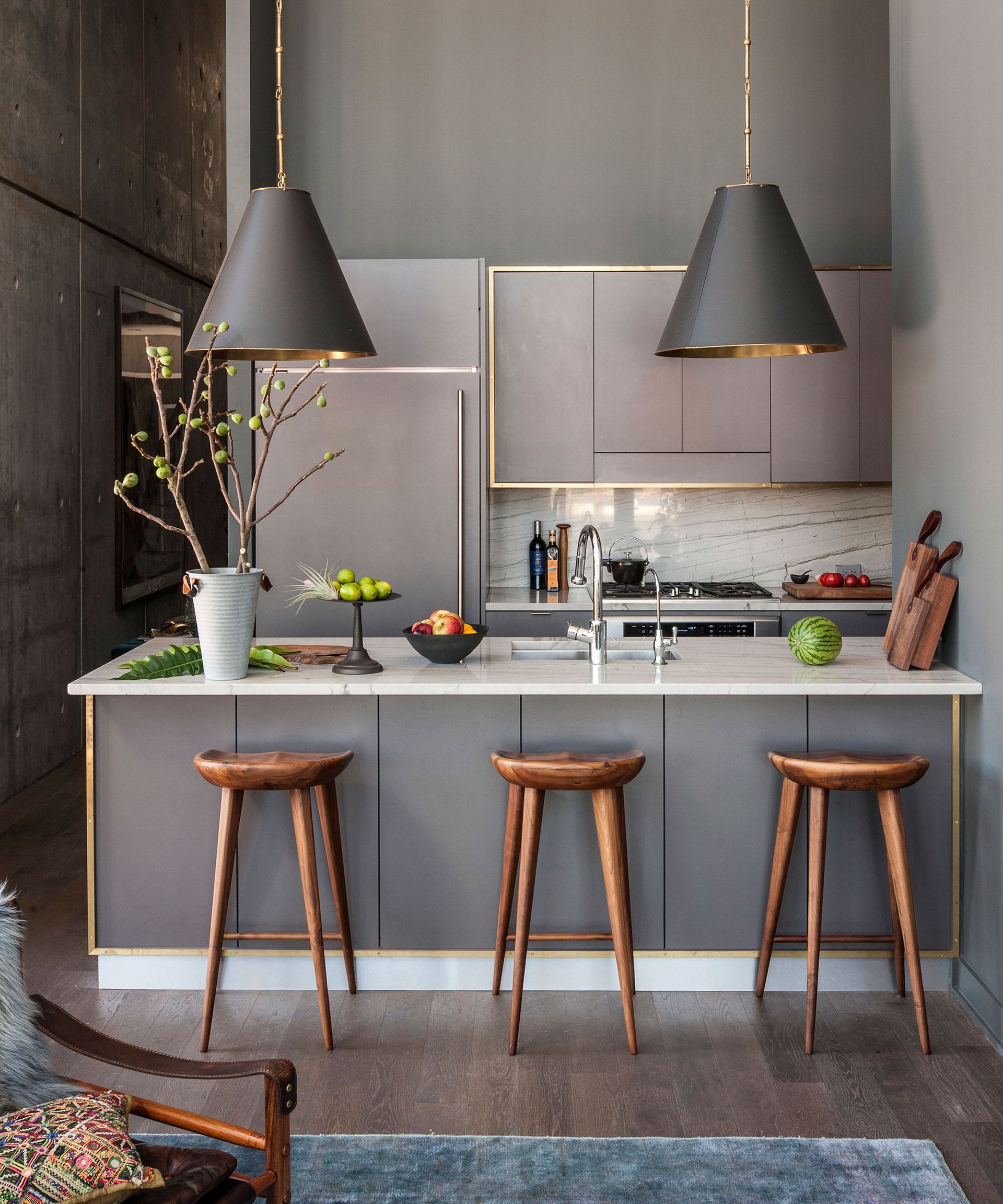 Choose worktops and backsplashes in tonal shades to complement your kitchen cabinet colors. Paler, browner shades of grey look good next to natural stone worktops, while crips white worktops will set off darker grey.
'Neutral tones such as grey are timeless and don't go out of fashion – they help create a feeling of light and space, and ensure the look isn't harsh,' says Graeme Smith, conceptual designer at Second Nature Kitchens.
33. Choose the perfect grey
Consider taste, light levels and the size of the room when choosing. Lighter greys help create a feeling of space, but darker, graphite greys area great for adding drama to a big room.
Also, a high-gloss finish looks sleek and will help reflect light, whereas a matt finish blends better with other surfaces in an open-plan space.
34. Use grey as a modern backdrop
Grey is ideal for kitchens in an open-plan area because it blurs the line between kitchen and living zones.
Grey kitchen ideas can blend with a huge variety of floor types, colors and finishes, bringing a sense of unity to the separate areas.
35. Decorate with colorful accents
Grey works well with most colors, which is why it's such a versatile choice. For an urban, contemporary look, team it with vivid yellow or pink.
Deep reds, purples and oranges can add extra warmth, or opt for green and blue kitchen accents for a cooler feel.
Is grey a good color for the kitchen?
Grey works particularly well in a kitchen, as not only is it modern and contemporary, it is also timeless, classic and surprisingly easy to live with.
Grey's dominance of all things home-related continues, and you can carry the look through to the kitchen, with ranges available in shades to suite all tastes and styles, from modern to country.
'Grey is a sophisticated color scheme in both modern kitchens in a gloss finish, or matt in a classic kitchen,' says Danny Lay, sales director at Caple. In fact, grey is even whispered to be the new white when it comes to interior design.
How do you add warmth to a grey kitchen?
Wood is a wonderful way to add a level of warmth and coziness to an otherwise cold, dark kitchen.
'Grey kitchens will always be popular, but where it gets interesting is how the popular grey tones support the trend for smoked and treated wooden finishes.
'Different types of grey will bring out the richness of smoked oak or walnut. Using these treated woods as internal accents within your kitchen cabinet ideas (like drawers or shelves, for example) will add another level of luxury.
'Imagine opening your matte grey double pantry to shelves and drawers and spice racks in an elegant wooden finish,' says Tom Howley, design director at Tom Howley.
What color goes best with grey in a kitchen?
Grey falls into the neutrals category, so when it comes to matching it to another color, pretty much any shade can be partnered with it. Neutrals are muted shades that appear to lack color, but often have underlying hues that change with different lighting. Neutrals like grey, greige, taupe, brown, black, white, stone or wood are oft-used for kitchen cabinetry because they are extemely versatile and will complement most other colors.
When it comes to matching a grey kitchen to wall color, backsplashes or flooring, choose a color that matches the intensity of your grey. For warm, mid-toned greys go for warm, mid yellows, teals, burnt oranges and forest greens, or for lighter, pale-toned greys, choose lighter tones, from soft neturals and pale pastels to cool, blues and sage greens.
Sign up to the Homes & Gardens newsletter
Decor Ideas. Project Inspiration. Expert Advice. Delivered to your inbox.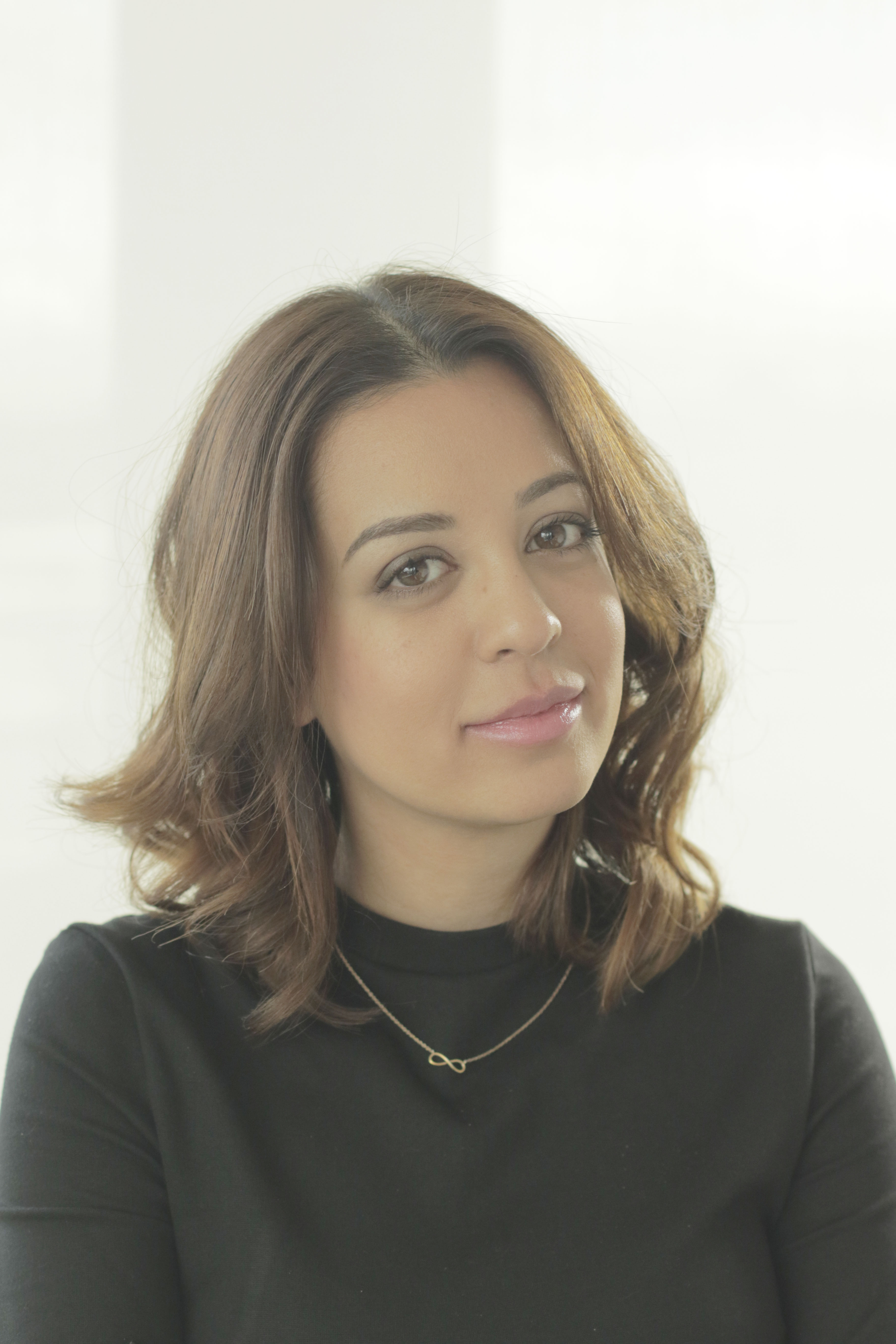 Jennifer is the Digital Editor at Homes & Gardens. Having worked in the interiors industry for a number of years, spanning many publications, she now hones her digital prowess on the 'best interiors website' in the world. Multi-skilled, Jennifer has worked in PR and marketing, and the occasional dabble in the social media, commercial and e-commerce space. Over the years, she has written about every area of the home, from compiling design houses from some of the best interior designers in the world to sourcing celebrity homes, reviewing appliances and even the odd news story or two.