Two-tone kitchens – 11 ideas for cabinets and islands in two colors
Why choose one color, when you can have two? Our two-tone kitchens show how pairing shades and materials can double the design impact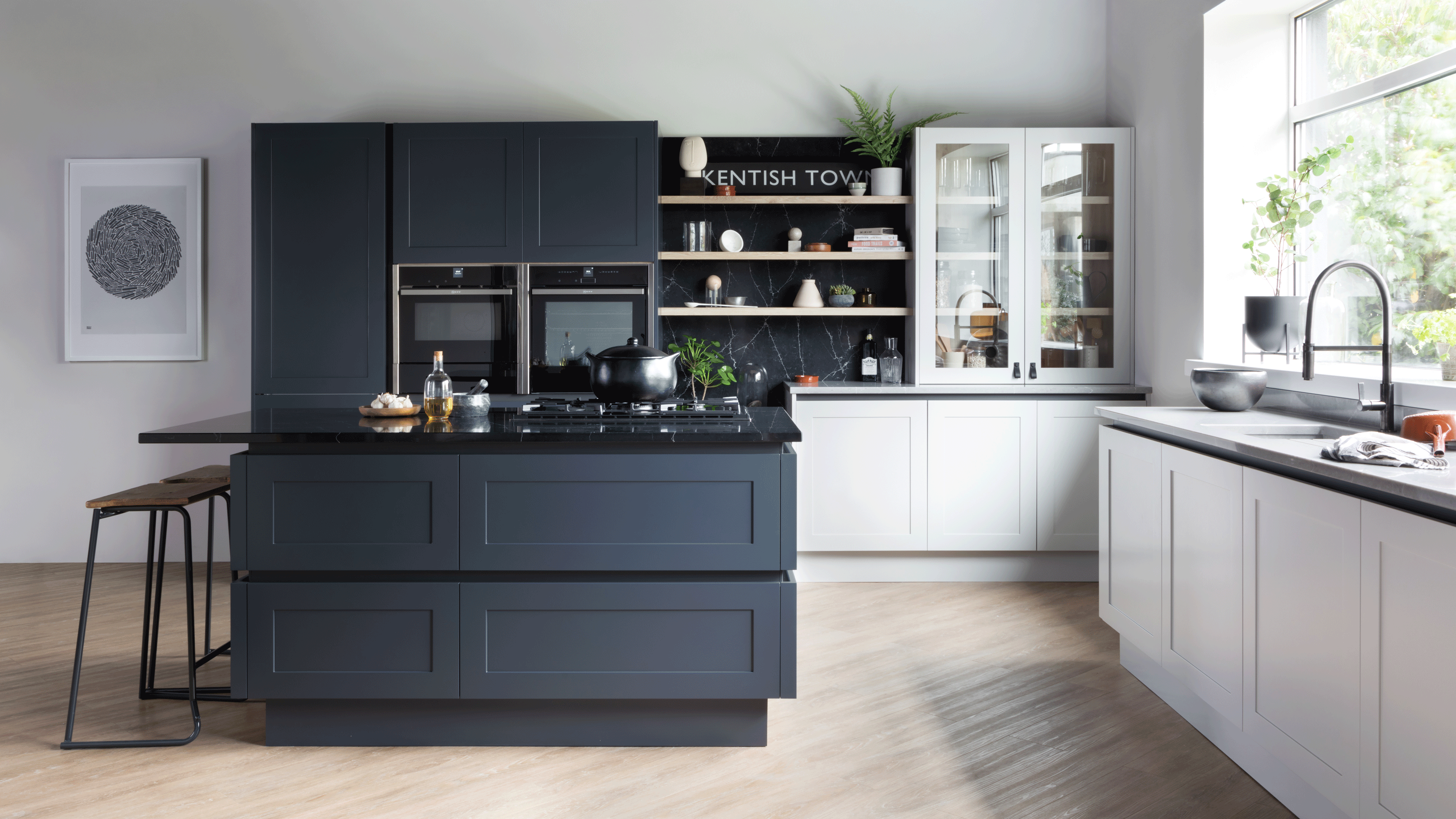 (Image credit: Second Nature)
Whether you're looking to do a full renovation or simply update your decor, two-tone kitchens are simple yet effective way to breathe life into the space.
This design feature means you can incorporate a splash of bold color with a calmer one, as well as making it easier for you to choose between your favourite colors – simply include more than one on your kitchen ideas moodboard.
'The color palette in your home should flow into your kitchen just as it would in any other room, but that doesn't mean to say that your kitchen should stay as one color,' says George Miller, Home Designer at Neptune Fulham.
'By using two shades, not only does it allow opportunity to pose two colors from your preferred palette, but it also lets you change the pace of your scheme. By incorporating a more familiar, unexpected shade like white, you can be more adventurous with your cabinet accent color.'
Two-tone kitchens – ideas, tips and design advice
If you are torn between two kitchen color ideas or looking to have a kitchen design with more depth and interest, a two-tone kitchen may be for you.
You can try a second color on a focal point like the island cabinetry, bring in complementary tones from a similar palette or use contrasting colors for dramatic impact. There are more two-tone kitchen ideas here to inspire your design. Here, our experts give their insight on how to make a two-tone kitchen work best in your kitchen.
1. Balance bright colors for an uplifting effect
Why choose between green kitchen ideas and wood kitchen cabinet ideas when you can have both?
'Strong, bright colors can energize and illuminate a kitchen, creating an uplifting living space that really boosts your mood,' says founder of King Celia Studio (opens in new tab), Jess Piddock, who designed this colorful kitchen for her own family home.
Jess hand-made the tiles, and has since developed the brush mark pattern, called Pool Party, for textiles and prints. 'The emerald green is a semi-transparent film that enables the grain of the plywood to shine through while providing a protective coating that's easy to clean,' she adds. 'Bright tones benefit from a grounding shade. In this case terracotta adds depth and warmth.'
2. Combine color with timber to create warmth
Use timber for one of your tones and enjoy a two-tone kitchen with natural beauty.
'In this London kitchen we loved the warmth of the nude/pink cabinets against the bespoke terrazzo floor but wanted to add some masculinity and impact with wood wall cabinets,' explains Tiffany Duggan, founder and director of Studio Duggan (opens in new tab) and Trove (opens in new tab). 'We chose a rich, warm timber for contrast and texture with fluted glass panels to conceal the mess inside but keep the look light and airy.'
Tactile cement countertops and backsplashes bridge the top and base units, uniting the two shades with quiet style.
3. Use different saturations of the same color
Tone-on-tone kitchen perfection involves using different saturations of one color to achieve contrast and movement. It's a great option for those who struggle with combining colors but don't want a flat look.
To make life easier, many paint companies graduate popular shades numerically, for example Paint & Paper Library (opens in new tab)'s neutrals come in five tones, from light to dark.
In north-facing rooms where the light is cold, it's wise to use the lighter tone on wall cabinets to help keep any potential gloominess at bay. After grey kitchen ideas? In this airy kitchen, Superfront (opens in new tab)'s geographic surface pattern elevates the grey-on-grey combo for a look that's modern yet refined.
4. Choose a hand-painted design to future-proof your kitchen
Painted kitchen ideas are your future. 'The beauty of a hand-painted kitchen is that in time, should tastes change, it's simple to create a new look with painted kitchen ideas, especially if you restrict your bold choice to one unit, like an island or dresser,' says Jasper Middleton, design director, Middleton Bespoke (opens in new tab).
5. Use color-blocking for a more modern spin
The two most popular ways to divide colors in two-tone kitchens is either a horizontal split – wall units versus base units – or a focal point split where just the island unit or dresser is a different shade.
But there is a third way. Color blocking, as seen here, corrals contrasting colors into distinct areas for a modular, almost freestanding look. 'Color blocking can make a simple two-tone kitchen feel much more dynamic. A high-contrast split will make the strongest impact. Tie the colors together using small details like cabinet handles and taps,' says Ashleigh Hanwell, senior designer, Second Nature Kitchens.
It can also help darker rooms successfully embrace deeper shades – so blue kitchen ideas can combine with white kitchen ideas to create a room that's dramatic but still bright and airy.
6. Choose cream for a fresh two-tone kitchen that isn't clinical
'White is a classical kitchen choice that works well on its own but can prove even better when used in a two-tone scheme," enthuses Tom Howley, design director of Tom Howley (opens in new tab). Bright white is a great choice for creating crisp contrasts that will freshen and lift earthy greens and beachy blues.
'If you're considering bright white on cabinetry, you should use warmer shades of white or creams on the walls and floors to ensure the kitchen doesn't feel too clinical and sparse,' adds Tom.
Do take into account the room's natural light levels when choosing whites – cream kitchen ideas are often a better choice for north-facing rooms.
7. Use pale colors at eye level for a more spacious feel
Introducing paler finishes at eye level is a well-known ploy for improving spaciousness and preventing wall units from overpowering, particularly above hardworking areas like the hob or sink.
'We would generally recommend opting for dark shades at the bottom and lighter tones at the top, especially if the natural light isn't great or the ceilings are low,' says Sarah Ellison, founder and creative director at Frank and Faber (opens in new tab).
'In a kitchen that is really dark, we often forgo wall units altogether, if storage needs allow, or paint them in the same light shade as the walls so that they virtually disappear.'
8. Choose a tide-line effect to add character
The use of two colors doesn't need to be limited to cabinetry – it can apply to walls also. Over at British Standard by Plain English, (opens in new tab) Adrian Bergman, Senior Designer, says the 'tide-line' effect is chic, easy and increasingly popular.
He explains: 'One of our favorite effects is the 'tideline' – adding one color at eye level in a continuous line around the room – it is guaranteed to add character to a kitchen, with the welcome reassurance that it does not need to be a permanent design statement.
'This could be two differing colors or the same color in different finishes, eggshell and gloss for example.'
9. Go for a muted two-tone kitchen in a smaller space
If you are looking for small kitchen ideas, it is better to opt for a lighter shade instead of dark hues due to the minimal expanse of space.
Graeme Smith, Head of Retail & Commercial Design at Life Kitchens (opens in new tab), explains: 'Lighter colors will draw in natural light, illuminating dark corners and in turn make the space seem quite larger than it might be. Go for warm earthy tones or pastels if you still want to incorporate color into a small kitchen. Taking a more subtle approach to color will bring interest into the space without making the kitchen feel enclosed.'
10. Choose contrasting colors for drama
If you're feeling bold, you can unleash your creative flair and opt for statement contrasting yet complementary colors for a joyful, engaging and maximalist look.
In this kitchen by deVOL (opens in new tab), pink and green – two shades from opposite sides of the color wheel – were chosen for dramatic effect, proving that design fortune really does favour the brave.
11. Look out for natural materials
'When thinking of going for a two-tone kitchen, look at using more natural materials for the floor like timber – the visual and textural appeal here can help draw attention away from the combined color and add some balance to the overall design,' suggests Graeme.
What is a two-tone kitchen?
Graeme Smith, Head of Retail & Commercial Design at Life Kitchens, explains: 'A two-tone kitchen is when a design incorporates two shades. This "dual color" approach is a popular and great way to enliven a space and add visual interest without being too overpowering – as well as allowing you to highlight specific areas of interest or difference.'
How do you do a two-tone kitchen?
You can create two-tone kitchens in various ways. The most obvious way is having two different colors of the base and upper cabinets. These two colors can be complementary or contrasting depending on the effect you are after.
But the two-tone effect can be achieved in other ways too. You can use a neutral color for your cabinetry and use a bold, vibrant shade on your island, making it a focal point.
You can also use different shades of the same color for visual interest. You can also use blocks of color to create a freestanding effect which is a very on-trend take on two-tone kitchens.
The two-tone look is not limited to paint but also materials and finishes. Whatever you choose, it will bring a dynamism into your kitchen design.
As the Deputy Editor of Livingetc's print version, Busola Evans works across both the physical magazine and digital and specializes in kitchens, bathrooms and projects. She is an expert at explaining how to improve, extend and convert your home. Prior to her current role, she was Associate Editor on both Livingetc and Homes & Gardens, where she authored kitchen and bathroom articles. Busola has also written for The Guardian, The Sunday Times Magazine and Grazia, and was an interiors columnist for the London Evening Standard's ES Magazine.