Painted kitchen ideas – 17 inspiring ways and tips for painting a kitchen
Our painted kitchen ideas will breathe new life into a plain space – with these expert tips and pictures, you can get it right first time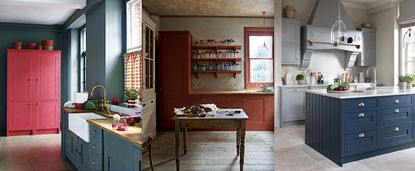 (Image credit: Polly Wreford/Plain English/Searle & Taylor)
Painted kitchen ideas are versatile and enduringly popular. One of the most appealing and varied finishes for kitchen cabinetry, paint lends itself to both the classic looks of the traditional kitchen and to crisply modern linear designs.
Choose kitchen ideas to suit your style, whether your home is period or contemporary, country or urban. And you can always re-paint if you want a change or update in the future.
Whether you opt for in-frame, Shaker-style or a modern handle-less kitchen design, paint adds a subtle reference to the past. 'When we commission furniture, we tend to look back at our history,' says kitchen designer Oliver Peake. 'Painted cabinetry has elements of tradition, even if you design it in a modern style, and most of us feel comfortable with that timeless quality.'
Painted kitchen ideas
Keen to update your kitchen without blowing the budget? A creative use of paint is one of the simplest design tricks to achieve a bold and interesting space. Paint can provide a transformative effect in a relatively short amount of time and there are many ways to use paint to get a stylish, modern look. The advantage of paint is the almost limitless choice of kitchen color ideas, allowing you free rein to express yourself, whether through painted kitchen cabinet ideas or whole-room schemes.
Our collection of painted kitchen ideas will provide you with even more inspiration.
1. Go for a wraparound, neutral look
Cream kitchen ideas are warmer than white, with added depth. In fact, top-to-toe painted kitchen ideas in neutrals can be extremely effective and far more interesting than you might imagine.
'The key is to introduce small elements of visual interest to entice the eye,' says Richard Moore, creative director, Martin Moore.
'Incorporating a variety of finishes and materials will help layer and add texture to a neutral kitchen. For example, gold or brass fittings lend warmth, dark countertops achieve a sense of contrast and glass or antiqued glass backsplashes help to reverberate light around the room.'
With neutral cabinetry effectively providing a blank canvas, it's easy to switch-up accessories and be creative with artwork and upholstery.
2. Use contrasts to help add depth
'Using a dark, high-statement wall color is a great way add depth, while providing a dramatic back-drop for your kitchen cabinetry to contrast against,' says Rhian Williams, kitchen designer, Harvey Jones.
Painted kitchen ideas using contrasting colors on walls and cabinetry can have a divisive effect that's counterproductive in a small space. However, in a large kitchen with high ceilings like this one, pitching pale painted kitchen cabinetry against dark surroundings serves to bring the ceiling down and makes everything feel cozier.
'Pale cabinetry, countertops and flooring will balance bold contrasting colors on the walls to prevent the darker shades dominating, whilst instantly brightening the overall scheme,' adds Williams.
3. Use varying tones of the same color
Painting cabinetry in varying tones is a sophisticated way to differentiate without descending into chaos.
'Choose no more than three colors and think about where you'd like to draw attention,' advises Tom Howley, design director, Tom Howley.
'Use the boldest color on the focal point of the kitchen, perhaps a decorative cooker hood, a kitchen island or an impressive double pantry. Then use lighter tones over the rest of the cabinetry, enhancing and contrasting with the core statement tone.
'To boost spaciousness, reserve your lightest shades for the highest points, like wall cabinets, and use deeper hues below eye level to ground the space.'
Joa Studholme, Farrow & Ball's Color Curator says: 'The use of dark tones on floor-standing units creates a modern look with a nod to tradition. But it pays to be wary of using strong color on wall-hung units, which can make the kitchen feel claustrophobic, so I tend to paint them the same color as the walls. Darker kitchen cabinet ideas against lighter walls is the easiest way to add instant impact and be right on trend.'
4. Make the kitchen island the focal piece
As central pieces, island units are prime targets for a color shift – and alone can be effective painted kitchen ideas.
'Best of all, they generally represent a smaller surface area, making islands the perfect candidates for a color switch-up, as and when you please,' adds George Miller, home designer at Neptune.
'One of the most popular routes is to pick an uplifting color for the kitchen island and set it against cooler, neutral tones on the perimeter cabinetry.'
The idea is to really make the island color sing, so choose a darker backdrop for extra definition. Using a different countertop on the island will also help it stand proud.
5. Break up expanses of block color
Painted kitchen ideas can be supremely subtle. Adding a splash of color inside open storage helps break up large expanses of block color and creates extra visual interest on floor-to-ceiling cabinetry.
Here, design studio Forbes Rix has carried the warming tones of Farrow & Ball's Brinjal from the freestanding table to the high-level display alcoves for a beautifully cohesive color link. Installing concealed LEDs within the alcoves makes the aubergine tones glow, providing warm mood lighting after dark.
A similar effect can also be achieved using glazed wall cupboards with brightly painted interiors, or even behind solid doors for a surprise color hit upon opening.
6. Inject bold color for a striking look
'When planning paint schemes, we generally choose the dominant kitchen color first, to anchor the space and give a sense of calmness. We then look at colors that will pop, to make the whole scheme more dynamic and give it an effortlessly striking look,' explains interior designer Natalie Forbes, co-director of Forbes Rix.
Where you put the pop of color depends on just how much impact you want to achieve. Here, Forbes Rix has embraced Farrow & Ball's India Yellow on a floor-to-ceiling freestanding cupboard, but for a subtler approach, keep the brightness to lower levels.
'We recommend a maximum of three colors to keep it from becoming too busy,' adds Forbes.
7. Take a subtle two-tone approach
'One of our favorite methods for adding interest to hand painted kitchens is via a subtle two-tone palette,' reveals Jane Stewart, design director, Mowlem & Co London.
This, of course, can apply to cabinetry and walls – or to cabinetry alone, with the two tones differentiating upper and lower cabinetry or wall cabinetry versus the kitchen island.
'Two-tone kitchens are distinctive yet timeless and can be as simple as using slightly darker tones on the lower units and lighter on those above. Lovely and intriguing interplays of light can then result, at any time of day. This very discreet effect is particularly suited to the lighter shades of green or blue, but also to taupes and corals, browns and purples.
'We often take inspiration from chromatic color wheels devised by paint specialists like Paint & Paper Library or Farrow & Ball, especially their heritage' palettes.'
8. Use an immersive color-wash look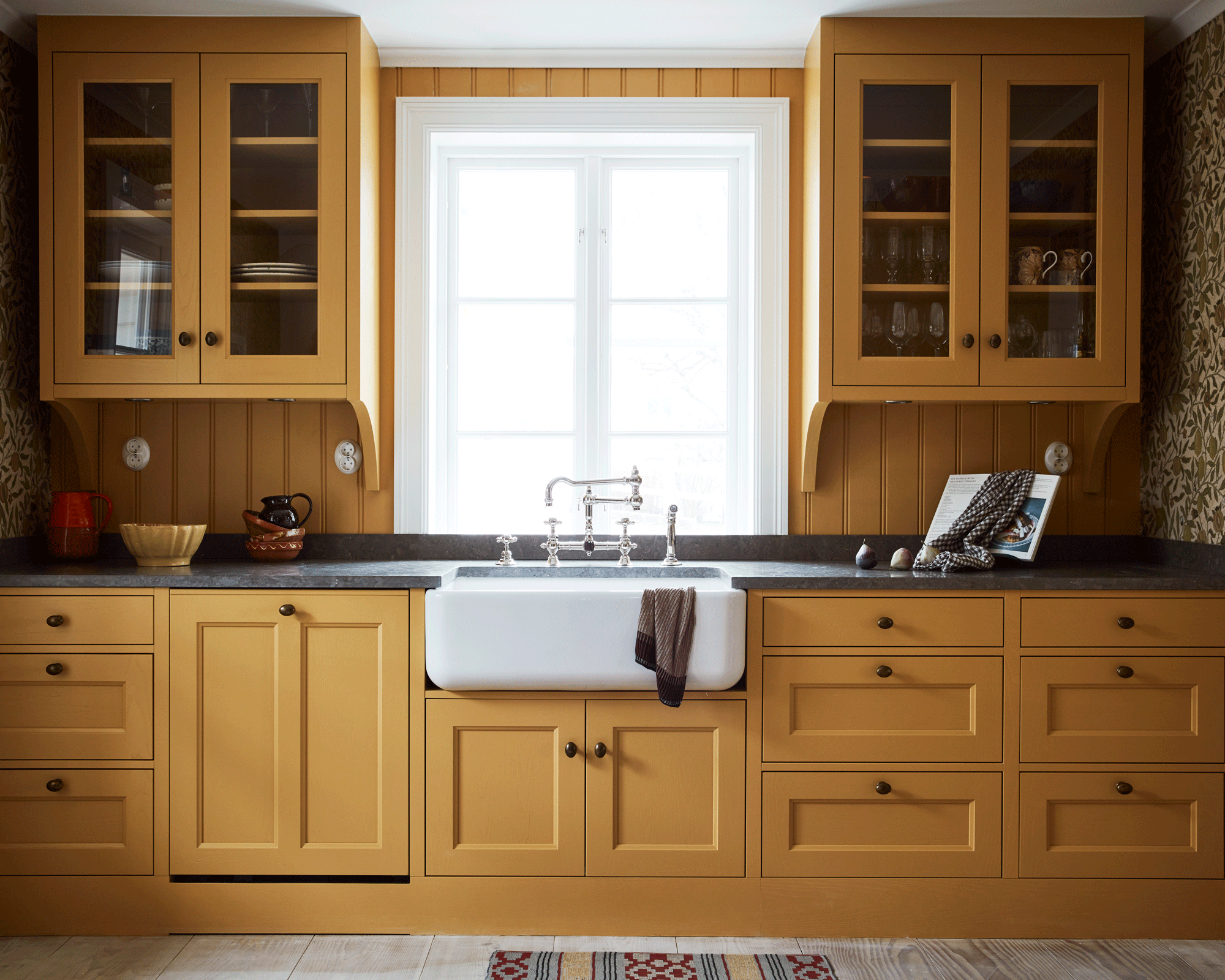 Considering dramatic painted kitchen ideas? Carrying a strong cabinet color onto the walls requires commitment but the payoff can be big, especially in a small space. This immersive color-washing method, which blurs the lines between cabinetry and walls, is a well-practised technique for boosting the sense of space. It can also give classical kitchen designs a modern edge.
'Because we spend so much time in our kitchens, many of us want them to feel less like rooms just to cook in and more like rooms to live in. This has led to a huge fashion for using the same color on both the units and the walls. A scary thought, but incredibly effective in not only making a really special space, but one that feels bigger than it actually is as the units "melt" into the walls,' says Joa Studholme at Farrow & Ball.
Here, painting out the tongue and groove panelling in the same mustard yellow as the cabinetry allows the two substantial wall cabinets to recede into the background. The crisp white window frame and ceramic sink, directs the eye outside, further enhancing the feeling of spaciousness.
For an even more impactful look, take the look to the ceiling for your kitchen ceiling ideas.
9. Use color-blocking for extra impact
Color blocking is a painted kitchen trend taken from the fashion industry that involves using blocks of strong color to heighten impact.
'Using bold blocks of color is a great way to accentuate key elements of a kitchen design, and freestanding display cabinets in particular offer a good opportunity to introduce beautiful vibrant colors into the mix,' says Charlie Smallbone, founder of Ledbury Studio.
'If you're using two strong tones in a small kitchen, it's important to block those colors into different areas, using pale neutrals between for moments of calm, rather than put too much color in one sightline.'
10. Dare to go dark
Black kitchen ideas have seen a rise in popularity, the very latest in kitchen trends. Often overlooked as purely an accent color, black painted walls, cabinetry and countertop ideas are having something of a moment. Black as a painted kitchen idea becomes liveable, luxe and inviting with textured woods adding rustic, homely charm.
However, if you want your space to be impactful but timeless, black and white kitchen ideas, where black is used as a focal color in painted kitchens, is a safer choice.
11. Choose grey painted kitchen ideas for an elegant finish
When planning your painted kitchen ideas, start by considering the room's size and design and choice of flooring. Soft neutral shades are easy to live with in even the smallest spaces, while on-trend grey kitchens can look coolly architectural in a modern room, or warm and inviting when teamed with wood. Large rooms with lots of natural light can support a bolder paint color choice.
'Grey kitchens paired with shades of pink work just as well and will add extra character. It is, however, important not to contrast these colors with a white ceiling which will make the walls look darker,' advises Joa Studholme, Farrow & Ball's Color Curator.
12. Highlight an accent color with painted kitchen ideas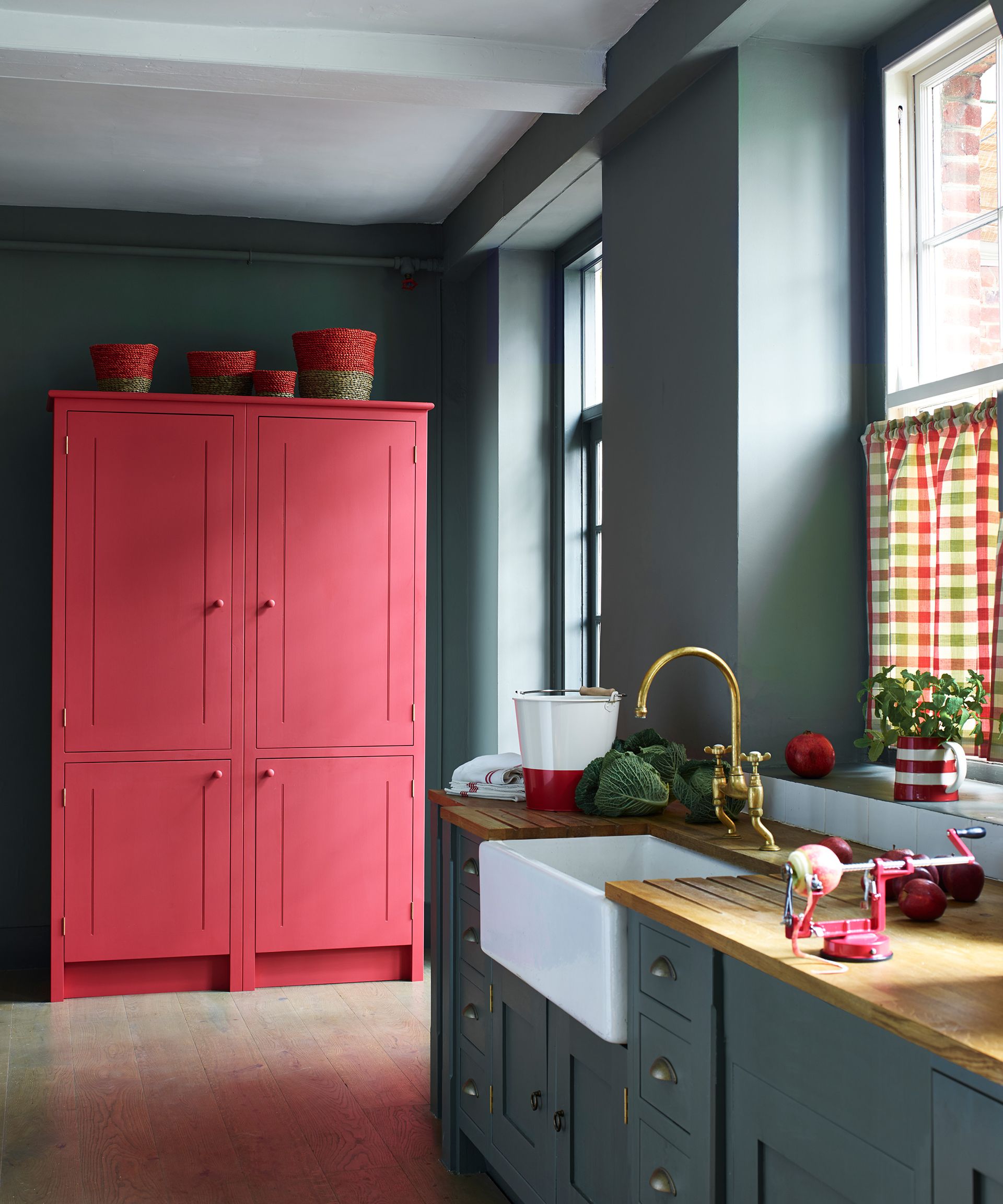 Color is a powerful design tool – not only can it completely alter the mood of a kitchen, but how much or how little you add will affect which parts of the room you're drawn towards.
The rule of thumb is to use color sparingly and in clearly defined areas: they should serve a purpose rather than be used at random. Go for a basic color and then use another to accent certain areas.
Alternatively, try corresponding pairs, such as shades of green or blue. If you want to save on kitchen cabinets painting costs, play with natural tones and add a more vibrant color to certain elements – for example a shelf, a sideboard or a bench.
'Consider painting one element – a section of tall cupboards, perhaps – in a strong color, and then pick that up in your choice of kitchen lighting ideas, cushions or chairs,' says Scott Nicholson, MD of Chamber Furniture.
'Painting all the other cabinets in a softer, more muted color will provide balance, and works better than a whole room in a strong color,' he adds.
13. Layer blues for your painted kitchen ideas
One of the most popular painted kitchen ideas is to layer different tones of the same color. Soft blues are a timeless choice for the kitchen, working just as well on classic cabinetry as more modern doors. They echo hues of the natural world, making them perfect for a kitchen that looks out onto a garden or striking views.
Try balancing a delicate, icy blue with a calming, stronger tone for warmth and wow, like in this blue kitchen.
14. Dare to consider red painted kitchen ideas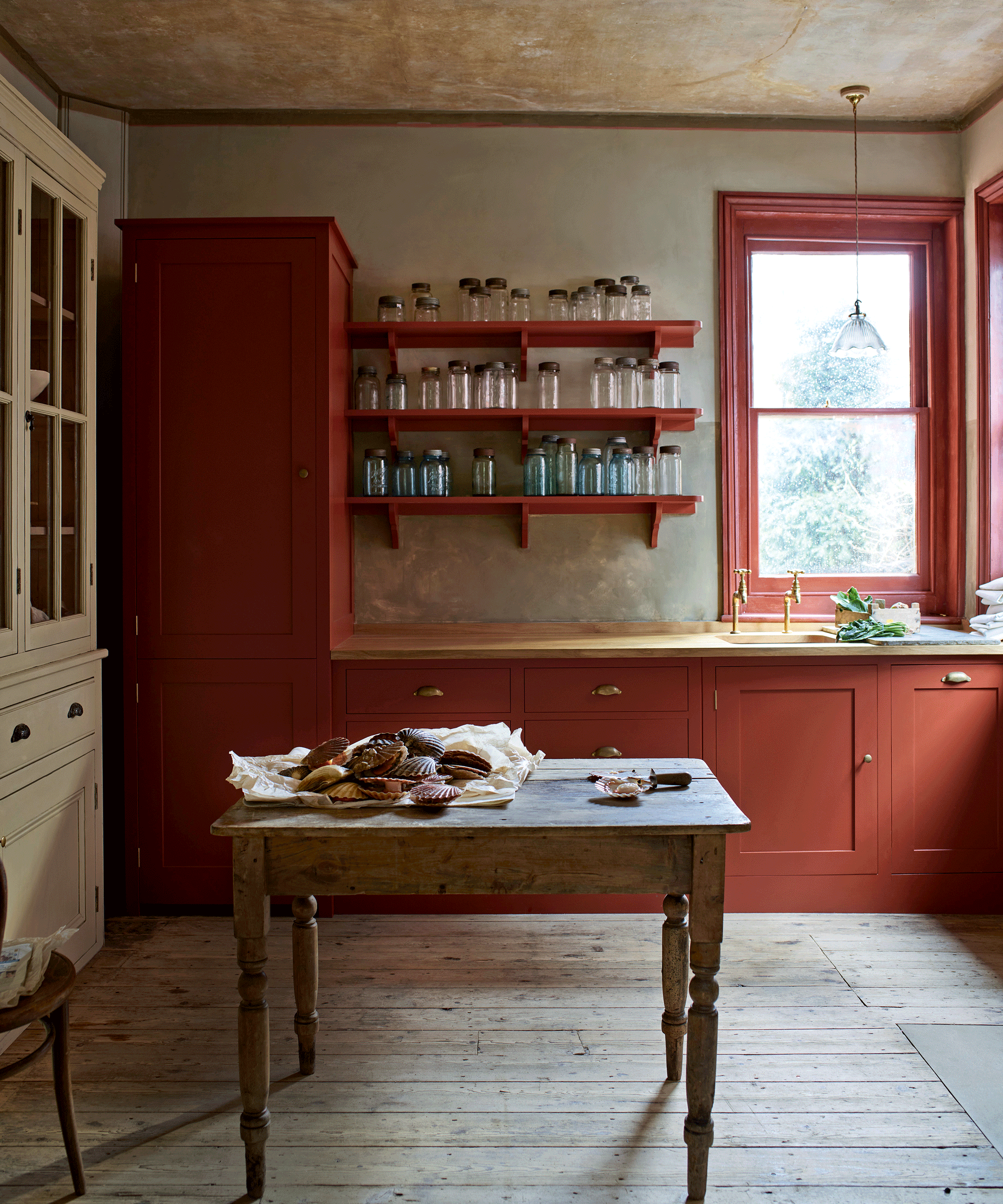 Darker shades, such as mossy greens, indigo blues and graphite grays, will add drama to a design – but deep red kitchen ideas are having a moment, too.
Make deep shades work in almost any size of space by softening the effect. A scrubbed pine table or wall art helps to offset block color in a painted kitchen, while you can bring in extra warmth with industrial-style lighting and metal stools.
15. Go green – for a look that's on trend but timeless
Green kitchen ideas are having a moment, but there's longevity there, too. Fresh, cool green can create a relaxing atmosphere in any room. It is associated with nature, outdoors, growth and creativity and, as it is such an organic shade, it is very easy to live with.
The important thing is to pair green painted kitchen ideas, whatever hue you choose, with the right accent color to create a feeling of flow throughout a room.
A beautiful green kitchen that shows how kitchen art ideas can enhance your chosen paint color, with a beautiful display area of paintings, this green paint works well with the warming wood and marble, creating a space that feels both luxurious and relaxed.
16. Enhance space with white painted kitchen ideas
For a classic, timeless look, white kitchen ideas can't be beaten, with a little lift of color in accessories able to cheer up the room instantly. Painted kitchen ideas work well for timeless schemes, and of course, can be updated at a later stage if you're confident enough with a paintbrush.
'White kitchens make the room feel light, but in order to trick the eye into making the kitchen feel super light and airy, you could consider using a much stronger color in the hall or room that precedes it. Passing from a darker color to a lighter one will make your kitchen feel even bigger and lighter,' advises Farrow & Ball's Color Curator, Joa Studholme.
17. Add a surprise to your painted kitchen ideas
'Little bits of unexpected color can make you smile, and we can enhance our kitchens with the use of strong color, even if only in the smallest of spaces,' says Farrow & Ball's Joa Studholme.
;If you open your mug cupboard to discover some unexpected color or pattern it can't fail to make you smile. And don't forget that you don't have to look at it all the time. Most of the time the door will probably be firmly shut.'
What color paint is best for kitchens?
The best color paint for kitchens largely comes down to your space. Larger, well-lit spaces can take darker colors, while smaller ones benefit from lighter ones. The most popular kitchen paint colors by far – worth noting if you are selling up soon – are white, cream, grey, blue and green.
Is painting kitchen cabinets a good idea?
Painting kitchen cabinets is a good idea and can transform a space – if you can commit to doing it well. Ideally, a professional decorator will come in, remove any parts that can be removed and paint or spray-paint them on a flat surface for a neat, seamless finish. You can learn how to paint kitchen cabinets yourself easily, but bear in mind that thorough preparation and a perfect technique is key to success.
As the Deputy Editor of Livingetc's print version, Busola Evans works across both the physical magazine and digital and specializes in kitchens, bathrooms and projects. She is an expert at explaining how to improve, extend and convert your home. Prior to her current role, she was Associate Editor on both Livingetc and Homes & Gardens, where she authored kitchen and bathroom articles. Busola has also written for The Guardian, The Sunday Times Magazine and Grazia, and was an interiors columnist for the London Evening Standard's ES Magazine.
With contributions from