Kitchen art ideas – 10 ways art can uplift your kitchen space
Transform your kitchen from functional to beautiful with our kitchen art ideas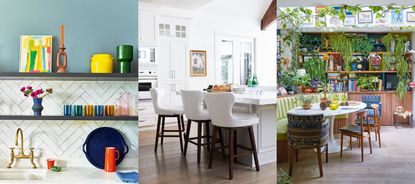 (Image credit: Sarah Kaye Representation Ltd | Jessica Bennett of Alice Lane Interior Design | James Merrell)
Kitchen art ideas can help elevate your space through color, character and design, establishing a welcoming and inviting kitchen that feels personal and unique.
A place for entertaining, cooking, socializing and relaxing, the kitchen is seen by many as the true hub of the home; so when planning your kitchen ideas, incorporating decorative designs and artwork will ensure your space is beautiful as well as functional.
The kitchen is not often high on the list of rooms when decorating with art in the home, but choosing artistic designs for this space can be a fun and creative way to transform the look of the room.
When organizing how to choose art for your home, and planning where to put artwork in a space, it can sometimes be overwhelming knowing where to start, but with so many different mediums, styles and genres available, there are options to suit all kitchens.
Kitchen art ideas
To help you feel inspired and confident to use artwork in your kitchen, we have gathered some of our favorite kitchen art ideas.
1. Add character with color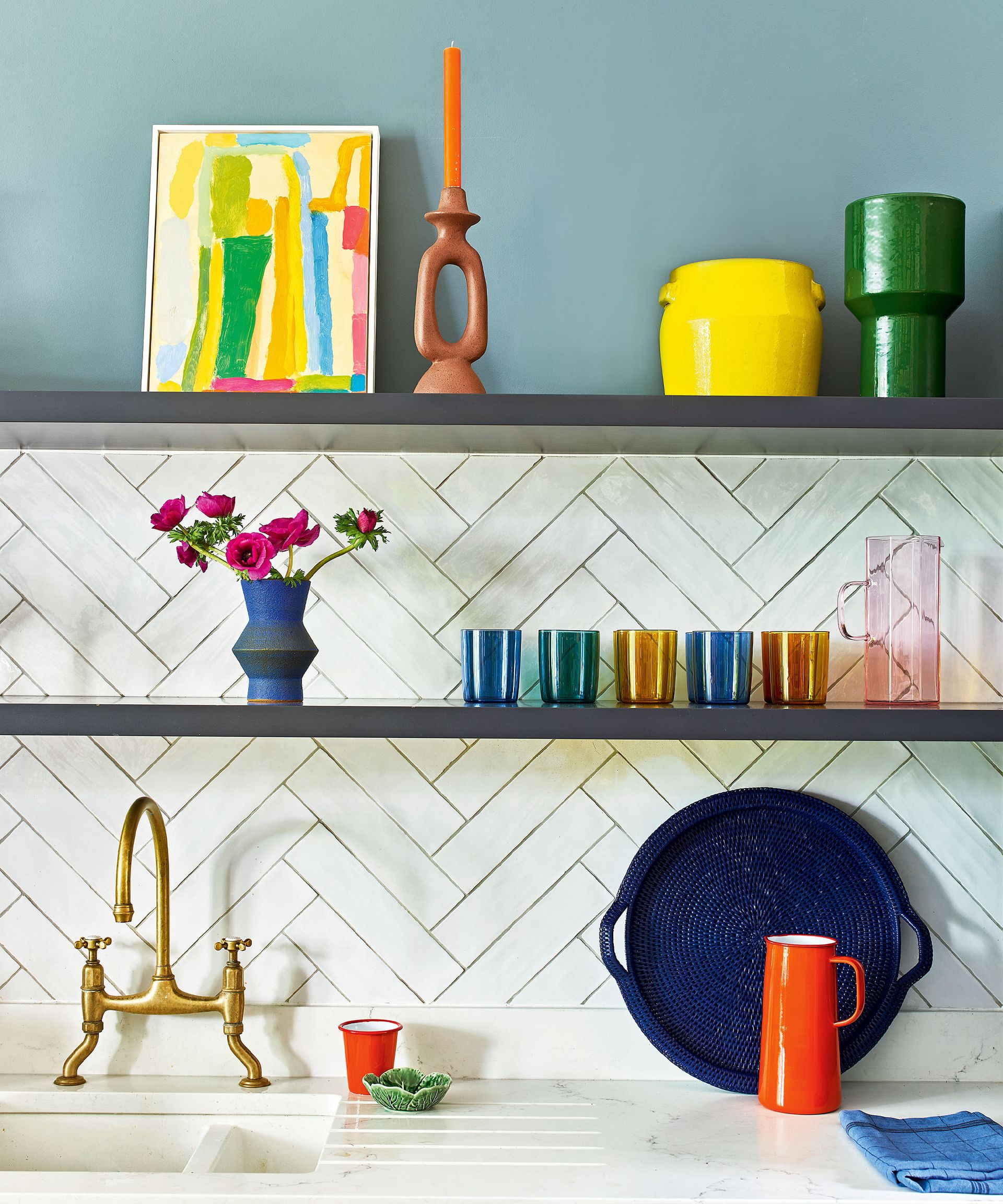 Whether you want to coordinate with your painted kitchen ideas, or add a colorful piece of artwork to create a stylish contrast with the rest of your scheme, choosing colorful artwork can create an uplifting and eye-catching design.
As shown here in this joyful kitchen, the design embodies a primarily primary color palette. The blue painted walls provide a calming and restful backdrop, with the colorful, abstract artwork and complementary ornaments and kitchenware adding vibrancy, energy and accent colors to the space.
2. Paint a beautiful mural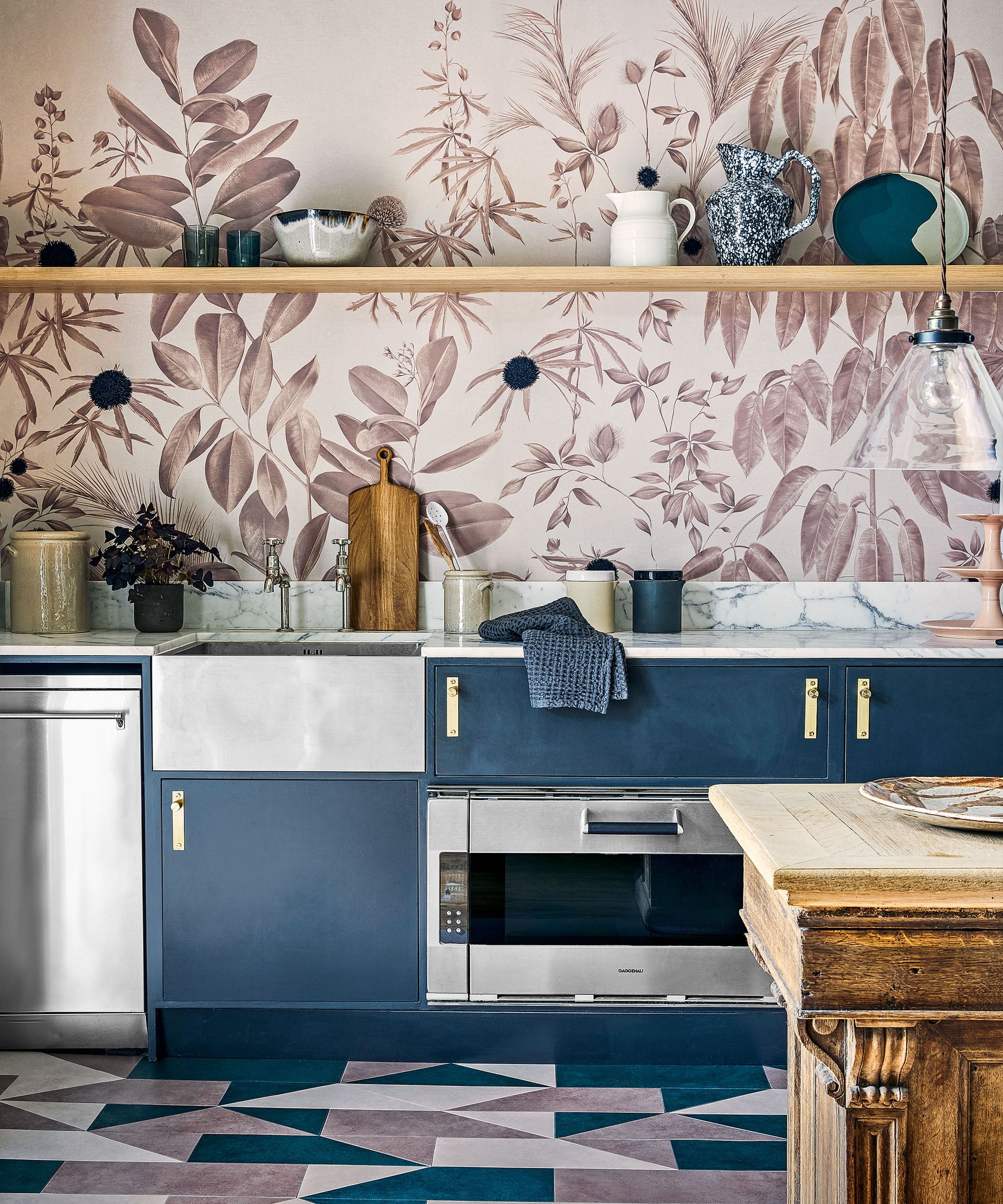 For a lager-scale kitchen art idea, painting a mural can create a stunning statement.
Justyna Korczynska, senior designer at Crown Paints says, 'if you are looking for a truly spectacular wall statement, you can create a mural. Murals generally work best in large, uncluttered spaces. If the space is limited, go for one based on simple geometric or free hand shapes. It will still work well providing a high impact.
For a sophisticated mural design, use colors of the same tonal range and create bold shapes. Place tape between two separate colors to create a smooth line. Using this technique on a large wall that sits behind a table helps create different ranges of height within a room without requiring a large piece of furniture. Work with architectural features and natural direction changes in the room to utilize the space you have.'
3. Embrace subtly and simplicity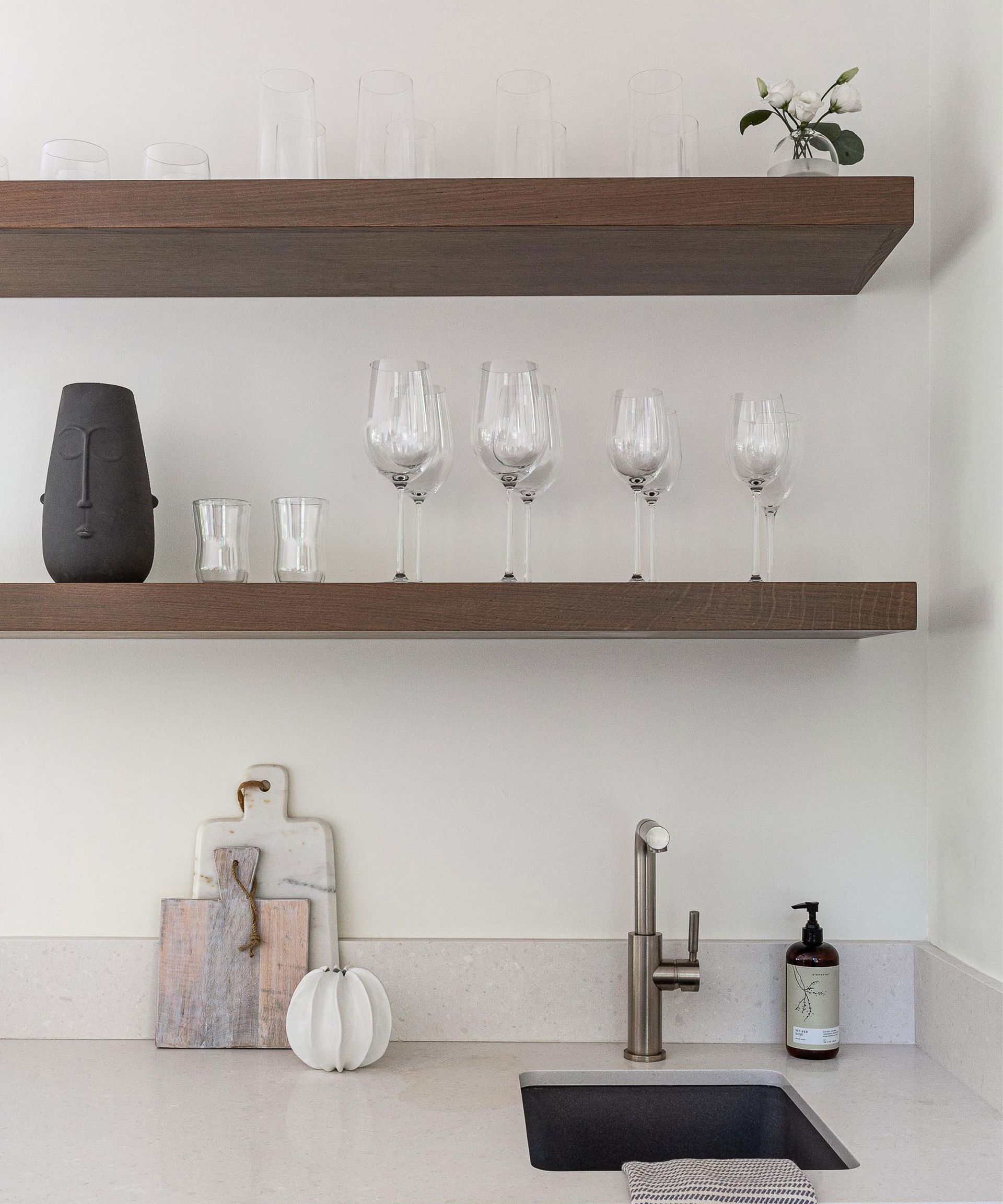 Not all artwork, decorative designs and ornaments need to be big, bold and bright. For minimalist kitchen ideas, or for a more relaxed look, keeping it subtle and simple is best.
In this kitchen, designed by Kimberly Harrison Design, her vision for the overall design was to, 'create a modern and masculine design with textural elements to add warmth and visual interest.'
A relaxing, calming and neutral space, subtle decorative additions such as the face vase and wooden boards add color, texture and character to the space, just like artwork.
4. Hang a decorative mobile from the ceiling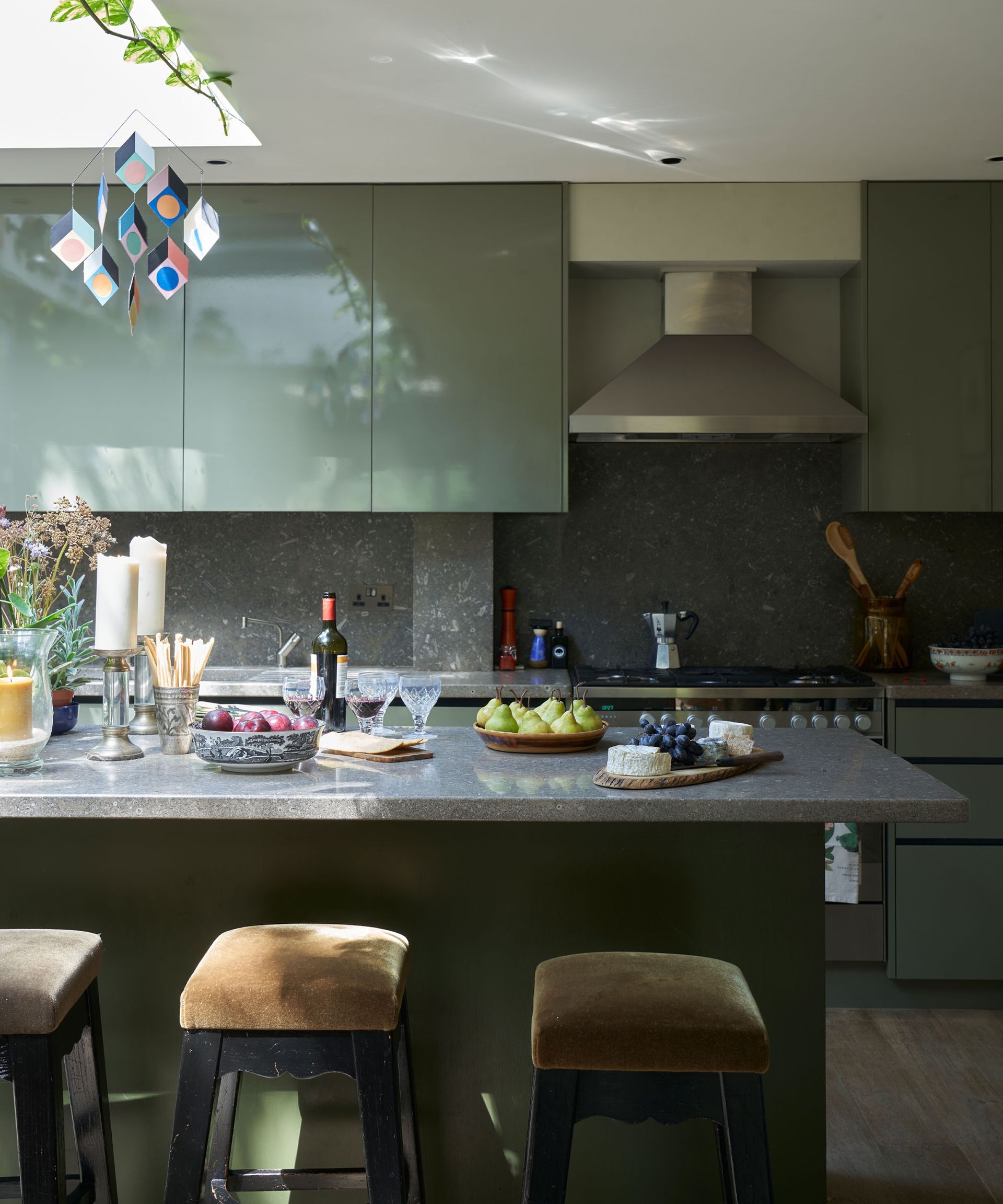 For a more unique kitchen art idea, decorative hanging art, such as mobiles, can create beautiful visual and artistic interest, as well as a unique focal point in your kitchen.
In this space, the mobile has been hung above the kitchen island from the skylight, not only drawing your focus to where the natural light floods into the room, but creating a fun talking point when gathered around this space.
A simple decorative kitchen idea that can add color, shape and texture to your kitchen, there are many modern mobile designs to choose from – or you could get creative and make your own!
5. Keep it coordinated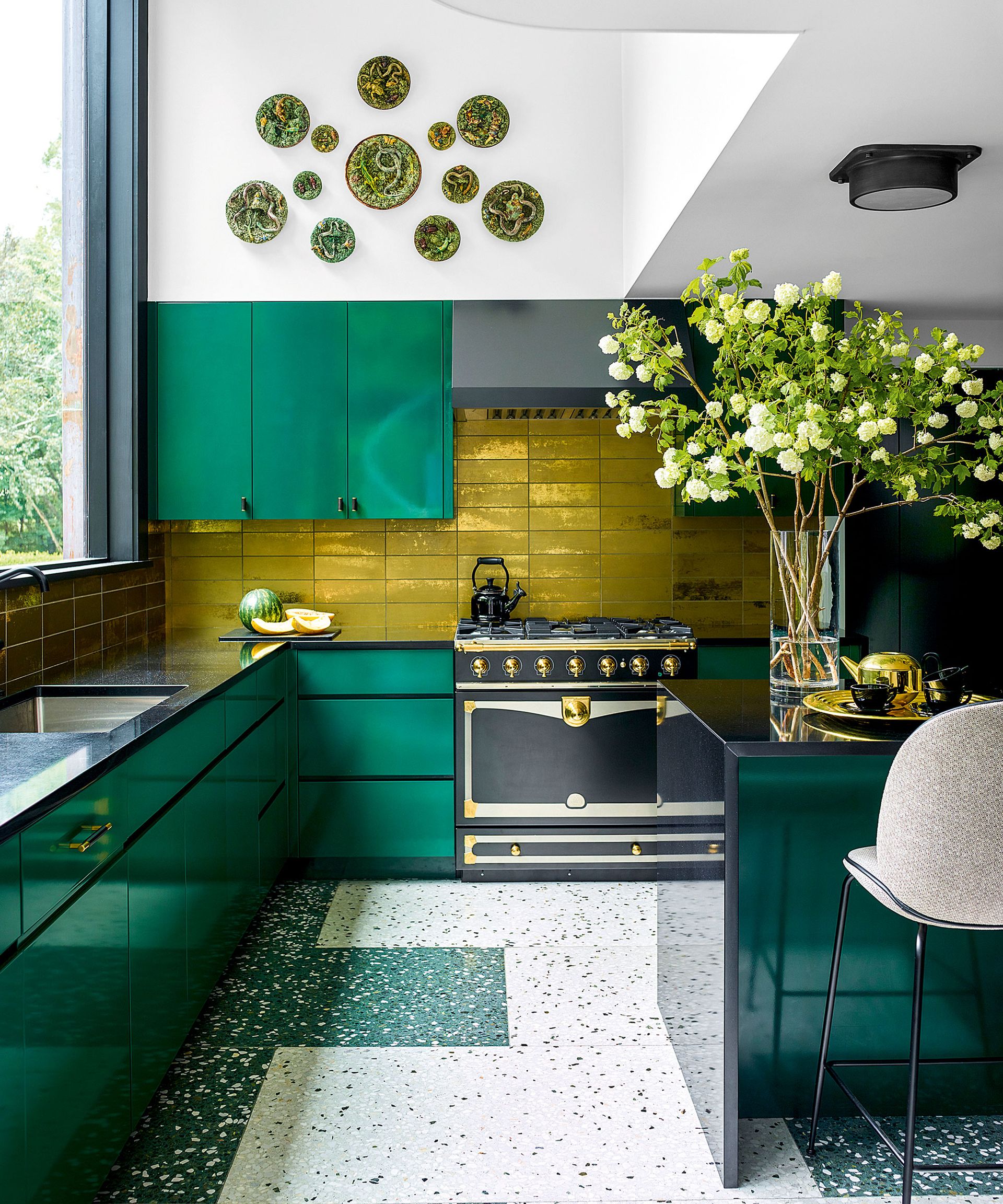 For a cohesive, coordinated and colorful kitchen idea, choose artwork and decorative designs that perfectly match the rest of your kitchen scheme.
As shown in this kitchen by A Villalobos Design Studio, a beautiful example of yellow and green room ideas, the collection of patterned, decorative plates create an eye-catching wall feature and enhance the yellow and green design, as well as adding texture and color to the white ceiling space.
A dynamic kitchen space that embodies a contemporary, artistic design, a simple color palette can still go a long way, creating a bold, luxurious effect.
6. Add warmth to an all-white scheme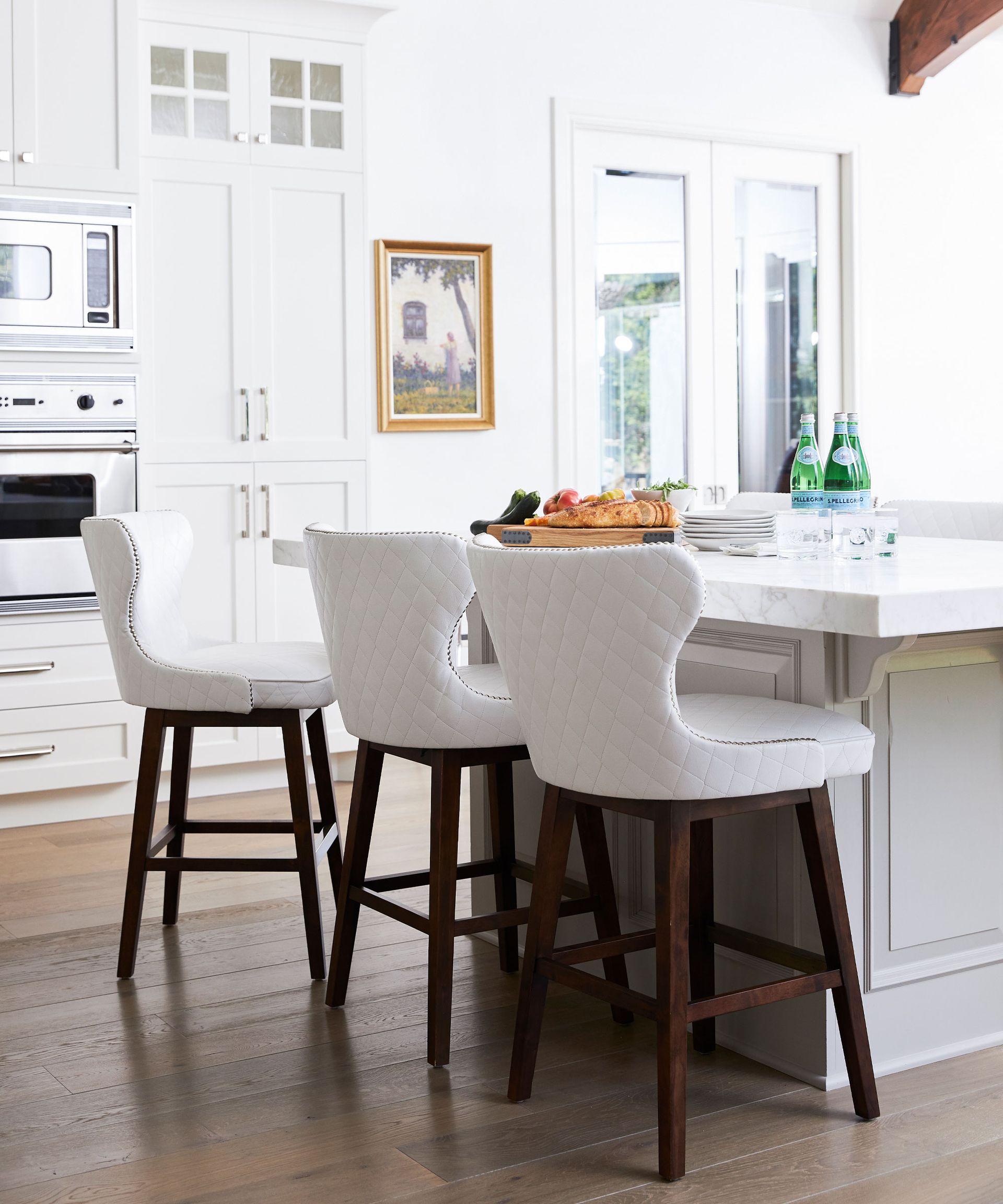 If you are looking for a way to add warmth, depth and color to your white kitchen ideas, using kitchen art ideas is a simple way to achieve this.
As shown in this light, bright kitchen by Jessica Bennett of Alice Lane Interior Design, the traditional painting in a wooden frame not only creates an eye-catching contrast with the rest of the space, but the design adds warmth and character to the contemporary, all-white kitchen.
Using white as your backdrop lets artwork truly take center-stage - great for meaningful, historical pieces that have a lot of sentimental value.
7. Style your shelves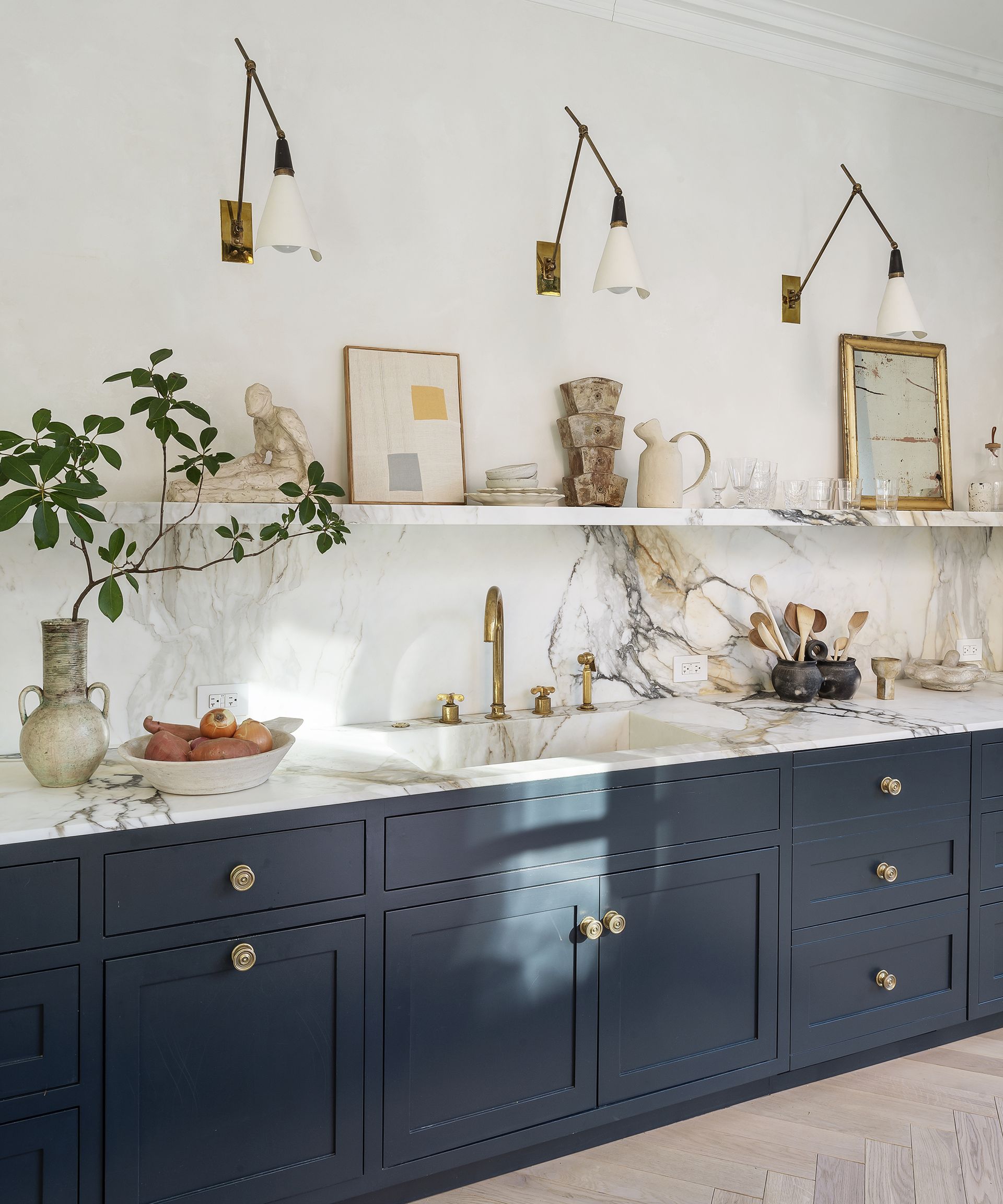 Not only a platform to display art but artistic platforms themselves, shelves allow for you to curate a collection of personal pieces that reflect your style and personality. When styling a shelf, layering a mix of objects, shapes, colors and textures can establish a rich and eye-catching display.
'Decorating above kitchen cabinets is one of the most popular features in modern kitchen design, allowing you to store and display both practical and decorative items, with these shelves and ledges the perfect podium for kitchen artwork,' says Jennifer Ebert, Homes & Gardens' digital editor.
As shown in this elegant kitchen, the luxurious marble shelf is styled with artwork, ornaments and kitchenware, with the metallic wall lamps adding a stylish finishing touch, a great example of what you can do for kitchen shelving ideas.
8. Embrace a maximalist look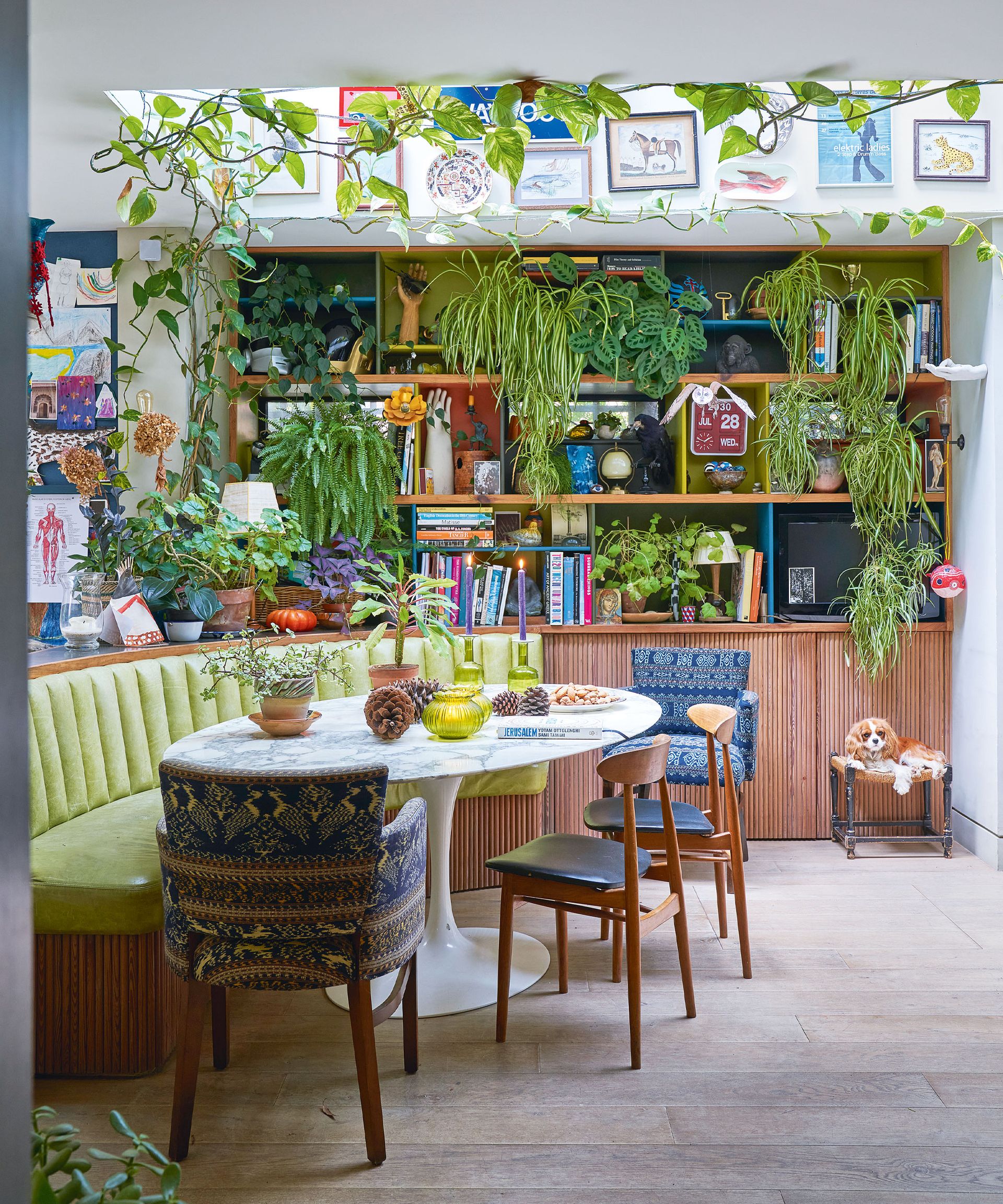 Incorporating kitchen art ideas can be great for maximalist decor ideas.
In this stand-out, eclectic kitchen-diner space in a family home, the seating area has been uplifted by the use of artwork, books, plants and ornaments - a beautiful example of decorating with plants.
The large shelving unit is at the center of the design, providing a platform to house and display the objects, with the wall space above, leading to the skylight, used as a unique gallery wall.
The main area in the home for the family to sit and eat together, this social space truly embodies a unique identity, bursting with character that reflects the whole family.
9. Establish zones for your artwork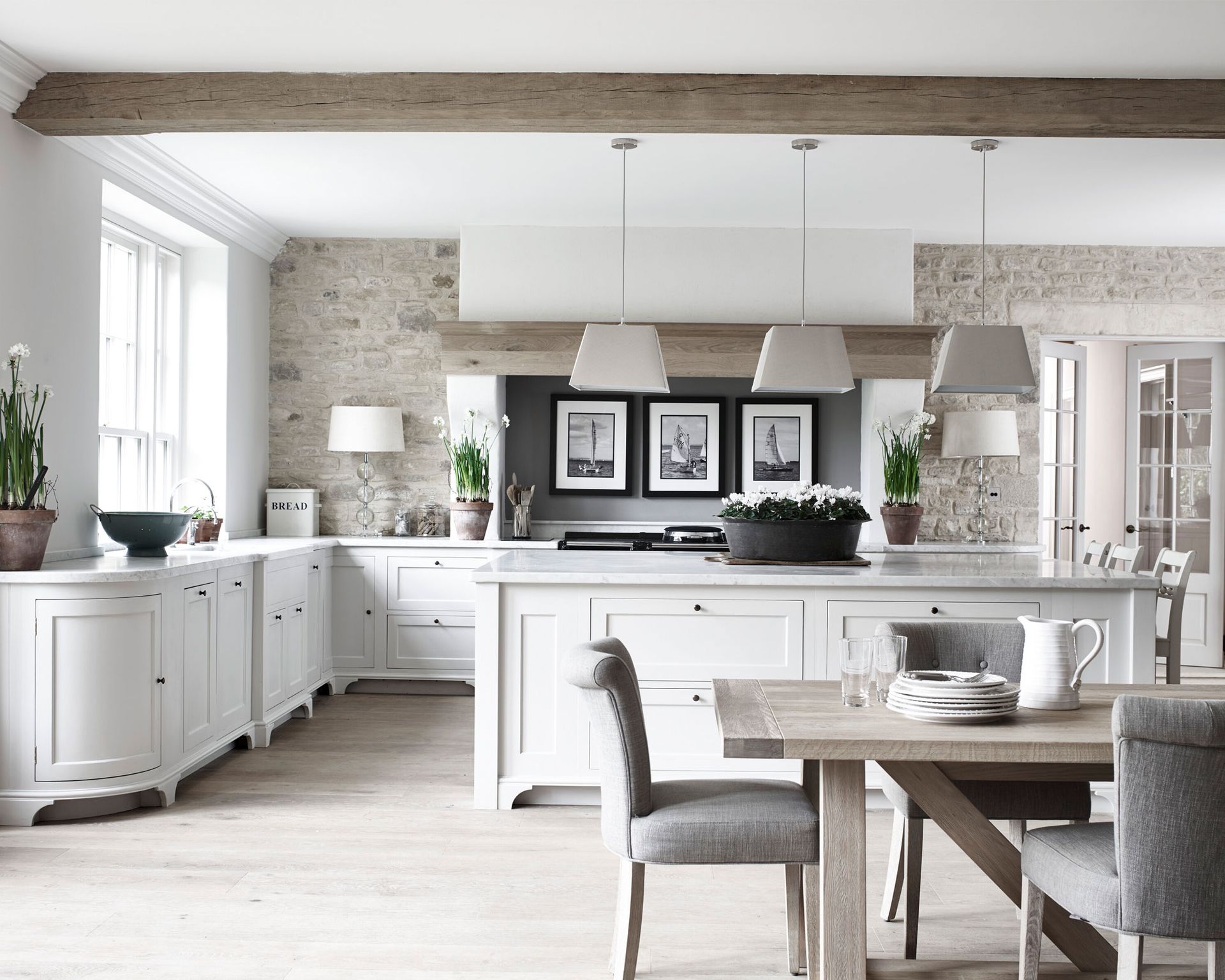 'Thinking about where to put your artwork in the kitchen can be tricky, as it is a room with lots of cupboards and appliances that take up wall space. A great place to start is thinking what areas you will be looking at the most when you are in the space, as this is where the artwork can be fully appreciated and seen the most,' says Homes & Gardens' editor in chief Lucy Searle.
In this kitchen by Neptune, three pieces of artwork have been positioned above the central stove and prep area, adding visual interest and an artistic touch to this empty wall space where people will stand and face when cooking.
Another zone to consider for your kitchen art ideas is beside the seating area in a kitchen, whether that's by a kitchen island or beside a dining table, creating a calming focal point and talking point when with family and guests.
10. Create an inviting space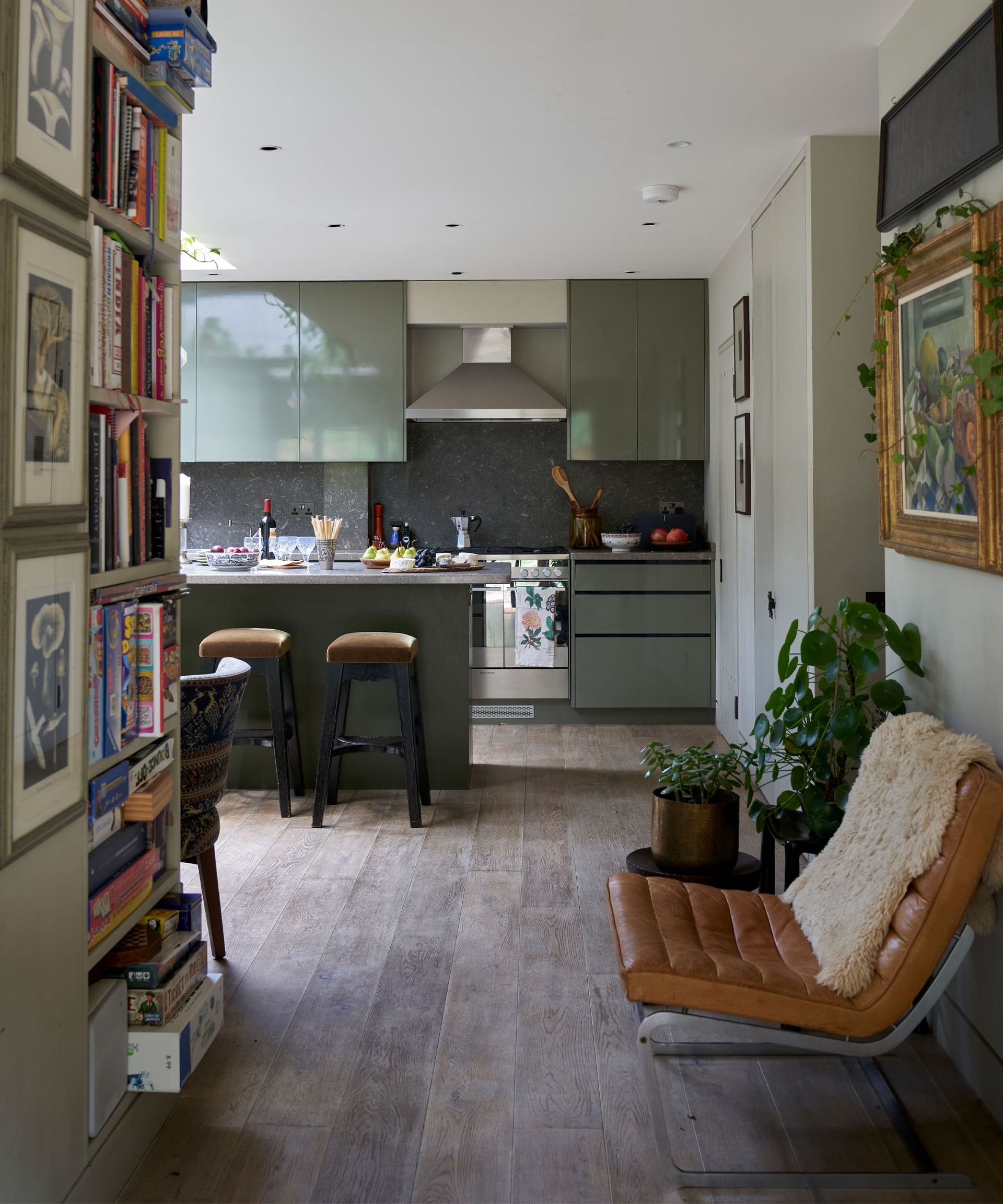 Finishing touches, such as kitchen art ideas, are an essential part of kitchen styling ideas, adding that something special that helps to create a cozy and inviting ambience.
As shown in this kitchen, the artwork on the walls and the colorful bookshelf beautifully entice you into the kitchen space, creating a warming and comforting atmosphere before you have properly set foot into the room.
What should I put on my kitchen walls?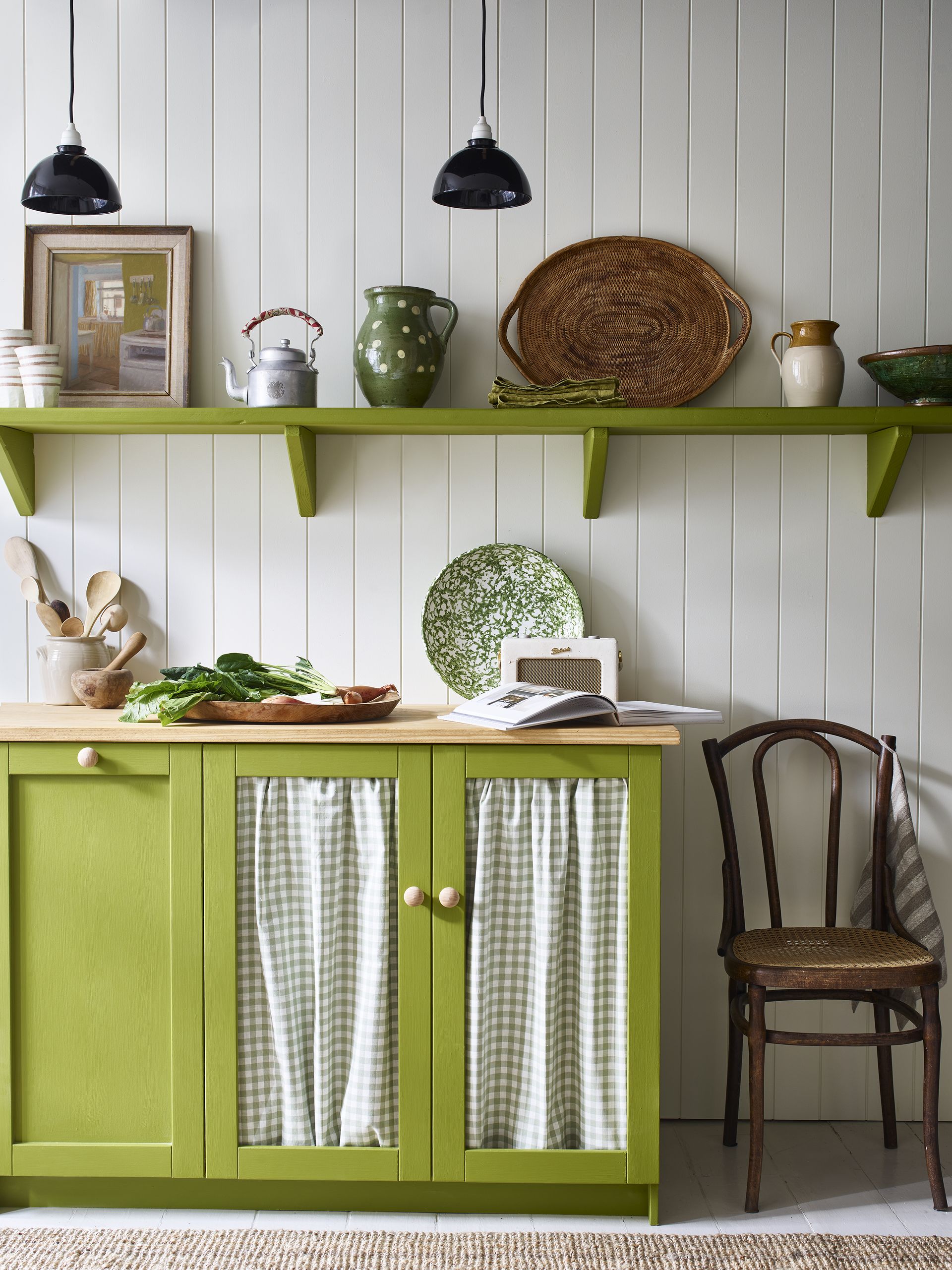 Whether you want to experiment with paint, wallpaper, artwork or shelving, incorporating kitchen wall decor ideas, along with your practical, functional pieces, will create a kitchen space that ticks all the boxes.
No matter the size or style of your kitchen, you can get creative with wall decor, from large paintings to small painted murals or framed photographs.
Tobie Lewis, senior brand manager at Valspar Paint states, 'if you have a galley kitchen, the end wall is best to decorate to help highlight the depth of your room. With an open plan kitchen, using the main wall will define and divide your kitchen from the rest of the space. Having a small kitchen can be tough to decorate but using the area behind your sink or between the cupboards and countertop, is going to add a pop of color without overbearing a small space.'
How do I choose kitchen art?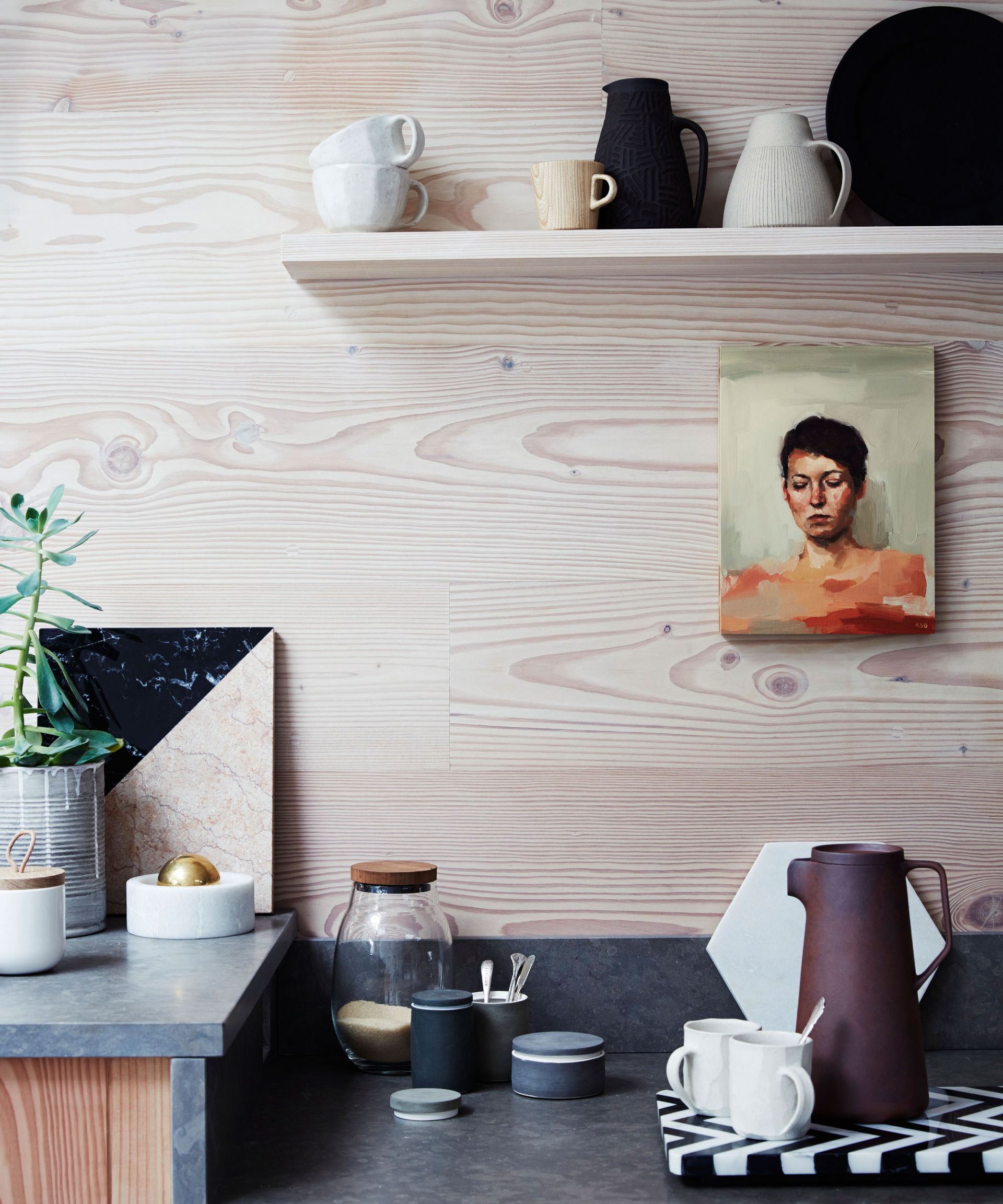 Kitchen art ideas are all about putting a personal stamp onto your space. Choosing artwork that resonates and speaks to your personal style will only make this hub of the home more welcoming.
Tobie Lewis, says, 'a kitchen is so much more than just pots, pans and cooking – it's a space for creation, so it's important for our interiors to encourage confidence and fun when cooking, hosting or relaxing.'
How we view, appreciate and create art is completely subjective and unique to us, so not overthinking your designs and choosing pieces that make you happy is the most important thing when planning your kitchen art ideas.
Sign up to the Homes & Gardens newsletter
Decor Ideas. Project Inspiration. Expert Advice. Delivered to your inbox.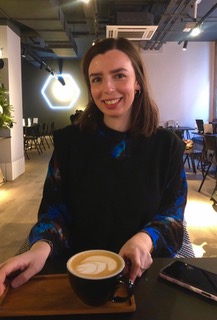 Zara joined Homes & Gardens in February 2022 as a Content Editor. After studying English Literature at University, she worked as an Ecommerce Website Editor, Content Writer and Buying Intern at multiple independent businesses within the luxury retail and lifestyle sectors. Her role at Homes & Gardens unites her love, experience and passion for the world of design and desire to create inspiring written content. She enjoys nothing more than discovering new trends, brands and products, whether that be in fashion, interior design or lifestyle.