Decorating with art – 13 beautiful ways to arrange artwork
Bring life and soul to your interiors with these beautiful ideas for decorating with art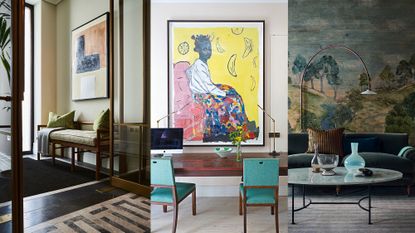 (Image credit: Albion Nord / Future)
Sign up to the Homes & Gardens newsletter
Decor Ideas. Project Inspiration. Expert Advice. Delivered to your inbox.
Thank you for signing up to Homes & Gardens. You will receive a verification email shortly.
There was a problem. Please refresh the page and try again.
Decorating with art can really elevate an interior. Far more than just a finishing touch, a well-chosen piece of artwork can transform the look and feel of a space and bring joy for decades to come.
A perfect way to inject your unique style into a home, artworks can also help define spaces, serving as handy visual devises within interior design which help draw the eye to certain areas within a room as well as create narratives.
As art encompasses a huge array of genres, styles and mediums as well as having the ability to be displayed in an endless number of ways, it can be hard to know where to start when it comes to selecting and displaying artwork. To help you start thinking about how to choose art for your home, we've rounded up an array of ways for incorporating it into your scheme, along plus some advice from the experts on how best to display it.
Decorating with art – where to start
Decorating with art is an exciting and joyful process as it offers infinite ways to express your personality and for many interior designers is seen as the key to a successful interior scheme.
'Nothing is finished without art. It's what defines the space,' says Martin Waller, founder of Andrew Martin. 'Don't be afraid to put very contemporary art in a traditional space, or vice versa, it is often the merging of seemingly incongruous styles that creates beauty through surprise.'
When it comes to decorating with art there are no rulebook, anything goes, well, almost. Whether you design an interior around and artwork, or are looking for wall decor to fill a certain space, 'always choose your art because you love it. It will hopefully be with you for the rest of your life so you should enjoy it just as much in 10 years' time, or when you're living in a different house,' says Clara Ewart, head of design at Kitesgrove.
As any curator will tell you, artworks can take a whole new meaning depending on how they are framed and displayed, and can start a whole new dialogue on how they are juxtaposed with other artworks, this is something to bear in mind when decorating with art.
1. Let artwork inspire a room palette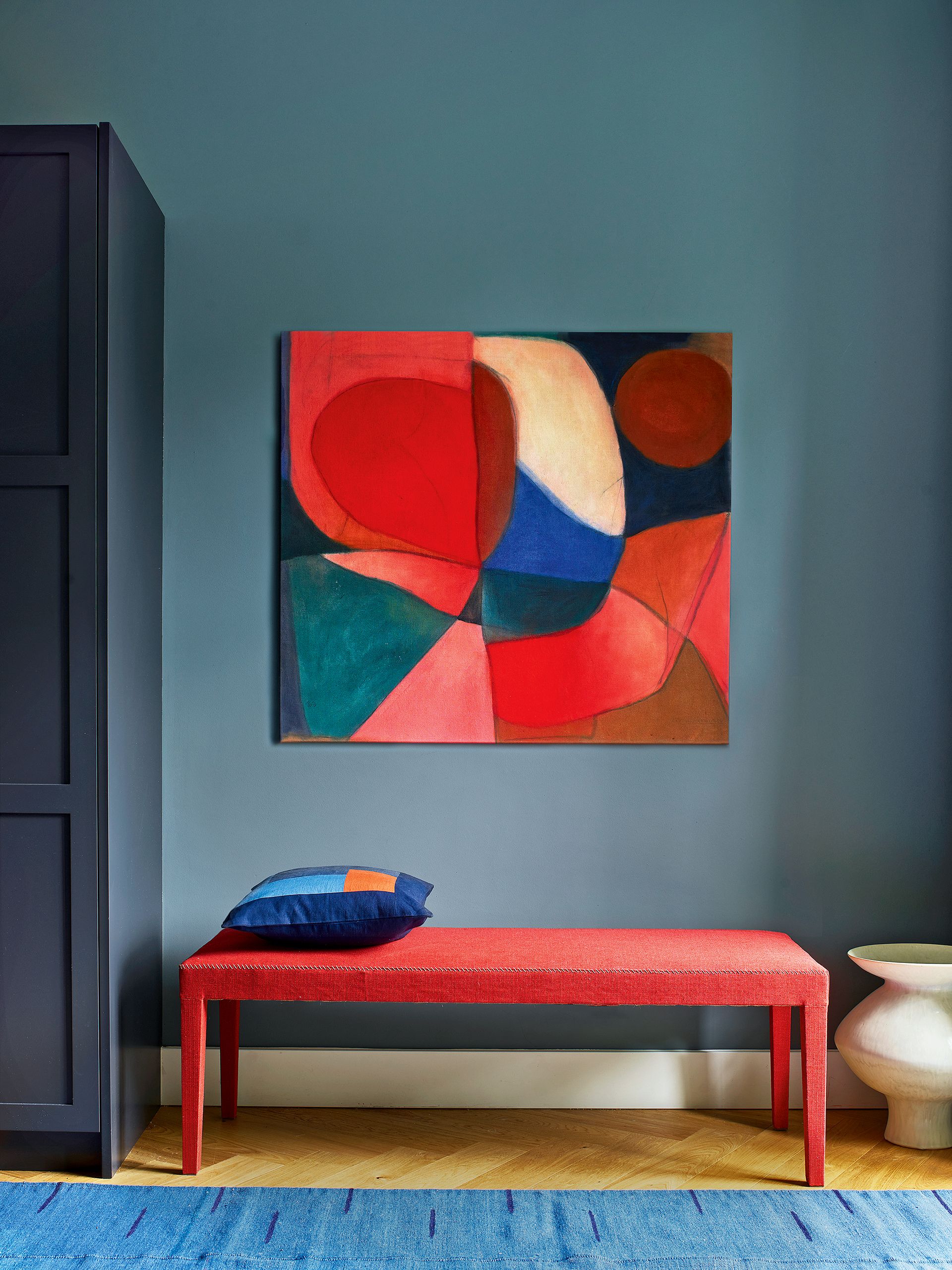 A favorite artwork can be a fabulous source of inspiration for an interior color scheme. Bursting with color, this abstract painting by Caroline Denervaud formed the basis for this room color idea of cobalt blues and flaming reds.
When it comes to decorating with art there's different schools of thought, sometimes art can provide a brilliant starting point, while others may want to treat it as a finishing touch, finding pieces to complement the walls and furniture.
When thinking about matching to a color scheme, 'pinpoint one or two of the boldest colors in your room and reflect them in your chosen artwork,' suggests Martin Waller, founder of Andrew Martin. 'Or, if working inversely, pick out a color in your artwork to highlight by using the same tone in cushions and other soft furnishings. This works similarly with shapes, mirroring a circular shape in an image with a spherical vase or sculptural lamp for example.'
2. Allow art to take the lead
If you have large, bold artworks then opting for neutral walls will really let them shine. In this home with interiors by Kate Guinness, the schemes were definitely dictated in part by the homeowners' art collections.
'For the lower ground and ground floors we chose a specialist paint finish, with the lower floor being a slightly lighter shade of the corresponding color above. The walls have these broad brushstrokes that give depth and a sense of movement but, crucially, it doesn't compete with the artwork,' Kate Guinness observes.
3. Immerse yourself in art with a mural
When decorating with art feel free to think outside the frame. If you have a large space an enveloping panoramic wall mural can make a show-stopping backdrop in a living room, allowing you to really live with an artwork. You could commission a hand painted mural, for example in a Chinoiserie style, alternatively there are plenty of printed wallpapers available based on original artworks.
Depicting a hand-painted Indian landscape of delicate trees, meandering rivers and soft clouds printed onto textural grasscloth, this show-stopping Bandipur mural from Designers Guild brings soft color and texture to a living room.
To ensure the detailed artwork remains the focal point of the space opt for furniture with sleek lines and simple silouhettes.
4. Think about scale
Installing a mural is a bold decision as once up it's not easy to change. Hanging pieces on the wall is far more flexible approach to decorating with art, as the can can be easily moved or switched if tastes change, or if you want to alter your artwork to reflect the seasons. However, this approach needn't be any less impactful if you opt for large pieces.
In this kitchen-diner by Kitesgrove, 'a large colorful painting by Marta Marcé acts like a mural, allowing the rest of the interior to be pared back and neutral in tone,' says Clara Ewart.
5. Introduce different mediums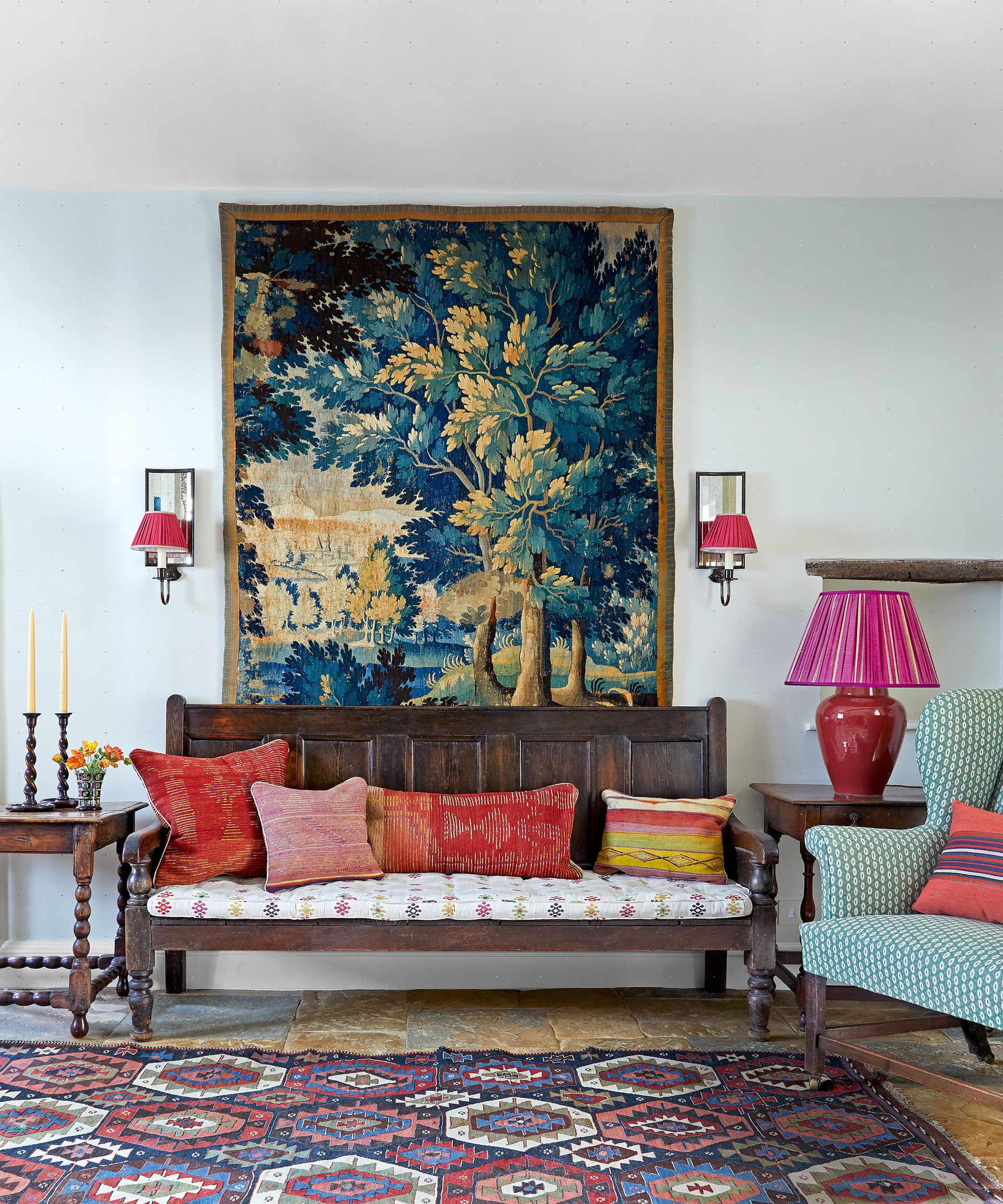 Decorating with art needn't be limited to framed painting and drawings. 'There are many different mediums, which can transform an interior – for example, we love to incorporate textile art, ceramics, glass or metalwork in our projects. We recently sourced a large antique tapestry in Paris, which covered the wall of a country house dining room, and set the tone for the room's overall scheme, says Clara Ewart of Kitesgrove.
In this entrance hall by VSP Interiors, founder Henriette chose a tapestry to bring texture and richness to the space. 'It's important to play with scale when displaying a collection. Varying the sizes helps to emphasize each item and the shadows created become very interesting,' she says.
6. Create a gallery wall
A gallery wall is a playful and creative way to group themed artworks, family photos, allowing you to experiment with all sorts of different arrangements. Mixing and matching artworks in a variety of different picture frames makes a fun focal point above a bed or sofa. In fact, sometimes the frame can be as decorative as the art, in fact decorating with picture frames can make a fabulous feature even when not filled with a picture.
When creating a gallery wall, 'lay them out on the floor first to make sure all the shapes and colors work well together,' Clara Ewart, head of design at Kitesgrove. 'You can also template each frame on paper and temporarily stick them on the wall using masking tape until you get the layout right.'
7. Display art in a grid for a smart feel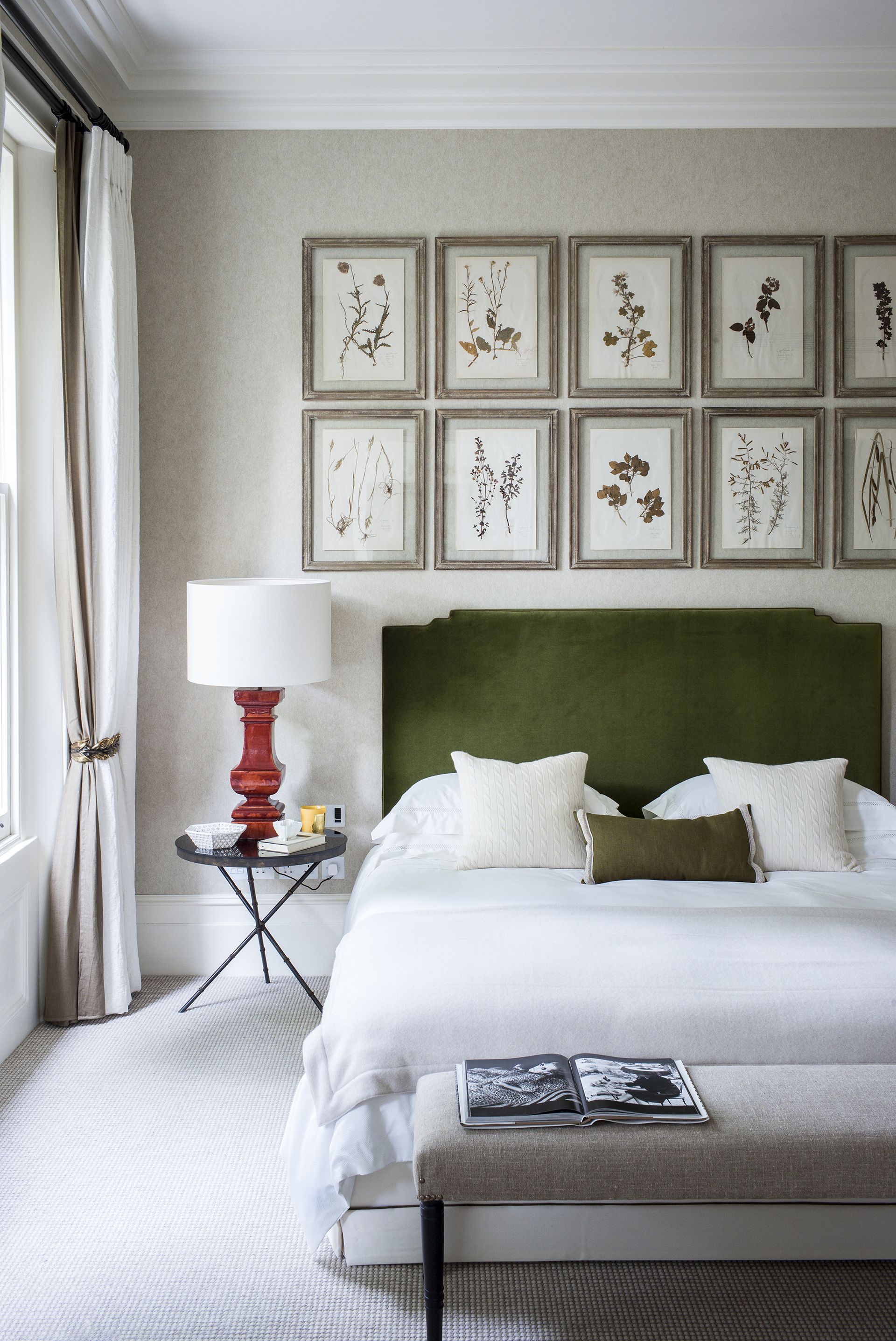 How an artwork is framed and displayed on the wall can be as important as the artwork itself and can impact the look and feel of the overall space so be sure to consider this when planning your art displays.
'Smaller scale artworks and line drawings work well in a gallery style, while larger, bolder pieces tend to be more comfortable displayed on their own with some room to breathe,' explains Clara Ewart.
While irregular gallery walls are a popular way to add a quirky feel, grid-style formats will create a more elegant and streamlined look, which may be more suitable for a restful spaces such as bedrooms, plus are a beautiful way to display a series of similar works.
Grid-style formats are also better suited to delicate artworks as they allow the eye to focus on the works more easily, bringing them to the center of attention.
8. Think outside the box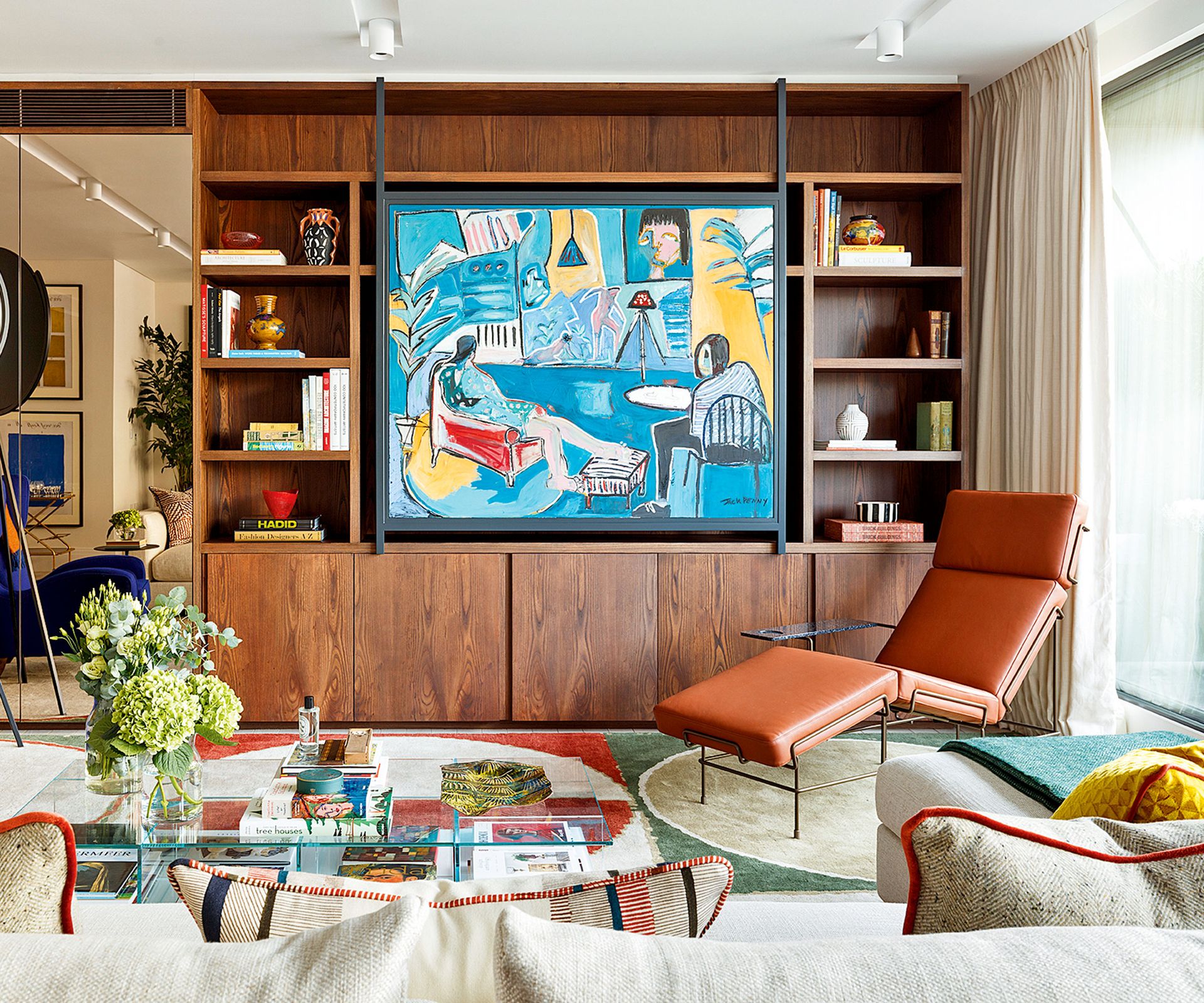 Art doesn't necessarily need to be hung on the wall, it can be fun to integrate it into your storage ideas, too, such as hung on a bookcase or even used as a device to conceal clutter.
'At the heart of this room is a painting by British artist Jack Penny which is mounted within bespoke joinery that slides across to cleverly conceal storage space behind,' explains Sophie Ashby of Ashby Studio.
Her approach to interior design is always to start with the art. Think about your art right from the beginning. I find it works badly if it's used as an afterthought as it just doesn't sing in the same way,' she says.
9. Create a focal point in a living room
With plenty of wall space on offer and the space in which we entertain guests, a living room is an ideal spot for artwork where it can really be enjoyed.
'If you have a large sofa with a blank wall behind it, then think about hanging a gorgeous large landscape format artwork as this can add height, depth and a focal point to the room,' says Helen Armon-Jones, Founder of The Art Buyer. 'By hanging one solo piece in this way, you'll make a statement and the eye will automatically be drawn to it.'
For timeless living room art ideas which keep on giving, antique maps are a brilliant idea plus can be beautifully decorative. Intricate and detailed, they can be examined over and over again, every time throwing up new discoveries.
10. Take a cue from the architecture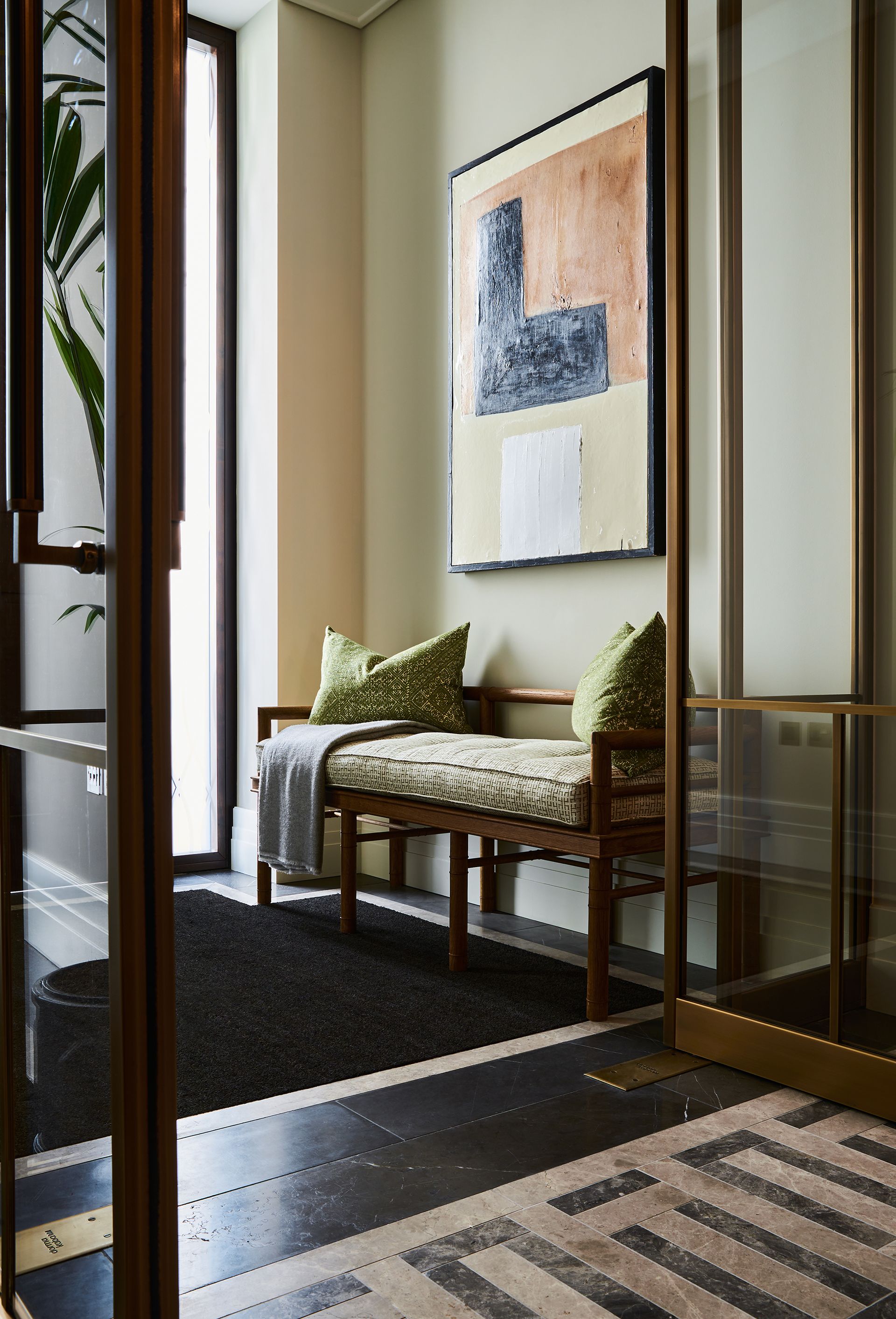 When selecting artwork it's important to take into account the architecture of the space.
'Never decide off plan,' says Camilla Clarke, creative director at Albion Nord. 'Always walk around the space and you will feel the natural spots for art to be. This may be next to a window or at the end of a corridor.'
She also suggests to hang artwork that corresponds to viewpoints and vistas. 'We work with architecture to work out where to hang art around the home. A long corridor? Hang a piece at the end of a hallway,' she adds.
11. Decorate with art in unexpected places
Once a luxury only afforded by the rich, artwork would have historically been reserved for the and certainly not in the service areas, but today art is used to brighten up all rooms in the house, and makes a fabulous way to bring personality and life to more practical areas such as laundry rooms, kitchens and cloakrooms.
'A laundry room is an unexpected spot for art. Adding something beautiful to an area where chores are done can really lift your spirits,' says Erica Davis, co-founder of Murus. For more inspiration see our kitchen art ideas.
12. Mirror shapes in the room
To help your artwork complement your interior consider echoing the shapes of other pieces around the space. In this kitchen interior designer Julia Dempster selected a series of four limited-edition artworks from Eichholtz that reflected the cubist shapes from the chandelier above the kitchen island.
When it comes to selecting artwork in the kitchen, 'I tend to try and select something more practical, as the kitchen is a hard-wearing area with steam and grease,' says Julia Dempster. 'I would select smaller artwork that doesn't compete with the cabinets, I tend to select abstract paintings or artworks that complement the palette of the kitchen,' she adds.
13. Introduce sculpture
Sculpture is a lovely way to bring an extra dimension to a living space, bringing art off the walls and into the interior. Keeping to a muted palette will place the spotlight in the forms of the pieces.
'I love to layer artwork, whether that means creating a gallery wall of prints and photographs, putting a framed painting next to shelves of small sculptures, or creating a dialogue with architectural elements, such as hanging art over a bookshelf or propping it up against a column,' says New York-based interior designer Philip Thomas.
14. Lean artwork for a relaxed feel
If you're looking to create a simple living room or Scandinavian living room then consider leaning artwork as this will keep walls clean and the space feeling bright and airy, but will also create a relaxed mood.
'When you lean art, rather than hanging it on the wall, you open up new possibilities for styling around it. Complement your artwork with interesting objects, plants, or even other pieces of art to create a scene that's beautiful and highly personal, says Erica Davis, co-founder of Murus. 'Leaning art is also perfect for the indecisive, as it allows you to move things from room to room if you fancy a change.'
15. Bring texture to a monochrome scheme
Decorating in a single hue can sometimes leave spaces feeling flat, adding an artwork is a brilliant way to bring life and texture to the space.
Showcasing the textile technique of shibori, this beautiful artwork pairs with a decorative shibori cushion and eye-catching rug to bring life to this blue living room.
Where should art be placed in a house?
There are no strict rules on where art should be placed in a house, it can be used to bring personality to any room, from bedrooms to bathrooms.
Displaying art is a way to express your personality and can be arranged in myriad creative ways, from a single artwork above a bed or sofa, to a dynamic gallery wall in a hallway or cloakroom.
'As a general guide, we recommend hanging a picture so its centre is at eye level,' says Clara Ewart, head of design at Kitesgrove. 'Smaller scale artworks and line drawings work well in a gallery style, while larger, bolder pieces tend to be more comfortable displayed on their own with some room to breathe.'
But artwork doesn't have to be restricted to the wall, says Camilla Clarke, creative director at Albion Nord. 'Remember art doesn't always need to be hung on the center of the wall it can rest on top of tables or layered next to sculptures or on bookshelves and joinery.'
Can you have too much art?
'You can never have too much art,' says Henriette Von Stockhausen, founder of VSP Interiors. Indeed, when it comes to interiors, most interior designers are agree that art is the soul of a scheme.
'A painting brings a room alive and is an opportunity to add colour and to bring together colors,' says Vanessa Arbuthnott. 'A unique piece of art as opposed to a print or even a photograph has a definite visual impact and helps to give room a beating heart.'
Sign up to the Homes & Gardens newsletter
Decor Ideas. Project Inspiration. Expert Advice. Delivered to your inbox.
Pippa is Content Editor on Homes & Gardens online contributing to Period Living and Country Homes & Interiors print issues. A graduate of Art History and formerly Style Editor at Period Living, she is passionate about architecture, creating decorating content, interior styling and writing about craft and historic homes. She enjoys searching out beautiful images and the latest trends to share with the Homes & Gardens audience. A keen gardener, when she's not writing you'll find her growing flowers on her village allotment for styling projects.