Storage ideas – 20 stylish storage solutions for every room
These storage ideas can transform a house that feels busy and cluttered into a sleek, streamlined, organized home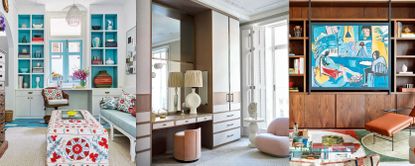 (Image credit: Future)
The pandemic may have highlighted the need for storage ideas for every room in your home. For the past year or so, we have all spent much more time at home – and if you are anything like the H&G team, you might have spent quite a few weekends sorting and decluttering your rooms – but you may find that now life is getting (mostly) back to normal, that the clutter is creeping back in.
So, like us, if you are looking to keep on top of it, you need to invest in great storage ideas: ones that are practical but good-looking and which really flatter your rooms. Below, we've listed our favorites.
Storage ideas
Whether you are looking for kitchen storage ideas or clutter organizing solutions for the bathroom, bedroom and beyond, we have you covered. These are just some of the best storage ideas to help you keep all the rooms in your home neat.
1. Create a storage focal point in a living space
Looking for impactful living room storage ideas? Where ceiling heights are generous, create a statement with a generously sized storage unit that takes center stage in a room. You may be focussing on home library ideas to create just one space for book storage, but if the piece doubles as a media unit, be creative with how you make use of the shelves: books are an obvious occupant, but they can be broken up with small sculptures or collected objects.
The effect draws the eye away from the screen. This bespoke shelving unit was designed by Turner Pocock for an artist's studio in London and is crowned by a pediment. 'The effect of the pediment adds an elegant, Classical twist to the design,' adds Bunny Turner, Co-founder, Turner Pocock.
2. Start with the art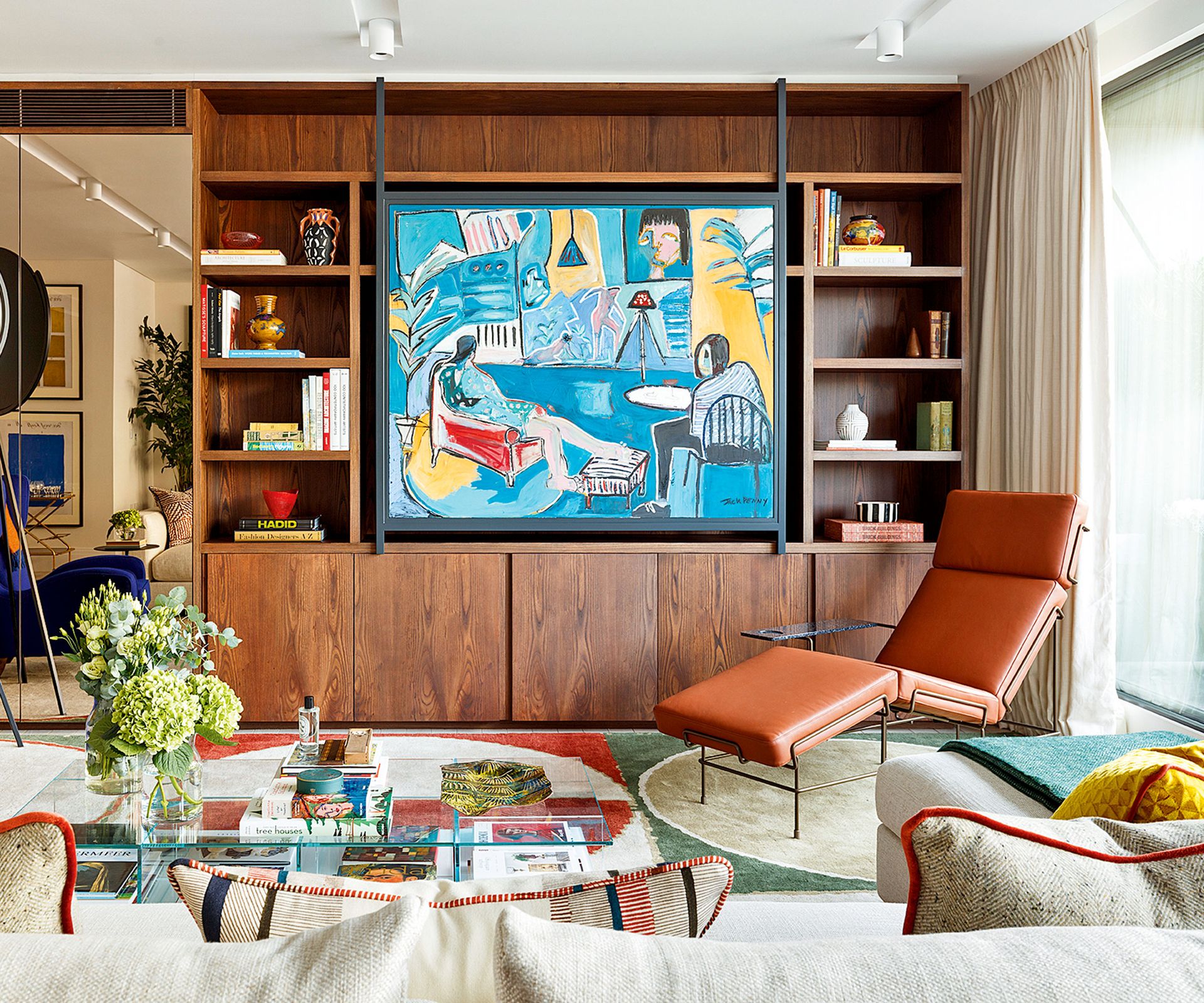 Storage ideas aside, 'Start with the art' has long been the mantra of interior designer Sophie Ashby, then build the room from there. Firstly, decide on the right amount and location of the storage.
One solution is to find the right position for the artwork and build a unit around it. 'At the heart of this room is a painting by British artist Jack Penny which is mounted within bespoke joinery that slides across to cleverly conceal storage space behind,' explains Sophie.
3. Brighten storage ideas with hidden color
Built-in storage is far more than a purely practical addition to your home – it's one of those small living room storage ideas that can transform a room. Designed correctly, this kind of storage idea can become a joyous feature in its own right. Take inspiration from this space belonging to interior designer Elizabeth Hay, who cleverly used bright turquoise paint in each of her built-in shelves to tie the storage in with the palette of the rest of the room.
Equally, having such a playful color surrounding a work space is sure to make even the most tedious of paperwork tasks easier to handle. If replicating, ensure that you paint the entire inside of the boxes rather than just the back – this will increase the impact of the color as will be visible from every angle.
4. Soften storage ideas in open plan spaces
Open-plan is still a very popular way of designing our homes, and as much as it makes life easier, it can also cause problems with storage ideas. Rows of built-in cupboards will make the space seem smaller and darker, which goes against the purpose of open-plan. And if you're looking for dining room storage ideas, it's a real atmosphere killer to have a ton of cabinets in the room. To avoid this, find a gentle balance between cabinets with doors and open-shelving.
Take things one step further by adding semi-open kitchen shelving ideas too, with either glazing or, for added interest, use chicken wire to cover instead. Make sure to consider what the purpose of the joinery is and what you will need to fit there – a television, books, crockery – as this will dictate the shape and size of the cabinets and shelving.
5. Mix and match open and closed storage
Dining or living room shelving ideas need careful aesthetic consideration, too.
'Storage ideas are a key consideration for us when designing any interior,' says interior designer Emma Sims-Hilditch. For this dining room, a clever combination of built-in storage options provided total flexibility, as the closed cabinetry allows the space to stay calm and uncluttered.
'The shelving provides a great opportunity to be creative with styling, displaying a variety of artwork, books and ornaments to create character and style in the room,' notes Emma about the bookshelf ideas she had installed. 'We opted for adjustable shelves to allow versatility and for a variety of different sized items to be displayed. Wall lamps always look great when installed on cabinetry, adding another dimension to the lighting in the room.'
6. Take storage vertically
'Made to measure from floor to ceiling and wall to wall, no part of this furniture is unused,' says Simon Tcherniak, Senior Designer at Neville Johnson. 'The addition of the library ladder is a practical addition that allows access to the upper shelves and, while it adds character to the furniture, by matching the colour of the cabinetry means it won't look obtrusive.'
While a similar piece would look beautiful in a dedicated library or home office, a bespoke piece of fitted furniture like this is an especially wonderful way to utilise and add interest to a hallway space. By choosing a bold colourway, you're taking the cabinetry beyond a piece of practical furniture and turning it into a personality-laden focal point.
7. Choose a niche storage design
Soothing hues with a confident hit of metallic glamor combine to create a sophisticated design-led home office. Creating niches for books, like in this scheme from Tamsin Johnson, will encourage them to be organised by subject or style – and could be a good creative spark to get the juices going in the morning.
8. Make the most of shelving
Library spaces are perfect for integrating home offices into. If you have a floor to ceiling built-in shelving unit, then make it work harder by carving out a desk space into the middle of the bookshelves.
In terms of space, you'll need a fair amount of clear area behind you because as well as fitting in a chair, the desk will need to be roughly twice the depth of the shelves to be of practical use. To achieve this, the desk will need to be twice the depth of the shelves.
Adding spotlights into the top of the unit will stop the surrounding unit from feeling too enclosed.
9. Maximize your space with alcove storage
For small bedroom storage ideas, think beyond the joinery to maximize the opportunities. Under bed storage is useful but so is having a chest of drawers double as a bedside table.
In the absence of any room for these, Nina Campbell recommends creating shallow niches – about the depth of a paperback book – on either side of the bed. 'I find it maddening not to have somewhere to put a glass of water, a clock or a book, so I have done this a few times in smaller bedrooms,' she explains.
10. Trick the eye with subtle built-in storage ideas
For storage ideas that don't dominate a room, painting joinery the same color as the walls is a tried and tested way of ensuring it disappears into the background as the eyes can travel uninterrupted across the room. James Thurstan Waterworth of Thurstan Design devised this scheme featuring generous amounts of built-in bedroom storage ideas.
'Soft, neutral tones set the scene for this bedroom in a Kensington townhouse. Using bespoke joinery, we've framed the window making a feature for the room at the same time as creating a window seat to sit and read or enjoy the views.'
11. Introduce natural woods to add interest
Natural wood introduces a subtle texture and pattern to storage ideas. Not only that but it has health-giving properties and is practical, too: lining the interiors of any wardrobes with cedar wood is good for preventing moths.
This fitted wardrobe was designed in collaboration with Sebastian Cox and House of Grey and features woven doors made from a whitened English oak frame, woven with English ash. Inside is a full selection of storage options including hanging rails, shelves and drawers.
'Our selection of choice materials, such as ebonized oak, blackened ash and English cedar wood, all encourage easier breathing and improved air quality by moderating humidity,' says designer Louisa Grey.
'We frequently collaborate with interior designers and architects and get particularly excited when we're aligned in our thinking,' adds co-director Brogan Cox.
12. Keep it calm with clutter-hiding storage ideas
Having a calming bedroom interior is one way to improve sleep quality – and that requires plenty of storage ideas to hide or house clothes and clutter at the end of the day. Irene Gunter of Gunter & Co designed this organic-shaped, curved joinery.
'Reminiscent of nature, it puts you at ease. The neutral colors are timeless and soothing and there's plenty of soft furnishings in the room to maximize the calming effects as well as cushion the acoustics.'
13. Disguise wardrobes with wallpaper
As useful as cupboards are, you don't exactly want wall-to-wall cabinetry everywhere in your home. If you're working with built-in cupboards, one solution is to disguise them entirely by covering the doors with the same wallpaper as the walls.
The trim of the doors can be painted with a subtle, coordinating shade, or can be removed for a more seamless look. If you're taking the latter approach, do try to pattern-match to disguise the doors as best as possible – the larger the pattern repeat, the easier this will be.
Covering cupboards like this works especially well as landing storage ideas – on landings you just want a pretty space to pass through – or for smaller bedrooms as this will help ensure the wardrobes don't dominate the room.
14. Work with quirks
Many country homes, especially older buildings, will have architectural quirks to work around. Eaves are one of the most common, and they can pose a problem when adding storage ideas into a space. Built-in joinery removes this problem, as you can make use of every square inch available, no matter what shape you're working with.
For the corner sections, look at including some open shelving to both avoid dealing with awkwardly shaped closet doors and add easier access to items in these more petite spaces.
For smaller rooms, make your cabinetry work harder by giving one or more a mirrored door to save you precious floor space.
15. Add sliding doors for space-saving storage ideas
When working from within other rooms of the house, it's important to consider how you can leave the work at the end of the day. Sliding doors are a handy way to leave work behind and hide unsightly elements all while allowing for more floor area.
You won't be able to hang artworks on the doors as that will prevent them from moving into their pockets, so instead think about the finish – choose a highly grained walnut or teak effect for an understated look.
Make sure that your desk chair is one that sits nicely in the room, too, as you won't be able to tuck this away if the doors are flush to the desk area.
16. Go luxe in small spaces
One-piece vanity units are an artwork in their own right. Perfectly designed to fit within a niche, such a piece establishes a lavish focal point for the bathroom. This design is made out of New York marble which has a strong crystal white base color and bold but pretty lilac veins flashing across the stone.
It's one of those bathroom storage ideas that's a celebration of the skills of the craftsman, explains interior decorator Tamsin Johnson. 'Made for an ensuite bathroom, this entire vanity is made out of the marble, including the drawer fronts.'
17. Transform awkward spaces with vertical storage ideas
Where space is tight, clever small bathroom storage ideas can be transformative. This might mean using joinery to make an awkward space really useful. For any room that's tight on floor space, vertical storage is much more efficient than anything with a larger footprint. Where possible, mirrored or decorative doors will enhance the feeling of space by hiding clutter, but in a room that's incredibly compromised by an awkward layout or small footprint, consider open shelving that will have to be kept neat but can store a ton of eye-catching items.
18. Consider the practicalities
In high traffic areas of the home, such as boot rooms and porches, clever built-in hallway storage ideas are key to helping keep things tidy and organized. Shoe storage ideas and welly storage are top of the agenda, so incorporate shelving units with varying heights for these.
Make sure to include a bench to make switching footwear easy – this is also another opportunity to add more storage ideas if you choose an option with built-in cabinetry. Otherwise, something as simple as a wall storage cabinet will work well in an entryway to provide storage for keys, mail, plus more. Alternatively, for all the miscellaneous items needed, from dog leads to gloves, consider adding baskets onto the shelves which will keep things ordered while hiding the mess, while adding a rustic touch.
Another thing to consider is including a longer, well-ventilated cupboard to store muddy anoraks and damp raincoats.
19. Make the most of a mudroom
Whether you have a dedicated mudroom or just a spare wall for storage ideas in an entryway, it's worth considering really ambitious mudroom storage ideas to keep floors clutter-free. Creating floor-to-ceiling shelving that's shallow – but deep enough for your largest boots – won't impact floor space much but will make a world of difference to the piles of shoes that you usually have to contend with.
20. For the garden, pick decorative storage ideas, too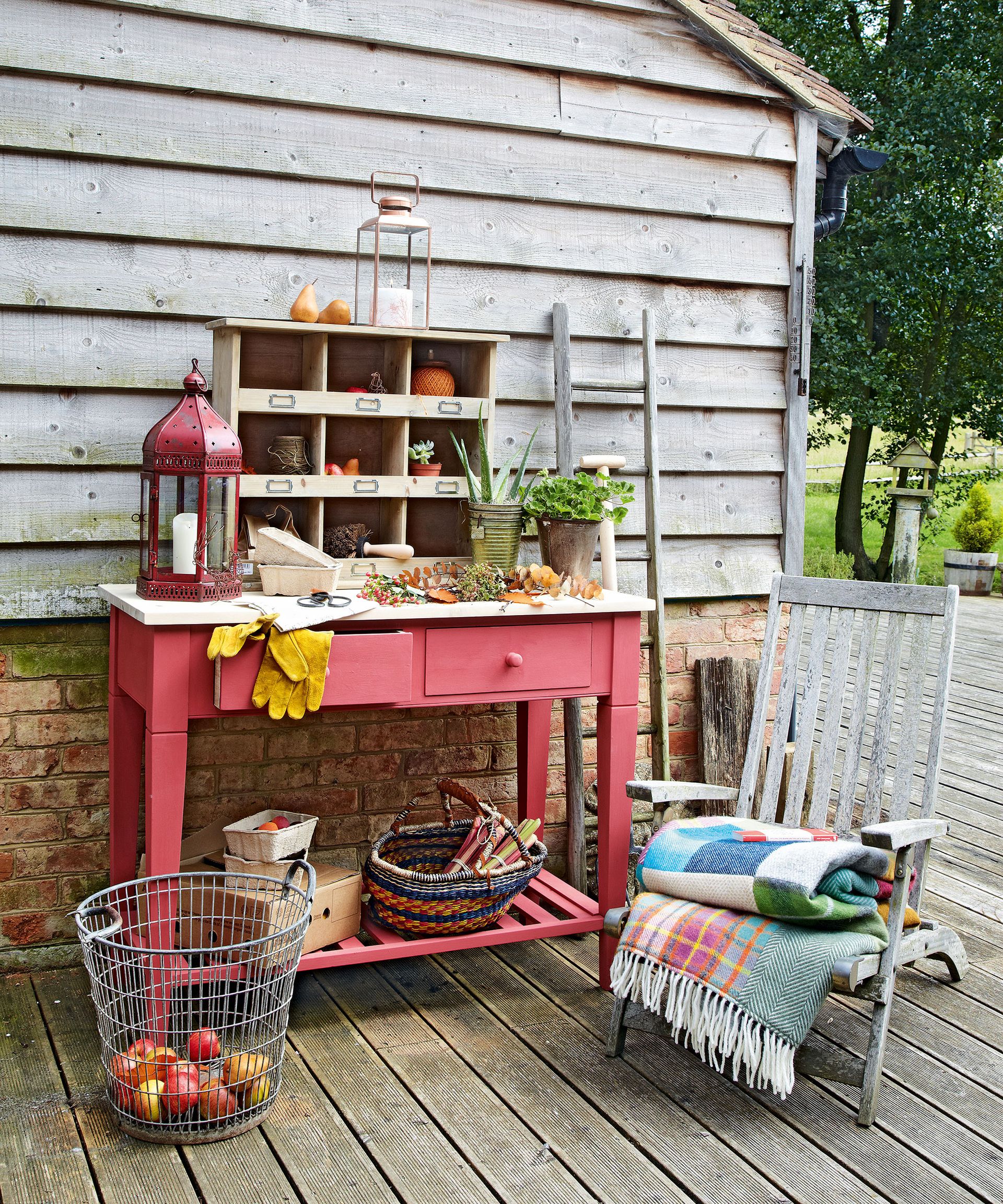 Of course, there are all the usual garden storage ideas – from sheds and summerhouses to benches with lift-up lids – but it's worth considering decorative storage solutions for outdoors, too. This might be a table for pots and plants, seeds and bulbs, or it might be a cute cubby for all those small pieces of garden equipment that are so easy to lose.
How do I maximize storage space?
To maximize storage space, the best thing to do is to declutter, reorganize and categorize your belongings. That done, you can step back and assess whether the current storage ideas you have at home are sufficient to cope with what you want to keep. If not, you may need to invest in new storage. For small homes in particular, hidden storage – such as under-bed drawers – or built-in storage are the best solutions for maximizing storage space while making the rooms feel as large as possible.
Alternatively, let's not overlook how handy a storage basket can be when it comes to maximizing storage space anywhere at home. For use on the floor for those with plenty of useable floor space, or you could opt for something smaller and nestle it within a shelf. You can use storage baskets to hide and hold just about anything, from towels to throws, toys, shoes, and more.
Sign up to the Homes & Gardens newsletter
Decor Ideas. Project Inspiration. Expert Advice. Delivered to your inbox.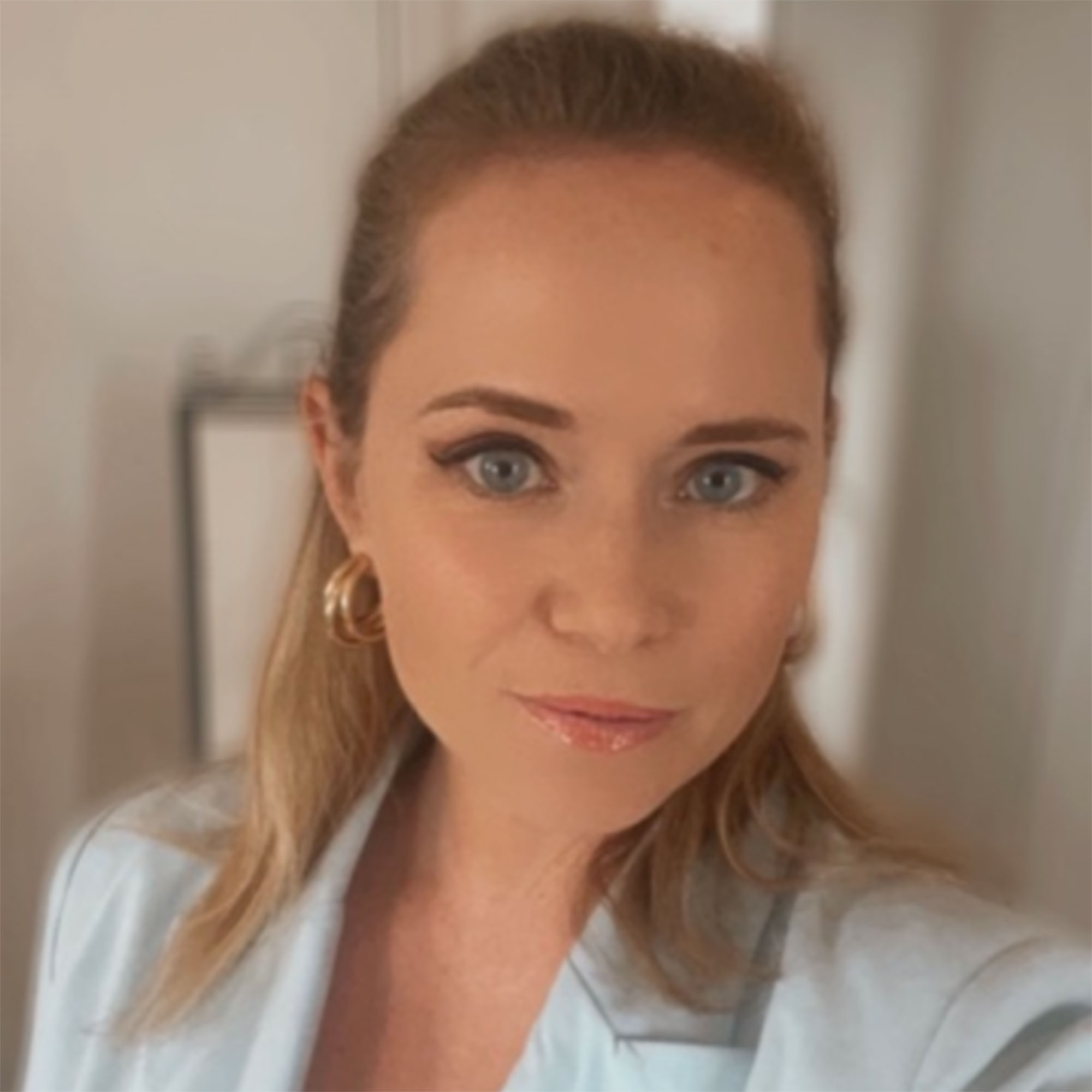 Thea Babington-Stitt is a Content Editor at Future. She has been an interiors journalist for nearly 10 years and has held positions at LivingEtc, Country Homes & Interiors and Homes & Gardens. Currently, she is writing for Ideal Home and Style At Home's websites and magazines.