23 mudroom ideas – tips and pictures for a super-organized space
Use these mudroom ideas to create a space that's super practical but beautiful, too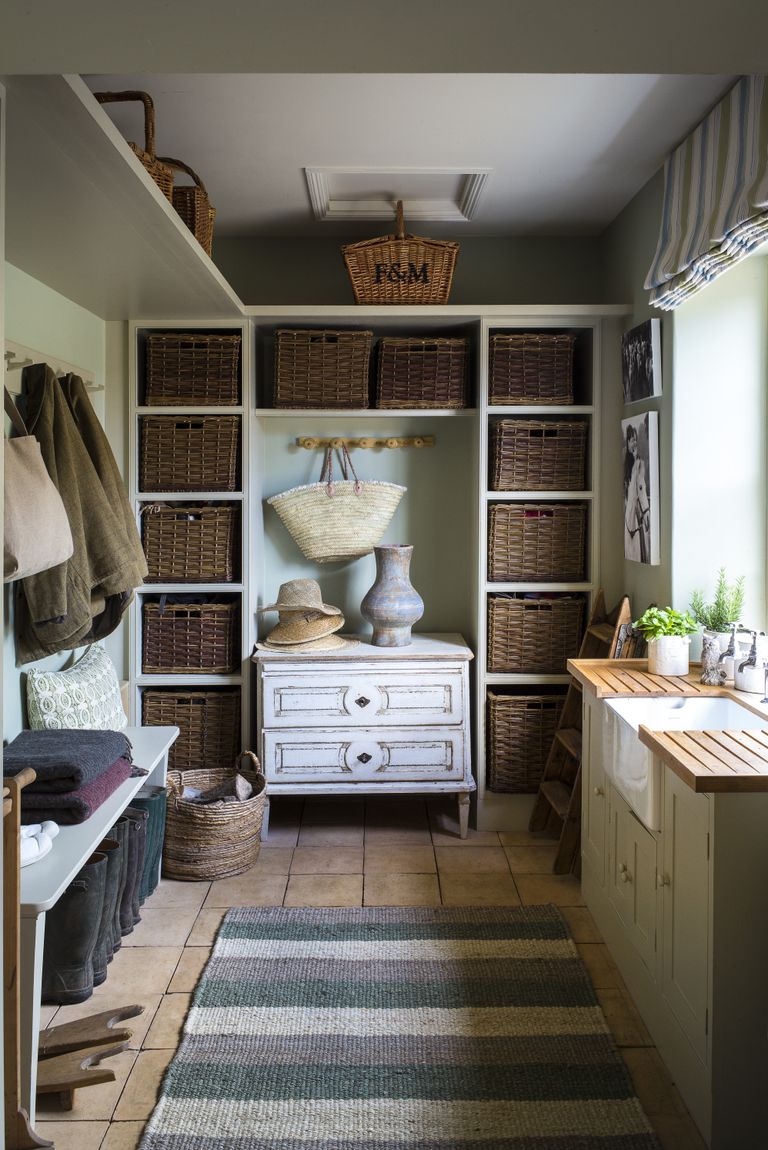 (Image credit: Future/Paul Raeside)
If you're looking for mudroom ideas, you may be wondering whether to limit the space to mudroom-only, or whether making room for laundry, sports equipment, tinned and dried foods, and pets is a wise option.
Your choices will, of course, be limited by how much space you have, but with clever planning, you can fit a ton of uses into even the smallest of mudrooms.
And, whatever the practicalities, from incorporating laundry room ideas, to layout considerations and storage options, aesthetics are still really important to get right.
'A mudroom shouldn't be ignored in terms of its design aesthetic,' says Emma Sims Hilditch of interior design agency Sims Hilditch (opens in new tab), which has created a wealth of stylish mudrooms for clients. 'We treat this space as part of the house, so its design will be in keeping with the rest of the interior.'
Whether you're designing a mudroom from scratch, or you want to give your current space a new look, below we bring you the best in mudroom ideas to help you choose a look that suits your home and needs perfectly.
Mudroom ideas
1. Put a mudroom in an entryway
It's important to note: a mudroom needn't be a separate space.
It can be a zone within an entryway, a seamless addition to your kitchen ideas or even a laundry room that's specifically assigned the role of mudroom.
'When space is limited, remember that a mudroom does not necessarily mean being its own room. We have designed bespoke joinery to fit neatly against a wall in the entrance hall providing adequate storage,' says Emma Sims Hilditch.
If you are putting a mudroom into a dual-purpose space, particularly an entryway, fitted furniture will keep the space practical and smart. Use light colors for the furniture to keep the space bright and hide clutter in baskets to keep it looking neat.
2. Add character with a bright rug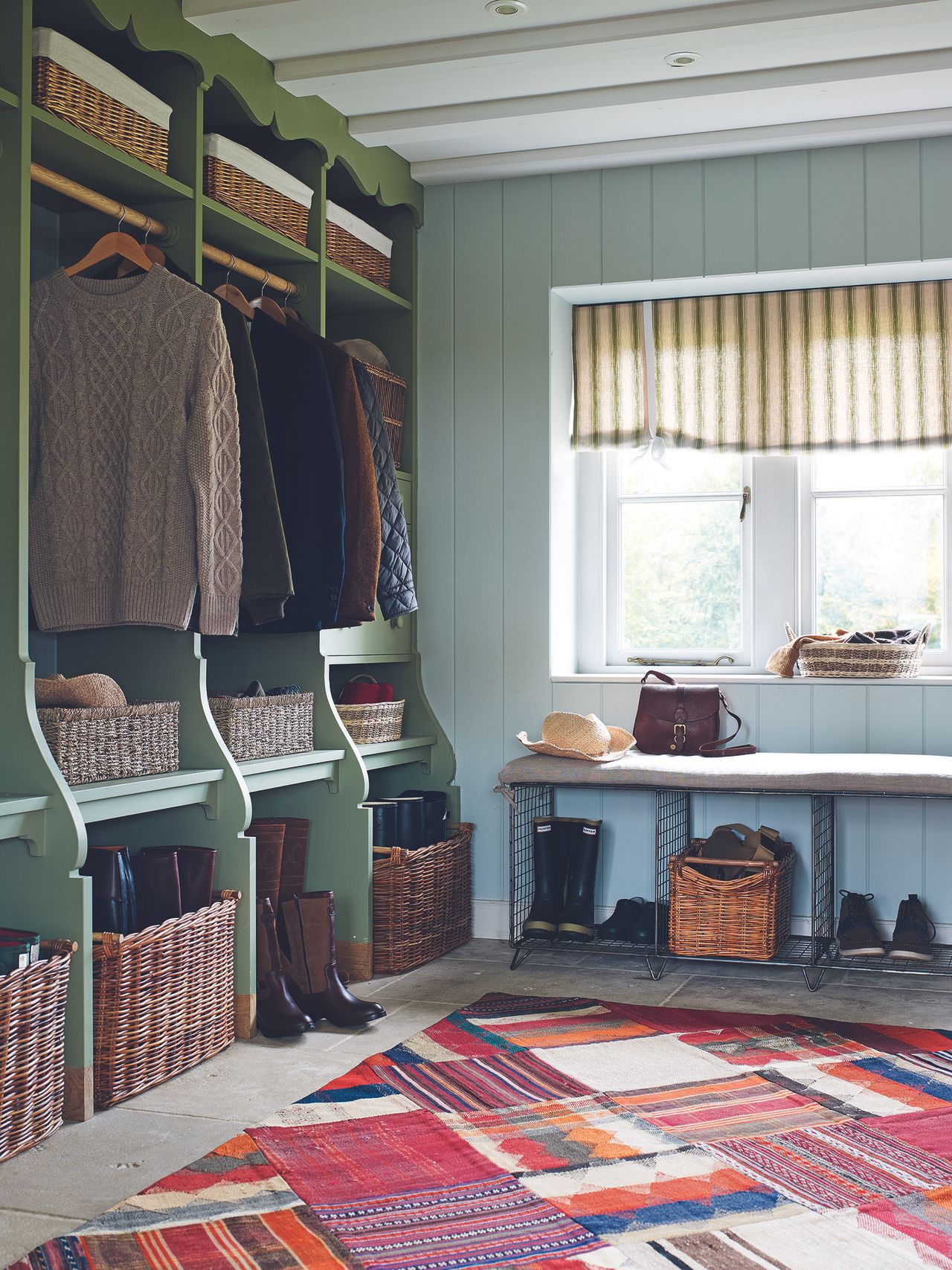 Good mudroom storage is, of course, a must-have. 'A mudroom should include practical storage solutions, such as shelves and coat hooks,' says Emma Sims Hilditch.
But that does mean that the walls, where we might normally hang art, are taken up, leaving little space to give the room character.
That can be remedied with a bright rug, which can add character and a feeling of warmth. The best rug to choose for a mudroom? Outdoor rugs intended for backyards are best. They are made to stand up to the rigors of mud, water and pets.
3. Use vertical space cleverly
A mudroom is by definition quite small, so making use of every inch of space is vital.
'While small, narrow rooms are usually made to feel smaller and narrower by tall storage, it really is vital in a mudroom,' says Homes & Gardens Editor-in-Chief Lucy Searle.
'And, if it's designed well, it can be aesthetically pleasing, too. The mudroom storage above has been carefully designed to echo the position and proportions of the window, which helps it feel well thought out.
'Meanwhile the vertical stripes of the paneling, the undressed nature of the window and the light color throughout helps to enhance the space.'
4. Choose a color scheme that's impactful
There's no need to be shy of choosing bolder colors in a mudroom.
While we would often advise using pale shades in a small room, particularly one that has a practical use to help it feel larger and brighter, a mudroom, if well-lit, can look unexpectedly pretty if it's painted in a gorgeous shade, like this blackberry-colored mudroom above.
Displaying decorative hats, walking canes and even your best wellington boots is another way to boost the eye-catching wow-factor.
5. Make your mudroom feel light and bright
If you are painting your mudroom a darker shade – or if (shock! horror!) it's windowless, good lighting is a must.
Smart kitchen lighting ideas, such as spotlights, will be useful in a mudroom for those close-up tasks, and can also add a decorative element to the space.
Large mirrors are another useful way to reflect light and make a small space feel larger. Plus, of course, they're handy for checking your reflection before you leave the house.
6. Give every family member their own mudroom storage
To keep your mudroom really tidy, it's useful to split the mudroom into people zones, the idea being that each family member has their own designated coat and shoe storage.
This will not only make it easy for everyone to find what they need quickly, it should promote neatness (and if not, will show up those who are letting the side down).
Bespoke joinery can be key to success here. 'Bespoke joinery may cost a little more, but it does mean that the design will be perfectly suited to the space. Do try to combine seating and storage as well as a hook and woven basket for each member of the family,' says Emma Sims Hilditch.
7. Make space for seating in a mudroom
Seating is really useful in a mudroom for providing that much-needed spot for pulling boots on and off again.
Putting it under a window like in the room above will give it a purposeful, focal feel, but if you have space, incorporate two bench areas, as above, too. Doing so will allow everyone to get ready to exit at a time.
8. Extend kitchen storage into a mudroom
Unless your kitchen is huge or every single inch is fitted out, it's likely that you always have some kind of overflow. It might be dried foods or it might be china or kitchen appliances that you don't use often.
Incorporating practical pantry ideas into your mudroom can be a really efficient use of space. 'If the space allows, fitted utility cabinetry provides extra kitchen space,' says Emma Sims Hilditch.
9. Give a mudroom space to grow
Note the adjustable shelves in this neatly-designed mudroom. They are a small but vital detail that you may not think about if this is a first-time for you or if your young family is growing.
Needs change and children grow, which means shoes and belongings get bigger... and bigger.
So, creating storage for shoes that can be adjusted to fit wellies that have gone from tiny to teen is a must.
Don't forget coat hooks too. Always put up more than you need now if you are parents to young kids. Over time, their clothes will multiply and grow.
10. Add natural textures to make a mudroom feel cozy
Baskets are amongst our favorite mudroom ideas. They are practical, sure, perfect for hiding away everything from shoes to vegetables, but they are also wonderful for adding much needed warmth and texture to an otherwise practical space.
A tip? Line the baskets with something solid – sheets of vinyl are perfect. This will ensure that any mud that drops off the soles of shoes/potatoes will stay in the basket and not be scattered over the floor each time you pull the basket out.
11. Make space for a deep sink in a mudroom
'The mudroom should include a good-sized Belfast sink (if space permits),' says Emma Sims Hilditch.
We agree. Mudrooms will be useful for cleaning not just boots and clothes, but probably the odd pet and toddler, too. Include a tap with a shower fitting for the ultimate in practicality.
12. Tiny mudroom? Use shallow storage to best effect
This mudroom – or wall of shoe storage – is perfect for holding everything you need it to, from all the family's shoes to picnic blankets, yet it barely impacts on the floor space within the room.
13. Max out mudroom aesthetics with fabrics
Textiles are essential for bringing warmth and pattern to a mudroom, but choosing deep colored-fabrics that can hide dirt and wipeable materials with patterns that disguise muddy smudges are a must.
'The choice of material is very important,' advises Emma Sims Hilditch. 'They must be hard wearing, although aesthetics are important, too. We wouldn't add any embroidered fabric or antiques to a boot room. We tend to stick to materials that can stand more wear and are easily cleaned.'
14. A storage bench with a lift up lid is a mudroom must-have
Look how little space the bench above takes up yet it creates space for seating and a ton of storage beneath its lift up lid.
'We often install a bench seat which doubles up as a place to store our clients' outdoor-wear,' says Emma Sims Hilditch. The designers at Hush (opens in new tab) agree, saying, 'The top can be lifted up to provide storage or create pull-out drawers for extra room.'
15. Use peg rail shelves for storage and display
Peg rails combined with shelves are amongst H&G's favorite mudroom ideas. Why? They are visually neat, meaning they're perfect for a small space; they create plenty of useful storage opportunities; and they offer space for display, too. The ideal combination for a needy mudroom.
16. Use drawers beneath benches to hide clutter
A lift-up lid on a storage bench is all well and good but the interior can become a little jumbled if some members of the family (naming no names) chuck their belongings into them without much forethought about whether the lid will close again and what's beneath.
Drawers, especially if assigned per family member, are a neat option and one that really works in a long run of bench.
17. Pick wood paneling for a unified look
Wondering what to put on the walls of a mudroom?
Paint is easily smudged, wallpaper easily damaged and tiles feel a little cold, but wood or wood-look paneling ideas for walls that can be painted are perfect.
Paneling is tough and can go from floor to ceiling or stop half-way up to allow for a more decorative approach with paint or wallpaper above.
18. Link the mudroom to the room beyond
A mudroom is likely to be part-furnished with kitchen storage ideas and fittings, so if your two spaces are adjacent, it makes good sense aesthetically to link them visually for a seamless feel.
This can not only help make the mudroom feel larger – as part of a bigger space – but can cut costs if both are being configured at the same time.
To keep the spaces distinct, though, consider the same kitchen cabinet ideas for both rooms, but choose a color that's a tone or two lighter or darker than that in your kitchen.
This is a trick beloved of professional designers for adding character to the two rooms.
19. Consider the most efficient layout
It's entirely possible that your mudroom is an awkward shape – they often are as they are added to or carved out of existing space. So, how best to approach their layout?
The best advice is to worry less about aesthetics and more about the functionality of the space.
When planning a kitchen, you might make compromises on storage needs to balance how it looks. Whereas with a mudroom, you should work out how you can fit in all the elements that you need in the most convenient arrangement and in a way that allows for an easy thoroughfare.
Then choose fittings that complement and enhance that layout.
20. Turn a hallway into a mudroom
Hallways are often purposeless thoroughfares that could be put to much better use, so why not consider turning yours into a mudroom?
It will need practical flooring, easy to wipe walls and shallow storage as a bare minimum, and you can add character with a pretty display, like in the hallway idea above, to distract from the function of the space.
21. Pick flooring that's pet- and mud-friendly
Mudroom flooring, much in the same way as kitchen flooring, needs to be tough, easy to clean and light-reflecting so that it looks after itself and contributes to the feeling of space that this no doubt small room really needs.
Stone flooring is the best choice, especially if it is made cozy by underfloor heating, but ensure you choose sealed, smooth stone that won't harbor dirt and which is durable and easily cared for.
Stone in lighter, honey tones will make your mudroom feel warmer than stone in darker, gray colors.
22. Convert a closet into a mudroom
If your space is limited, a closet can offer plenty enough space to become a mudroom.
All you need is to fit it out inside to suit your needs. An interior seat is fabulous, but simple shoe and coat storage will do perfectly if there isn't the room.
Put it near your front or back door – or fit out an existing alcove space as above – and you have a hidden mudroom to hide away all that outdoor clutter.
23. Combine freestanding and fitted furniture
Mudroom ideas that you'll see when searching on the internet are generally fitted spaces because that's the most space efficient way to use the room and to keep it neat and clean.
However, making room for a freestanding piece will give the room more character.
'I love how this mudroom has been given a focal point that's all about display, while still offering storage for all those bits and pieces that these rooms gather,' says Homes & Gardens Editor in Chief Lucy Searle.
'It would have been easy to fit this niche with more of the same storage but this antique piece brings charm and character into the room that can't be achieved with fitted furniture.'
What do you do with a mudroom?
There is so much you can do with a mudroom. The first thing a mudroom should do is to provide storage for coats and shoes.
You could add a bench for seating, then consider further options, depending on space.
It may offer a place for your utility room ideas, or you might use it as a laundry room, an entryway overflow or somewhere for pets to hang out when they want some peace and quiet.
What can I put in a mud room?
If you're looking for mudroom ideas that revolve around the elements to include, think: shelving, hooks, a bench, storage drawers, baskets and cubbies, shelving for shoes and even storage high up for out-of-season clothes and shoes.
Lucy Searle has written about interiors, property and gardens since 1990, working her way around the interiors departments of women's magazines before switching to interiors-only titles in the mid-nineties. She was Associate Editor on Ideal Home, and Launch Editor of 4Homes magazine, before moving into digital in 2007, launching Channel 4's flagship website, Channel4.com/4homes. In 2018, Lucy took on the role of Global Editor in Chief for Realhomes.com, taking the site from a small magazine add-on to a global success. She was asked to repeat that success at Homes & Gardens, where she has also taken on the editorship of the magazine.