Wellington boots – 8 of the best rain boots to wear in 2022
Festival or farmyard, these are the best Wellington boots to keep your feet dry in style. From Hunter to Le Chameau...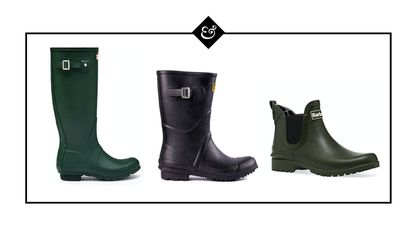 (Image credit: Future)
In search of the best Wellington boots to keep your feet dry and warm? We're here to help you dress to impress – and practically – this season. Whether it's a muddy dog walk you're going on or these wellies are for getting out in your garden come spring, that is. After all: Wellington boots are super versatile and you should pretty much get use out of yours all year round.
Here, the Homes & Gardens team has rounded up the best rain boots for women, men and children. From sought-after Hunter wellies to the classic short Barbour wellies, we've found plenty of picks. So, if you wouldn't mind looking as glamorous as Kate Middleton in her preferred Le Chameau Wellingtons as you step out into the countryside, stay with us.
All of the Wellington boots featured get five stars from us for style, longevity and comfort. Some come in a range of colors and short and long versions, whilst others are basic so as not to cause confusion. A good pair of wellies will fit in with your lifestyle – and they will ensure your feet stay nice and warm when out and about, wherever that may be.
Once you've ordered a new pair of wellies, you're probably going to go straight to search for boot room storage ideas. Because storing your Wellington boots and looking after them is super important – rain or shine.
---
The best Wellington boots to buy in 2022
You can trust Homes & Gardens. Our expert reviewers spend hours testing and comparing the latest products, helping you choose the best for you. Find out more about how we test.
1. Hunter Women's Original Tall Wellington Boots
The best Wellington boots that money can buy
Specifications
US size range: US 5 - 11
UK size range: UK 3 - 9
Materials: Natural rubber with polyester lining
Colours: Multiple
Reasons to buy
+
Iconic brand name
+
Comfortable for walking
+
Lightweight
+
Don't get too hot
+
Good grip
+
Good range of colour options
Reasons to avoid
-
Narrow leg so not much room for thicker socks
-
Not good for wide calves
-
If you are in-between sizes, have a wider calf or want to wear a thick sock, it is recommended to size up
The Original Tall Hunter Wellington boot is crafted from natural vulcanised rubber with a matte finish in a great range of color options, from classic green and black to on-trend sunshine yellow and brilliant blue. The welly has a low heel and a high leg that comes to just below the knee on most people. It's worth noting that the leg height gets a little higher with each increase in foot size, so we'd recommend using Hunter's size guide to check the leg measurements before you buy. There is also the option of the Original Tall Back Adjustable Wellington boots which feature an expandable gusset at the back allowing for extra space around the calf, although some tend to think it spoils the look of the classic boot a little.
It also needs to be said that this is a very slim fit Wellington boot. We tested our usual shoe size and were initially very surprised by how little room there was in the calf section. We're used to wearing Wellington boots with thick knee-high socks, and found we couldn't with our usual size. There's room in the foot section for a thicker sock, but the ankle and calf are very slim fitting – they can also be quite hard to take off for this reason.
However, despite initial concerns, over a year of testing, this Wellington boot has still maintained its position at the top of our favorites list. The boots are lightweight, flexible, and the only welly tested so far that doesn't actually feel like a welly to walk in – probably in part down to that slim leg that doesn't waddle around your leg like a roomier fit can, eliminating the chafing that a looser-fit welly can often cause over a long haul – and making it one of the best wellies for walking that we've tried.
They've been a great option to wear during spring and autumn as the slimmer leg means all you need to pop inside is a trainer sock for a little extra padding – so your legs and feet don't overheat – and they've been tried and tested on plenty a muddy walk over fields, rocks and difficult terrain and have stayed waterproof, robust and offered good grip. That narrow leg also means that in particularly splashy puddles or heavy rainfall you don't end up with water going down the boot.
2. Joules Ashby Premium Lace Up Chelsea Boots
The best short Wellington boots
Specifications
US size range: 5 - 11
UK size range: 3 - 9
Materials: Natural rubber
Colours: 3
Reasons to buy
+
Waterproof Chelsea boot style you wouldn't know was a welly
+
Good for the school run or popping to the shops on a wet day
+
Two colour options
Reasons to avoid
-
Fairly narrow fit; not much room for thick socks
A short Wellington boot can be a much more versatile option than a knee-high welly, and this waterproof Chelsea boot from Joules takes versatility to the extreme, with the smart lace-up design working just as well for a wet jaunt into town as it does for a walk in the muddy woods.
Available in black with a snake-skin print lace, or the deep navy with a vibrant pink lace-up, the boots are designed to bring a little joie de vivre to an otherwise damp day.
Although you might have to put up with damp laces in a downpour, the boot itself is perfectly waterproof, crafted from natural rubber with the tongue sealed to the rest of the boot so no water can leak in through the decorative lace-up.
The low heel makes them perfect for those who prefer not to wear a perfectly flat boot, whilst the narrow foot means that they don't feel too bulky and cumbersome but have enough room for a thicker sock to keep things comfortable.
The only downside with the lower cut design is that in properly wet weather you are likely to get mud splattered above the welly and onto your legs. But for a quick nip to the shops or rainy school run when you don't want to be donning your mud-coated dog walking boots, we think this smarter option makes a really useful option to have in the boot room, especially during the shoulder seasons when you need to dress for sunshine one minute and a downpour the next.
3. Le Chameau Women's Vierzonord Neoprene Lined Wellingtons
The best Wellington boots for women
Specifications
US Size range: US 5.5 - 10
UK Size range: UK 2.5 - 8
Materials: Natural rubber with neoprene lining
Colours: 3
Reasons to buy
+
Often seen on the Duchess of Cambridge Kate Middleton
+
Anti-fatigue shock-absorbing soles
+
Neoprene lining provides thermal insulation comfort-tested to -15 centigrade
+
Expandable gusset and buckle for adjustable leg fit
Le Chameau Women's Vierzonord rain boot is ideal for rural life but will look just as stylish on the school run or around town on a rainy day. And you'll be in good company, the brand, established in 1927 in Cherbourg, France, is often seen on the Duchess of Cambridge Kate Middleton. Hence why they are rated our best Wellington boots for women.
Hand-crafted since 1965, the rubber boot is famed as the first with an adjustable, waterproof gusset. It features a tightening strap and snap-fastening buckle for a secure fit around the calf, so you should be guaranteed a comfortable fit. Meanwhile, the fast-drying neoprene lining cushions feet while keeping them warm and dry.
Neoprene, which was originally used for diving suits, is an insulating material that prevents body heat from dissipating; these boots are comfort-rated for temperatures as low as -15°C.
As these are designed with all-day use in mind, Le Chameau has added a dual-density Cross sole to absorb shock, while the abrasion-resistant outsole gives you shoe-like comfort whatever the ground conditions.
4. Aigle Parcours 2 Vario Rubber Boots
The best Wellington boots for men
Specifications
US size range: US 6 - 16
UK size range: UK 9 - 14.5
Materials: Mainly natural rubber, lining polyamide
Colours: 4
Reasons to buy
+
Smart looks
+
Anti-fatigue shock-absorbing soles
+
Waterproof gusset, adjustable to all calf sizes
French brand Aigle has been in business since 1853, but our choice of its Parcours 2 boot is much younger and launched in 2012.
This hand-made boot has a tri-density chunky rubber sole and shock-absorbing cushion, designed so you can walk further without fatigue, while the shaping around the ankle keeps your foot securely in place. The design features an adjustable strap and gusset, so the boot fits your leg perfectly. It also looks incredibly stylish, with the appearance more akin to a knee-high leather boot than a wellie boot.
The Parcours 2 boot is crafted mainly from natural rubber and is lined with quick-drying polyamide, to keep you dry in the wettest conditions. It may be pricey, but we think its sleek look and long-lasting quality build are worth the money.
5. Barbour Wilton Chelsea Wellington Boots
The best Wellington boots for dog walking
Specifications
US size range: US 5 - 11
UK size range: UK 3 - 8
Materials: Rubber, cotton lining
Colours: 6
Reasons to buy
+
Short Chelsea-style
+
Stylish and available in 6 color options
+
Pull-on
Barbour is well-known for their quilted jackets and tartan clothing, but who says they can't manufacture high-quality shoes, too? These short wellies are great for dog walks since they are both wipeable and stylish. Just slip them on over your socks and you're ready for a muddy walk in the park.
With a rubber construction and a cotton lining, these Chelsea-style Wellington boots are great for rainy summer days and muddy winter walks. They are also waterproof and slip-resistant, as well as pull-on for convenience. You'll want to make sure that you wear them with thick socks, however, as they can rub your ankles even after months of wearing. Believe us as we know this from experience.
These short Barbour wellies come in six color options – from black to navy, olive, and even a burnt red. They also feature the Barbour logo by the ankle at the front, so that other dog walkers can see your sense of style.
6. Lakeland Footwear Black Short Wellington Boot
The best sustainable Wellington boots
Specifications
UK size range: 4 - 12
Materials: PVC natural rubber, organic cotton
Colours: 10+
Reasons to buy
+
Available in short or long styles
+
Men and womens sizes
+
Huge colour range
+
Wipe clean
Reasons to avoid
-
Not a super popular brand
-
Not to be cleaned with chemicals
If you are looking for a pair of sustainable Wellington boots, then head straight to Lakeland Footwear. Not only are the wellies that they stock all vegan and made from FSC natural rubber, but inside they are wrapped in organic cotton for your comfort. Plus, they are made responsibly in Sri Lanka. The ethically-sourced rubber used in the creation of these boots is from plantations that adhere to strict guidelines, and these plantations consider re-forestation to be at the core of their business. Rest assured that these Wellington boots help empower rural rubber farming communities in Sri Lanka.
What about their air miles, you ask? Well, since they are fully waterproof as well as super durable, rest assured that these wellies will withstand years of use. Meaning that you won't be buying another pair, offsetting any more carbon emmisons, for a very long time. No matter where you're planning on wearing them, your feet ought to stay dry, and your wellies in their best condition.
These Wellington boots come in your choice of short or long, and they are made in mens sizes as well as womens. There are 20 colour choices available, and each boot comes with a side fastening, should you need your wellies to be a little tighter on your legs. Lakeland Footwear suggests to buy the same size as you usually would, and they say they allow a little room for thicker socks.
How to clean your new sustainable boots? With a soft cloth and leave them to dry. Otherwise, should they be really muddy, soapy water should do it.
7. Joules Printed Wellies With Adjustable Back Gusset
The best printed wellies
Specifications
US size range: US 5 - 11
UK size range: UK 3 - 9
Materials: Natural rubber
Colours: 5
Reasons to buy
+
Good value
+
Adjustable back gusset
+
Variety of prints and patterns designs
Reasons to avoid
-
Not the most comfortable for long distance walking compared to other options
British clothing brand Joules is synonymous with rural living and working. Tom Joule set up the brand in 1989 and initially sold his range of clothing, which married the practical and functional with bright colors and style, on a stand at a country show in Leicestershire.
Known for their use of print and color, Joules have extended their design ethos down to your feet with a range of brightly colored and patterned women's and children's wellies.
These patterned rain boots will definitely cheer you up on a rainy day and help you stand out from the crowd, whether at a muddy festival or on the farmyard.
8. JoJo Maman Bebe Cosy Lined Ankle Wellies
The best Wellington boots for children
Specifications
UK sizes: 3 - 11 (kids)
Material: 100% Rubber Upper, 100% Polyester Lining, 100% Rubber Sole
Colours: 2
Reasons to buy
+
2 colours
+
Pull on
+
Fleece lined for comfort
+
Wipe clean
Reasons to avoid
-
For children only
-
Ankle height might not be best for all kids
Searching for a pair of wellies for your mini me? These ones from JoJo Maman Bebe are highly-rated among parents, and for good reason. They are made from natural rubber to ensure that they are flexible for little feet, plus they are fleece-lined for extra comfort, and to keep their toes warm.
Kids get everywhere, from up trees to in the middle of muddy puddles, so these wellies come with peace of mind since they have rigid soles for better grip. Thanks to their pull-on design, your little one should be able to pull this Wellington boot on by themselves, and when it comes to heading home, they can be wiped clean from mud and the rest.
Choose from navy or yellow and rely on these wellies for a rainy day, a park walk, a trip to the forest or even for every day wear in winter.
---
The heritage of Wellington boots
Wellington boots are generally credited with having been commissioned into life by the Duke of Wellington, who, around 1815, tasked his shoemaker with crafting a mid-calf boot made from supple calfskin leather that was comfortable enough to ride in, smart enough for informal evening attire and waterproof enough to withstand the British countryside.
Around 40 years later, at the time natural rubber was first being transformed into tyres for cars, the first natural rubber boot was designed. Highly waterproof, this footwear first became widely manufactured during World War I when it was an unfortunate essential for life in the flooded, muddy trenches.
Post-war, plastics became widespread, and providing an inexpensive alternative –before we knew of the true cost of unsustainable materials and manufacture – mass Wellington boot production shifted from natural rubber to using cheaper polymers or PVC.
Today the best Wellington boots are once again made from natural rubber, which lasts longer, has more flexibility and is less prone to splitting than plastic.
Why are Hunter wellies so popular?
Founded in 1856, British heritage brand Hunter holds two Royal Warrants of Appointment to HM The Queen and HRH The Duke of Edinburgh and has built a reputation for high-quality long-lasting Wellington boots over its lengthy history.
Hunter's Original Tall Wellington Boot (also known as Hunter's Original Tall Rain Boot in the US) has been a core line since they were first introduced in 1956, and have helped the brand – with the aid of many a Hunter-clad celebrity Glastonbury-goer – to achieve the seemingly impossible; turning the humble welly into a fashion icon.
Are Wellington boots sustainable?
Today Wellington boots tend to fall into two camps; the best Wellington boots generally made from natural rubber and more affordable options from plastic polymers.
Plastic polymer rain boots are generally made from unsustainable materials and manufacturing processes that are harmful to the environment. They can also be very difficult to dispose of responsibly at the end of their life cycle and are much more likely to split or crack sooner, thereby reducing their longevity and encouraging more unsustainable production and more waste.
Natural rubber Wellington boots are made from tapping the raw latex from rubber trees, which provided it is done responsibly, doesn't harm the tree, and enables on-going sustainable rubber production. In fact with trees providing vital carbon-sequestering 'services', products made from sustainably-managed rubber tree plantations can be beneficial for a healthy ecosystem.
The sustainability problem tends to come with the materials that may be bonded to the natural rubber to make the welly more comfortable to be worn, and when the Wellington boot reaches the end of its life and disposed of.
Heritage brands such as Le Chameau, Hunter, and Aigle are making efforts to address these issues with the best Wellington boots in their ranges, and 2021 is seeing a surge in environmentally-responsible production and highly innovative ideas for footwear repurposing rather than waste.
How much should you pay for the best Wellington boots?
As with most things in life, it is definitely worth paying a little more to get the best Wellington boots that are higher quality and longest lasting.
Investing in the best wellington boots for your budget should mean you will be able to continue to wear them for years and years, and won't be adding to unsustainable landfill by throwing away cheaper boots year on year as they split.
More expensive boots also offer more internal comfort, with carefully considered linings which make wearing them for long periods of time much more enjoyable.
Are Hunter and Le Chameau's best Wellington boots worth the money?
For these two brands in particular, you're paying for the name and heritage of the company, as well as the build quality. However, with the best wellington boots, you do get what you pay for in terms of comfort, durability and style.
What kind of Wellington boots does Kate Middleton wear?
The Royal's have a long history of popularising the Wellington boot.
Sales of Hunter wellies soared when Lady Diana Spencer - the future Princess Diana - was photographed wearing a pair on Balmoral Estate during her early courtship with Prince Charles.
Kate Middleton, the Duchess of Cambridge, is best known for her penchant for Le Chameau Vierzonord Wellington boots in 'Vert'; which is no surprise considering the Duchess's commitment to environmentally responsible brands.
The Hunter brand get HM the Queen and HM the Duke of Edinburgh's royal warrant, however.
Both brands have made it onto our best Wellington boots round-up.
Why do Wellington boots split?
Wellington boots have a tough life, and are often the first thing to be flung off in a boot room or left outside in the elements, which – especially if combined with poor quality materials – can, unfortunately, lead to a shortened lifespan.
As we all probably know, buying the best Wellington boots to start with, and then taking good care of your wellies is the best way to prolong their wear. Storing boots upright or hanging upside down on a boot rack in an insulated room will help to prevent splitting and using a rubber conditioner a few times a year will also help to prolong their life.
Where else to buy a pair of Wellington boots?
You can browse more Wellington boots below, from our favorite retailers in both the US and UK.